Strawberry Shortcake Cookies are biscuit-like cookies that basically combine a strawberry shortcake dessert into one delicious summer cookie! They're packed with fresh strawberries and cream and are so easy to make!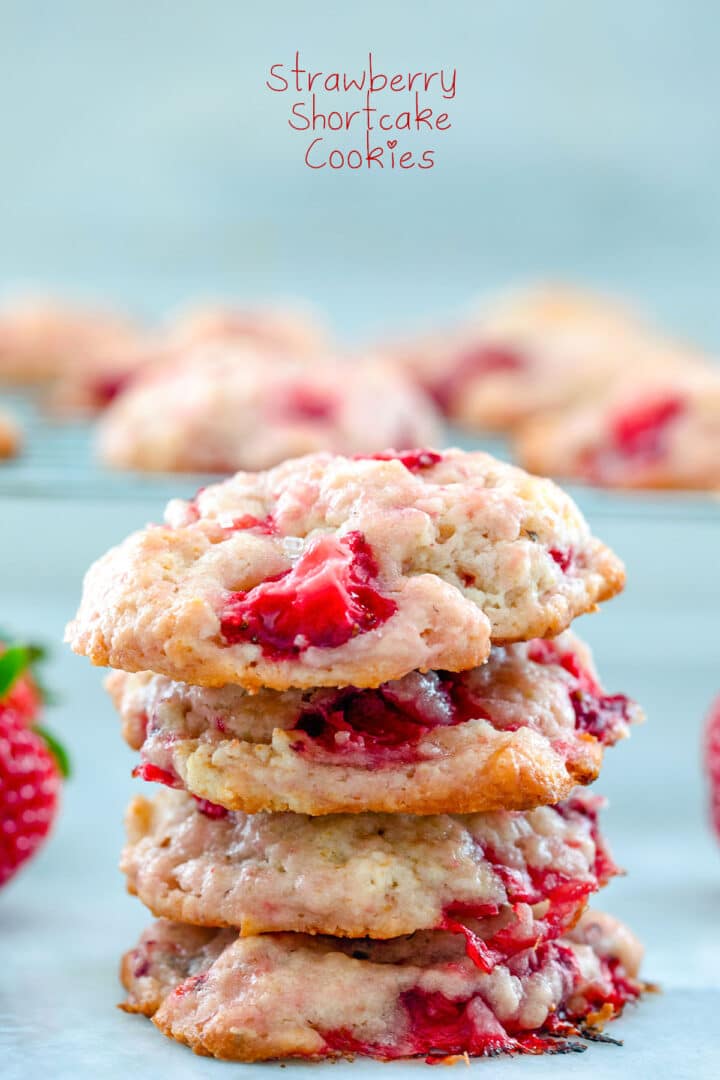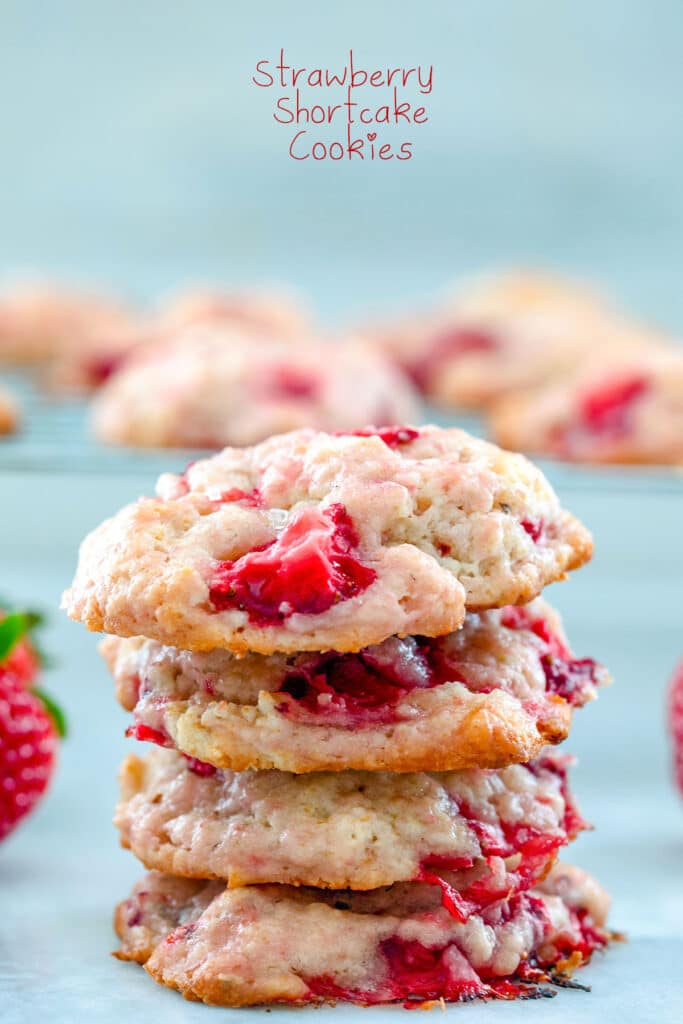 (This recipe for Strawberry Shortcake Cookies was originally posted in June 2009, but was updated with new photos in 2018).
In case you haven't noticed, strawberries are in season right now! This makes me extremely excited for a couple reasons. First of all, the strawberries at this time of year are extra big, juicy, and red. And second of all, 16 oz. of strawberries only costs about $2.99.
I've been buying strawberries every single time I've gone to the grocery store and have been eating AND baking up a storm with them.
And since I'm not inviting all of you over to enjoy my strawberry treats (sorry, my apartment isn't big enough, otherwise, I totally would!), I'm going to share the recipe for these delightful strawberry shortcake cookies here for you to make in your own home.
These strawberry cookies are delicious and my recipe makes 36 of them... But beware because they really are at their best on the first day they're made.
So, you have a couple options: 1) invite a ton of friends over, 2) bring these to a BBQ or summer party, or 3) get ready to indulge and have your own little personal cookie party.
OK really, these are fine on day two; they just get a little bit soggy as time goes on, so if you're bringing them to a party, I recommend making them day of!
How to Make Strawberry Shortcake Cookies
These are cookies, but they're also kind of like the biscuits you get with strawberry shortcake... Except the strawberry part is baked into the actual biscuit itself. Is that confusing? Oh well, you'll just have to try them for yourself!
Making the batter for these strawberry shortcake cookies is a little bit different than making a typical cookie dough. It's almost like a cross between a cookie and a biscuit!
While cookies generally call for room temperature butter, these strawberry shortcake cookies call for chilled butter, which gets worked into the dough. You can use a pastry cutter or your fingers.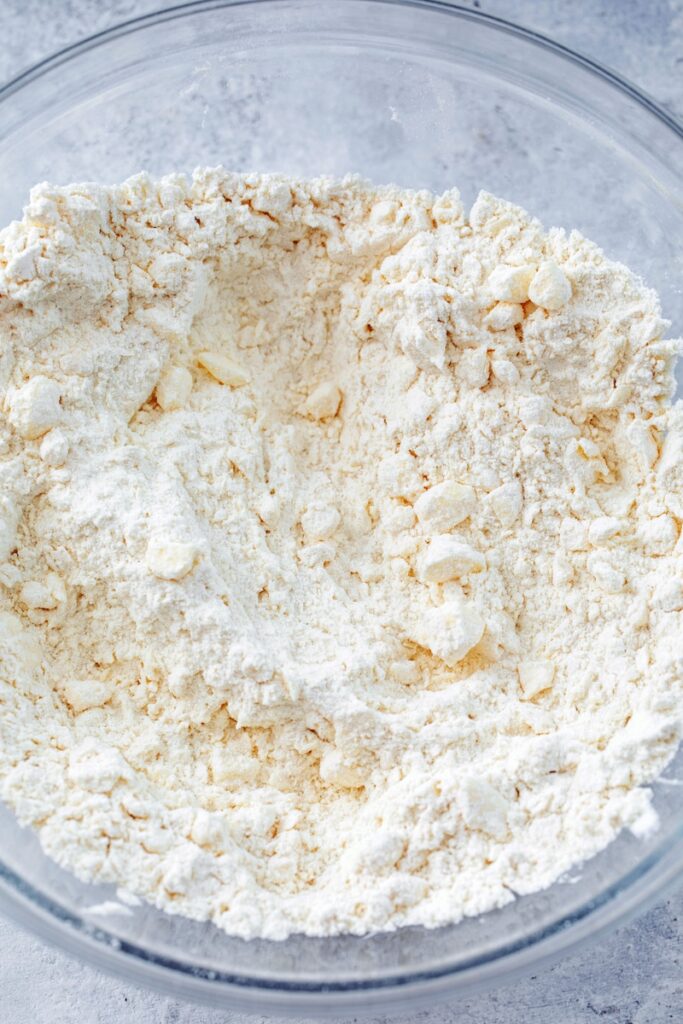 This is likely why the finished product is a little bit more biscuit-y than it is cookie-like. And trust me, there is nothing wrong with that.
Other than that, these are pretty standard cookies that are super easy to make. And the end result will likely make you very, very happy.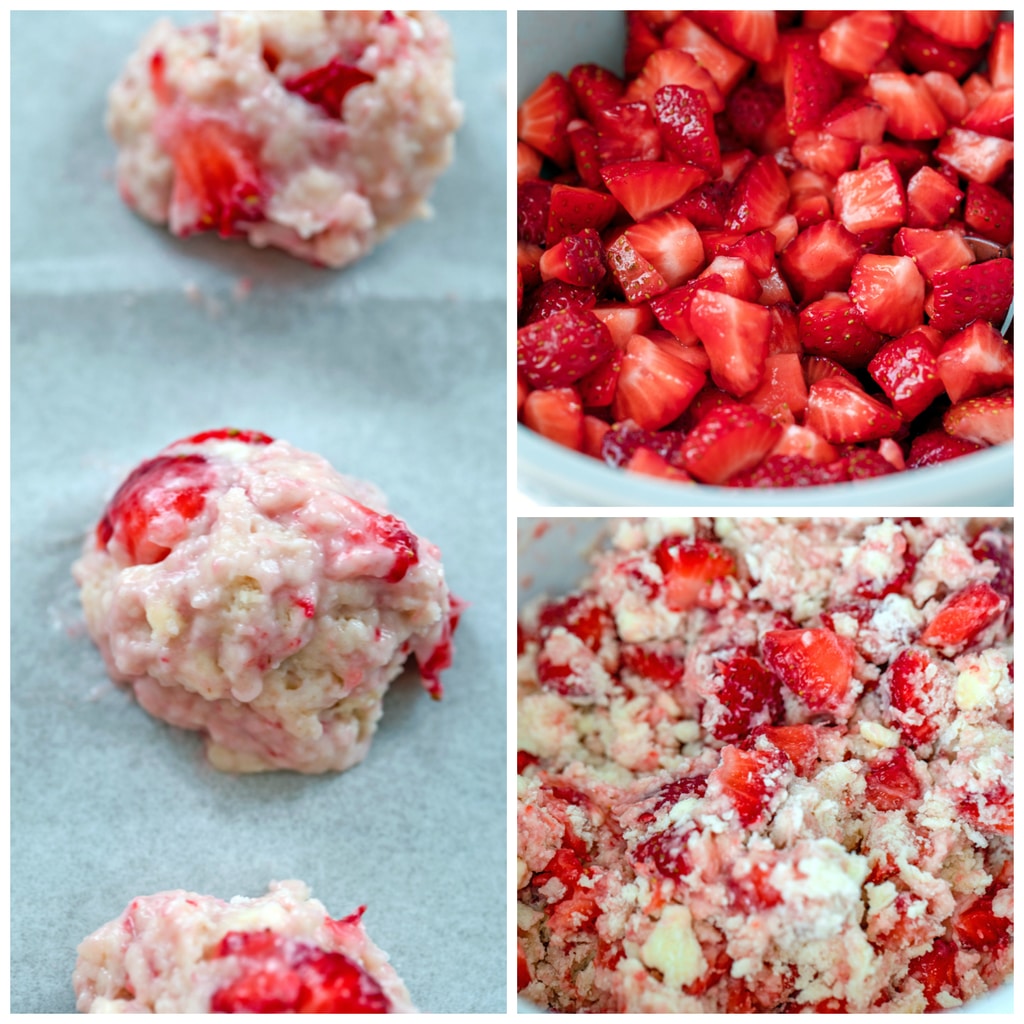 Is Your Cookie Dough Too Wet or Too Dry?
The cookies are adapted from a Martha Stewart recipe, but it seems like a lot of people have had issues with her original recipe. However, the issues varied all over the place from the dough being too dry to the dough being too wet. How could that be?
I'm pretty sure that has to do with the fact that strawberries just aren't very reliable when it comes to juiciness.
As you can probably see in the above image of my cookie making process, my strawberries are super juicy, so my dough is pretty wet. In fact, I think it was a little too wet and caused my cookies to be a bit flat.
But if my strawberries were really dry, I may have wanted to add a bit more cream into my batter.
Use your best judgement- if the dough is dry and crumbly, definitely add a bit more cream in. And just know that the cookies may vary a bit from batch to batch.
Luckily, even a wet strawberry cookie dough results in a delicious strawberry shortcake cookie!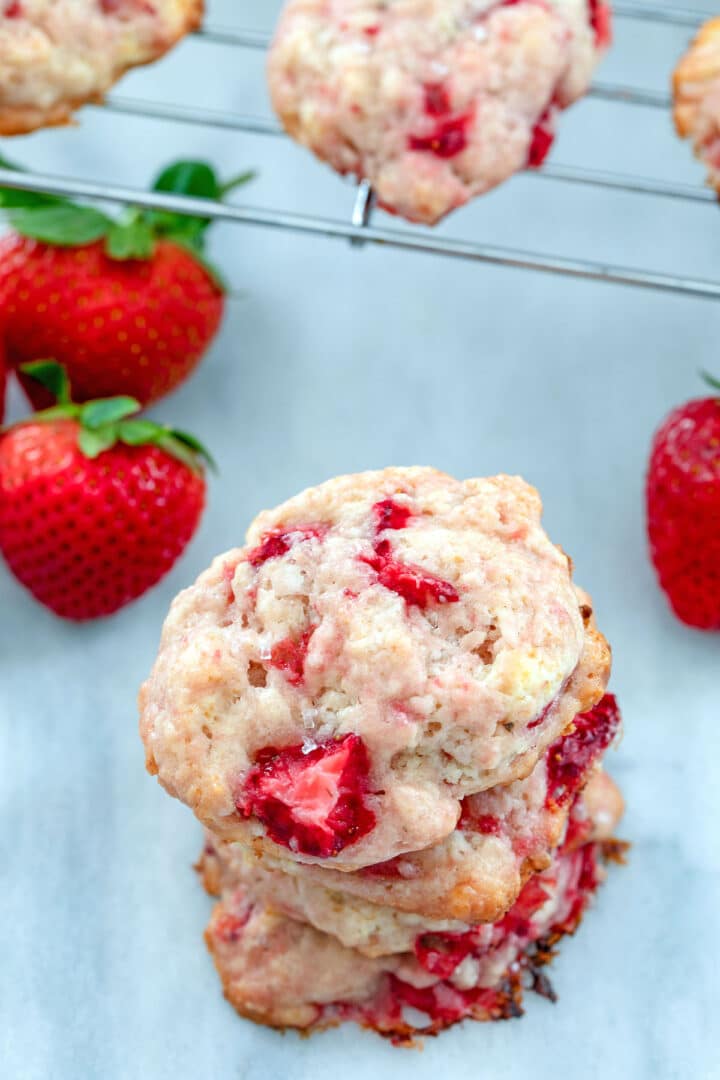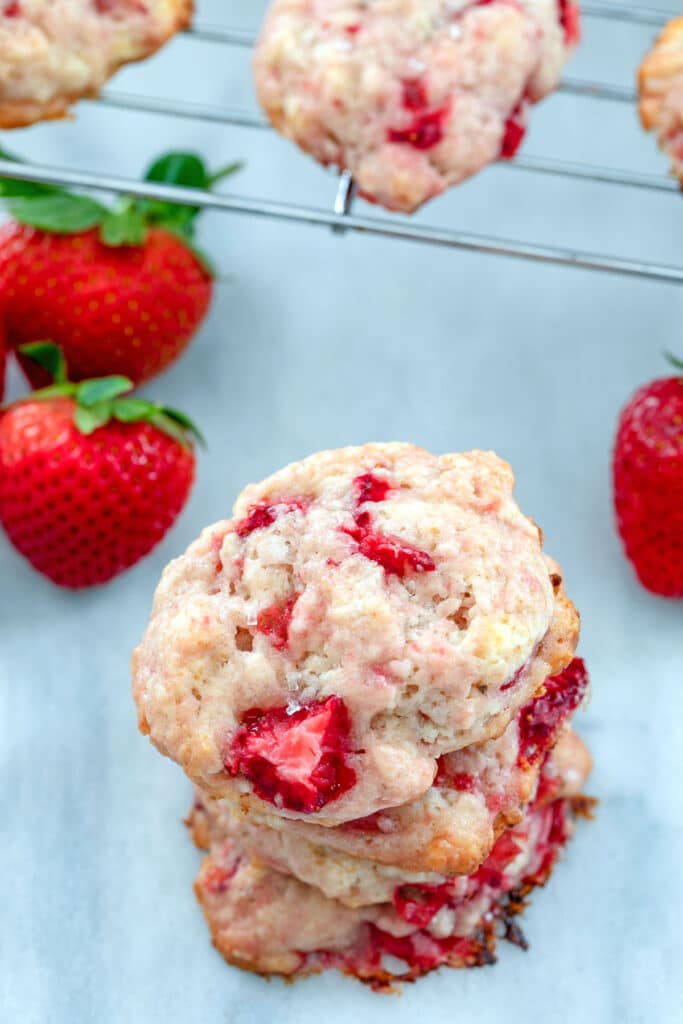 Honestly, I would never have thought, "hey, let's put fresh strawberries in cookies," but it most definitely works. Now that I think of it, strawberries in every dessert would probably work. Right?? And by the way, these strawberry shortcake cookies are also super delicious when eaten warm.
Plus, aren't they so pretty?? Strawberries just make everything so much more fun and spring-like.
How to Store Cookies
Like I mentioned above, these cookies are definitely best enjoyed on the day you bake them. If you do want to keep them for longer, store them in airtight container in a cool dry spot.
But note that they may get a bit soggy as time goes on.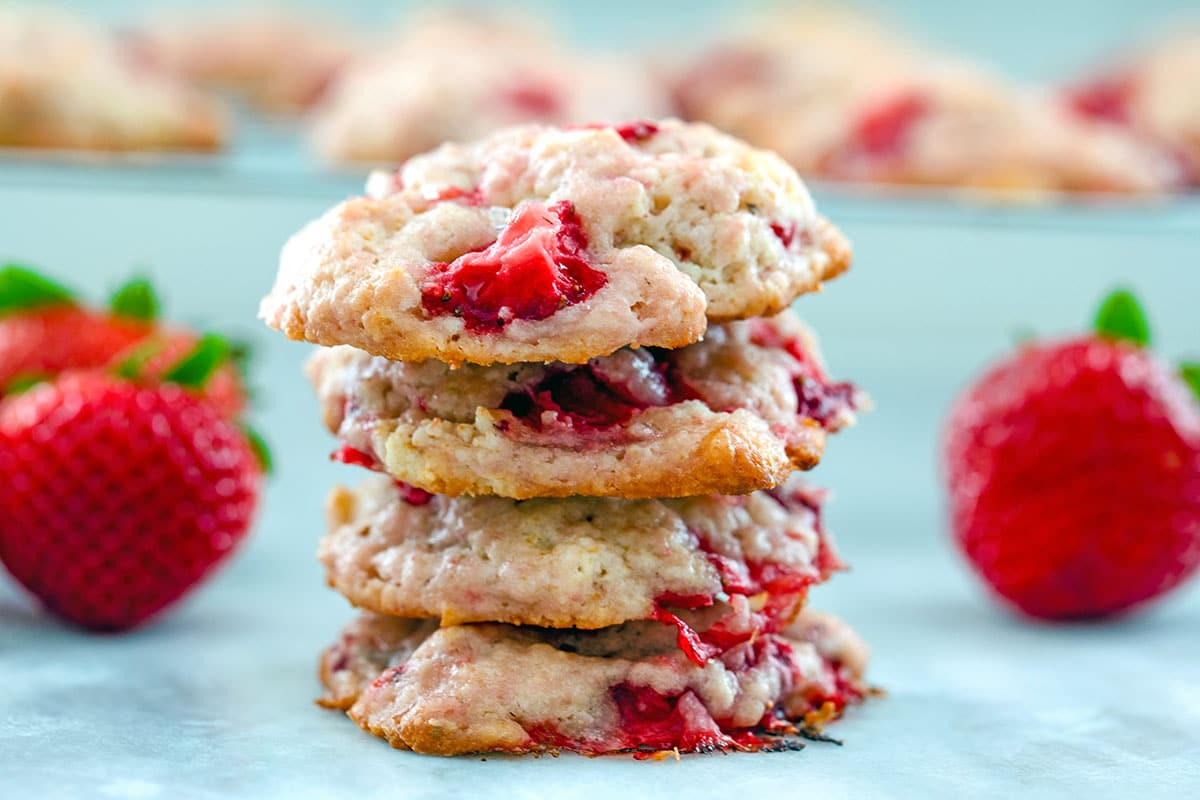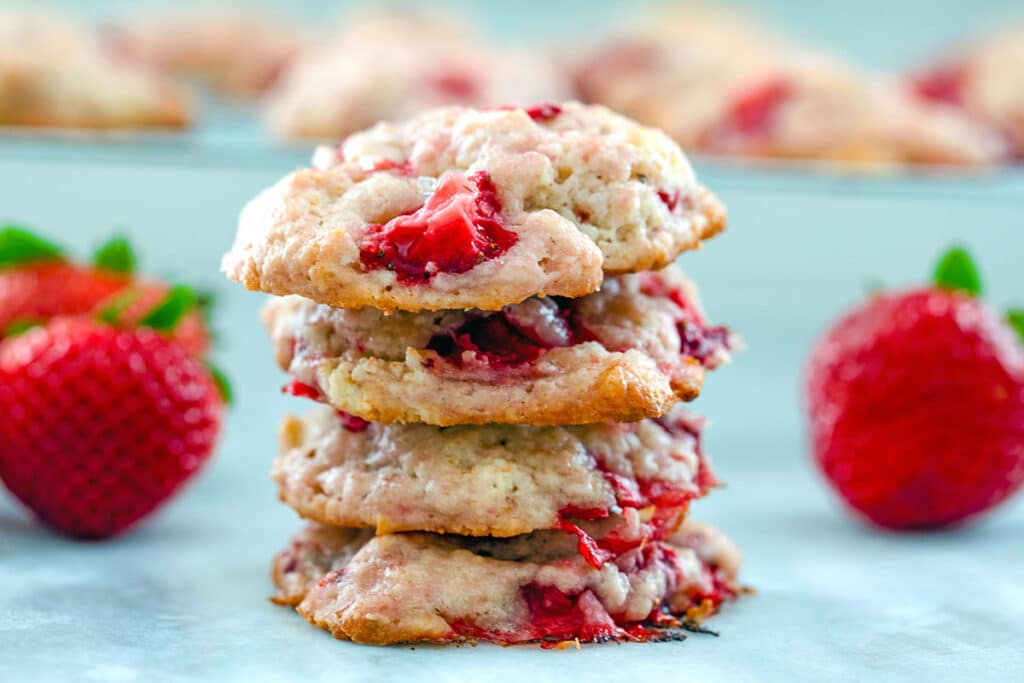 Now I'm suddenly envisioning putting two of these cookies together with some strawberry (or vanilla) ice cream in between. Mmmm.
Yup, I'm pretty thrilled it's strawberry season!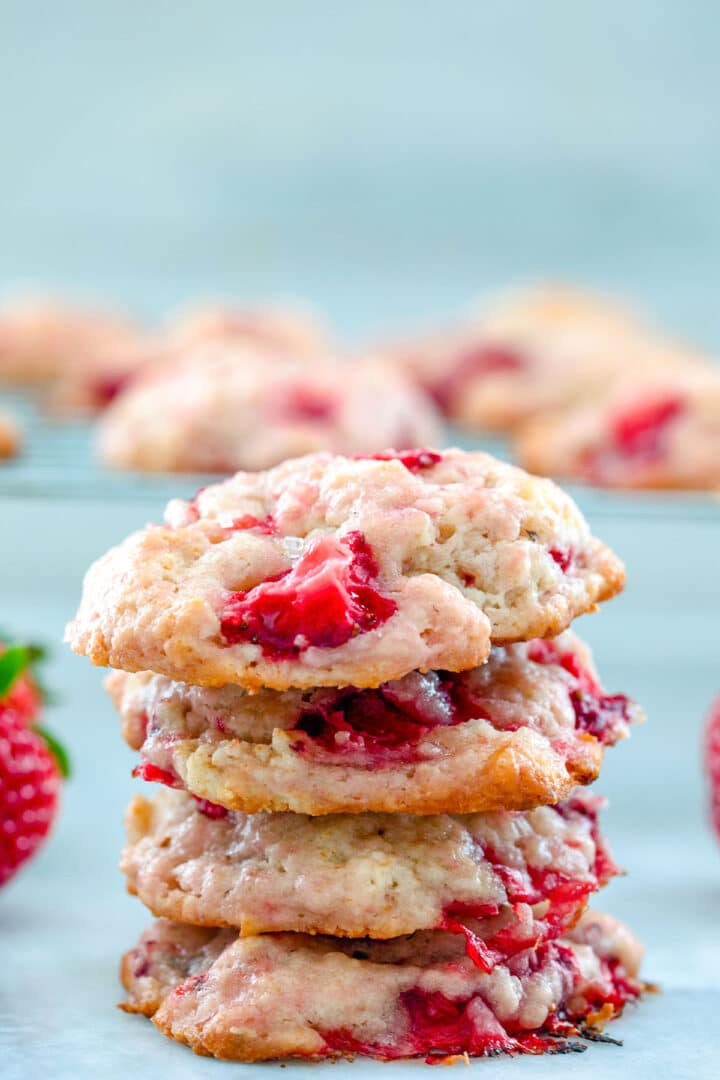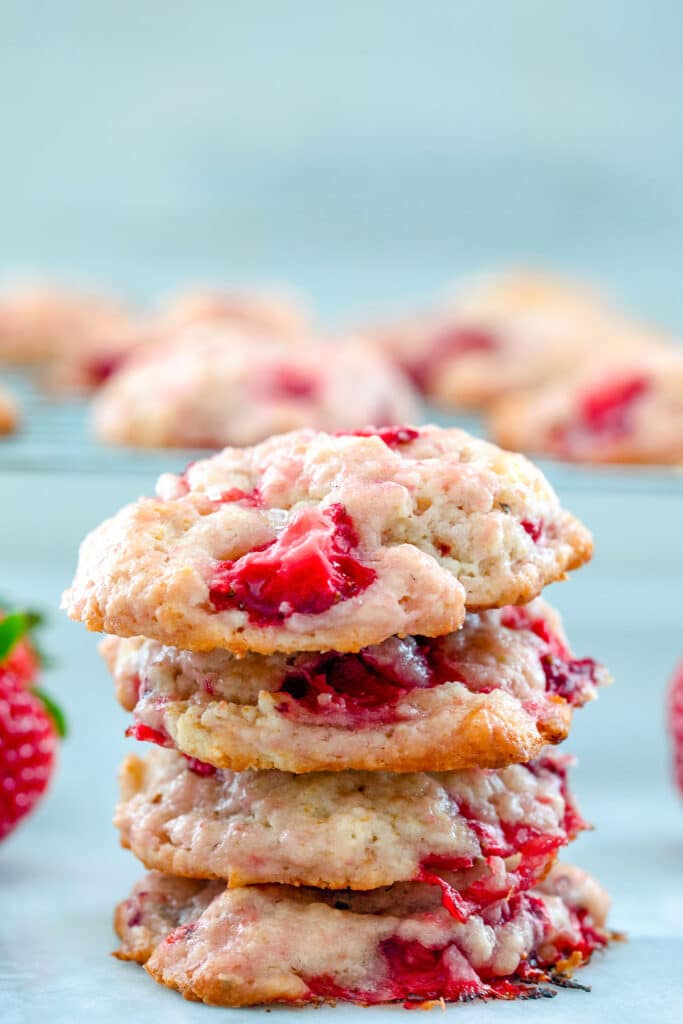 More Fresh Strawberry Recipes
Strawberry shortcake cookies are obviously just one thing you can do with fresh strawberries this season. I have lots of other recipes I love making, both sweet and savory. Here are a few of my favorites:
I hope you all take full advantage of strawberry season while it lasts! These cookies are one of the best ways to enjoy it to the fullest extent.
What's your favorite thing to bake with strawberries?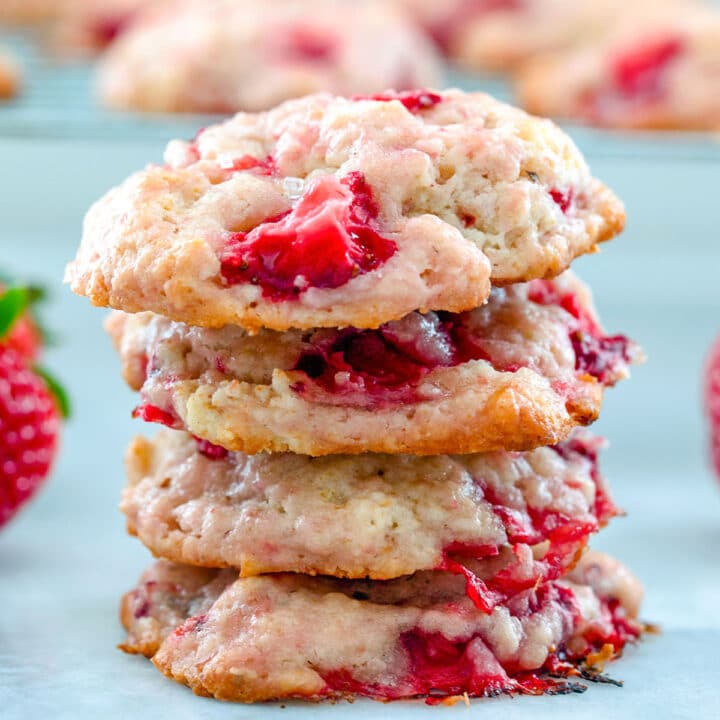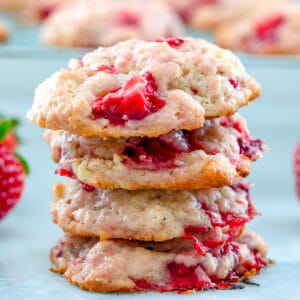 Strawberry Shortcake Cookies
Strawberry Shortcake Cookies are biscuit-like cookies that basically combine a strawberry shortcake dessert into one delicious cookie!
Print
Pin
Rate
Ingredients
12

oz.

strawberries,

hulled and cut into ¼-inch pieces

1

tsp

lemon juice

½

cup, plus 1 Tsp

granulated sugar

2

cups

all-purpose flour

2

tsp

baking powder

½

tsp

salt

6

Tbsp

unsalted butter,

chilled and cut into small pieces

⅔

cup

heavy cream

Coarse sugar,

for sprinkling
Instructions
Pre-heat oven to 375 degrees.

In a medium bowl, combine

strawberries, lemon juice, and 2 Tbsp of sugar.

In a separate larger bowl, whisk together flour, baking powder, salt, and remaining 7 Tbsp sugar. Add butter to flour mixture and using your fingers or a pastry cutter, combine until a crumb-like mixture is formed.

Add heavy cream and stir until mixture is dough-like. Stir in strawberry mixture.

Place tablespoon-size scoops of dough onto a parchment paper-lined cookie sheet. Sprinkle cookies with coarse sugar.

Bake cookies for 16-18 minutes, until just turning golden around edges. Remove from oven and let cool for a few minutes before moving to wire racks to cool completely.
Notes
Recipe adapted from Martha Stewart
Note that cookie dough consistency will likely depend on how juicy your strawberries are. Mine were super juicy. If yours are pretty dry, you may want to add in a bit more cream. 
Cookies are best enjoyed day of baking. If keeping longer, store in airtight container, but note that they may get a bit soggy as time goes on.
Share a Photo of Your Finished Recipe!
Mention @wearenotmartha and share a photo if you've made the recipe!
View Web Story for recipe