A super flavorful party appetizer, these Marinated Mozzarella Balls are so easy to prepare and can be served in many different ways and customized to you and your guests tastes!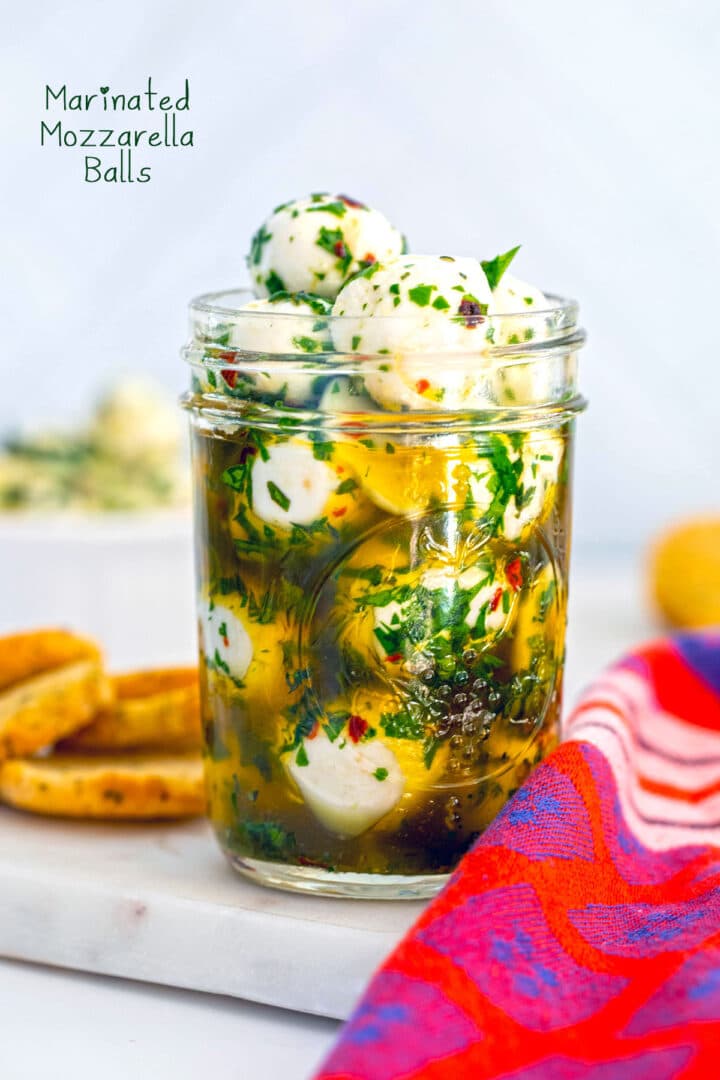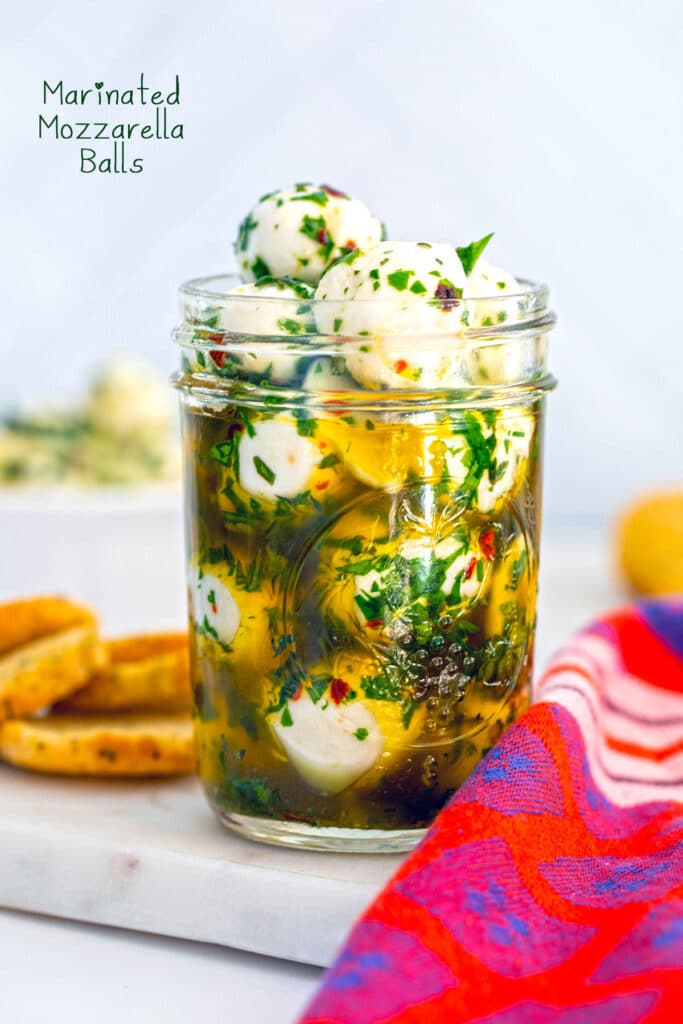 Jump to:
I'm always on the hunt for the perfect party appetizers, especially ones that are quick and easy and can be made ahead of time. Cheese can always be found in my appetizer spreads, often in the form of charcuterie boards with all the fixings.
I love these marinated mozzarella balls because they can be served as part of a charcuterie board, antipasto platter, or cheese board or all on their own. You can prep them ahead of time and even keep them in your fridge for up to a week.
They're prettier than the average cheese and though they can be served year round, I think they have a fun holiday look to them. They, along with my cheddar cups and taco dip have become go-to appetizers at all my gatherings (give me all the cheese!).
❤️ Why you'll love this recipe
I think you'll love these marinated mozzarella balls for all the same reasons I do! They're easy, delicious, and visually appealing. They take just minutes of your time to make and will certainly impress a crowd.
They're also super customizable. So, while I provide a recipe with the exact amount of all the herbs and spices I use, you can easily switch anything out or add anything in. There's so much you can do with these!
You can serve them on their own with some crackers or include them as part of a larger appetizer like these charcuterie cones. They'd also be great on a charcuterie board alongside these pickled banana peppers.
🗒 Ingredients
This is the ingredient combination I love, but feel free to use the herbs you have on hand or whatever your favorites are. And be sure to check out the recipe card at the bottom of this post for ingredient amounts and full recipe instructions:
Fresh mozzarella balls: I like ciliegine, but you can also use pearls or bocconcini
Extra virgin olive oil: It's important to use a high-quality olive oil that you really like the taste of since the mozzarella balls will take on some of the oil's flavor.
Garlic
Fresh Parsley
Fresh Basil
Fresh Thyme
Red pepper flakes
Salt
Pepper
🙋‍♀️ Difference between ciliegine, pearls, and bocconcini
When you're shopping for mozzarella balls, you'll likely notice a lot of different kinds at your grocery store.
The main difference between the different types of mozzarella balls is really their size.
Bocconcini is the largest and mozzarella pearls (or perlini) are the smallest. Ciliegine are in the middle and are, I think, the ideal size for a one-bite appetizer. They're basically the size of a cherry, so easy to pop in your mouth!
But really, you can't go wrong with any size of mozzarella balls for this recipe!
🧀 How to make marinated mozzarella balls
Not only are these marinated mozzarella balls incredibly easy to make, but you can make them ahead of time!
All you have to do is add the olive oil, sliced garlic, and all of the herbs and spices to a large bowl.
Note that I like a really herb heavy mixture, so between the parsley, basil, and thyme, I use more than ¼ cup of herbs. You can certainly use less if you prefer!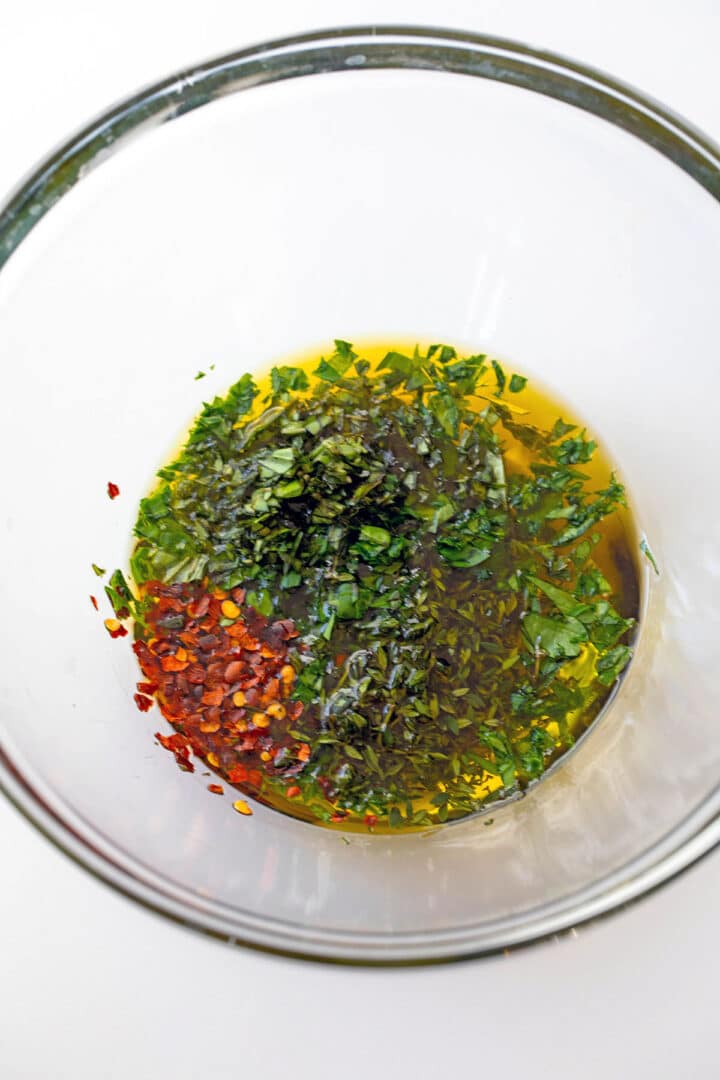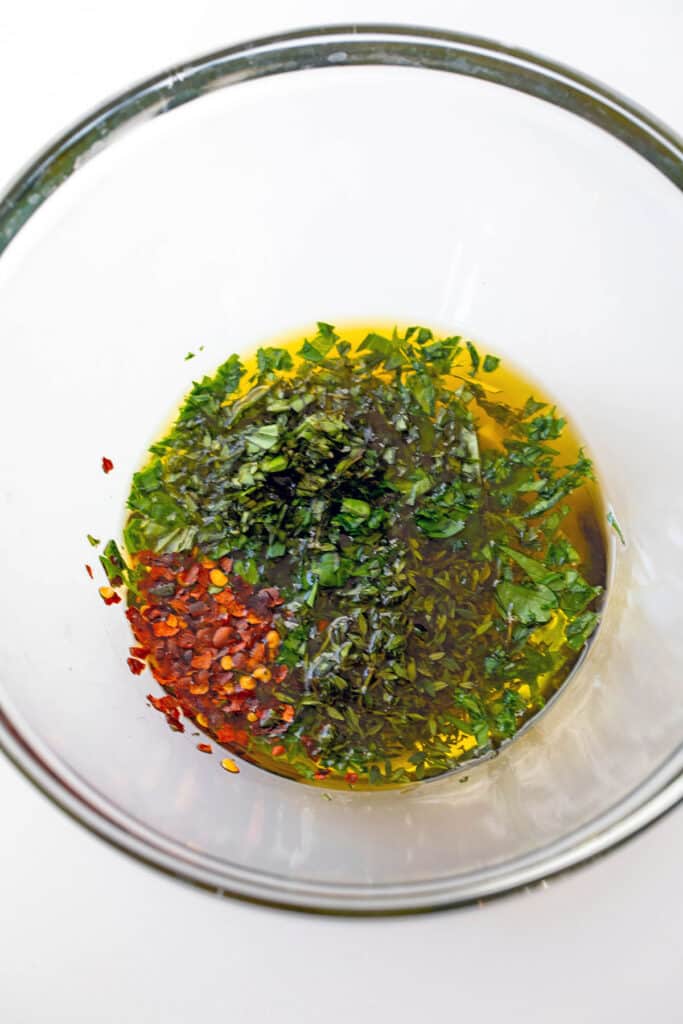 Mix all of the ingredients together.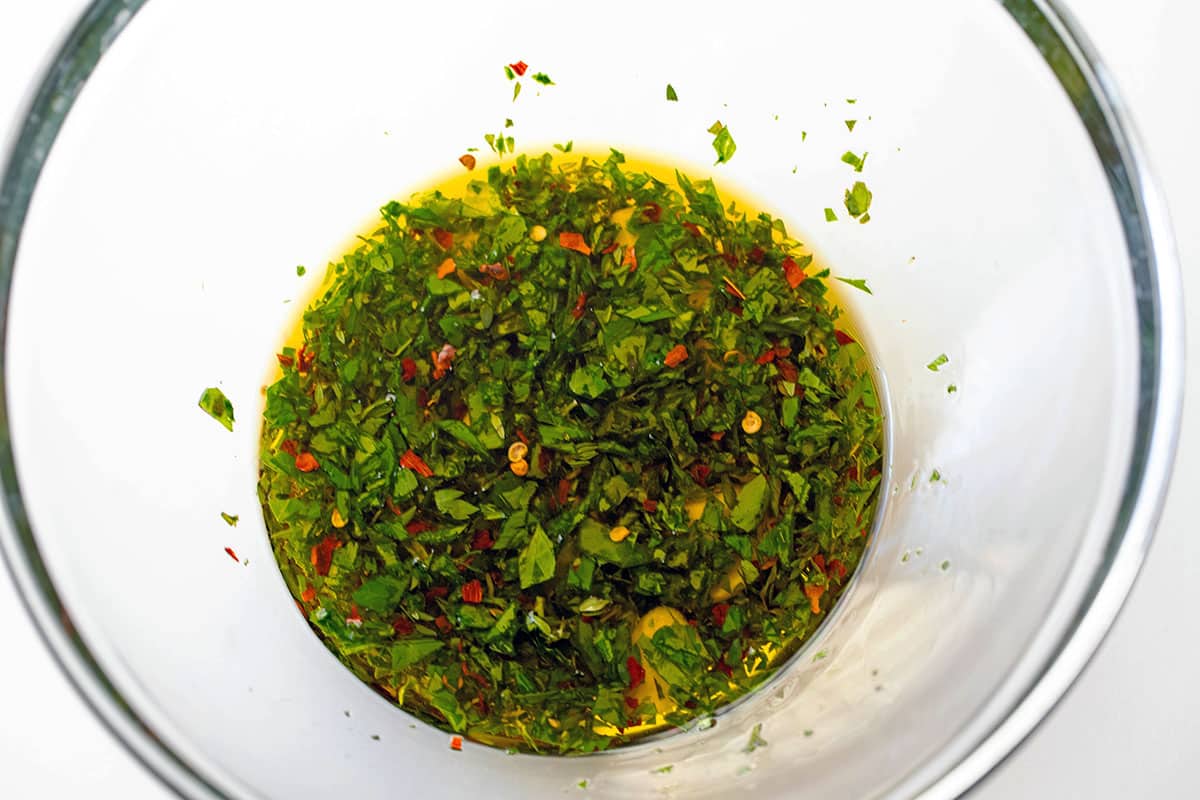 Add in drained mozzarella and toss together so the mozzarella balls are really well coated in the mixture.
Let mozzarella marinate for an hour at room temperature before serving. If you're making them in advance, put them in a airtight container (I like to use mason jars) and store in fridge.
Note that the olive oil will solidify in the fridge, so you'll want to remove them from the fridge about 20 minutes before serving and give them a good stir to get them back to their liquid state.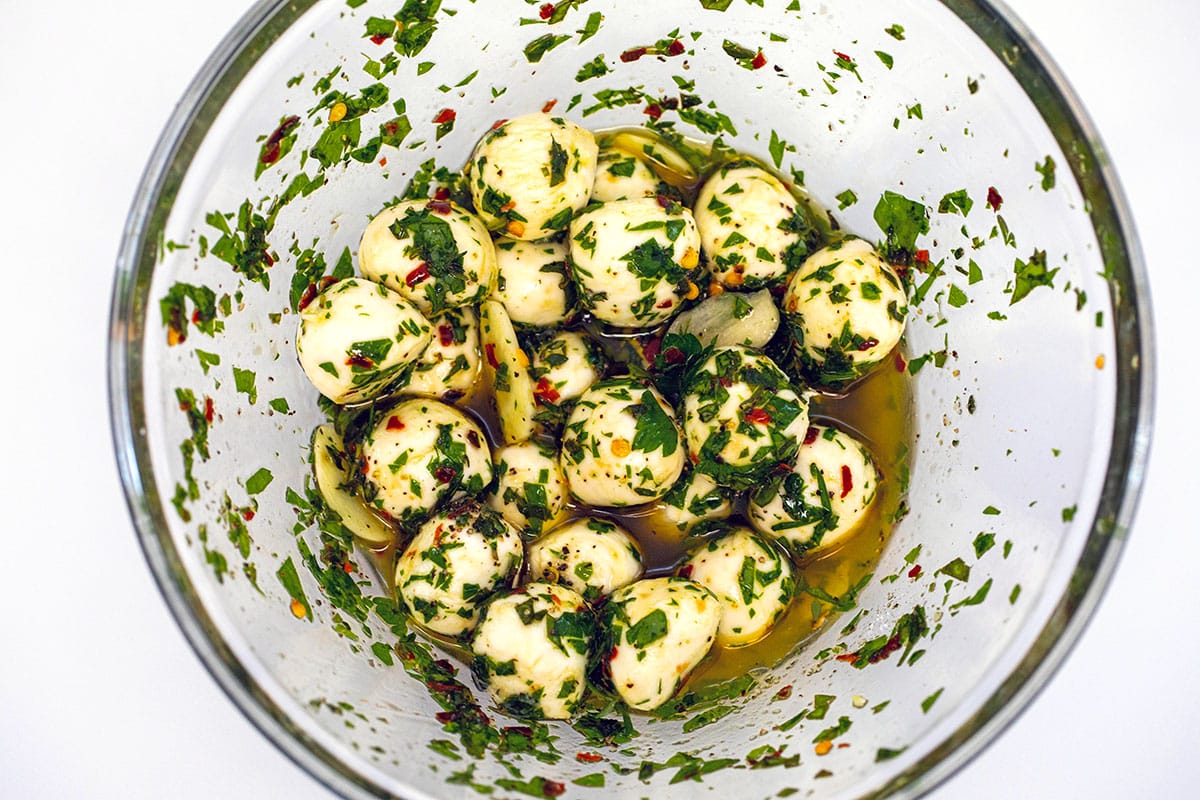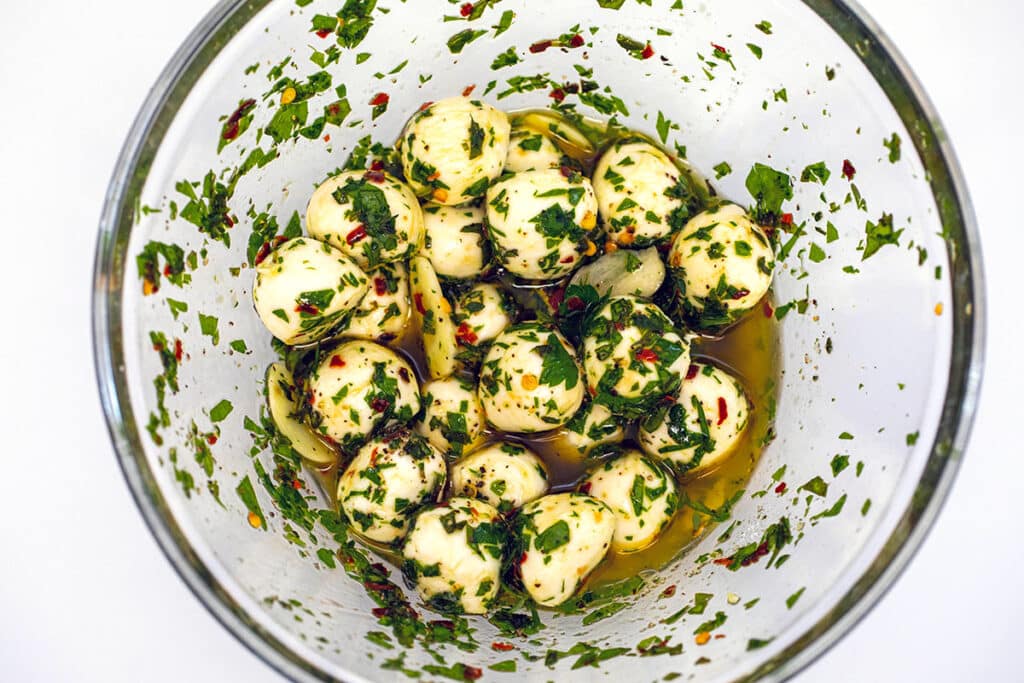 I hope you're having company because it can be really tempting to just continuously pop these marinated mozzarella balls in your mouth until the entire jar is gone! I'm often tempted to make them my main meal... With a little bread, of course!
In my opinion, mozzarella cheese can be a little boring and bland. However, when you marinate it, the cheese takes on so much flavor and is packed with deliciousness!
This easy appetizer has so many great uses and there are so many ways you can serve these. You can keep them in the jar or put them in a small bowl on a charcuterie board, along with some cocktail picks.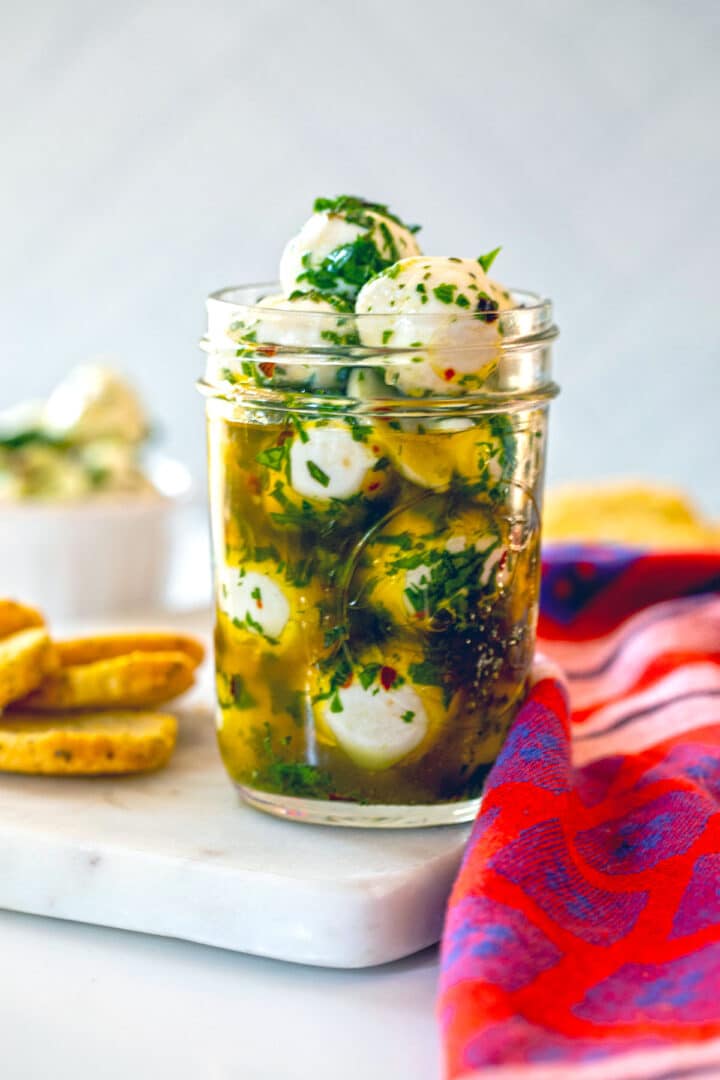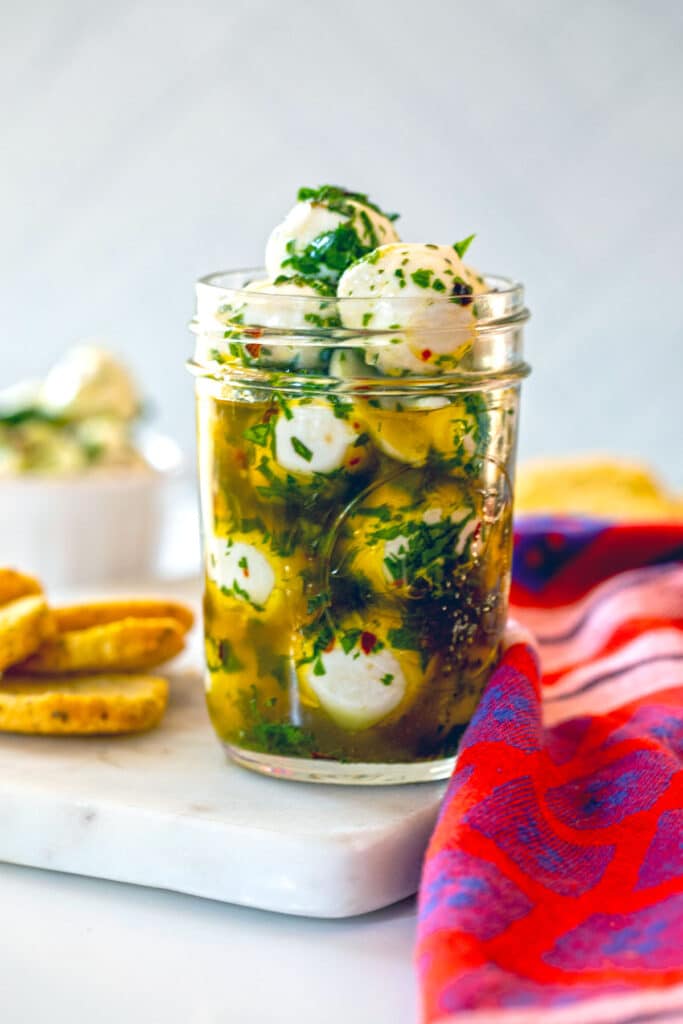 You could use them on an antipasto platter or put them on skewers with cherry tomatoes and basil or melon and prosciutto. Or use them to top homemade pizza or flatbread. They're also a great addition to a caprese salad, a classic garden salad, or a variety of pasta salads or dinners.
But my favorite thing to do for a party is to place a marinated mozzarella ball on a crostini or a piece of crusty bread for a fun bite-sized appetizer.
These are certainly a year-round perfect appetizer, but the herbs and red pepper flakes give these mini mozzarella balls a fun look that make them an easy recipe for the holiday season!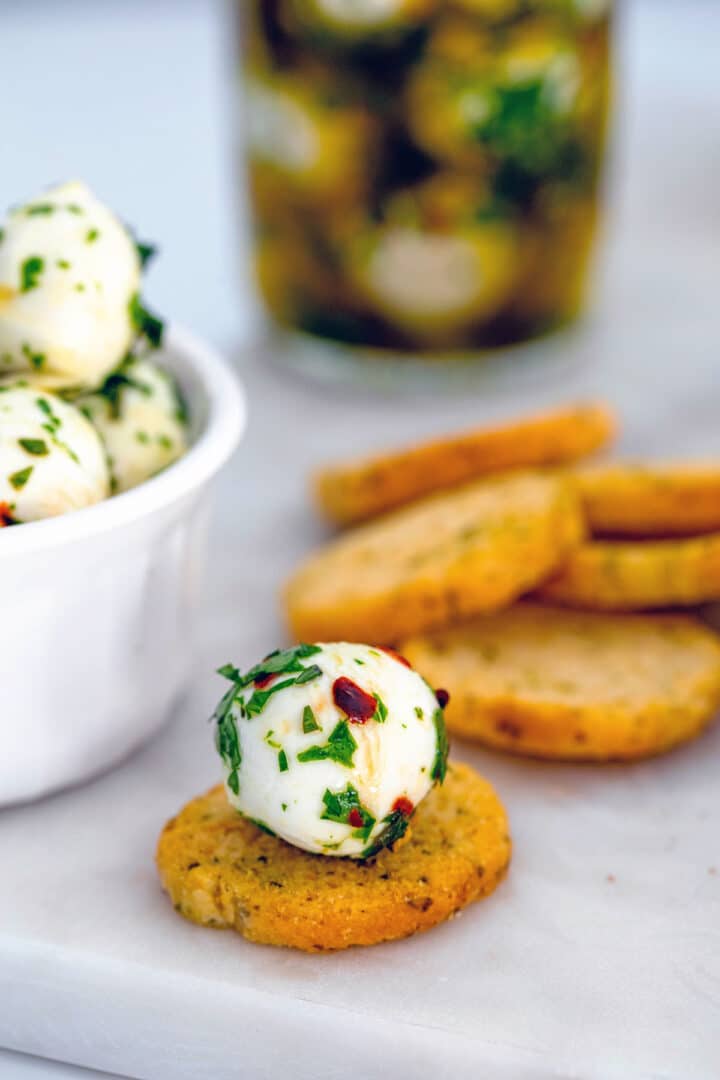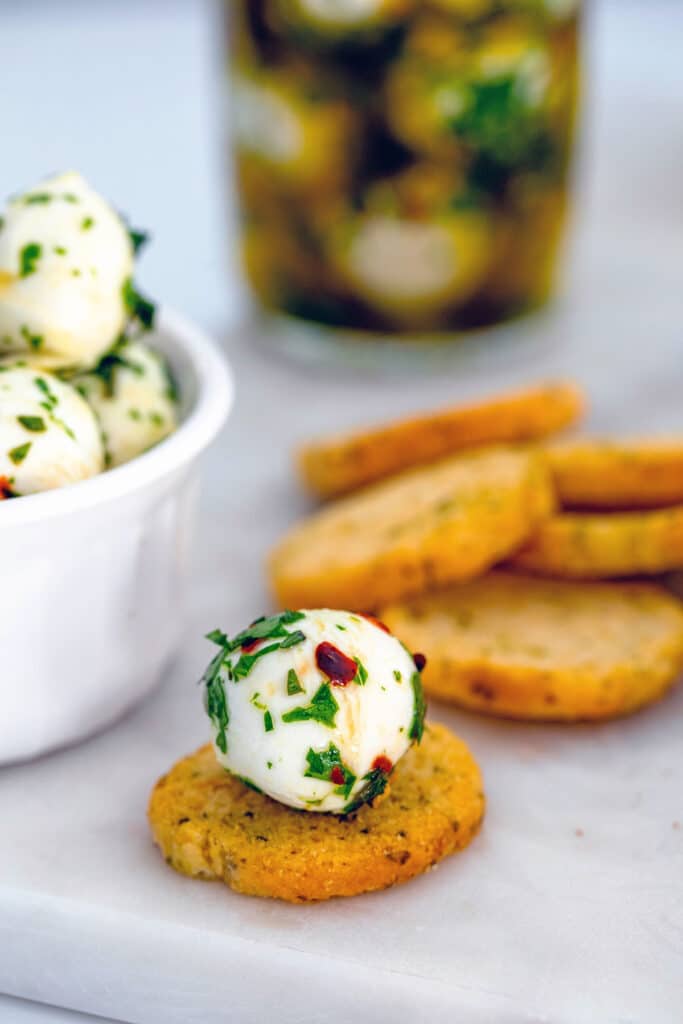 If you love mozzarella cheese as much as I do, also be sure to try this mozzarella sandwich!
💡 Variations on recipe
Like I mentioned, you can really use any herbs or spices you want in the marinade. Make them to suit your personal preference and experiment with whatever you have on hand!
Here are some ideas:
If you want extra garlic-y bites, you can mix in some garlic powder along with more sliced fresh garlic.
Add roasted red peppers or sun-dried tomatoes.
Stir in some basil pesto.
Mix in a little hot sauce to make spicy mozzarella balls.
Use mint in the summer and rosemary or sage in the fall and winter.
Add lemon juice and lemon zest or balsamic vinegar, red wine vinegar, or white wine vinegar for a bit of tang.
Try using a flavored olive oil if you want!
🌿 Can I use dried herbs?
You can definitely substitute the fresh herbs for dried herbs in this recipe. But be sure to use less as dried herbs are much more powerful than fresh herbs.
A good rule of hand is that for every tablespoon of fresh herbs, you should use1 teaspoon of dried herbs.
⏲️ How to store
These marinated mozzarella balls are easy to store in your fridge. When kept in an airtight container, they should stay fresh for about a week.
Just be sure to remove from fridge at least 20 minutes before serving as the olive oil will likely solidify when it's cold.
🥳 More easy party appetizers
If you're planning a party and are looking for more fun appetizers that are unique, but easy, check out some of my favorites: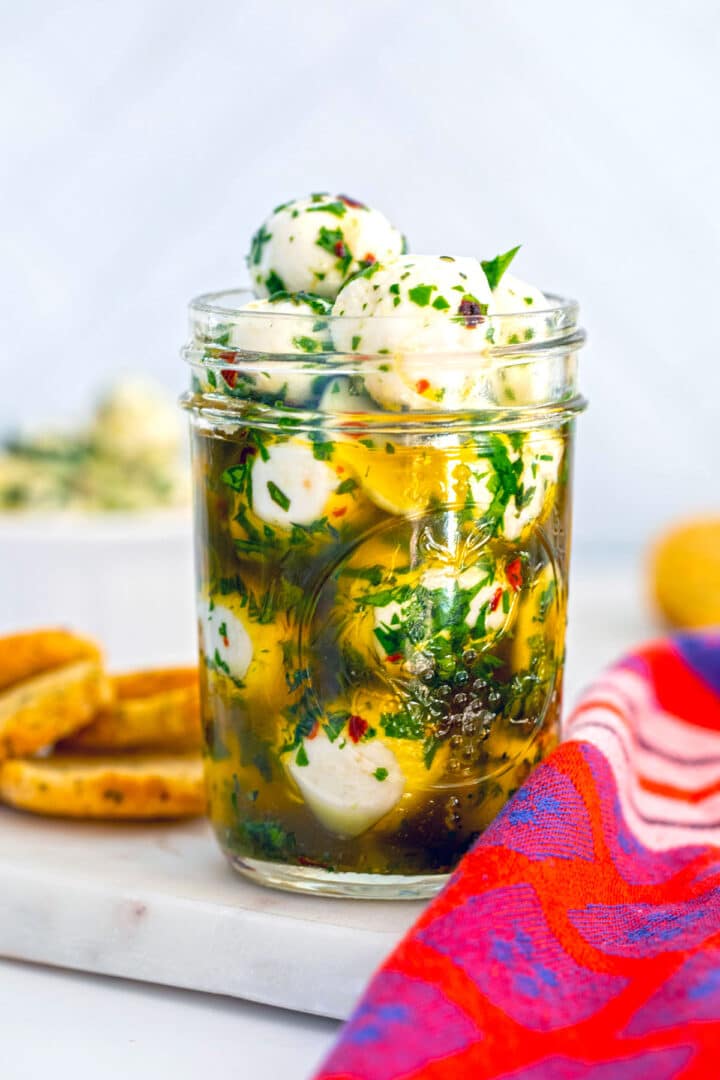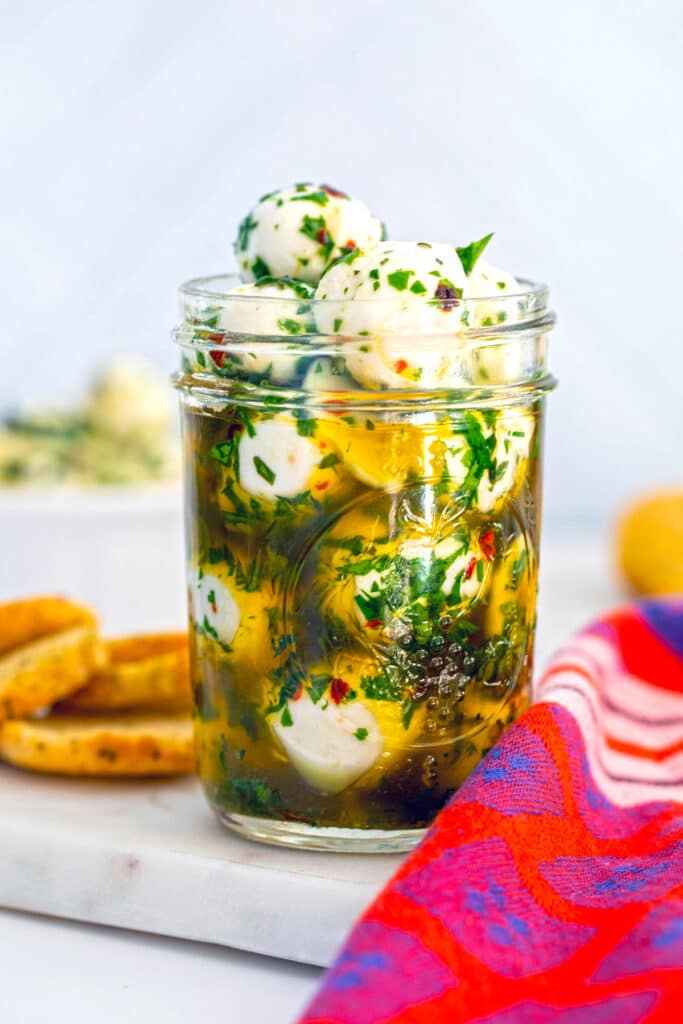 I hope you love this easy appetizer recipe and end up making it a star at your future parties and friend gatherings!
What's your favorite appetizer to serve at parties?
📖 Recipe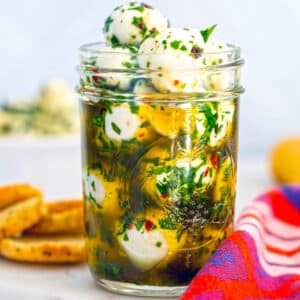 Marinated Mozzarella Balls
A super flavorful party appetizer, these Marinated Mozzarella Balls are so easy to prepare and can be served in many different ways and customized to you and your guests tastes!
Print
Pin
Rate
Ingredients
½

cup

extra-virgin olive oil

2

garlic cloves,

thinly sliced

3

Tbsp

chopped parsley

1

Tbsp

chopped basil

1

Tbsp

chopped thyme

¼

tsp

red pepper flakes

(more if you like spice)

¼

tsp

salt

¼

tsp

pepper

8

oz.

mozzarella balls

(I like ciliegine, but you can also use pearls or bocconcini), drained
Instructions
In a large bowl, mix together olive oil with garlic, herbs, and spices.

Add drained mozzarella balls and stir to coat well. Keep in bowl or transfer to a jar. Let mozzarella marinate for at least an hour at room temperature before serving.

If you're making more than an hour in advance, store in fridge. Olive oil will likely solidify, so be sure to remove from fridge about 20 minutes before serving and give the mozzarella balls a good stir.

When stored in an airtight container in your fridge, marinated mozzarella balls should keep fresh for about a week.
Notes
I like a lot of herbs in my marinated mozzarella, but you can certainly use less if it's too much for you. You can also feel free to replace with dried herbs, but be sure to use much less since dried herbs a lot more powerful than fresh.
Share a Photo of Your Finished Recipe!
Mention @wearenotmartha and share a photo if you've made the recipe!