Is there anything you could eat for the rest of your life and be perfectly happy doing so? I have a few things I could seriously make a variation of each day for at least the next 10 years. Those things include cupcakes, flatbread, risotto, and cinnamon rolls. (And if martinis count, then those, too).
But let's talk cinnamon rolls (buns? still can't figure out the difference). Yup, there are just some things you can't get off your mind. I could eat cinnamon rolls every single morning for the rest of my life and remain happy. And there are SO many different variations that I really could have a different type every day (but many I'd want to return to!). I made the Pioneer Woman's cinnamon rolls on Christmas morning once again. And since then, I CAN'T STOP THINKING ABOUT THEM. I decided it would be piggy of me if I immediately made them again and gobbled up the plate of them. But if I were trying a new cinnamon roll recipe, it would be totally different. For the sake of experimentation and learning something new and all. Trust me, I'm good at justifying these things to myself.
I'm getting so good at making cinnamon rolls (a sign I'm making them too much?), I might even be able to make them in my sleep. And that would be a very, very dangerous thing! I followed this recipe, but changed a few things… like adding more sugar. What? I couldn't stop myself.
Apple Walnut Cinnamon Rolls (makes about 16 cinnamon rolls):
• 1 C plus 2 T warm water (110-115 degrees
• 2 T yeast
• 1/4 C sugar
• 1/3 vegetable oil
• 1 egg
• 1 t salt
• 3-3.5 C all-purpose flour
• 3 T butter, plus more for pans
• 1 C brown sugar
• 1 T cinnamon
• 2 apples, peeled, cored, and "shredded"
• 1 C walnuts, chopped
• Icing recipe (see below)
Icing (I used my own recipe variation):
• 1.5 C powdered sugar
• 1/8 C milk (I only had vanilla Silk soy milk, but it was divine)
• 1 T butter, melted
• 1 t vanilla extract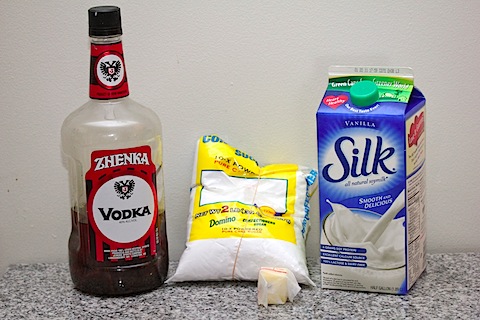 In a mixing bowl, dissolve the yeast in warm water.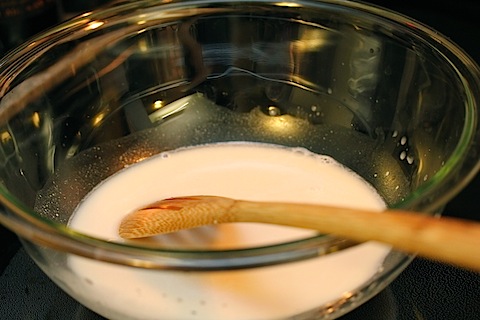 Add the oil and sugar and let stand for 5 minutes.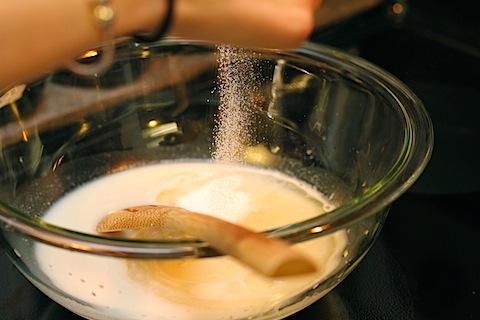 After 5 minutes, the mixture was totally already rising even though there was no flour. I was intrigued.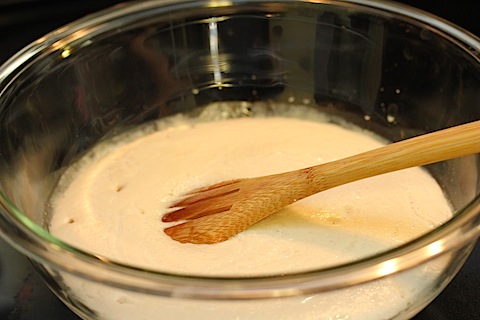 Now add the egg and the salt.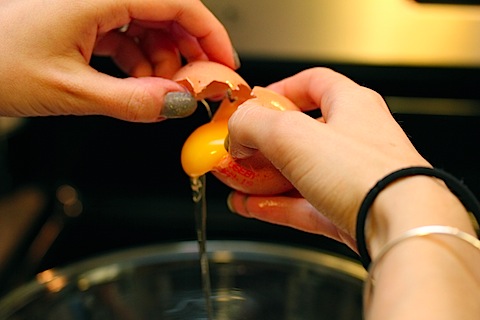 And add 3 cups of flour. If you think the dough is too sticky (mine was), add up to 1/2 C more.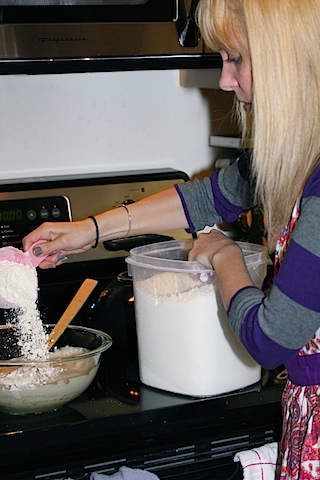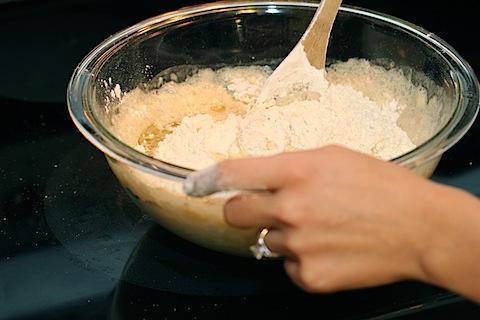 Now let the dough rest for about 10 minutes, so it can "relax." You can relax while your dough is relaxing if you want.
I was trying to figure out what the next step of the recipe was.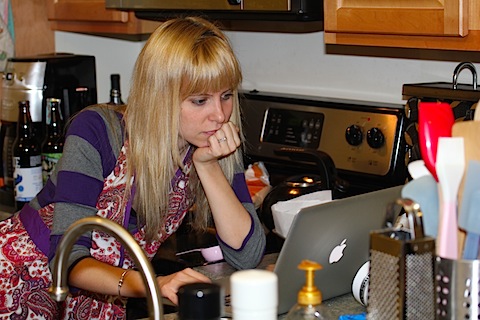 Just kidding; I was probably tweeting or something. (and yes, I know it's not good to bring my laptop into the kitchen. Yes, it's constantly covered in oil. Sorry).
Actually, while the dough was resting, I peeled my apples and "shredded" them. You could chop them into small bits, but I just cored them and used my Chef'n VeggieChop and it was SO easy. If I haven't already recommended this thing enough, I'm recommending it again. You need this in your kitchen!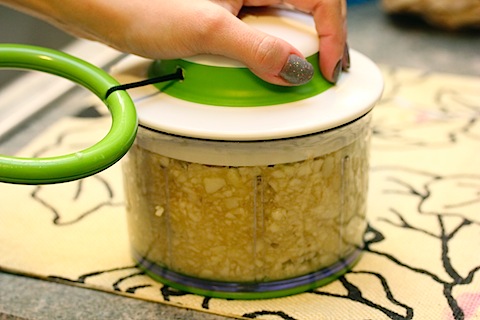 Perfect-sized apple pieces and all I had to do was pull the string a few times. This is SUCH a time-saver!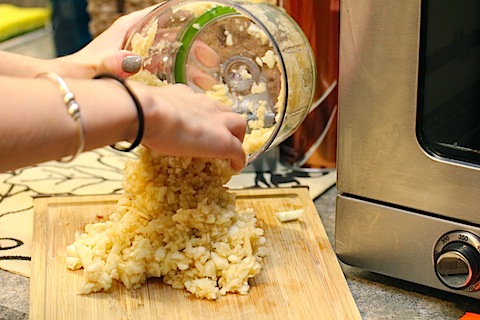 Now my dough had been resting for 10 minutes and rose a tiny bit. for some reason, you don't need to let this dough rise much… Quick and easy cinnamon rolls!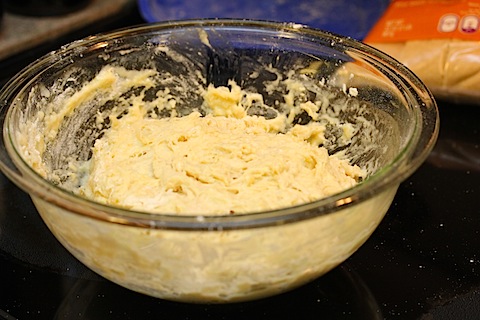 Take the dough out of the bowl (if it's still super sticky, make sure you coat your hands well in flour) and put it on a lightly floured surface.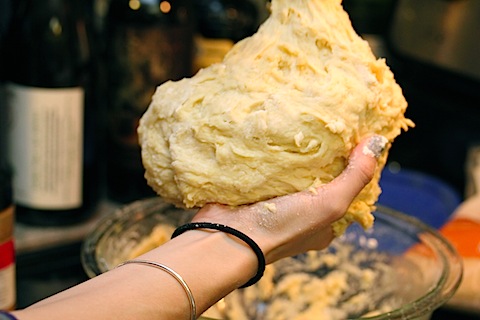 Roll the dough into a rectangle about 1/4 inch thick.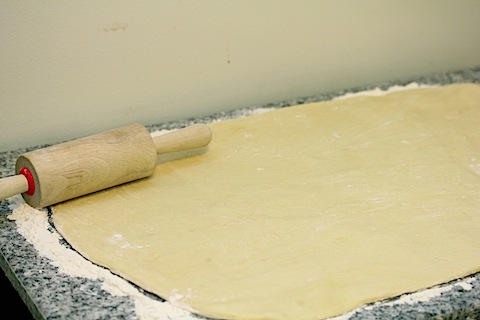 Spread the melted butter evenly over the dough.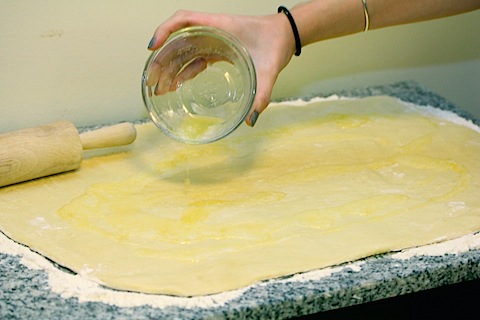 I used a pastry brush to make sure the dough was totally coated in butter.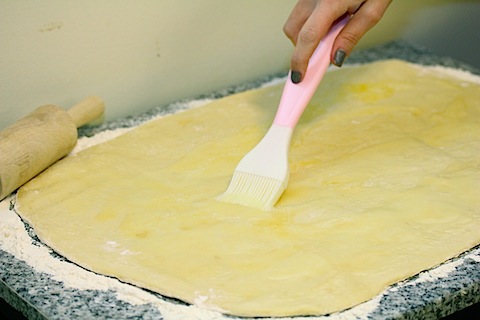 Then sprinkle the brown sugar over the dough rectangle.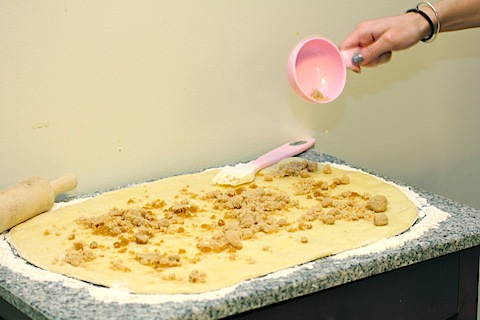 And the cinnamon, too. Ew to the vein in my wrist?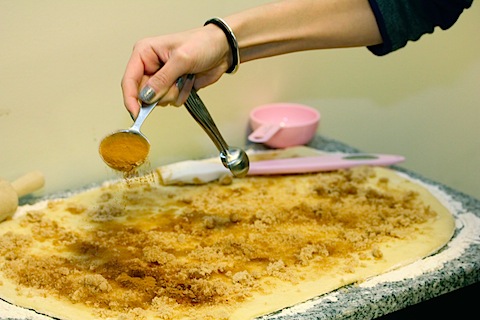 Now sprinkle the apples all around.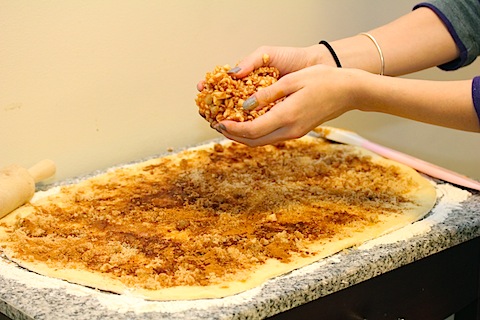 I had walnuts but they weren't chopped… So I got out my VeggieChop once again and chopped up the walnuts. So much easier than chopping them by hand. Hi Chef'n, can I be your spokesperson?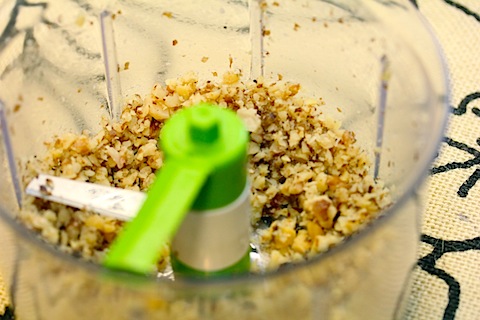 Now my dough rectangle is fully loaded.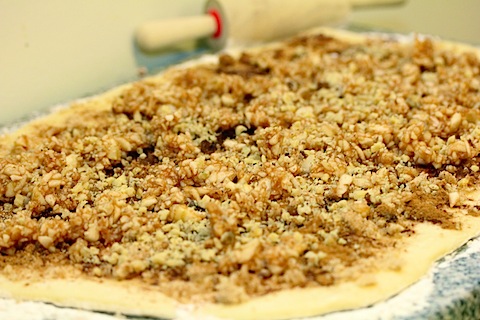 I mean, I couldn't even believe how much stuff I got on here!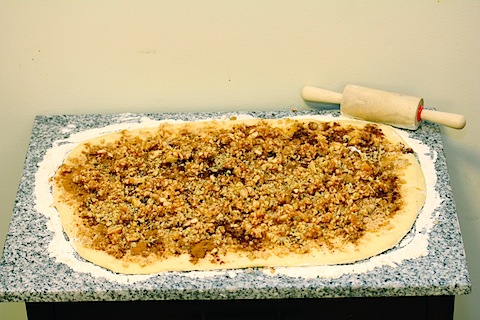 Time to fold the dough up. This part used to intimidate me so much, but after doing it a few times it's become simple as pie (I'm telling you, practice really is perfect). Starting on the long edge farthest from you roll the dough toward yourself.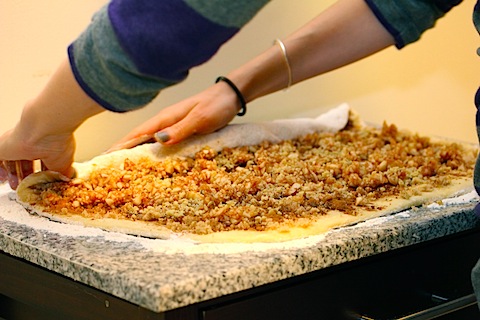 Keep going until the dough is all rolled up and pinch the edges to seal.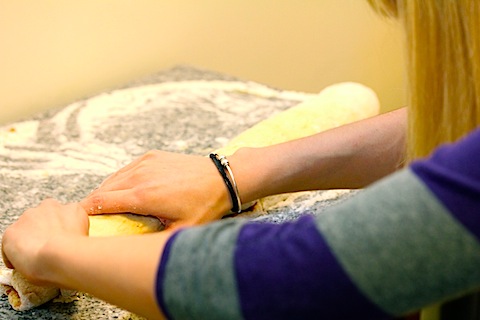 Now, with a sharp knife, cut into 2-inch rolls. I'm not too picky when it comes to the size of the rolls; a little variation is just fine.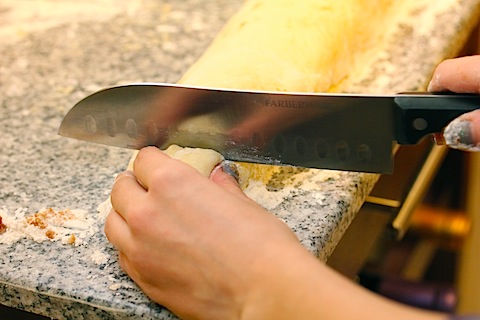 I absolutely love the way this cinnamon roll looks when you cut into it.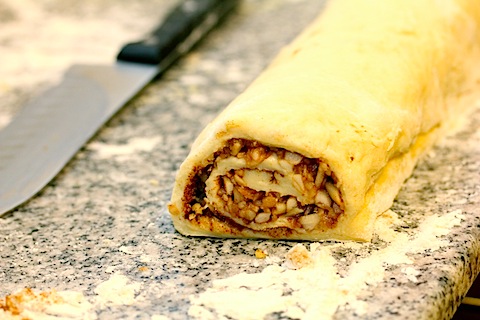 The recipe I followed said to put the rolls on an 11 x 14-inch baking dish. But I used two 9-inch pie dishes instead.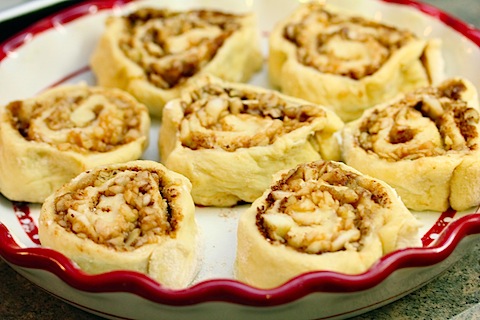 At this point you're supposed to let the cinnamon buns rise for 30 minutes to an hour. But I made these the night ahead, so I covered them in plastic wrap and popped them in the fridge (I put the other plate of them in the freezer).
When I woke up in the morning, they looked like this: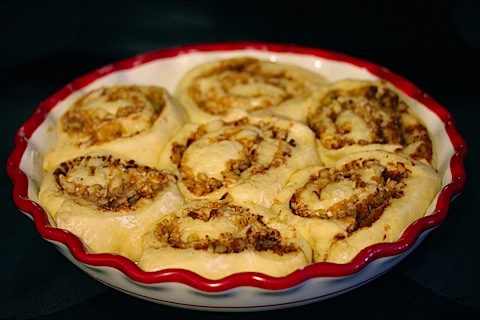 I let them sit out, uncovered, while I pre-heated the oven to 375 degrees.
Put them in the oven for about 20-23 minutes.
I say this every time I bake cinnamon buns, but your house/apartment/hut is going to start smelling SO good around minute 10. The neighbors will be jealous– I just hope they don't come knocking on your door. There's not enough to share!!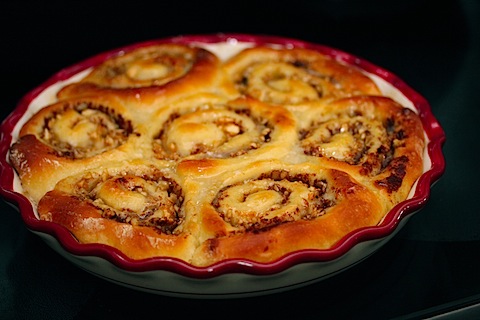 While they're baking, you should mix up the icing. Just put all the icing ingredients in a mixing bowl and whisk together. Easy. Pour the icing over the cinnamon buns.
Cut a roll out of the dish. And think "Hmm, I bet the plate would look prettier with 2 cinnamon rolls on it." Then quickly realize if you put 2 cinnamon rolls on your plate, you'll most definitely be eating 2 cinnamon rolls. And you probably shouldn't tempt yourself like that. (Psst. You can go back for more after eating this one).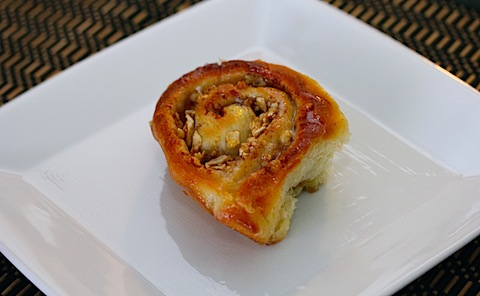 These cinnamon rolls were an awesome change from the typical plain cinnamon roll. They tasted a lot like an apple turnover or some kind of apple walnut pastry.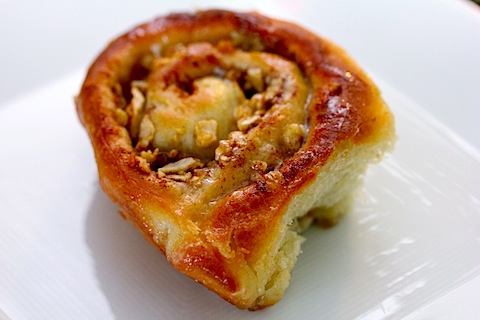 They definitely weren't as sugary sweet, or buttery, as the Pioneer Woman's, but sometimes variation is good. They were still sweet and gooey, which is what I want in a cinnamon roll. And because there are apples in them, they're a very well-rounded breakfast. Right? Right.
I'm also posting the New Year's Eve video again because it shows my cinnamon roll making process. Also, my mom said "You're so good at making these! You look like a pro!" That's likely because the photos Chris took actually made me look like I knew what I was doing; and put all together I look like I did it quickly and without hesitation. But really, for all you know I could have dropped the entire rectangle of dough on the floor, picked it up, cleaned it off, and continued rolling it. And it just didn't appear in the photos. I didn't. But I could have.
And now I'm off to get some sleep. Tomorrow Chels and I are headed to Sugarbush in Vermont to learn to Snowboard with Cabot Cheese and Team Snow How. Please keep me in your thoughts as I'm just about the clumsiest person in the world and will need some luck out on the mountain. But I can't wait!! 🙂
What's your dream cinnamon roll variation? Tell me what kind I should make next!
[Sues]