These Avocado Fries with Creamy Sriracha Dipping Sauce make for a perfectly crispy and flavorful snack, side dish, or party appetizer!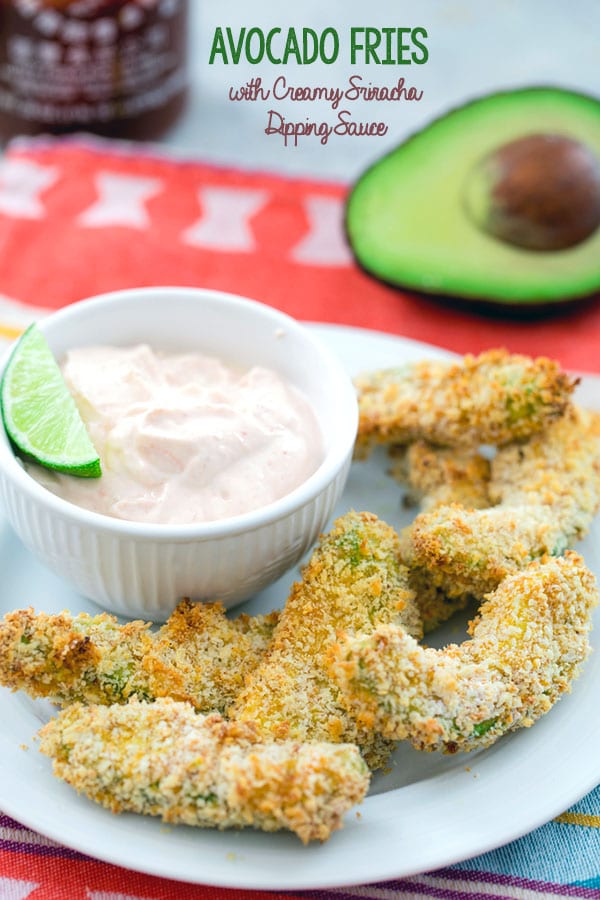 (This recipe for Avocado Fries was originally posted in May 2012, but the post has been updated with new photos and content.)
I have a confession to make... I am not the biggest fan of french fries. I'll certainly eat them, but I never really crave them and unless they're wonderfully thin and crispy (or made with sweet potatoes), I could usually do without. I mostly see them as an excellent vehicle for eating lots and lots of ketchup. I suppose this is really a greater confession about potatoes, which I've shared with you a time or two before. Potatoes have never really generated a lot of excitement for me, unless we're talking about an incredible mashed potato recipe (keep the skin on! Add blue cheese! Tons of garlic!) or a potato-based dish that's packed with ketchup, cheese, or gravy. But avocados? Now, those I get. In any way, shape, or form. At any time of the day. And yes, I will pay extra.
I first made these avocado fries back in 2012, but decided it was time to revamp my recipe photos and am always down for an excuse to make them again. Back then, avocado fries were just becoming a thing (though the first time I had fried avocado was at Austin City Limits in 2010 from Mighty Cone!), but now they're crazy popular and all over the internet. At first I had wanted to do a full-on deep fried version. But then I realized that I love avocados so much, I could probably oven bake them and they'd be just as delicious. I was right and now I can't imagine frying them because they're just so freaking perfect this way.
AVOCADO FRIES WITH CREAM SRIRACHA DIPPING SAUCE RECIPE
My recipe makes a lot of avocado fries. With three avocados sliced into 1-inch wedges, you can get about 30 avocado fries. Ain't nothing wrong with that. That, and the fact that they're ideal finger foods, makes these a great appetizer to serve at a party. After dredging the avocado slices and baking, they also tend to stay green longer than a "bare" avocado, so they won't immediately brown when you bring them out for a party.
There's quite a bit of dredging going on, but that's really the only thing you need to do to prep the avocado fries. Simple dip the avocado slices into lime juice, a flour mixture, egg wash, and panko.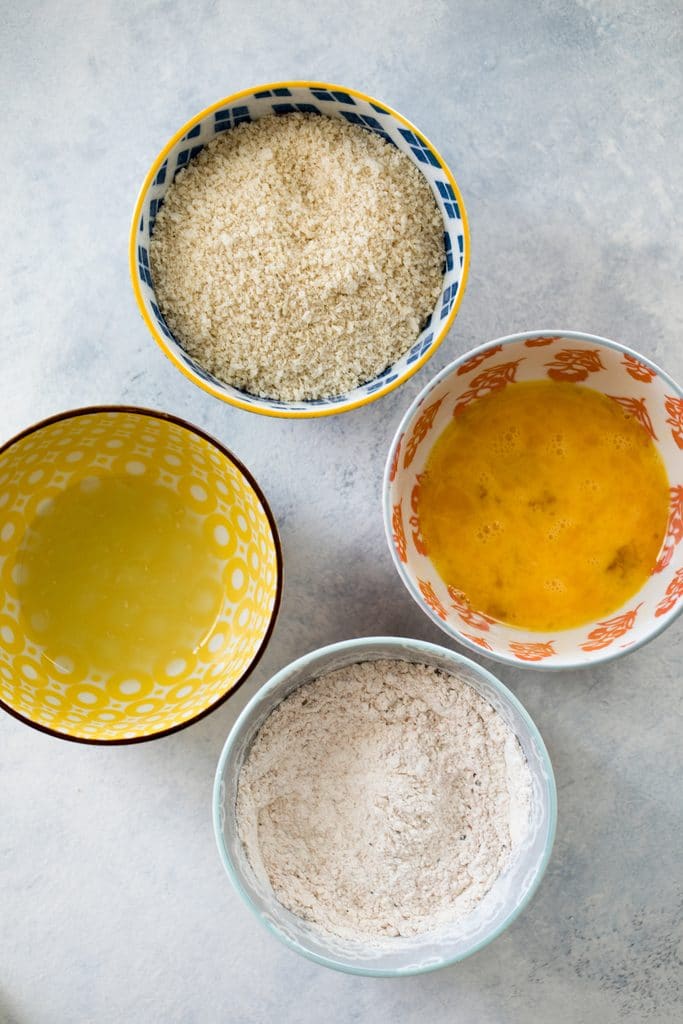 WHY IS PANKO BETTER THAN BREAD CRUMBS?
Do you find yourself gravitating to panko these days instead of standard old bread crumbs? I always have a couple boxes of panko in my kitchen and almost never use bread crumbs! But what's the difference?Panko are basically Japanese bread crumbs that are made from crustless white bread. Panko isn't as fine as regular bread crumbs and is drier and flakier, absorbing less oil and giving your food more crunch! Bonus points for the fact that panko is generally a bit healthier than bread crumbs, with fewer calories, less fat and carbs, and more fiber (and if you're using seasoned bread crumbs, you need to watch out for high sodium amounts!). Alton Brown has an interesting video that shows how panko is made.
If you want, you can add some parmesan cheese to the panko for a little extra bite, but I'm keeping this optional as some people are anti the cheese and sriracha combination. And I do highly recommend the creamy sriracha dipping sauce!
Anyway, after all your avocado slices are dredged, you'll place them on a baking rack and spray them with a little oil, like avocado oil (or olive or canola). And then bake until crispy!
While the avocado fries are baking, you should whip up the sriracha dipping sauce, which is really just sriracha, yogurt, lime juice, salt, and pepper. Easy and delicious!
Because the avocado fries are a bit more mild in taste, the sriracha dipping sauce is the perfect complement to them and the additional kick they need.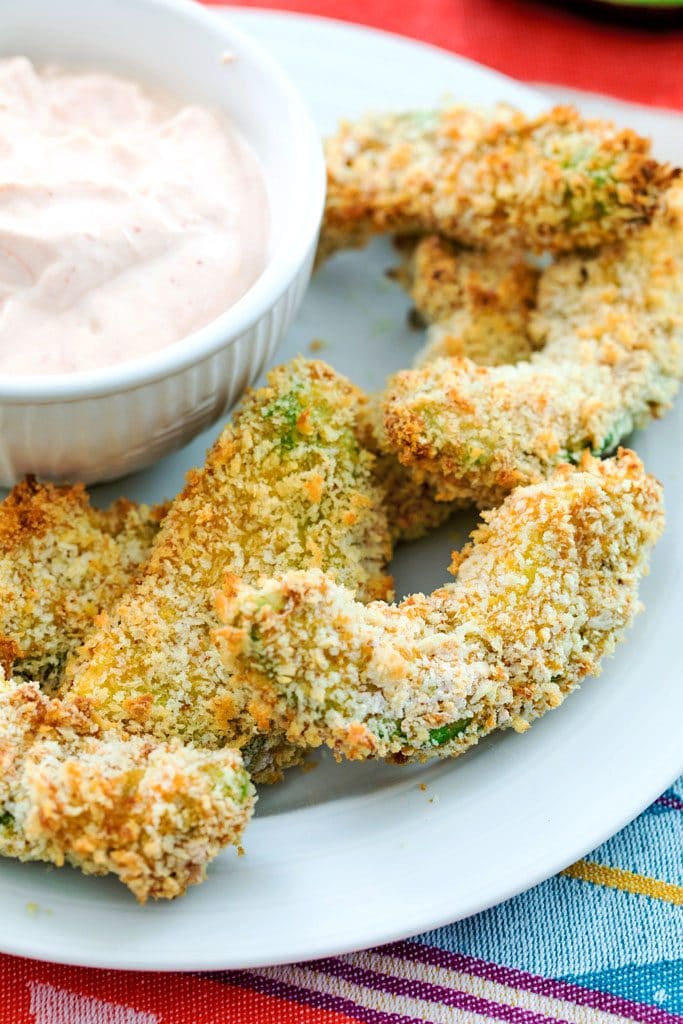 Though you know I never turn down the chance to fry (especially donuts!), I'm really happy I stuck to baking these instead. Baking helped keep the integrity of the avocado slices and didn't leave them oily or unhealthy tasting.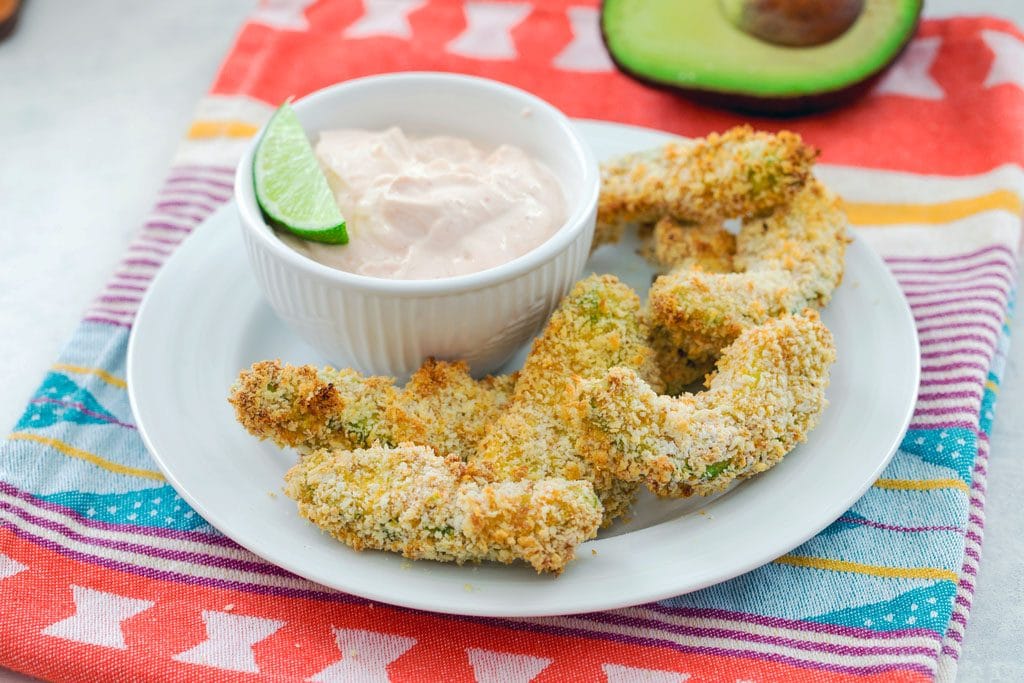 They're perfectly crispy and the kind of food you'll want to just keep eating and eating. Just keep reminding yourself that avocado is healthy fat and totally necessary in your diet.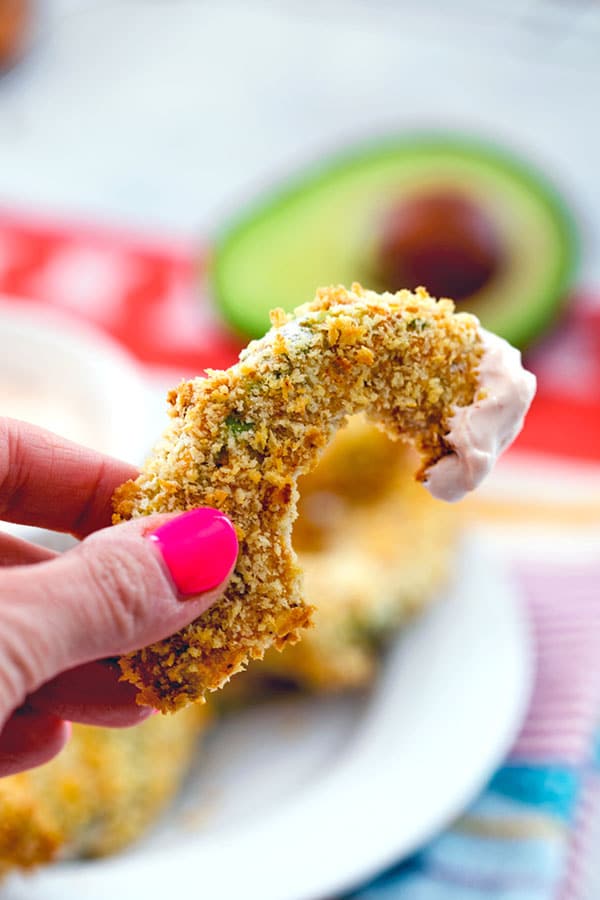 I'm seriously thankful that avocados are good for me because I'd be in serious trouble if they weren't. I think a lot of us would be. Now if only they weren't so darn expensive. Doesn't it seem like they keep getting more and more pricey every year? Worth every penny, though! Especially since Cinco de Mayo is just days away!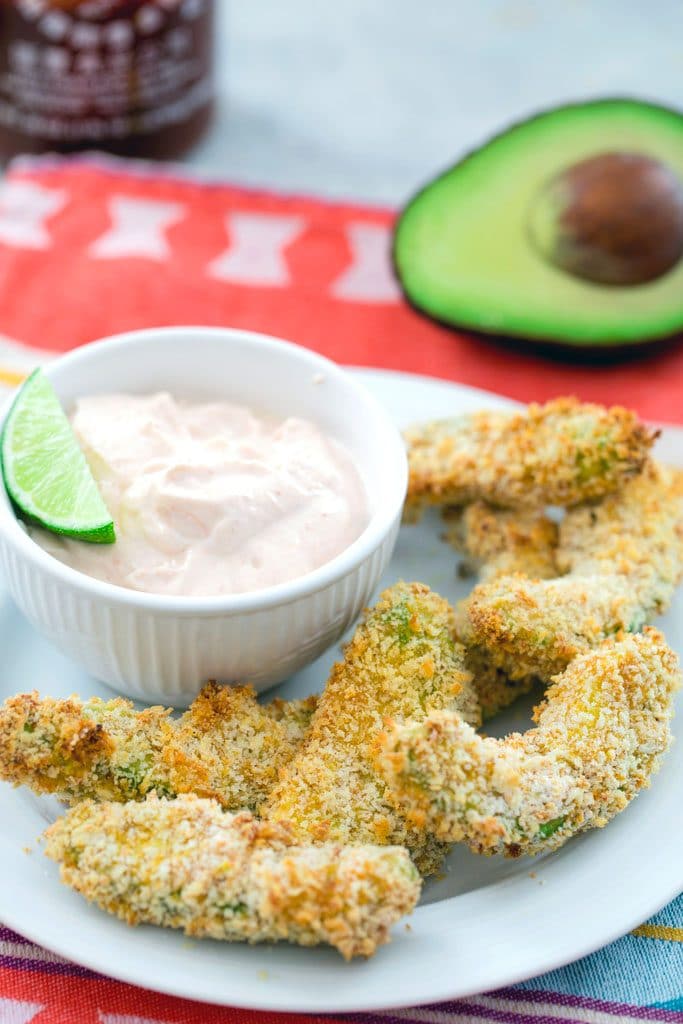 Back when I first created this recipe, we were only 9 days away from my wedding. And now... I've been married for almost 6 years. How the heck did that happen?? Also? Back when I first met my husband, he didn't like avocados. The horror!! Don't worry, I made sure to change that before I married him. Hey, a girl's gotta have standards, right??
Would you choose avocado fries to french fries?
If you love all things avocado, check out my Avocado Egg Salad with Spinach or my Cheddar Cups with Avocado Feta Mousse. I also really want to make this Chocolate Avocado Brownie Pie from North Coast Eats!
📖 Recipe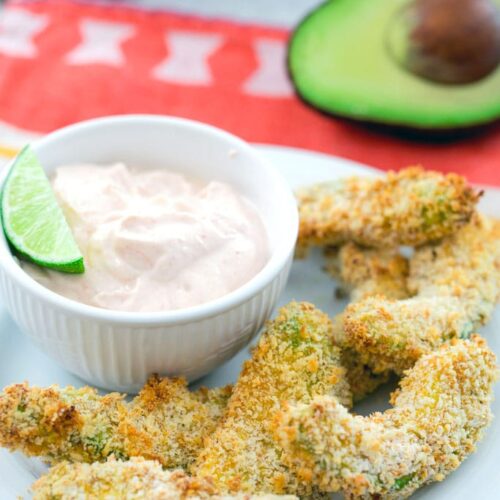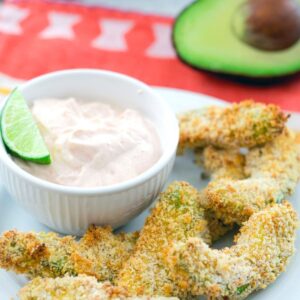 Avocado Fries with Creamy Sriracha Dipping Sauce
These Avocado Fries with Creamy Sriracha Dipping Sauce make for a perfectly crispy and flavorful snack, side dish, or party appetizer!
Print
Pin
Rate
Ingredients
3

avocados,

peeled, pitted, and sliced into 1-inch wedges (you should have about 30 wedges)

3

Tbsp

freshly squeezed lime juice

¾

cup

all-purpose flour

1

tsp

cayenne

1

tsp

garlic powder

½

tsp

salt

¼

tsp

pepper

3

large eggs

1 ¼

cups

panko

¼

cup

parmesan cheese

(optional)

Cooking spray

(I recommend avocado oil, but olive oil or another alternative works, too)
Creamy Sriracha Dipping Sauce
1

cup

plain Greek yogurt

⅛

cup

sriracha sauce

1

Tbsp

lime juice

¼

tsp

salt

¼

tsp

pepper
Instructions
Pre-heat oven to 400 degrees.

In a shallow bowl, add lime juice. In a second shallow bowl, mix together flour, cayenne, garlic powder, salt and pepper. In a third shallow bowl, crack three eggs and lightly beat. And in a fourth shallow bowl, add panko. If using parmesan cheese, mix in with the panko.

Dredge each avocado slice into each mixture. Start by dunking them in the lime juice, then tossing them in the flour, shaking off any excess. Then, dip the avocado slices into the bowl of egg, and finally coat them in panko.

Place dredged avocado slices onto a metal rack set over a baking pan. Spray avocado slices lightly with cooking oil.

Bake for 15-20 minutes, until the avocado slices start to get nice and golden. Remove avocados on rack to cool.

Serve with Creamy Sriracha Dipping Sauce (recipe below!)
Creamy Sriracha Dipping Sauce
Simply stir all ingredients together. Taste the dipping sauce and if you want a bit more of a kick, add more sriracha. Keep refrigerated until ready to enjoy.
Notes
Avocado Fries taste best fresh and tend to lose a bit of their crispiness after refrigerating. 
Share a Photo of Your Finished Recipe!
Mention @wearenotmartha and share a photo if you've made the recipe!