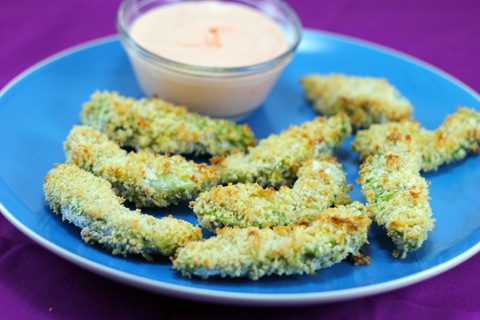 Baked avocado fries, that is! I have a confession to make… I am not the biggest fan of french fries. I'll eat them, but never really crave them and unless they're wonderfully thin and crispy (or made with sweet potatoes!), I could usually do without. I see them as an excellent vehicle for eating lots and lots of ketchup, which I do love to the fullest extent. This is really a greater confession about potatoes. I've just never understood the appeal of the potato. To me, it's a bit bland and gummy and unless you have an incredible mashed potato recipe (keep the skin on! Add blue cheese! Tons of garlic!) or pour on the gravy, I can do without. But avocados? Now, those I get. In any way, shape, or form.
Fried avocado has been blowing up on the Interwebs lately and I've been very, very tempted. Or really, I've been craving them since I first enjoyed them a year ago at the Four Seasons Bristol Lounge. At first I wanted to do the full-on version, including deep frying and lots of greasy goodness. But then I realized that I love avocados so much, I could probably oven bake them and they'd be just as delicious. I was right. I love when that happens.
Avocado Fries with Creamy Sriracha Dipping Sauce (makes about 30 fries):
Print this recipe!
3 avocados
Juice of 1 lime
2 eggs
3/4 C all-purpose flour
1 t cayenne
Sea salt and pepper
1 1/2 C panko
1 batch yogurt dip (see recipe below)
(pre-heat oven to 400 degrees)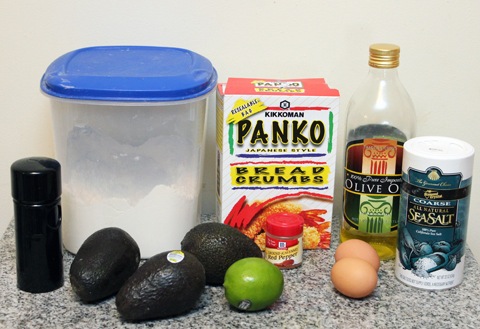 Slice your avocados into 1-inch wedges. You'll probably get about 30 slices using 3 avocados. If you don't want that many (and I don't know why you wouldn't) simply use fewer avocados. And reduce the other ingredients a bit too. This is by no means an exact recipe, so you can't really go wrong. If you need more egg, crack another, if you need more lime, squeeze more. It's all that simple.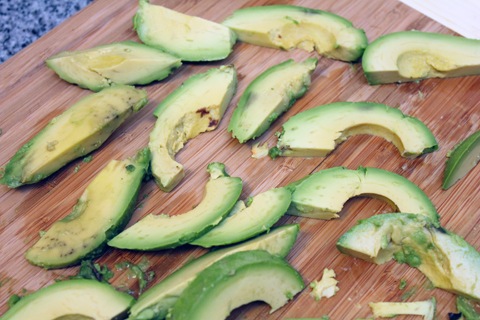 Get out four bowls and fill them with your dredging materials. AKA squeeze your lime into one bowl. In the second, whisk together the flour, cayenne, and salt and pepper. In the third, crack your eggs and beat them a bit with a fork. And in the fourth bowl, add the pank0.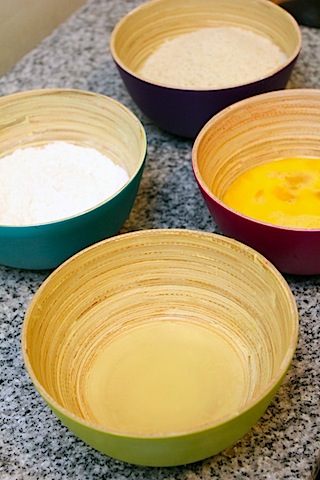 Dredge each avocado slice into each mixture. Start by dunking it in the lime, then toss it in the flour, pop it into the bowl of egg, and finally coat it in panko.
If you want to save a bit of hassle, divide panko into two bowls. By the time I was halfway through dredging my avocado, the panko was a hot mess because the lime and egg made it wet and clumpy. Not a huge deal, though!
I think it could be fun to utilize parmesan in these fries too… I would mix it with the panko before coating. I thought about it, but wasn't sure I'd love the parmesan with the Sriracha dipping sauce. Next time!
Place dredged avocado slices onto a rack set over a baking pan. I sprayed them with a bit of olive oil here, as well. You can use any cooking spray (like Pam!).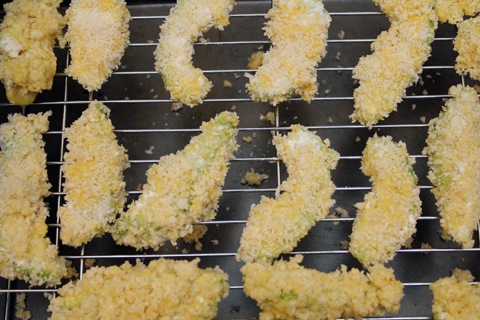 Now, bake at 400 degrees for about 15-20 minutes, until the avocado slices start to get nice and golden. Remove avocados on rack to cool.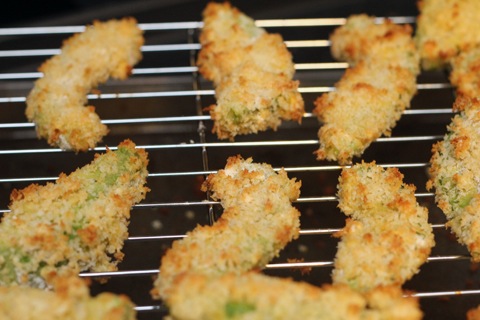 While those are baking away, whip up your dipping sauce. You knew I would do a spicy sauce, right? Especially considering I had a feeling the avocados would be quite mild.
Creamy Sriracha Dipping Sauce:
Print this recipe!
1 C 0% Greek yogurt
1/8 C sriracha sauce
1 T lime juice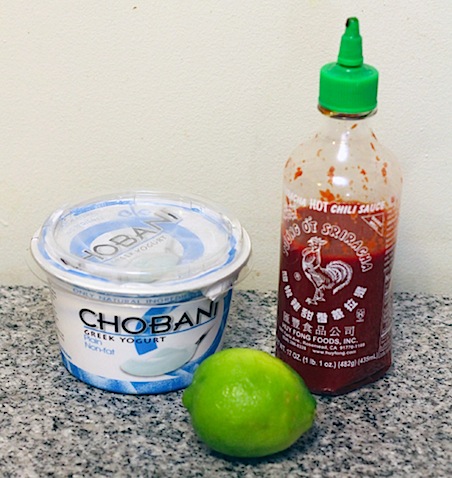 Simply stir ingredients together. Taste it and if you need a little bit more of a kick, then by all means, add some more sriracha. After all, you can NEVER have too much of it. Of course, you can serve this with any type of dip you want. Or eat them plain. That totally works, too.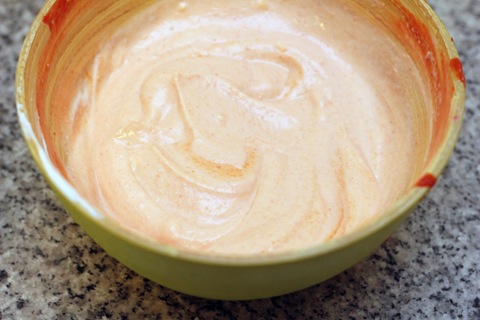 Serve as a side or um, as a meal. But seriously, I think you'd have some super impressed guests on your hand if you had them over for lunch and whipped these up on the side. And as you just saw, they're super duper easy.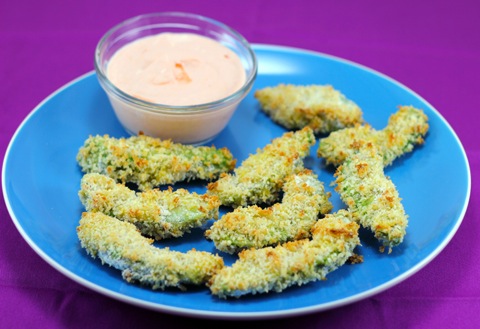 I'm really happy I baked these instead of deep frying. They were super crispy and flavorful and everything I was craving. Plus, baking them was a lot easier than frying and I saved myself a big mess.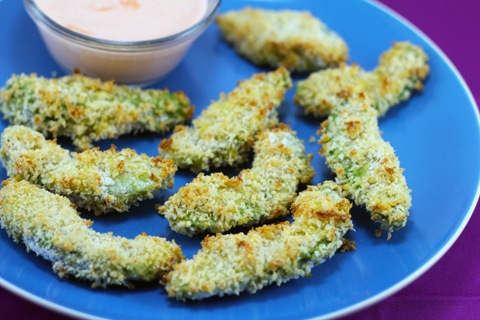 Since the avocado, especially when baked, is very mild, the dipping sauce added a completely welcome kick. The Sriracha combined with the cold yogurt was perfectly balanced and I could not get enough of it. Plus, it's made with 0% Chobani, which means it's a dip you can feel good about. Even if you do end up breaking out the spoon and simply eating scoops full.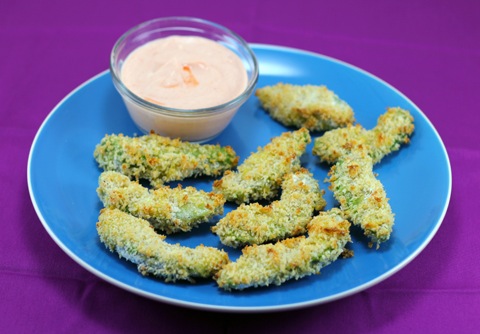 Just one more way to enjoy the lovely avocado. I'm so thrilled avocados are good for me because I'd be in serious trouble if they weren't. Now if only they weren't so darn expensive. Worth every penny, though!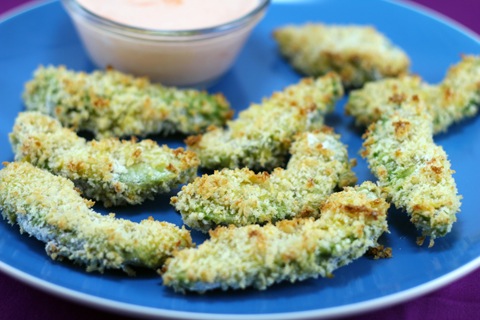 Today equals 9 days until the wedding! Which means the 10-day forecast is out. I don't want to jinx anything, but…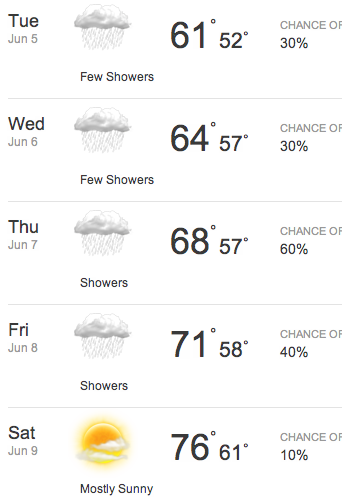 Ha! I know it's really too soon to tell, but I thought that was kind of funny. And seriously, I'm not too worried about the weather- one reason we chose an indoor venue was so we wouldn't have to stress over stuff like that! I'm just so excited to get married to Chris, I don't care if there's a blizzard on June 9! Well, that might be a little weird, but I'm certainly not going to let some rain get me down. Cute umbrellas make for super fun photos, anyway.
If you had to choose, would you prefer potato french fries or avocado fries?
[Sues]