Tacos are on a hardcore dinner rotation around my house. I always keep all the ingredients in the pantry and ground turkey in the freezer for those nights when I just don't feel like cooking. I've made tacos so many times, I can do it with my eyes closed. I always know they're going to be delicious and I get no complaints from Chris whenever I whip them up. They were probably my #1 most-requested meal as a kid and I pride myself on the fact that I make them exactly like my mom now.
But sometimes it's good to switch things up a bit. And when I saw Kerstin from Cake, Batter, and Bowl's BBQ Chicken Tacos, I literally drooled. I mean, BBQ chicken along with all the fixings? I immediately wrote a grocery list (and stole some smoked paprika and Mexican oregano from my dad). If you don't have all these spices, don't worry! Just improvise with whatever you do have. You can invent your own rub and BBQ sauce! You could even buy a pre-made rub and BBQ sauce and I swear I won't tell anyone. But try this recipe, if you can.
BBQ Chicken Tacos:
Chicken:
• 1 T ancho chile powder
• 1 T Mexican oregano
• 1/2 T backed brown sugar
• 1/2 T smoked paprika
• 1 t cayenne pepper
• 1 t salt
• 1-1.25 lb. skinless, boneless chicken breasts
BBQ Sauce:
• 3/4 C ketchup
• 1/2 C apple cider
• 1/4 C apple cider vinegar (or regular vinegar)
• 1 T brown mustard
• 1 t Worcestershire sauce
• 1 T espresso powder
For Assembly:
• 1 T canola oil
• 1 large red onion, cut into strips
• 8 corn tortillas, warmed
• 6 oz. queso fresco, crumbled     
(pre-heat oven to 350 degrees)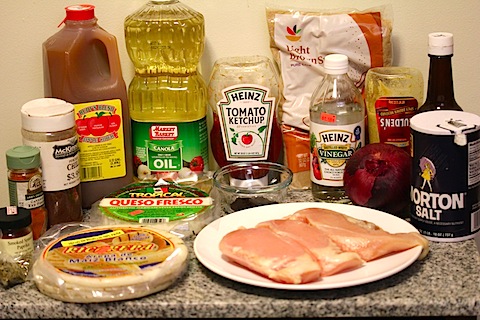 First, get the spice rub ready for the chicken. Mix together the ancho chile powder, oregano, brown sugar, paprika, cayenne pepper, and salt in a small dish.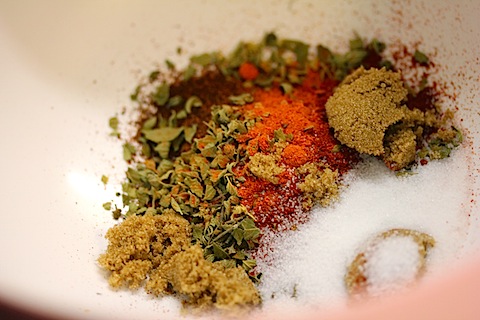 Rub the chicken breasts evenly with the spice mix and place in a greased 13×9 inch pan.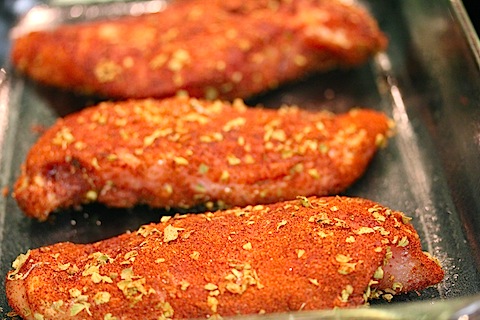 Bake chicken at 350 degrees for 22 to 25 minutes, until it's cooked through and no longer pink in center.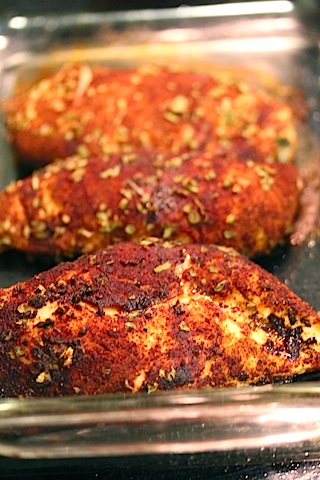 Cool the chicken for 10 minutes, cut into small chunks, and place in a large bowl.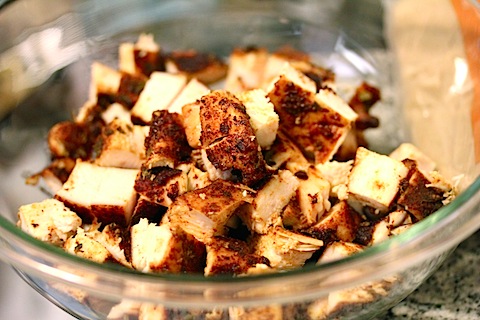 While the chicken is cooking, you can get started on the BBQ sauce. Place ketchup, apple cider vinegar (I only had regular vinegar and that was fine), mustard, Worcestershire sauce, and espresso powder in a small saucepan and heat over medium heat.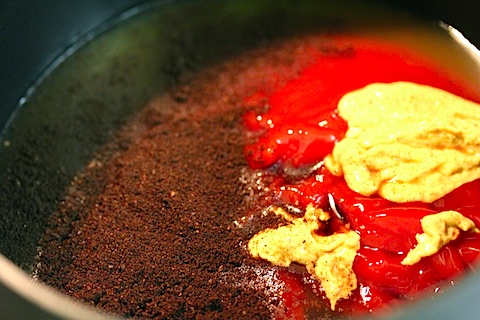 Cook for 5-7 minutes, until it's thickened.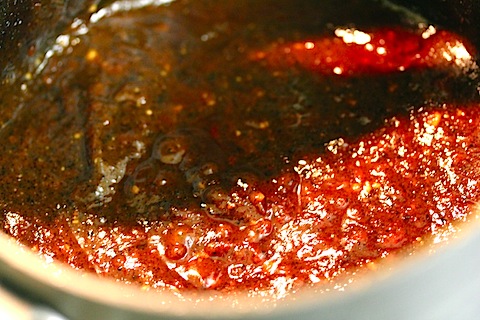 Mix the BBQ sauce with the chicken.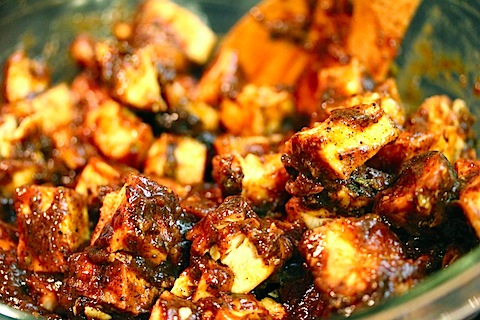 Heat canola oil in a nonstick skillet over medium heat and saute onion strips for about 7 minutes, until tender.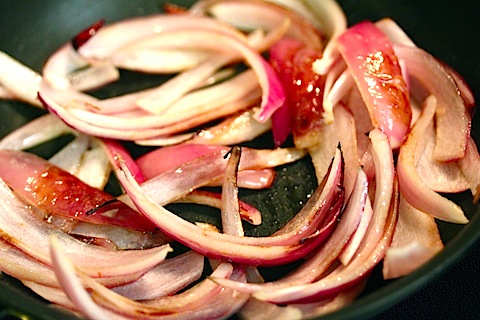 Crumble up the queso fresco. I have to say this is not my most favorite cheese. It's way too mild for me; I love a nice, sharp cheese! But then, a sharp cheese wouldn't have been great on this because it would over-power the BBQ flavor. And the BBQ flavor was way too good to be overpowered.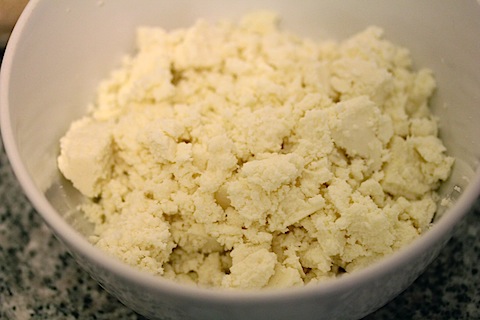 Sadly, my Spanish has seriously deteriorated from college and instead of purchasing corn tortillas, I purchased corn arepas. And didn't realize until I opened them that they're much thicker than a tortilla. Guess I need to brush up on my Espanol en la cocina, eh?
So, the arepas didn't quite fold as well as a typical tortilla would.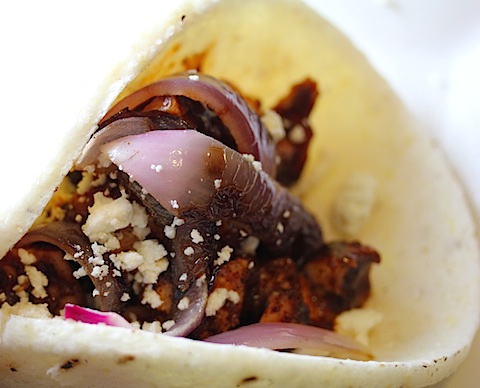 But overall, everything was absolutely delicious. I'd actually really like to bottle up this BBQ sauce and put it on pretty much everything (OK, everything that I'm not already spreading peppermint frosting on). Next time I make these tacos, I might actually make more BBQ sauce to top them with. I've always been the "More BBQ sauce on the side" kinda girl.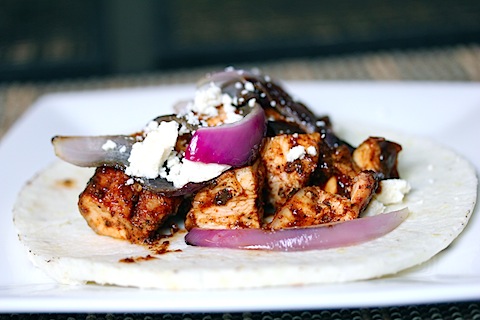 This was a pretty awesome alternative to the typical taco night. The chicken was super tender and I absolutely love the taste of browned up onion strips!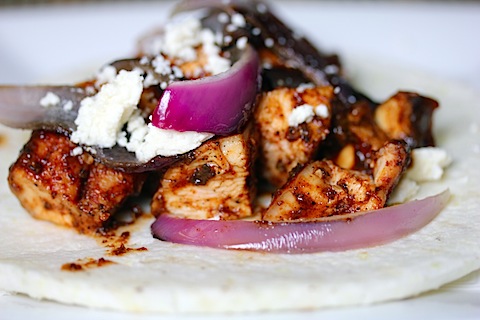 Another topping I might add in next time? Avocados. I think that would give the perfect green touch and bring all the flavors together. Plus, what isn't avocado good on?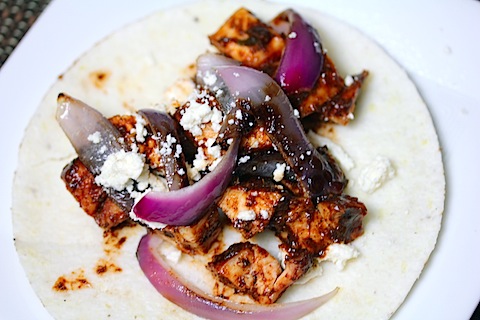 And if I kept some of that spice rub ready to go and some BBQ sauce in my fridge, I could easily whip this up on a busy weeknight. This could become a regular in my kitchen!
And margaritas. This dish totally needs a margarita on the side.
Stay tuned for Friday when I'll have another holiday dessert for you! This one may or may not contain peppermint…
Le Creuset Winner!
And now for the big moment you've all been waiting for! The winner of the beautiful Le Creuset 4.5 quart round french oven. Drum roll, please! After a random drawing, the winner is: Bianca from Confessions of a Chocoholic! Congrats! Bianca actually lives in the Boston-area, but I haven't had the chance to meet her yet. I'm pretty excited to see what delicious chocolate concoctions Bianca whips up in her new Le Creuset.
Do you have a taco night at your house? What's your favorite kind?
[Sues]