This Blood Orange Sparkler is a simple blood orange cocktail with a splash of ginger ale and champagne. It's a lovely winter brunch cocktail, but can be enjoyed any time of day!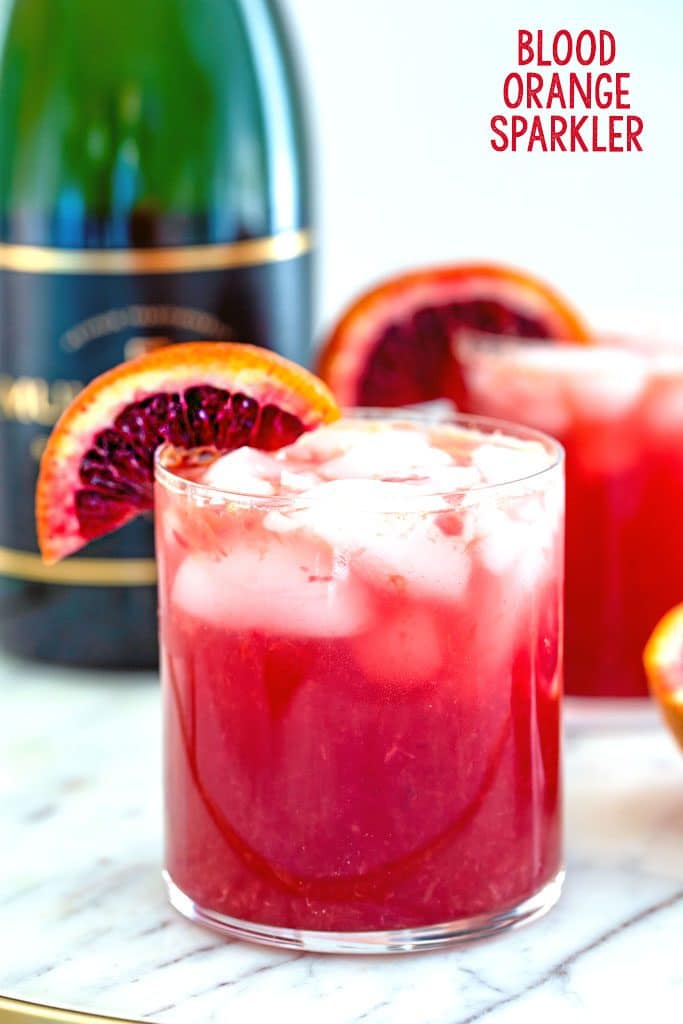 I used to save my drink posts for Fridays a la Cocktail Friday. But then I got out the champagne on a Wednesday evening. And then I remembered that some like to refer to Thursday as Thirsty Thursday. Though I don't know if anyone actually does that for real after college. My friends and I often say it to each other jokingly, which I think means we're old because it's almost always just a joke.
These days, you can often find me on Thursday evenings sipping some tea or V8 (love it? hate it? I'm V8 addicted!). Mayyybe a glass or two of red wine on occasion. I'm not sure if that qualifies as Thirsty Thursday behavior. Though I guess it does beat the alternative. Get out the V8 whooo!!! Chug chug!
In any event, now that it's blood orange season, I want ALL the blood oranges. And that includes in my cocktails. Um, with some champagne added in, of course. Popping open a bottle on "hump day" is exactly what the week needed. And now that it's Thursday, it's even more appropriate. Plus, it's St. Patrick's Day and uh, the ginger-ale bottle is green? Whatever, it's alcohol and that's all you really care about on St. Paddy's Day, right? That's what I thought.
BLOOD ORANGE SPARKLER COCKTAIL RECIPE:
If you love blood oranges as much as I do, it's quite likely blood orange cocktails will make you very excited. I mean, the color of this alone is enough reason to love it. And the taste is another! Essentially, it's a blood orange mimosa... With a splash of ginger ale added in for good measure. There's nothing complicated or fancy about it; but it's simple and delicious.
It was cold and I was feeling lazy and didn't feel like walking to the grocery store, though I knew I wanted to make this drink. Since I set up my mobile office at Bruegger's for the day (best mobile office ever!), I decided to run into Trader Joe's to see if, by chance, they had blood oranges. And they did!! A whole bag of them for under $3. Score!
Every time I cut open a blood orange, I marvel at its beauty. But let's just say that juicing them can get a bit messy.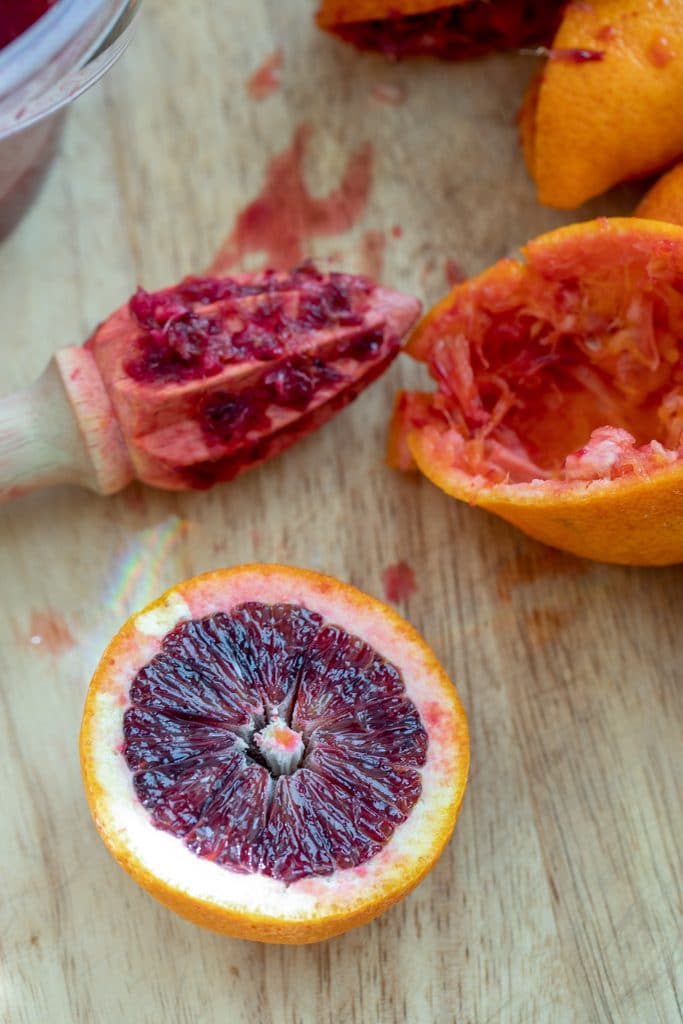 When Chris walked in the door, he proclaimed the kitchen looked like a scene from Dexter. Dexter, in case you haven't watched, is a very excellent show. And this is coming from someone who really only likes reality television and shows like Greek (so sad it's over!) and Parenthood (best show on television!). By the way, what did everyone think about the Bachelor? I was happy initially, but really disappointed that I don't think they're going to work out. Also, I stayed up until 1:30 a.m. watching All. 3. Hours. Because I have an addiction and couldn't go to bed until it was done.
Oh, back to the blood oranges. Yup, they can get a little messy. But messy cooking/cocktailing is my favorite kind of cooking/cocktailing.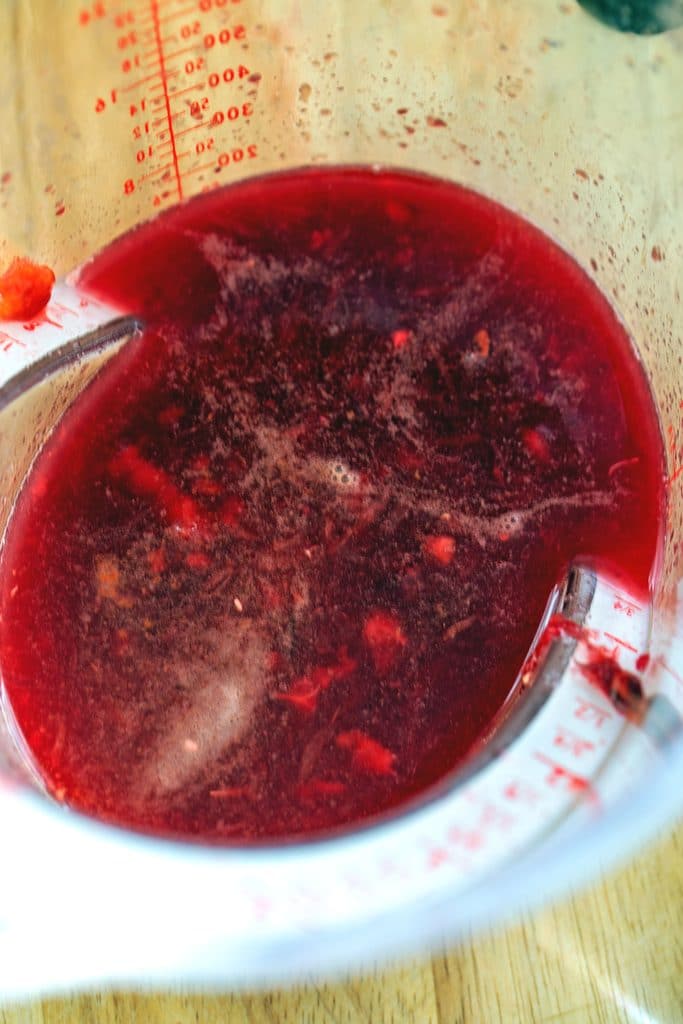 Juicing the oranges was really the hardest part of this whole production (which you should get a reamer for). The rest is just opening bottles and pouring liquids in... mixologist style.
And with that, I discovered the perfect "omg is winter almost over?? drink." That would also be delightful all summer long if only blood oranges would remain in season. Speaking of, I keep forgetting I have a pool at my apartment building since I didn't move in until August last year. Then all the sudden I'll remember and get SO ridiculously excited. Memorial day, can you please hurry up? I think I need to freeze some blood orange juice so I can make this my new pool drink.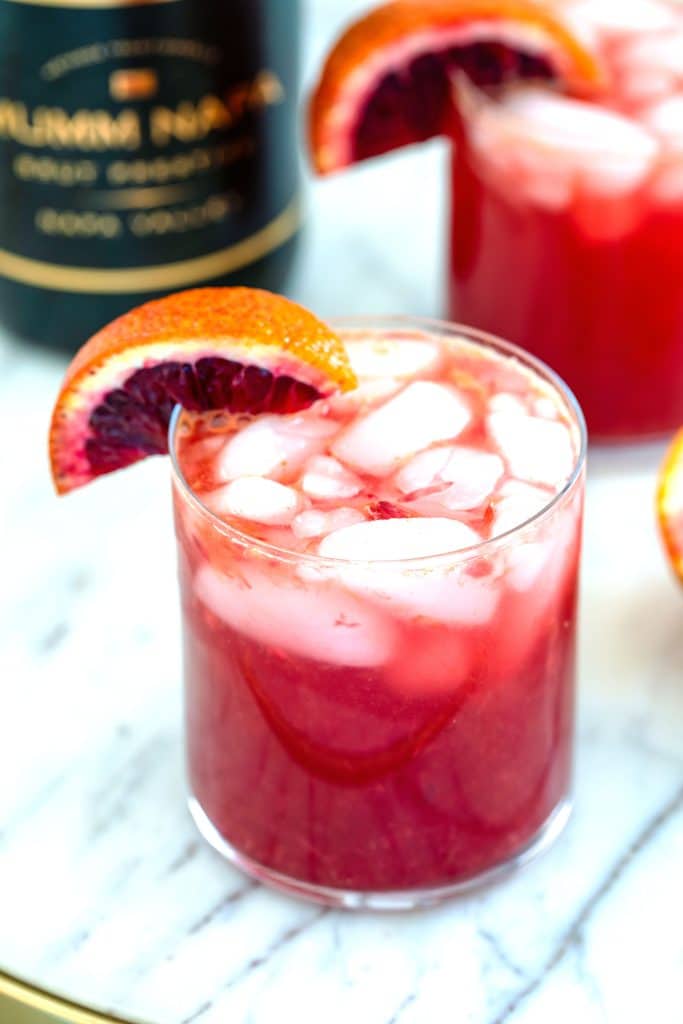 Like I said, this blood orange cocktail is really like a fancy mimosa. But when I say fancy, I mean it's so, so much better. And prettier. And larger. Who wants a cocktail served in a little champagne glass anyway??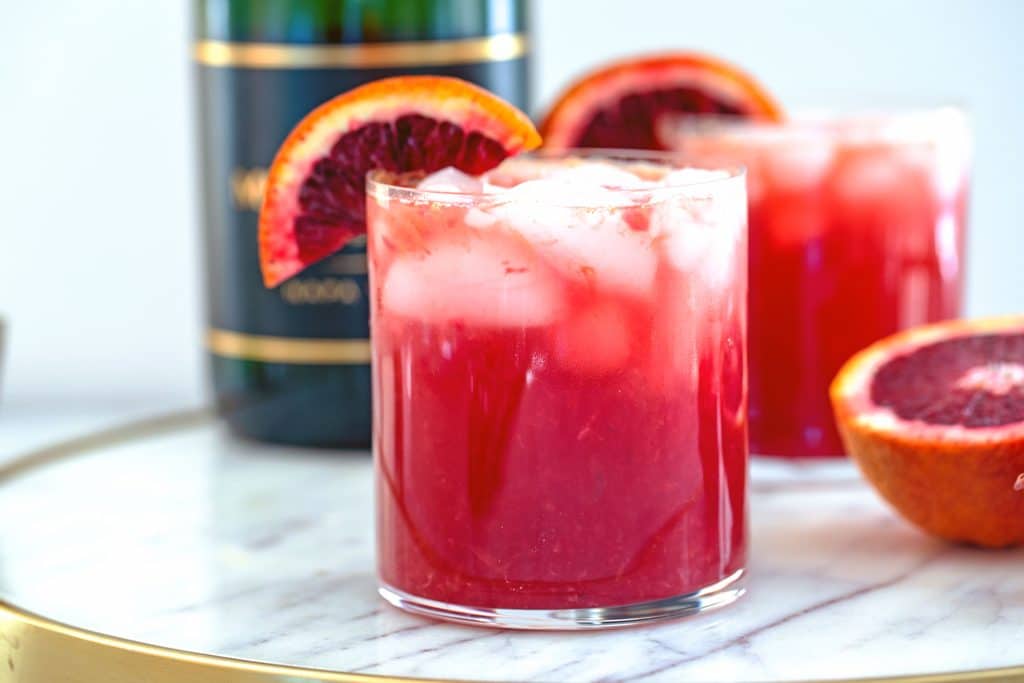 Also, blood oranges will be added to every fruit salad I make from now on. They're pretty and so tasty... If you've never had one, they actually taste a little bit like berries... definitely different than a typical orange. And messy. I'd wear an apron if I were you. Or at least not your nicest sweater (I may or not be speaking from experience here).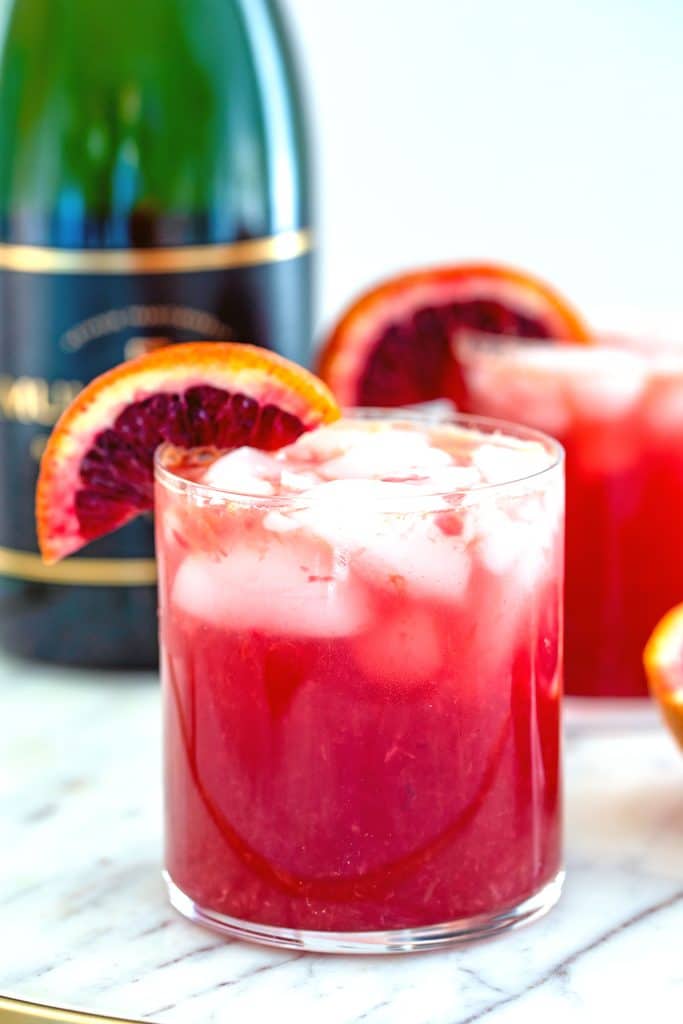 So, maybe this blood orange cocktail isn't totally St. Patrick's Day appropriate and maybe you should go drink a Guinness or something. Or maybe you should appreciate the fact that blood orange season is so fleeting and take full advantage of the fact that they're plentiful right now.
Are you a fan of blood oranges
Happy almost weekend 🙂
If you like this blood orange cocktail, check out my Blood Orange Habanero Cocktail and my Grapefruit Blood Orange Cocktail. I'm also in love with this Blood Orange Margarita from Dishes Delish!
📖 Recipe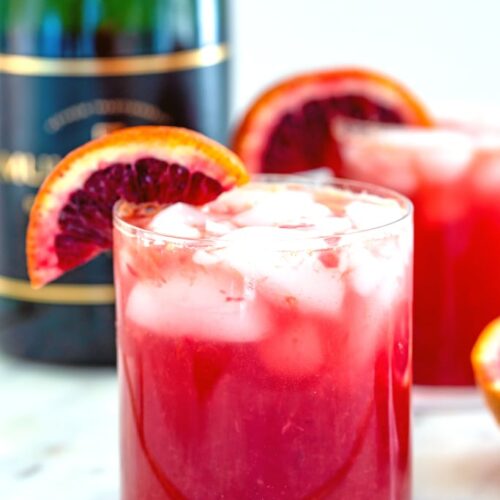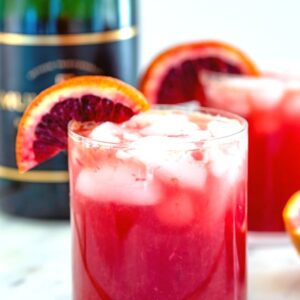 Blood Orange Sparkler
This Blood Orange Sparkler is a simple blood orange cocktail with a splash of ginger ale and champagne. It's a lovely winter brunch cocktail, but can be enjoyed any time of day!
Print
Pin
Rate
Ingredients
1 ½

cups

freshly squeezed blood orange juice

½

cup

ginger ale

½

cup

champagne or prosecco
Instructions
Fill glasses with ice and pour ¾ cup blood orange juice, ¼ cup ginger ale, and ¼ cup champagne into each.
Share a Photo of Your Finished Recipe!
Mention @wearenotmartha and share a photo if you've made the recipe!