There's nothing quite like a glass of cold lemonade on a hot summer day. Unless it's a glass of cold Blueberry Vodka Lemonade! This summer cocktail is the perfect balance of tart and sweet and can also easily be made into a blueberry lemonade mocktail.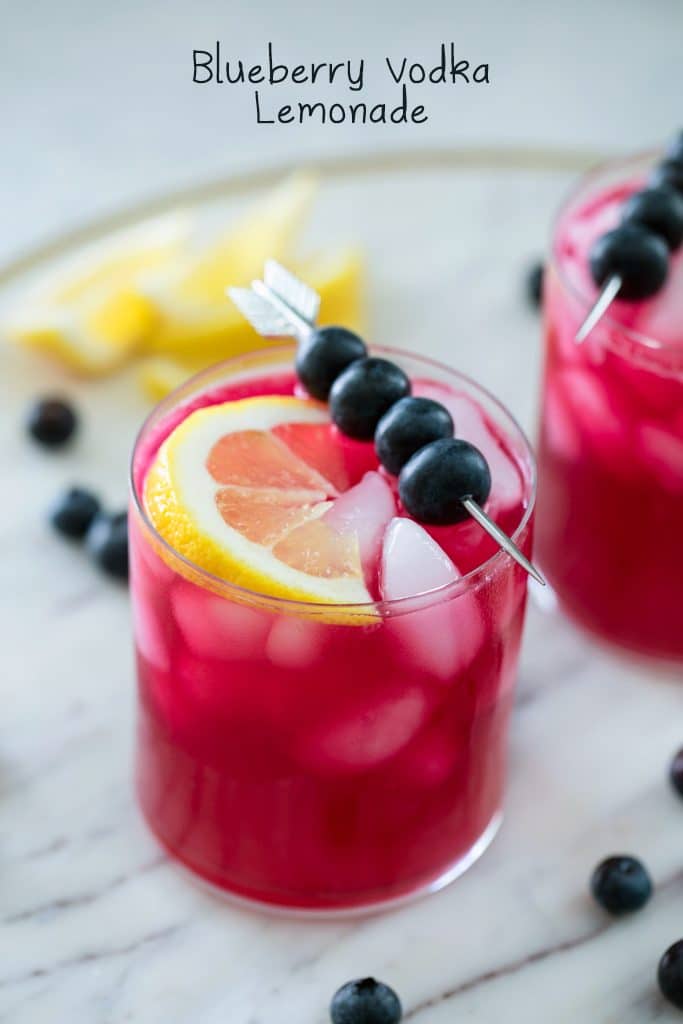 (This recipe for Blueberry Vodka Lemonade was originally posted in June 2014, but the post has been updated with new photos and content.)
Sometimes I wonder if guests coming into our home for the first time think my husband and I may have a teeny tiny alcohol problem. We have an ungodly amount of liquor on our family room bar-top; we're talking 30 bottles or so. Not to mention, the inside of the bar is packed full of wine.
The thing is, most guests don't go down to my basement… Where there's another pretty large stash of liquor. But seriously, if we're being honest, I probably have a drink 2-3 times a week and most of those times it's just one glass of wine or one beer. But because I love making cocktails so much, I like to have my bar fully stocked, so when I need elderflower liquor, I have elderflower liquor. And when I need campari, I have campari. And when I want to sip on a glass of Fernet-Branca after a long day, I don't have to leave my house to get it (side note, do you like fernet?? It's a highly controversial digestif, but I LOVE it).
Always be prepared is the Girl Scout motto and while they probably didn't mean that sentiment to be followed by, "so when you want a cocktail, you have a fully stocked bar," but I'm owning it. Something tells me that if the Girl Scouts tried the cocktail in todays post, they'd be fully on board. I think you will be, too.
BLUEBERRY VODKA LEMONADE RECIPE
OK, even if you're not a big cocktail drinker, you still need to make this blueberry simple syrup and just keep a jar of it in your fridge. I love this blueberry vodka lemonade, but I'd also be totally happy with a virgin blueberry lemonade mocktail, too. It's the perfect drink for kids or for sitting out on your deck in the sun.
You can also add the simple syrup to soda water for a delicious water that will basically taste like blueberry pie.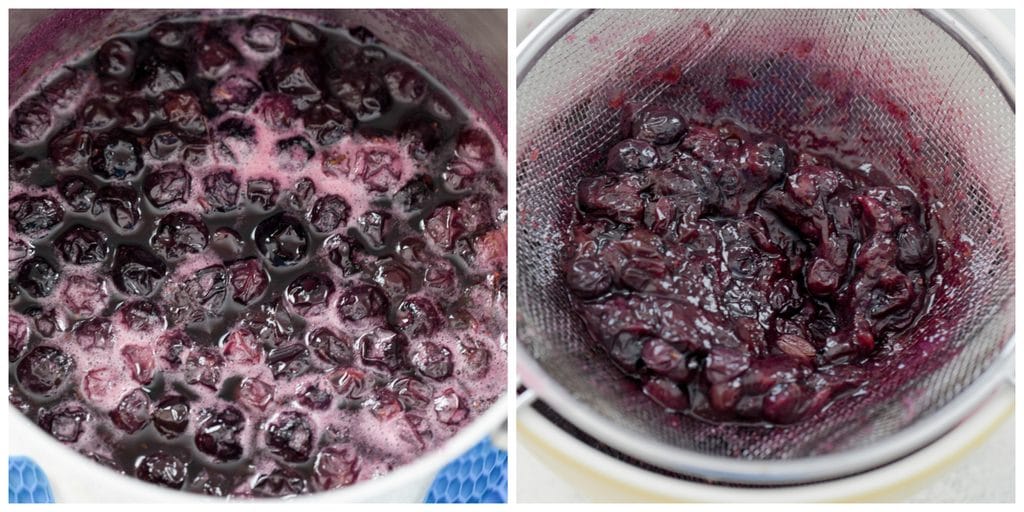 Once you have the simple syrup made, this cocktail will literally take you 10 minutes to finish. The hardest part is juicing the lemons.
Other than that, you put all the ingredients in an ice-filled shaker, shake away, and then pour them into an ice-filled cocktail glass.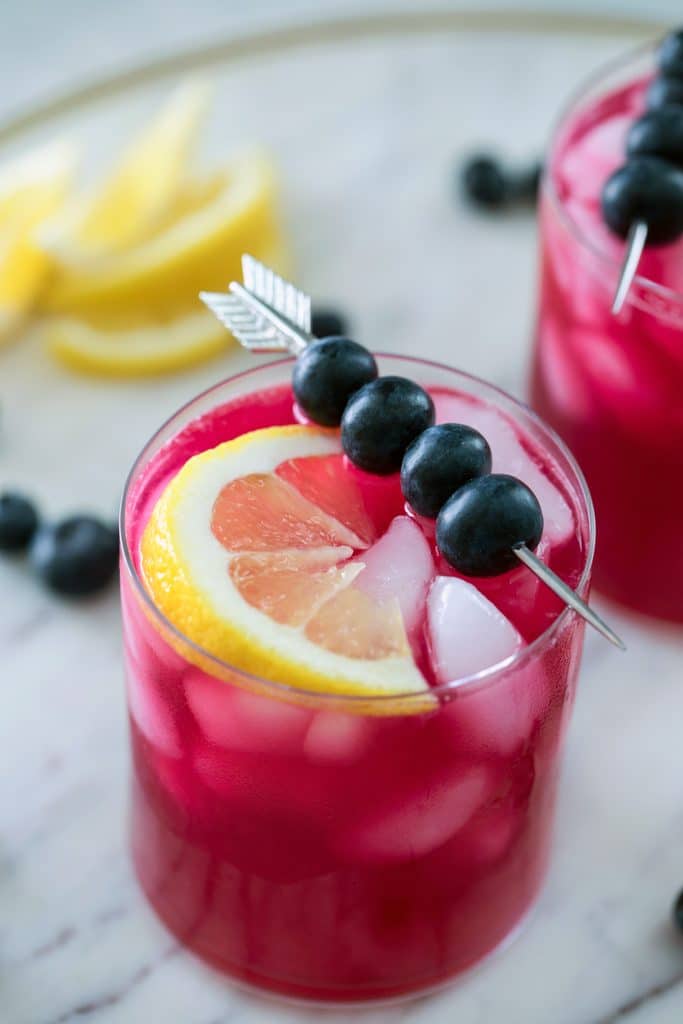 I'm absolutely obsessed with the color of this cocktail! I've noticed that every time I've made the blueberry simple syrup, it comes out a slightly different hue and I have to say this is my favorite color yet. It's just such a happy cocktail.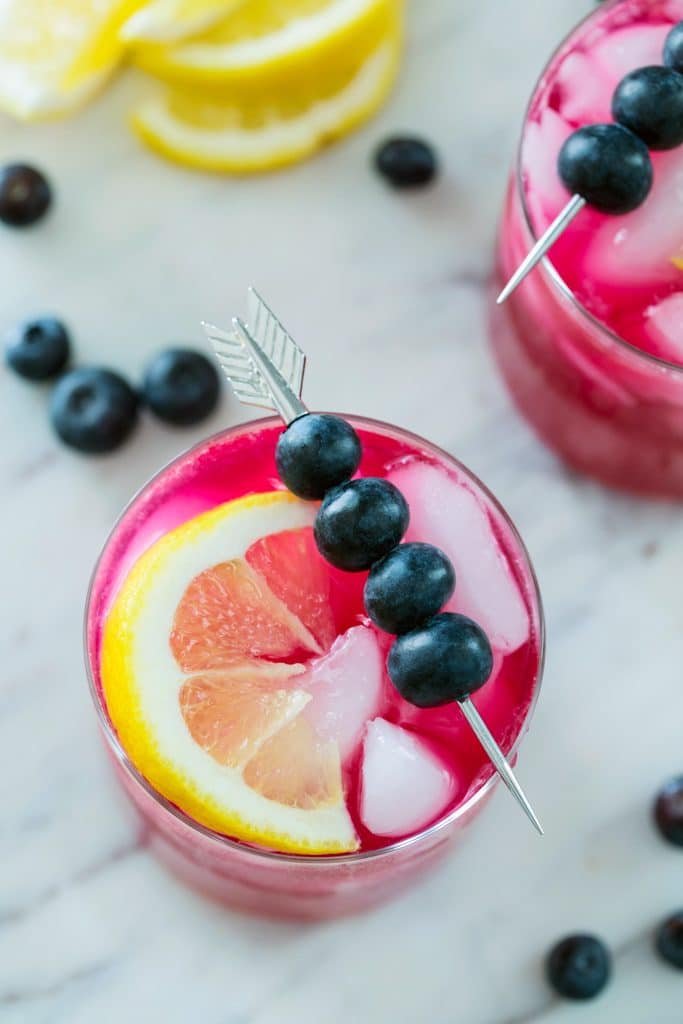 I'm in love with this blueberry vodka lemonade in large part because of the balance of flavors involved. It's a little bit tart from the lemon, but also nice and sweet from the blueberry simple syrup. Basically everything I love in life.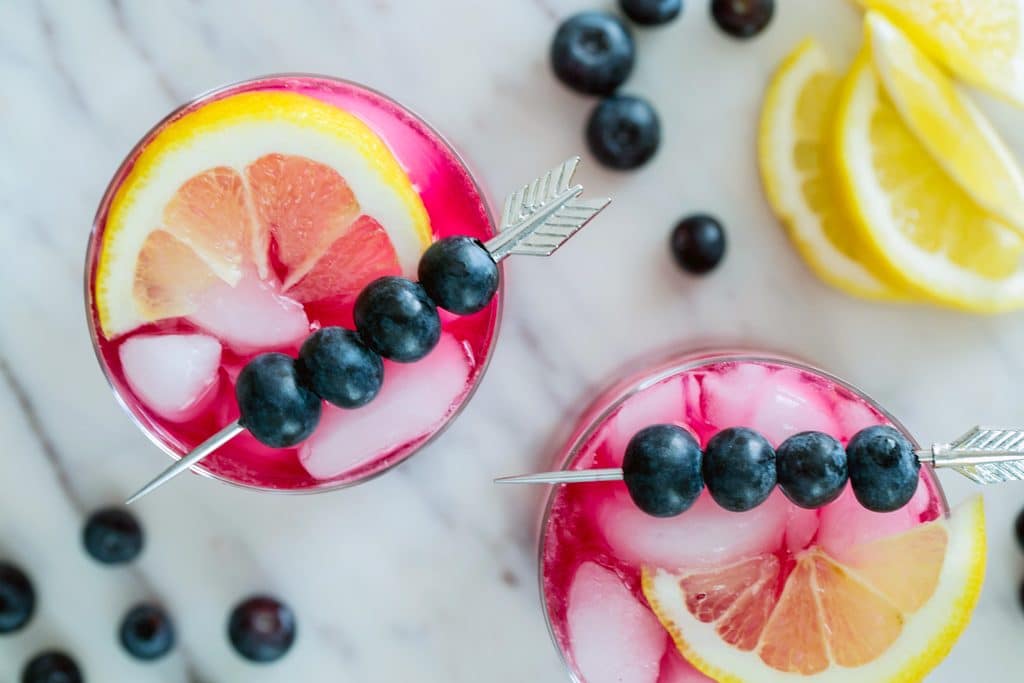 You'll also be quite happy to hear that you don't actually need a fully stocked bar in your home to make this cocktail a dream come true. Just vodka!! And if you're a cocktail drinker/maker, chances are you already have vodka at home. It's kinda one of those must-haves.
We pretty much ONLY drink Tito's Vodka in my house because my husband is obsessed. He's all hipster about it and constantly talks about how he drank it before anyone else knew about it (insert eye roll emoji here). But it's fine because I love it, too, and the price is always right.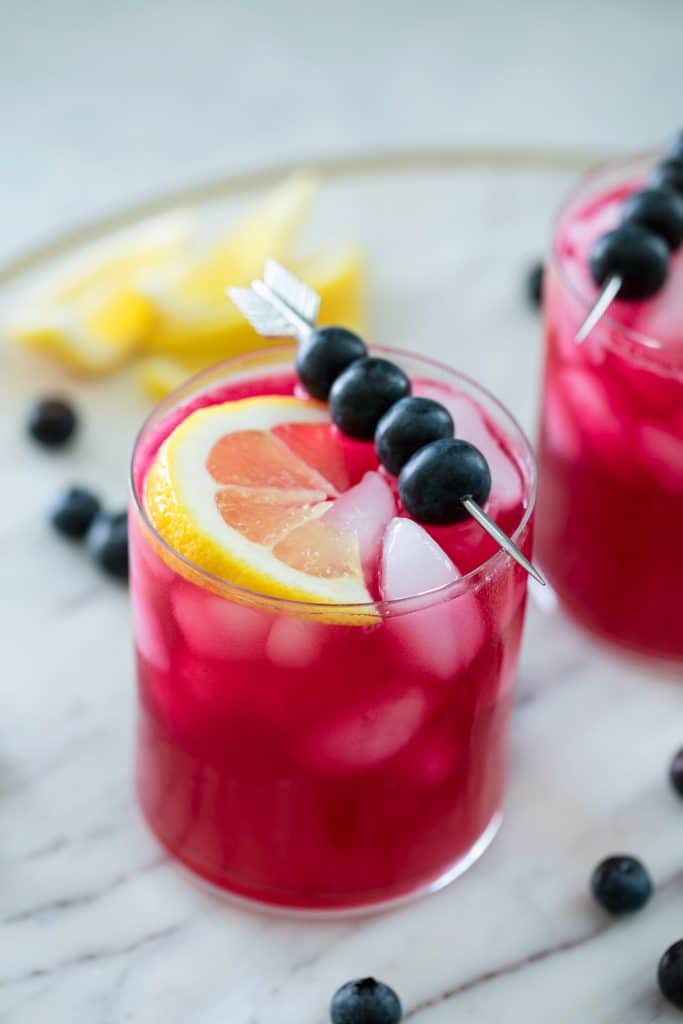 Even though my recipe below is for one blueberry vodka lemonade cocktail, please note that it's super easy to make a big batch of this cocktail. I actually just made a pitcher of it for Mother's Day! You should be able to get about 6 cocktails from the simple syrup, but that's also a very easy recipe to double (and I highly recommend doing so, so you have extra in your fridge!).
I do love the recipe as a single serving cocktail because it's so hard to find small batch lemonade recipes and sometimes you just want a glass of vodka lemonade to cool down with on a hot summer day without having to spend hours juicing lemons!
Do you have a fully stocked bar at home?
I'd totally share photos of my bar with you, but I'm slightly embarrassed. LOL!
If you love vodka cocktails, be sure to check out my Earl Grey Vodka Cocktail and my Grapefruit Blood Orange Cocktail. I also really love this Boozy Watermelon Mint Lemonade from Host the Toast.
p.s this blueberry lemonade vodka cocktail goes perfectly with a good summer book! I just launched a new Instagram account to feature all of the books I'm reading and featured this cocktail along with The Summer List (affiliate link).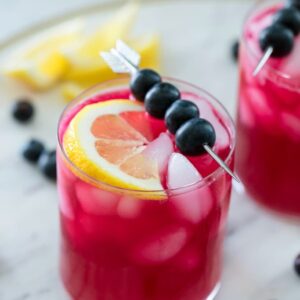 Print Recipe
Blueberry Vodka Lemonade
There's nothing quite like a glass of cold lemonade on a hot summer day. Unless it's a glass of cold Blueberry Vodka Lemonade! This summer cocktail is the perfect balance of tart and sweet and can also easily be made into a blueberry lemonade mocktail.
Simple Syrup Chill Time
1
hr
Ingredients
Ice

2

oz.

freshly squeezed lemon juice

3

oz.

water

2

oz.

blueberry simple syrup

(recipe below)

1 1/2

oz.

vodka
Blueberry Simple Syrup
1

cup

granulated sugar

1

cup

water

1

cup

blueberries
Instructions
In a shaker filled with ice, combine lemon juice, water, blueberry simple syrup, and vodka. Shake well.

Pour cocktail into two glasses filled with ice. Garnish with additional blueberries and a lemon wedge.
Blueberry Simple Syrup
Put sugar, water, and blueberries in a medium-size saucepan and bring mixture to a boil. Once boiling, lower heat and let simmer for about 15 minutes, until the mixture thickens.

Strain the mixture into a bowl, being sure to press down on the berries to extract as much juice as possible. Keep syrup in bowl or pour into a mason jar and place in fridge to cool completely before using.
Notes
Blueberry simple syrup recipe should make about 6 cocktails.