Boston Baked Beans and Eggs take comfort food to new levels and make for a deliciously satisfying skillet breakfast or dinner.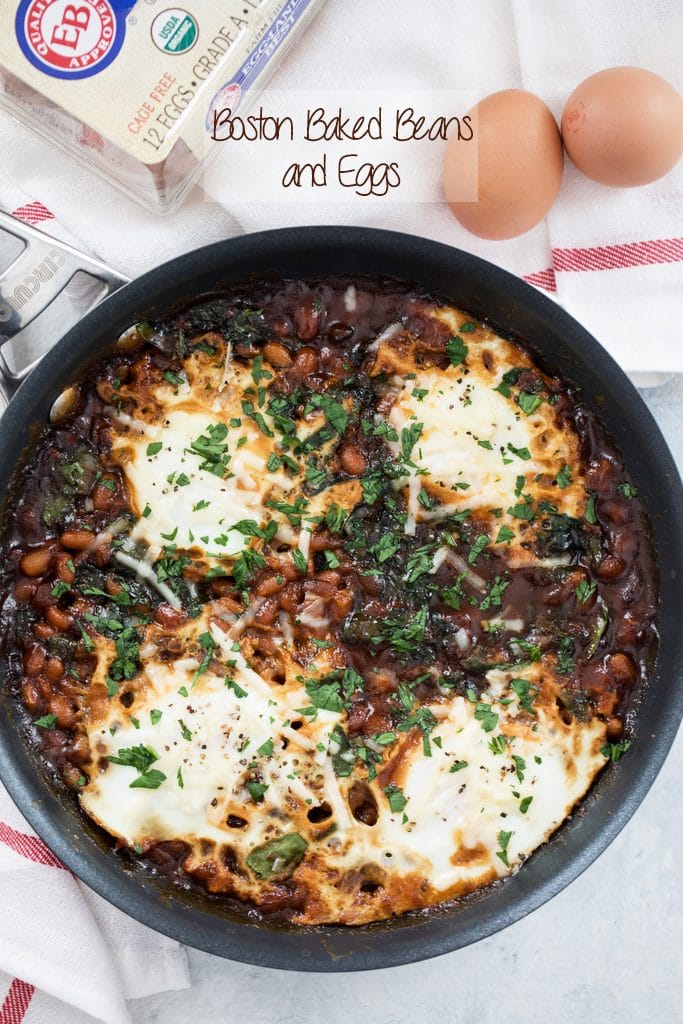 This post is sponsored by Eggland's Best, but as always, all opinions are completely my own. Thank you so much for supporting We are not Martha!
When I meet new people who don't live in New England, they often comment on the fact that I don't have a Boston accent. I always laugh a little because most people in Massachusetts don't have Boston accents and though I grew up just 20 miles outside the city, I barely knew anyone with one as a kid. Of course, once I moved to the city, I met more people who did, but still, 90% of the people I came into contact with every day were Boston accent-free. Of course, Hollywood will have you believe I'm over here pahking my cah in Southie and eating lobstah and Boston baked beans while being wicked cool. OK, so maybe food part is true. I love lobster and though I rarely ever think about them, whenever I have Boston baked beans, I remember how delicious they are. Also, using "wicked" for "very" comes naturally to me. Wicked naturally.
Do you fall into the stereotypes of your hometown? Even if that just means cooking and eating all of the foods your region is best known for? If so, you're the perfect person to enter Eggland's Best 2018 "America's Best Recipe" Contest!  I'm a little bit nervous you're going to think I'm legit crazy if I rave about Eggland's Best one more time since I seem to do it nonstop. But I'm going to say it again, they're the only brand of eggs I buy because I love that they're more nutritious than other eggs. Ready for this?? Deep breath. Not only do they only have 6o calories each, but when compared to other eggs, they have 10x more vitamin E, 25% less saturated fat, more than double the omega-3s, 6x more vitamin D, more than double Vitamin B12, and 38% more lutein. So, now you can see why I just can't justify buying any other eggs. Even if I were to never work with the brand again, I am an Eggland's Best loyalist for life.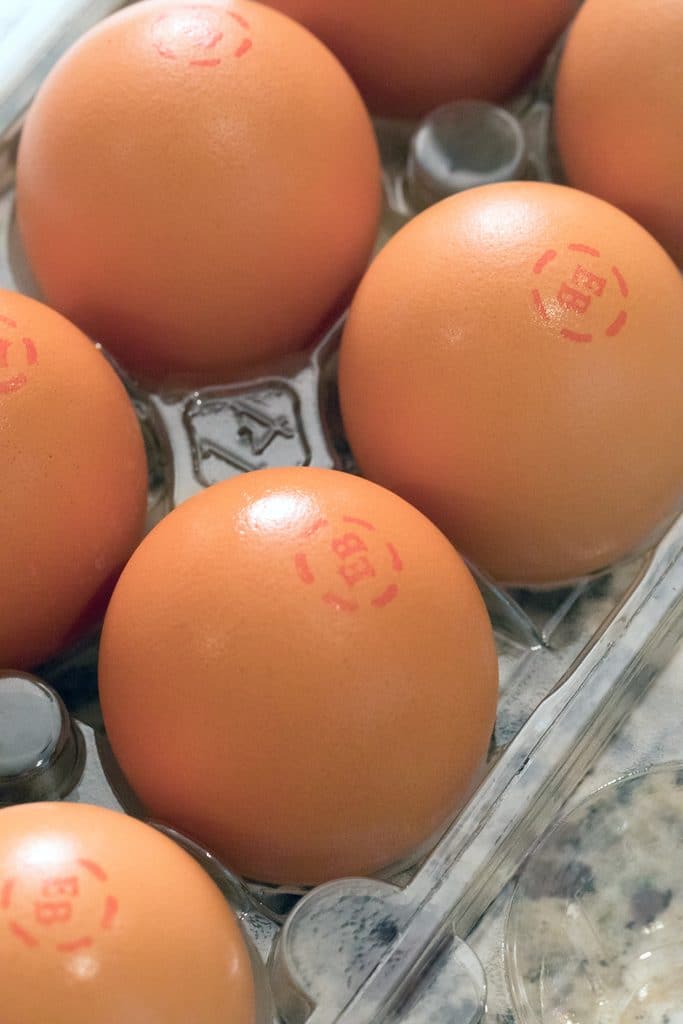 Now, here's where you come in. For their latest contest, Eggland's Best is asking you to show off your hometown pride and submit recipes inspired by your favorite local/state ingredients or dishes. The grand prize is $10,000, with four Best in Region prizes of $1,000 and a year's supply of Eggland's Best eggs and 50 Best in State prizes of a 3-month supply of eggs. You have to use at least two whole Eggland's Best Eggs in your recipe and you can enter twice into each category (Breakfast/Brunch, Appetizer, Main Course, Dessert), which means you could have eight chances to win!
So, want to see the recipe I created? I've actually made quite a few recipes inspired by New England over the years  (including these Mini Egg Salad Doughnut Sandwiches and these Clam Chowder Potato Skins), so I was trying to think of something different when Boston baked beans popped into my head… I mean, few things are more Boston, right? So, I turned traditional baked beans into a breakfast dish, by making them into a sort of shakshuka or what I call Boston baked beans and eggs.
OK, so maybe the baked beans weren't SO traditional. After all, I made them in the Instant Pot! This was super easy to do, but if you don't have an Instant Pot or pressure cooker, you can certainly do them on your stovetop or in your oven. They wouldn't be baked beans without bacon and it also wouldn't be breakfast without bacon, so I obviously added plenty of bacon to the beans. As well as molasses, ketchup, Worcestershire sauce, maple syrup, brown sugar… and cheap yellow mustard. That's a trick my dad taught me!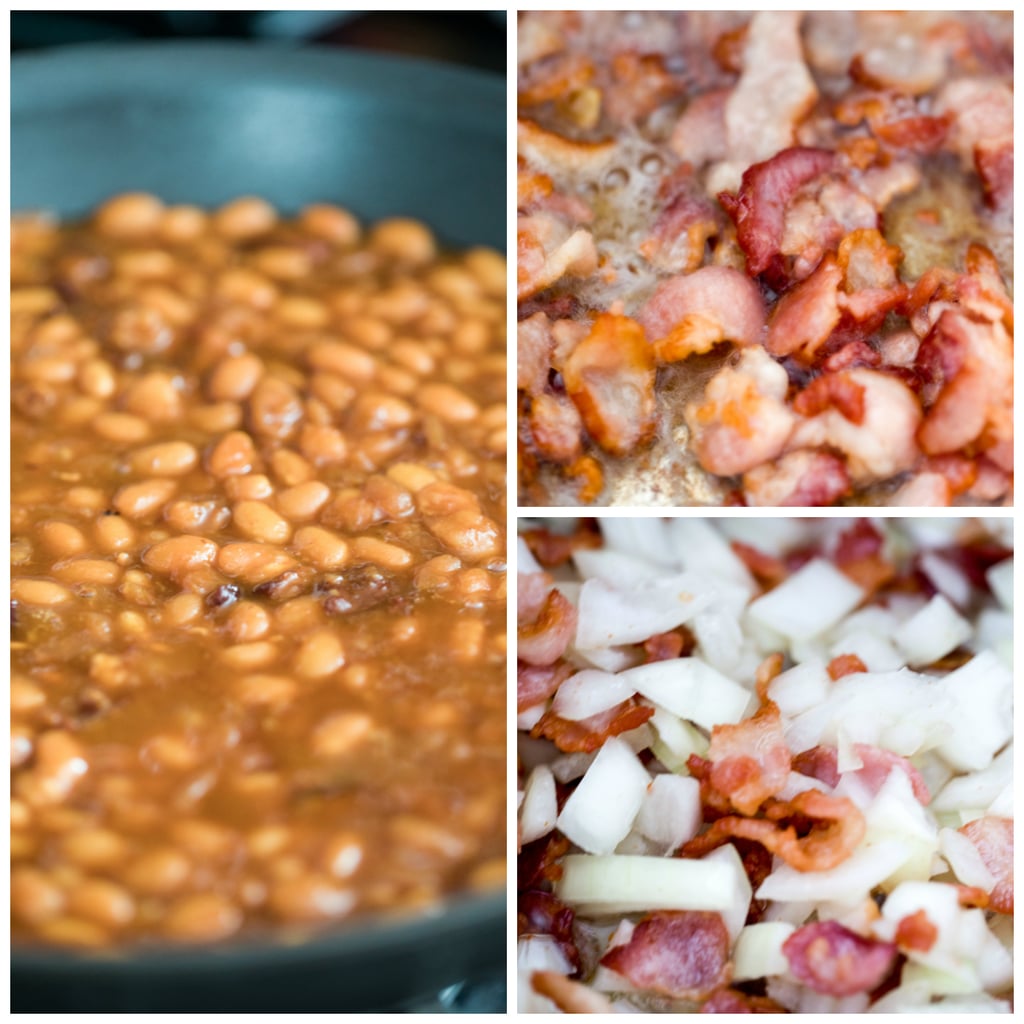 Once the beans were done, I put about half of them into a 10-inch skillet and mixed in some spinach. Then I cracked four eggs over them and let them cook.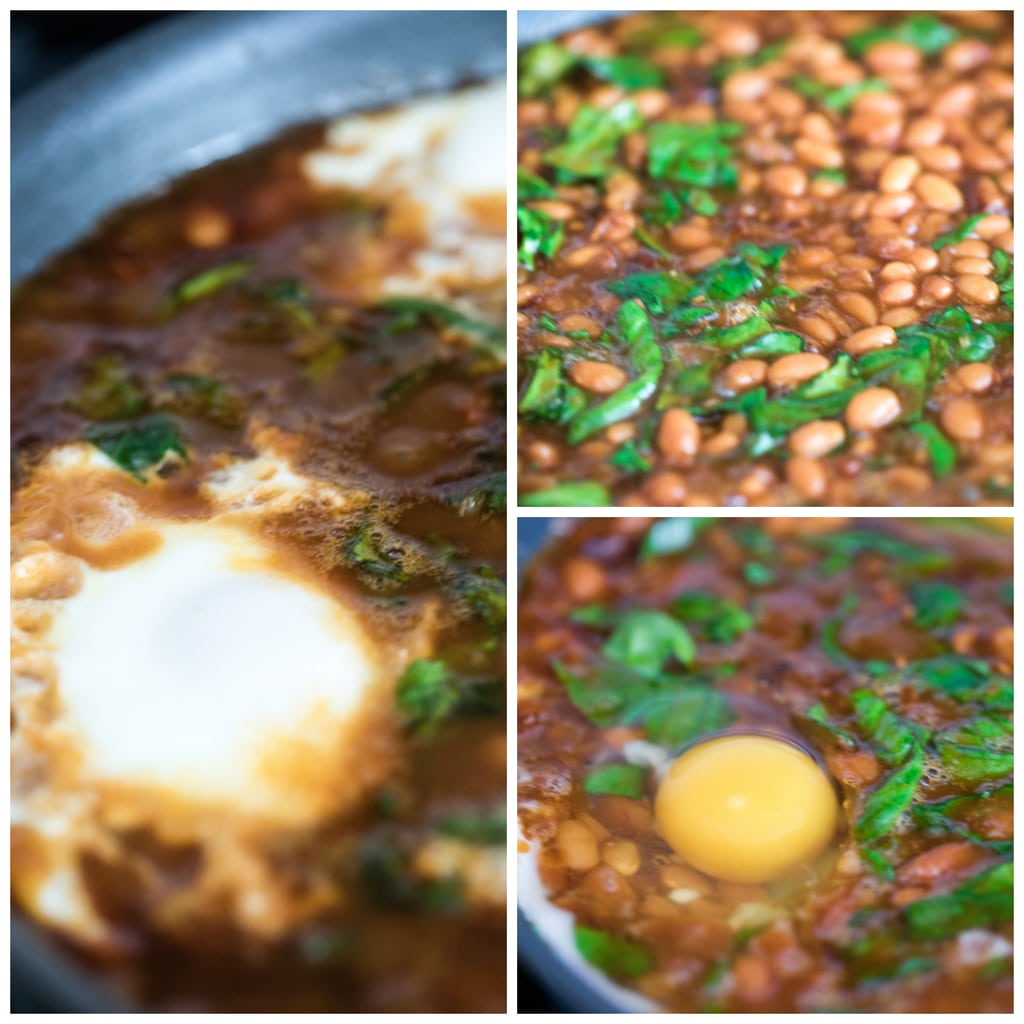 I finished them with a little parmesan cheese and a sprinkling of parsley.
And the Boston baked beans and eggs are ready to serve! I'm actually not sure if I would submit this to the breakfast or main course category of the contest since this dish an easily be served as either. I ate it for dinner on the day I made it, but then enjoyed it for breakfast the next day.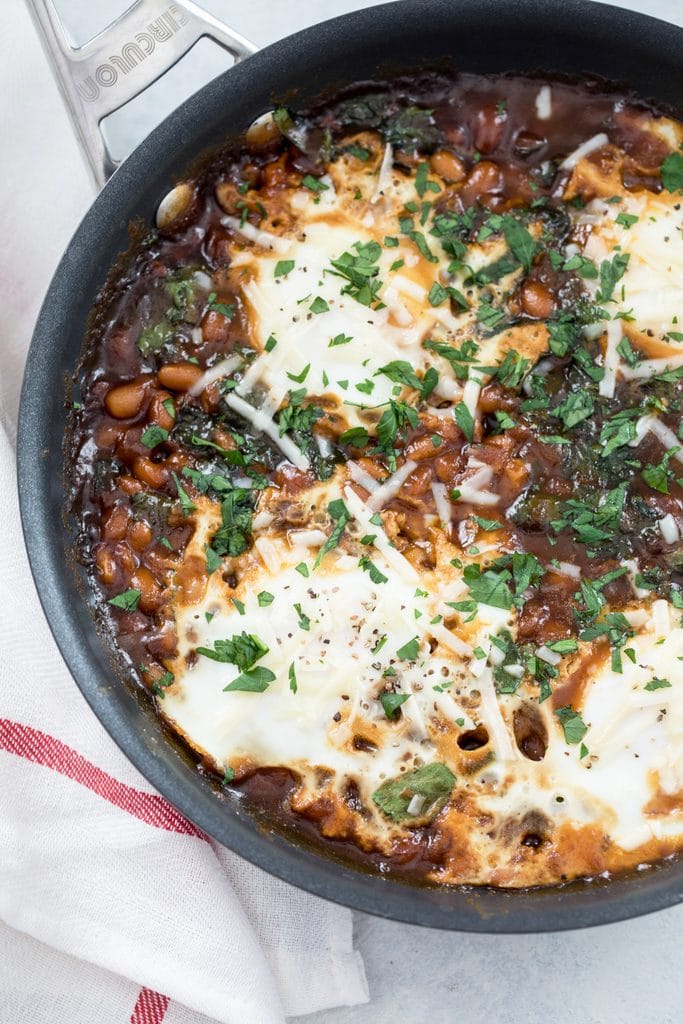 Getting out of bed was actually made a whole lot easier knowing I had this waiting for me. Especially considering we had another "blizzard" in Massachusetts and things outside were pretty rough. I'm incredibly lucky that I didn't lose electricity, but trees and branches were down everywhere and things are still a bit of a mess. But people are just trying to clean up in time for the next big blizzard that's allegedly coming our way tonight. Joy.
Now I can see why baked beans are a Boston delicacy. When it's cold and gross outside, sitting on your couch with a bowl of hot, comforting and sweet baked beans sounds heavenly. But even better if those baked beans involve eggs, as well.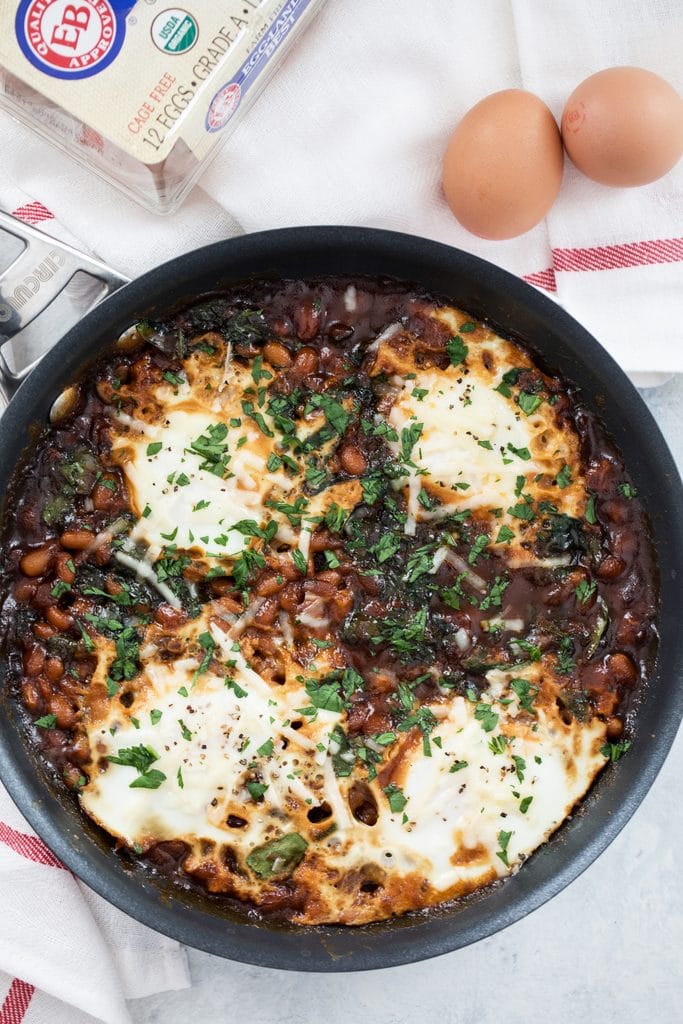 For the record, if you live in or near Boston, you absolutely do not call the city "Beantown." That would be like calling San Francisco "San Fran" or New York "The Big Apple." Just don't do it. Another interesting little fact? In 1919, a large molasses tank burst and flooded the streets of Boston's North End at an estimated 35 mph, killing 21 and injuring 150. It's known as the Great Molasses Flood and some say you can still smell molasses in the North End on a hot day… While I love molasses and its sweet fragrance, I can't even imagine how terrifying this must have been. I also worked in the North End for 6 years and never once smelled molasses.
In any event, I'll stick to keeping the molasses in my Boston baked beans, thank you very much. I should also note that this recipe makes more baked beans than you'll need for the baked beans and eggs dish, but I still recommend making all of them and having leftover baked beans. Otherwise, you can easily halve the recipe or… make two skillets of beans and eggs!
While you are certainly welcome to eat these Boston baked beans and eggs right from your skillet, I think they're especially delicious when served over a warm corn tortilla.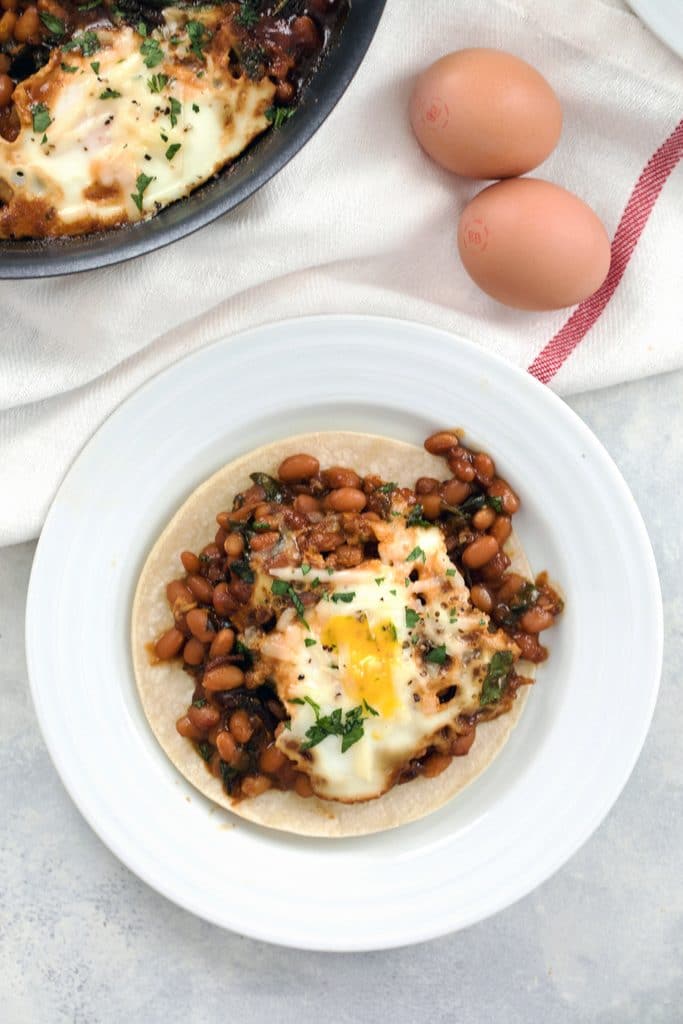 Especially if the egg yolks are a little runny. omg YUM. I don't think I've ever had beans and eggs together and I've certainly never had Boston baked beans and eggs together, but this is a dish that will be making many returns in my life from now on. Especially when I need a little extra enticement to pull myself out of bed in the morning.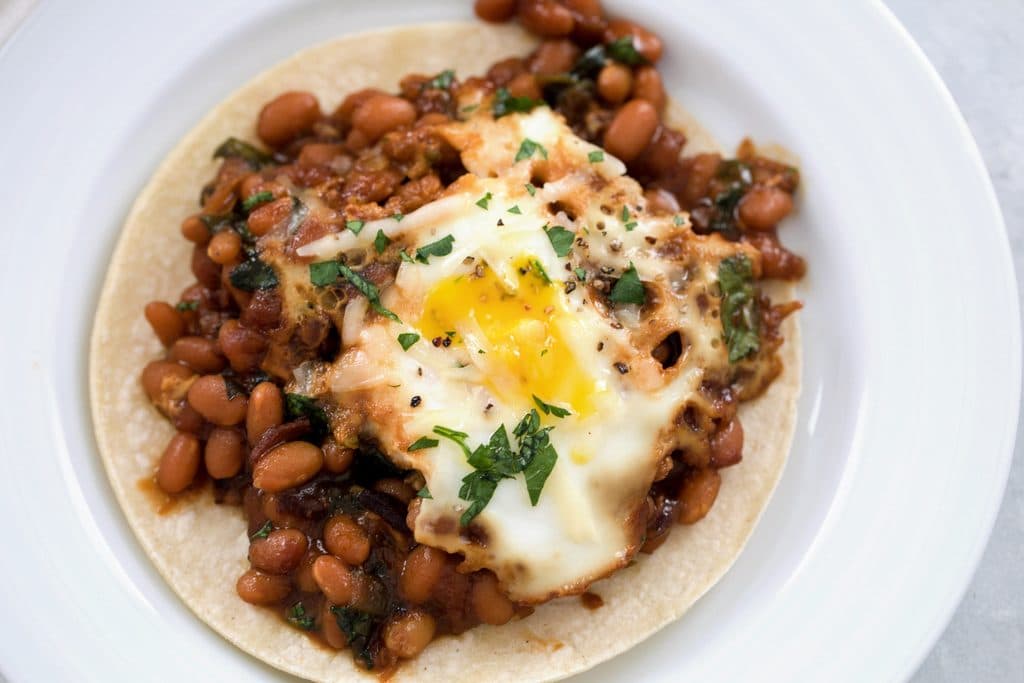 If you live in a region like New England, something tells me your regional recipe may be comfort food-based, too. Especially if you're in yet another blizzard's path. Good luck to all and may March please go out like a lamb, as the saying goes.
The plus side? If you're stuck inside, you've got all the time in the world to come up with your recipe to enter into the Eggland's Best contest! Make sure to get your entries in by April 30 and good luck!
What food or dish is your region known for?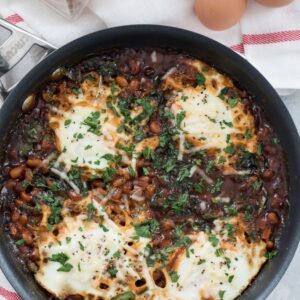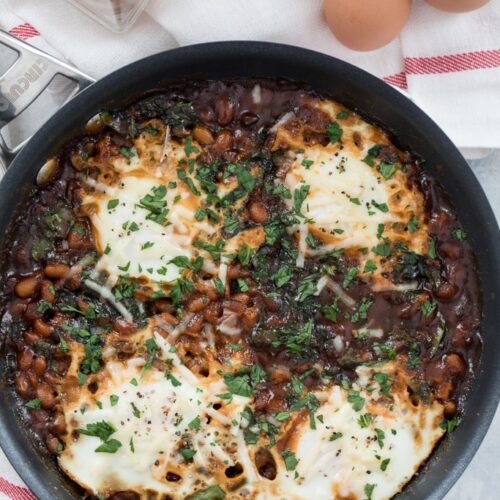 Boston Baked Beans and Eggs
Boston Baked Beans and Eggs take comfort food to new levels and make for a deliciously satisfying skillet breakfast or dinner.

Course:
Breakfast, Entree
Ingredients
6

strips

thick-cut bacon, roughly chopped

1

small onion, diced

3

garlic cloves, minced

1/4

tsp

pepper

1

cup

reduced-sodium chicken stock

1

cup

water

1/2

cup

molasses

1/3

cup

maple syrup

1/4

cup

packed brown sugar

1/4

cup

ketchup

1/4

cup

yellow mustard

2

Tbsp

Worcestershire sauce

1

lb

navy beans (soaked overnight and drained)

1/2

tsp

salt

1/4

tsp

cayenne

2

Tbsp

cornstarch or tapioca flour (optional)

2

tsp

olive oil

1

cup

roughly chopped spinach

4

large Eggland's Best Eggs

1/4

cup

parmigiano regianno

1

Tbsp

chopped parsley
Instructions
Set pressure cooker to sauté and add bacon to pot. Cook for about 5 minutes, until bacon is just started to get crispy.

Add onion to pot and cook for another 3 minutes to soften. Add garlic and black pepper to pot and cook for about a minute, until garlic is fragrant.

Add chicken stock, water, molasses, maple syrup, brown sugar, ketchup, yellow mustard, and Worcestershire sauce to the pot. Stir in pre-soaked beans, along with salt and cayenne.

Set pressure cooker to 40 minutes on manual and when done cooking, let naturally release for 10 minutes, before manually releasing the pressure the rest of the way.

Stir beans. If you want beans to thicken more, add in cornstarch or tapioca flour one tablespoon at a time, stirring after each addition until they're the consistency you desire.

Heat olive oil in a 10-inch skillet over medium heat. Add 3 cups of baked beans to the skillet and stir until warmed through. Stir in spinach until slightly wilted, about 30 seconds.

Gently crack eggs over baked beans in skillet. Turn heat to low, cover skillet, and let cook for about 7 minutes until whites of eggs are set, but yolks are runny. If you prefer set yolks, cook eggs for about 10 minutes.

Remove skillet from heat and sprinkle parmesan and parsley over eggs.

Serve beans and eggs over warmed corn tortillas.
Recipe Notes
Beans should soak for at least 12 hours and up to a day before using.
You will only use about half the Boston Baked Beans for the baked beans and eggs dish in this recipe.