This Buffalo Chicken Burrito Bowl is the ultimate salad with brown rice, avocado, carrots, celery, tomatoes, blue cheese dressing, and more. If you don't have time to make the whole entrée, you must at least make the buffalo chicken!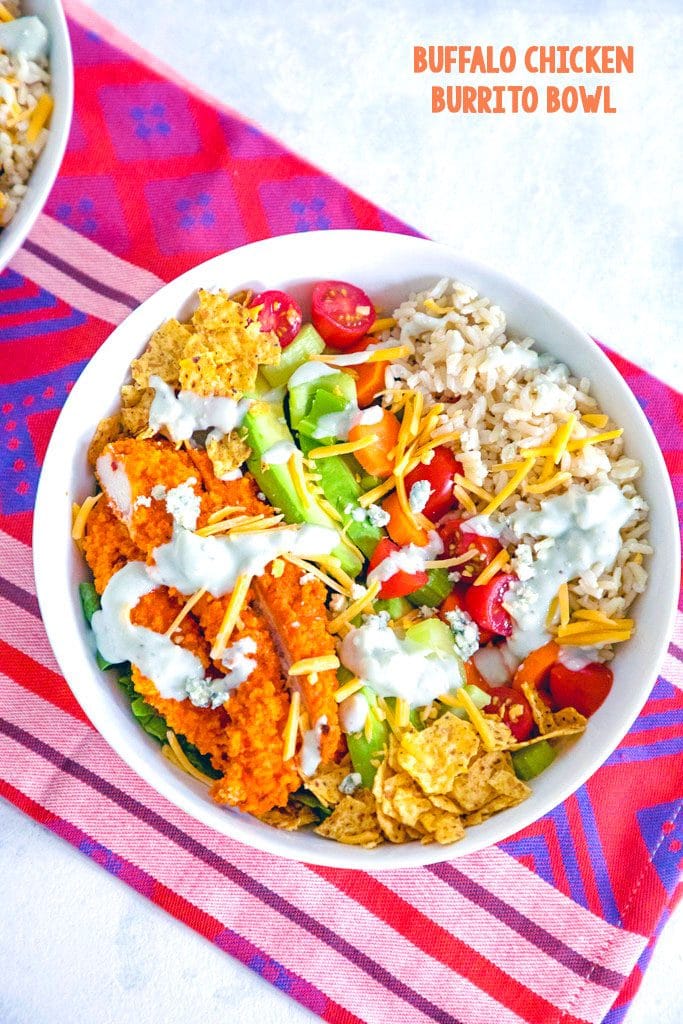 I'm pretty sure my husband could eat Mexican food for every single meal for the rest of his life and be perfectly happy. This is pretty OK with me since it's one of my favorite types of food, too (give me allll the guacamole, please. And cheese. And spiciness.), but ordering Mexican food out isn't always the healthiest. Can we talk about how much I hate when restaurants have "light and healthy" sections of their menu?? And they're filled with plain chicken and lettuce and no sauce or flavor at all? And you basically have to be like, "Welp OK, I am going to be decidedly not healthy tonight and order off the 'heavy and artery-clogging' side of the menu." Thanks for making me feel so good about myself!
Another thing about Mexican food is that, while I love almost every menu item possible, I'm not a fan of the burrito. I'm not really sure why, but I feel like every time I get a burrito, I'm just bored to death and am stuck wishing I could bury my face into a bowl of guacamole and call it a day. But I do love non-burrito burritos. Like for instance, buffalo chicken burritos. Which I guess you could argue are really just wraps with rice. And I guess when you put them in a bowl, they're really just salads with rice. But I don't care. I'm calling this a Buffalo Chicken Burrito Bowl and sticking to it.
The thing is... Even if you're not feeling the whole burrito bowl thing, you at least need to make these buffalo chicken tenders. They are so crazy good, I want to make them every day and eat them forever. They're baked, breaded with panko, and easy to make. And obviously dunked in delicious Frank's Red Hot. How can you go wrong? This was honestly the best boneless buffalo chicken I've had. And it wasn't even fried!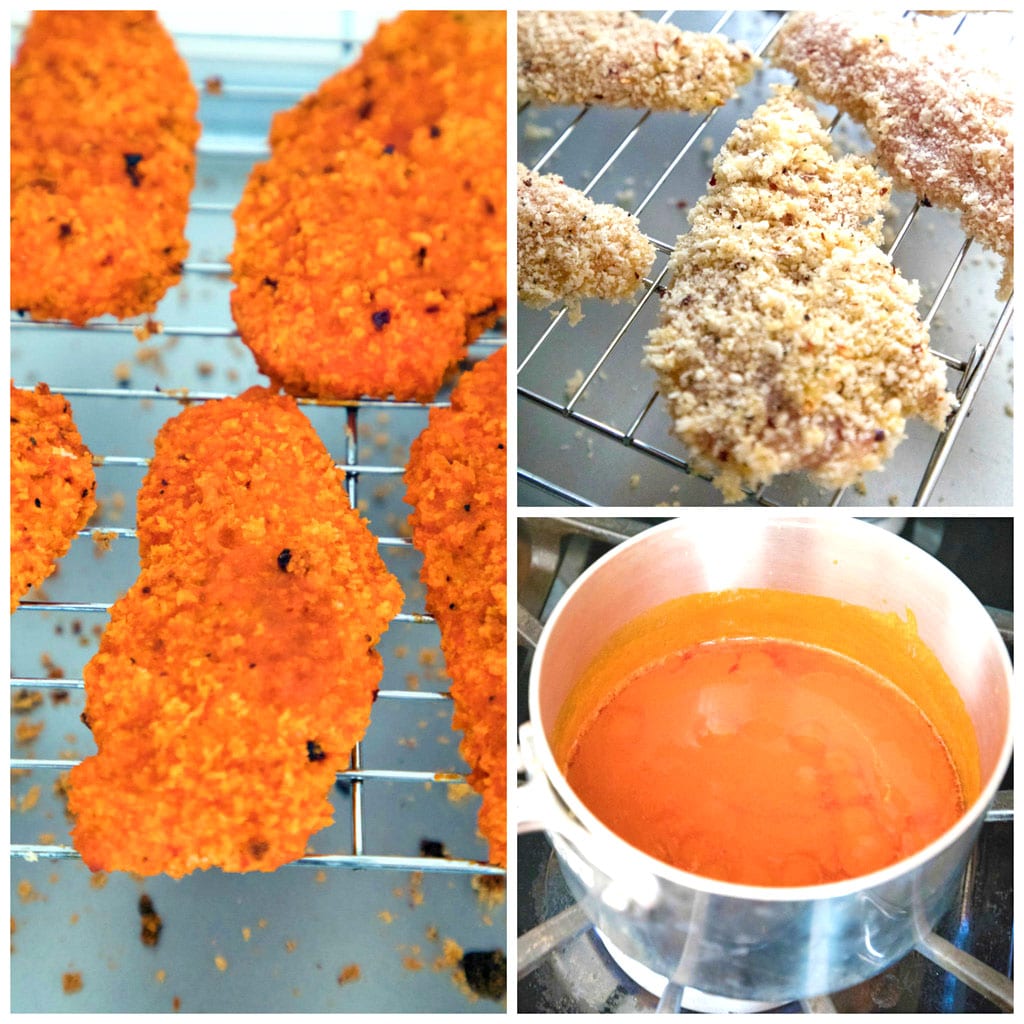 Also, blue cheese dressing is a must. You can, of course, buy it; but it's also super easy to make. If you don't like blue cheese, you can certainly use ranch or another dressing of your choice.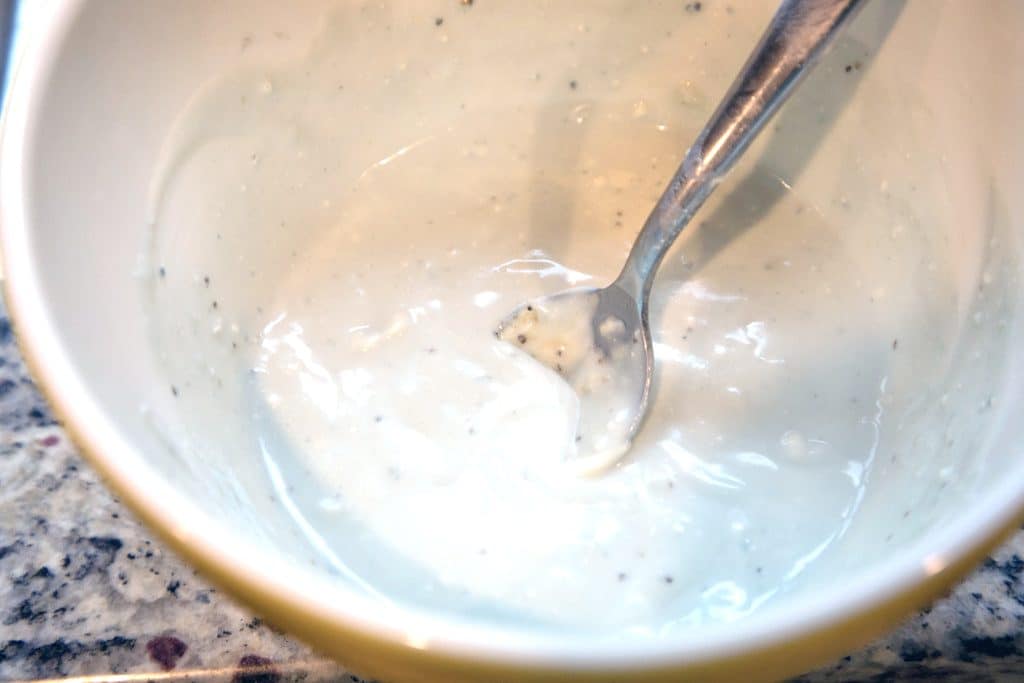 Basically, I put the buffalo chicken tenders in a bowl with a lettuce and spinach mixture; carrots and celery (because you can't have buffalo chicken without them); avocado, tomatoes, brown rice, and shredded cheddar cheese (because you can't have burritos without them); crushed tortilla chips (because duh); and then I drizzled it all with homemade blue cheese dressing.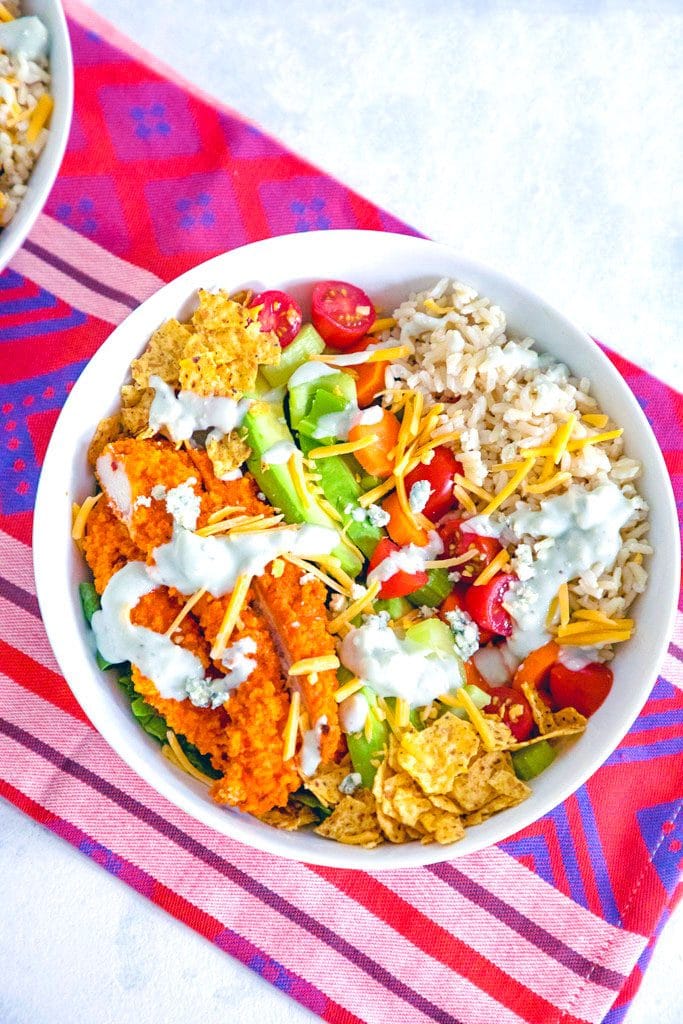 Anyone who thinks "salads" are boring has never had a burrito bowl. And anyone who thinks burrito bowls are a strange concept has never had a buffalo chicken burrito bowl. And really, you need to change that ASAP. With so many delicious components, you know putting them all together is going to be good.
While lots of times, the really delicious salads are super unhealthy, that is not true in this case. Yes, there's some shredded cheddar, crushed tortilla chips, and blue cheese dressing; but I went really light on those. And that's in addition to a lot of really healthy vegetables, a little bit of brown rice, and baked chicken. This probably still wouldn't land on the "light and healthy" section of a menu (because you know, those dishes must be bland and boring!), but you don't have to feel bad about eating it.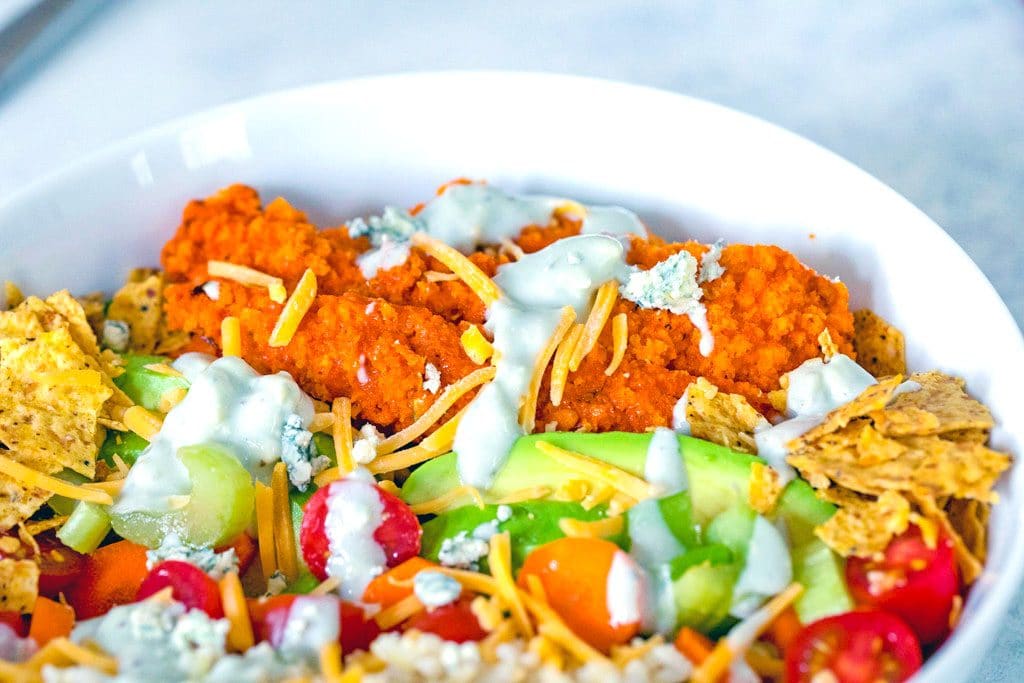 I mean, really, I probably shouldn't label this Mexican food at all. But I'm still kind of doing that... I guess it's more of an Americanized version of Mexican food; there are plenty of spots that make Caesar salad burritos, Asian chicken burritos, etc. And this is along those lines. A little fusion dish, if you will.
Of course, if you prefer to just call this a Buffalo Chicken Salad, I'm OK with that. Though salads with rice are kind of weird. But this is all just semantics. Let's just sit back and marvel about how buffalo chicken is always a good idea, but especially when avocado is involved.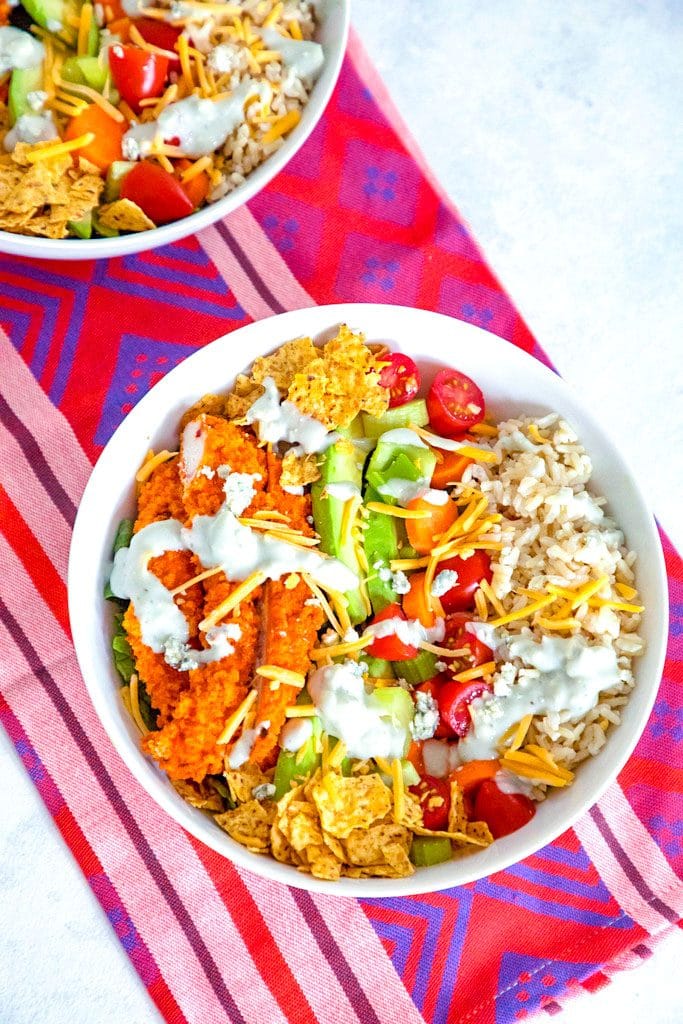 This Buffalo Chicken Burrito Bowl makes me so much happier than any old burrito would. BUT if you know of a traditional burrito in the Boston-area that you think will change my mind, I am game for trying it. For now, I will be chowing down on burrito bowls and ordering ridiculous amounts of guacamole and enchiladas when I'm out for Mexican.
What's your favorite Mexican dish? Are you a fan of the burrito?
If you love buffalo chicken as much as I do, be sure to check out my Buffalo Chicken Pizza and my Buffalo Chicken Grilled Cheese! I also can't wait to try these Sheet Pan Buffalo Chicken Nachos from Give It Some Thyme.
📖 Recipe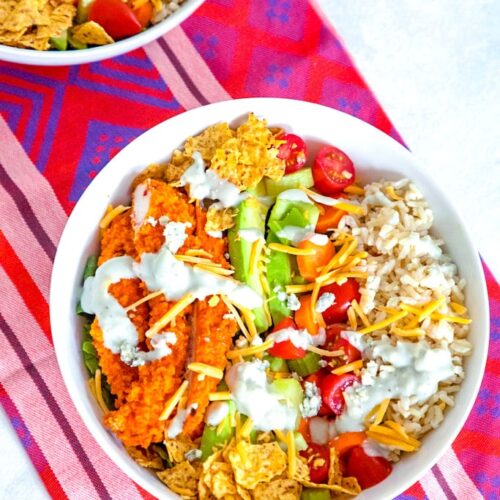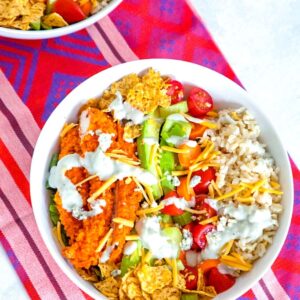 Buffalo Chicken Burrito Bowl
This Buffalo Chicken Burrito Bowl is the ultimate salad with brown rice, avocado, carrots, celery, tomatoes, blue cheese dressing, and more. If you don't have time to make the whole entrée, you must at least make the buffalo chicken!
Print
Pin
Rate
Ingredients
Buffalo Chicken:
2

large eggs

1 ½

cups

panko

1

tsp

garlic powder

1

tsp

red pepper flakes

½

tsp

salt

¼

tsp

pepper

1

lb.

boneless, skinless chicken tenderloins

1 ½

cups

hot sauce

(I use Frank's Red Hot)

3

Tbsp

butter
Blue Cheese Dressing:
½

cup

crumbled blue cheese

2

garlic cloves,

minced

2

Tbsp

mayonnaise

1

tsp

dijon mustard

½

cup

buttermilk

Salt and pepper
Salad:
4

cups

chopped romaine lettuce

4

cups

chopped baby spinach

3

large carrots,

diced

4

celery stalks,

diced

2

avocados,

peeled, pitted, and diced

1

cup

grape tomatoes,

halved

1 ½

cups

cooked brown rice

½

cup

shredded cheddar cheese

¾

cup

crushed tortilla chips
Instructions
Buffalo Chicken
Pre-heat oven to 350 degrees.

Lightly beat eggs in a shallow bowl.

In a separate shallow bowl, whisk together panko, garlic powder, red pepper flakes, salt, and pepper.

One at a time, dip chicken tenders in egg and then dredge in panko mixture, making sure tenders are fully coated in mixture.

Place chicken tenders on a baking rack atop a foil-lined cookie sheet. Bake at 350 degrees for 15 minutes.

While chicken is baking, combine hot sauce and butter in a small saucepan set over medium-low heat. Stir until butter is melted and combined with hot sauce. Pour mixture into a large bowl.

Remove chicken from oven and toss in bowl with hot sauce until chicken is fully coated.

Place chicken back on rack and return to oven for 8-10 minutes, until chicken is cooked through and registers at 160 degrees. Let chicken tenders cool a bit before slicing.
Blue Cheese Dressin
In a small bowl, use a fork to mash together blue cheese, garlic, mayonnaise, and dijon mustard.

Stir in buttermilk and sprinkle with salt and pepper to taste.
Salad Assembly
Divide lettuce and spinach between four large bowls.

Place 3-4 slices of buffalo chicken on salad and continue dividing carrots, celery, avocado, grape tomatoes, and brown rice among bowls.

Sprinkle shredded cheddar and crushed tortilla chips.

Drizzle blue cheese dressing over salad.
Share a Photo of Your Finished Recipe!
Mention @wearenotmartha and share a photo if you've made the recipe!