If you love buffalo chicken and can't get enough pizza, you will be obsessed with this Buffalo Chicken Pizza. Make it with a rotisserie chicken for an incredibly easy weeknight dinner!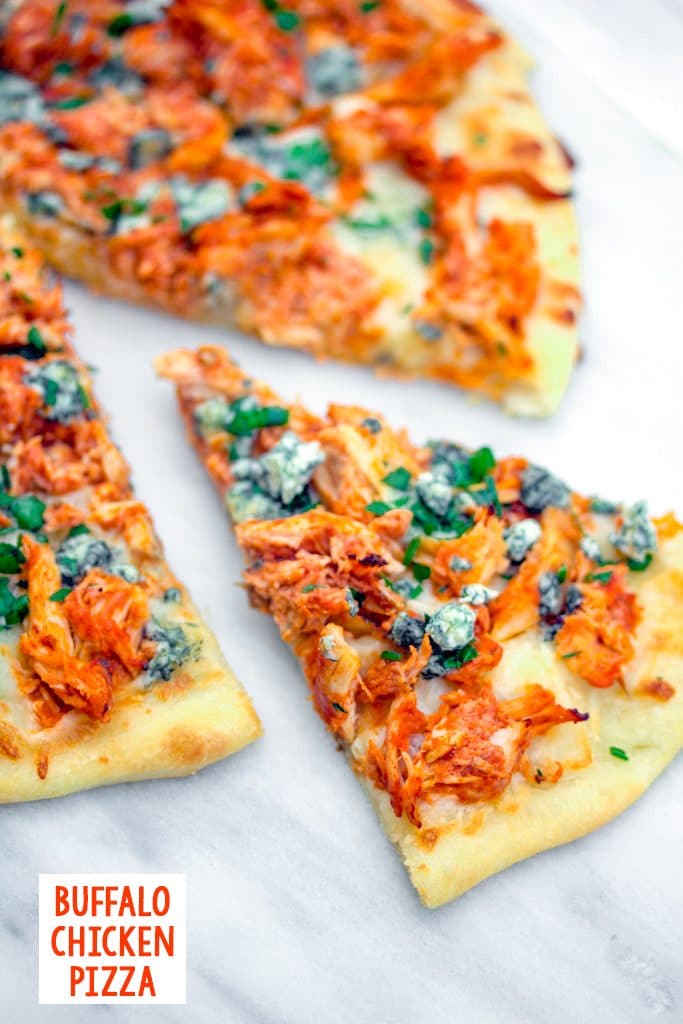 I hate to complain about Mondays. I really, really do. But man, this one is going to be tough. I haven't been in the office in almost two whole entire weeks. TWO WEEKS at home. Sleeping in. Cooking. Baking. Catching up on bad TV. Reading. Spending time with my family. Cleaning. Writing. Taking baths. Sitting on my couch... (OK, I had to work from home a bit, but still. HOME). It has been heavenly. But all good things must come to an end and it wouldn't be vacation if it lasted forever, would it? So, now I'm back to the grind.
There are two things getting me through the day. 1) Tonight's season premiere of The Bachelor! and 2) Tonight's tacos. With my eye on the prize, I can do this. And so can you! One of my big goals for the year is to be better at meal planning during the week on a more consistent basis. If I know what I'm going to make for dinner at the start of the week, the chances of me actually cooking after work greatly improve.
But my first Monday back to work is not the night to start anything crazy. So, I'm celebrating The Bachelor with easy-to-make (and wonderfully delicious) tacos. And sharing this recipe for super easy Buffalo Chicken Pizza with you. Let's ease into this whole beginning of the year thing, shall we?
BUFFALO CHICKEN PIZZA RECIPE
You might see the below and think that I cheated when it comes to making buffalo chicken pizza… But I will argue that rotisserie chicken is a serious lifesaver for a working woman (or man). Of course, you can cook a whole chicken yourself for this or use chicken breasts or thighs. It's all about whatever you have time for! And a rotisserie chicken makes things mighty easy!
I recommend using my trusty pizza/flatbread dough. You can make it ahead of time, so you're ready to roll (literally) when you get home from work. Or you can even buy dough from your grocery store. Seriously, make it easy for yourself. Rolling the dough out is the toughest part of this recipe.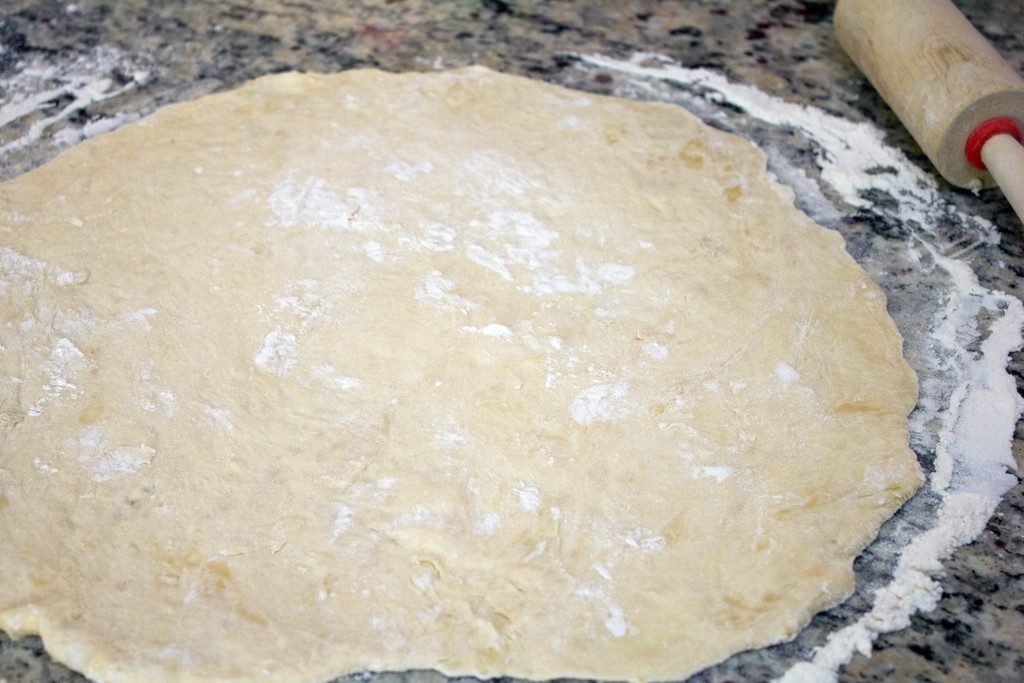 Again, you can call me a cheater, but all I did was shred the meat from the rotisserie chicken and combine it with Frank's Red Hot.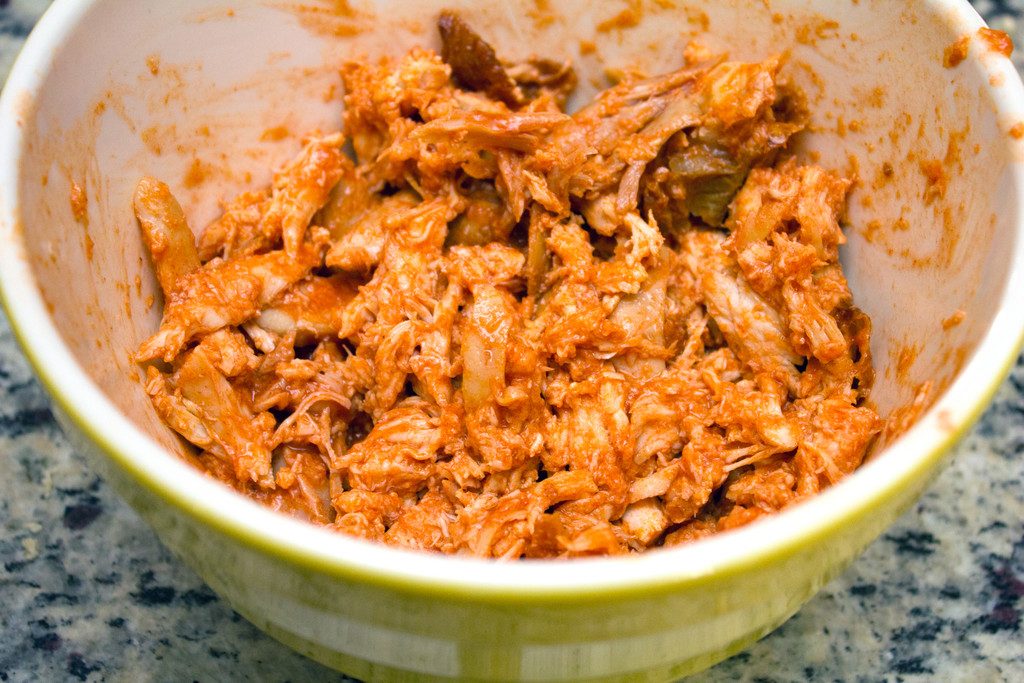 Then I brushed the dough with olive oil and sprinkled it with mozzarella cheese.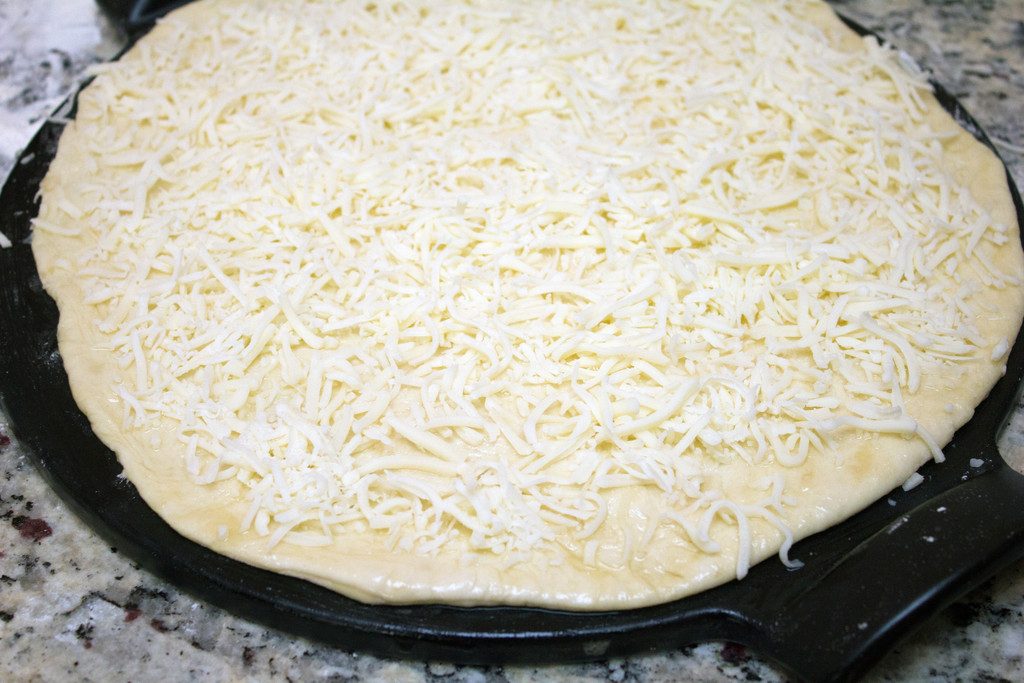 Topped it with the chicken.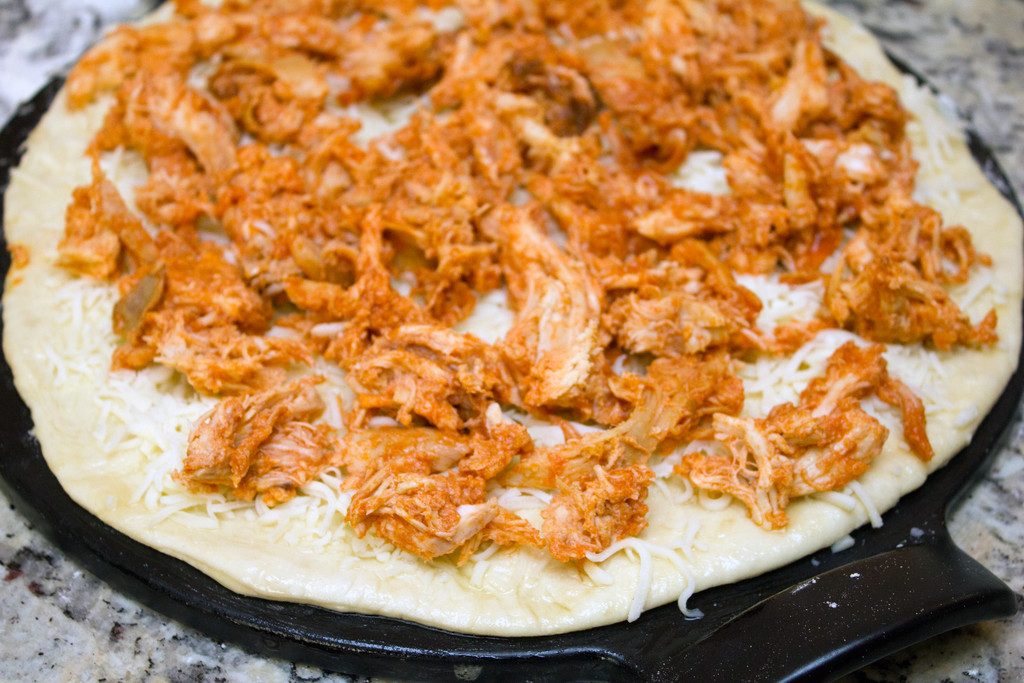 And then crumbled blue cheese all around.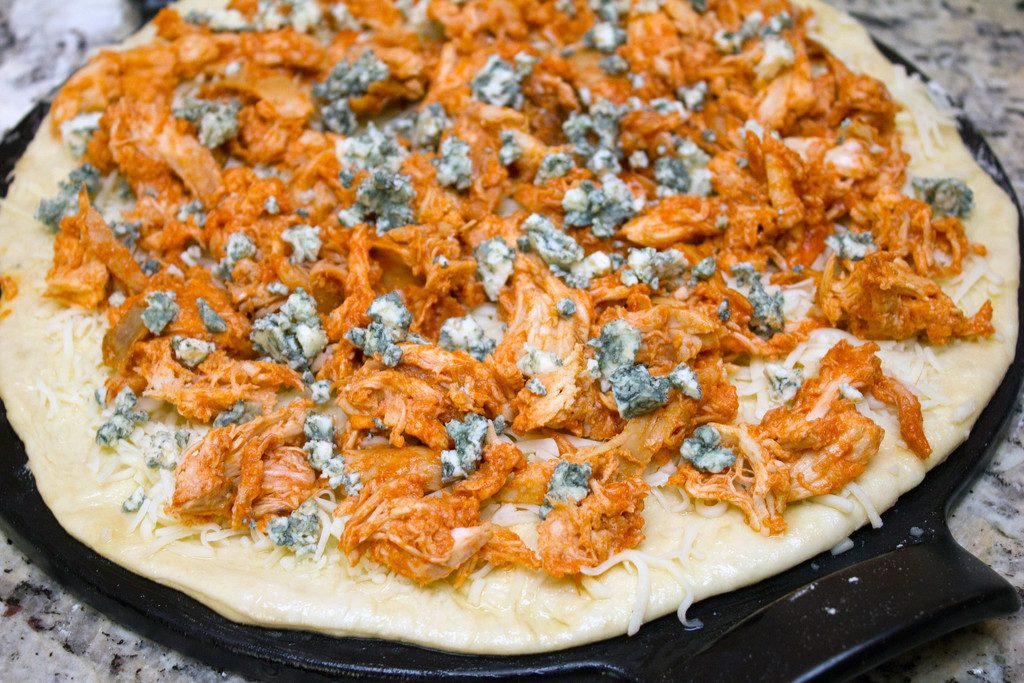 In an oven pre-heated at 450 degrees, I baked the pizza for 10-14 minutes, until the crust was nice and crispy and starting to brown.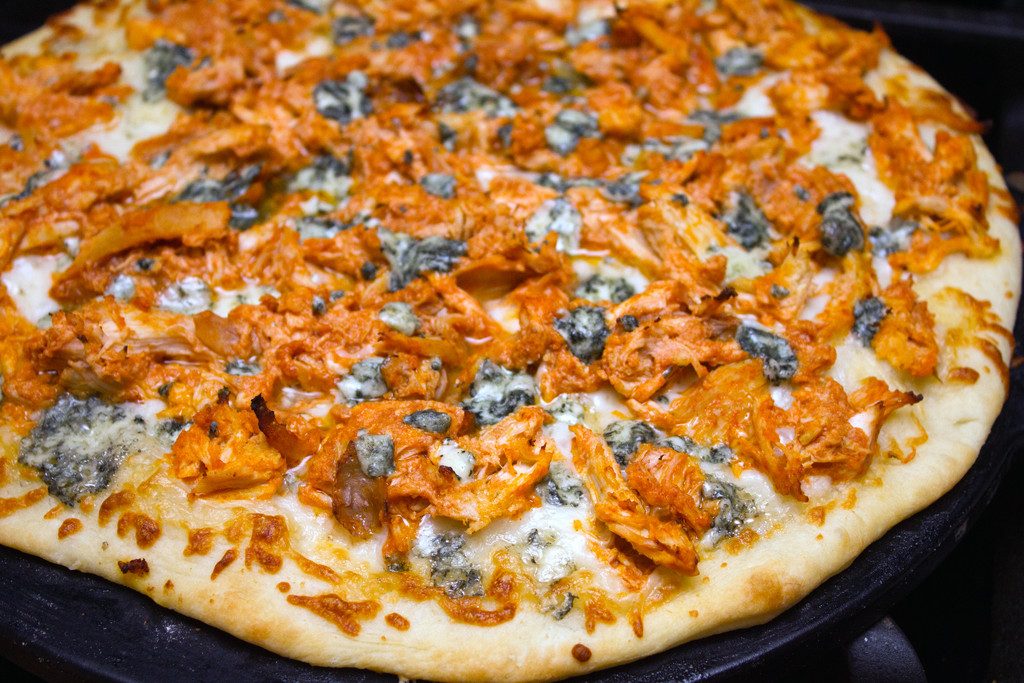 Gimmie gimmie. Buffalo Chicken Pizza in a flash.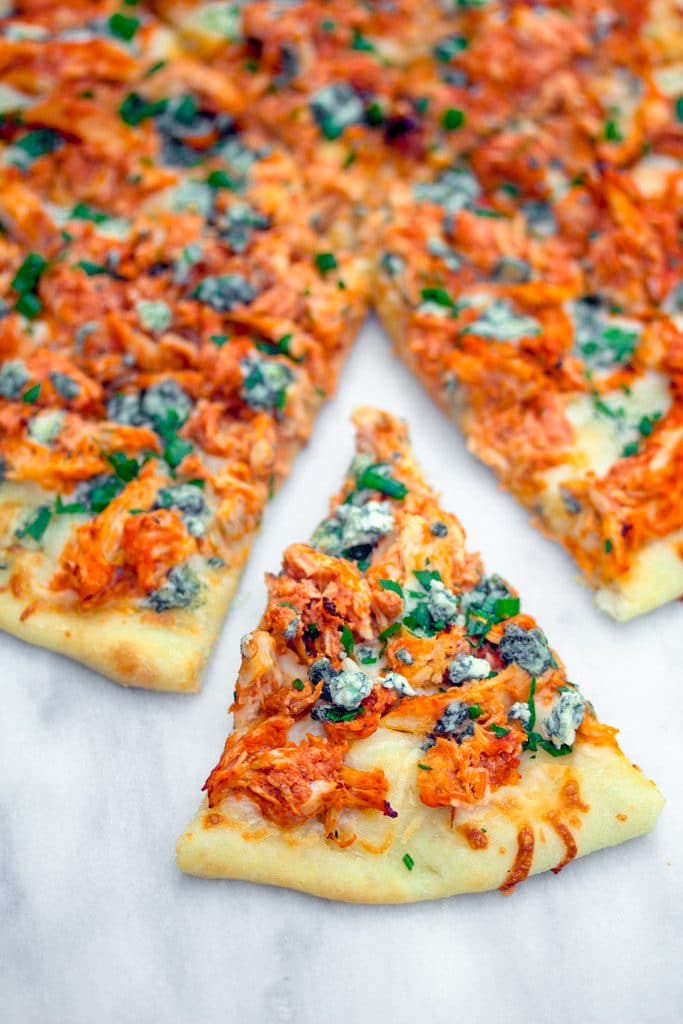 I could probably eat this entire pizza... but I can also tell you that just one slice of this is completely satisfying. It's packed with so much chicken, cheese, and in-your-face spicy flavor. Yikes, I kind of just felt like Guy Fieri saying that...
You should also know that for some reason, I'm generally pretty anti chicken on pizza. Give me pepperoni and and prosciutto and sausage and even hamburger. Chicken bores me. But not with this buffalo chicken pizza. I'm sure it's all because of that hot sauce.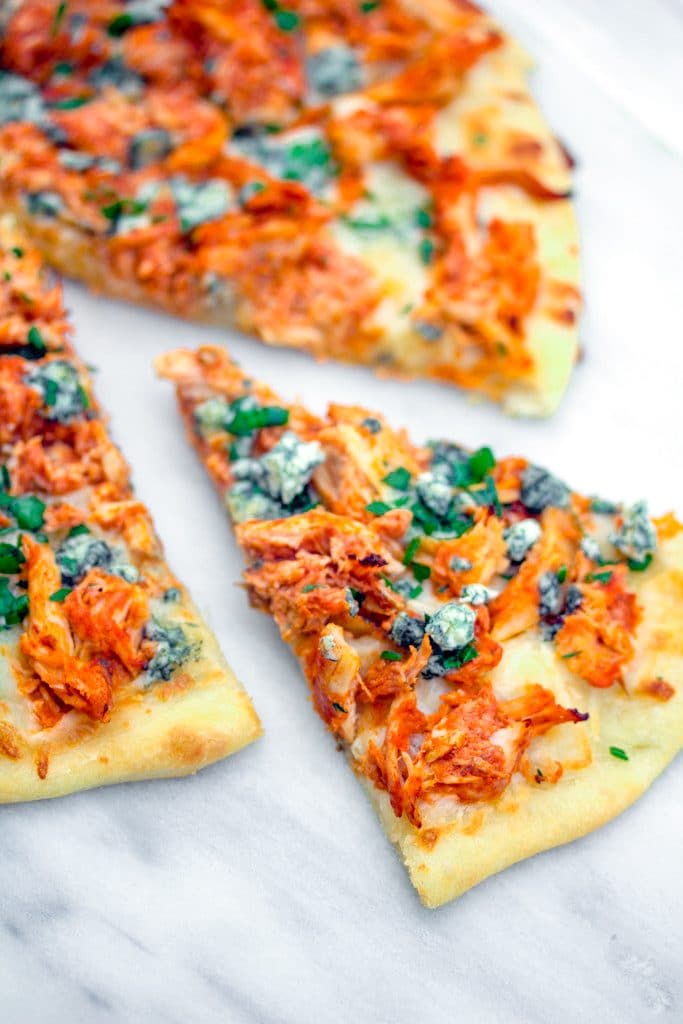 Plus, any excuse I have to put blue cheese on pizza is a good one. Are you with me?
But really, the point is, you can have this dinner on your table in no time at all. It seems like the harder my work day is, the more I crave sitting down to a really satisfying dinner. But the less I want to stand on my feet and make that dinner when I get home. This is the perfect solution.
After writing this post, I literally just added buffalo chicken pizza to my meal plan again for next week. Woo hoo, I'm already staying on top of my resolutions!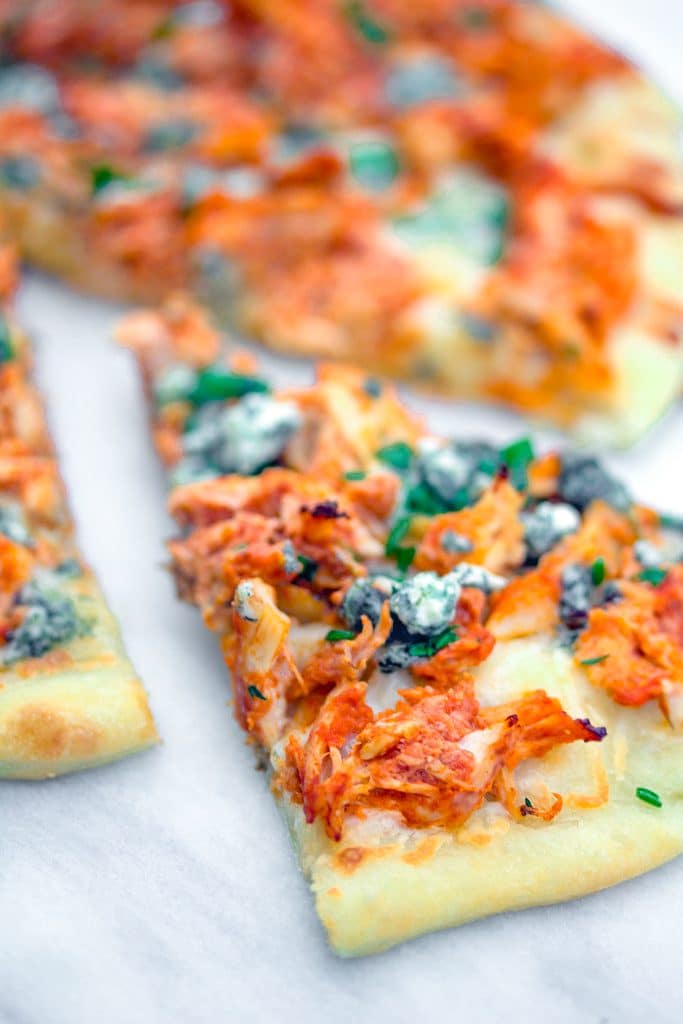 OK, let's get this Monday started! And with it, the countdown to Cocktail Friday 🙂
What's your favorite meal to enjoy when returning back to the real world from a long luxurious holiday?
Bachelor and tacos. Bachelor and tacos.
If you're looking for another delicious buffalo chicken recipe mash, check out my recipe for Buffalo Chicken Grilled Cheese and Instant Pot Buffalo Chicken Pasta. And I really want to try these Bacon-Wrapped Buffalo Wings from Seasoned Sprinkles!
📖 Recipe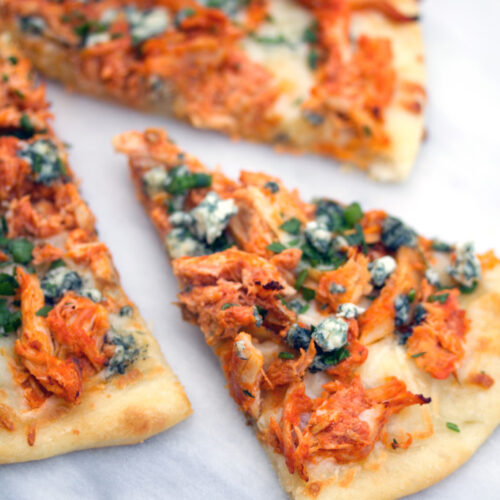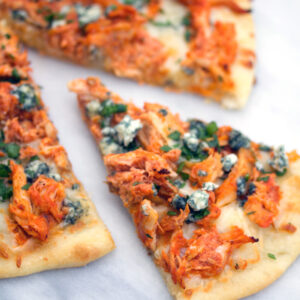 Easy Buffalo Chicken Pizza
If you love buffalo chicken and can't get enough pizza, you will be obsessed with this Buffalo Chicken Pizza. Make it with a rotisserie chicken for an incredibly easy weeknight dinner!
Print
Pin
Rate
Ingredients
½

batch homemade flatbread dough

(can also use store-bought)

2

cups

cooked chicken

(from rotisserie chicken, chicken breasts, etc.), shredded

½

cup-¾ cup

Frank's Red Hot

(or similar hot sauce)

1 ½

Tbsp

olive oil

1

cup

mozzarella cheese

2

oz.

blue cheese

1

Tbsp

chopped parsley

5

chives,

chopped
Instructions
Pre-heat oven to 450 degrees.

On a well-floured surface, roll out flatbread dough into a 13-inch round.

Place dough round onto a pizza stone or pizza pan covered in aluminum foil.

In a medium bowl, combine shredded rotisserie chicken and Frank's Red Hot until chicken is well coated.

Lightly brush the dough round with olive oil.

Sprinkle mozzarella cheese around dough.

Top with shredded chicken.

Crumble blue cheese on top of pizza.

Bake at 450 degrees for 10-14 minutes, until crust is browning and crispy.

Top pizza with chopped parsleys and chives before serving.
Share a Photo of Your Finished Recipe!
Mention @wearenotmartha and share a photo if you've made the recipe!