It's rare I meet a pizza I don't like, but this Shrimp Scampi Pizza is in a class of its own. With a super thin crust, a healthy dose of garlic and lemon juice, salty feta, and plenty of shrimp, you'll likely find yourself craving this pizza instead of a bowl of pasta!
(This recipe for Shrimp Scampi Pizza was originally posted in July 2012, but was updated with new photos and content in 2018).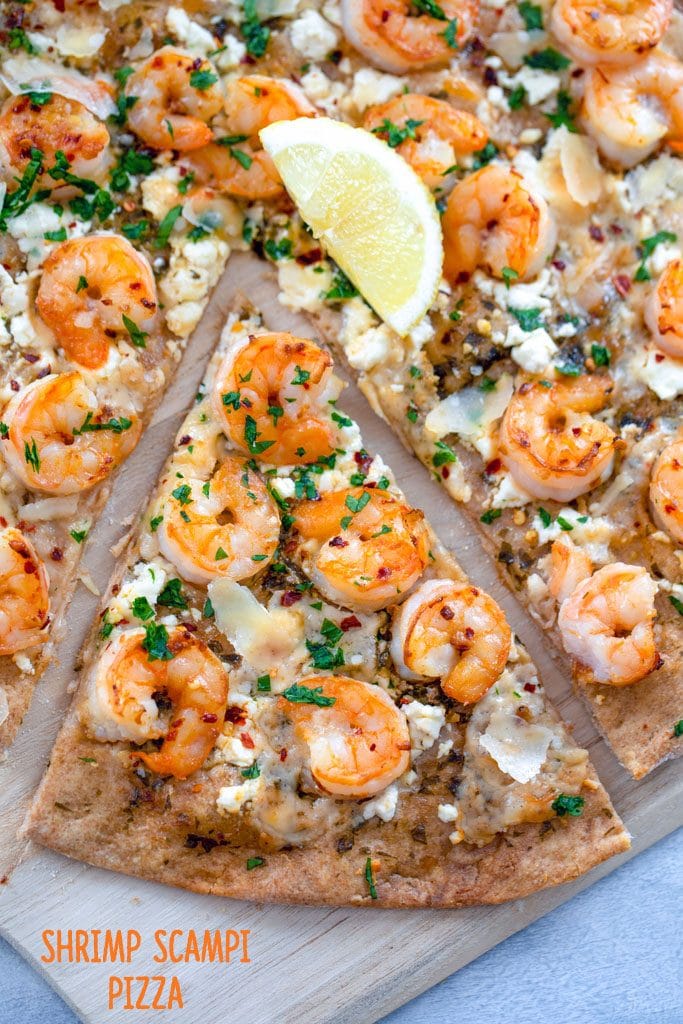 Did you ever stop and think about the fact that you can turn pretty much any food into a pizza? These are the things I do think about. Sometimes I'll plan what I want for dinner and then pause for a moment before saying… ON PIZZA. Seriously though, can you think of any dinner entree that wouldn't be totally tasty on a pizza? I even love salads on pizza, for goodness sake. EVERYTHING works on pizza. And if you're trying to trick me with dessert, just remember cookie pizza.
In case you haven't noticed, I've been on a major shrimp kick this summer. It must be something about the extreme heat we've been experiencing and the fact that shrimp is nice and light. And obviously delicious. I first made this shrimp scampi pizza back in 2012 and have honestly thought about it probably a million times since then. Shrimp scampi is up there as one of my favorite entrees and when I originally said, "I want shrimp scampi... ON PIZZA" I immediately knew it was going to work. It also just feels more legit to be eating a super thin crust pizza while sitting on your deck at the end of a long hot day than it does to be eating a huge bowl of pasta (disclaimer: I still think pasta is always a good idea). But also? I would happily eat this all winter long.
SHRIMP SCAMPI PIZZA RECIPE
I feel like shrimp scampi pizza sounds like it could be quite the complicated affair. But it's not! At all. I opted to make my own whole wheat dough for the pizza, but you can certainly use store-bought if you want to make this even quicker.
You'll basically cook your shrimp in garlic and then make a sauce with the garlic, lemon, and wine. Plus, plenty of red hot pepper flakes.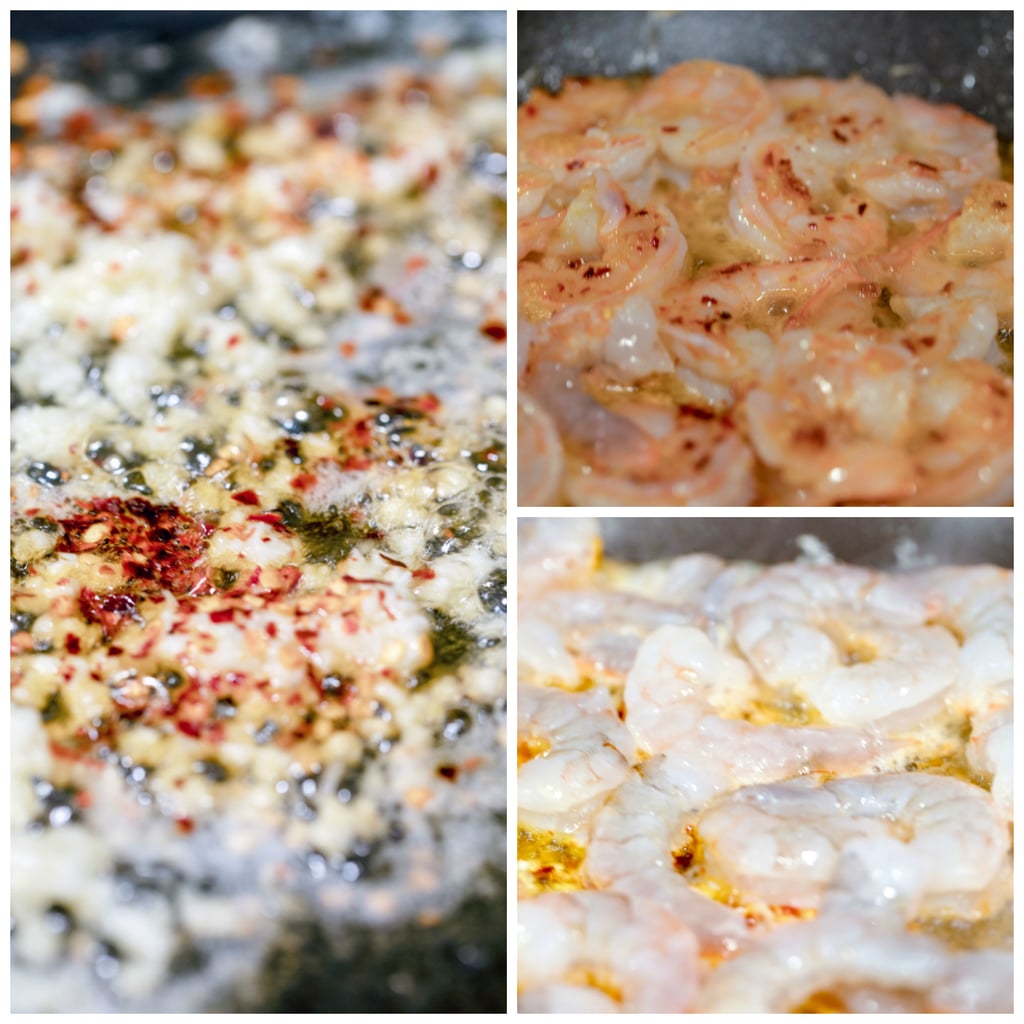 Then construct the pizza, which consists of brushing the sauce on the dough, adding feta and parmesan cheese, and topping with that beautiful shrimp.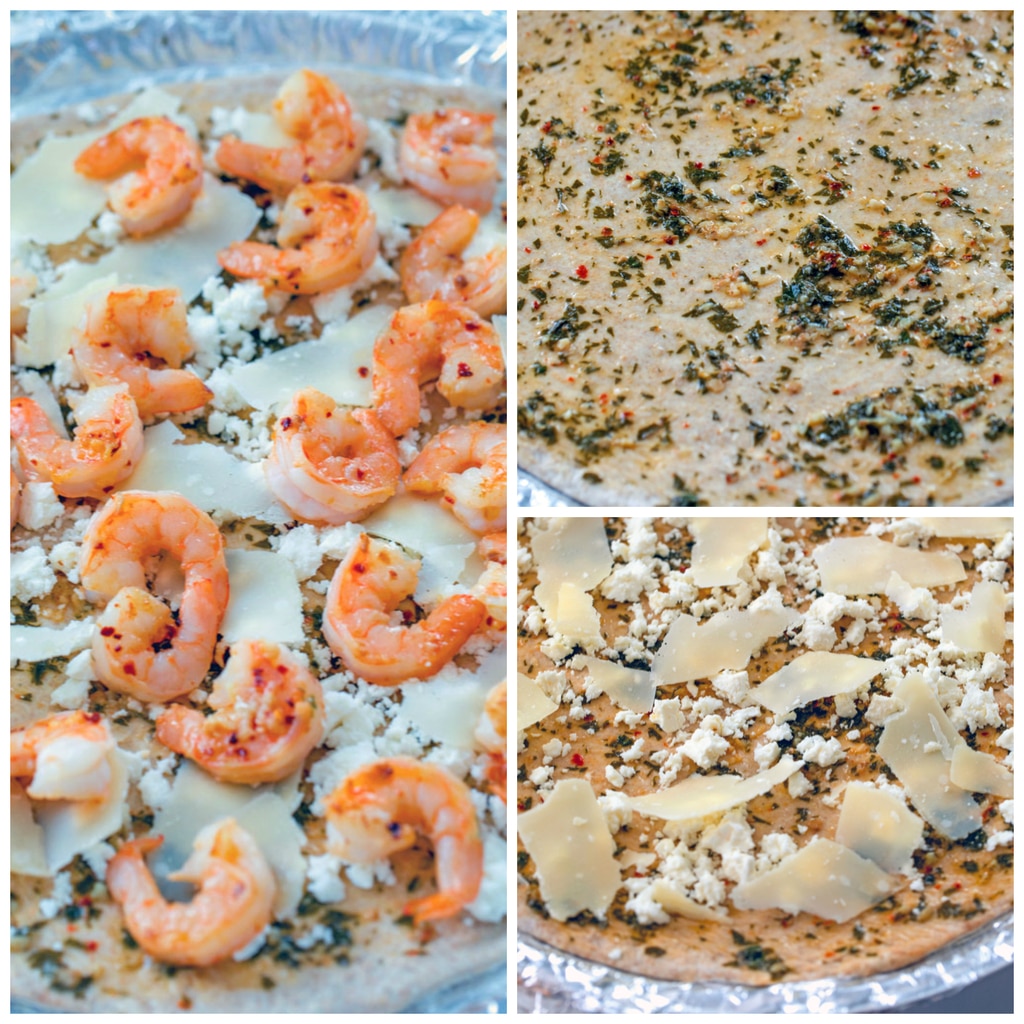 Bake in a nice hot oven... And you're done! The pizza is ready to eat and you're ready to pour a nice big glass of wine and relax.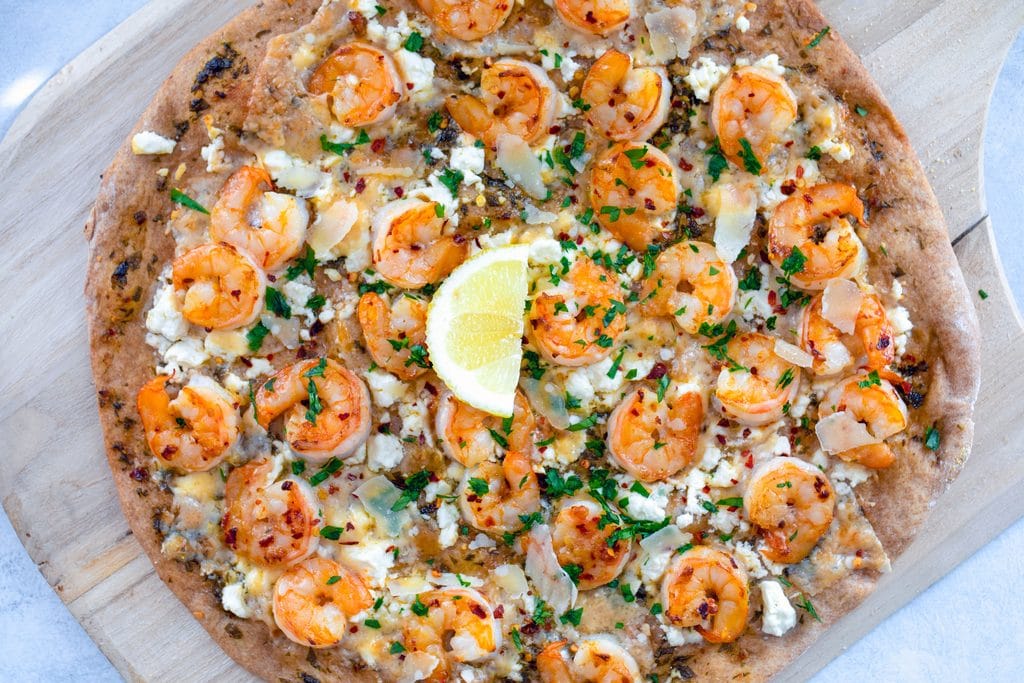 I like to drizzle a little more lemon juice over the top, right before I pick up a slice.
This pizza is the stuff dreams are made of for a shrimp lover.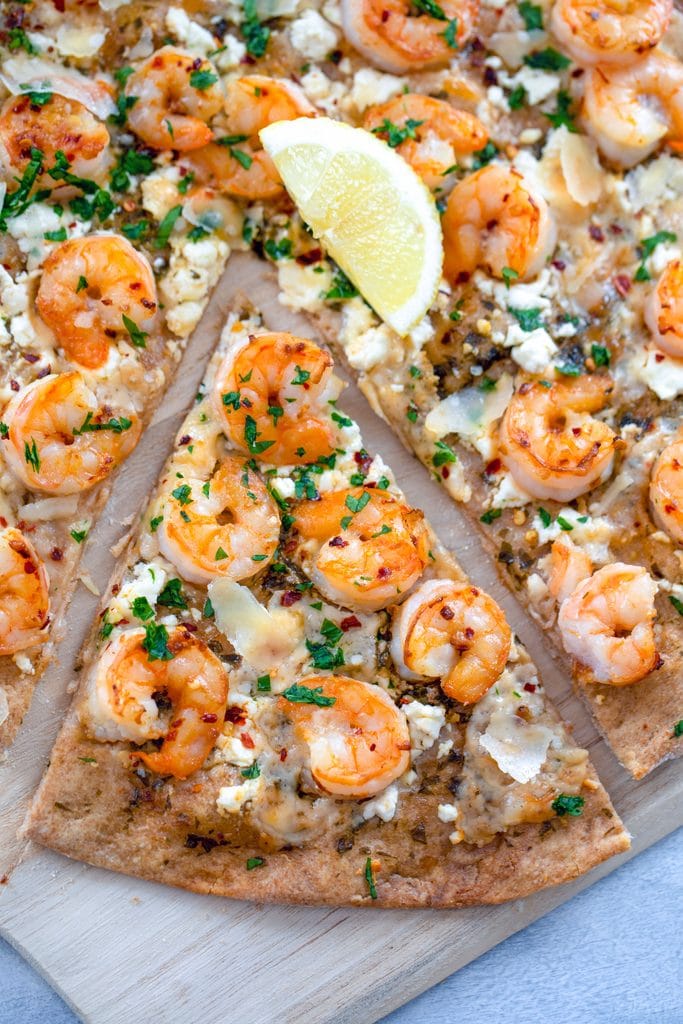 All of the delicious elements are on this shrimp scampi pizza from the sharpness of the feta cheese to the zing from the lemon to the kick from the red pepper flakes to the freshness of the parsley.
Oh, and yes, I realize the feta cheese makes this less of an Italian scampi and more of a Greek dish. But the feta just felt so necessary. And I added that parmesan cheese to keep the everyone happy. The more cheese the merrier. But that feta is so, so good.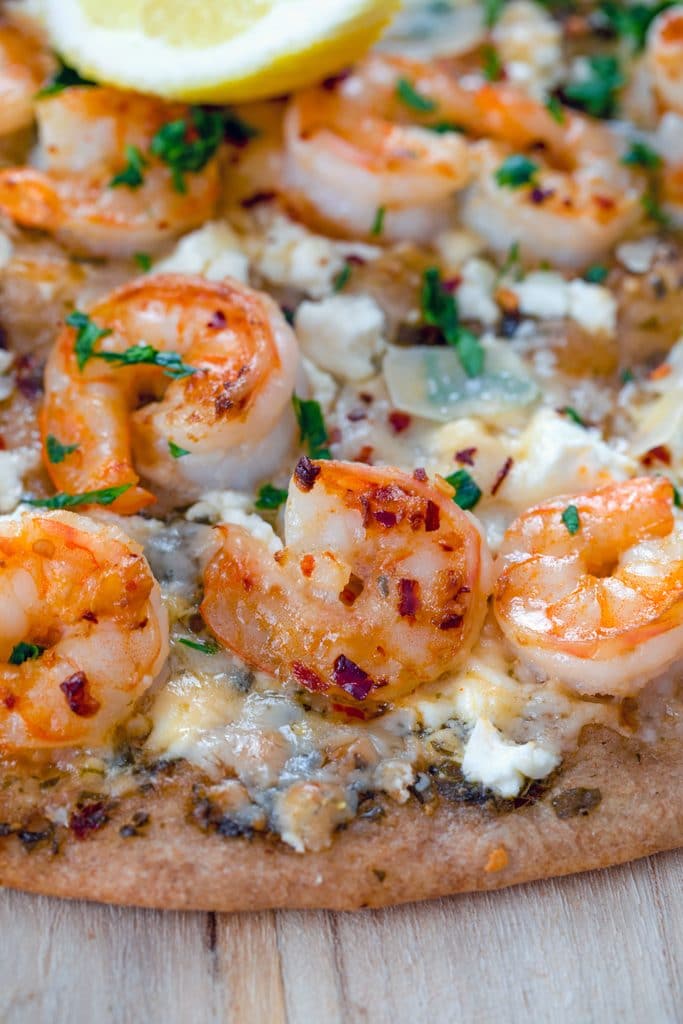 I also kind of loved how the garlic got nice and crispy-ish in the oven when the pizza was baking. There's nothing better than A LOT of garlic and as long as your dining companion and you are both eating it, there shouldn't be a problem.
I usually don't love shrimp leftovers (most fish isn't my favorite the second day), but I ate the leftovers of this shrimp scampi pizza cold while standing at the kitchen counter before noon even hit. And I'm not sorry about it.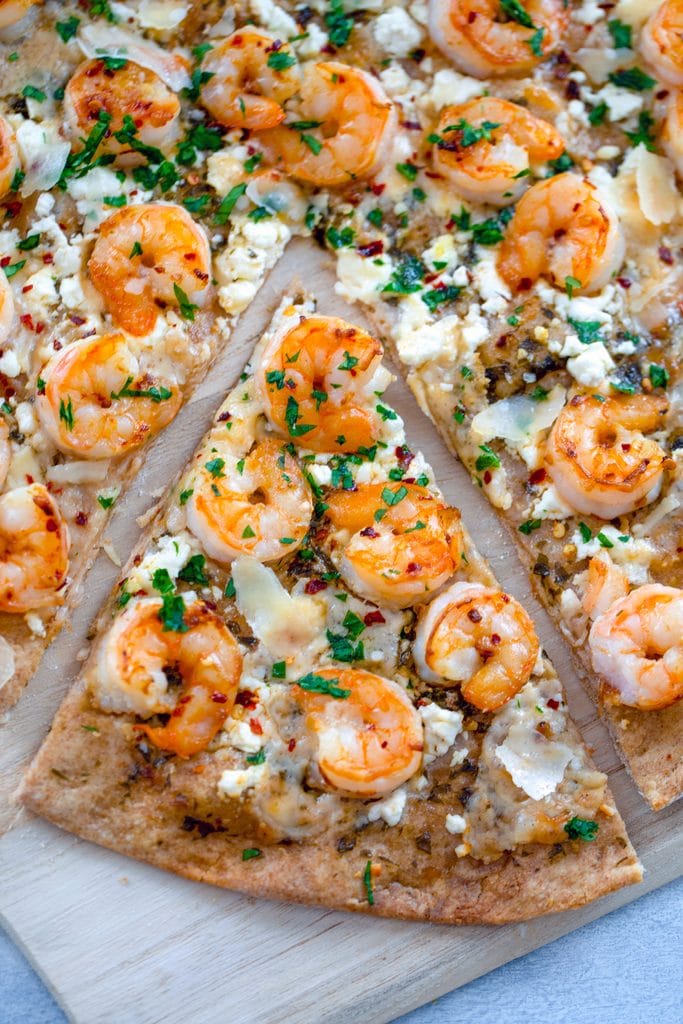 I probably make my own pizza at least twice a month because I think of all these crazy toppings I want to try and just can't resist. The next time you're craving something for dinner, you should stop and ask yourself, "how would it be on a pizza?" If you're craving shrimp scampi (and I hope you are after reading this post), I urge you to try it on a pizza!
What's your favorite entree to put on a pizza?
If you're looking for more shrimp recipes, check out this Tequila Jalapeño Shrimp or this Chilled Mexican Corn Bisque with Shrimp.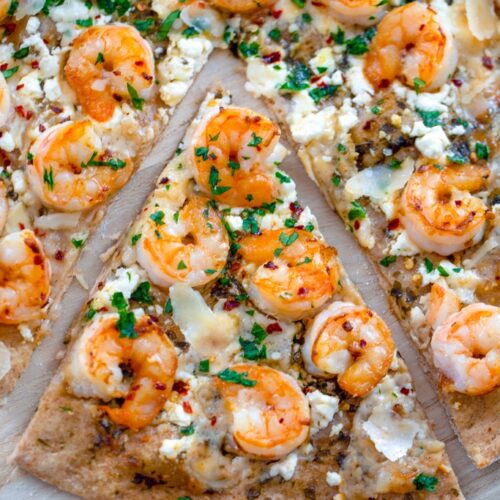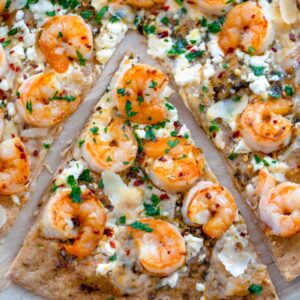 Shrimp Scampi Pizza
It's rare I meet a pizza I don't like, but this Shrimp Scampi Pizza is in a class of its own. With a super thin crust, a healthy dose of garlic and lemon juice, salty feta, and plenty of shrimp, you'll likely find yourself craving this pizza instead of a bowl of pasta
Print
Pin
Rate
Ingredients
3

Tbsp

unsalted butter

1

Tbsp

olive oil

4

cloves

garlic,

minced

½

tsp

red hot pepper flakes

1

lb

extra large shrimp,

peeled and deveined with tails removed

¼

cup

fresh lemon juice

⅓

cup

dry white wine

¼

cup

chopped parsley,

plus more for topping

Whole wheat dough

(⅓ of recipe below or store-bought)

⅓

cup

crumbled feta cheese

½

oz.

shaved parmesan cheese
Homemade Whole Wheat Dough
½

Tbsp

active dry yeast

1 ¾

cup

lukewarm water

½

Tbsp

salt

1

Tbsp

honey

1

Tbsp

extra virgin olive oil

2

cups

whole wheat flour

1 ½

cups

all-purpose flour
Instructions
Pre-heat oven to 450 degrees.

Melt butter and olive oil in a large pan over medium heat.

Add garlic and let cook for about 1-2 minutes. Add in red pepper flakes and cook for 30 more seconds.

Add shrimp to the pan in an even layer and season with a little salt and pepper.

When shrimp start turning pink (about 2 minutes), flip and cook another minute or so on the other side.

When cooked through, remove shrimp to a bowl and set aside.

Add lemon juice and wine to the pan and sprinkle in parsley. Let sauce cook for a few minutes to reduce a bit.

On a lightly floured surface, roll dough out into a thin 12-inch round. Transfer round to a foil-covered 12-inch pan. Brush dough lightly with lemon olive oil reduction.

Sprinkle feta cheese and parmesan over the pizza and top with the shrimp.

Bake for about 15 minutes until crust starts to brown and cheese is melting. Top with additional chopped parsley, slice, and serve.
Homemade Whole Wheat Dough
In a large bowl, combine yeast and water. Let sit for 3 minutes. Stir in salt, honey or sugar, and olive oil.

Using a wooden spoon, stir in whole wheat flour and all-purpose flour until just blended. If dough is still wet, add in a bit more flour, 1 Tbsp at a time.

Cover the bowl with a towel and set aside at room temperature for about two hours, so dough can rise. Once risen, either use dough or refrigerate if not using right away.
Share a Photo of Your Finished Recipe!
Mention @wearenotmartha and share a photo if you've made the recipe!