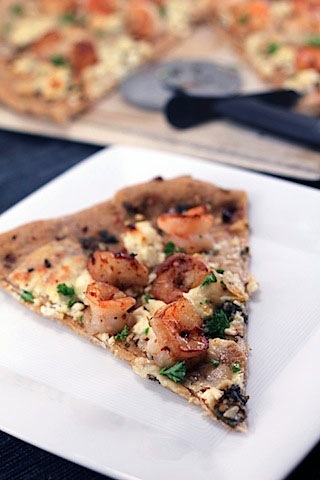 If you think about it, you can turn anything into a pizza. And these are the things I do think about. Sometimes I'll plan what I want for dinner and then pause for a moment before saying… ON PIZZA. Seriously though, can you think of any dinner entree that wouldn't be totally tasty on a pizza? I even love salads on pizza, for goodness sake. EVERYTHING works on pizza. And if you're trying to trick me with dessert, just remember cookie pizza.
I've never actually made shrimp scampi before. But I do love it. And was craving it one night. But I was also craving a flatbread. What's a girl to do? Put shrimp scampi on a pizza, of course. It seemed logical at the time and I stand by my theory. Who needs pasta when you have flatbread dough?
Shrimp Scampi Pizza (makes 1 large pizza):
Print this recipe!
1/3 batch whole wheat pizza dough (or store-bought)
3 T butter
1 T olive oil
4 cloves garlic, minced
1/2 t red hot pepper flakes (plus extra for topping)
1 lb. shrimp, peeled and deveined
1/4 C fresh lemon juice
1/3 C dry white wine
1/4 C chopped parsley
4 oz. feta cheese, crumbled
1/2 oz. parmesan cheese, shaved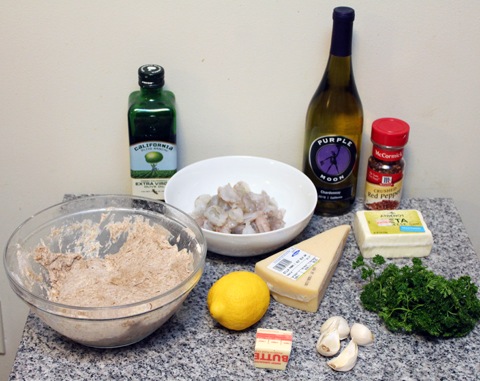 Start by melting the butter and olive oil in a large frying pan over medium heat.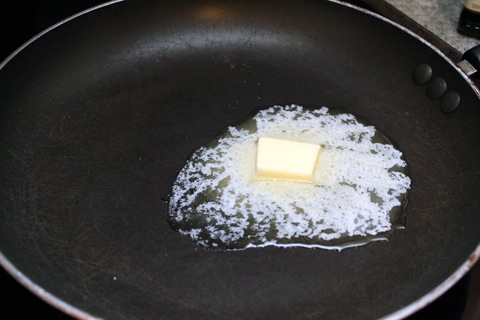 Add the garlic to the pan and let cook for about 1-2 minutes.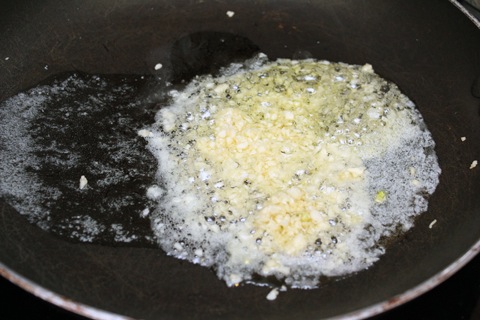 Then toss in the red hot pepper flakes, too, and cook for 20 more seconds.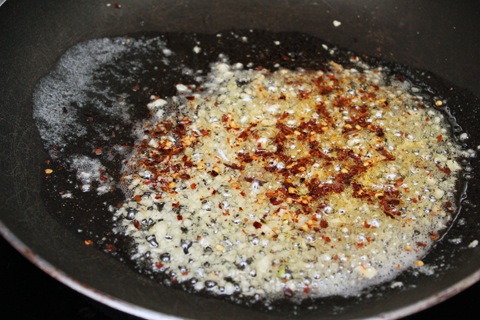 Throw your shrimp in the pan in an even layer (OK, so my pan was almost too small) and season with a little salt and pepper.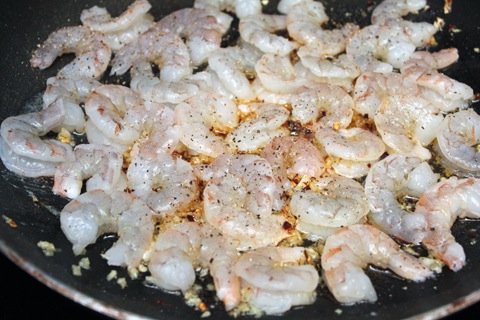 When shrimp start turning pink (about 2 minutes), flip and cook another minute or so on the other side.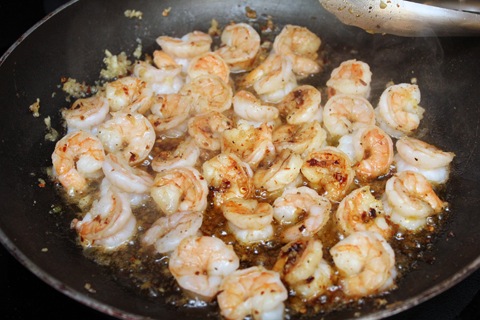 When finished cooking, remove shrimp to a bowl and set aside.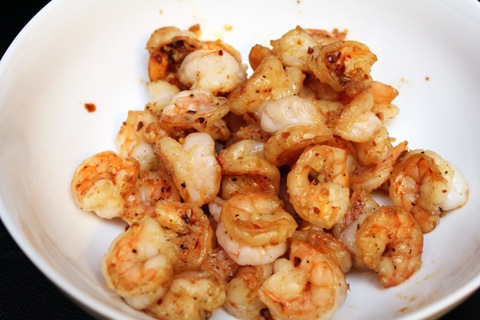 Stir in lemon juice and wine and sprinkle in parsley. I like A LOT of parsley. You might not.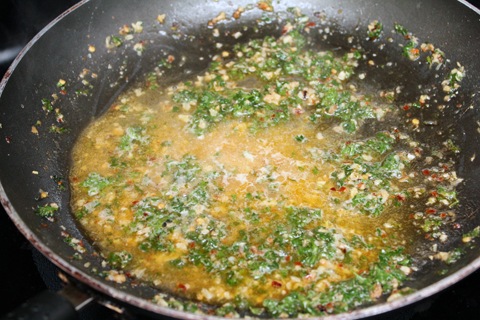 Let sauce reduce a little bit.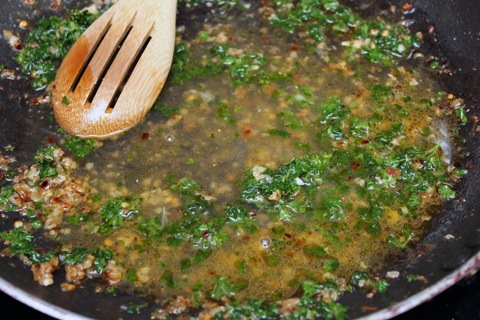 Roll your dough out, nice and thin. You might also call this a flatbread. I find flatbread and thin-crust pizza to be kind of interchangeable, but I think flatbread sounds fancier. However, Shrimp Scampi Pizza went better together.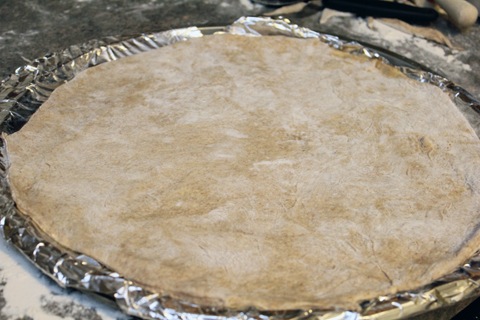 Normally when I make flatbread, I brush some nice olive oil on the dough. But, of course, for this flatbread, I brushed on the delicious reduction onto the dough. I didn't want it to get soggy, so I didn't use all of it. Just a nice light layer that I brushed on with a pastry brush.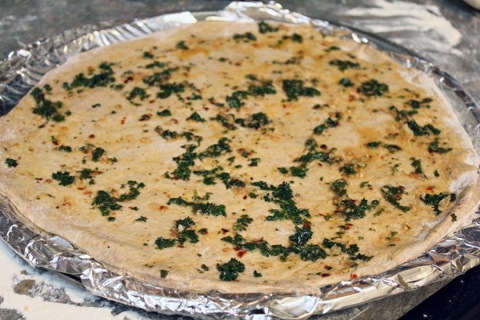 Then sprinkle on the feta cheese and parmesan.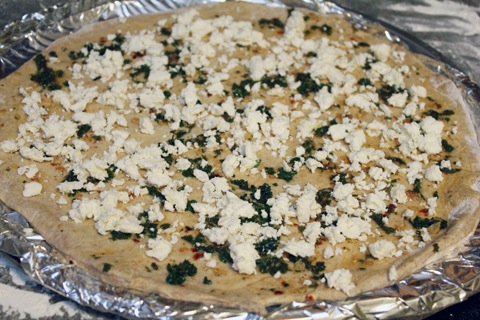 And top with the shrimp. A pound of shrimp gives you a nice generous topping for this pizza.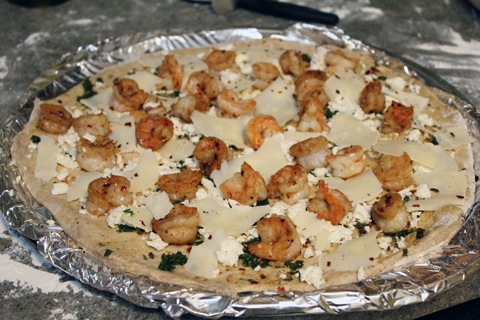 Bake at 450 degrees for about 15 minutes until crust starts to brown and cheese gets melty.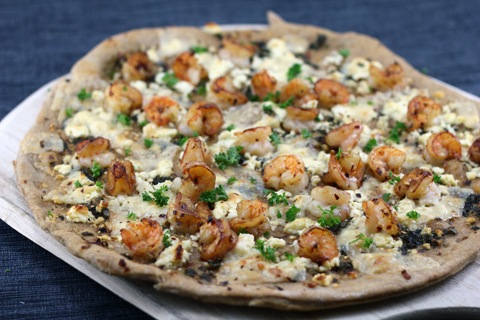 This pizza is the stuff dreams are made of for a shrimp lover.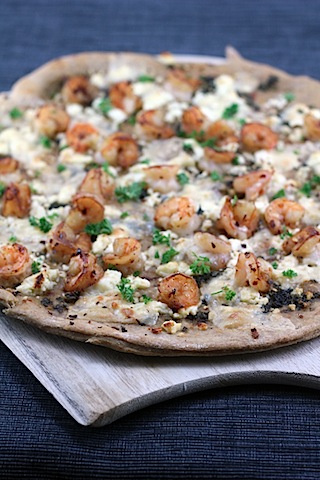 All of the aspects are there from the sharpness of the feta cheese to the kick from the red pepper flakes to the freshness of the parsley. And they all work wonderfully together.
Oh, and yes, i realize the feta cheese makes this less of an Italian scampi and more of a Greek dish. But the feta really makes this what it is. And I added that parmesan cheese to keep the Italians happy. The more cheese the merrier.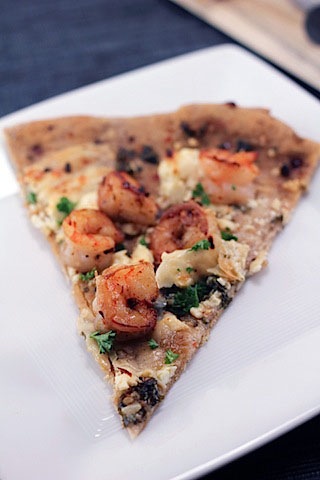 I also kind of loved how the garlic got nice and crispy-ish in the oven when the pizza was baking. There's nothing better than A LOT of garlic and as long as your dining companion and you are both eating it, there shouldn't be a problem.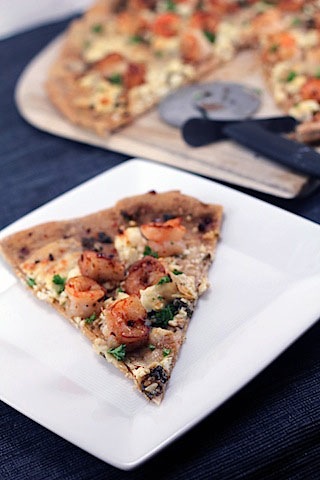 I probably make my own pizza at least twice a month because I think of all these crazy toppings I want to try and just can't resist. The next time you're craving something for dinner, you should stop and ask yourself, "how would it be on a pizza?"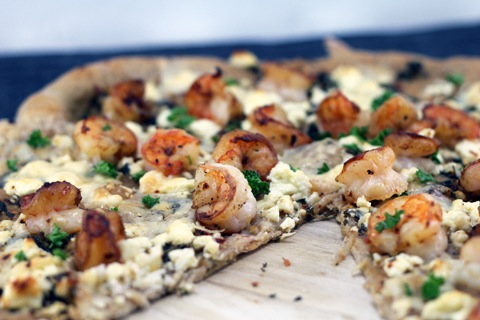 What's your favorite entree to put on a pizza?
[Sues]