One of my favorite food blogs is No Recipes. Mark Matsumoto, the brilliant brain behind the blog, does a great job of explaining each step there is to recipes that he creates on his own. He takes beautiful photos (after all, he is a photographer) that seriously leave me starving at times.
Since I'm at home more now than I ever have been, I've been really interested in making things in bulk. Things I that will last throughout the week that I can easily have for breakfast and that can be translated into snacks throughout the day as well. I saw this recipe for Cherry Vanilla Granola on norecipes.com and decided it would be perfect to store and enjoy all week. It's really simple to make and is a great snack. It helped that I had the majority of the ingredients on hand too!
Here's what you'll need: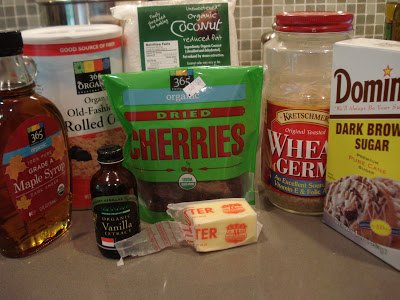 • 2 1/2 cups rolled oats (not quick cook oats)
• 1/2 cup wheat germ
• 1/2 C almonds (I opted not to use this since I'm allergic)
• 1/2 C coconut flakes
• 2 Tbs butter (or canola oil if you want a healthier version… I chose butter)
• 2 Tbs dark brown sugar
• 1/4 cup maple syrup
• 1 tsp vanilla
• 1/2 C chopped dried cherries (found these at Whole Foods)
Here's what you do:
• Heat oven to 275 degrees and line a baking sheet with parchment paper
• In a large bowl, mix together oats, wheat germ, almonds (if you're using them), and coconut.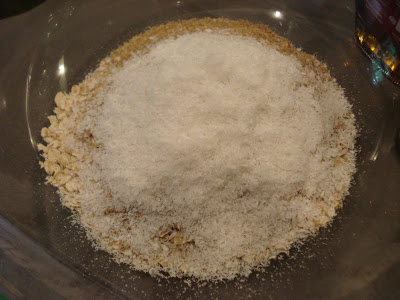 • Microwave butter and brown sugar until the butter has melted. Add the maple syrup and vanilla and stir, making sure everything is mixed together well. Pour this into the dry ingredients and mix until well combined and the granola starts to clump together.
• Spread mixture evenly over parchment paper lined baking sheet and bake for 30 minutes.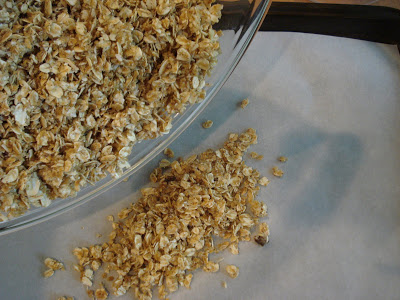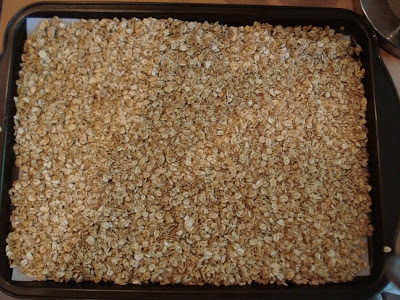 • Open oven, stir granola, making sure to break up any large clumps of granola, and then evenly distribute cherries on baking sheet.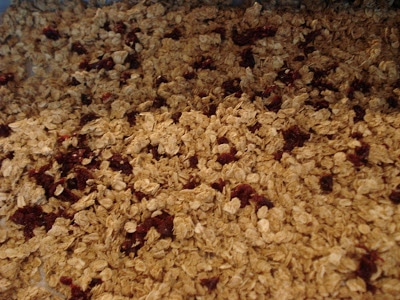 • Return to the oven for another 15 minutes or until the granola is nice and golden brown.
I decided to follow Mark's lead and enjoy the Cherry Vanilla Granola as a cereal with sliced bananas and soy milk. The crunchy granola and semi sweetness of the cherries made for a great breakfast that left me nice and satisfied and ready to start the day!
I decided to store the remaining granola so I could enjoy it in yogurt or just by itself. Normally when I have yogurt I toss in some crunchy cereal to make it a more filling snack, but now that I have this recipe I'm pretty sure I'll be making this more often! These plastic containers that you get at the deli are great to hold on to for times just like this.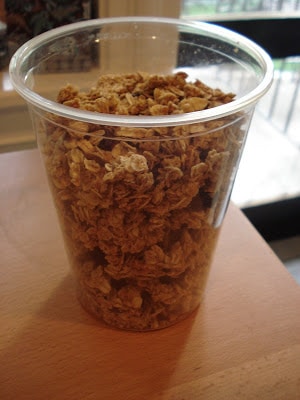 Enjoy!
[Chels]