I had a huge craving for homemade pizza one night and was thinking of ways to make a somewhat healthy-ish version. Then I came across a recipe for a healthy-ish calzone and completely forgot the whole pizza idea. It was on the Mayo Clinic website, which is super random and not normally a place I would go to find recipes. But they actually have some good, nutritious ideas that you can always change to better suit your tastes (i.e. make less nutritious and more delicious).

Chicken and Spinach Calzone:
2 t olive oil

1 lb boneless, skinless chicken breast

1 package (10 oz) frozen, chopped spinach, thawed and drained

1 medium onion

8 oz. part skim mozzarella (or ricotta) cheese

2 T minced garlic

1 T chopped parsley

4 T parmesan cheese

2 egg whites, separated

Whole wheat dough (you can find this either in the cheese section or bakery of your grocery store; it's in a little bag)
Pre-heat oven to 350 degrees.
Cook the chicken first, in a frying pan with olive oil. Just place it in the olive oil over medium-high heat until it's golden brown and cooked through. Once it cools a bit, cut it into cubes, or strips like I did.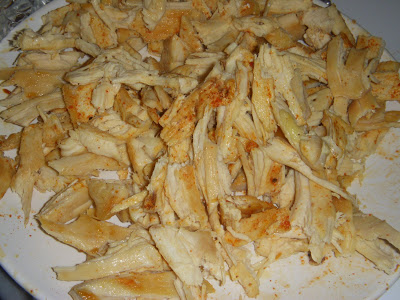 If you want to add onion (the original recipe didn't call for it, but I added it), chop it up and cook it in a frying pan in some olive oil until it's soft and translucent.
The recipe called for ricotta cheese, but I'm not the biggest ricotta fan, so I used mozzarella instead (note: after taking Stir's cooking class and learning how to make my own ricotta cheese, I am now a much bigger fan of ricotta cheese. Yum). I know a lot of people just use the Kraft parmesan cheese or whatever, but I'm telling you right now, buy a block of parm and grate it. It's really not that hard and it's SO SO SO much better. They don't even taste comparable. I also threw in some low-fat feta cheese because um, I could live off cheese? I'm currently trying to convince my sister to have a cheese course at her wedding. Good idea, right?
Anyway, combine the cheeses, spinach, garlic, onion, parsley, and 1 of the egg whites in a big bowl and mix until blended.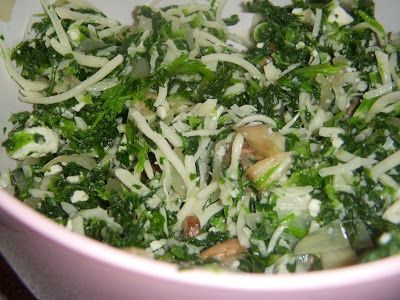 Now you want to prepare your dough. Break it into 6 equal-sized pieces and form each into circles. It's easiest if you place these circles on a floured surface so they don't get all sticky-like. You're supposed to use a rolling pin to form the dough into ovals 8 inches long and 6 inches wide. Mine were…not like this. They were in all sorts of odd circle-ish shapes and you know what? It worked.
Break your other egg white into a bowl and brush the edges of the dough with the egg white. You could also use olive oil, but the egg white makes it a bit healthier. Now, place some chicken in the middle of the dough, along with some of the spinach mixture.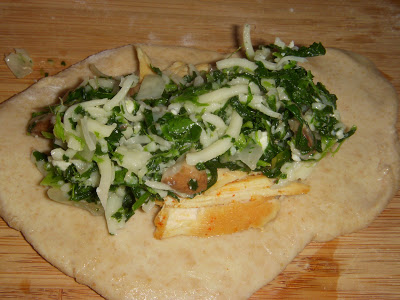 Now fold the dough over, pressing the edges together. Crimp the edges with a fork and place on a baking sheet coated with cooking spray. Repeat for the rest of the dough circles. I had an insanely ridiculous amount of filling left over. Which then sat in my fridge for a week before I realized I had no reason to keep it and threw it out.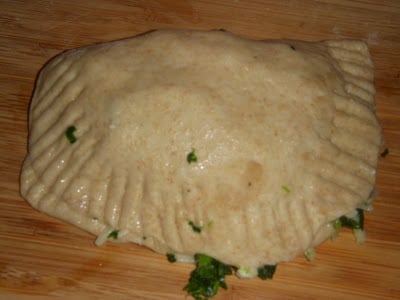 Bake the calzone for about 15-20 minutes at 350 degrees, until they're brown and crispy-looking.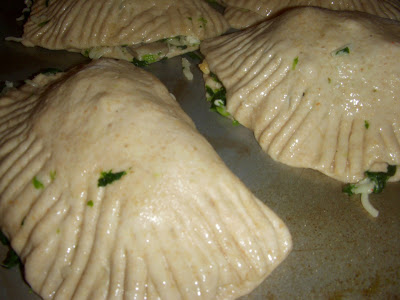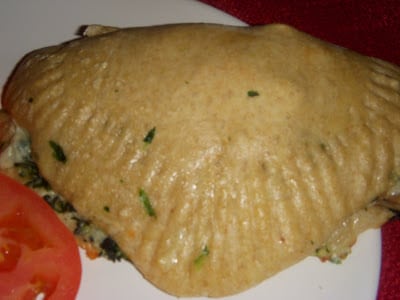 OK, so maybe by the time I finished putting all the cheese in, it wasn't the healthiest thing in the world. But I did use all pretty light cheeses that also added tons of flavor to the calzone. And they made a really filling and satisfying meal. The best thing is, you can totally add whatever you want to the calzone. I wanted onion so I added onion. But you could also throw in mushrooms, peppers, or anything your heart desires.

You could even forget all about the healthy aspect of the calzone and use pepperoni, sausage, and non-whole wheat dough. The calzone is your oyster. Or um, something like that.

[Sues]