These Chicken and Spinach Calzones are incredibly easy to make, a little bit healthier than the average calzone, and packed with delicious flavor!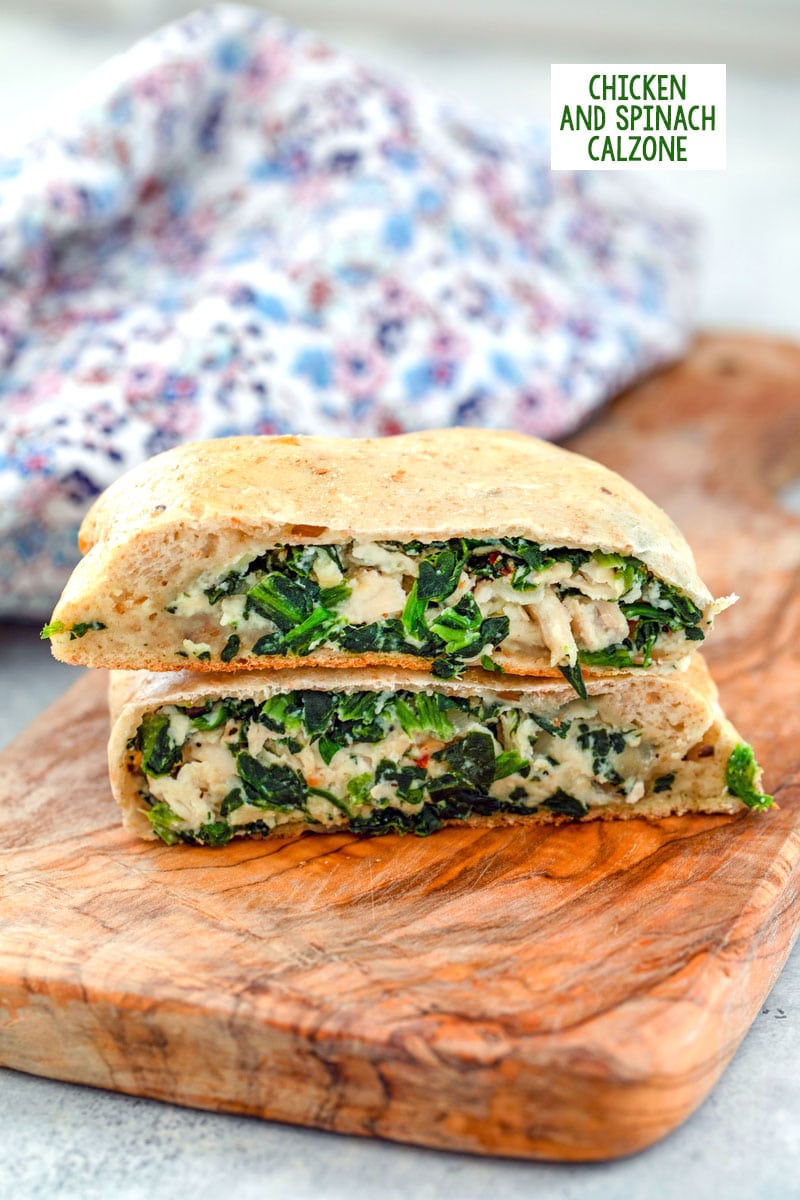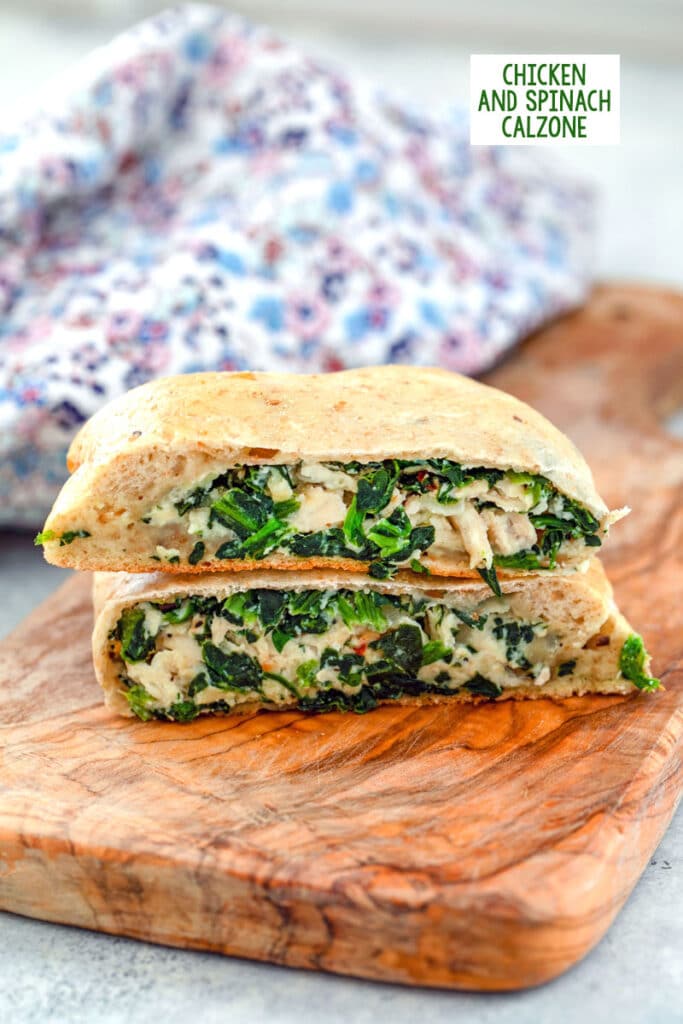 (This recipe for Chicken and Spinach Calzone was originally published in January 2009, but was updated with new photos and content in 2020).
The first time I made calzone, it was a total fluke. I was making a pizza, but when I went to lift it onto the pan, it folded over onto itself and basically became a giant calzone. It was impossible to unfold and fix and so I decided to just go with it.
Calzone really is just pizza in pocket form. But there's something that feels so different about it, so you totally won't feel guilty if you have a pizza night and a calzone night within the same week.
This chicken and spinach calzone is a little bit healthier than the average calzone. It still has lots of cheese (3 kinds, in fact!), but is also packed with spinach and chicken breast, is made with whole wheat dough, and is lightly brushed with egg white instead of olive oil or butter.
A healthier calzone that's still packed with all kinds of flavor? Count me in!
Chicken and Spinach Calzone Recipe
Despite what you may think, calzone is actually super easy to make. This is especially true if you use store-bought dough like I do here. Once you make the filling, you simply divide the dough into six portions, roll each portion into an oval, top each oval with filling, and then fold the ovals over. Super easy!
To start, pre-heat your oven to 350 degrees and line a baking sheet with foil.
Cook the onions, garlic, and chicken first. In a medium skillet over medium-high heat, add 1 Tbsp olive oil. Add onion to skillet and cook until softened, about 6 minutes. Add garlic and cook for another minutes. Remove onions and garlic to a medium bowl.
Add remaining Tbsp of olive oil to same skillet and place chicken in skillet. Cook until chicken is no longer pink and is turning golden on the outside, 8-10 minutes. Remove from skillet to cutting board and let cool slightly before shredding.
Now it's time to add all the other filling ingredients to the onions and garlic in the bowl. That includes the shredded chicken, spinach (I used frozen that was chopped, thawed, and drained), ricotta, feta, parmesan, parsley, one egg white, salt, pepper, and red chili flakes.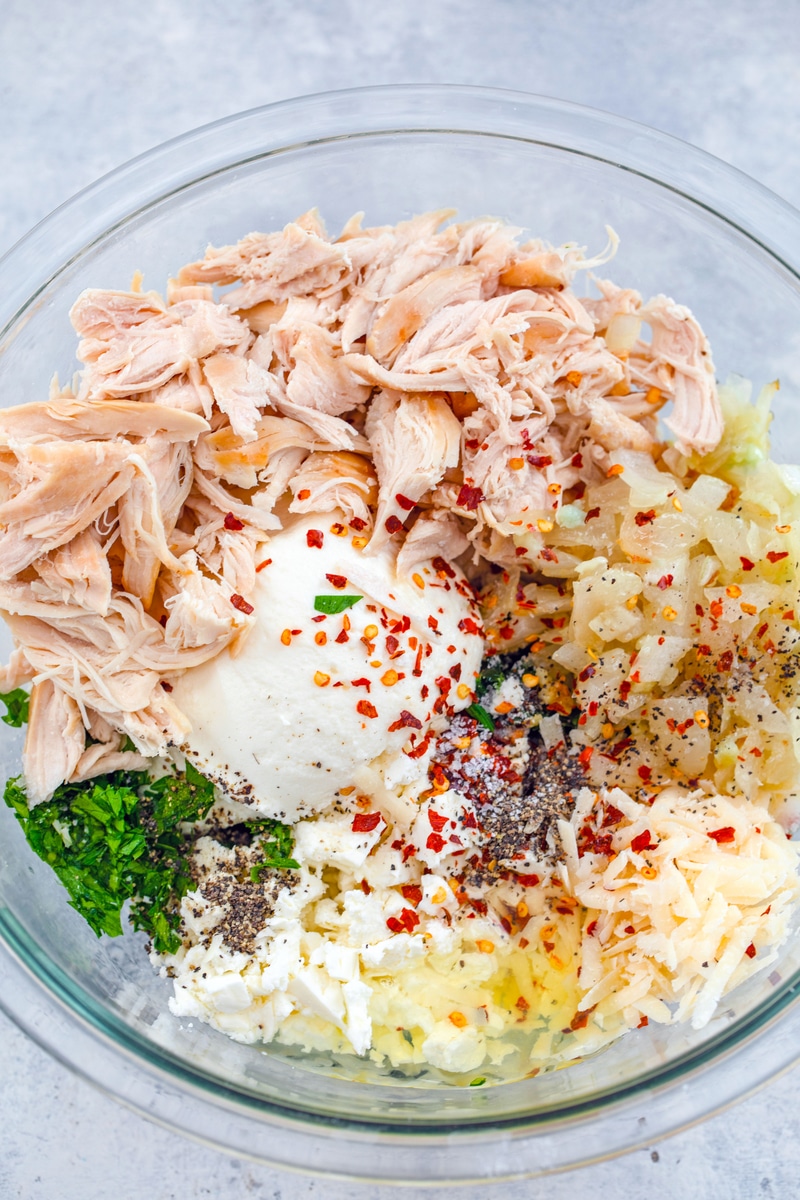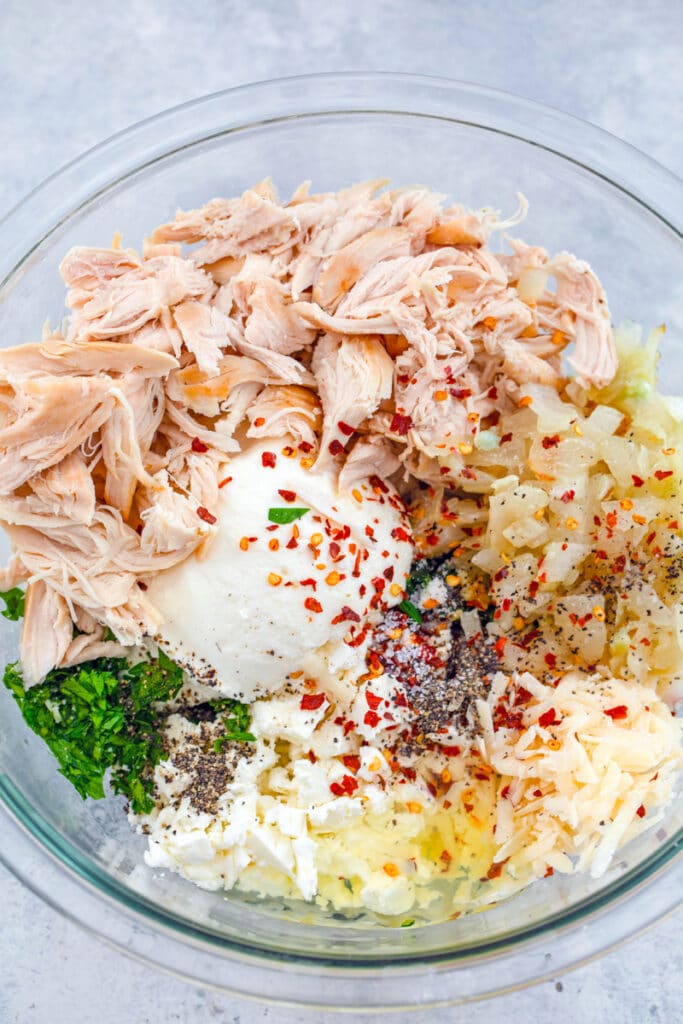 Mix until the ingredients are all combined.
Try not to eat the filling right out of the bowl.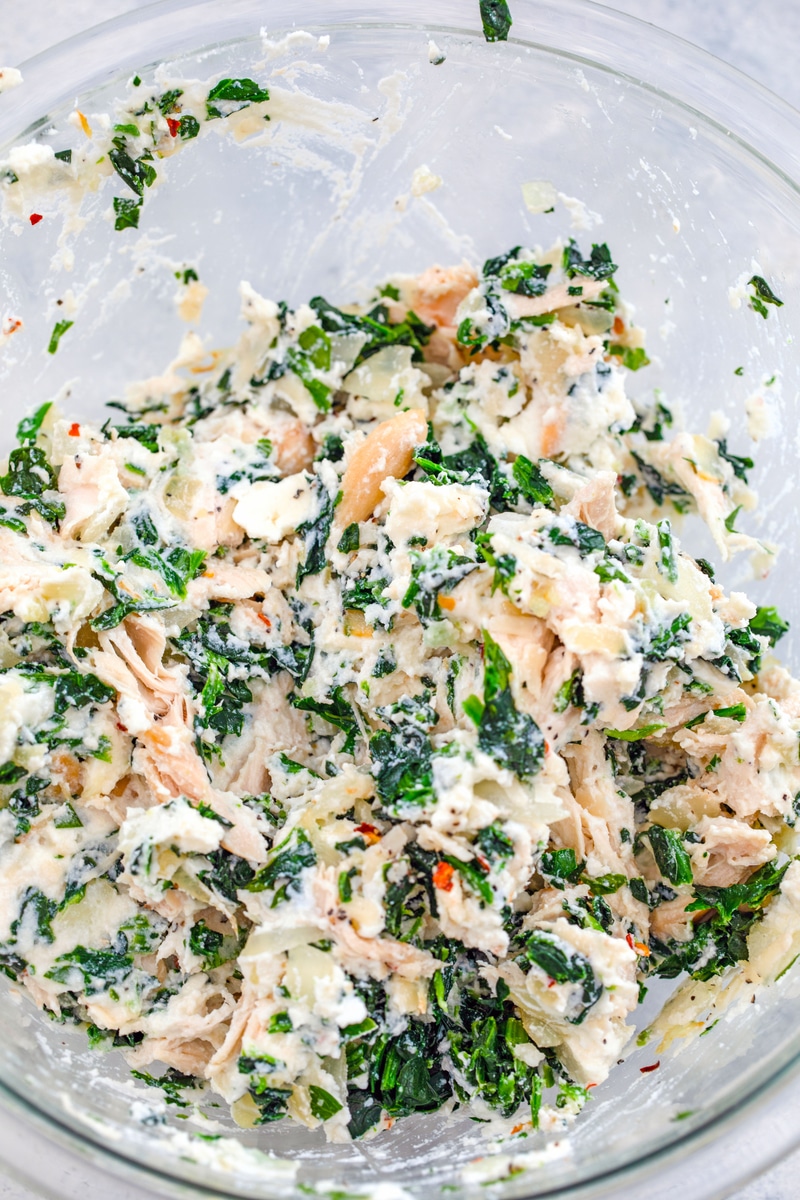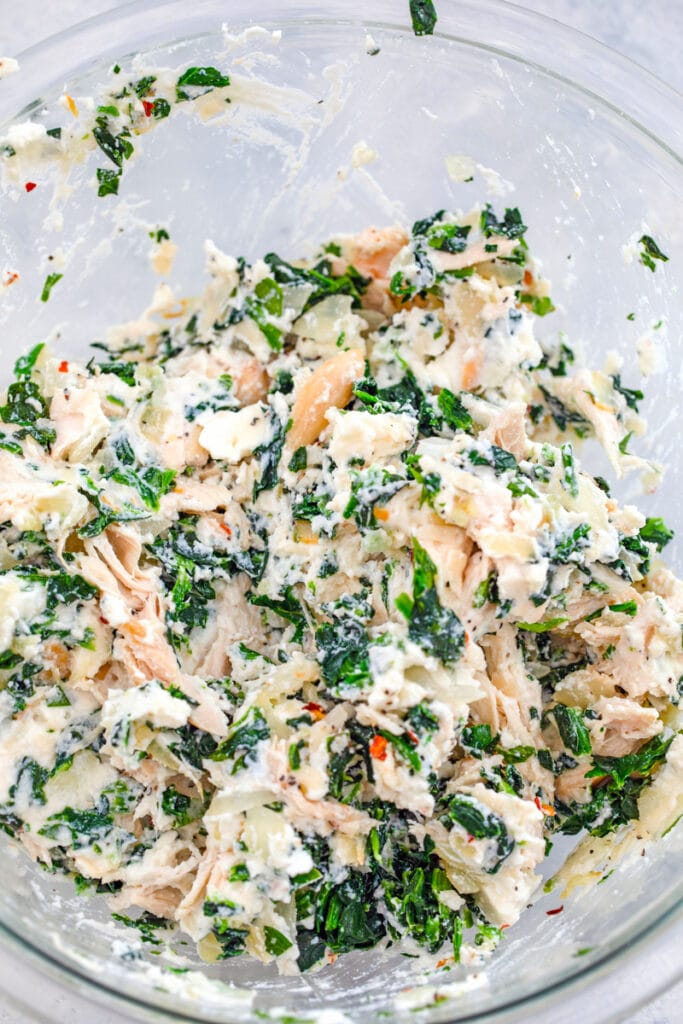 Now you want to prepare your dough. Break it into 6 equal-sized pieces and on a lightly floured surface, form each into an oval.
Break your other egg white into a bowl and lightly brush the edges of the dough with it. Place some of the chicken spinach mixture in the center of the dough.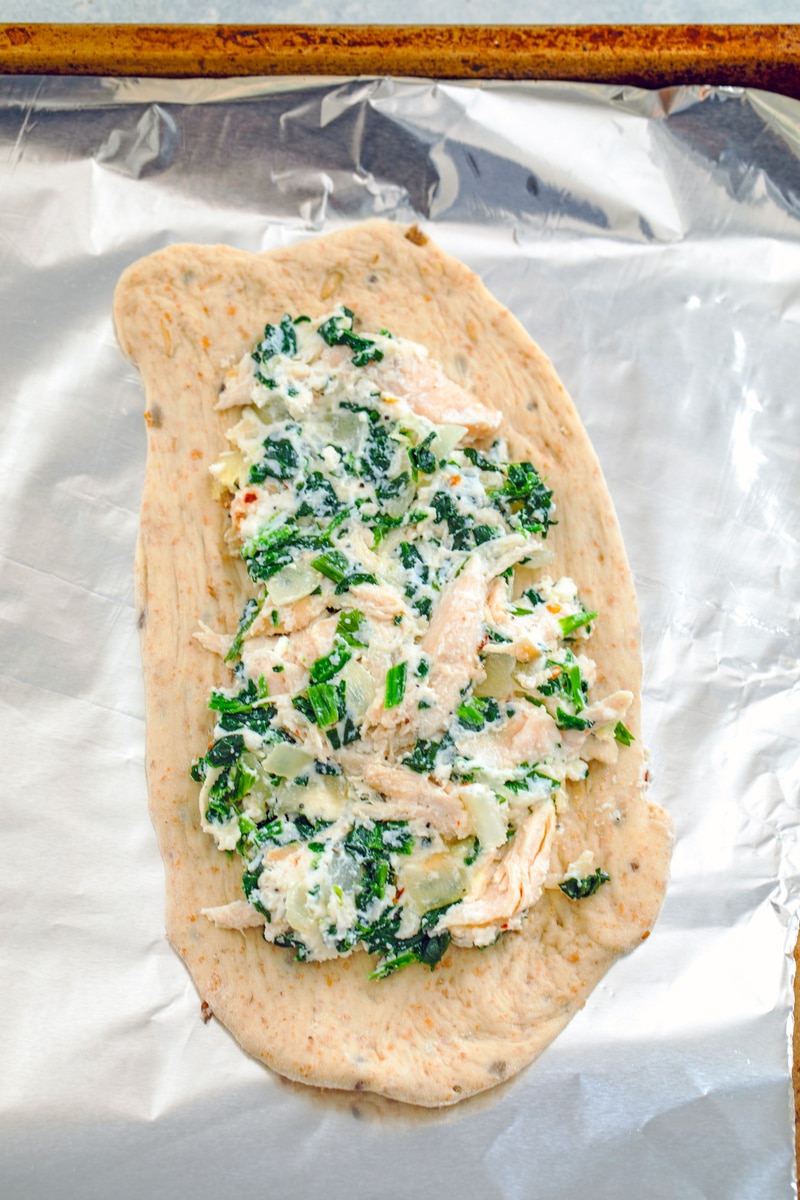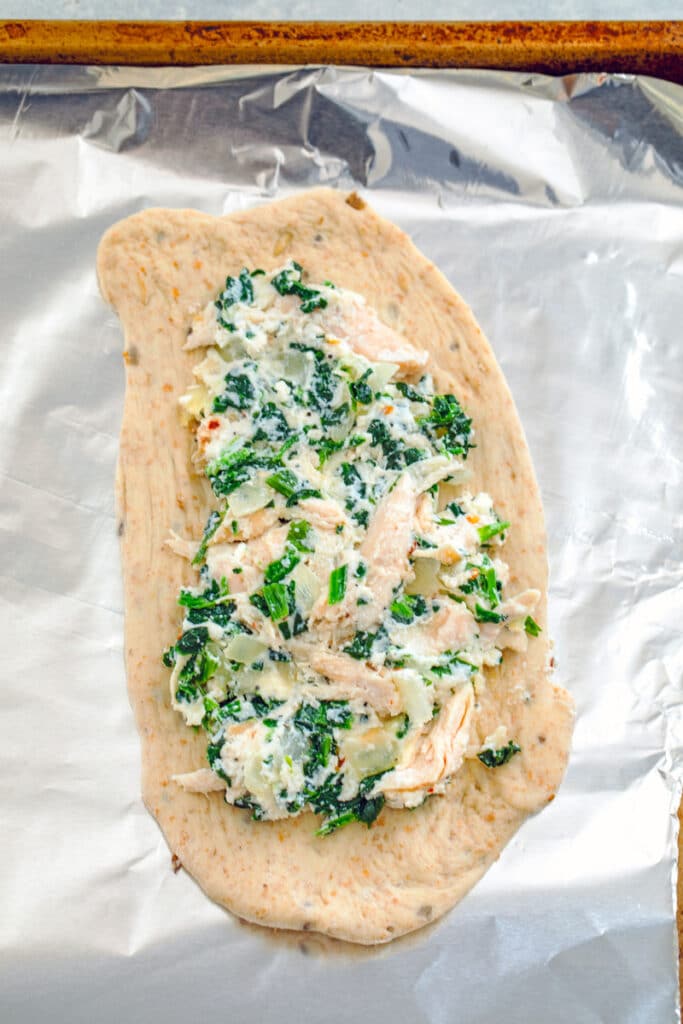 Fold the dough over for each oval, pressing the edges together. Crimp edges with a fork and place on prepared baking sheet.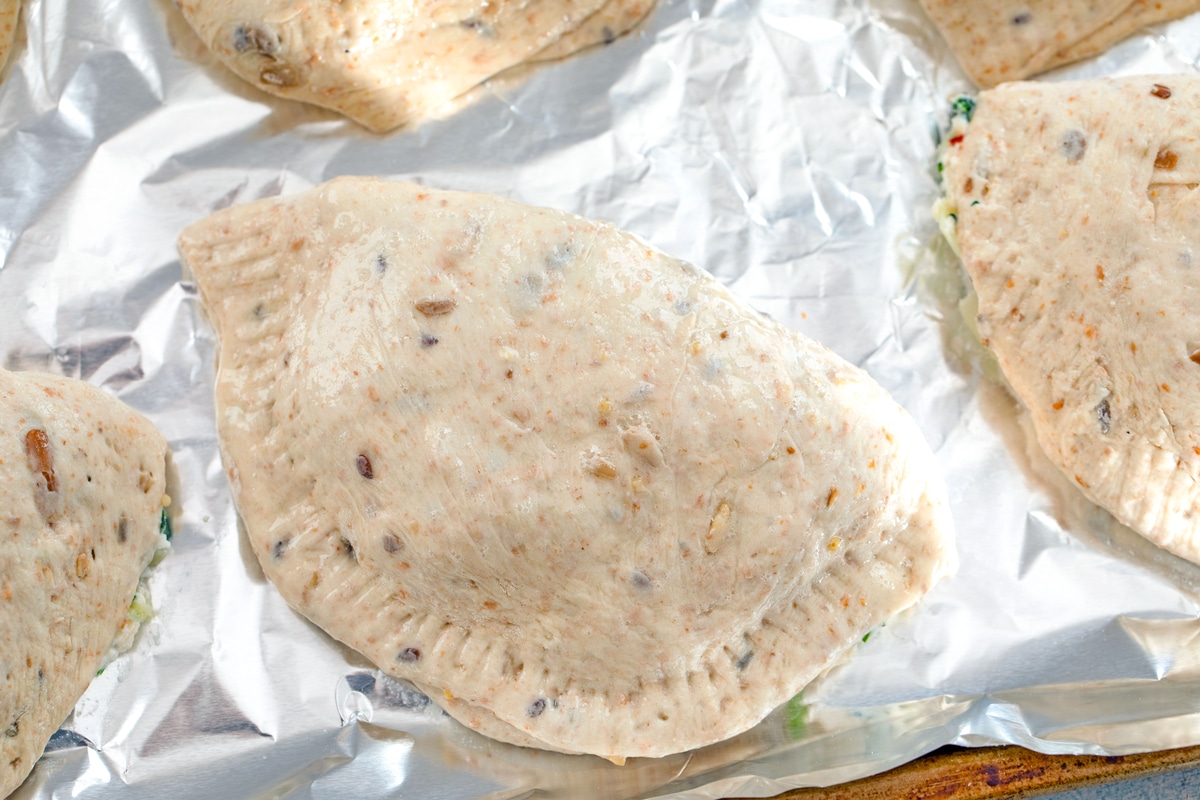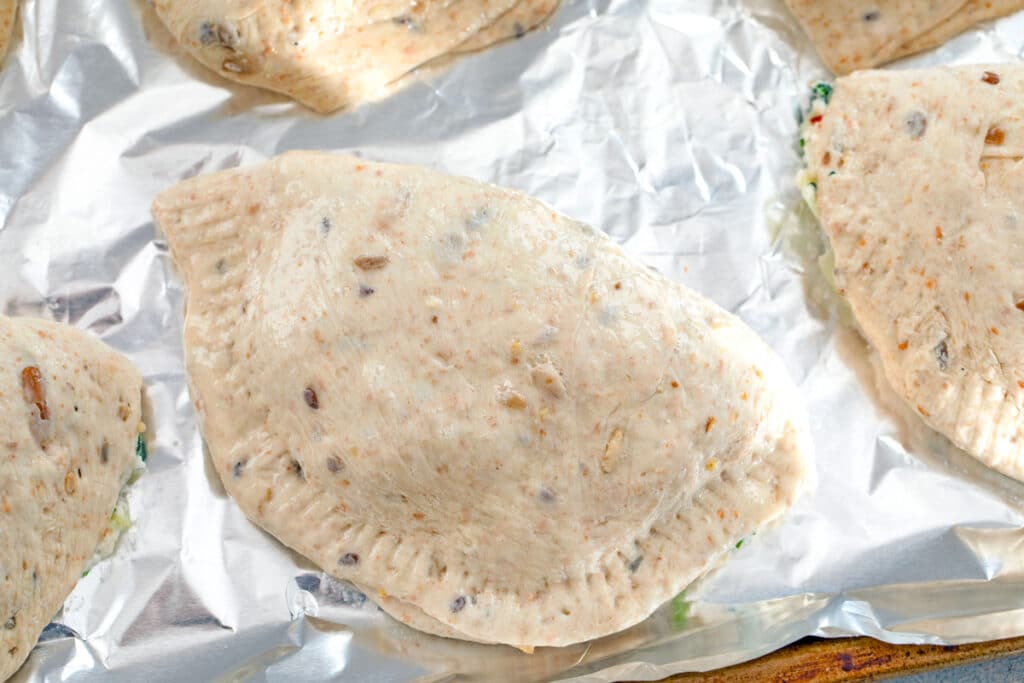 Bake the calzone for about 15-20 minutes, until they're brown and crispy-looking
Cut in half, marvel at that delicious filling, and enjoy!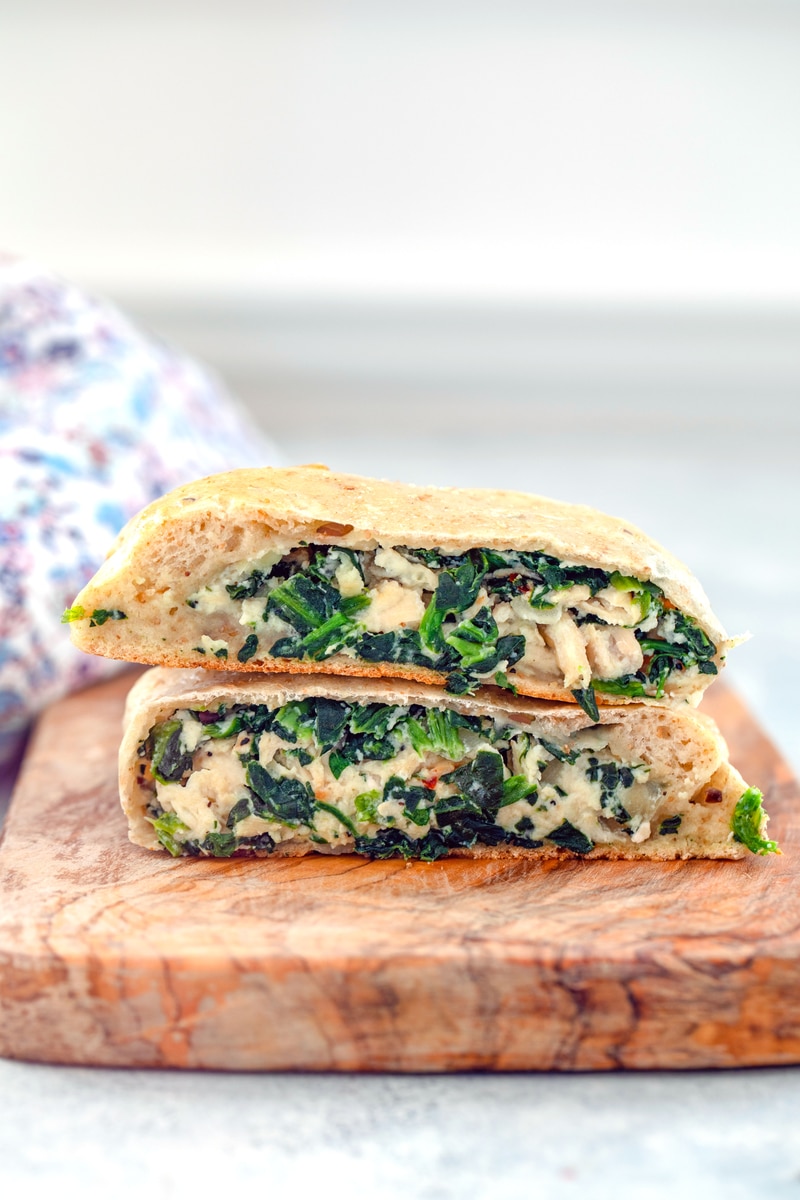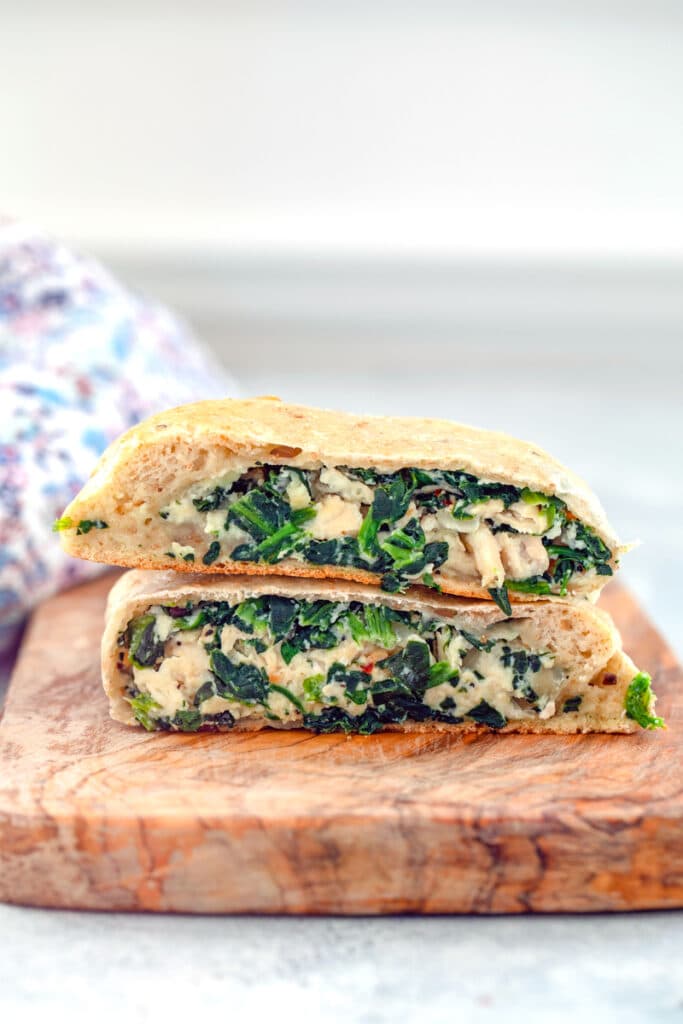 Did you know making calzone was so easy?! And I actually have a tip for making this chicken and spinach calzone even easier... Use rotisserie chicken!
Cutting out the step of cooking the chicken will certainly help cut down on time when it comes to making these calzone. If you really want to cut down on work, you can also leave out the onion and use a little garlic powder instead of fresh garlic.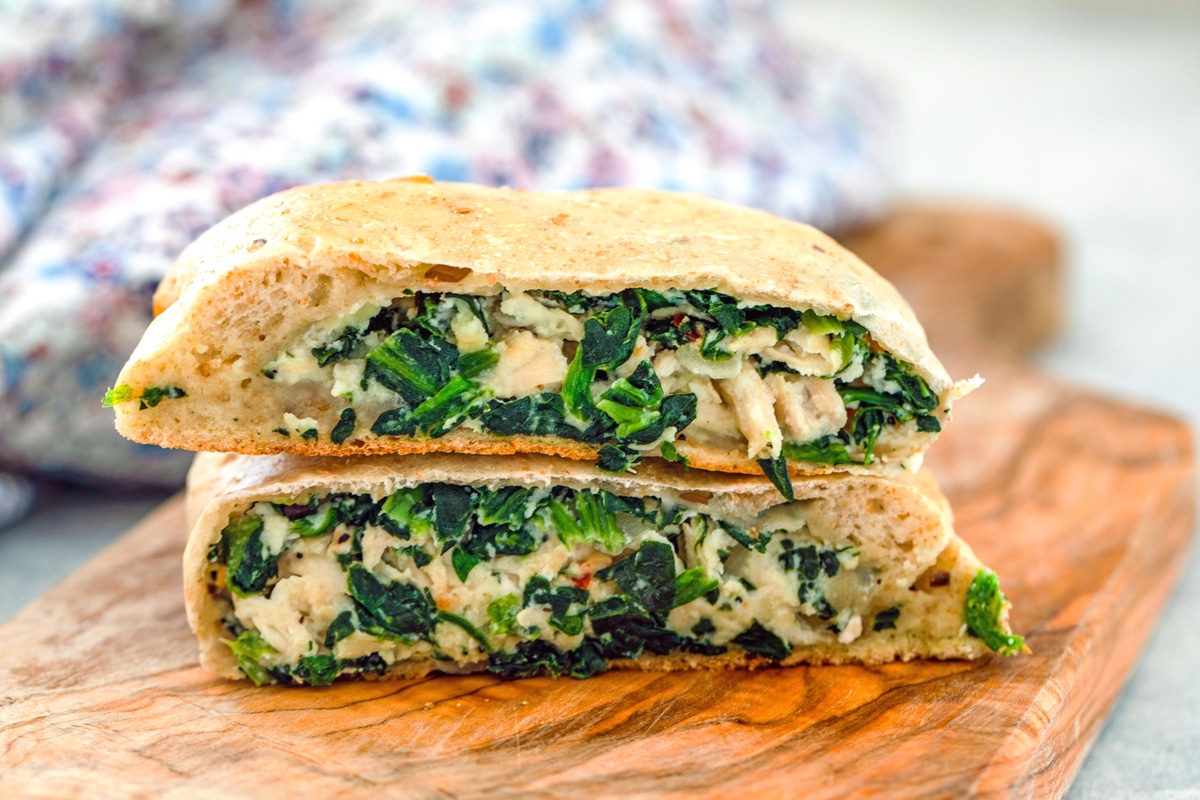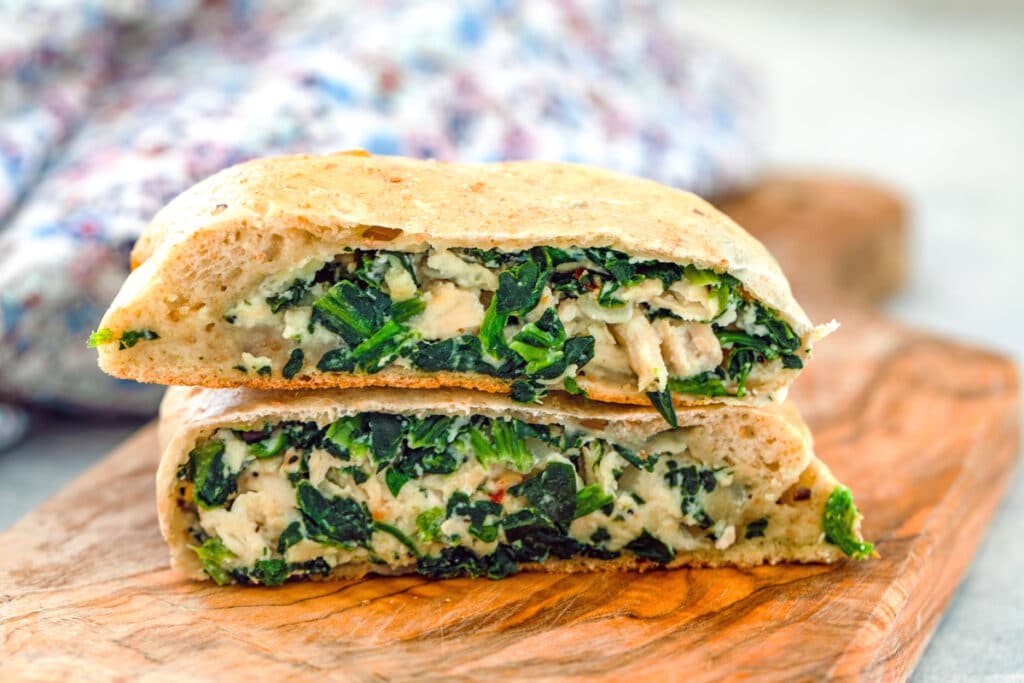 Alterations to Calzone Filling
I love this chicken spinach calzone combination as is because it's a little bit healthier and still super flavorful, but there are a ton of ways you can customize these to make them your own:
Use sausage instead of chicken (not quite as healthy, but so delicious!)
Use any combination of cheeses you like best (I recommend using at least one "sharper" cheese like parmesan or cheddar)
Add in other spices (like paprika, chili powder, cumin, etc.)
Add in other vegetables, like peppers, broccoli, mushrooms, etc.
Mix in some red sauce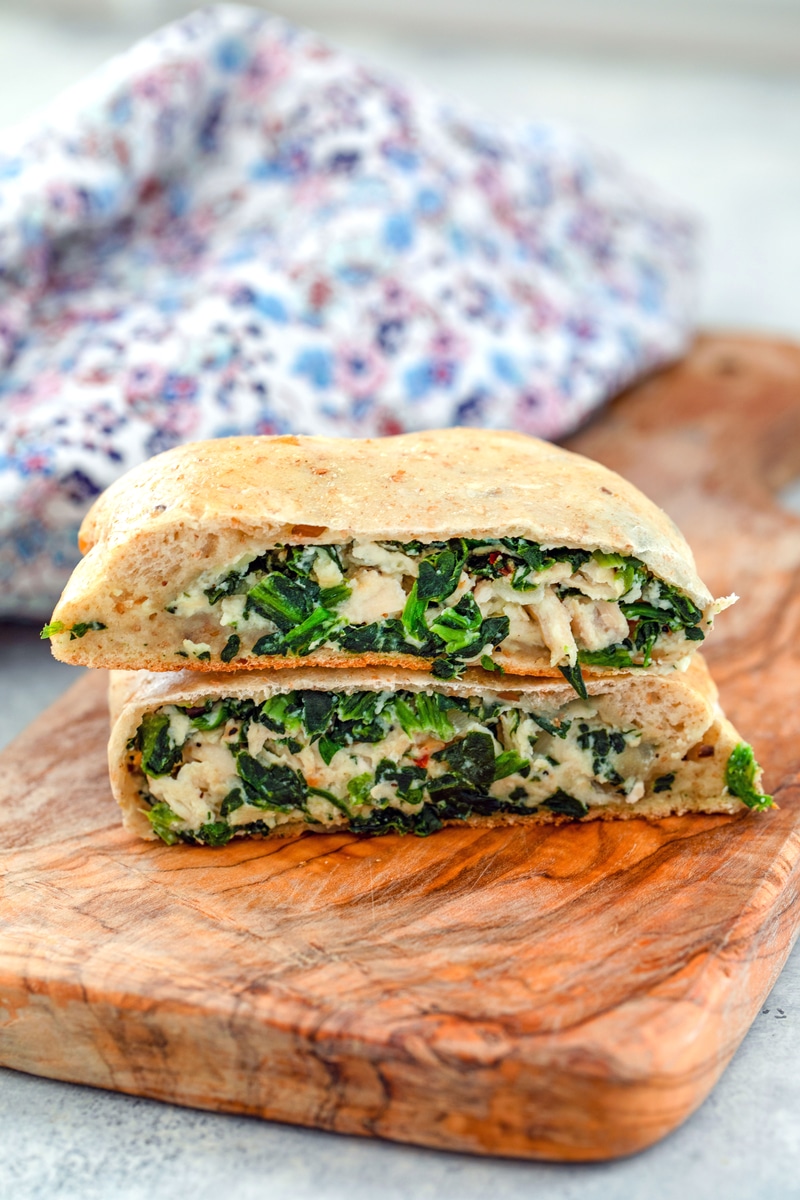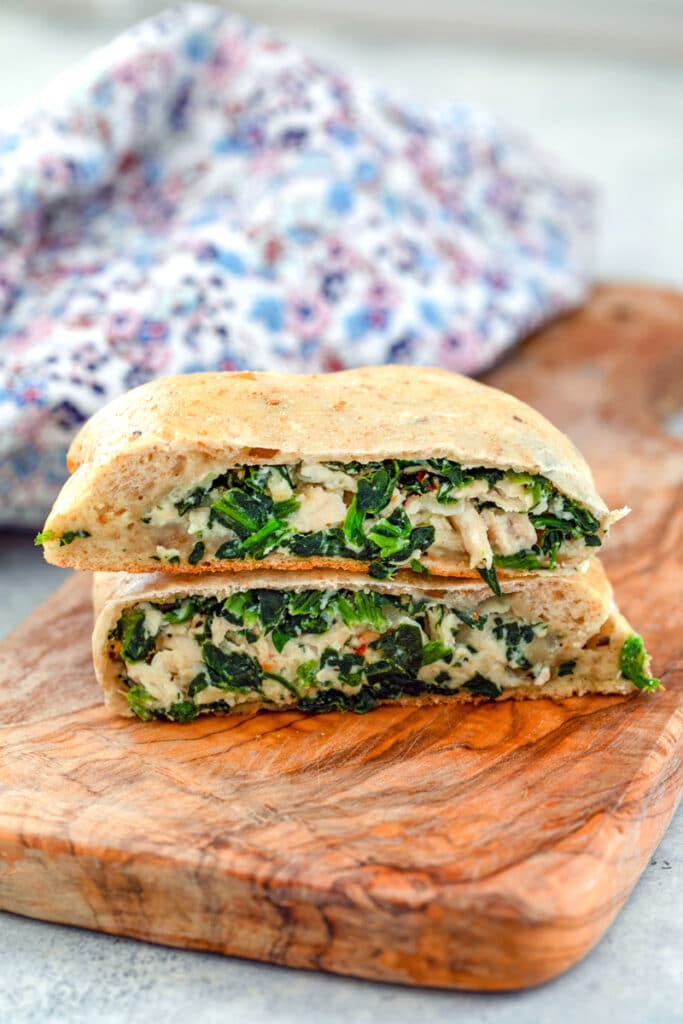 Not only are these chicken and spinach calzones a delicious weeknight dinner idea, but they're also fun for bringing to gatherings. Make a batch, cut them in half, and serve alongside a big salad for a fun, casual dinner.
Calzone are a great alternative to pizza and I'm excited to experiment with even more varieties... though it's going to be tough to convince me that anything could be better than chicken and spinach.
Have you ever made homemade calzone?
For other delicious pizza alternatives, check out my Bacon White Pizza Dip or my Pepperoni Pizza Biscuits. And I can't wait to try these Philly Cheesesteak Calzones from The Blond Cook!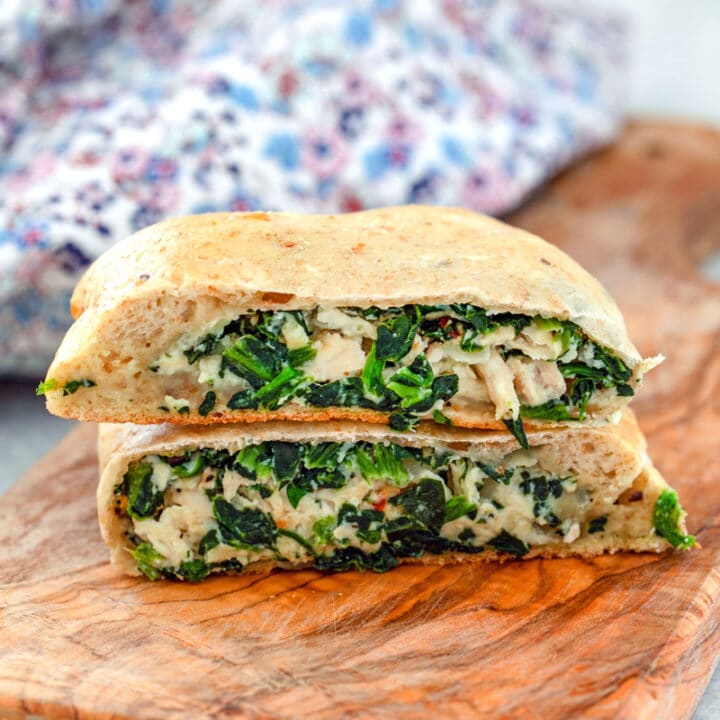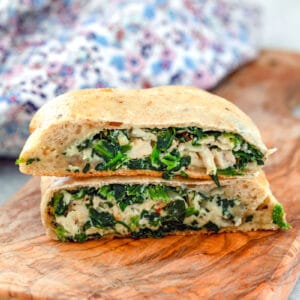 Chicken and Spinach Calzone
These Chicken and Spinach Calzones are incredibly easy to make, a little bit healthier than the average calzone, and packed with delicious flavor!
Print
Pin
Rate
Ingredients
2

Tbsp

olive oil,

divided

1

cup

diced onion

(1 small onion)

1

Tbsp

minced garlic

(2 cloves)

1

lb.

boneless skinless chicken breasts

10

oz.

frozen chopped spinach,

thawed and drained

¾

cup

ricotta cheese

½

cup

crumbled feta cheese

¼

cup

grated parmesan

1

Tbsp

chopped parsley

2

large egg whites,

divided

½

tsp

salt

½

tsp

pepper

½

tsp

red chili flakes

16

oz.

whole wheat or multigrain dough
Instructions
Pre-heat oven to 350 degrees and line a baking sheet with foil.

In a medium skillet over medium-high heat, add 1 Tbsp olive oil. Add onion to skillet and cook until softened, about 6 minutes. Add garlic and cook for another minutes. Remove onions and garlic to a medium bowl.

Add remaining Tbsp olive to same skillet and place chicken in skillet. Cook until chicken is no longer pink and is turning golden on the outside, 8-10 minutes. Remove from skillet to cutting board and let cool slightly before shredding.

In the bowl with the onion and garlic, add chicken, spinach, ricotta, feta, parmesan, parsley, one of the egg whites, salt, pepper, and red chili flakes. Mix well to combine.

Break dough into 6 equal-sized pieces and on a lightly floured surface, form each piece into an oval.

Break remaining egg white into a small bowl and, using a pastry brush, lightly brush the edges of each dough oval with egg white. Place a scoop of the chicken/spinach mixture in the middle of the dough.

Fold the dough over, pressing edges together. Crimp edges with a fork and place on prepared baking sheet.

Bake the calzone for about 15-20 minutes, until they're brown and crispy-looking