The other day, I signed into Facebook and saw that my friend, Naomi, had posted a photo of fish tacos she made for dinner that night. In typical "Chelsee fashion" I naturally got an instant craving for them. As in, dreamt about them at night. And thought about them upon waking up. So, of course, I needed to have them for dinner tonight.
I wanted to do something a sort of unique, though. At first, I thought about doing tilapia or a white fish when I got the idea to use salmon instead. I ended up finding a recipe on Food and Wine for Chipotle-Rubbed Salmon Tacos. And they included an apple-cucumber salsa. Helloooooo, heavenly dinner! I actually started cooking at about 4:45pm because I was so excited to eat, hehe. Also, I've had a margarita mix from Crate and Barrel sitting in my kitchen, starring at me, for a few weeks and thought tonight would be the perfect night for a delicious dinner and a frozen margarita. And after a long week and an even longer upcoming weekend of assembling wedding invitations, this girl needed a night in with good food, a few laughs with the roommate, and my friends from American Idol and Jersey Shore. Don't judge.
Here's what you need:
Makes about 8 tacos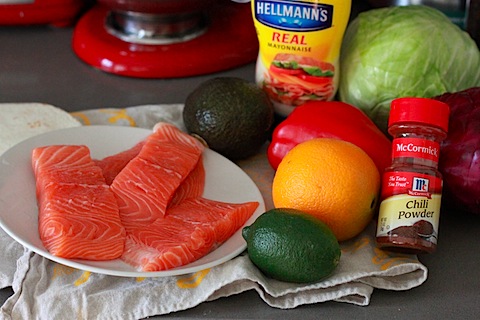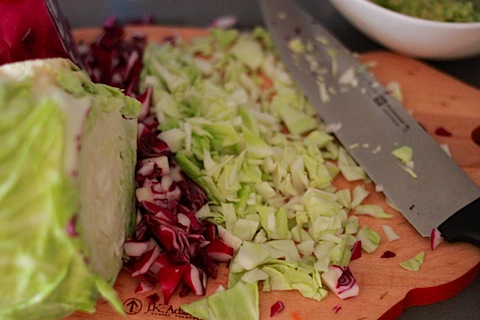 • 2 tablespoons mayonnaise
• 1 teaspoon fresh lime juice
• 2 teaspoons chile powder
• 2 teaspoons finely grated orange zest
• 2 teaspoons sugar
• 1 pound skinless salmon fillet, cut into 4 pieces
• 1 tablespoon plus 1 teaspoon extra-virgin olive oil
• 8 tortillas
• salt
• 1 avocado, mashed
• apple-cucumber salsa (recipe to below)
• 1 cup finely shredded cabbage. I used both red and green cabbage for some more color.
Apple-Cucumber Salsa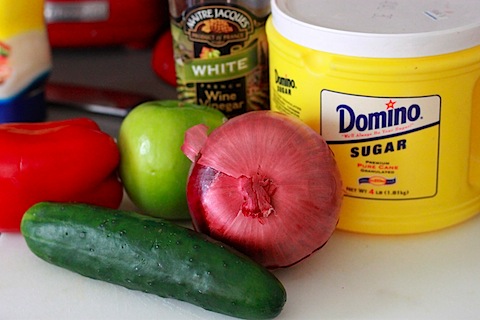 • 1 Granny Smith apple, peeled, cored and roughly diced
• 1 cucumber, peeled, seeded and roughly diced
• 1/2 small red onion, roughly diced
• 1/2 small red bell pepper, roughly diced
• 1 1/2 tablespoons white wine vinegar
• 1 1/2 teaspoons sugar
• salt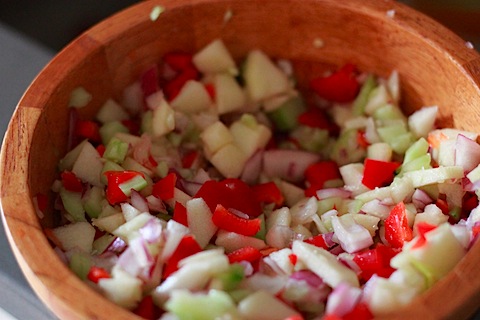 In a bowl, toss the apple, cucumber, onion, and pepper. Stir in vinegar and sugar and season with salt.
Here's what you do (for the fish tacos):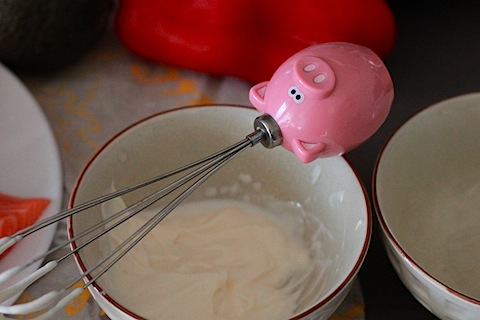 In a small bowl, whisk together the mayonnaise and lime juice. Refrigerate until needed. I love my mini pig whisk… so cute! oink 😉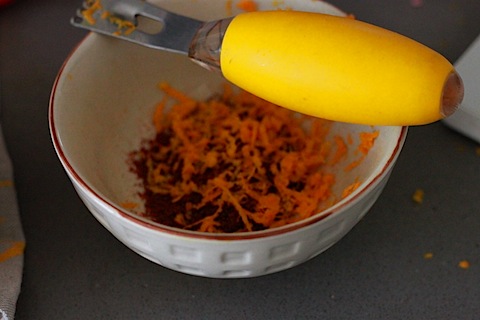 In a different small bowl, mix together the orange zest, sugar, and the chile powder.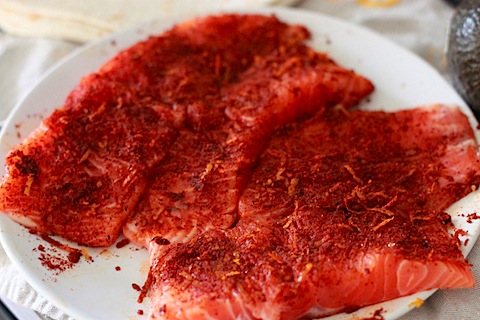 Rub each piece of salmon with about a teaspoon of olive oil followed by the chile powder mixture and let it stand for about 10 minutes or so.
Before grilling the salmon, place your tortillas in foil and bake for 8 minutes until they're warmed through.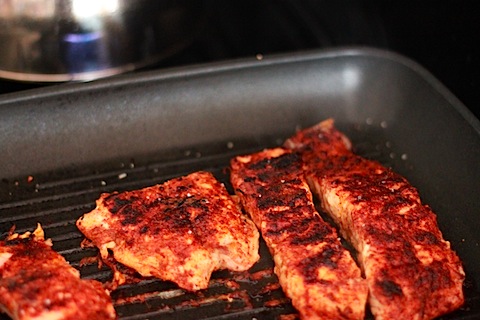 Place your salmon in a grill pan over high heat and let cook on each side for about 3 minutes per side, until they're deliciously browned. Mmmm.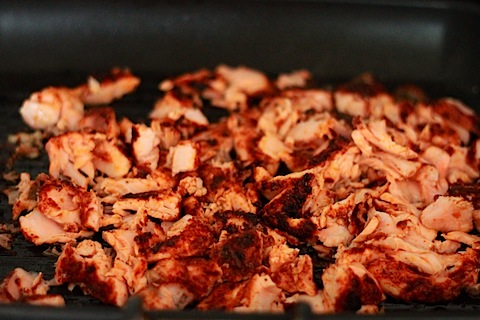 With a pair of tongs or your spatula, gently break the salmon into smaller pieces.
I also decided to make a quick grilled corn salad for a side dish to accompany the salmon tacos. I just halved some cherry tomatoes, sliced scallions, and a red bell pepper, tossed it all with a couple dashes of olive oil and a dash of fresh lime juice. That's necessary.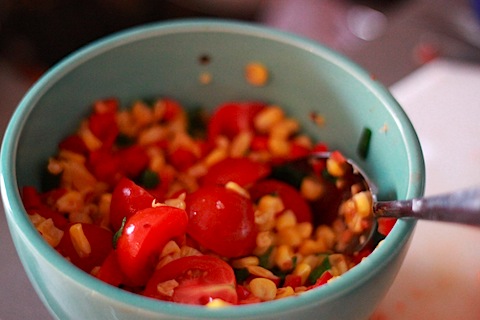 To build the tacos, I simply spread a layer of the mashed avocado on the tortilla and topped it with the chipotle-rubbed salmon, apple-cucumber salsa, and a small handful of cabbage. A drizzle of the lime mayonnaise seals the deal and makes this the perfect Thursday night dinner.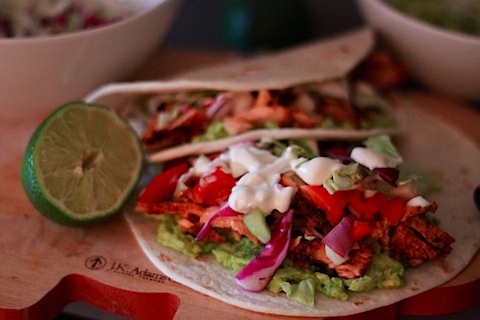 This could happen in my kitchen whenever it wants to. Really.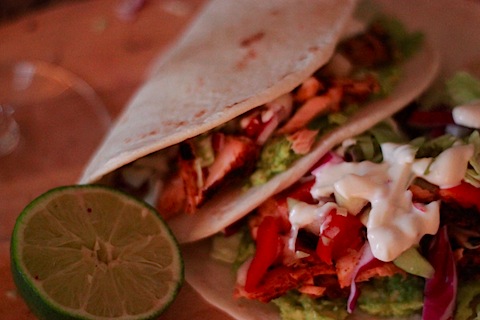 It felt like vacation.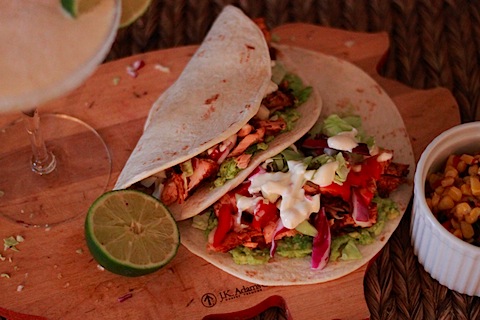 Time to go watch Jersey Shore. And while we're on the topic of reality TV. Tonight's IDOL?! How dramatic and awesome was it?! I'm loving this new season 🙂
[Chels]