These Chili Lime Shrimp Tacos are topped with a strawberry, avocado, and mango salsa and just became your new favorite taco of summer!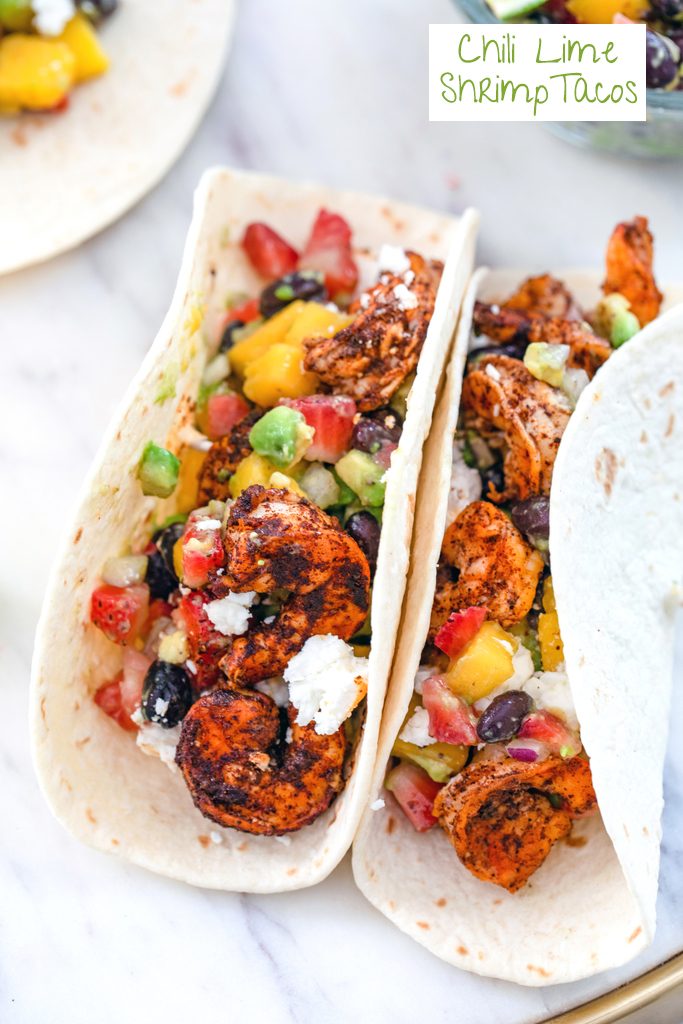 (This recipe for Chili Lime Shrimp Tacos was originally published in May 2011, but has been updated with new photos in 2019).
There are some things in life I'm 99.9% sure I'll never enjoy: Camping. Whipped cream from a can. Monkeys. Star Wars. Sugar in my coffee. Birkenstocks. Raspberry vodka. Overflowing email inboxes. Lazy people. My alarm going off. People who talk loudly on their cell phones in public. Ads that have audio. People who let their dogs off leash and then yell to me that their dog is "nice" as it's running up to my terrified of strange dogs dog. Buttered Popcorn jelly beans.
But, of course, part of the beauty of life is that we're all free to change our minds. With no warning, at a moment's notice. And thank goodness for that because it we weren't, I wouldn't be currently experiencing the summer of shrimp. As I've mentioned several times before, I grew up with a complete hatred of fish. And it wasn't until high school that I would even try it. Now? I can't imagine life without all kinds of seafood.... and especially shrimp.
This dinner was born out of my summer obsession for shrimp and mango. OK fine, and avocado, tacos, and chili powder. It's funny because at one point, I also disliked fruit in my savory meals. But today I found myself craving fruit on tacos. My 8-year-old self would be so offended right now. But my 30-something-year-old self is just plain in culinary heaven.
CHILI LIME SHRIMP TACOS WITH STRAWBERRY, AVOCADO, AND MANGO SALSA RECIPE
The best part of this shrimp taco recipe? It's so insanely easy! Even though you marinate the shrimp, it's only for 20 minutes, so you can do that while you're chopping the fruit for the salsa.
For the marinade, put the shrimp in a Ziplock bag with chili powder, lime juice, and olive oil. Make sure the shrimp is fully coated and let marinate for 20 minutes.
I usually like to grill my shrimp with the peel and tail still on, but this time I removed them so I could pop the hot shrimp on the tacos without having to worry about removing the tail. Tails are nice for aesthetic reasons, but not so much for eating!
Once the shrimp is done marinating, heat a grill pan (or other skillet if you don't have one) to medium heat and grill shrimp for about 2-3 minutes on each side, until pink. You'll probably have to do this in two batches, so just remove the first batch to a bowl to keep warm while you grill the second batch. Your kitchen will immediately start smelling like a resort in the Caribbean. In a good way.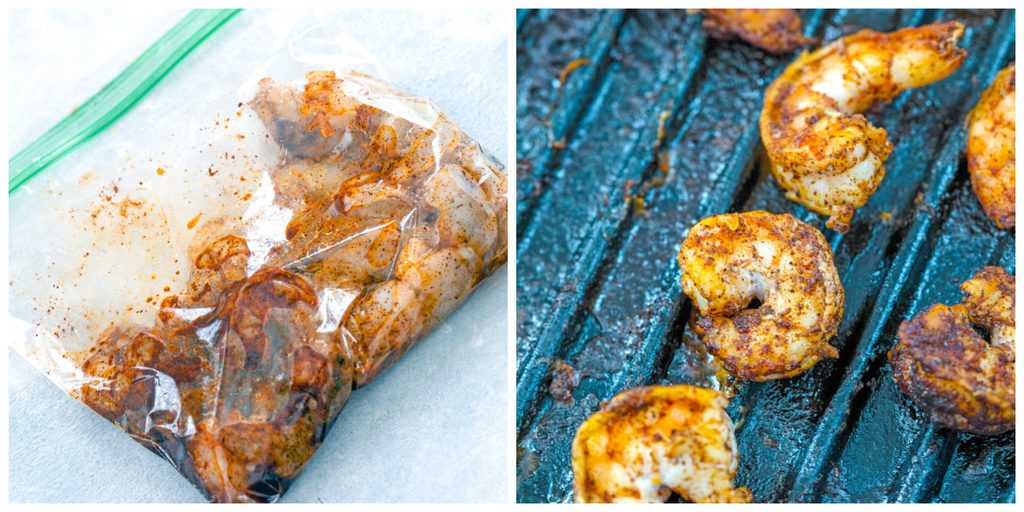 While the shrimp is marinating, get going on the salsa. It's basically just a lot of chopping. Chop the mango, strawberries, avocado, and red onion and put in a medium bowl.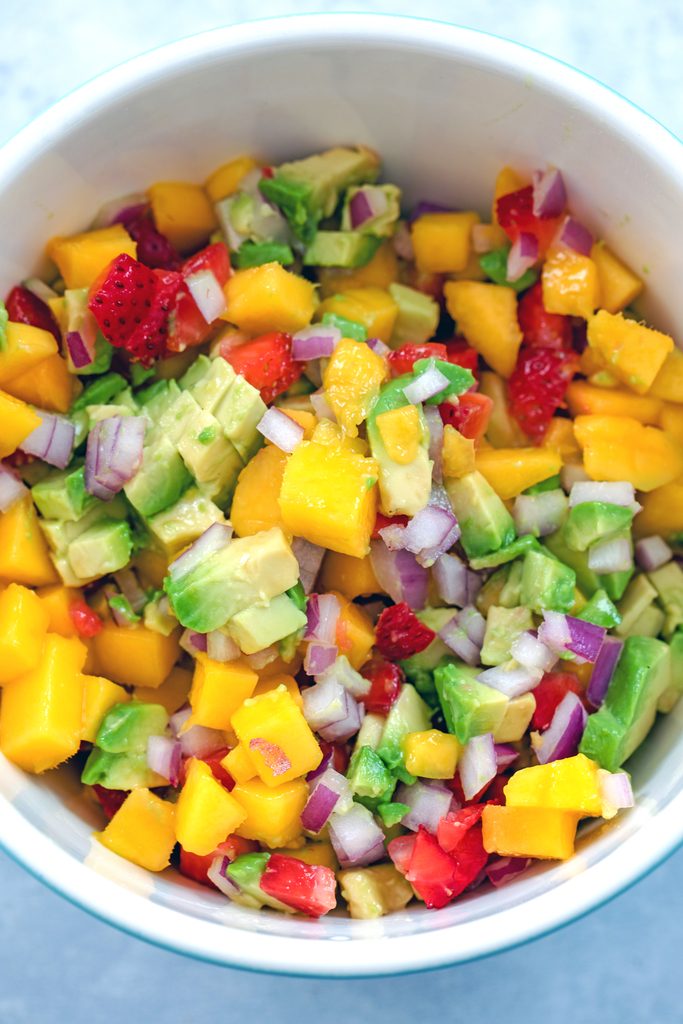 Drain and rinse the black beans, add them in, and mix everything together.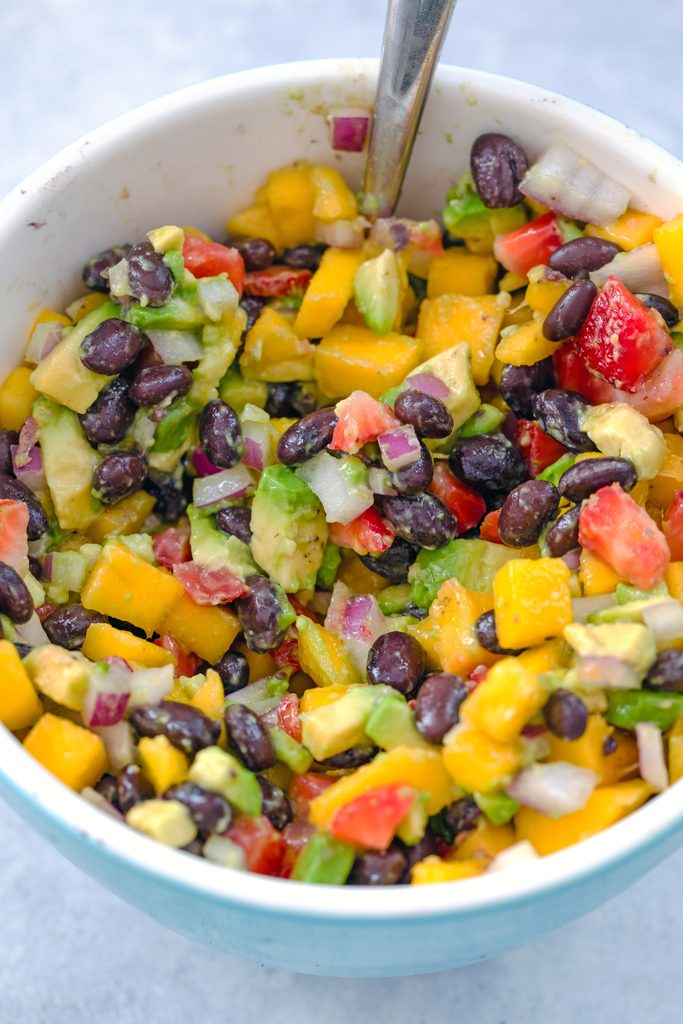 Warm tortillas in oven (or microwave). Top with fruit salsa, 5 shrimp, and some feta cheese. You can add some Greek yogurt on top if you want for a little extra creaminess and some tang. Add an extra squeeze of lime juice, too.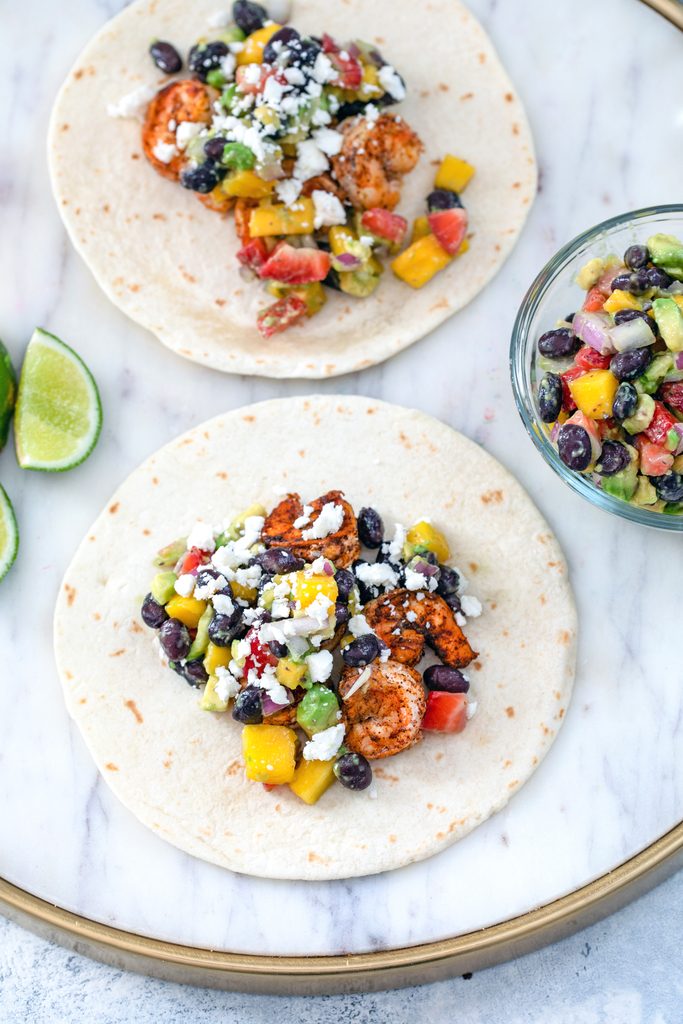 This recipe should make about 8 tacos and I'm saying it's a recipe for 4 with a serving of 2 tacos each. I kinda sorta wanted more after 2 tacos, but I do think 2 is the appropriate serving (though who am I kidding, I almost always eat more than the "appropriate" serving size). I think it would be great to serve these shrimp tacos with a little side salad, maybe with arugula?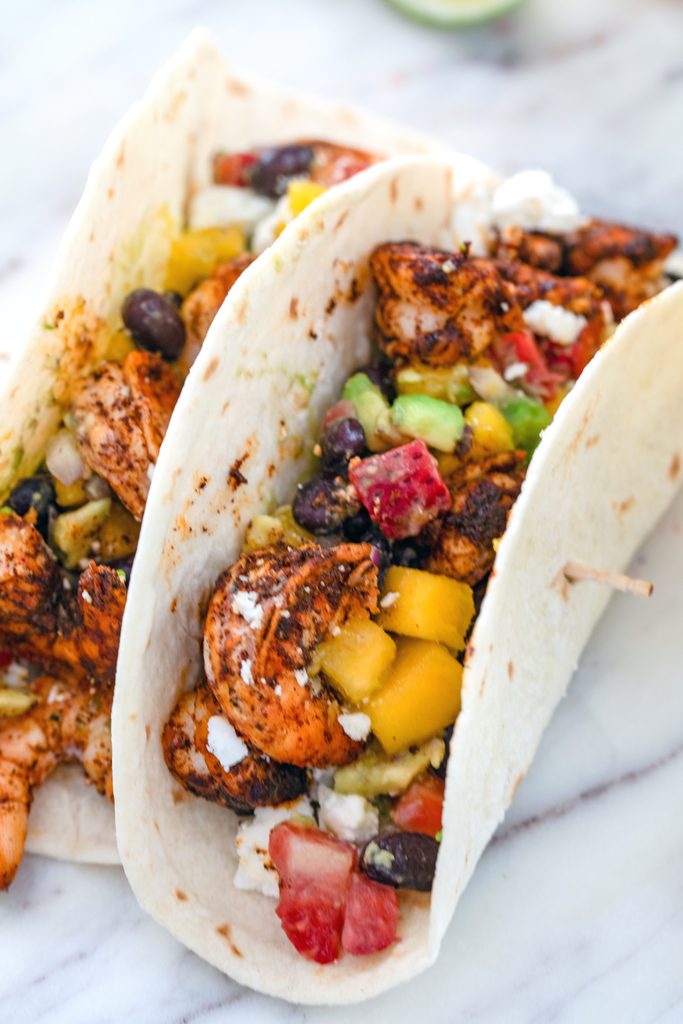 The weather here in the Boston-area has been so perfectly summery lately and this Caribbean-style meal was perfect for eating outside on the deck. With a margarita.
I want to eat a million pounds of this chili lime shrimp (DEFINITELY not the "appropriate" serving size) and I can think of so many dishes it would be fabulous in. But the way the slight spice contrasted with the sweetness of the fruit blew my mind. Are you a fan of sweet and savory dishes? There's something about shrimp and tropical-y fruits that just work so well together!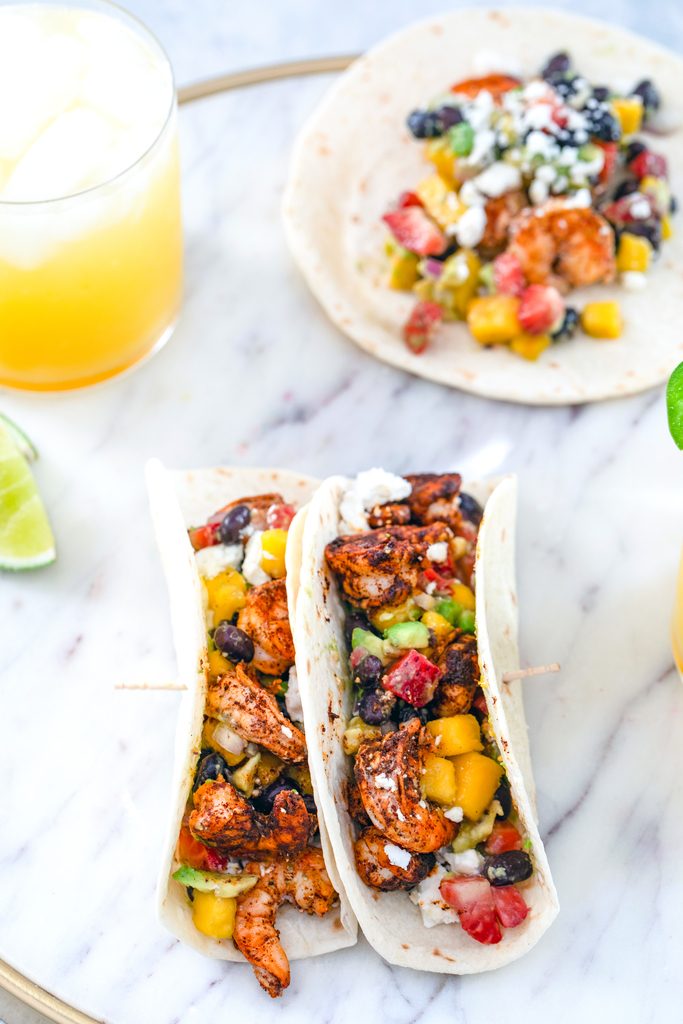 Not to mention, these shrimp tacos are so simple and quick. It really just consists of fruit chopping and grilling shrimp. You can't argue with that kind of easy summertime cooking.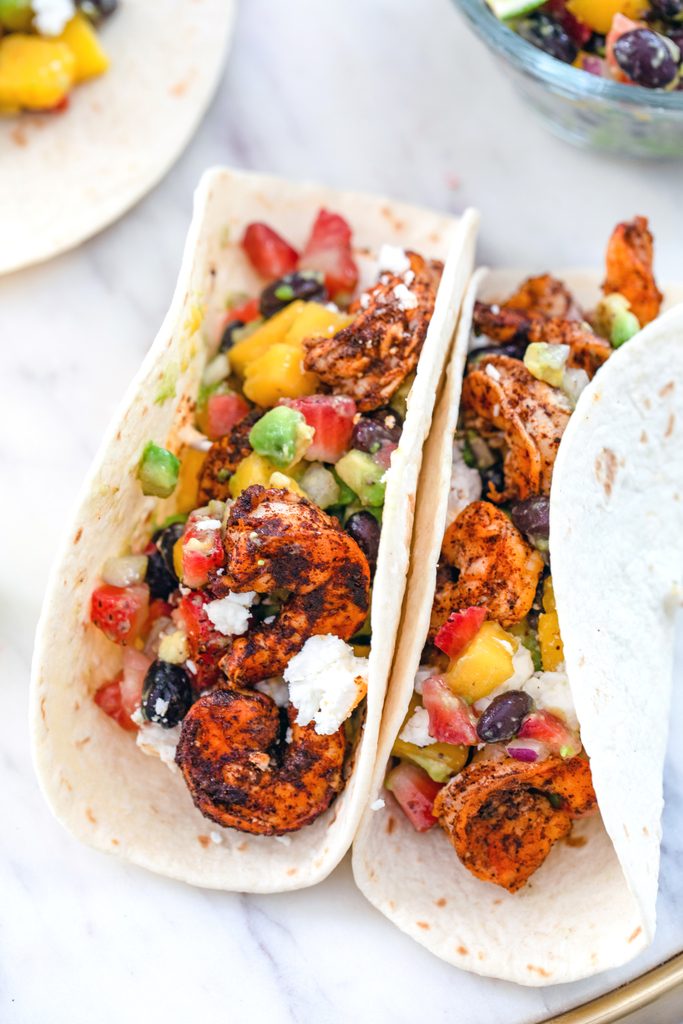 These chili lime shrimp tacos will definitely be made again in my house. And I'll continue to thank my lucky stars that I was allowed to change my mind in regard to shrimp. Who knows... Maybe some day you'll find me wearing Birkenstocks while eating Buttered Popcorn jelly beans and enjoying ads that play audio (especially that "congratulations! You've won! ad). Doubtful. But at least I'll always be keeping my options open. Never say never.
What are some things you're 99.9% sure you'll never like? What have you changed your mind about as you get older?
If you like these chili lime shrimp tacos, try these fresh fish tacos and these salmon tacos. I also really want to try these Thai fish tacos from Midwest Foodie!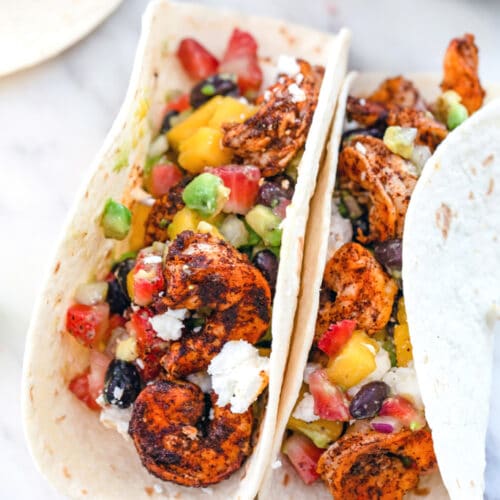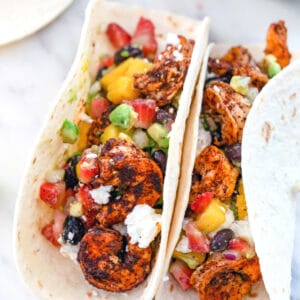 Chili Lime Shrimp Tacos with Strawberry, Avocado, Mango Salsa
These Chili Lime Shrimp Tacos are topped with a strawberry, avocado, and mango salsa and just became your new favorite taco of summer!
Print
Pin
Rate
Ingredients
1

lb.

medium shrimp,

peeled and deveined with tails removed

2

tsp

chili powder

2

Tbsp

freshly squeezed lime juice

1 ½

Tbsp

olive oil

1

cup

chopped mango

1

cup

chopped strawberries

1

avocado,

peeled, pitted, and diced

⅓

cup

chopped red onion

1 ¼

cups

black beans,

drained and rinsed

3

oz.

feta cheese,

crumbled

8

small flour tortillas

Greek yogurt,

for topping (if desired)
Instructions
Place shrimp in a ziplock bag with chili powder, lime juice, and olive oil. Make sure the shrimp is fully coated in mixture and let it marinate in the fridge for 20 minutes.

While shrimp is marinating, make salsa. In a medium bowl, combine mango, strawberry, avocado, onion, and black beans. Toss to combine.

Heat grill pan (or skillet) to medium heat and grill shrimp for about 2-3 minutes on each side, until pink. You may need to do this in two batches, moving the first batch of shrimp to a foil-covered bowl to keep warm while the rest of the shrimp cook.

Warm tortillas in oven or microwave. Top each with a little bit of fruit salsa, about 5 shrimp, and some feta cheese. Top with Greek yogurt and additional lime juice if desired.
Share a Photo of Your Finished Recipe!
Mention @wearenotmartha and share a photo if you've made the recipe!