Is the Starbucks Cinnamon Dolce Latte one of your favorite coffee drinks? With this easy copycat recipe, you can make the sweet and creamy latte at home whenever you want!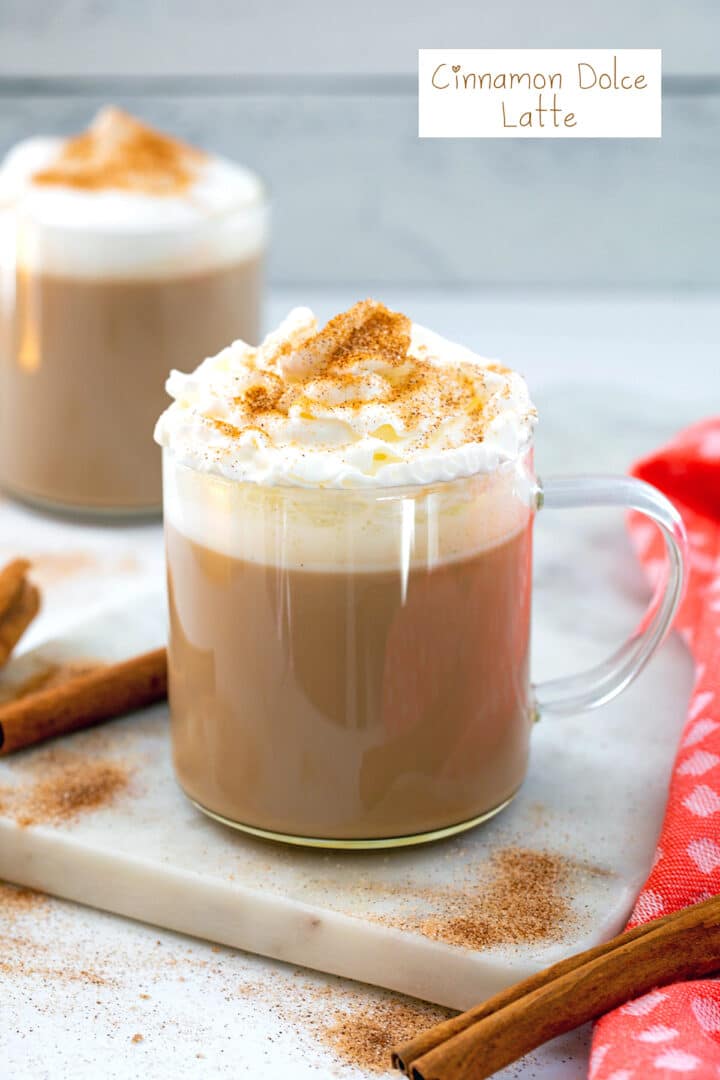 Jump to:
After I published my cinnamon dolce syrup recipe last month, I started putting it to good use. My post includes so many ideas for how to use the syrup, but of course, the most obvious one is in a Cinnamon Dolce Latte, just like Starbucks does!
As someone who mostly drinks black coffee and loves a good strong cup of coffee, I have to admit I'm a new recruit to the latte fan club. I've been obsessed with afternoon lattes lately and this one packed with cinnamon sweetness is definitely my new go-to.
☕️ What is a Cinnamon Dolce Latte?
This popular drink is a Starbucks menu item that translates to "sweet cinnamon latte" and combines their cinnamon dolce syrup with espresso and milk.
According to Starbucks, "We add freshly steamed milk and cinnamon dolce-flavored syrup to our classic espresso, topped with sweetened whipped cream and a cinnamon dolce topping to bring you specialness in a treat."
A treat that will help you get through a busy workday or will let you relax on a morning or afternoon off.
❤️ Why you'll love this recipe
If you love the Cinnamon Dolce Latte from Starbucks, you're going to really love this copycat recipe!
It's super easy to make at home, so you can have a latte any time the craving hits.
Whether you make your own cinnamon dolce syrup or you purchase a bottle of it, this coffee drink is going to taste exactly like the one you get at Starbucks.
🗒 Ingredients
You only need a few simple ingredients to make this latte. The key ingredient is the simple syrup. I have a recipe for homemade cinnamon dolce syrup that's just like the one Starbucks uses. Cinnamon dolce syrup is essentially just a sweet cinnamon syrup. I sweeten mine with both white sugar and brown sugar and make it with cinnamon sticks.
But if you prefer to purchase a bottle of it, you can purchase Starbucks cinnamon dolce syrup.
If you're looking for a less pricey version, I recommend the Torani Brown Sugar Cinnamon Syrup.
Here's everything you need for the cinnamon dolce latte (be sure to view the recipe card at the bottom of this post for ingredient amounts and full recipe directions):
Brewed espresso or strong coffee
Cinnamon dolce syrup: As I mentioned, you can make your own with this recipe or purchase a bottle.
2% milk: You can use the dairy or non-dairy alternative of your choice, but Starbucks uses 2% milk.
Whipped cream: for topping (it's optional, but it comes with the standard Starbucks order for the drink).
Ground cinnamon and granulated sugar mixture: for topping. This is basically what Starbucks refers to as their cinnamon dolce topping.
👩‍🍳 How to make Cinnamon Dolce Latte
Once you have all your ingredients ready and your syrup is made or purchased, this latte can be made in no time at all!
(here's my jar of homemade cinnamon syrup!)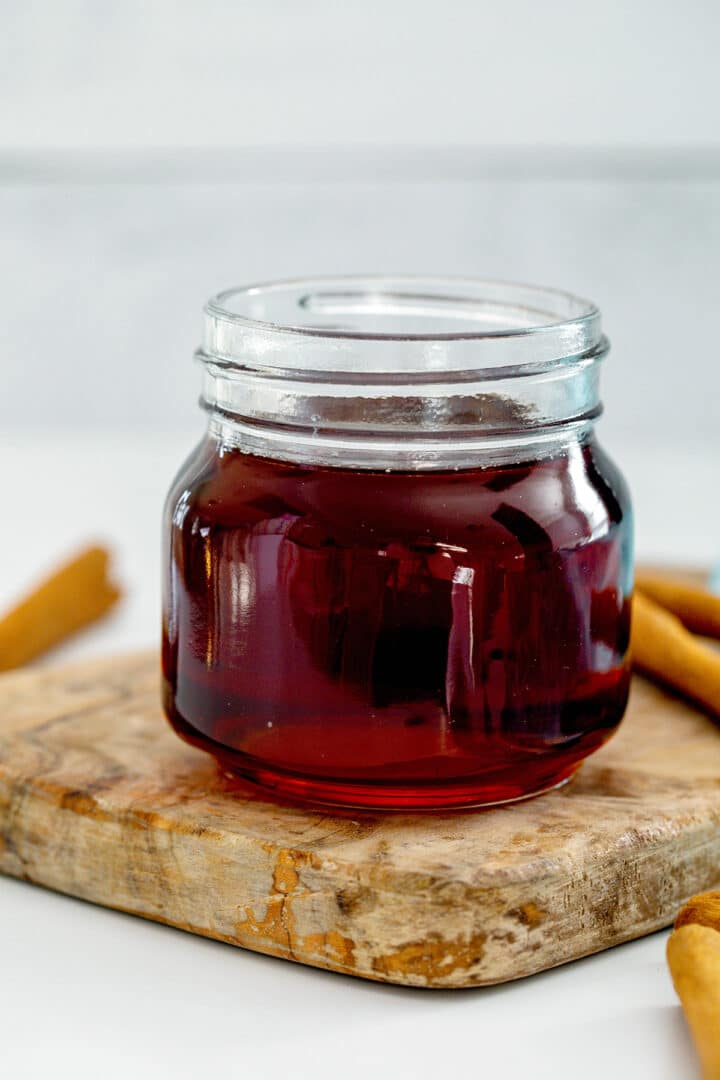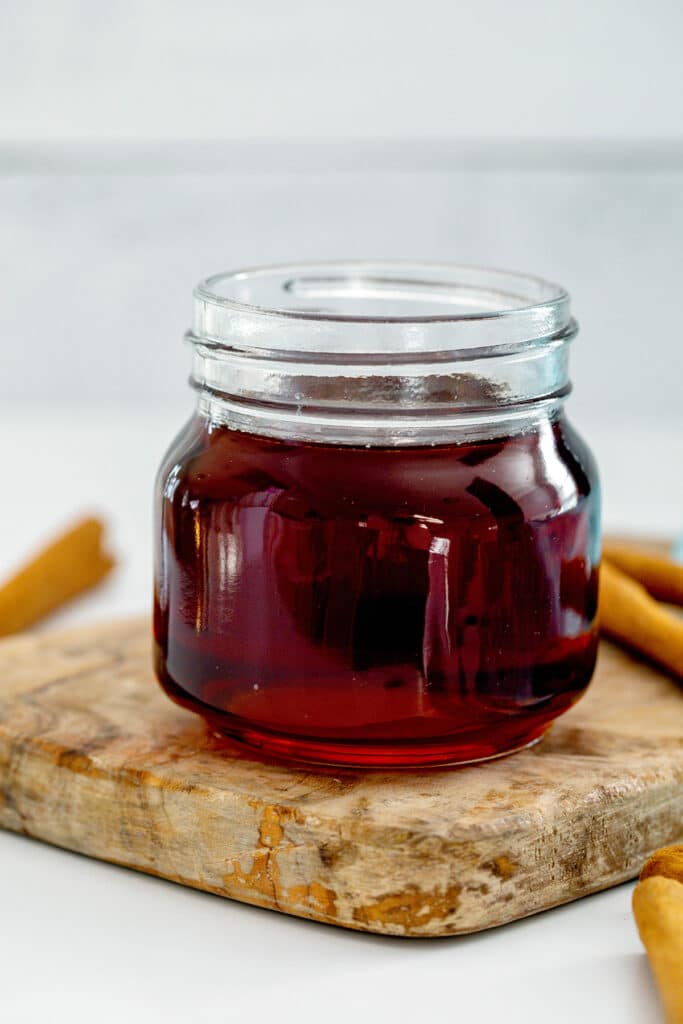 Start by brewing your espresso in a heat-proof cup or coffee mug.
Starbucks uses 2 shots of espresso in their grande lattes, which is about 2 ounces.
If you don't have an espresso machine or espresso beans, you can certainly use strongly brewed coffee instead.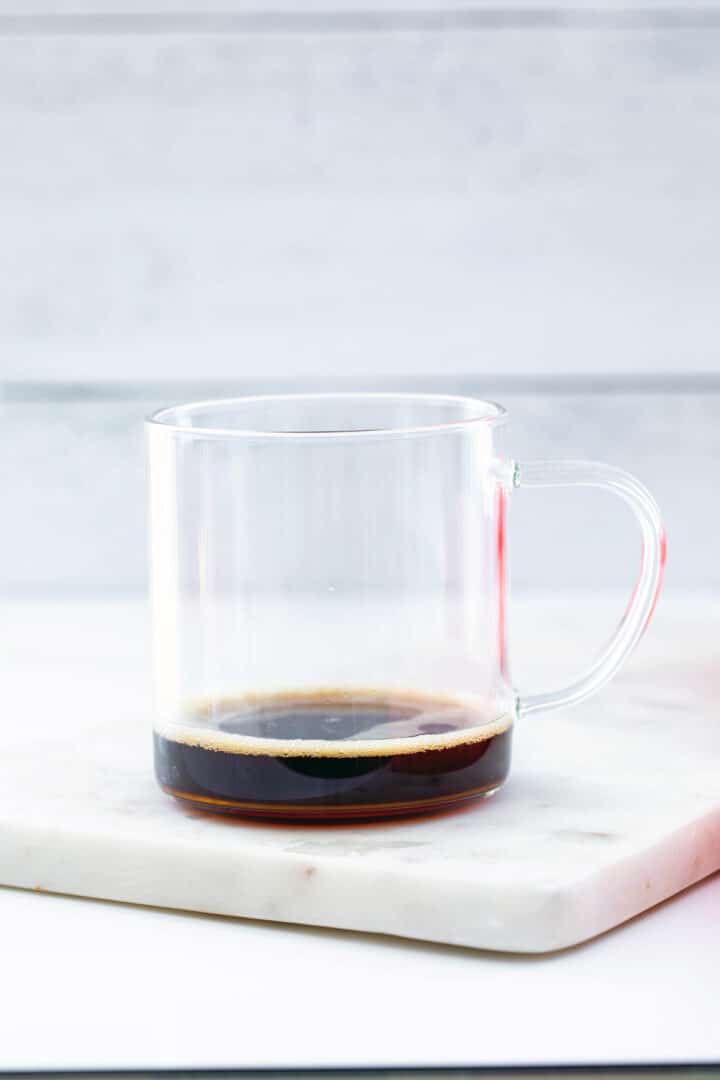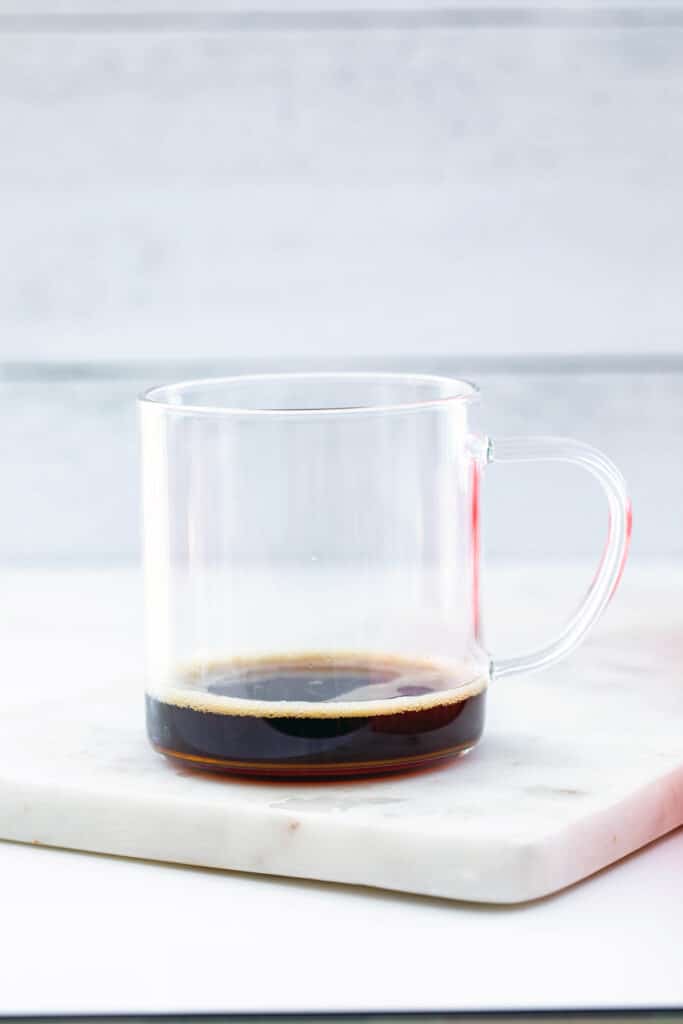 Now, stir the cinnamon dolce syrup into the espresso shots. Starbucks uses 4 pumps of syrup in their grande lattes.
There's a lot of conflicting information on how many ounces a pump of syrup is (even amongst baristas!). Answers seem to range anywhere from .25 oz to 1 oz, but it seems the general consensus is .5 oz.
So for this cinnamon dolce latte, I recommend using 2 ounces of syrup to make this as close to the coffee shop version as possible.
If you don't like your lattes super sweet, you can definitely add less. And if you love a sweet drink, feel free to add more.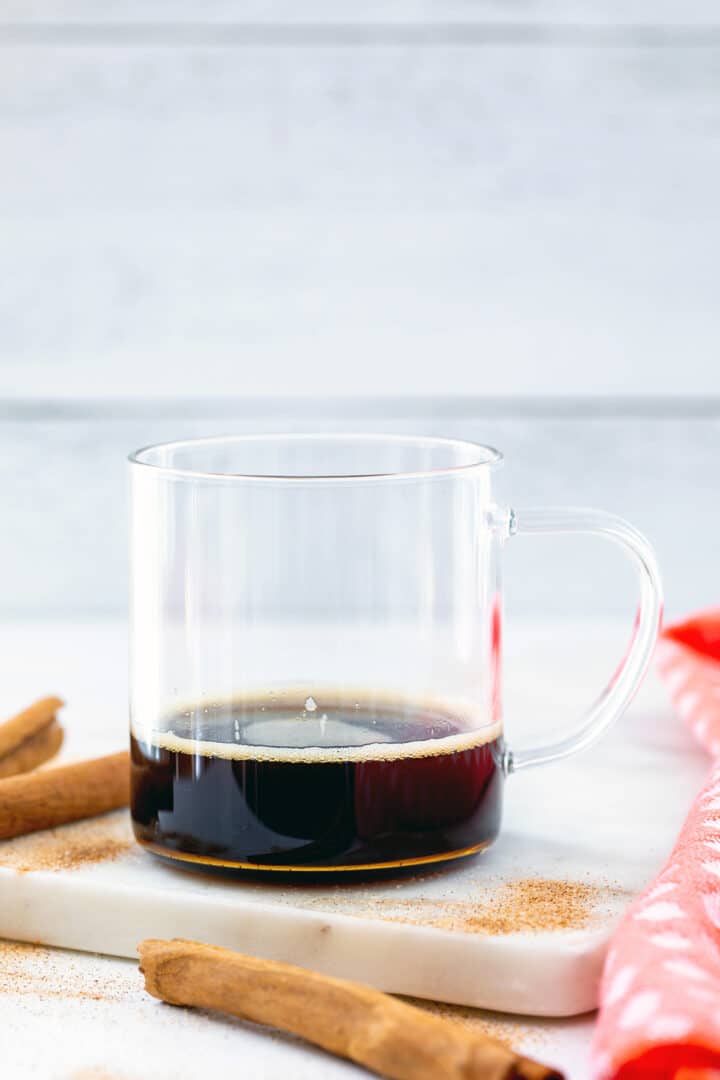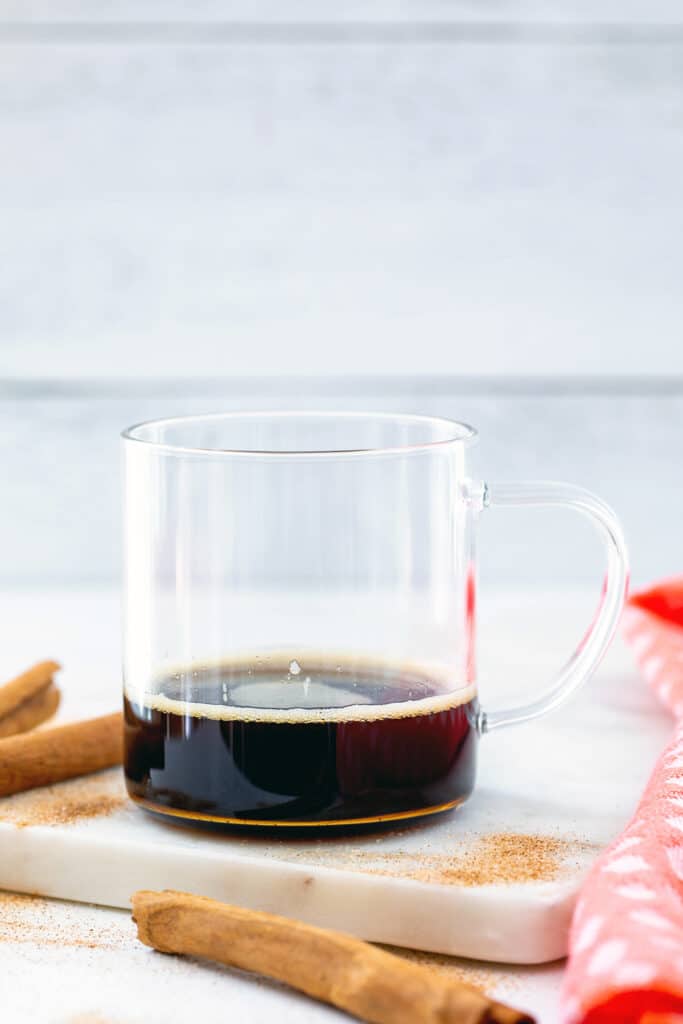 Now it's time to add the milk. I add 1 cup of steamed milk and then top the whole thing off with ¼ cup of frothed milk.
If you have an electric frother or handheld milk frother, I recommend steaming 1 cup of the milk in the microwave or on the stovetop (you'll want it to be about 140-150 degrees). And then using your frother to make froth with the remaining ¼ cup of milk.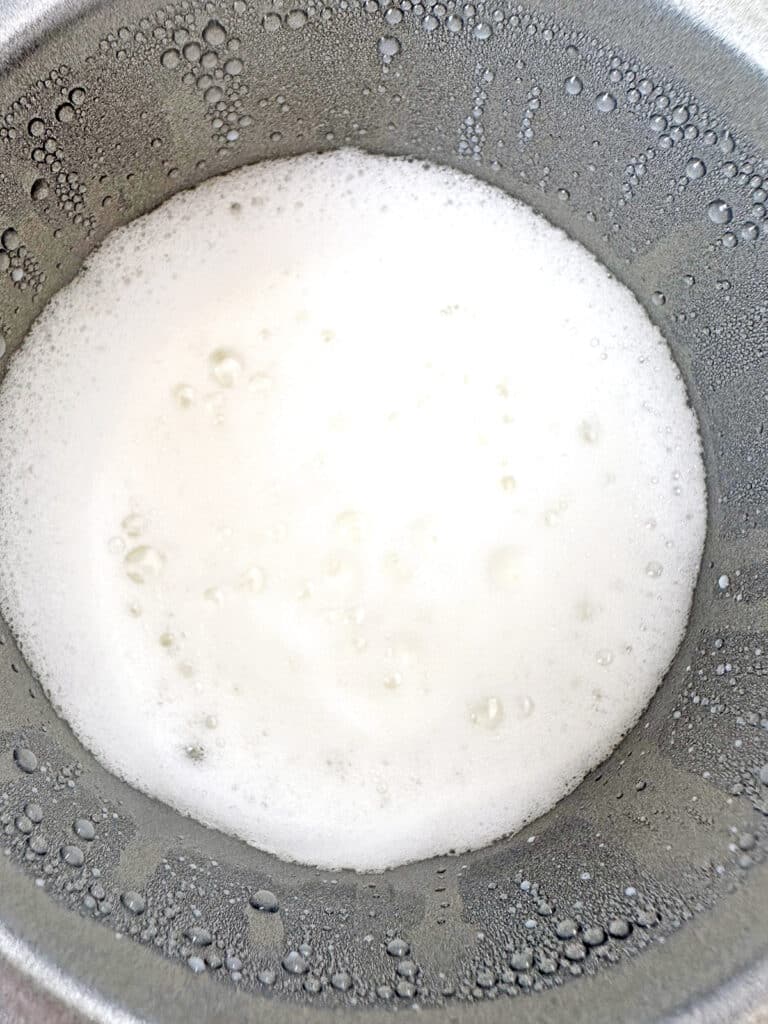 See below if you don't have a frother and want some tips for how to steam and froth your milk in a mason jar.
Pour the cup of steamed milk into the espresso.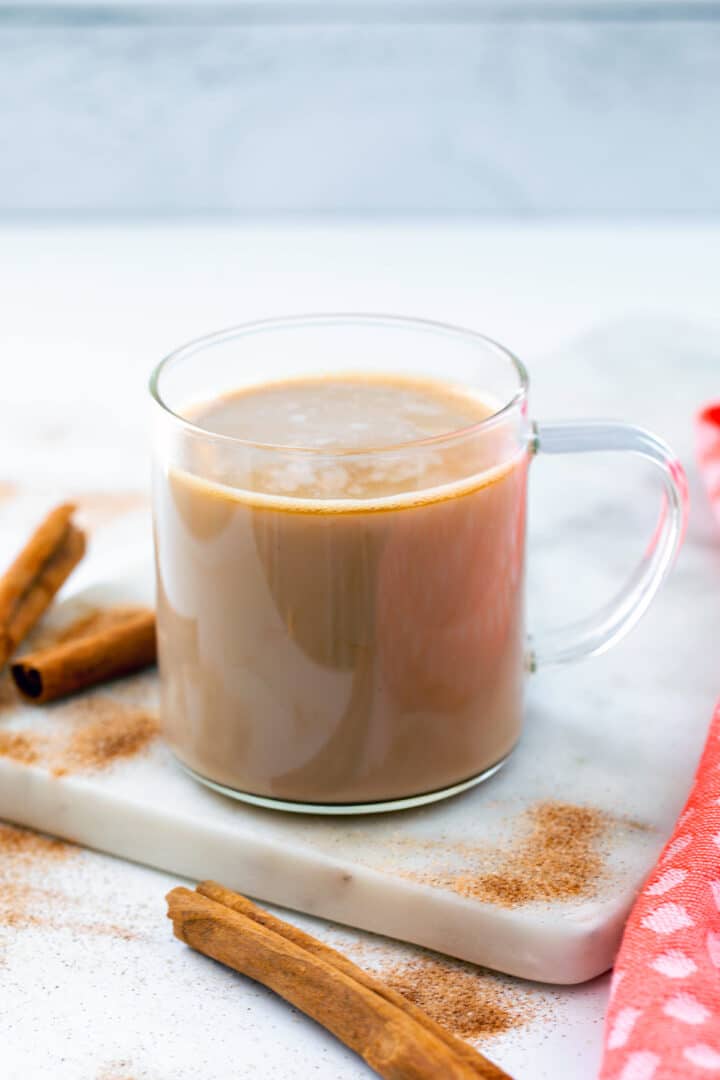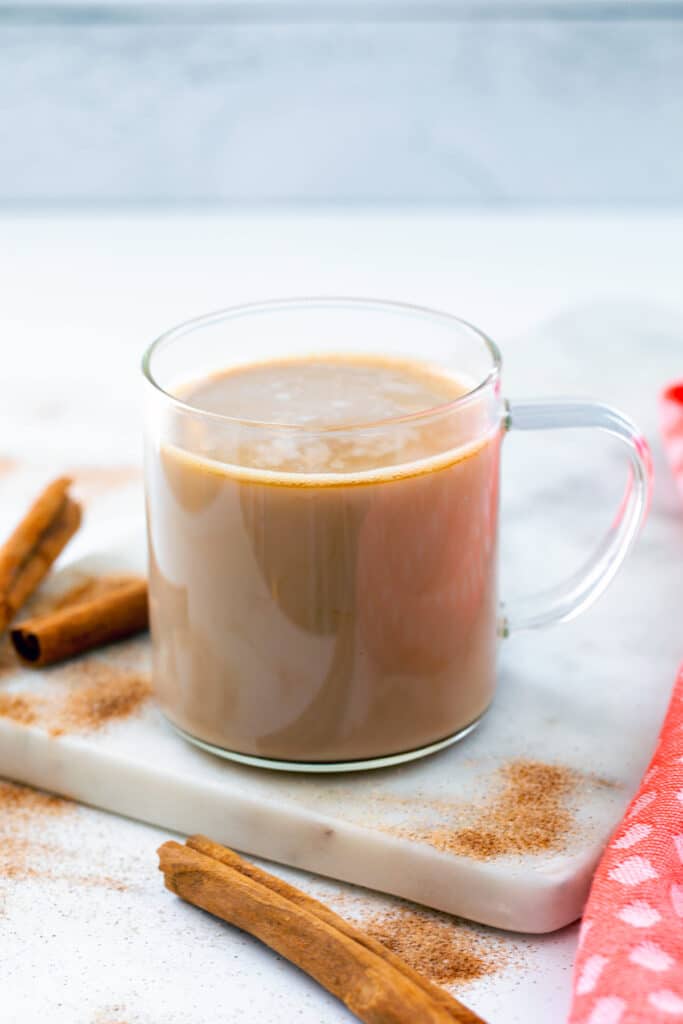 And add the frothed milk on top.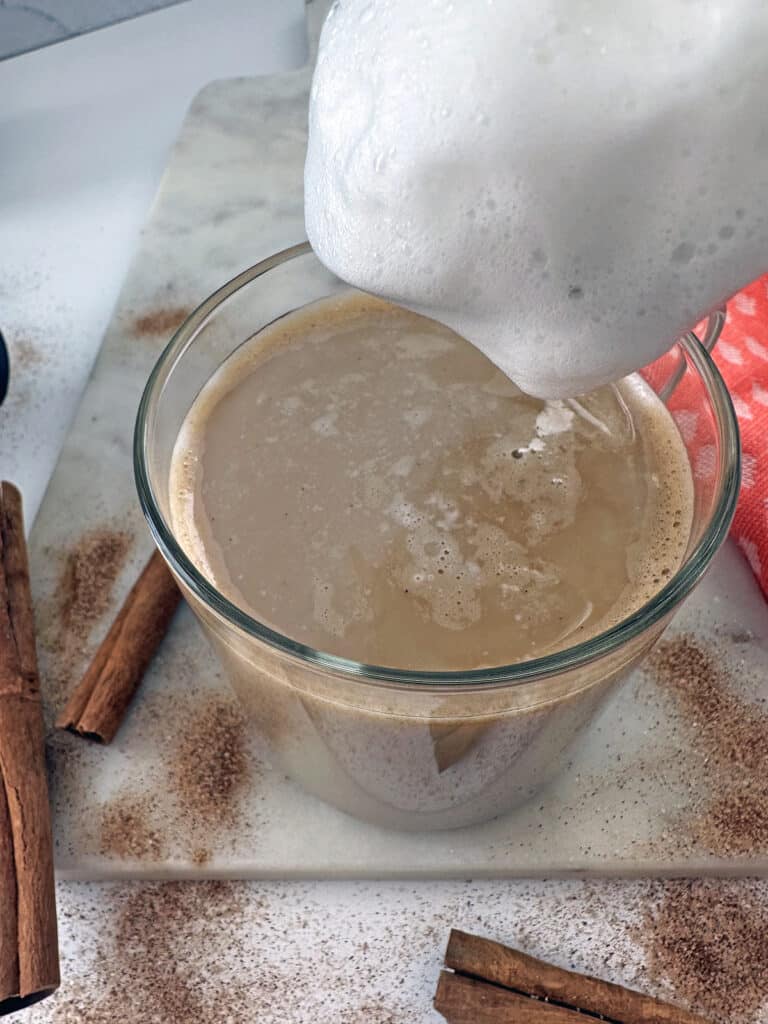 Don't forget to add a sprinkle of cinnamon and sugar, too! Starbucks calls this cinnamon dolce topping (or sprinkles) and theirs does contain some sort of dairy according to the ingredients, but it tastes pretty much just like this!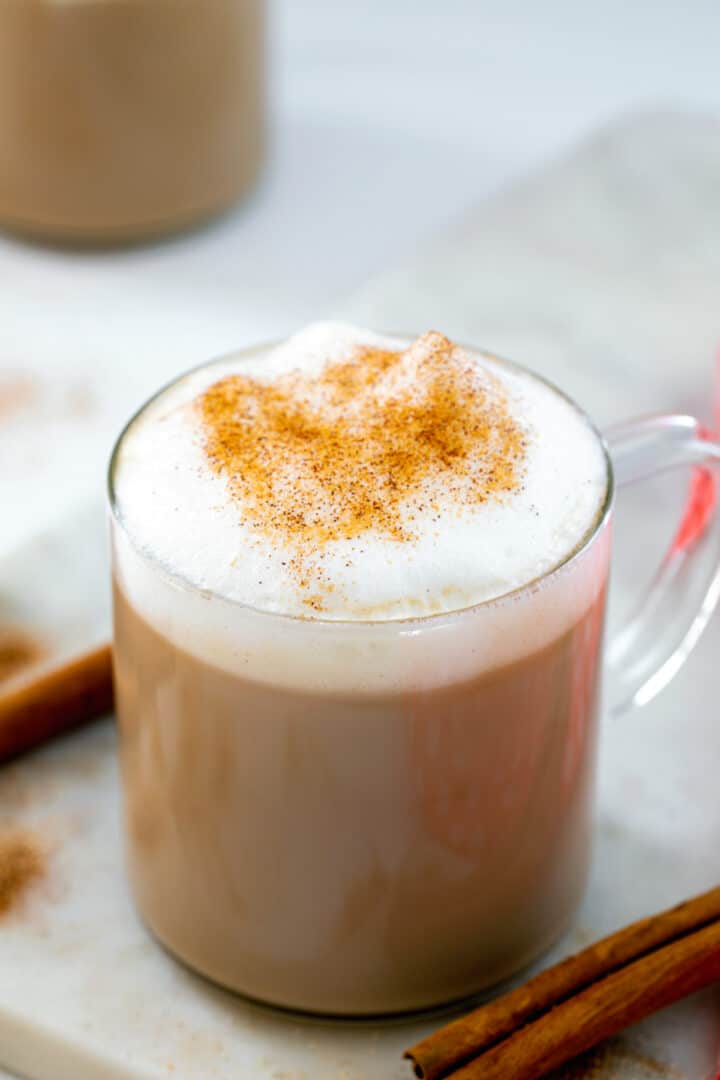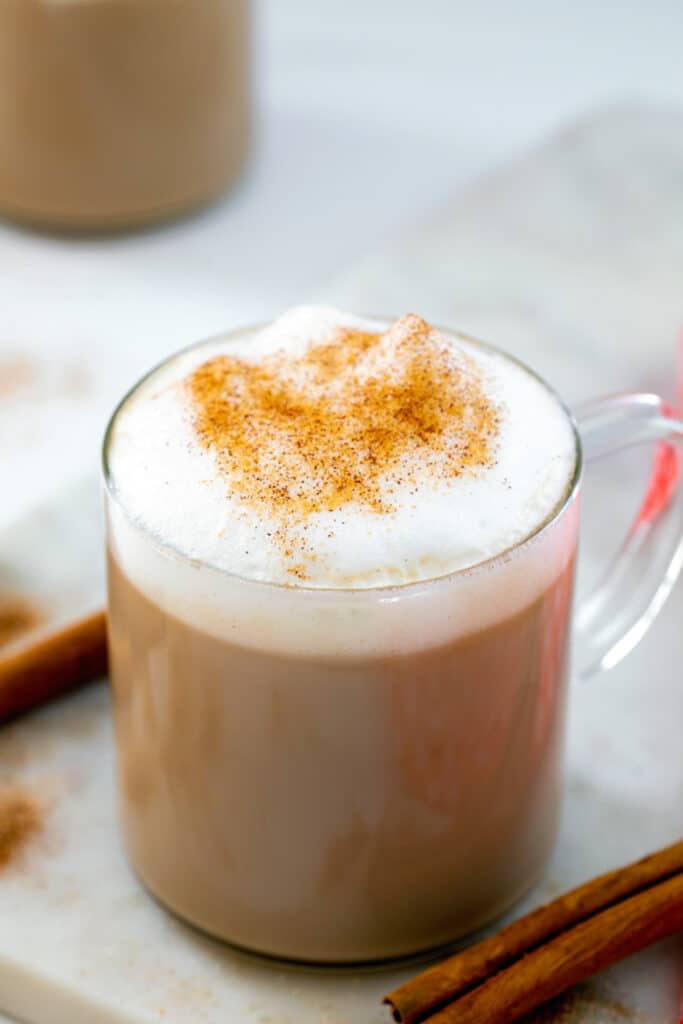 Oh, and Starbucks also tops their cinnamon dolce latte off with whipped cream.
I'll leave this one up to you, but it does make the drink exceptionally pretty. And extra tasty, too! If you're adding the whipped cream, wait and add your cinnamon sugar mixture on top of that.
But first of all, you should know that the smell of this drink is absolutely heavenly. I love the fragrance of cinnamon spice any time of year, especially when it's combined with espresso and milk.
And you'll be absolutely in love when you take your first sip. The latte is warming and comforting and the perfect combination of sweet and creamy with a little spice from the cinnamon.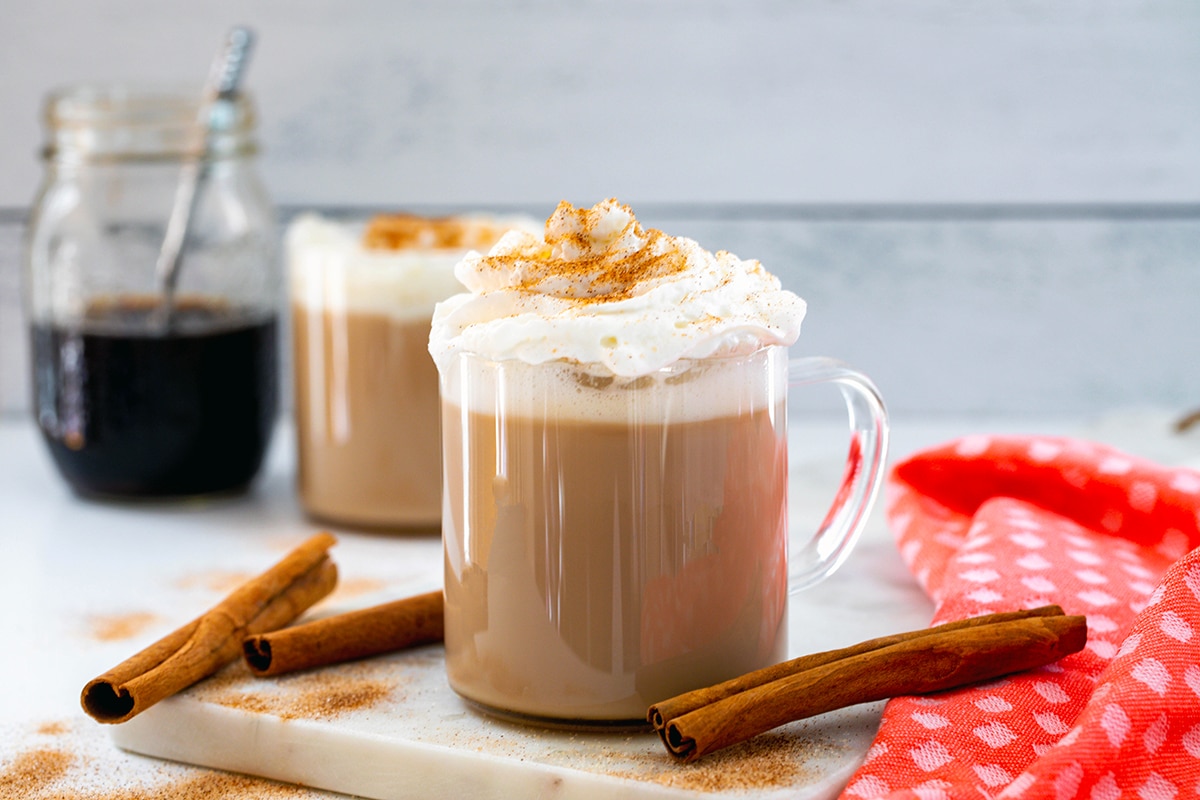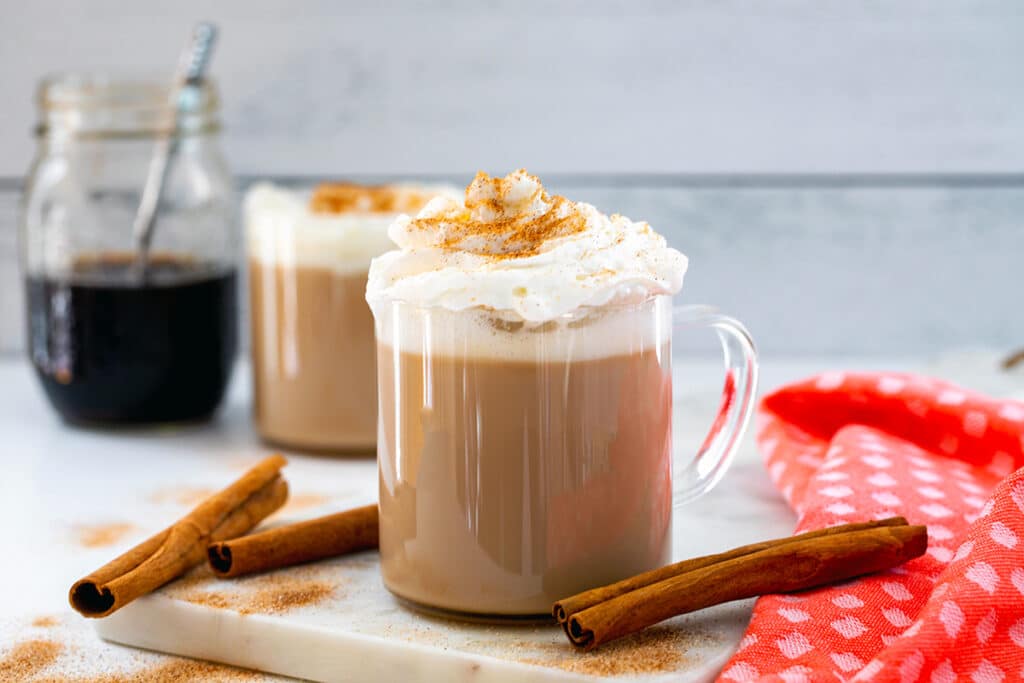 And yes, this copycat latte tastes just like the Starbucks version!
You can also make the Starbucks Caramel Apple Spice with the cinnamon dolce syrup.
🥛 How to froth milk without a frother
I love my little electric frother and use it all the time. But if you don't have one, you can still get that milk froth for topping lattes with!
You can put your milk in a bowl and use an electric frother or a whisk. But, of course, you may not have any type of frother and a whisk is going to take a lot of arm strength!
Instead, all you really need is a large mason jar.
Pour all of the milk into the jar (1 ¼ cups) and make sure your jar is large enough that it's filled no more than ½ way.
Now, put the lid on and shake the jar as hard as you can for about 30 seconds. The cold milk will get nice and frothy.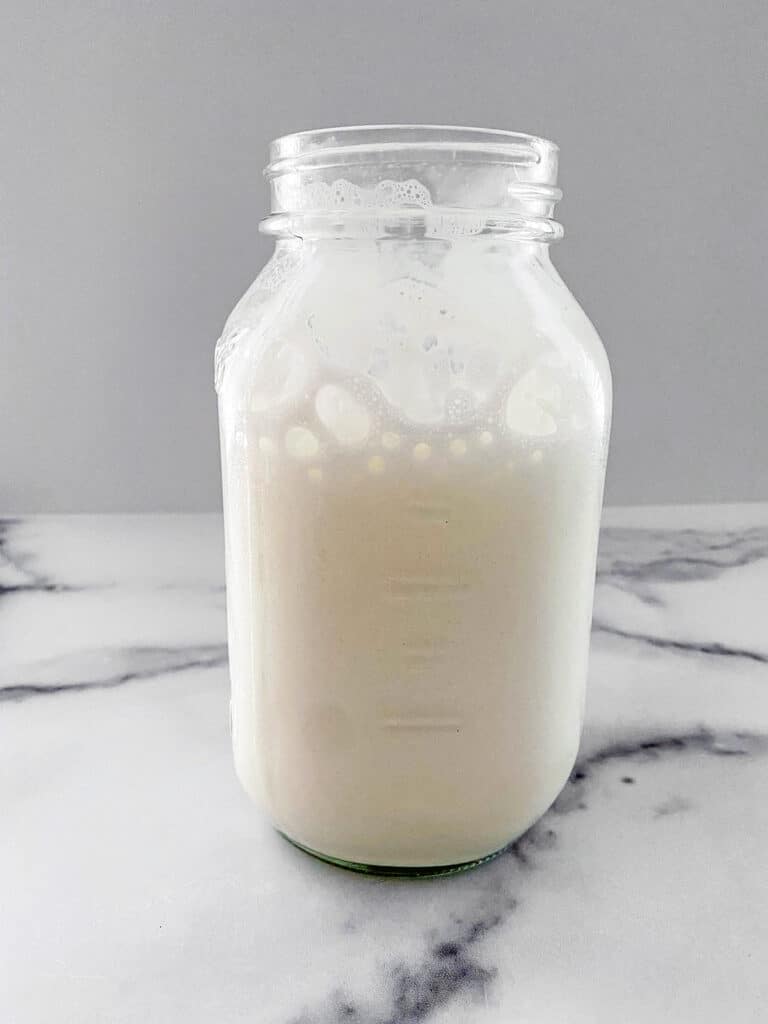 Now you just need to warm it. Put the jar in the microwave (remove lid first) for about 45 seconds.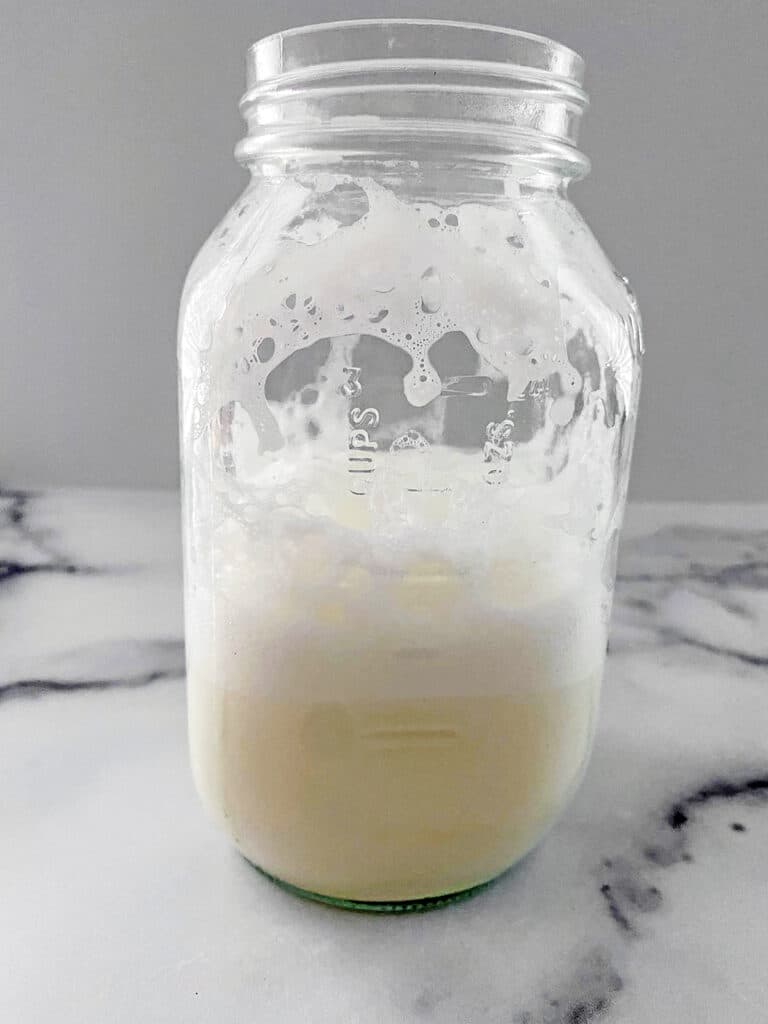 Your milk is now steamed and you can pour it into your latte and then scoop out the froth to add to the top of the latte.
❓ What other milks can I use?
Though Starbucks uses 2% milk in their lattes, you can use your milk of choice in this make-at-home recipe. That includes other percentages of milk or even plant-based milks.
Of course, it's best to choose a milk that froths really well. That includes most dairy milks (whole milk, 2%, 1%, or skim) and of the plant-based milks, oat milk, soy milk, and coconut milk will froth up well.
Almond milk can work, too, though it isn't the best option for frothing.
🧊 Can I make this an iced drink?
You can definitely make this an iced cinnamon dolce latte if you want!
It's actually even easier to make this drink iced because you don't have to steam or froth the milk. You can simply blend the ingredients together over ice.
I think the iced version is especially delicious when made with cold brew!
🧋 More Starbucks coffee recipes
If you love making Starbucks drinks at home, you should definitely check out more of my copycat recipes. You can view them all here, but here are a few of my current favorites that feature coffee or espresso: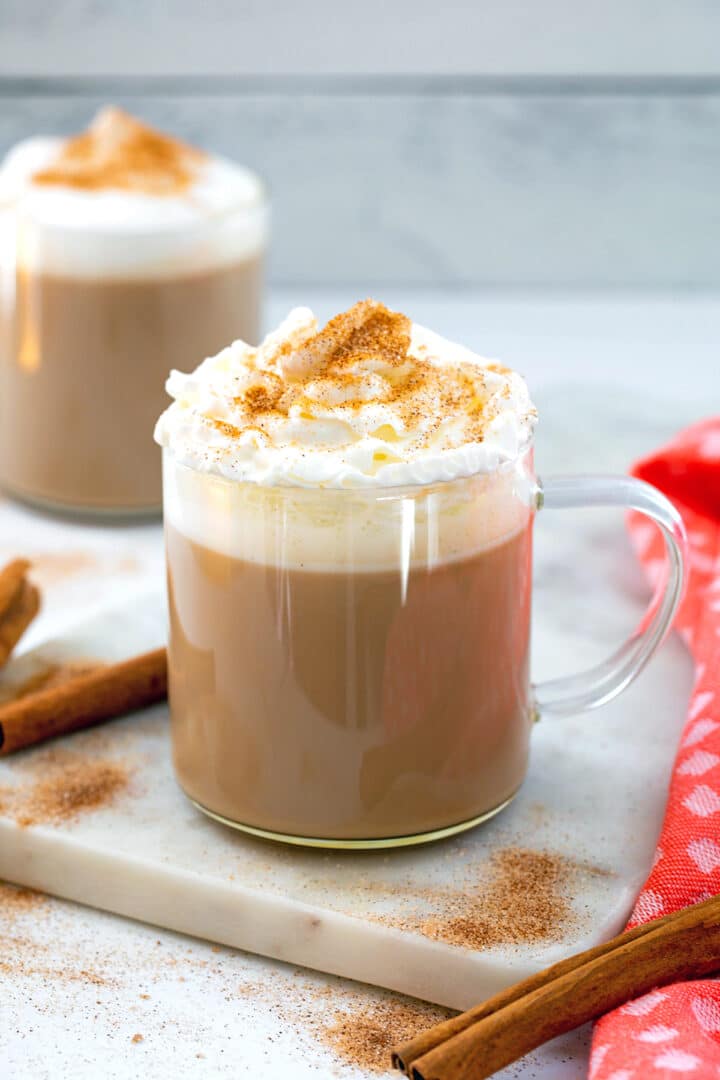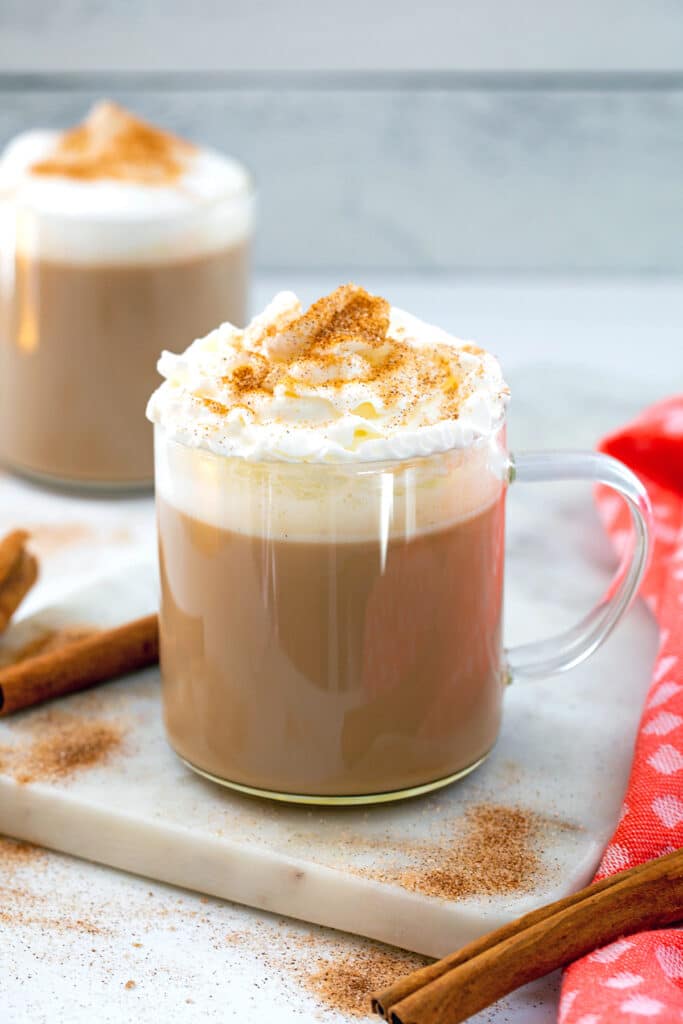 If this is one of your favorite drinks at Starbucks, I hope you'll try this homemade version, so you can enjoy a wonderfully warm and flavorful drink in the comfort of your own home at a fraction of the cost.
Cinnamon dolce latte time has become the best part of my day!
Do you ever take the time for an afternoon coffee?
📖 Recipe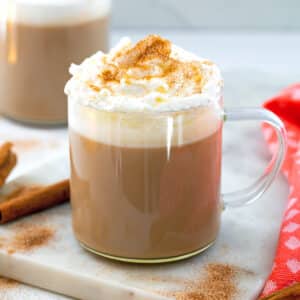 Cinnamon Dolce Latte
Is the Starbucks Cinnamon Dolce Latte one of your favorite coffee drinks? With this easy copycat recipe, you can make the sweet and creamy latte at home whenever you want!
Print
Pin
Rate
Ingredients
2

shots (2 oz)

brewed espresso or strong coffee

2

oz

cinnamon dolce syrup

(homemade with recipe linked or store-bought sweet cinnamon syrup)

1 ¼

cup

2% milk

(or dairy/non-dairy alternative of your choice)

¼

tsp

Ground cinnamon and sugar mixture,

for topping

Whipped cream,

for topping (optional)
Instructions
Brew espresso into a heat-proof glass. Stir in cinnamon dolce syrup.

Steam and froth milk. You can either steam 1 cup of milk on the stovetop/in the microwave and froth ¼ cup milk in an electric frother or with a handheld frother/whisk OR steam and froth all the milk together in a mason jar or heat-proof container (see notes for how-to).

Pour steamed milk into espresso and top off with frothed milk.

Add whipped cream if desired and top with cinnamon and sugar mixture.
Notes
For steaming and frothing milk together in mason jar:

-Put all 1 ¼ cup milk in a large mason jar or heat-proof container (it should only be half full), put the lid on, and shake the jar as hard as you can for about 30 seconds, until frothy.

-Remove lid and place the jar in the microwave for 45 seconds.

-Pour the steamed milk right into your espresso and spoon the froth on top.

 

For homemade cinnamon dolce syrup recipe, see this post. You should be able to make about 4 grande lattes with 1 batch of homemade syrup (if made as directed), but the recipe is easy to double.
Share a Photo of Your Finished Recipe!
Mention @wearenotmartha and share a photo if you've made the recipe!