It's the most wonderful week in the world! Yes, it really is. It's National Coffee Week, culminating in National Coffee Day on Saturday. I generally always forget to celebrate food holidays on the blog until the day of, but this is one holiday I wasn't letting pass me by. Now that you've had some good notice, you can plan for a National Coffee Day celebration, too. It's also worth mentioning that National Coffee Day just happens to be on my birthday… Which I think is no mistake at all. Clearly, coffee and me were meant to be. Maybe I was even born with it in my blood. Basically, we're family.
The second Bon Appetit tweeted a link to this recipe, I made up my mind to make it. Coffee. Avocado. Milkshake. Three of my favorite words in the UNIVERSE. Seriously, though; in terms of food, they really are. But yes, I get it. You might be thinking it sounds incredibly weird. Just try to stop thinking about it and try it. You'll be saying "Frappuccino, what?" in no time at all. The coffee avocado milkshake is actually an Indonesian drink, often served over ice. But who am I to ever turn down a rich and creamy milkshake?
Coffee avocado Milkshake (serves 2)
Adapted from Bon Appetit
Print this recipe!
1/2 large avocado, ripe
1 C strong brewed coffee, cooled
1/2 C fat free sweetened condensed milk
2 C ice cubes
2 t vanilla
I mean, it's really not rocket science here. Which is a good thing because who can do rocket science first thing in the morning before they've even had their coffee? I certainly can't (or ever).
Just halve, pit, and peel that avocado.
And put all your ingredients in your blender and blend away until smooth. I've said it before, but I'm obsessed with my Vitamix
for anything that involves crushing ice.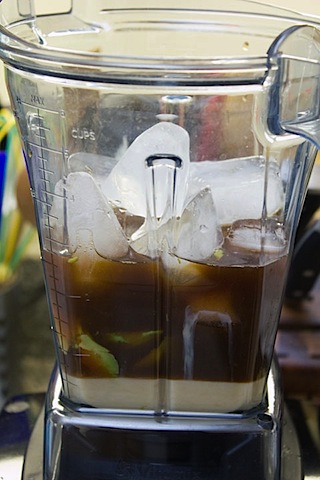 Pour and enjoy. FYI, I made a double batch here, which is why I have a glorious amount of milkshake.
And verdict? Yup, avocado really is good in everything.
This is my new favorite milkshake. And while it won't replace my cup(s) of hot coffee in the morning, it will certainly be a little treat from time to time, maybe for when I have a particularly rough day ahead of me or I want to get my weekend off to the right start. Speaking of, maybe a little Kahlua would work in here, too.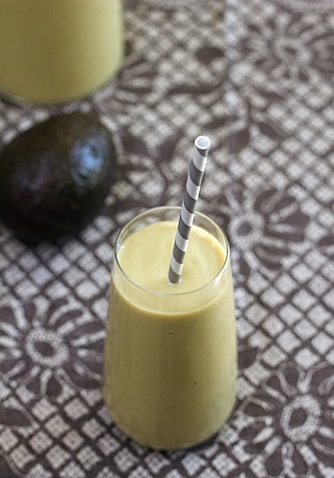 While this drink is certainly healthier than many of the fat-laden, sugar filled coffee-based drinks on the market, the sweetened condensed milk does still have a good deal of sugar. Though amazingly delicious, I think in my next batch, I'll try cutting the milk a little to see what effect it has. Although this really was the perfect treat.
Oh, you're probably wondering what the avocado was like in it, right? Well, avocados don't have an overly strong flavor to begin with, so the flavor was pretty discrete in the milkshake. But it added a ton of creaminess and depth that only an avocado could. Plus, there's all that healthy fat! This is the perfect way to get your caffeine and some extra veggies in your diet. Not that you have to hide avocado in my food to get me to eat them!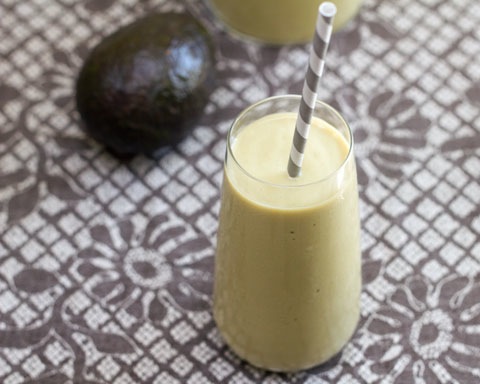 I never would have thought to do this on my own, but now I'm wondering why we don't add an avocado to more drinks and recipes for that creamy kick. Not that I already eat enough of them. But is there really such a thing? I don't think so.
I certainly need no excuse to drink coffee every day of my life, but I'm pretty excited there's a whole week devoted to coffee and its deliciousness. I need to find more ways to celebrate ASAP! How will you be celebrating?
Keurig Giveaway!
I'm pretty excited about this giveaway since I'm obviously a huge coffee lover. I'm also a big fan of the Keurig brand. Another brand I'm majorly in love with? Newman's Own. It's the only salsa and Italian dressing I buy and the only frozen pizza I'd ever go near. Plus, their cookies, chocolates, and Lemonade and Limeade are amazing. And they donate all profits after taxes to charity. And it's Paul Newman, whom I love. Who doesn't?? I remember a few years back when I heard McDonald's was going to start selling Newman's Coffee. I was a bit surprised, but happy to hear the big chain was supporting one of my favorite brands. I may not be a big burger and fry eater at McDonald's, but I will definitely pick up a cup of coffee (and their new oatmeal is actually quite fabulous). And now they're celebrating National Coffee by giving away free small cups of Newman's Own coffee all week long, so you can try it for yourself. They're also holding a live chat and virtual coffee tasting today with Nell Newman, the founder of Newman's Own (and daughter of Paul Newman and Joanne Woodward!) at the Green Mountain Coffee Roasters plant in Vermont. It's at 10 a.m. this morning, so tune in if you can!
And if you would like a chance to win a beautiful new Keurig K-Cup Platinum Brewing System, all you have to do is leave a comment on this blog post letting me know how many cups of coffee you drink a day. Enter by 11:59 p.m. on Saturday, September 29. If you win the Keurig, you can celebrate National Coffee Week FOREVER instead of just one measly little week.
For extra entries into the contest, 1) Follow @WearenotMartha on Twitter, 2) Tweet about this giveaway, 3) Come like us on Facebook. Make sure you leave another comment for each extra entry you participate in.
Good luck and happy Coffee Week 🙂
[Sues]