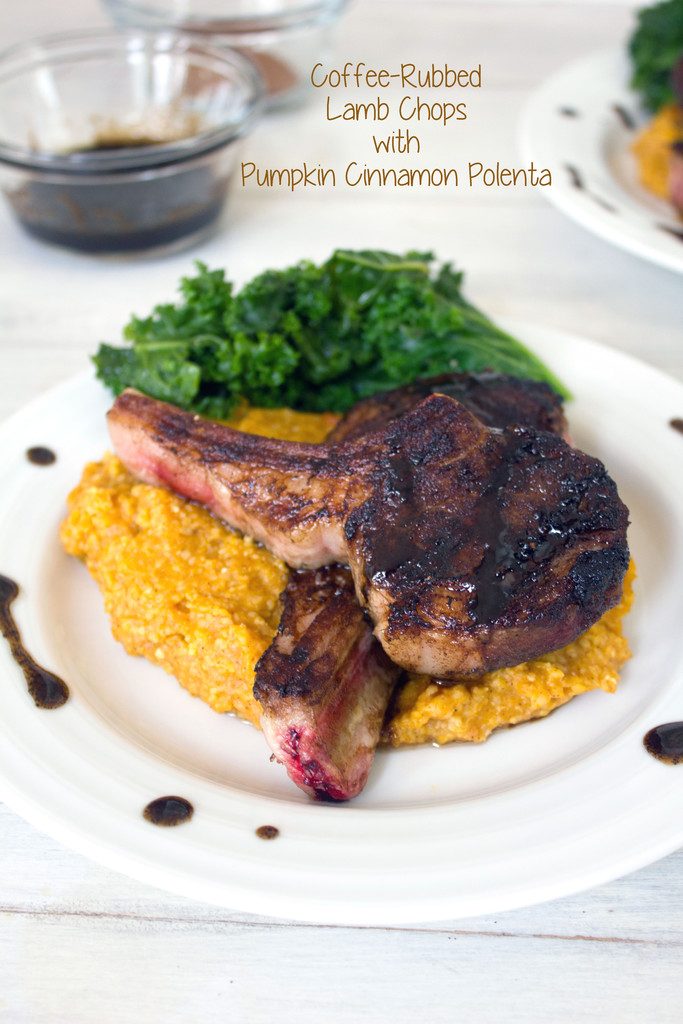 Being in wine country last week had me seriously reminiscing about my June trip when I was there with Superior Farms. So, what was the first thing I did when I got home?? Cooked lamb! I'll be honest... I've always been a bit scared of cooking lamb. In fact, I'm a little bit ashamed to say that up until this point, I've only ever cooked with ground lamb and lamb shoulder for vindaloo. I KNOW. I told you I'm ashamed. But now, I'm putting a stop to my fear and going lamb-wild in the kitchen. Thanks, Superior Farms! Not only are they sponsoring this post, but they are making my life a whole lot better by helping me to realize my lamb potential.
So, why have I been so scared of lamb? Honestly, I've just always had it in my head that lamb is "fancy" and for special occasions and that it takes great skill to cook well. But guess what? I made the lamb chops featured in today's post in like 10 minutes. And they were omg so awesome and so perfect that I honestly want to make lamb at least once a week for the rest of my life. Case closed.
So for my first feat in lamb (also known as WEEK 1), I went with lamb chops. Lamb chops with the perfect fall spin on them. Meaning, I coated them in a coffee rub, pan grilled them, and served them over a pumpkin cinnamon polenta. You should know that I'm cooking with American lamb, which is known for being a bit less gamey than Australian lamb. This is another win in my book; I know some people avoid lamb because it can be gamey, so I encourage you to give American lamb a try! I have about 9402 other ideas for what I want to do to lamb chops (to prep them... get your mind out of the gutter!), so I know that this is only just the beginning of a beautiful relationship.
Speaking of beautiful, check these out...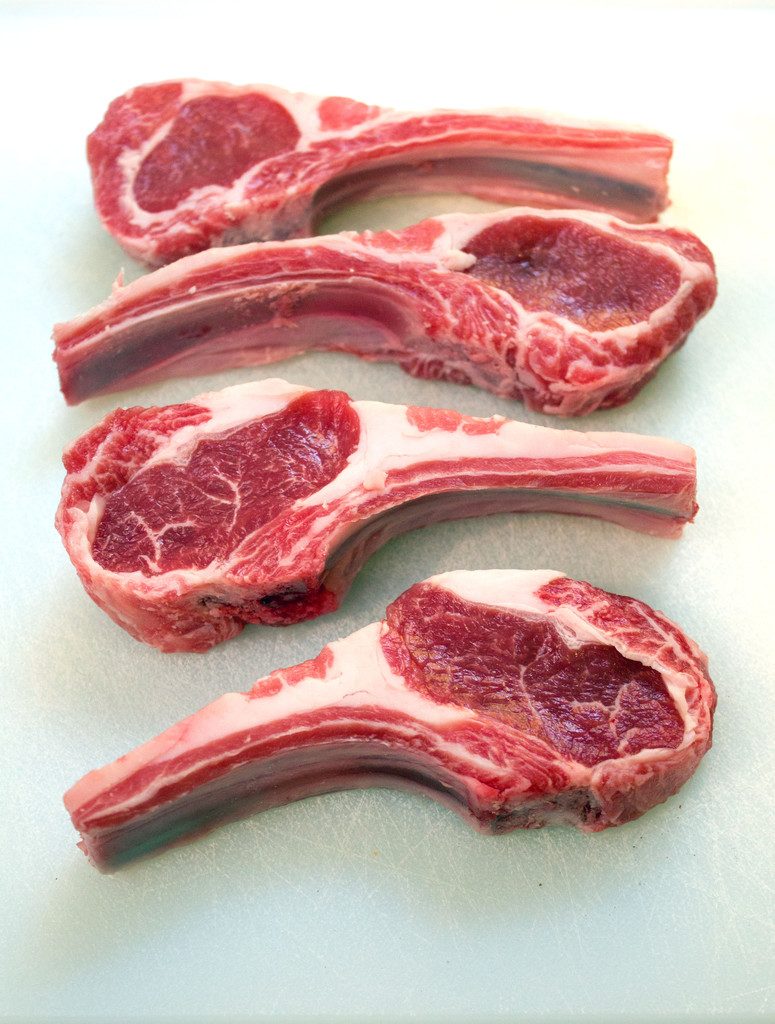 Here they are again, this time sporting a gorgeous coffee rub. I almost used a pumpkin spice coffee, but all of the ones I have contain artificial flavors, which I wasn't too keen on. So, instead, I used espresso, cinnamon, ginger, and nutmeg.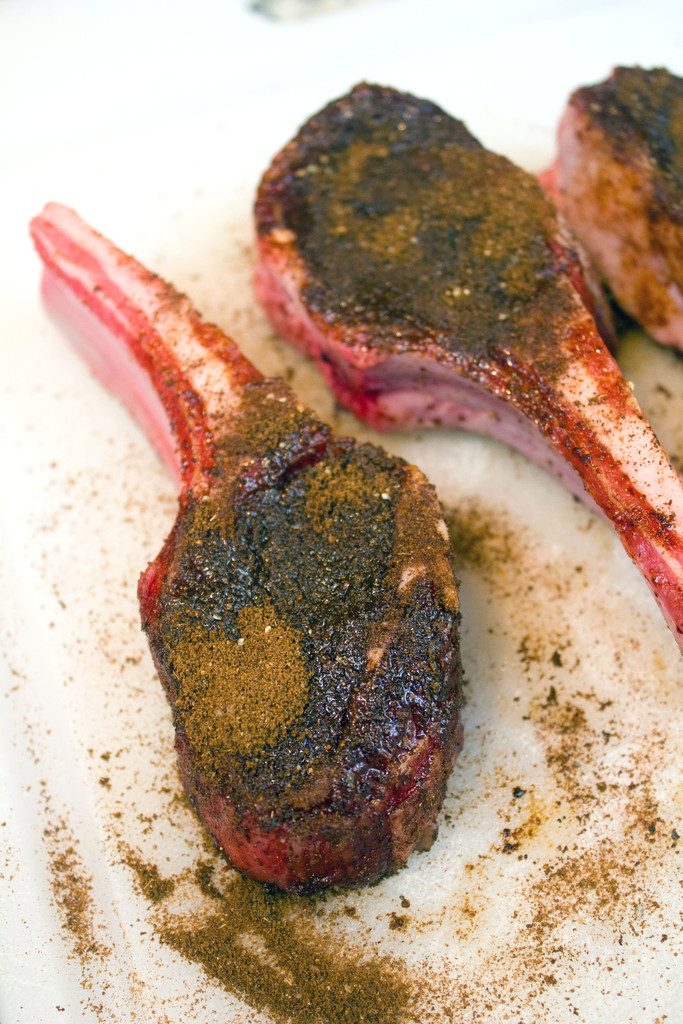 And then I put them in a grill pan over medium-high heat and grilled them for two minutes on one side and three minutes on the other side. THAT'S ALL.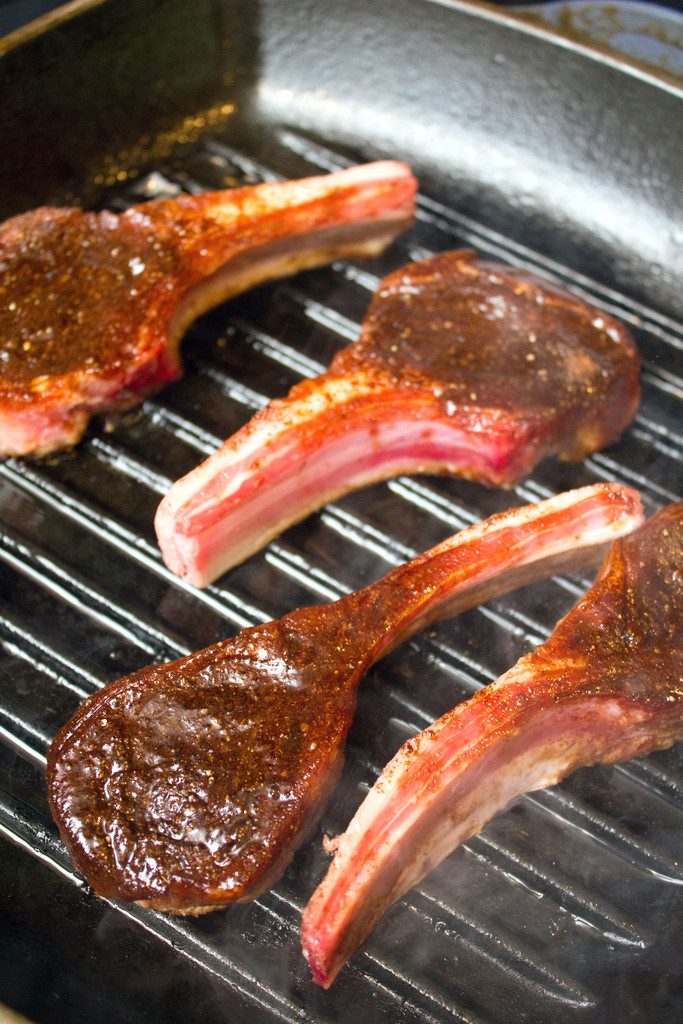 I highly recommend getting started on the pumpkin cinnamon polenta ahead of time since those lamb chops will be done before you know it. I used corn meal for my polenta, but you can certainly use an instant polenta if you want it to be ready even quicker.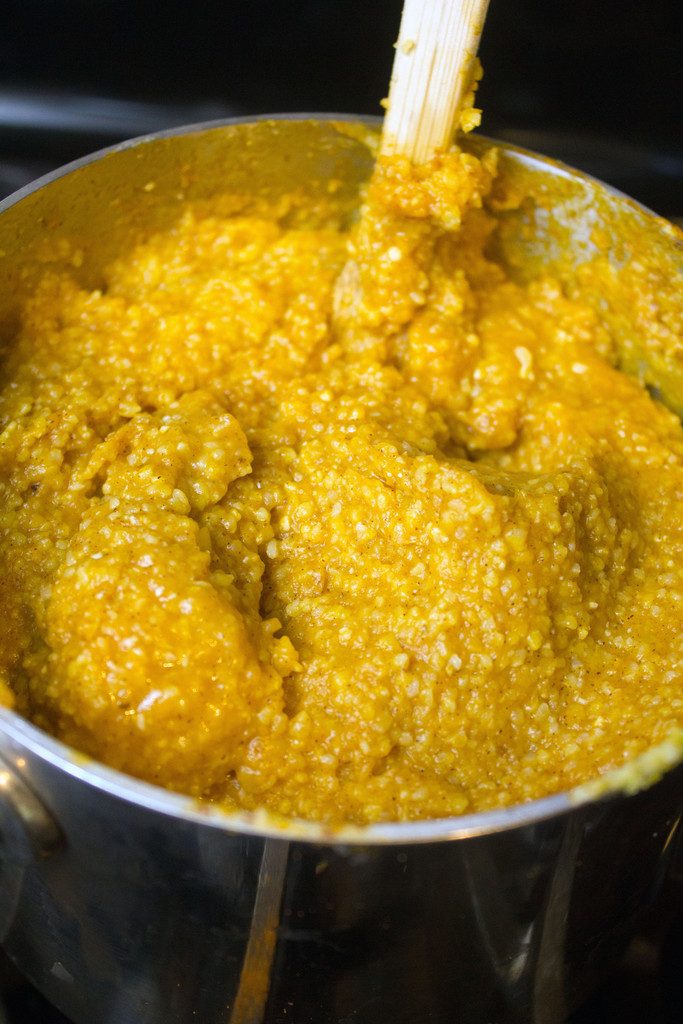 The bottom line is that this can be on a plate in front of you in no time at all. And it looks like the kind of meal that took hours of slaving away in the kitchen.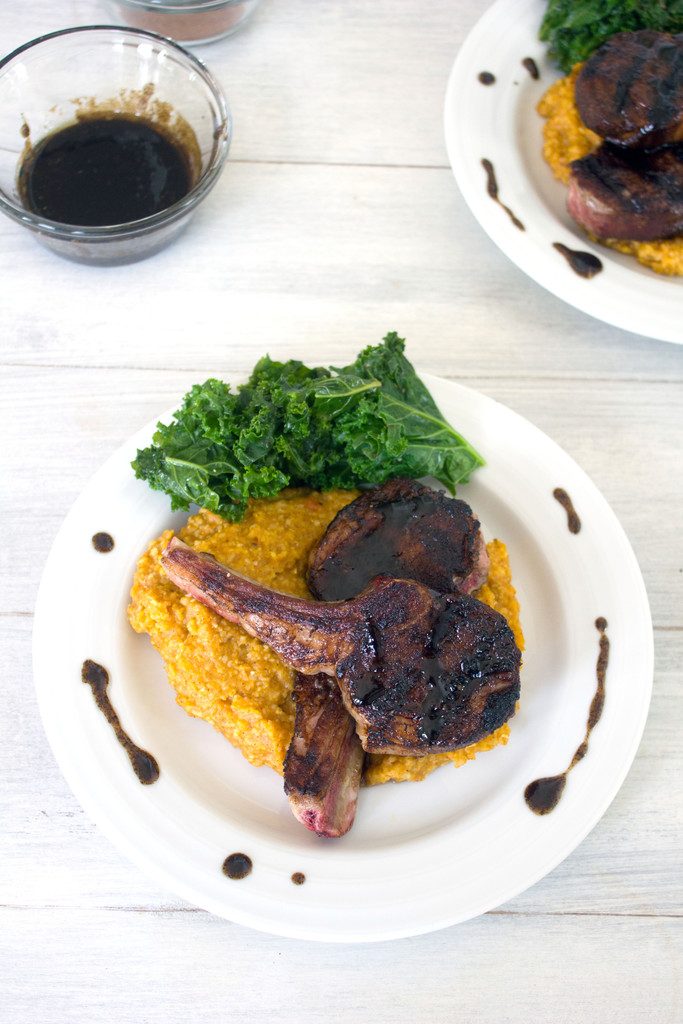 Ooh I didn't even tell you about that bourbon sauce I drizzled over the top. But there it is. It wasn't totally necessary... But it definitely elevated the deep flavors of this meal just a little bit more.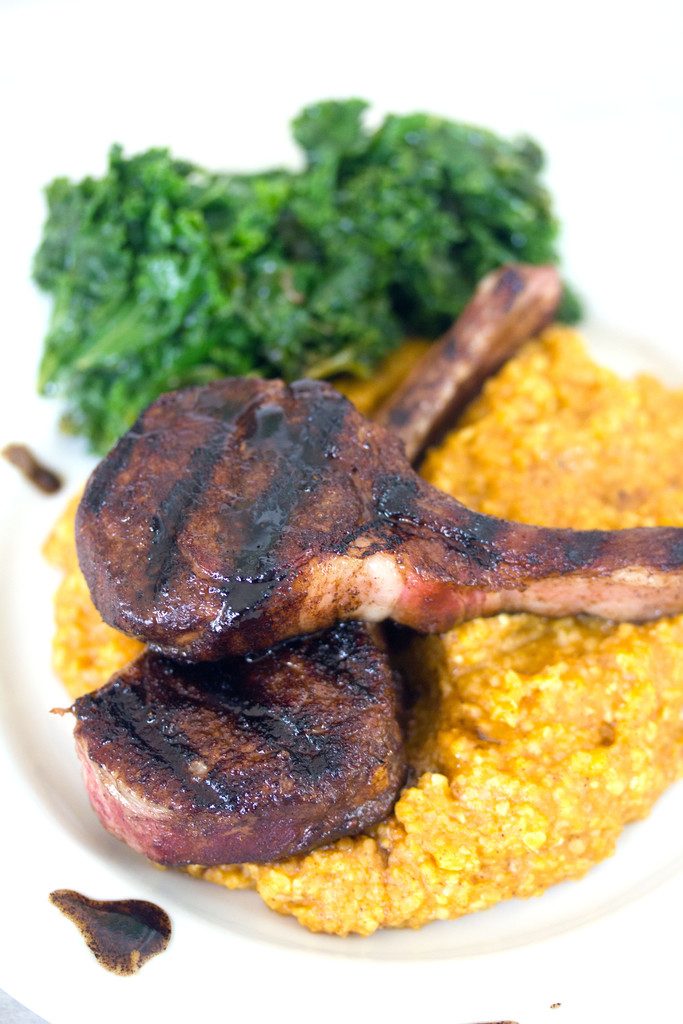 I'm all about coffee all year round (and almost always drink it hot), but there's something especially comforting about coffee when the autumn weather hits. And coffee really does bring lamb to a whole new level with a deep, smoky flavor that makes it taste like you've been roasting it for hours.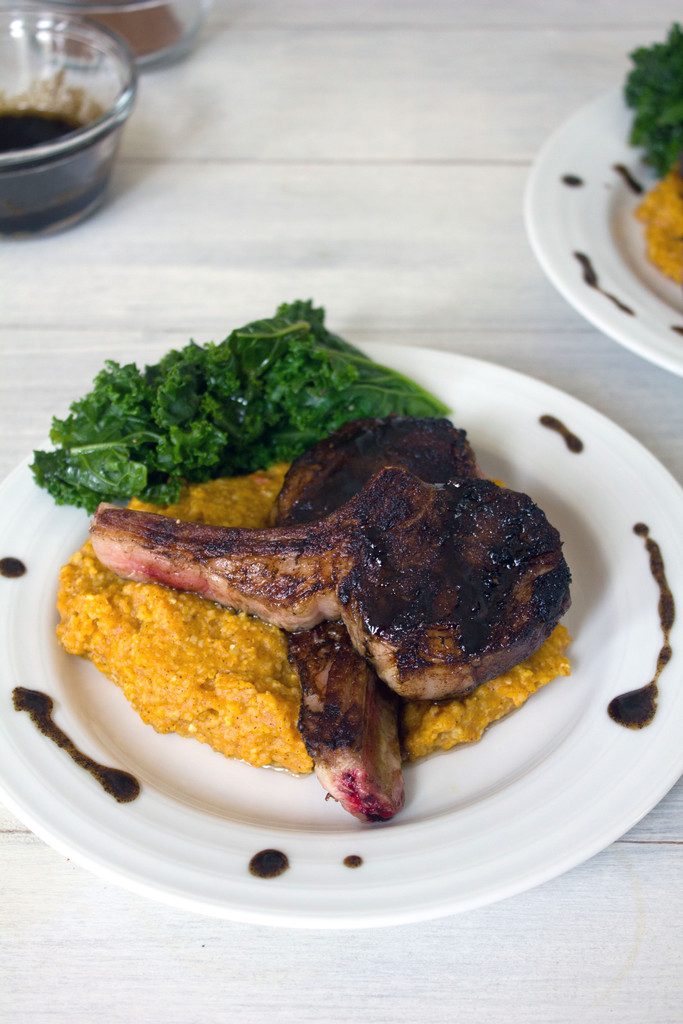 But five minutes is all it takes! Do I sound like a broken record yet? Because I'm still shocked. I made lamb chops.. And even though I made them on a weekend, I could totally do this on a weeknight. In fact, this was way easier than most of the weeknight meals I make.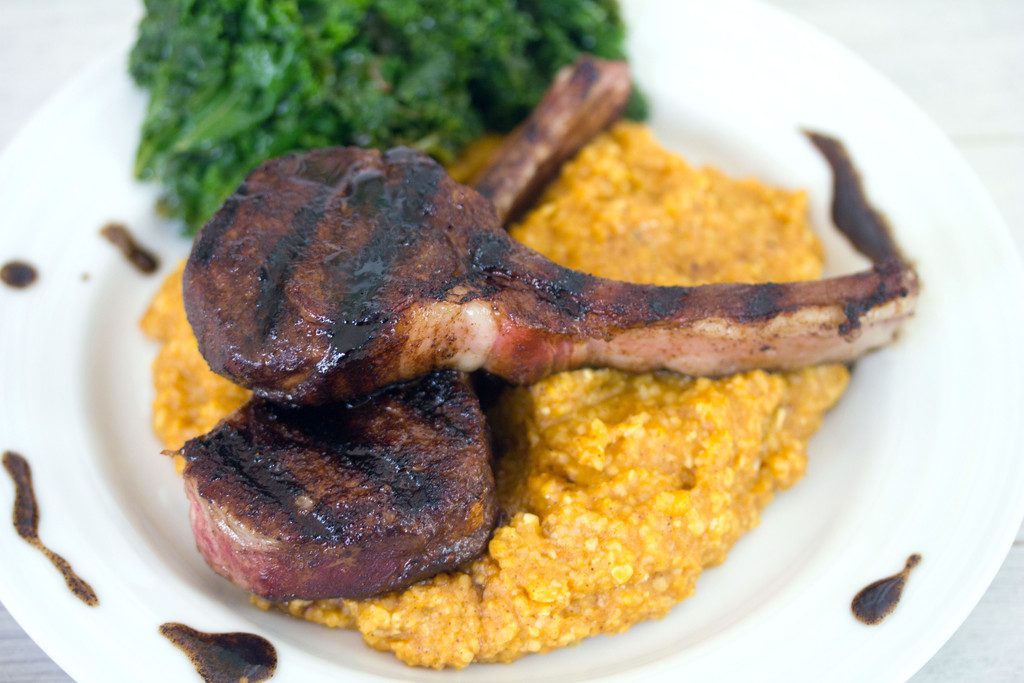 Hi. Can we talk about how tender this was, too? Yes, LET'S. Or let's just look at the below photo and marvel at how you can even kind of see the tenderness of the meat. Ugh, why can't I take a bite out of a digital photo? Why??
While the polenta takes a little bit longer to cook, it's also superbly easy. You pretty much mix the cornmeal or polenta with water and stir. Then stir in the pumpkin puree and spices. Zzzz in some ways, I feel like I'm cheating by blogging about this simple meal.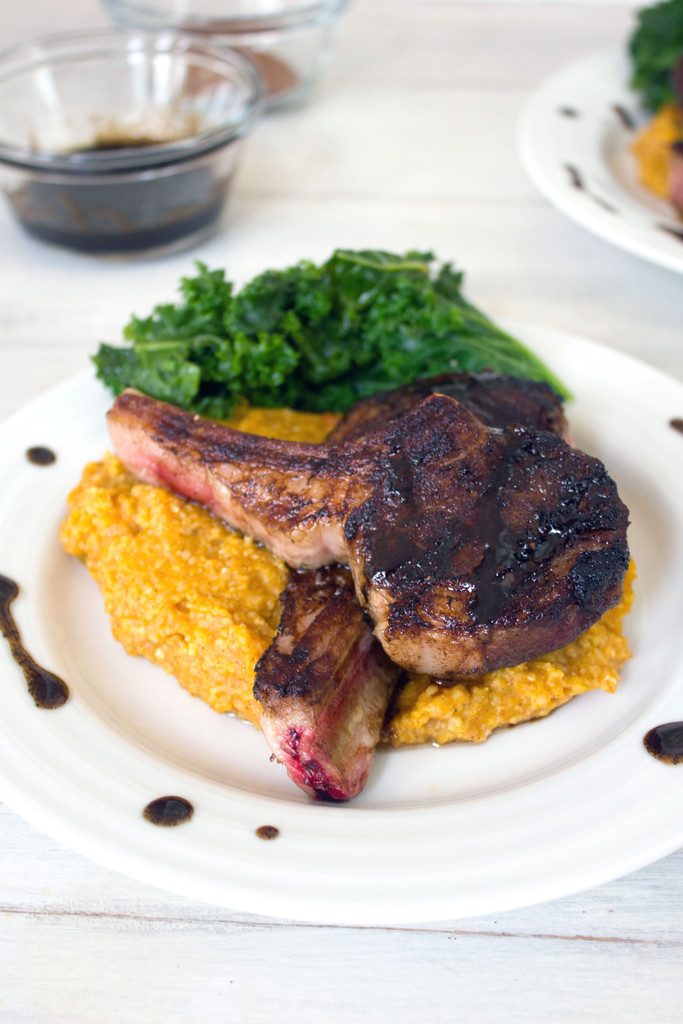 But if any of you have also been scared to cook lamb and I'm helping to encourage you to give it a try, then my job here is done. Like so done that I may as well quit blogging now. I guess? I'm just not sure where to go from here.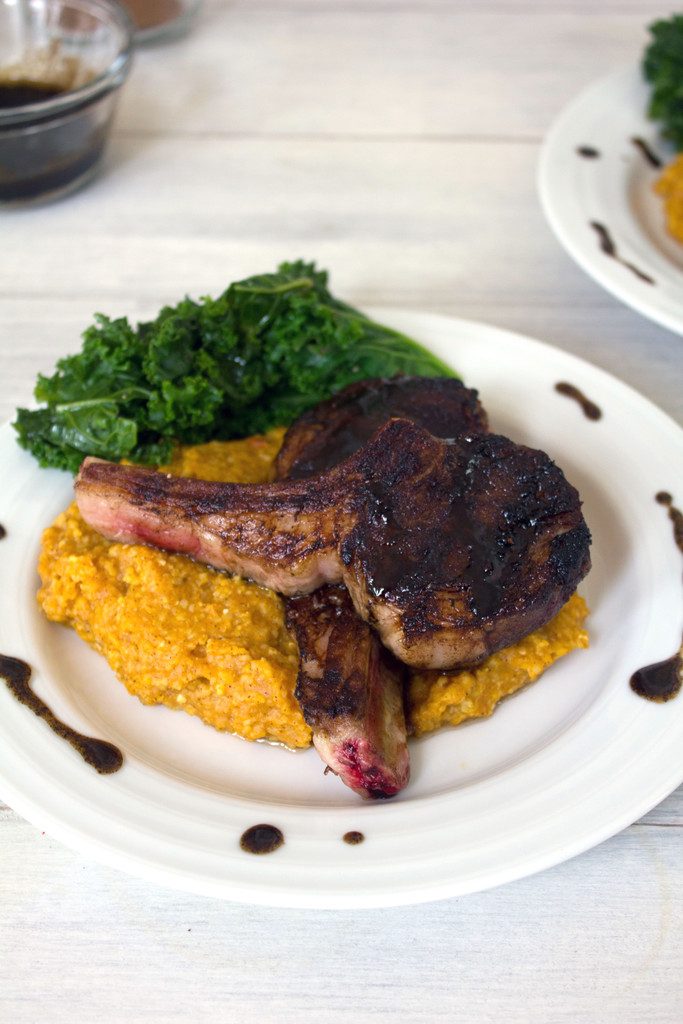 But for now, I'll probably get back in the kitchen with a whole new cut of lamb. You know what makes me reallyyy nervous? Rack of lamb. But guess what? It's basically just multiple lamb chops. How about lamb shank? I'll give it a go. Look how confident I am now!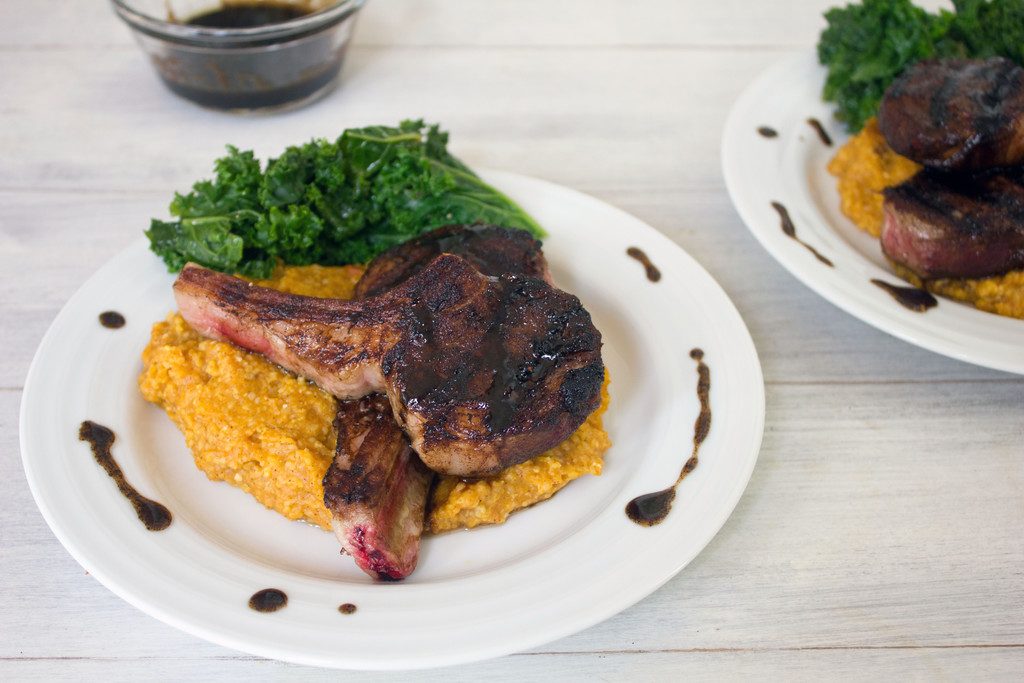 I'm saying this recipe makes two servings because there's nothing I hate more than following a recipe only to realize that the photo that goes along with it is actually like 10 servings on one plate (because it's prettier that way!). Plus, let's face it; when I eat lamb chops, I'm eating two. How can you stop after one?? End of story.
Do you cook lamb? If not, why not?
📖 Recipe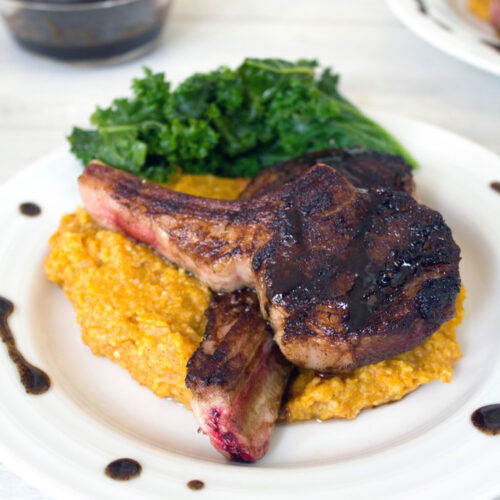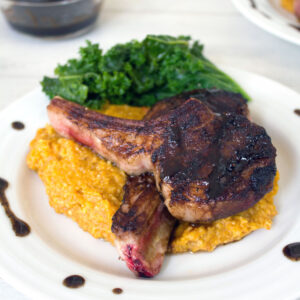 Coffee-Rubbed Lamb Chops with Pumpkin Cinnamon Polenta
Think lamb chops are for special occasions only? Think again! These Coffee-Rubbed Lamb Chops take just 5 minutes to cook and make an easy everyday meal alongside Pumpkin Cinnamon Polenta with a bourbon sauce.
Print
Pin
Rate
Ingredients
Coffee-Rubbed Lamb Chops:
2

Tbsp

ground espresso

½

tsp

ground cinnamon

¼

tsp

ground ginger

¼

tsp

ground nutmeg

⅛

tsp

salt

⅛

tsp

pepper

4

American lamb rib chops

about 1 lb.

1

Tbsp

olive oil
Pumpkin Cinnamon Polenta:
3

C

water

½

tsp

salt

¾

C

cornmeal

1

can pumpkin puree

1 ½

tsp

cinnamon
Bourbon Sauce:
¼

C

bourbon

1

Tbsp

Worcestershire sauce

1

Tbsp

dark brown sugar

1

Tbsp

ground espresso

1

Tbsp

unsalted butter
Instructions
In a small bowl, mix together espresso, cinnamon, ginger, nutmeg, salt, and pepper.

Brush lamb chops lightly with olive oil on both sides.

Season chops with spice mixture on both sides.

Heat a grill pan over medium-high heat. Add lamb chops to pan and cook for 2 minutes on one side before flipping and cooking for another 3 minutes. This will result in medium-rare lamb chops.

Serve lamb chops over pumpkin cinnamon polenta and drizzle with bourbon sauce.
Pumpkin Cinnamon Polenta:
Bring water and salt to a boil in a medium-sized saucepan.

Whisk in cornmeal until no lumps remain.

Cook for about 15 minutes, stirring every couple minutes, until polenta is thick and creamy.

Stir in pumpkin puree and cinnamon.
Bourbon Sauce:
Add bourbon, Worcestershire sauce, brown sugar, ground espresso, and butter to a small saucepan over medium-high heat, until simmering.

Reduce heat and continue to cook for about 5 minutes.
Share a Photo of Your Finished Recipe!
Mention @wearenotmartha and share a photo if you've made the recipe!

Thank you to Superior Farms for sponsoring this post. Please note that I only work with brands I truly love and respect and Superior Farms is high up on that list!