This homemade Cranberry Sugar adds the perfect touch to all of your holiday cocktails! But it also has so many more uses and even makes a lovely holiday gift. It's so easy to make with just two ingredients!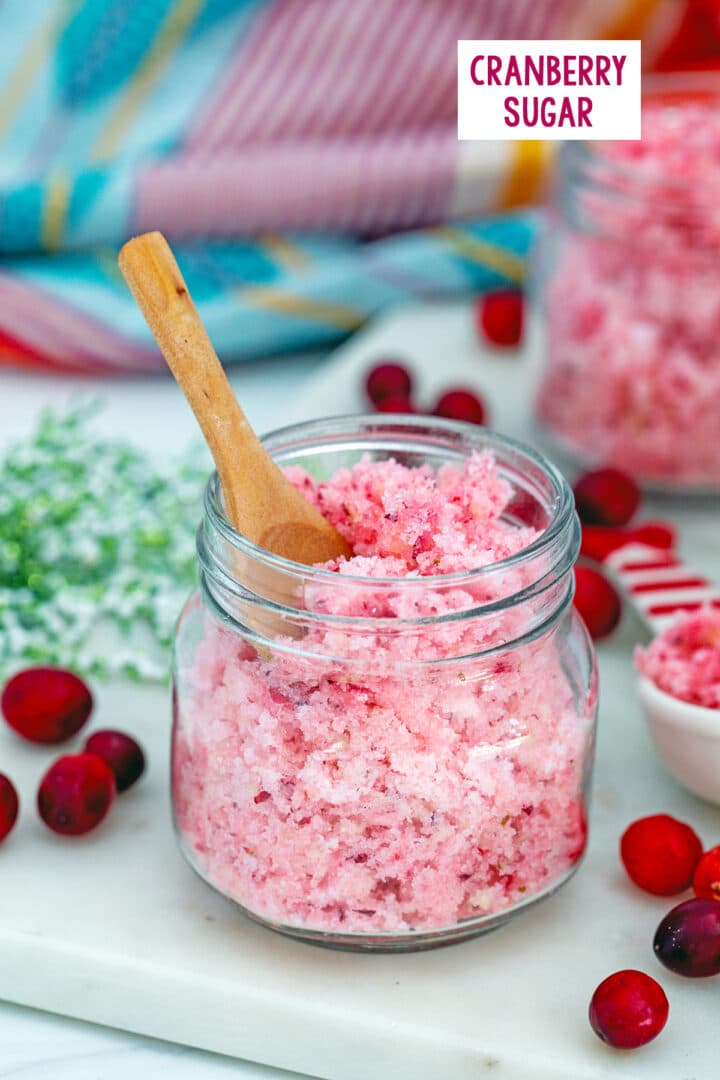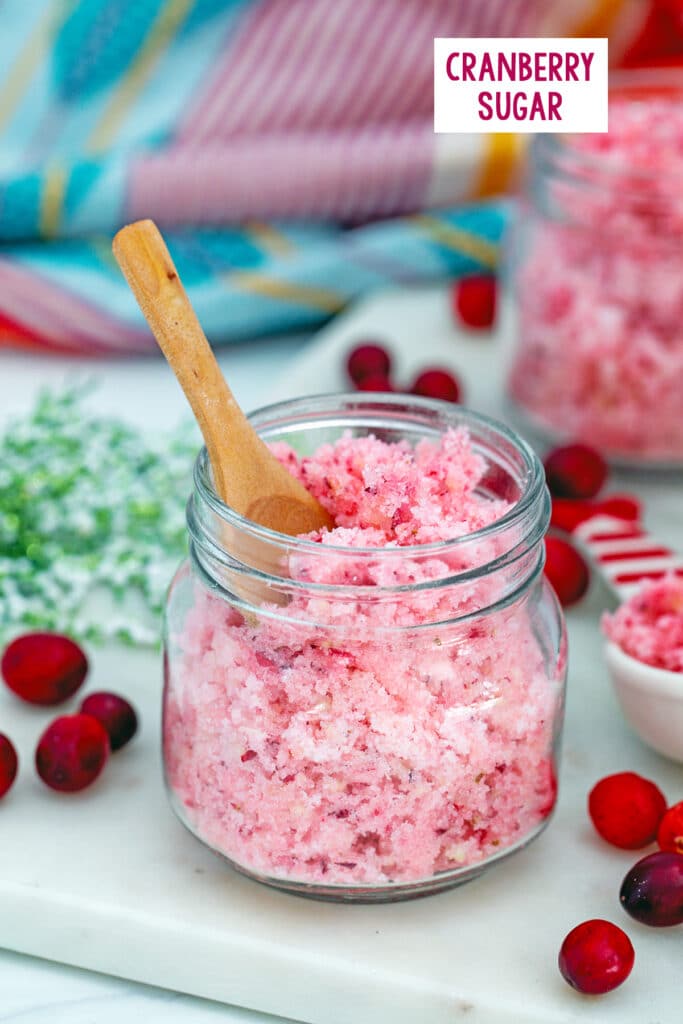 Something tells me Harry Styles is about to change the lyrics to his hit "Watermelon Sugar." Why?
Because cranberry sugar has entered the room. And it's definitely worth singing about. I had a lot more I wanted to say on this topic, but then I remembered what "Watermelon Sugar" is said to be about and I realized I was just going to put my foot in my mouth.
So, I'll just tell you that this cranberry sugar is so delicious that you're going to want to eat it right out of the jar. And probably come up with a song about it.
What is Cranberry Sugar?
Cranberry sugar is exactly what it sounds like... Sugar that's flavored with fresh cranberries!
Not only does the homemade granulated sugar taste like cranberries, but it's also the prettiest shade of pink. And it's a naturally colored pink sugar!
It has lots of uses, which I'll outline below, but the main way I've been using this sugar is as a cocktail rimmer for all my holiday drinks.
Why You'll Love This Recipe
Cranberry sugar is fun to make and also incredibly easy... It takes about two minutes!
It has so many fun uses and can make your holiday season a little bit merrier. And when you put in a little jar with a ribbon attached, it also makes the perfect holiday gift.
If you're throwing a holiday party and planning to serve any cranberry-based cocktails, this cranberry sugar is a must-have on your bar top!
I've seen a lot of cocktail rimmers on the market lately and I was recently tempted by a cranberry sugar cocktail rimmer. But then I realized that not only could I make it at home myself, but that I could make it with all-natural ingredients.
Ingredients
There's nothing complicated about this recipe and you only need two ingredients:
Granulated Sugar
Fresh Cranberries
Just those two ingredients can take your holiday cocktails from fine to amazingly festive!
How Many Cranberries to Use
I experimented with this recipe quite a bit because I didn't want the sugar to be too moist, but I also wanted it to have a distinct cranberry flavor and also to be a nice vibrant shade of pink.
I ended up using about ¼ cup of fresh cranberries, which is about 18 cranberries or about ¾ oz. if you're weighing them.
The result is a sugar that's definitely more moist than your typical granulated sugar, but still easy to use. It almost has the consistency of a brown sugar.
You can do your own experimenting if you want and use fewer or more cranberries depending on your preferences.
How to Make Cranberry Sugar
You can whip this sugar up 5 minutes before your guests arrive. It's that easy! Or you can make it a few days in advance.
All you need to do is put the sugar and cranberries in a blender or food processor...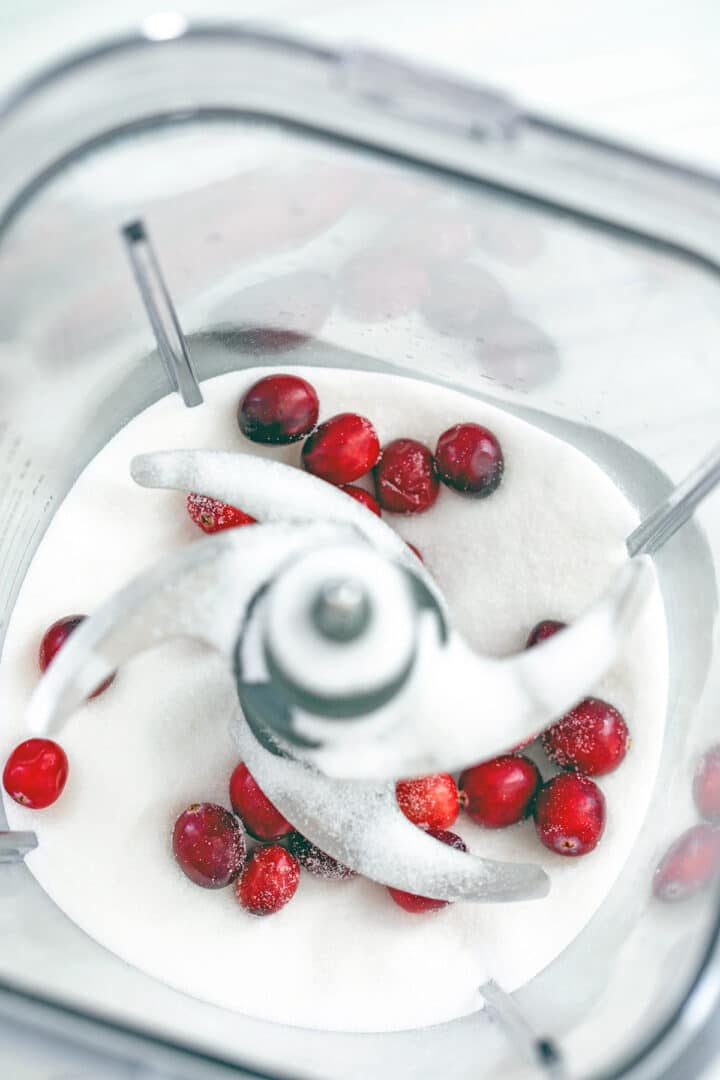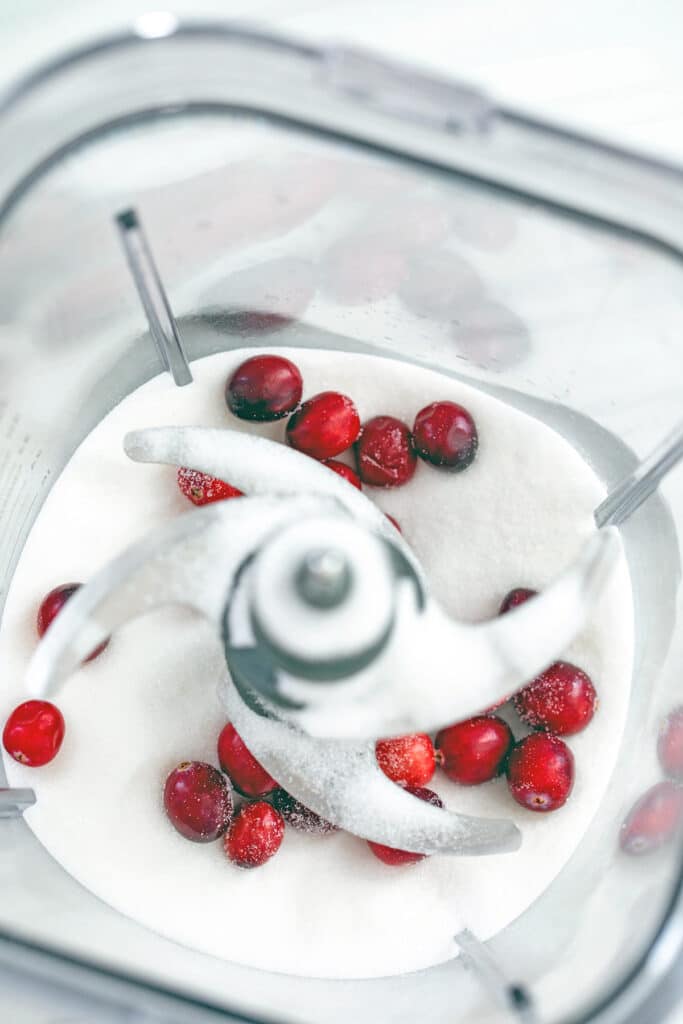 And pulse until cranberries have broken down and sugar is pink.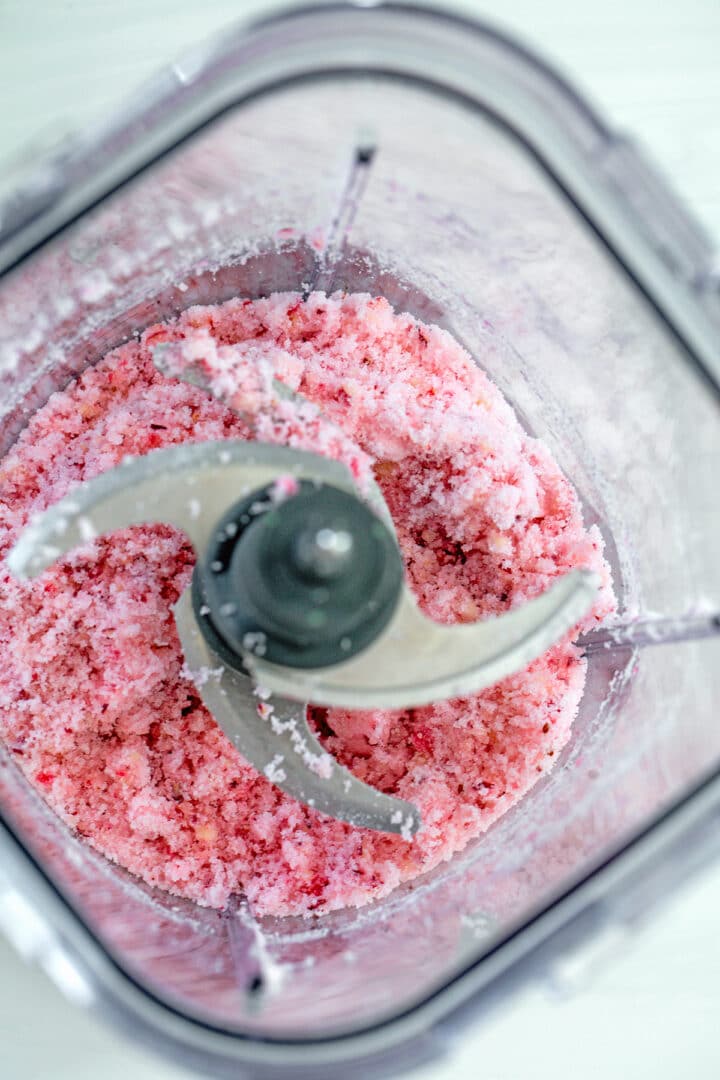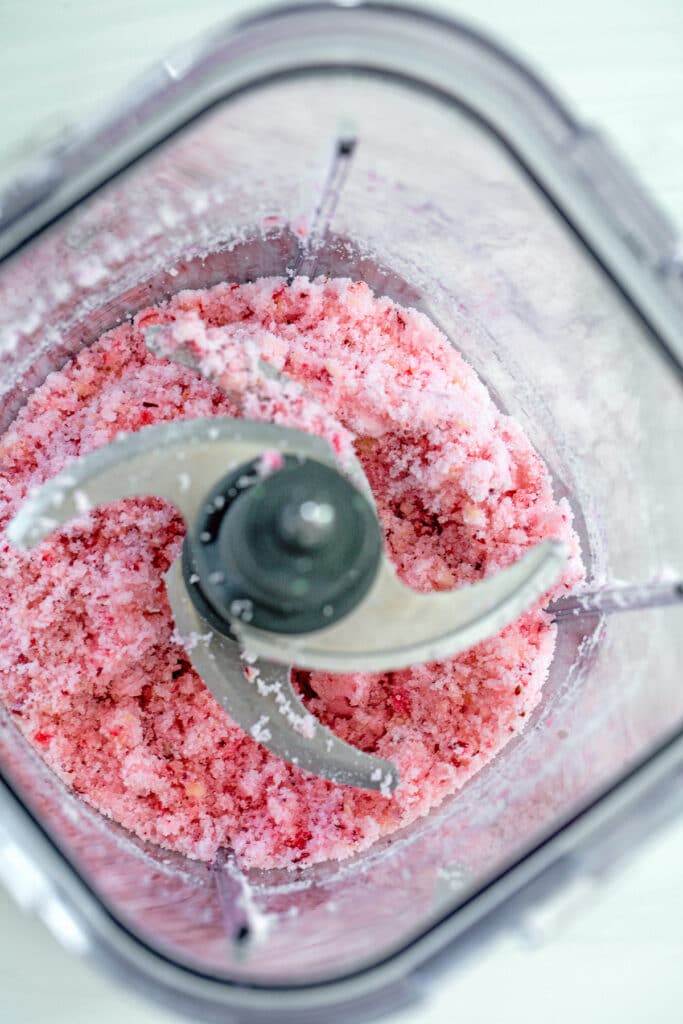 Transfer the cranberry sugar to an airtight container; I think mason jars work best.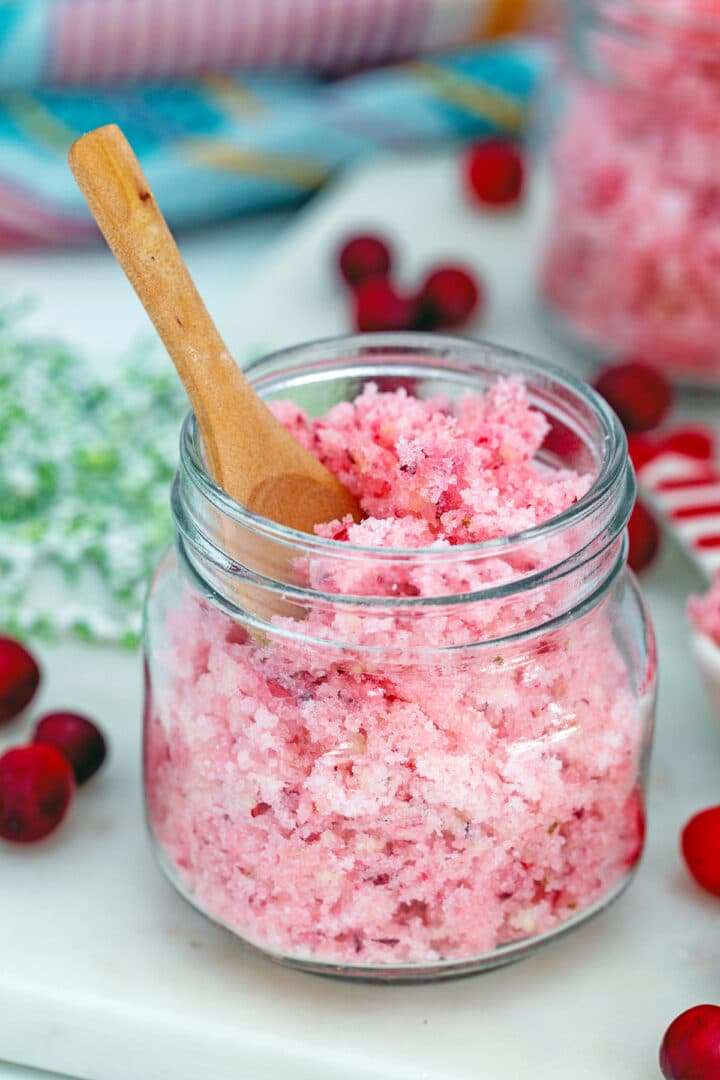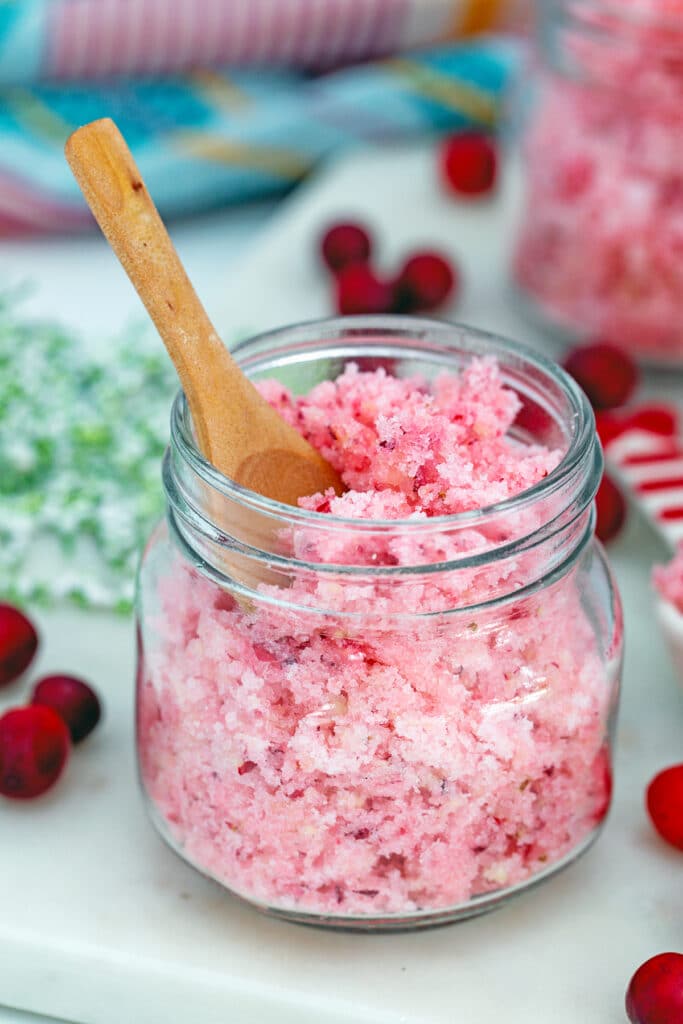 And use it however you want!
Even if that means eating a little bit with a spoon... You have to at least take a little taste this way just to make sure it has the perfect level of cranberry flavor.
How to Use
There are lots of ways you can use this cranberry sugar, but the most popular way is to use it as a cocktail rimmer!
Just brush your glass with a little simple syrup or rub a lime wedge around it and place the cranberry sugar on a small plate.
Put the glass upside down on it and roll rim of glass in sugar to coat.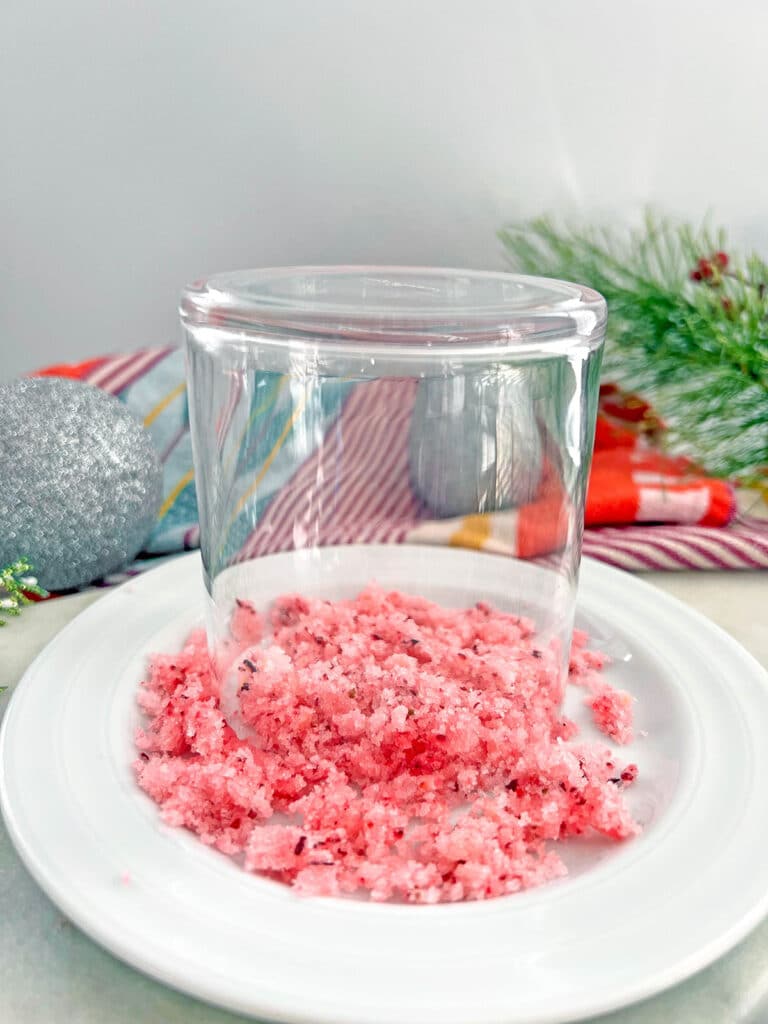 Pour drink and enjoy!
Of course, this cocktail rimmer goes best with cranberry cocktails, but it can really be used for any cocktails you want to add a little cranberry kick to.
If you're serving simple vodka sodas or gin and tonics, a cranberry sugar rim adds a little festive fun.
I often add sugared cranberries to my cocktails during the holidays, but it can be a little bit of a process to make them and this is much easier!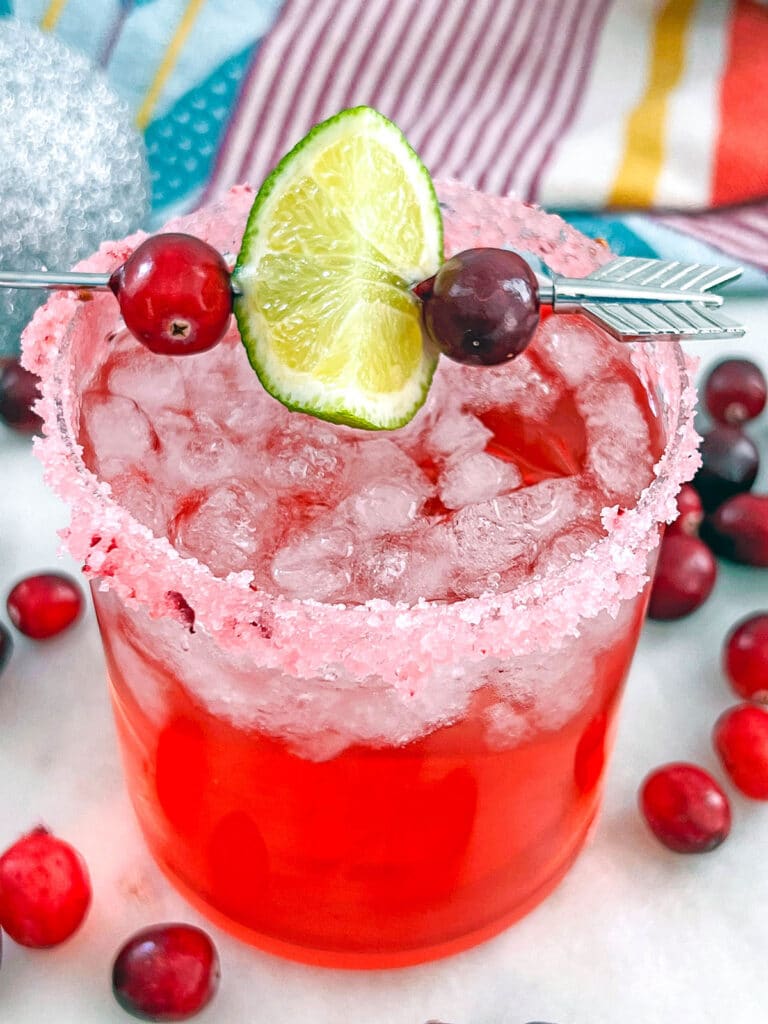 And it's not just for holidays, either. Though we often think of cranberries as a holiday food, lots of people drink cosmos, Cape Codders, and other cranberry-based drinks all year round.
Here are some other uses for this cranberry sugar:
Use it in baking: It's not easy to use as a 1:1 substitute since the sugar is wet, but you can experiment and/or use this in recipes where you don't need exact amounts. I made cranberry sugar cookies with the sugar and they were delicious!
Use it to flavor tea or coffee: Instead of adding regular sugar to your tea or coffee, use cranberry sugar!
Sprinkle it over cookies, muffins, and other baked goods: It will add a nice pink shimmer and some yummy flavor and looks especially pretty on white frosting.
Sprinkle over strawberries or other fruit: Cranberry sugar macerated strawberries sound like a dream! But this sugar would be delicious sprinkled over most fruits. I also love the idea of sliced bananas in milk with cranberry sugar sprinkled over the top.
Holiday gifting: Put the cranberry sugar in a jar and attach a pretty ribbon and gift tag and it makes for the perfect holiday gift... Especially if you have a friend who loves cosmos or other cocktails.
While I love sugar as much as the next human being, I've never had the urge to eat it with a spoon. But this cranberry sugar? I wanted to eat it AS A SNACK.
Which could actually be quite dangerous. I would never recommend you just eat this sugar with a spoon. But I may have.
How to Store
The sugar should be fine at room temperature for a day or so, but I highly recommend keeping it in an airtight container in the fridge.
I was a little bit worried the moisture from the cranberries and the low temperature of the fridge would cause it to get too wet, but I just shake the jar when I'm ready to use it and have no problem at all.
It's definitely a "clumpier" sugar than simple granulated sugar, but that's not a bad thing. I would say it's more like the consistency of brown sugar.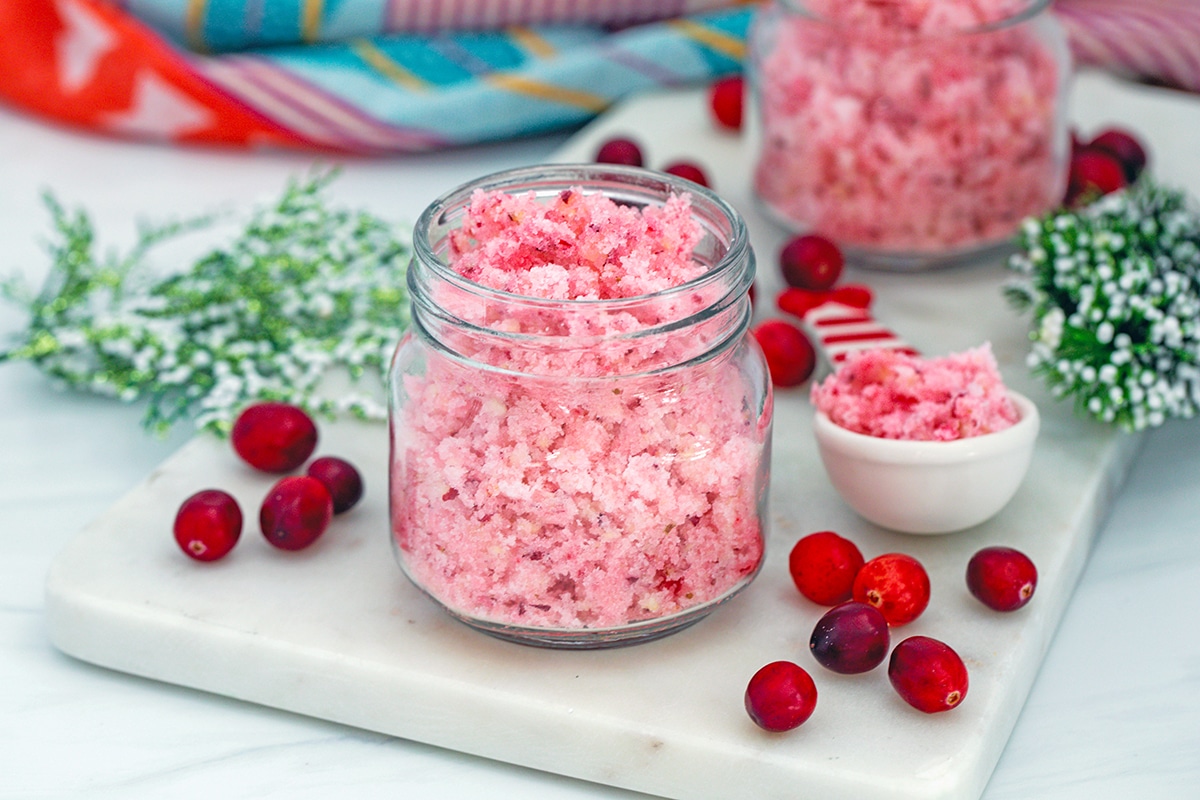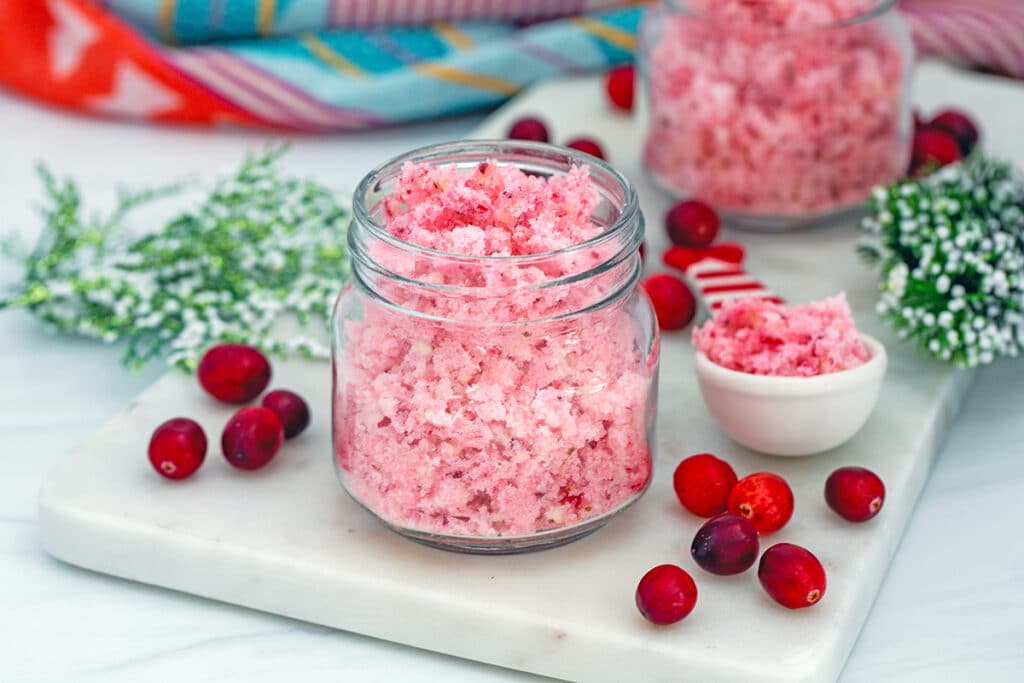 Can I Use This as a Body Scrub?
It's easy to make sugar body scrubs at home and this cranberry sugar is a great start to one! It even looks a bit like one in the jar.
But I would recommend adding an oil to the sugar before using it as a scrub. The sugar is a great exfoliator and the cranberry adds a nice fragrance, but you'd want an oil for moisture. I'd add about ¼ cup of coconut oil to make turn this into a body scrub.
Drinks to Use With
This cranberry sugar can be used as a cocktail rimmer for so many different drinks, but here are some of my favorite cranberry-based drinks that it's especially delicious with:
And this recipe for cranberry simple syrup is a cocktail necessity for the holiday season!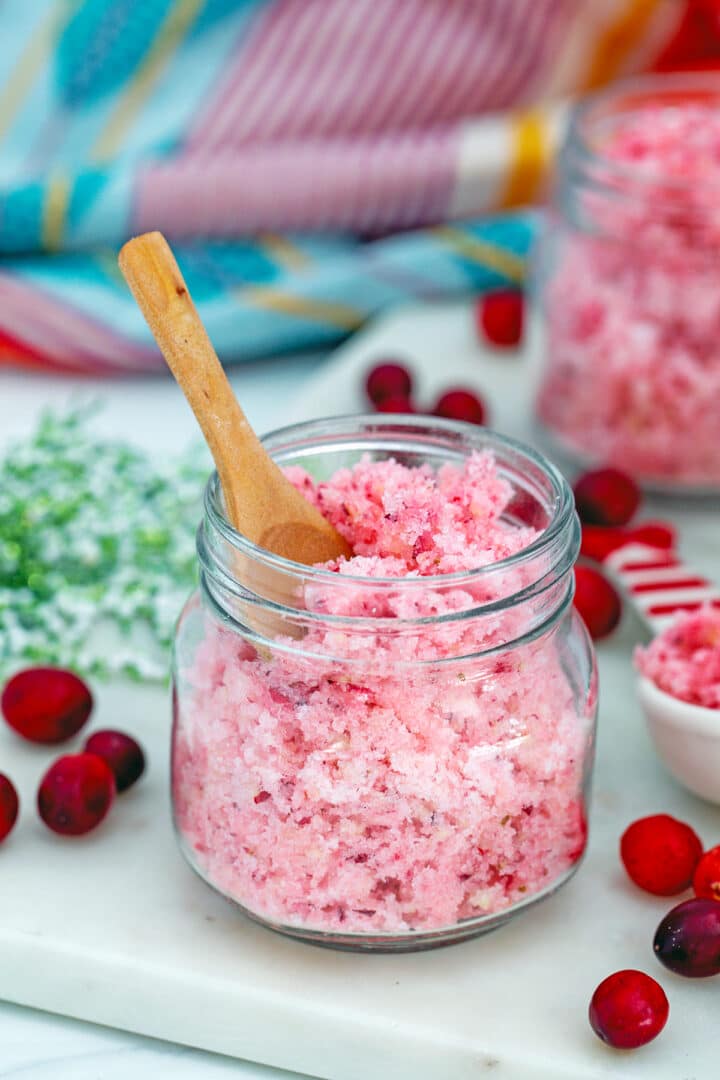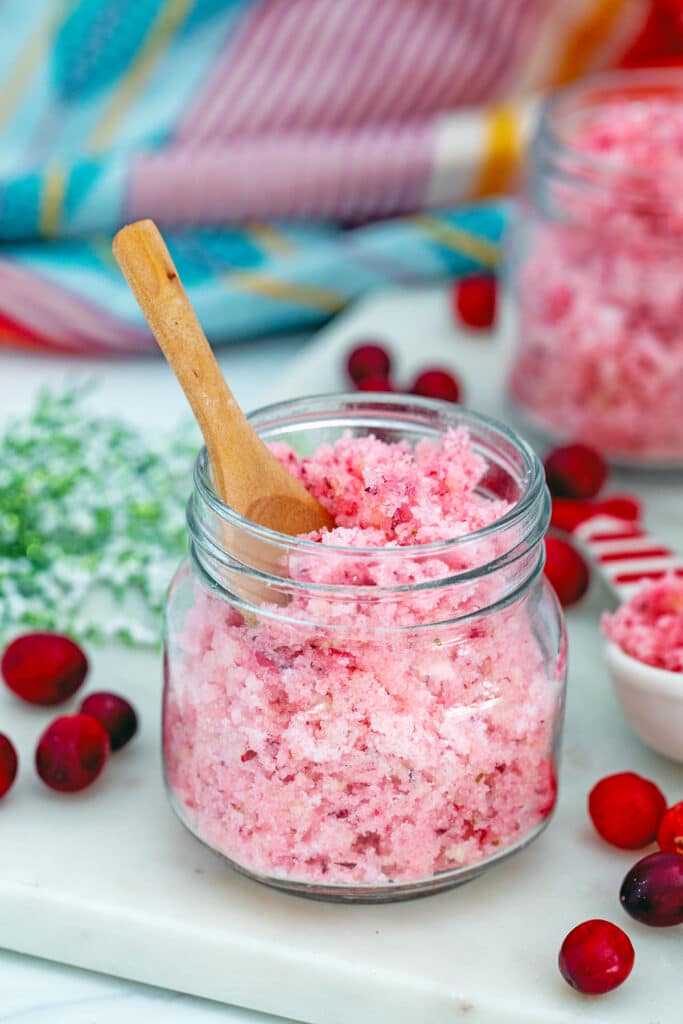 I'm so excited to have another item to add to my bar top during the holiday season. Between all my simple syrup flavors and this cranberry sugar, my Christmas cocktails are going to be on a whole new level this year!
But something tells me I'll be making this naturally flavored pink sugar all year round!
📖 Recipe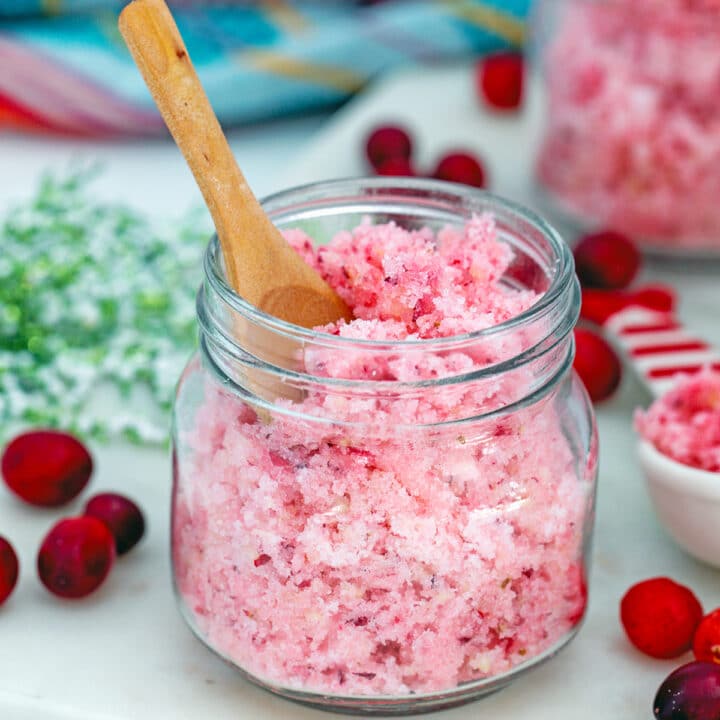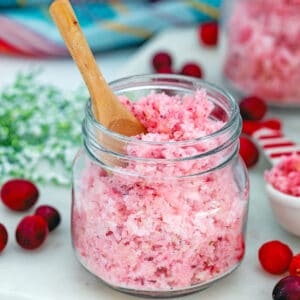 Cranberry Sugar
This homemade Cranberry Sugar adds the perfect touch to all of your holiday cocktails! But it also has so many more uses and even makes a lovely holiday gift. It's so easy to make with just two ingredients!
Print
Pin
Rate
Ingredients
1

cup

granulated sugar

¼

cup

fresh cranberries

(about ¾ oz. or 18 cranberries)
Instructions
Add sugar and fresh cranberries to a blender or food processor and pulse until cranberries are broken down and sugar is pink.

Store cranberry sugar in an airtight container, like a mason jar, and keep in the fridge for up to 2 weeks.
Nutrition
Calories:
33
kcal
|
Carbohydrates:
8
g
|
Protein:
1
g
|
Fat:
1
g
|
Polyunsaturated Fat:
1
g
|
Sodium:
1
mg
|
Potassium:
1
mg
|
Fiber:
1
g
|
Sugar:
8
g
|
Vitamin A:
1
IU
|
Vitamin C:
1
mg
|
Calcium:
1
mg
|
Iron:
1
mg
Share a Photo of Your Finished Recipe!
Mention @wearenotmartha and share a photo if you've made the recipe!