Baby, it's cold outside. And you should be drinking your cranberry cocktail warm with plenty of seasonal spices and vodka. This is the perfect holiday drink and will warm you right up!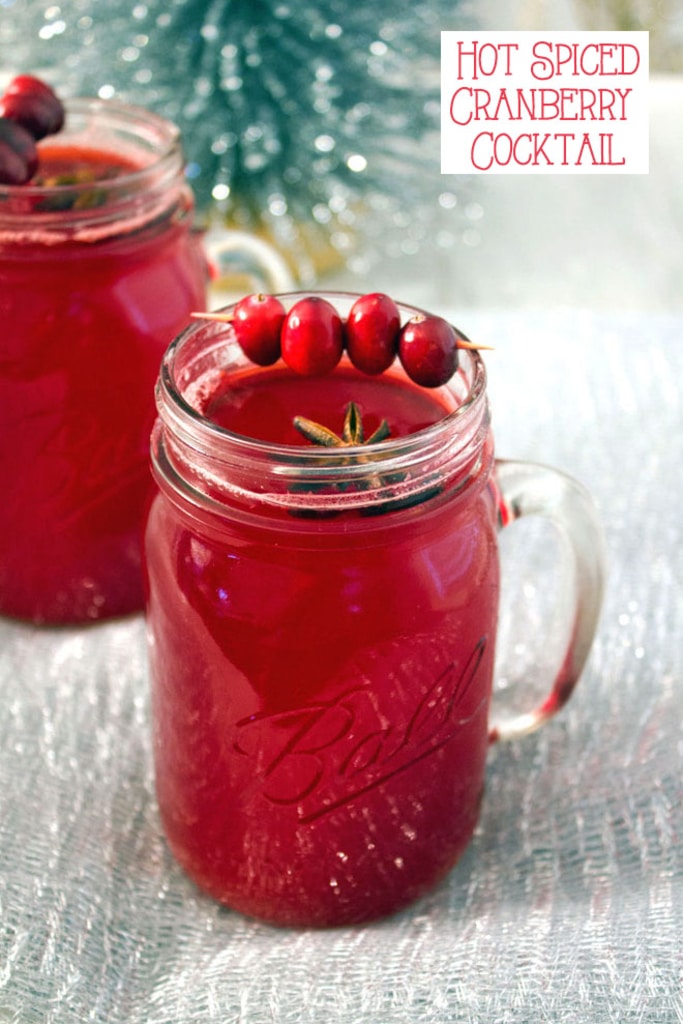 Three degree weather shouldn't even be a thing. Right?? I'm pretty sure I would have just stayed in bed when it was legit three degrees last week if it weren't for the fact that I had multiple important meetings I kind of sort of had to be at.
But my bed was sooo comfortable with my pup all cuddled up with me and the wind ridiculously loud outside. Thank goodness for a coffee maker that I can start from my bed or else who knows where I'd be right now. Most likely still under the covers.
Does anyone else have a seriously tough time getting out of bed at this time of year? Raise your hand.
While coffee generally gives me enough motivation to get up and start my day, I think a warm cocktail would be an even better reward. If only that were socially acceptable! A hot spiced cranberry cocktail would surely have me leaping out of bed!
I love making my own homemade cranberry juice, but I generally chill it before drinking it. Since it's getting so cold out, I kept thinking how delicious it would be served warm. So, I made another batch of cranberry juice and served it warm and in cocktail form.
And it was so comforting and lovely that I now want to enjoy a glass every day when I get home from work. And every morning when I wake up. I promise I've been resisting.
How to Make Homemade Cranberry Juice
To enjoy this hot spiced cranberry cocktail, you first have to make a batch of homemade cranberry juice... But don't worry because it's super easy to make!
It simply requires bringing cranberries, water, and some spices (a cinnamon stick, anise seed, cloves, and ginger) to a boil in a large pot.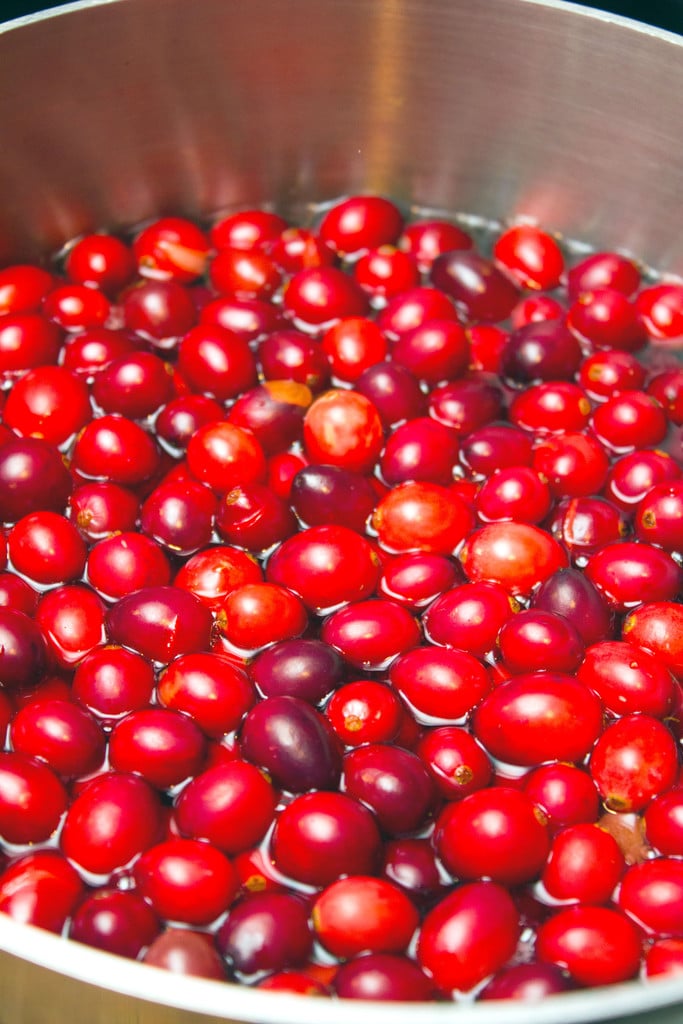 Once boiling, lower to a simmer, add in spices, cover saucepan, and let cook for 20-25 minutes.
Now, pour the mixture through a fine mesh sieve to strain out the cranberry skins and then put the juice back in the saucepan. I like to press down on the cranberries with a wooden spoon to extract as much juice as possible.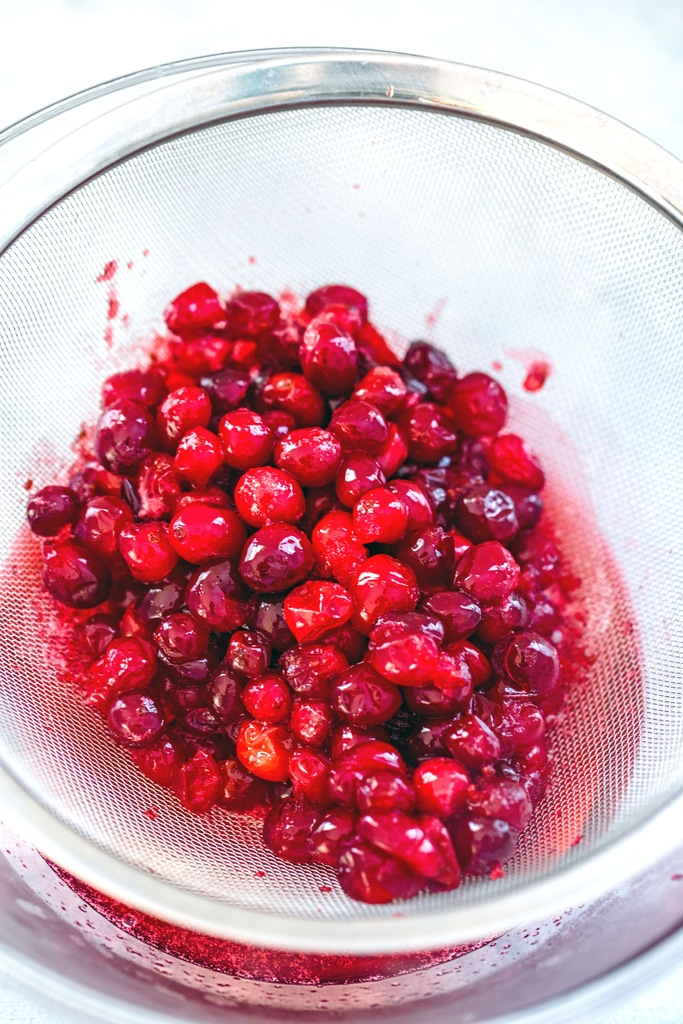 Add in some sugar, a dash of lemon, and a bit of apple cider and keep the drink warming on the stove.
You probably didn't know it was so easy to make homemade cranberry juice, did you? I didn't either and now I'm in love! You obviously don't need the apple cider for cranberry juice, but I like the added fall sweetness.
Hot Spiced Cranberry Cocktail Recipe
The only thing left to complete this hot cranberry cocktail? Some vodka and a festive garnish!
I poured the cranberry juice into mason jars and added a splash of vodka. I guess that's what makes it a cranberry cocktail, right??
I also gave the cocktails a little fresh cranberry and star anise garnish and enjoyed a mug in front of the fireplace and Christmas tree.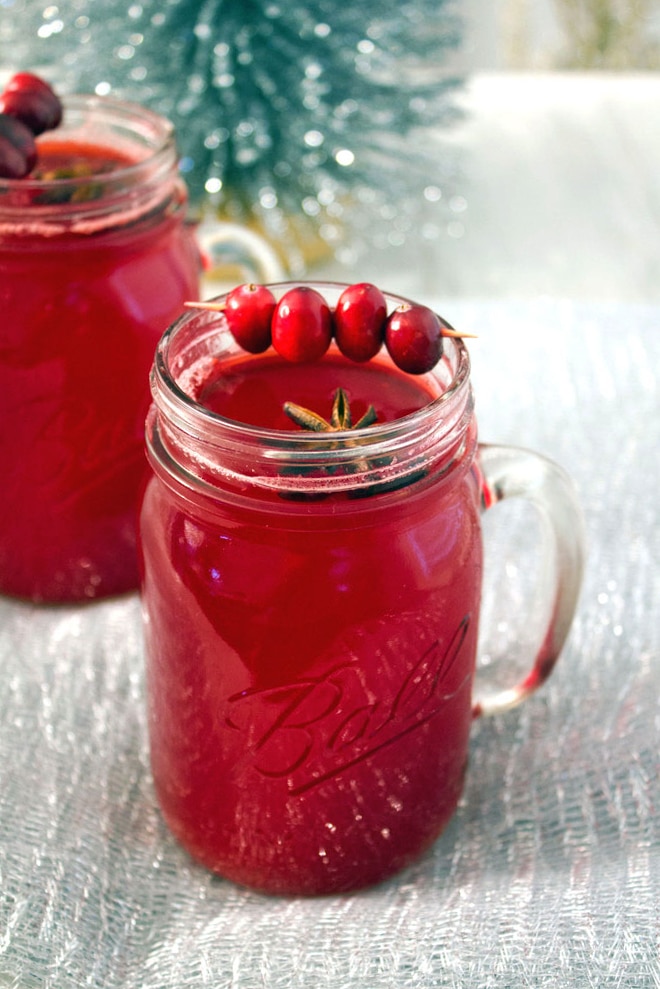 I can't even believe I've gone so long in life without enjoying a warm cranberry cocktail. This is making me so happy during this long cold winter.
Can I Make This Cranberry Cocktail Virgin?
Yes, of course! I love this spiced cranberry juice so much that I make it as an everyday beverage all fall and winter long. Just leave the vodka out and you have a delicious seasonal drink fit for kids and adults, alike.
You can make a big batch for a party and pour the juice for the kids and then add vodka to individual glasses for adults.
On that note...
How Can I Make This a Batch Cocktail for a Crowd?
Simply double, triple, or quadruple the recipe! Just make sure you have a big pot to cook the cranberry juice in.
As listed below, this recipe makes about four small drinks, but only about two drinks if you're making big mason jar drinks like I did for these. You wouldn't likely want to make such huge drinks for a party.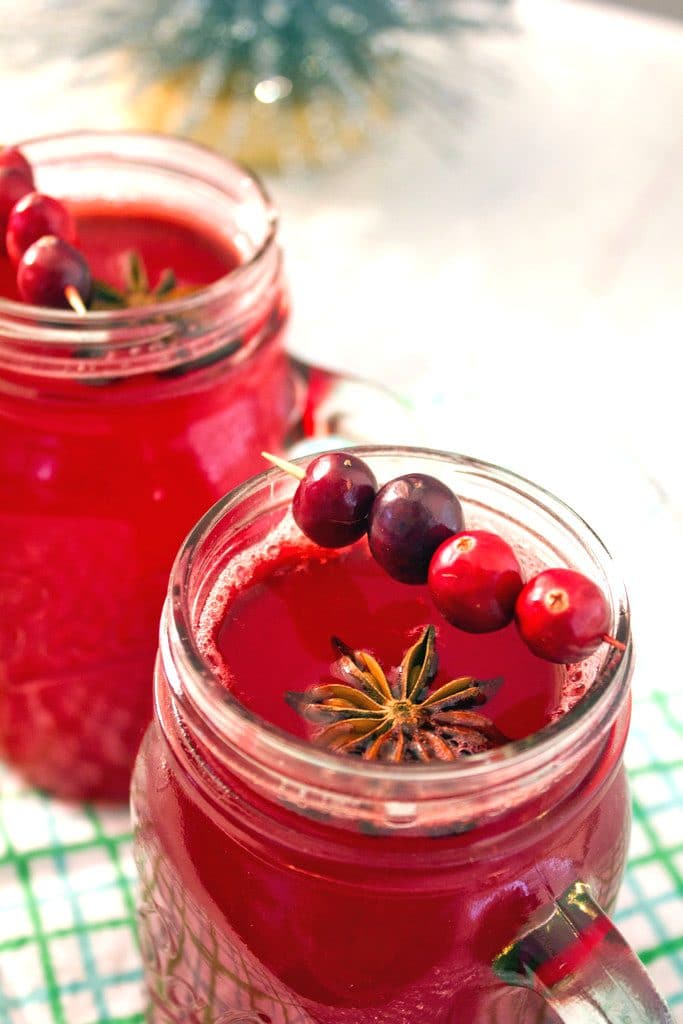 Can I Serve This Cranberry Cocktail Cold?
Again, yes! You won't be able to call it a "hot" spiced cranberry cocktail, but it's also very delicious served cold. Who doesn't love a cranberry vodka?
The next few days are going to be crazy town. I'm so proud of myself for finishing my Christmas shopping in advance, but that doesn't mean I bothered to wrap anything.
We're also having Christmas dinner at our house and while I did my grocery shopping already (go me!), I haven't even started any of the prep.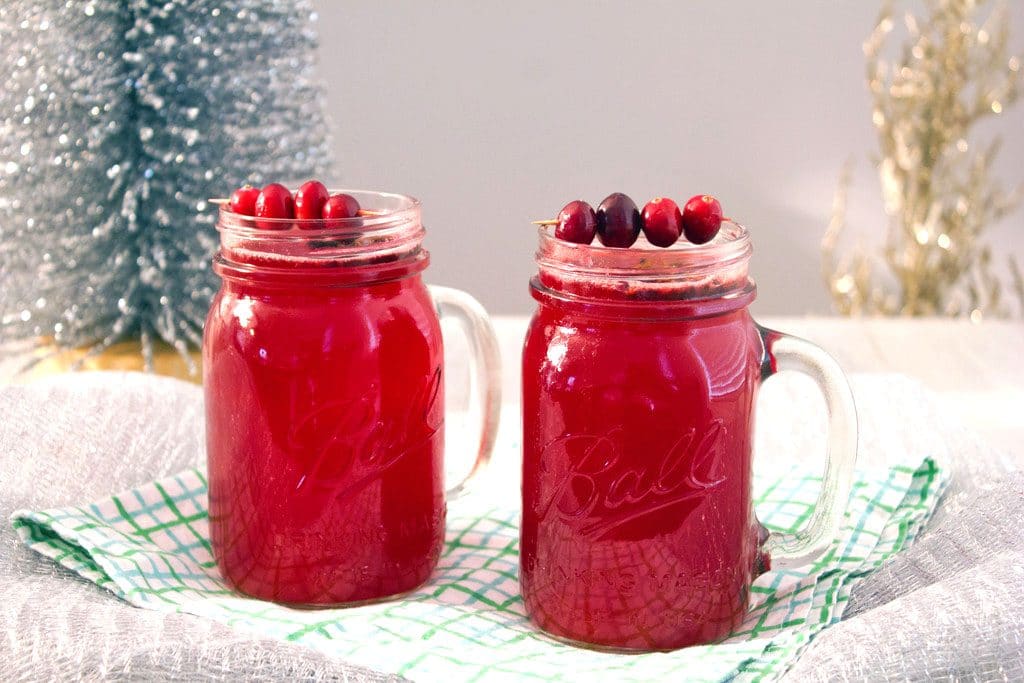 You better believe I'm going to be sipping on one of these warm cranberry cocktails while I try to get productive over the next couple days (you know, after work and holiday parties).
I'm hoping I'll find at least a little bit of time to sleep... That kind of necessary activity that feels like such a complete waste of time at this time of year. Until you get sick...
But I also have a theory that warm alcoholic beverages can fight off illness, so perhaps this cranberry cocktail can be a substitute for sleep? I'm willing to take a gamble if it means all my presents will be wrapped and my house clean.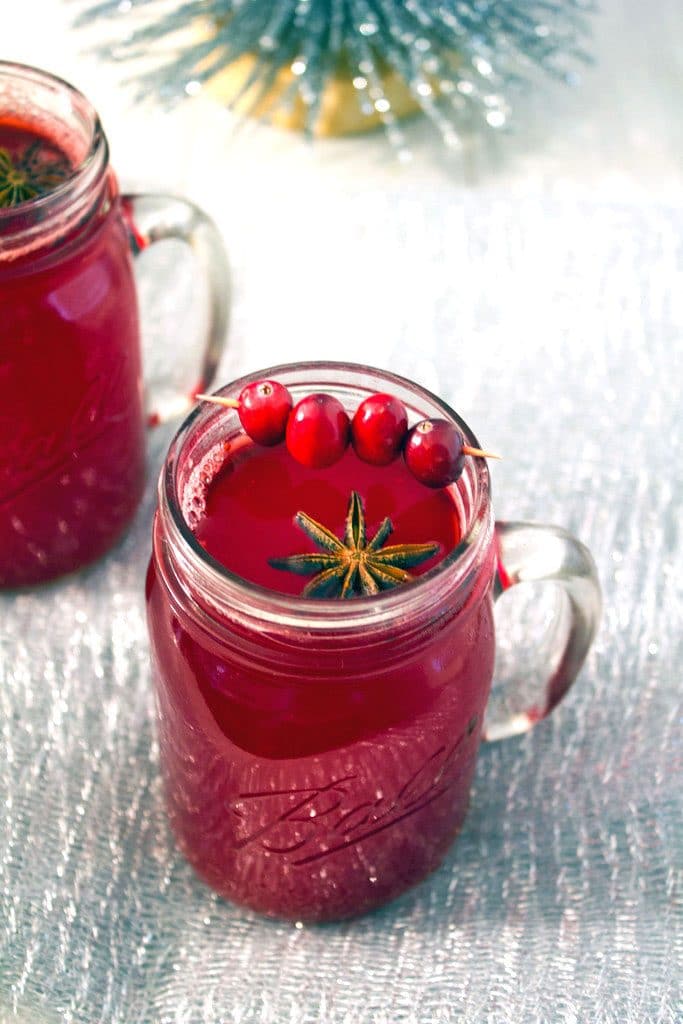 P.S. Can we talk about how lovely star anise is? I couldn't find it in my grocery store (only ground) and had to purchase it at Amazon (affiliate link). Something tells me you'll be seeing it around this here blog lots in the future.
More Cranberry Recipes
If you're looking for more ways to enjoy cranberries this season, check out some of my other recipes:
More Holiday Cocktails
If you're looking for more cocktails to celebrate the holidays with, I have lots of other holiday cocktail recipes for you!
And now I'm also really excited to make this Homemade Cranberry Liqueur from Sidewalk Shoes!
📖 Recipe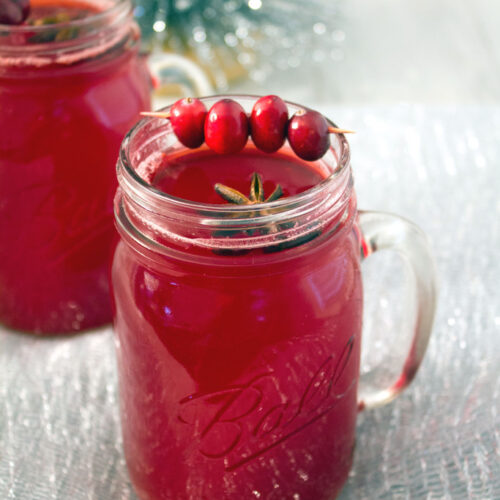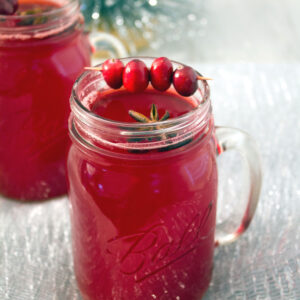 Hot Spiced Cranberry Cocktail
Baby, it's cold outside. And you should be drinking your cranberry cocktail warm with plenty of seasonal spices and vodka. This is the perfect holiday drink and will warm you right up!
Print
Pin
Rate
Makes:
2
large drinks or 4 small drinks
Ingredients
4

cups

water

12

oz. (1 bag)

fresh cranberries

1

cinnamon stick

¼

tsp

anise seed

(or 2 star anise)

5

whole cloves

⅛

tsp

ground ginger

⅓

cup

granulated sugar

¼

cup

apple cider

1

Tbsp

lemon juice

6

oz.

vodka
Instructions
Put water and cranberries in a large saucepan and bring to a boil. Lower to a simmer, add in spices, cover saucepan, and let cook for 20-25 minutes.

Strain mixture through a fine mesh strainer to extract liquid.

Place back in saucepan over low heat and add in sugar, cider, and lemon juice.

Serve warm in glasses or mason jars. Stir in vodka before serving.
Share a Photo of Your Finished Recipe!
Mention @wearenotmartha and share a photo if you've made the recipe!