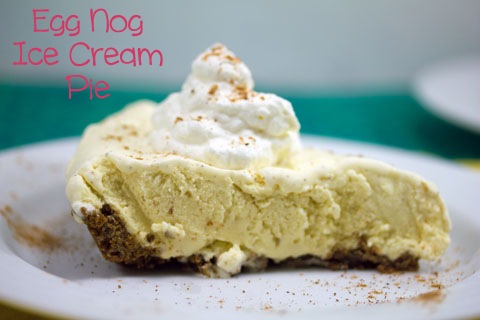 So, it's November 15 and I'm onto my second egg nog recipe. I can't be held responsible. I 100% blame my husband and my love for him and his love for egg nog. The thing is, I love him so much that I want to cook and bake all the things that make him happy. Nothing to do with me at all. I mean, what do I want to do with an Egg Nog Ice Cream Pie in the freezer? Absolutely nothing. However, it is a little rude to force him to eat dessert alone, so to be nice, I sat down and had a slice with him. Or two. Maybe more… I can't remember. Just because I'm a kind, loving person. I should get extra points or something for that, right? That's what I thought.
The magical thing about this recipe is that you're not using egg nog to make it. You're essentially making your own egg nog and, let me tell you, this ice cream tastes exactly like egg nog. Consider my mind blown. For the ice cream, I adapted a recipe from Simply Recipes because I wanted to be certain my egg nog ice cream would taste pretty darn close to the real thing. I was quite pleased. I mean, Chris was. Yup, that's exactly what I meant.
Egg Nog Ice Cream (makes 2 pints)
Print this recipe!
1 C milk
2 C heavy cream
1/2 t cinnamon
1 t nutmeg
3 whole cloves
1/8 t salt
2/3 C granulated sugar
6 egg yolks
1 t vanilla extract
3 T rum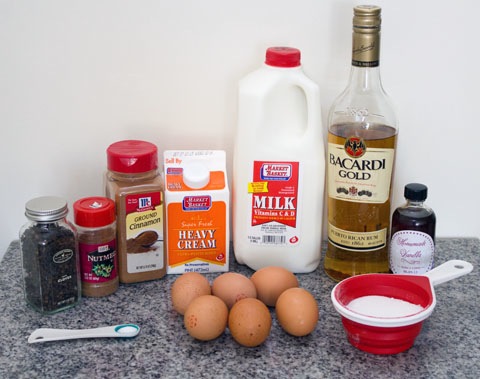 Start by putting your 1 C milk and 1 C of the cream into a heavy saucepan and turning the heat onto medium. Sprinkle in your cinnamon, nutmeg, cloves, and salt.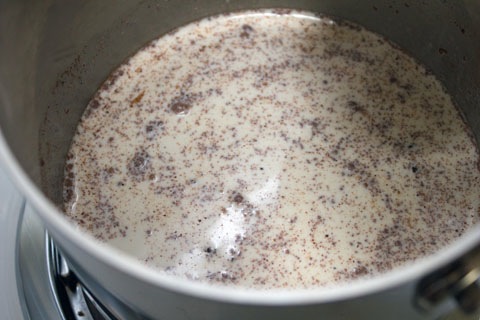 Heat the mixture until it's just about to come to a boil (but don't let it reach that point… It should be nice and steamy). Then put the heat on low, cover, and let the mixture sit for about half an hour, so the spices can seep.
I know. The last thing you want when you're making ice cream is to wait even longer for it to be ready. But this part is essential for the full egg nog flavor.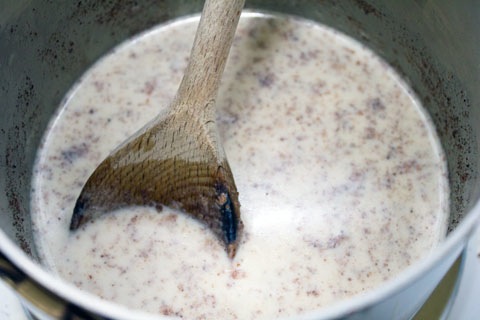 Pick out the cloves and stir in the sugar until it dissolves.
Whisk your egg yolks in a medium heat-proof bowl.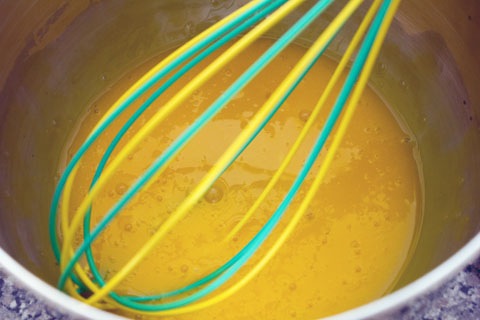 Pour about half the warm milk mixture into the egg yolks, very slowly, whisking the entire time. This slow method will help temper the egg yolks so they don't start cooking.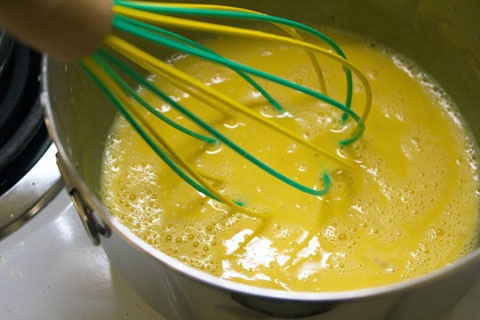 Then pour the egg/milk mixture back into the saucepan with remaining milk. Turn the heat back up to medium and stir with a wooden spoon until the mixture thickens up enough that it coats the back of the spoon.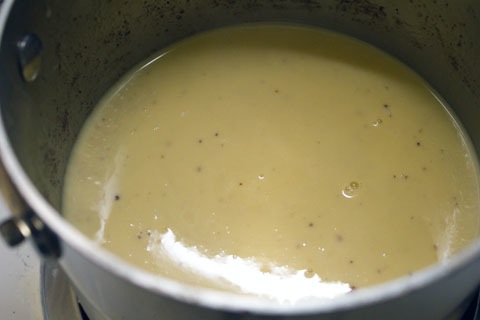 While you're waiting for your mixture to thicken (should take about 10-15 minutes), place a heat-proof bowl with the remaining 1 C cream over a larger bowl filled with an ice bath.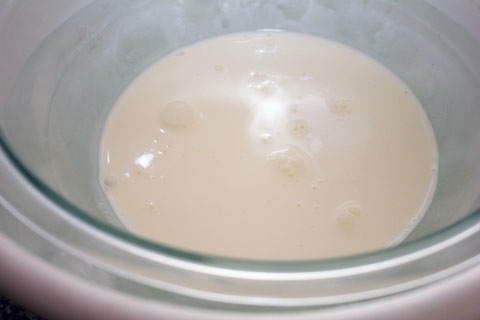 And once your mixture coats the back of the spoon, strain the heated mixture into the cold cream, stirring constantly.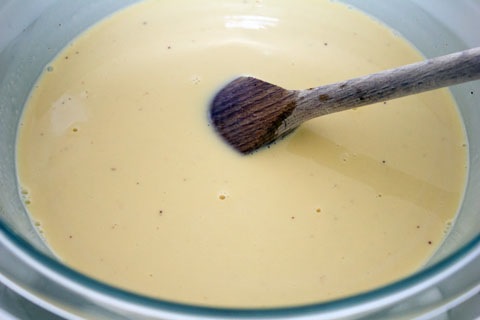 Put the mixture in the fridge to continue chilling for at least 4 hours. I like to chill mine overnight, so I'll often start the ice cream-making process the night before and finish it in the morning, so my ice cream is ready later that day.
Once chilled, stir in vanilla and rum and process the mixture in your ice cream maker according to manufacturer's instruction.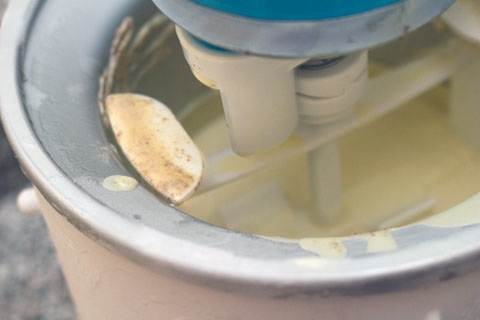 Mine took about 20 minutes to thicken up in my ice cream maker.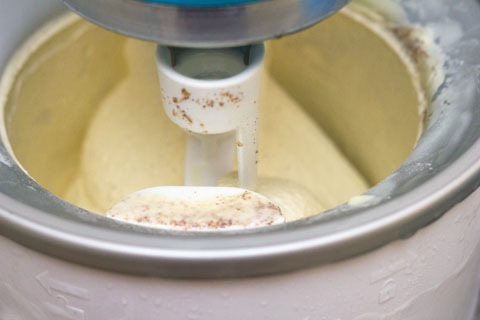 Then put it in a airtight container and freeze again, for 4 hours or more, so the ice cream hardens up.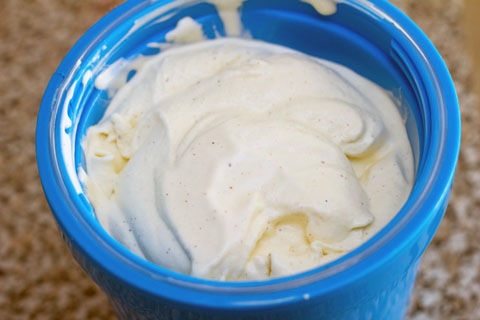 At one of the many waiting periods in your ice cream making process, you can get started on your gingersnap crust. Of course, if you wanted to just make the ice cream and eat it with a spoon out of the container, there's absolutely nothing wrong with that! But a pie is fun if you're serving guests. And this gingersnap crust is basically the easiest thing ever.
Gingersnap Crust:
Print this recipe!
1 1/2 C gingersnap crumbs (about 25 cookies)
5 T butter, melted
1 T sugar
1/2 t ground ginger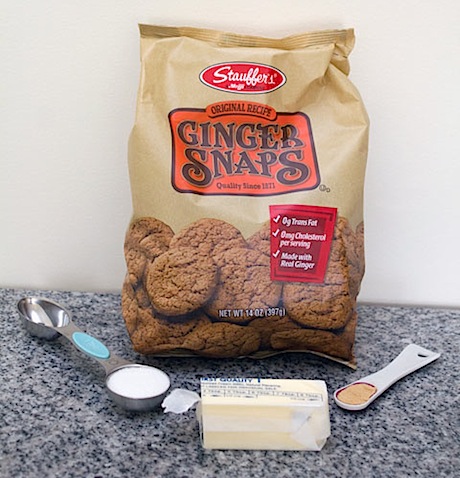 Start by putting gingersnap cookies in a blender or food processor.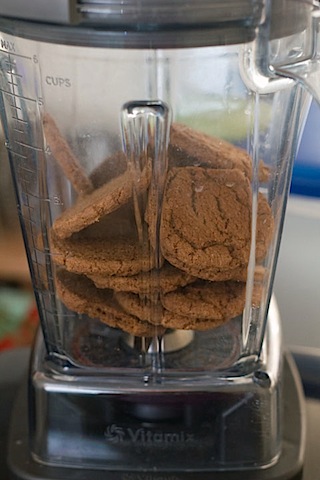 And process until you have fine crumbs.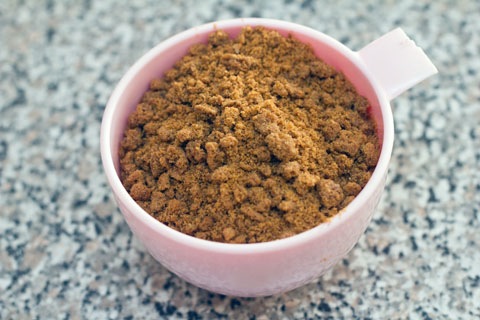 Then, in a medium bowl, combine crumbs, melted butter, sugar, and ginger. Mix together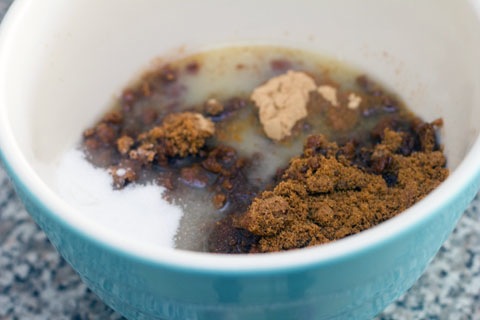 Press into the bottom and up the sides of a 9-inch pie pan.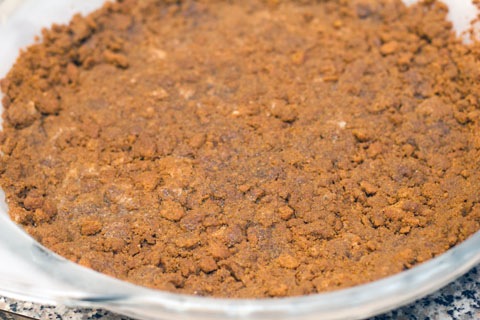 Bake at 350 degrees for about 10-12 minutes until crust is firm. Cool completely.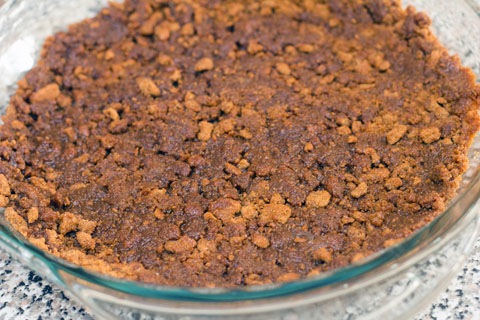 And when you're almost ready to serve your pie "whip up" your whipped cream. With rum. Obvi.
Rum Whipped Cream:
Print this recipe!
1 C heavy cream
1/2 T granulated sugar
1 T rum
1 t vanilla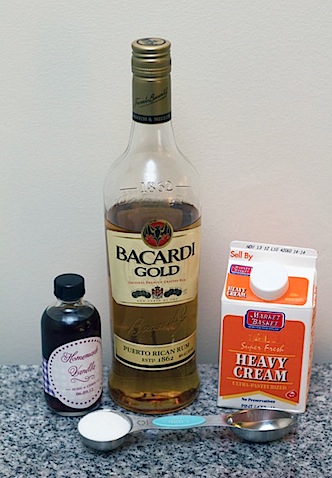 This one's easy. Just combine all the ingredients in a medium bowl and beat using a hand mixer until you have the consistency you like for whipped cream.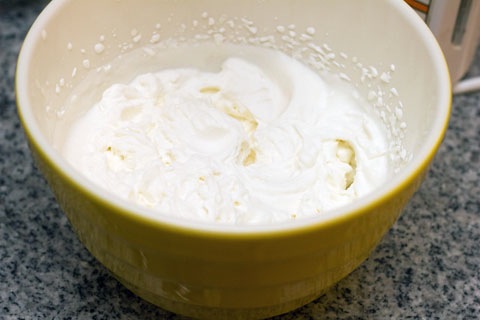 Now you're ready to compose your pie. Spread about a pint of the ice cream into your cooled gingersnap crust.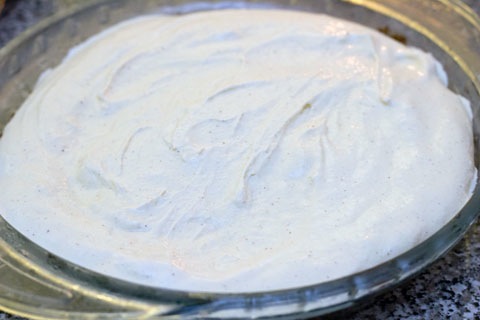 And then slice and serve with whipped cream on top. And a little bit more nutmeg. Alternately, you could cover all of the ice cream with whipped cream, but I prefer just a dollop on top.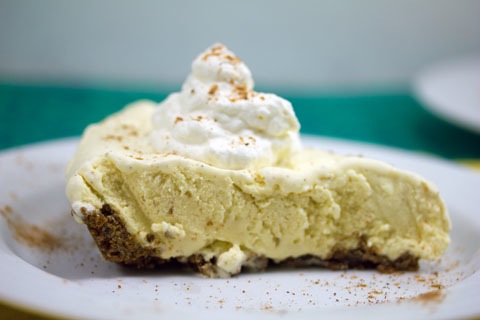 And thus, another delicious egg nog dessert is born.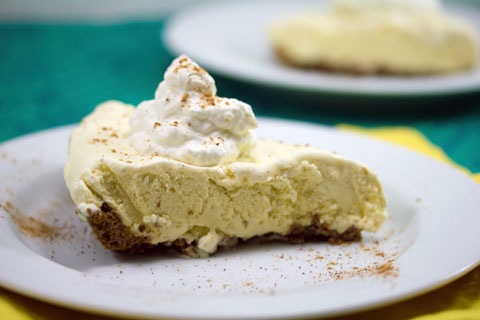 Now, I have a weird obsession with making my own ice cream, but I totally understand if you don't or if you don't own an ice cream machine or if you just think this pie just looks like too much work. You can certainly buy egg nog flavored ice cream (or whatever flavor you choose!) and just make the crust and whipped cream. I mean, I guess you could potentially buy the crust and the whipped cream from the store, too. You could even lie to your guests and pretend you made the entire thing from scratch and you might be able to fool them all…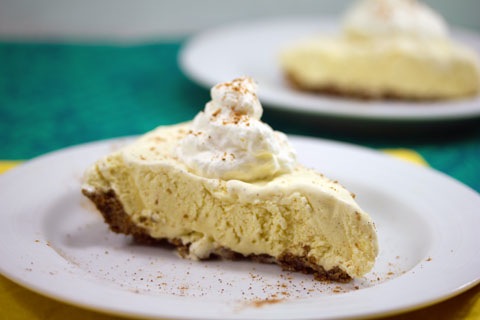 But I promise you that this ice cream pie will be exponentially times better if you make it from scratch. You'll probably feel pretty good about yourself, too. And since you were on your feet in the kitchen for a couple hours, you likely burned off a good amount of calories. Which means you can eat an extra slice. I'm all about the justifications.
But really, the best justification is simply making this for a loved one and not forcing that loved one to eat alone.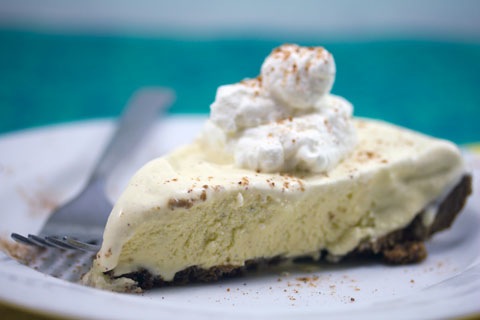 Nobody likes to eat alone while you sit and stare at them. Be kind to your loved ones and don't let it happen.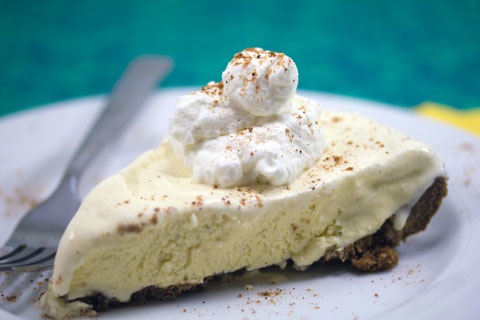 The worst thing that happens is you have to sit through eating a little egg nog ice cream pie. And trust me, there are worse things in life.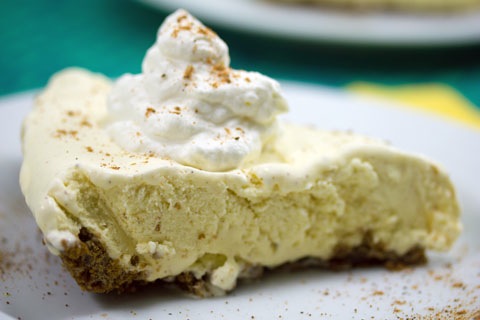 OK, fine. I admit it. I loved this egg nog ice cream pie. And to be honest, I'm not generally a fan of whipped cream. But homemade and with rum? And nutmeg sprinkled on top? That I can deal with.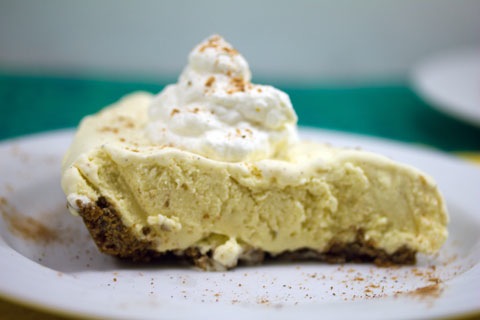 It was definitely the nutmeg, cinnamon, and ginger spices that made this really come together and feel like the holidays for me. So worth every second it took to make that ice cream!
In other egg nog news, my Spiked Egg Nog Doughnuts won BostInno.com's food blogger holiday recipe contest! Yay!
While it's not quite the weekend yet, I'm counting down the hours until Friday afternoon when I'm heading to Portland, Maine with Chris to celebrate his big 3-0. We haven't had a getaway in quite a while, and to be honest, between freelance work, regular work, blogging, and more; we've both spent almost every weekend working non-stop for the past several month. I cannot wait to put away ALL of the work and just relax, visit some breweries, and have some good meals.
Oh and then NEXT WEEK is Thanksgiving! Another day I am out-of-control excited for! And one of our lovely readers has won a gift check to get a Butterball turkey just in time! The winner of our giveaway is Laura Clark! Laura, I'll be emailing you ASAP so I can send off your prize!
Do you often make desserts from scratch though you could buy all the components from the grocery store?
[Sues]