What could be better than combining two of the best foods on Earth into an Eggs Benedict Pizza? Packed with prosciutto, hollandaise sauce, and perfectly cooked eggs, you'll fall in love with this brunch pizza.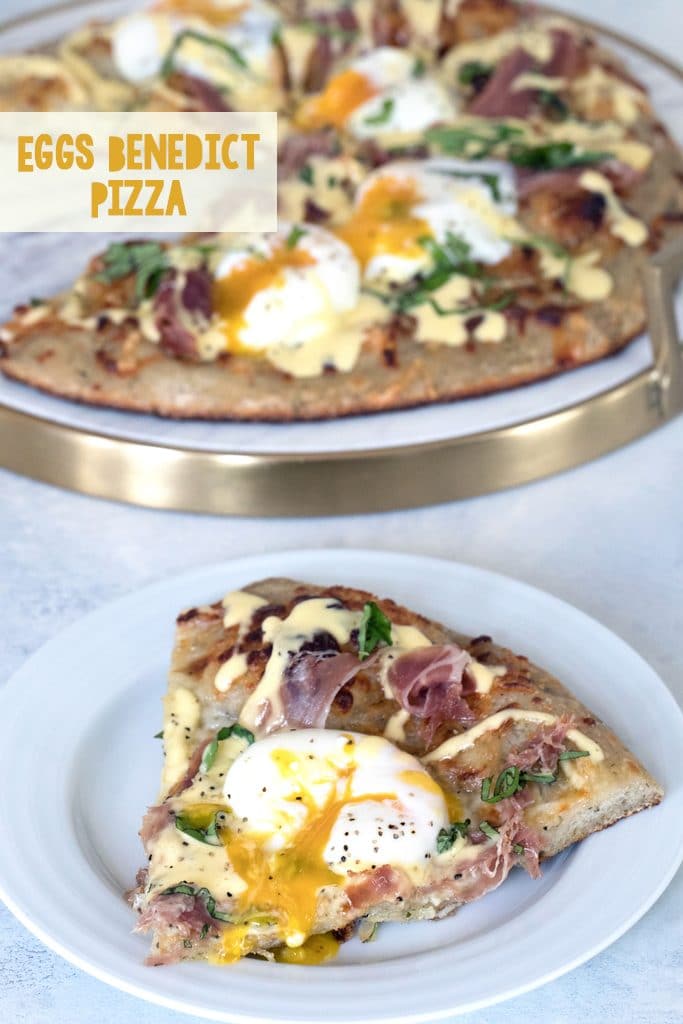 You might say I'm a cruel, cruel person for putting this recipe in front of you on a Monday. After all, you probably won't be able to enjoy it for a full five days, assuming you only make brunch on the weekends.
Which means you'll have to combat thoughts of Eggs Benedict Pizza for five days before you can quell your cravings. I'll probably also be posting images of this brunch pizza on my social media platforms throughout the week, which means you'll likely see this several more times before you can actually make it.
And I'd say I'm sorry, but I'm really not. You know why? It's things like Eggs Benedict Pizza that help me power through my week. It's images of brunch pizzas in my head that motivate me to get out of bed and face my day.
So, while you may be sitting in front of your computer cursing me right now, I'm urging you to make this pizza your battle cry. It's going to be a long five-day week, but we can do it. Because we have Eggs Benedict Pizza on the other side.
And you can trust me on this because I was once in those very shoes. I immediately started drooling when I saw this FoodBeast story a couple weeks ago about an Eggs Benedict Pizza that a restaurant in Santa Ana, California, is serving. How have I never thought to take two of the most delicious foods in the world and combine them together in love and harmony?
I knew that had to change right away, but I too had to wait until a long week was over and I had made it to the weekend. Once the weekend arrived, I didn't waste a second.
Eggs Benedict Pizza Recipe
There are a few steps to this pizza, but it's fairly easy to make. Here's what you need to do:
Make or purchase dough (if you make your own, I recommend mixing in minced basil!)
Cook eggs- either sous vide style (instructions below) or poached
Make homemade hollandaise sauce (instructions below)
The pizza is easy to assemble, along with mozzarella and fontina cheese and prosciutto, too.
How to Sous Vide Eggs
One of the reasons I was so taken with the Eggs Benny Pizza at Jinny's Pizzeria (besides, you know, it having my all-time favorite food on top of a pizza) is because of how ridiculously perfect the eggs on it looked.
I discovered that they are sous vide eggs, which leads me to a rather sad confession I have to make: Chris bought me the Anova Sous Vide Precision Cooker (affiliate link) almost two years ago and it has been sitting in my kitchen cabinet ever since. Womp womp.
I keep meaning to learn how to use it and I know busy-ness is the worst excuse in the world, but I just never felt like I had the time to sit down and figure it out. Well, when I saw that the Eggs Benedict Pizza used eggs cooked with the sous vide method, I realized how much time I had been wasting and immediately took the time to figure it out.
Verdict? SO easy. And also... I never want to eat eggs any other way ever again (that's not totally true; I just love eggs in general. But sous vide eggs? Better than any other eggs I've had).
Don't worry though; you don't need to cook your eggs sous vide style to enjoy this pizza. If you don't have a sous vide cooker or don't feel like using it, I recommend a super soft poach for the eggs.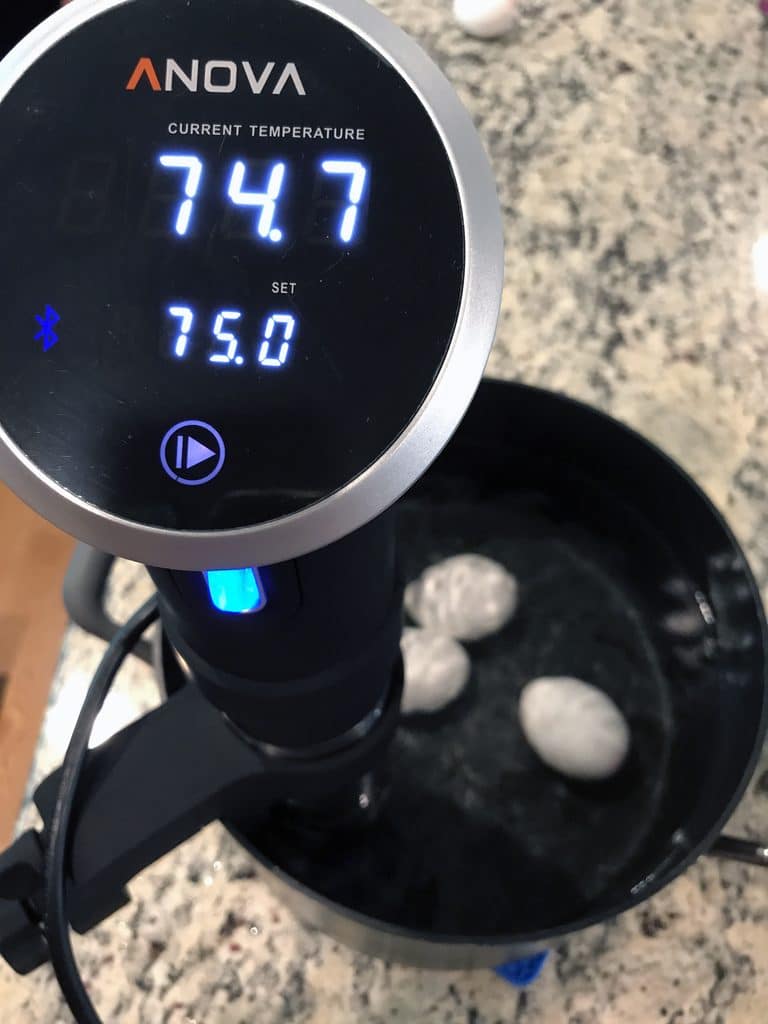 But since the holidays are coming, you might want to put a sous vide cooker on your wish list! I used Anova's method and cooked these eggs at 75 degrees celsius for 13 minutes.
Next time I want to try lower and slower, but I honestly have zero complaints about how these turned out. The white was cooked, so no gross clear runny-ness, but they were ridiculously soft and delicate. Egg dreams are coming true!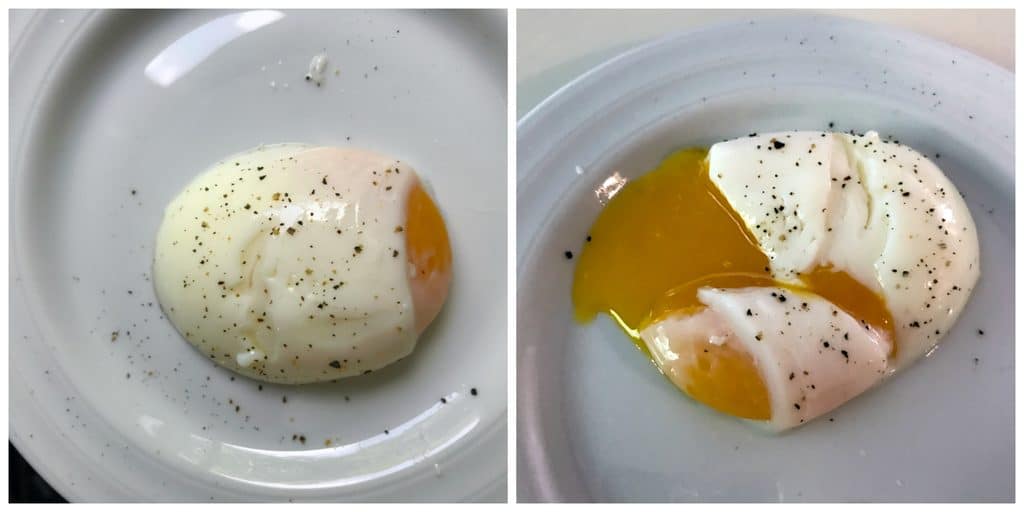 Once you're eggs are done (either sous vide style or poached),
How to Make Homemade Hollandaise Sauce
On to the hollandaise sauce. Because what's an Eggs Benedict Pizza without a hollandaise sauce??
Hollandaise sauce tends to be very hit or miss for me. Sometimes I make it and it comes out perfectly and sometimes it's a mess. It can be very frustrating.
However, I found this Serious Eats recipe (with "foolproof" in the title) that uses an immersion blender and it worked perfectly on my first try and every time thereafter. Hooray!
To make this hollandaise, combine egg yolk, water, lemon juice, and salt in a small cup (the bottom should barely fit the head of your immersion blender).
Melt butter in a small saucepan over high heat, swirling constantly, until it stops foaming and then transfer to a cup cup or small bowl.
Place head of immersion blender into the bottom of the cup with egg yolk and while it's running, slowly pour hot butter in. The butter will emulsify with the egg yolk and lemon. Sauce will thicken and get creamy. Add salt and cayenne to taste and either use immediately or keep warm for up to 1 hour.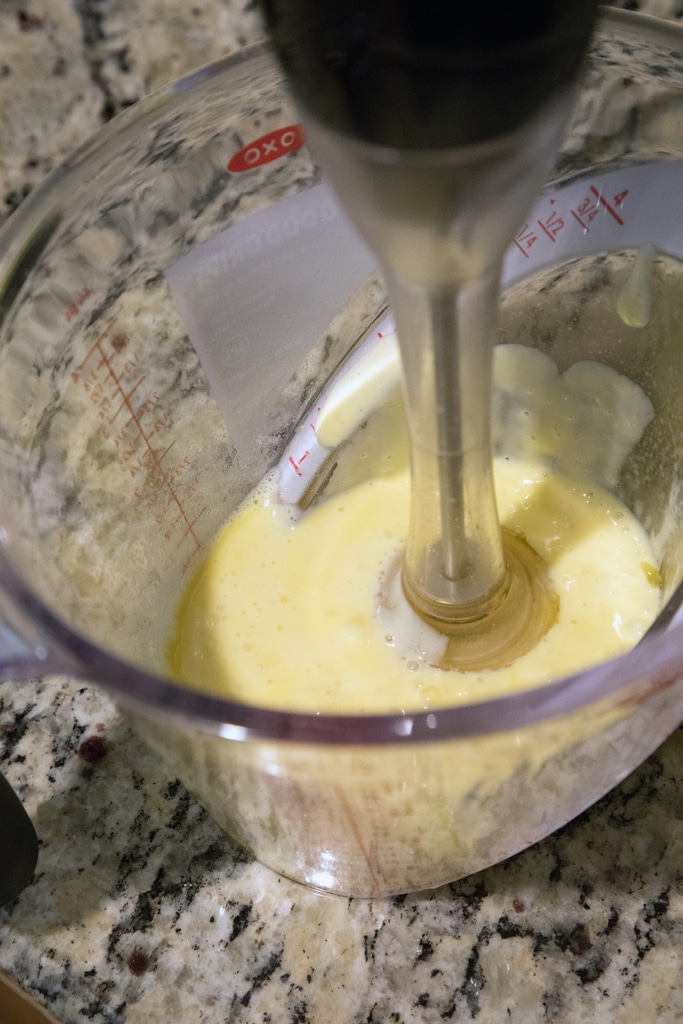 How to Assemble Eggs Benedict Pizza
This pizza is super simple and easy to put together even with the preparing of the eggs. You'll bake the crust with the cheeses sprinkled on.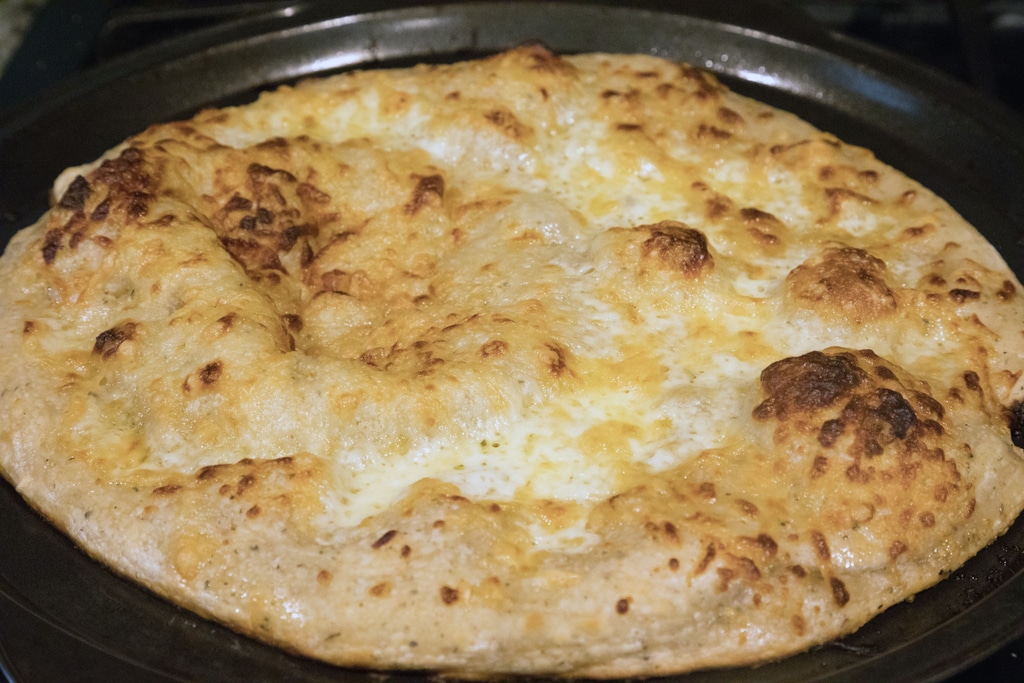 And then once it's out of the oven, lay on the prosciutto and eggs.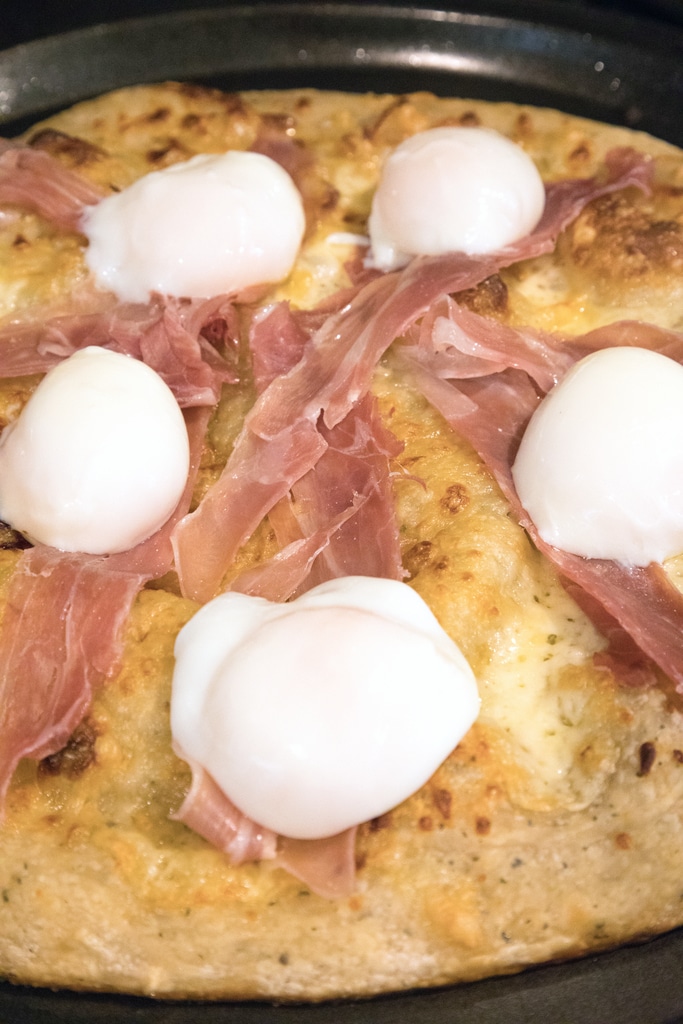 Sprinkle on the basil and black pepper, and drizzle on the hollandaise.
Holy moly. This is legitimately my idea of heaven.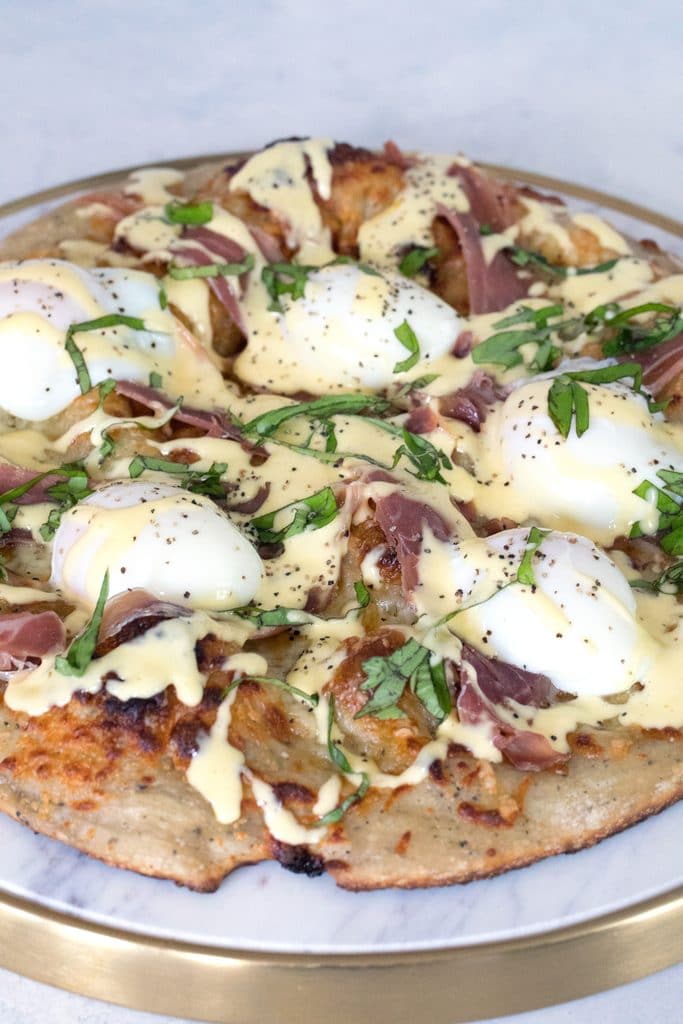 The key to perfection is to make sure your eggs are super runny as the yolk combines with the hollandaise into the pizza crust and makes you want to die of happiness. Trust me on this.
If there's one thing you trust me on in this life, please make it be this pizza. I mean, the only not awesome thing about eggs benedict is the Canadian bacon/ham and this pizza totally avoids that issue altogether and opts of slices of prosciutto.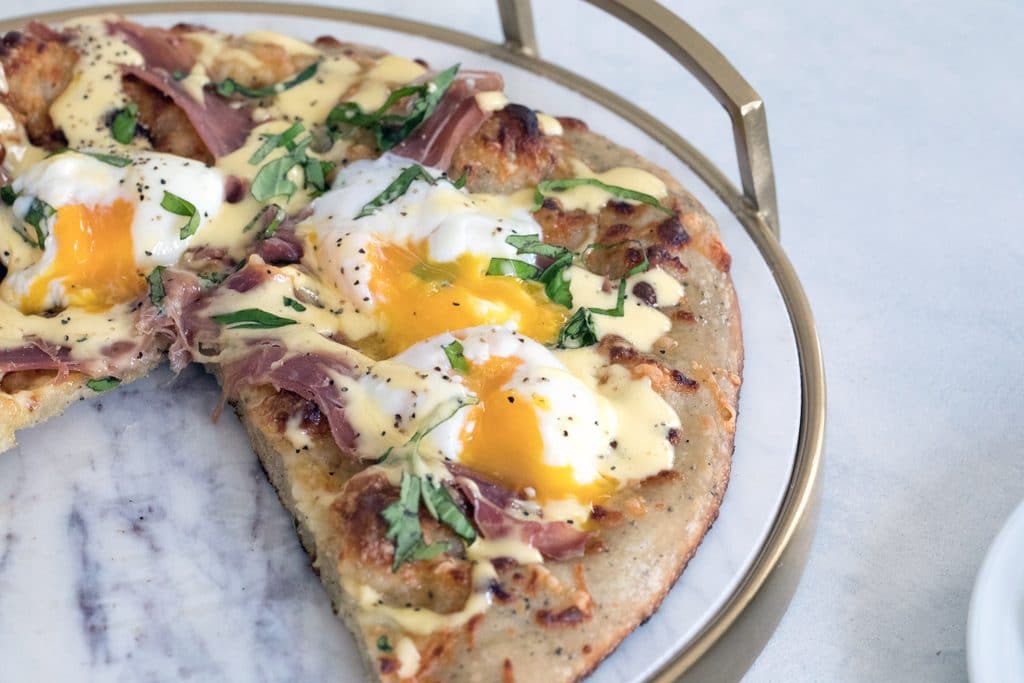 I love when restaurants do different takes on eggs benedict (I went out to brunch yesterday and there were THREE versions of benny on the menu) and I think more need to jump on the Eggs Benedict Pizza bandwagon.
This was so delicious that I've already made it twice and enjoyed plenty of it for leftovers. While the yolks obviously aren't runny after being refrigerated, the flavors are still exactly on point.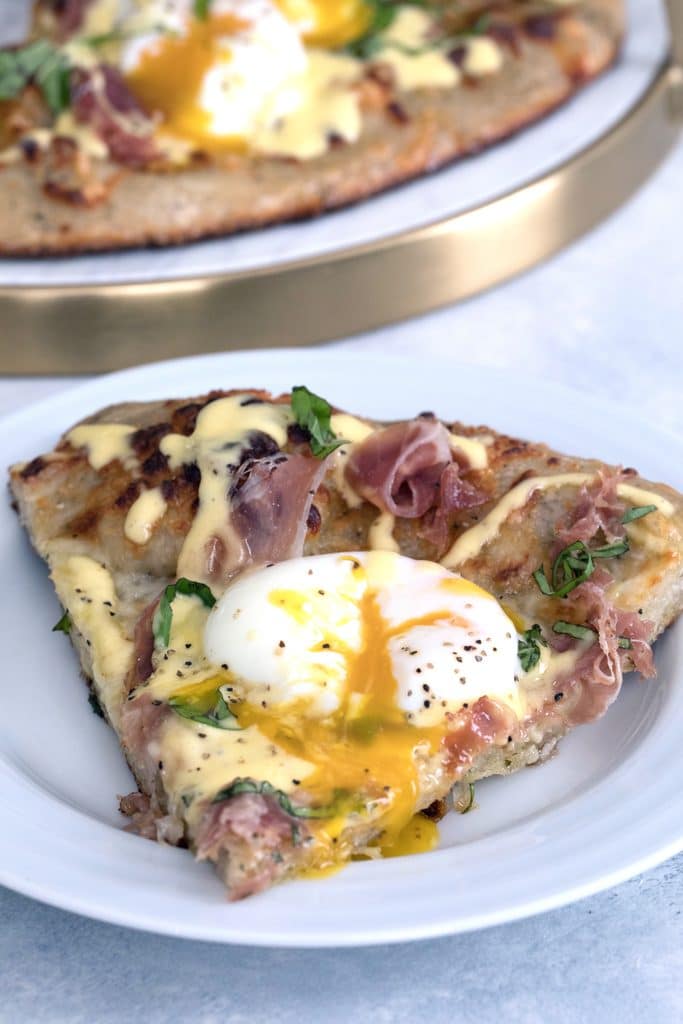 Obviously this is the perfect brunch entree for company, but I highly recommend making it for a lazy weekend at home, too.
The hollandaise is a serious no-fuss version and making yourself a weekend pizza seems a bit more casual than a whole eggs benedict brunch. Plus, you're really not going to want to share this with any guests.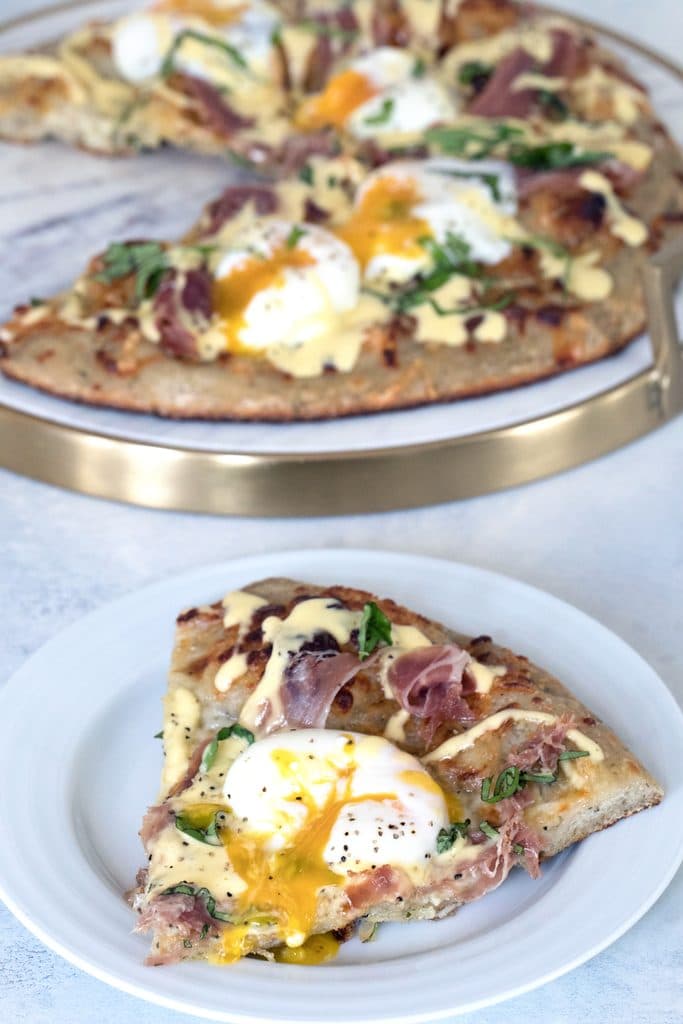 This Eggs Benedict Pizza most definitely goes down as the most unique and most delicious pizzas I've ever made. And trust me; I've made quite a few!
And now you can feel free to get on with your Monday. I hope this recipe gives you something to fight toward this week. You can do it!! I mean, you can probably do pretty much anything if you have an Eggs Benedict Pizza waiting for you on the other end. And I'm fully willing to test that theory.
Is there a weekend food that's helping you get through this week?
If you love this unique take on a pizza, check out my French Onion Soup Pizza and my Shrimp Scampi Pizza. I also can't wait to make this Ham, Egg, and Cheese Breakfast Pizza from What Should I Make For very soon!
📖 Recipe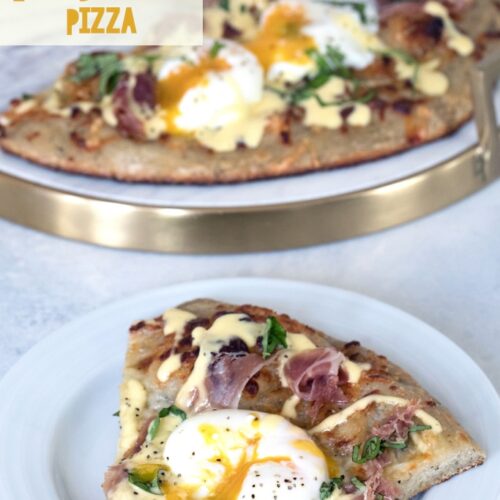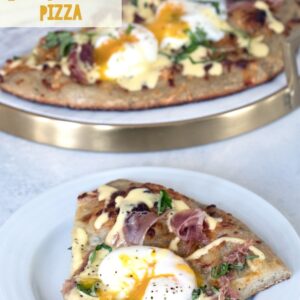 Eggs Benedict Pizza
What could be better than combining two of the best foods on Earth into an Eggs Benedict Pizza? Packed with prosciutto, hollandaise sauce, and perfectly cooked eggs, you'll fall in love with this brunch pizza.
Print
Pin
Rate
Ingredients
1

lb.

pizza dough,

store-bought or homemade with minced basil mixed in

1

Tbsp

olive oil

½

cup

shredded mozzarella cheese

½

cup

grated fontina cheese

6

slices

prosciutto

5

large eggs,

soft poached or cooked with sous vide method

Fresh basil,

thinly sliced

Freshly ground black pepper

Hollandaise sauce

(recipe below)
Hollandaise Sauce
1

large egg yolk

1

tsp

water

1

tsp

lemon juice

Pinch

salt

½

cup

(1 stick) unsalted butter
Instructions
Pre-heat oven to 500 degrees and place pizza pan or stone in oven.

Roll pizza dough out into a 12-inch circle on a lightly floured surface. Pierce dough all over with a fork.

Remove pan or stone from oven and place dough on top. Lightly brush with olive oil.

Sprinkles mozzarella cheese and fontina cheese over dough.

Bake pizza at 500 degrees for about 8 minutes, until dough is nice and crispy.

Remove from oven and top with prosciutto and poached or sous vide eggs. If using sous vide method, I recommend cooking at 75 degrees Celsius for 13 minutes.

Sprinkle pizza with basil and freshly ground black pepper.

Drizzle hollandaise sauce over pizza.
Hollandaise Sauce
Combine egg yolk, water, lemon juice, and salt in the bottom of a cup that just barely fits the head of an immersion blender. I recommend a glass measuring cup.

In a small saucepan over high heat, melt butter. Swirl saucepan constantly, until butter is no longer foaming. Transfer butter to a 1 cup measuring cup.

Place immersion blender into the bottom of the cup with the egg mixture. With the blender running, slowly pour hot butter into cup. It will begin to emulsify. Continue pouring until all butter is added and sauce has thickened and is creamy.

Season with salt, if necessary.

If not using immediately, sauce can be transferred to a small lidded pot and kept in a warm place for up to 1 hour before serving.
Notes
Eggs Benedict Pizza inspired by Jinny's Pizzeria (via Foodbeast)
Hollandaise Sauce recipe from Serious Eats
Share a Photo of Your Finished Recipe!
Mention @wearenotmartha and share a photo if you've made the recipe!