Between our burger-filled evening at the Four Seasons Tuesday night and my roommate's birthday dinner at 5 Napkin yesterday, it's safe to say that I'm burgered-out for the week! While all the burgers and fried appetizers were so, so, so good, I felt like dinner tonight should definitely be beef-less. And not fried 😉
When my roommate first moved in last Summer she had just met Giada and gotten her autograph in Giada's book Giada at Home. The book has been sitting on my office shelf ever since, so I decided to sit on the couch this afternoon and spend some time with it.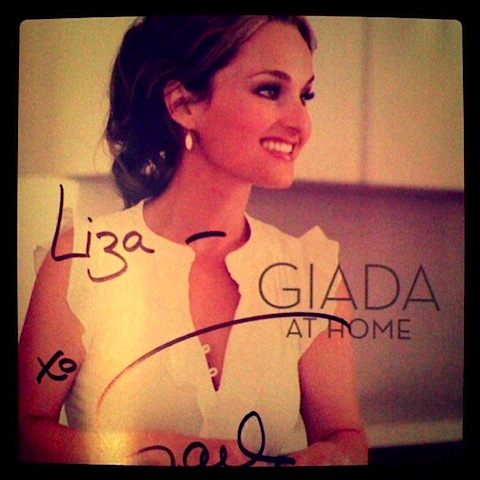 I love an autographed cookbook 🙂
I kind of feel like I have to host a party soon because there are a ton of great recipes for entertaining in the book! They're all very approachable and easy to follow, too. But for dinner tonight, I decided to go with the Pasta Ponza not only because it looked like the perfect Thursday night dinner but Giada said it was her favorite recipe in her book. Plus, it's always nice to have a few very simple and inexpensive pasta dishes up your sleeve!
Here's what you need: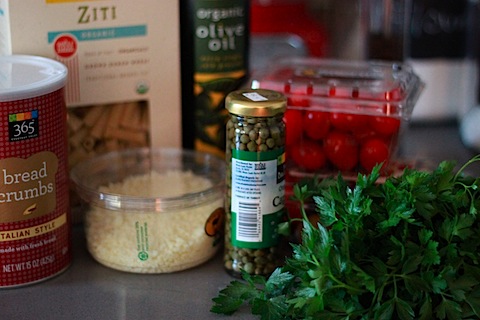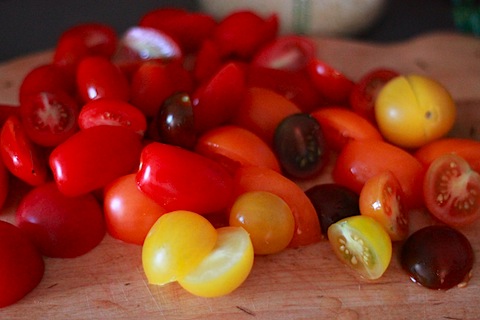 • unsalted butter, for greasing
• 2 cups grape tomatoes, halved
• 2 cups yellow or red cherry tomatoes (Whole Foods actually had a good deal on bunches of multi-colored tomatoes, so I used that as well!)
• 1/4 cup capers, rinsed and drained
• 1 tablespoon olive oil, plus more for drizzling
• 1/2 teaspoon salt
• 1/4 teaspoon freshly ground black pepper
• 1/2 cup Italian-style bread crumbs
• 1 pound ziti or other short tubular pasta
• 1 1/4 cups grated Pecorino Romano cheese
• 1/4 cup chopped fresh flat-leaf parsley, chopped, for garnish
Here's what you do:
Preheat oven to 375 degrees.
Butter a small to medium sized oven-proof glass baking dish and set aside.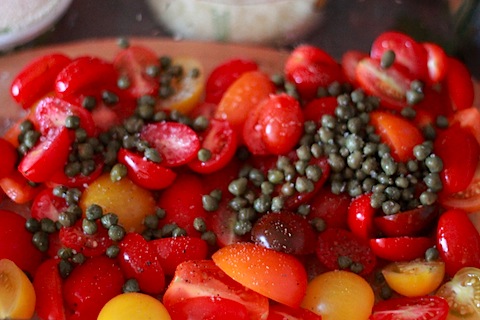 • Combine the tomatoes, capers, olive oil, salt, and pepper in the prepared baking dish, making sure to toss to coat all of the tomatoes.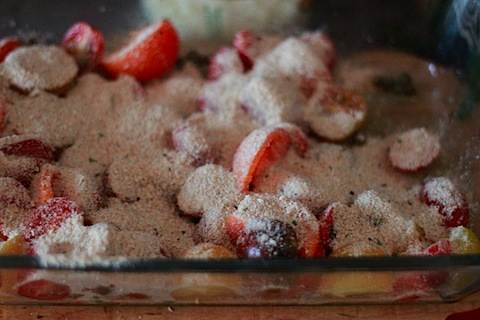 • Sprinkle the breadcrumbs over the tomato mixture and drizzle the top with olive oil. Bake for 30-35 minutes until the breadcrumbs are nicely browned.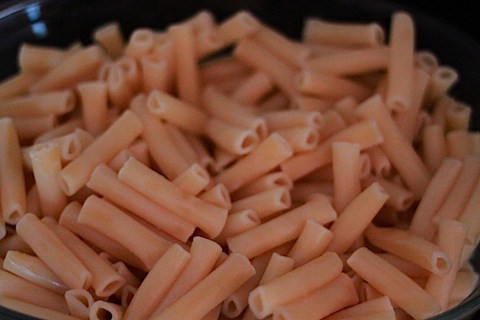 • While the tomato mixture is roasting you can add your pasta to boiling water and cook, until tender for about 8-10 minutes. Drain the pasta and reserve about 1 cup of the pasta water.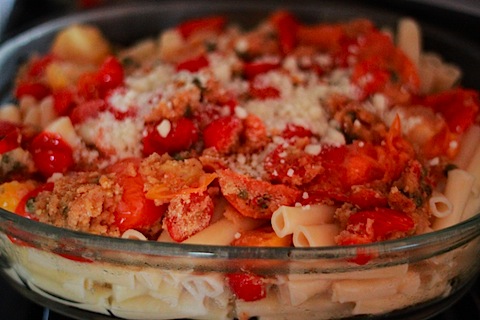 • Transfer your pasta to a serving bowl or a glass dish and pour the tomato mixture on top of the pasta. Add your cheese and make sure to toss well. You have to incorporate all of the flavors into the pasta so they can mingle 😉 If you feel like the sauce is a bit dry or isn't covering enough of the pasta you can add in some of your reserved pasta water to thin it out.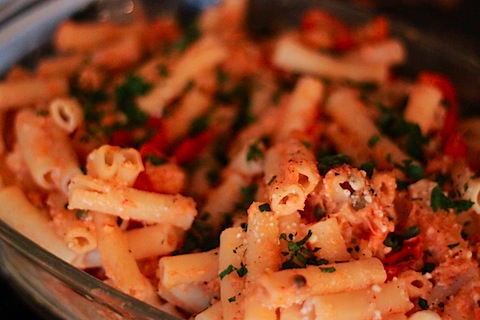 • Season with salt and pepper, sprinkle with chopped parsley, and serve immediately.
Or, if you're a food blogger, take 30 photos of one dish, wait for it to get cold, observe people on the street looking up at you on your deck while you stand on a chair to get the perfect snap, then reheat.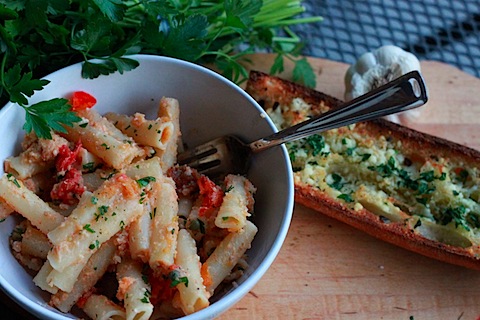 You know the drill.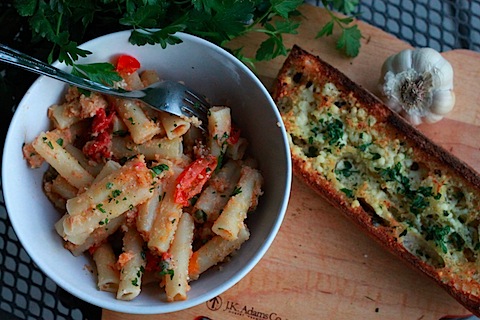 Oh, and make homemade garlic bread. Because if you're gonna do the whole carb thing… do the whole thing! 😉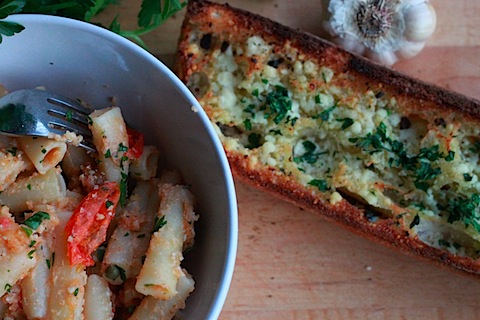 What's your favorite go-to quick and simple pasta dish?
[Chels]