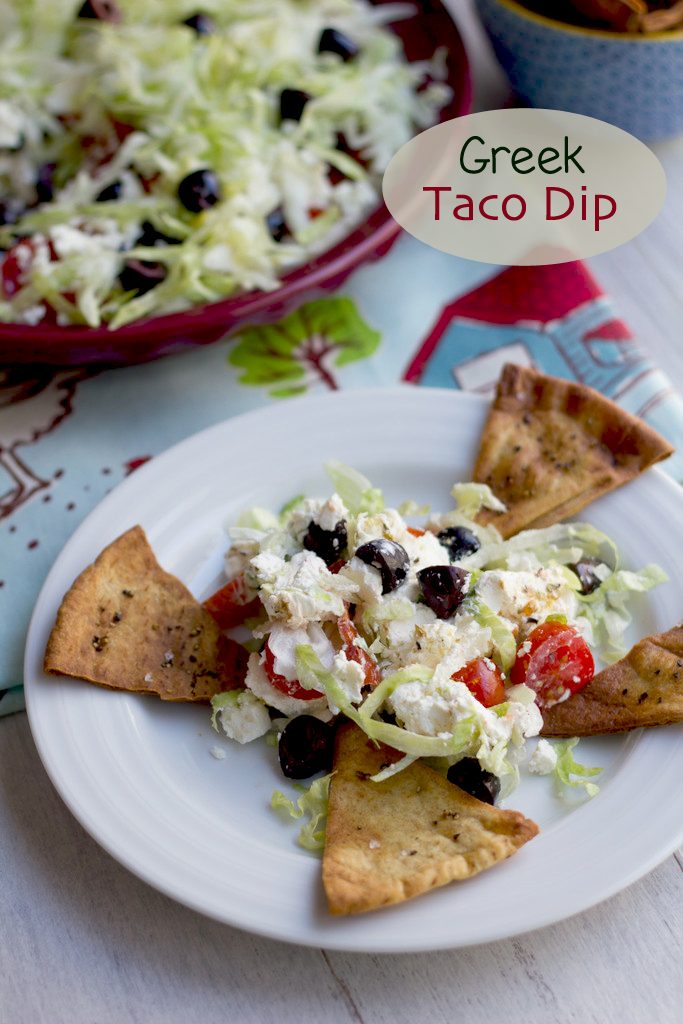 It's Super Bowl weekend!! Who's excited? I'm only moderately excited, mainly because of all this deflated ball hullabaloo. And the fact that it's only Friday and I'm already ridiculously tired from this week and wondering how I'm going to stay awake for the whole game. Seriously though, being from New England, I'm a Patriots fan and am obviously thrilled they're in the Super Bowl. But like many of you, I'm really in it for the commercials and the food. I also really like the lady they just interviewed on the news who said the Patriots will beat the Seahawks because, "We've just been doing America longer than they have." I mean, OK.
I have a had a Greek food everything obsession lately. I won't lie… It's probably mainly the feta cheese and kalamata olives. The other veggies are just the icing on the cake. Or probably the opposite of that, but you know what I mean. I made a really fabulous Greek shrimp dish recently and will be sharing the recipe soon… But I had some leftover ingredients and decided to make my classic taco dip… Gone Greek!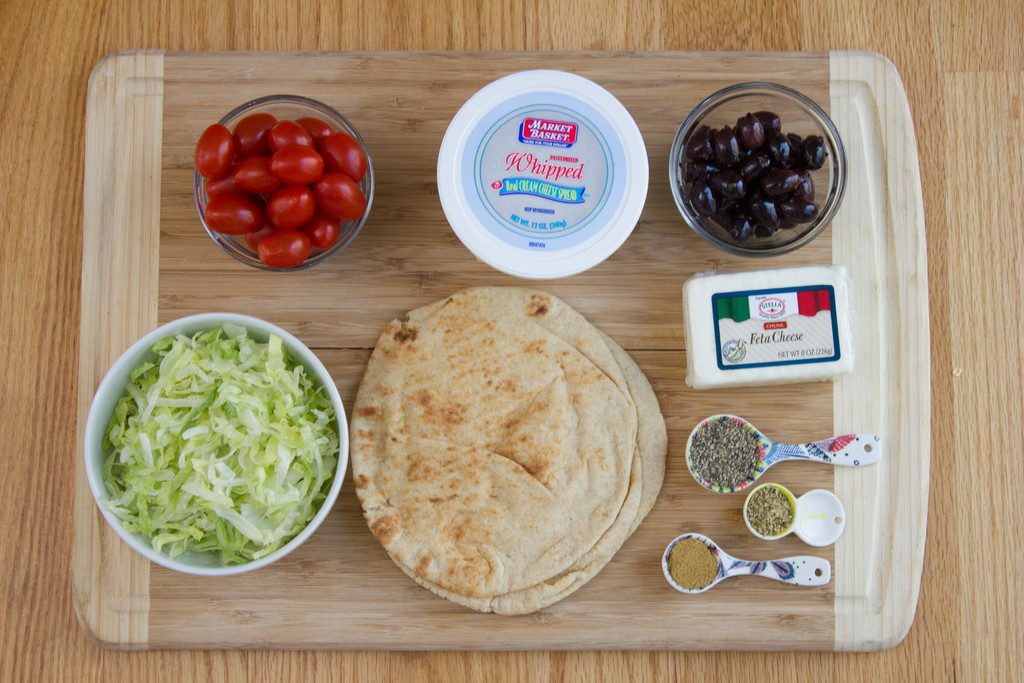 My taco dip can be made in about five minutes. But I sometimes don't really like to tell people that because sometimes when I'm really busy and lazy, I bring them with me to parties. And while I don't necessarily need people to think I slaved over a stove for hours, I feel like bringing a five-minute dish makes me sound like I just don't even care.
But I do. And people love taco dip, so I kind of think everyone wins there. This dip is really similar; just with a few ingredient swaps. Plus… I made my own pita chips! With cracked black pepper.
Start by pre-heating the oven to 400 degrees.
Then, place the pita triangles on a baking sheet and lightly brush with olive oil. Sprinkle with black pepper and sea salt. I always sprinkle my pita chip with sea salt, but this was the first time I used cracked black pepper, too.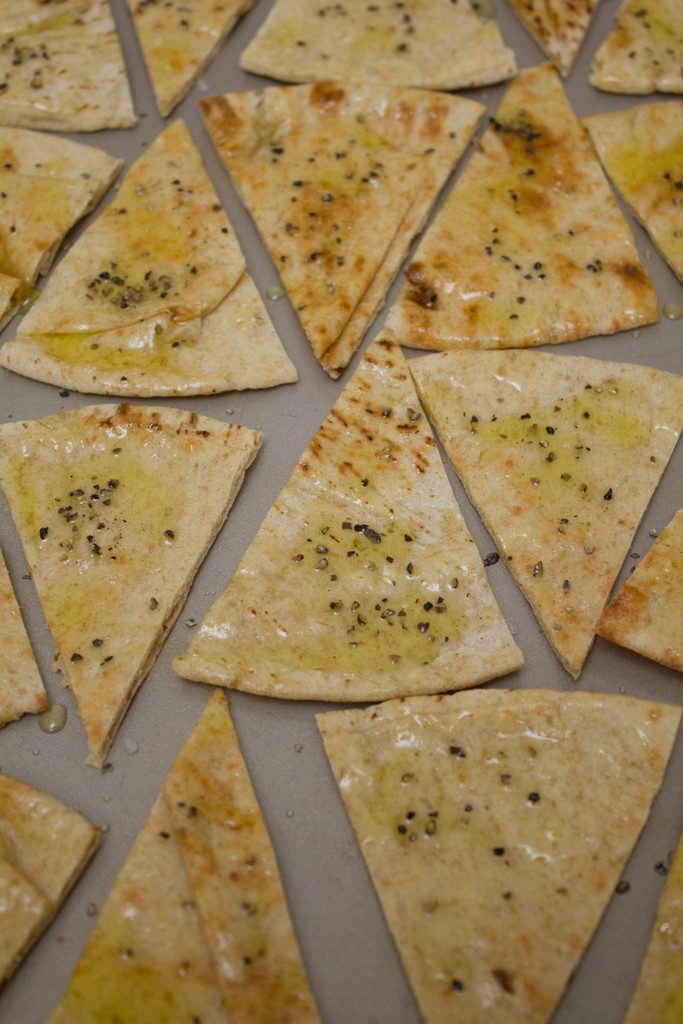 Place the baking sheet in the oven at 400 degrees for 6-9 minutes, until they're nice and crispy.
Every single time I make these, Chris is like "Can we just have these in the house all the time??" And they are super easy and there's really no reason not to… Except then I'd be eating WAY too many chips.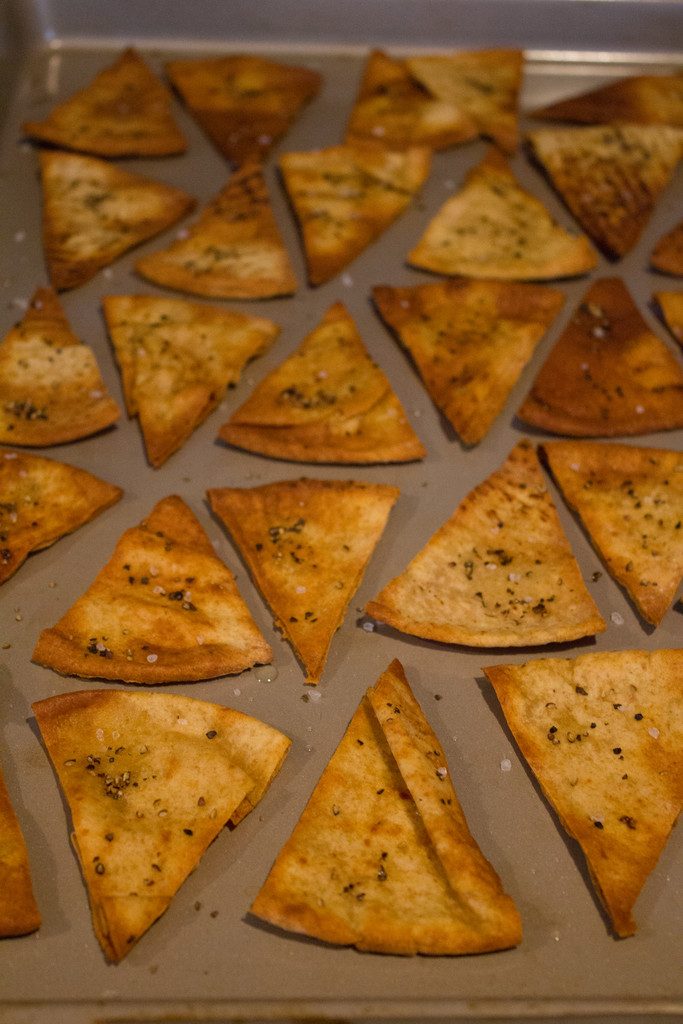 For the taco dip, spread the cream cheese onto the bottom of a 9-inch pie dish with a spatula. Then sprinkle the oregano and cumin over the top.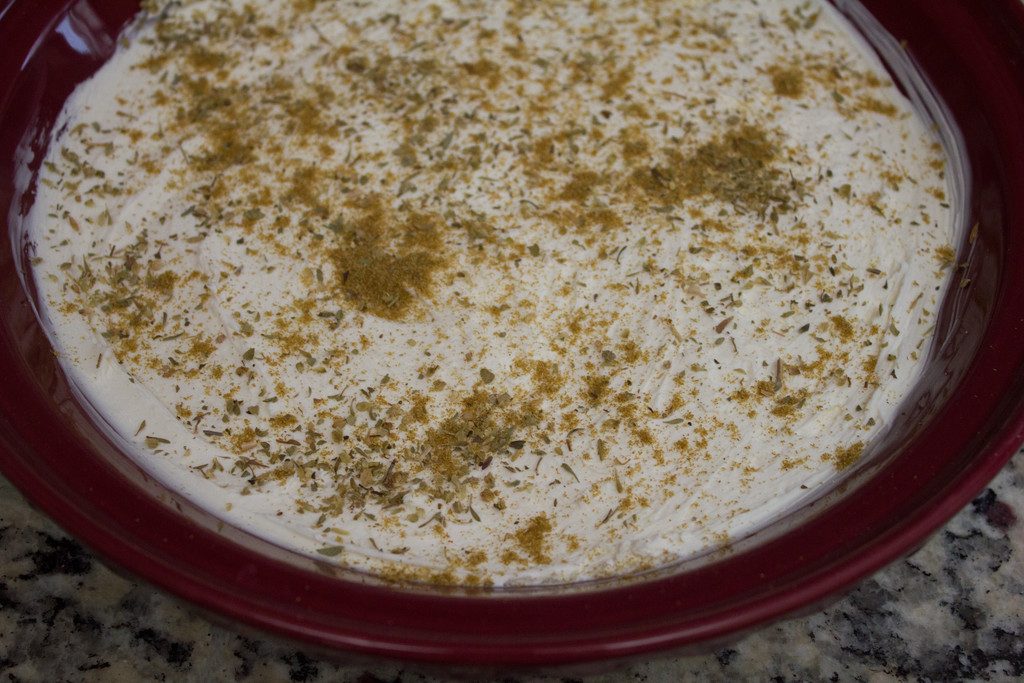 Next up, layer on those glorious sliced tomatoes and kalamata olives.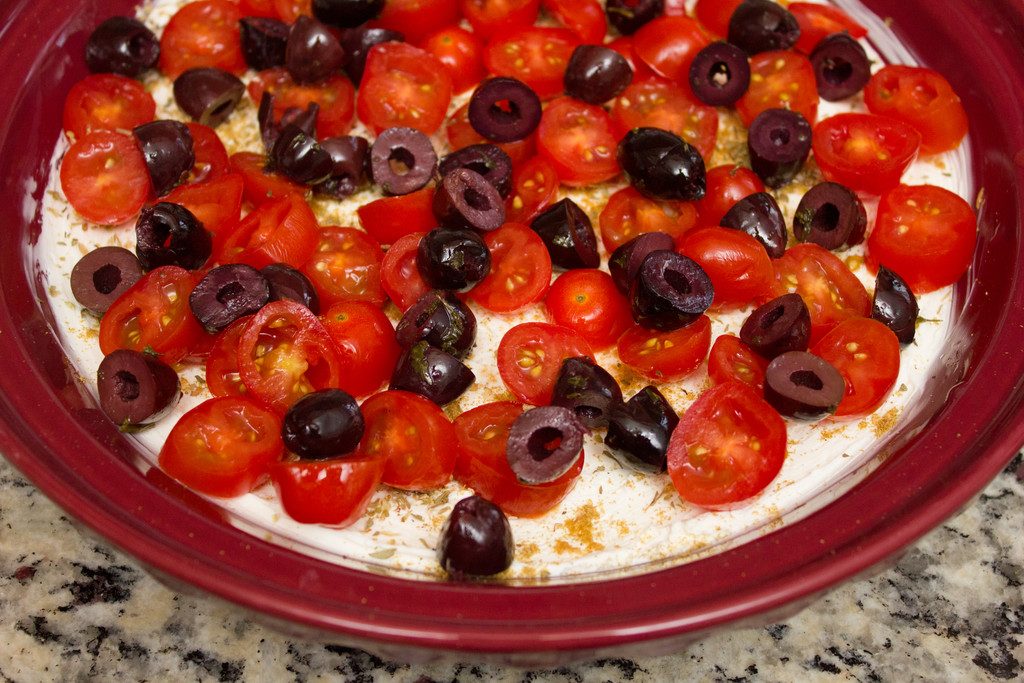 Crumble on the feta cheese and top with shredded lettuce.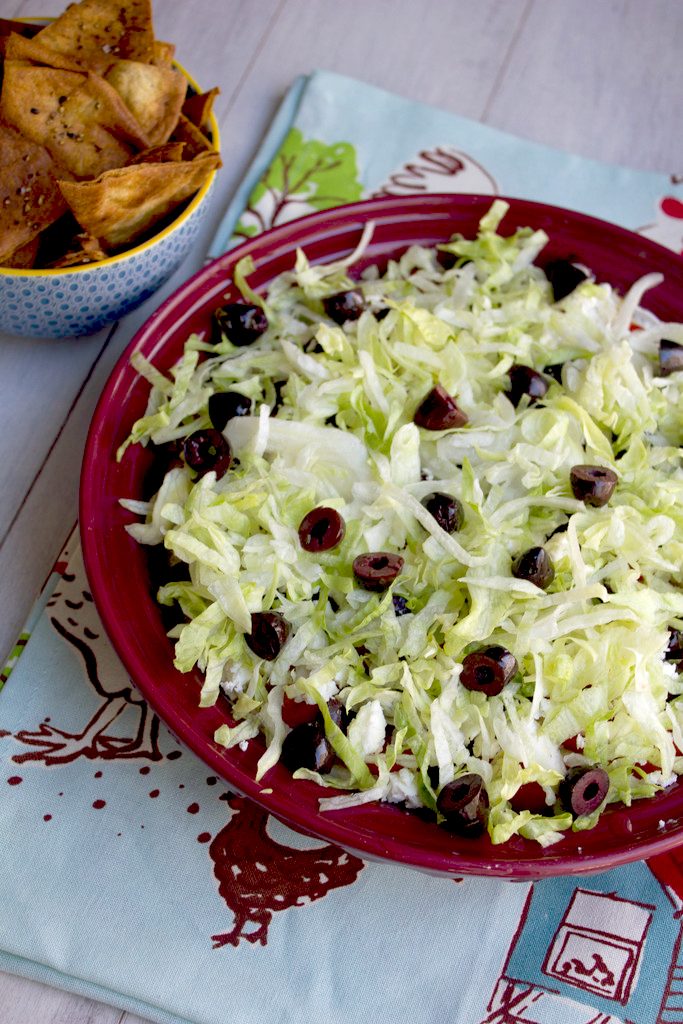 Serve with the black pepper pita chips…. Easy enough for you?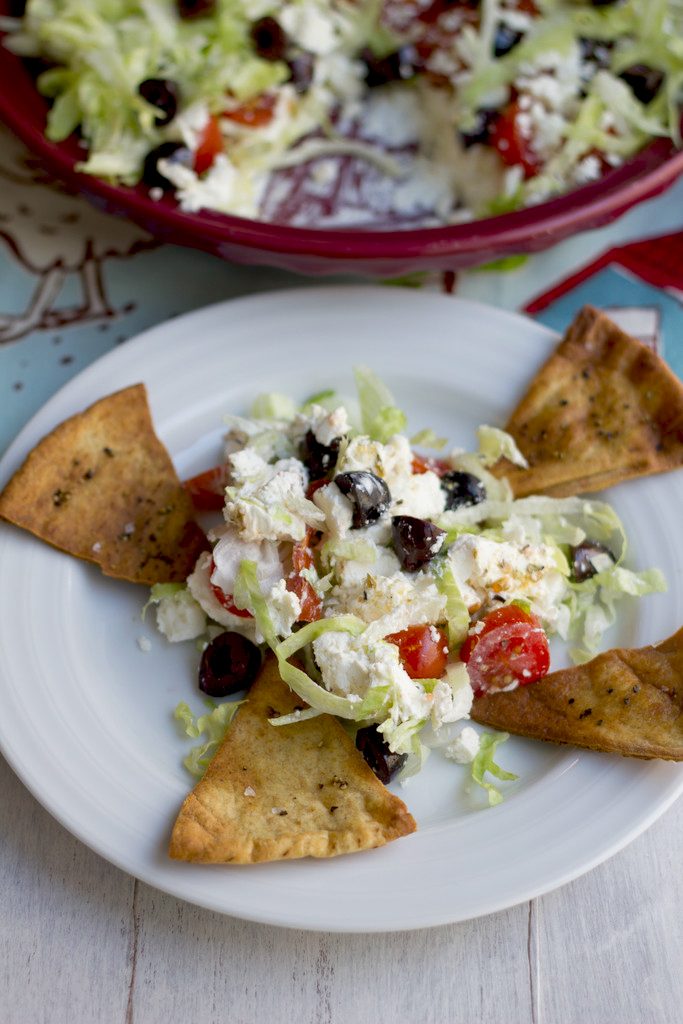 I told you, this is a five-minute appetizer. But seriously makes a crowd really happy. My normal taco dip involves salsa, shredded cheese, and regular black olives.
Don't make me decide which one I like better. Just don't.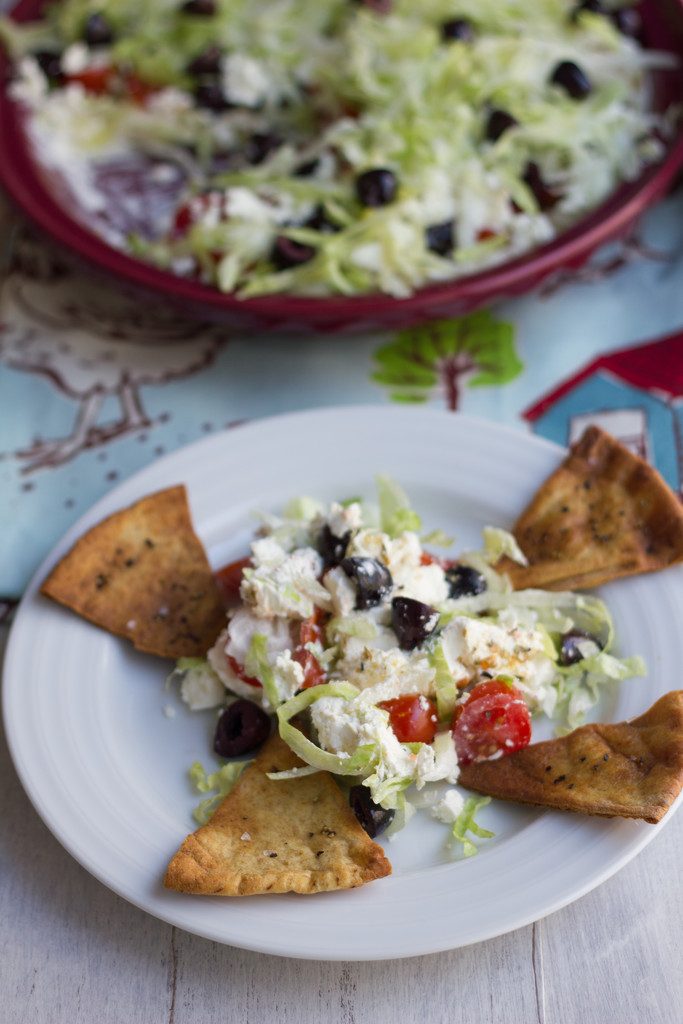 All I really know is that I ate a ridiculously large portion of this dip. And basically all of the chips. And probably ice cream for dessert.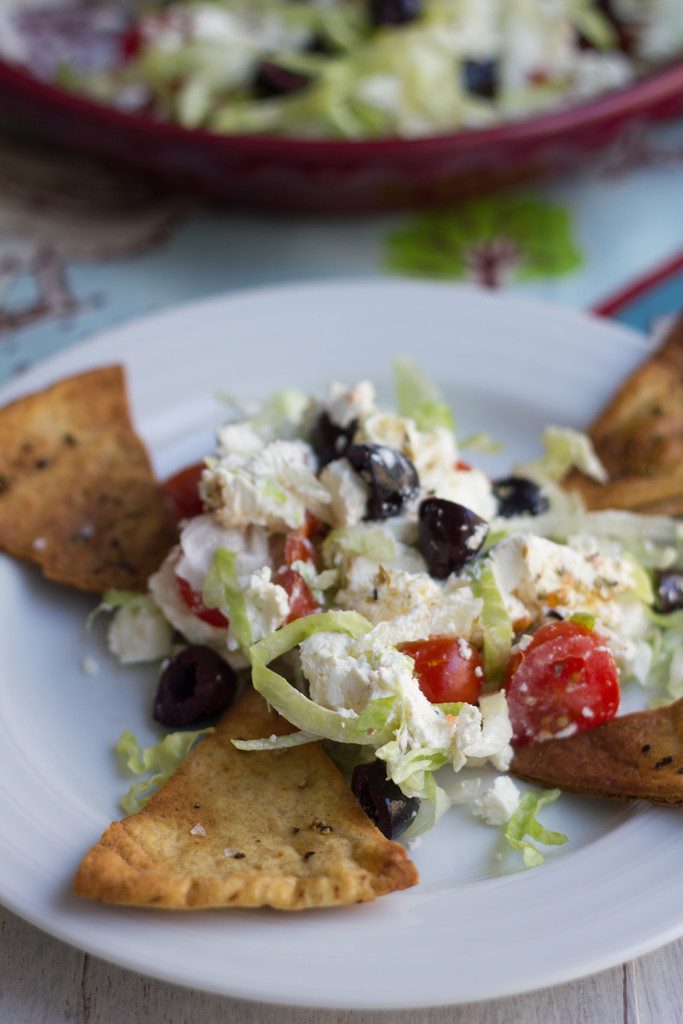 You really could make your own adaptation on this, adding as much as you want… chopped cucumbers would also be delicious, as would mixing some Greek yogurt in with the cream cheese.
Oh look, here it is when we had take just one little dainty scoop out of it. So sweet and ladylike. That didn't last long.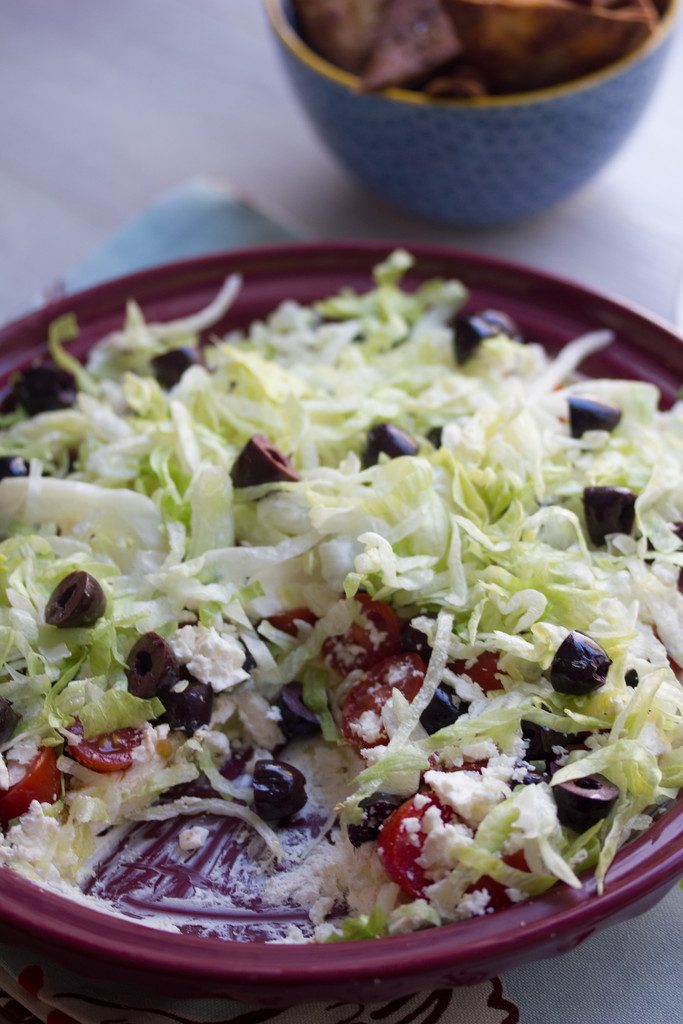 Add this to your Super Bowl spread, but also note that you could eat the entire thing as a meal on its own. Actually, pretend I didn't say that. Someone could probably sue me for portraying this as one serving size. It's lots and lots of servings, OK? But still, that doesn't mean you eat wait it for dinner. Just play dumb if anyone asks.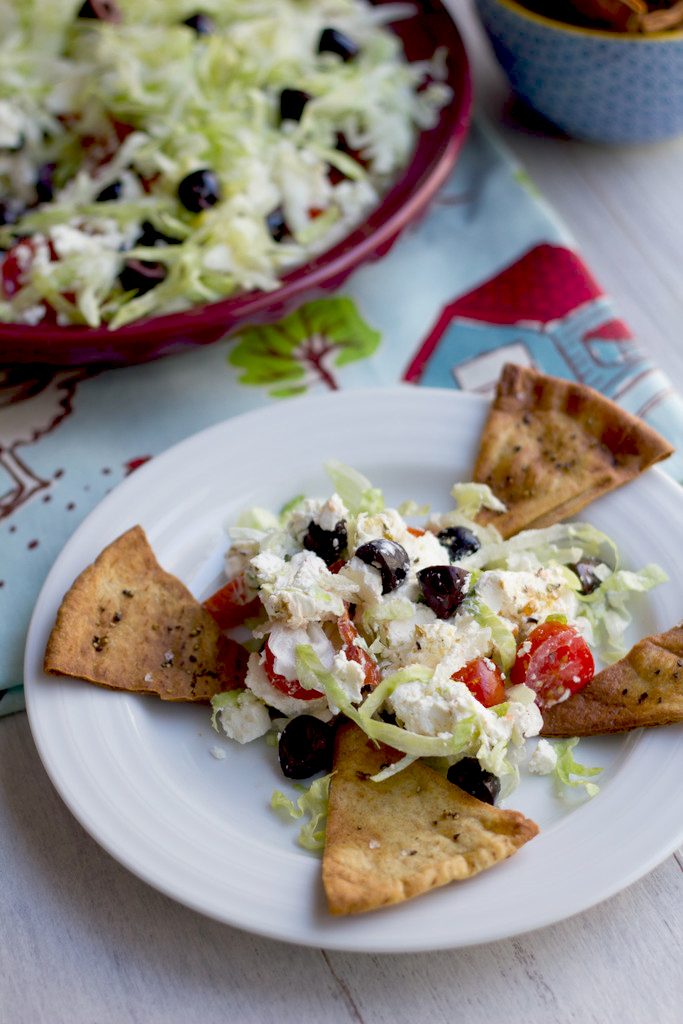 What food will you be enjoying for Super Bowl Sunday? And not quite as importantly… Who will you be cheering for? That can include commercials and brands 🙂
📖 Recipe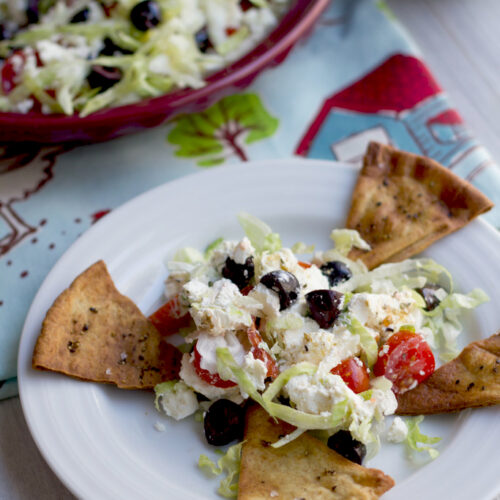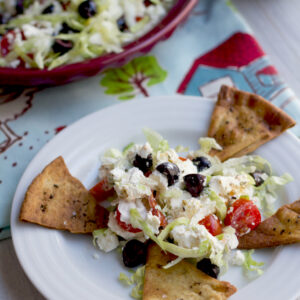 Greek Taco Dip with Black Pepper Pita Chips
A fun spin on the classic taco dip, this party appetizer can be prepared in five minutes and always pleases the crowd!
Print
Pin
Rate
Ingredients
12

oz.

whipped cream cheese

1

t

oregano

½

t

cumin

1

C

cherry tomatoes

sliced

½

C

kalamata olives

sliced

3

oz.

feta cheese

crumbled

1 ½

C

shredded lettuce
Black Pepper Pita Chips
4

pitas

each cut into 8 wedges

½

T

fresh ground pepper

½

t

sea salt
Instructions
Using a spatula, spread cream cheese onto the bottom of a 9-inch pie dish.

Sprinkle oregano and cumin over the cream cheese.

Layer on tomatoes and olives. Then crumble feta cheese on top.

Top with shredded lettuce.

Chill until ready to serve.
Black Pepper Pita Chips
Pre-heat oven to 400 degrees.

Place pita triangles on a baking sheet and lightly brush with olive oil.

Sprinkle with black pepper and sea salt.

Place in oven at 400 degrees for 6-9 minutes, until nice and crispy.
Share a Photo of Your Finished Recipe!
Mention @wearenotmartha and share a photo if you've made the recipe!