Since I did SO much on my trip to Hawaii, I'm breaking down the trip into several posts. I just got home (and am desperately trying to beat the jet lag!) and just looking at my photos is making me get all sentimental. If you only read one part of this post, skip to the volcano! Definitely one of the highlights of my life so far.
One thing I was obviously excited for in Hilo was the candy factory! Big Island Candies is well known for their shortbread cookies and the factory and store are located just miles from my sister's house.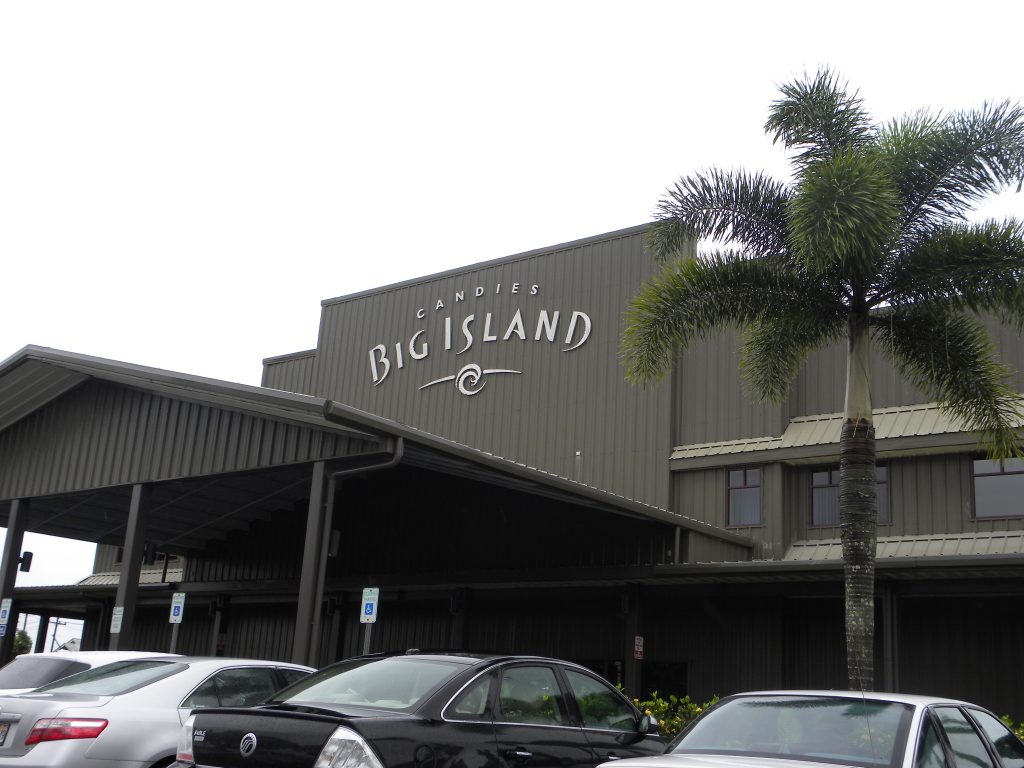 I loved being able to see the workers actually make the cookies and candies. They did almost everything by hand, including dipping the cookies. No machines doing the dipping here!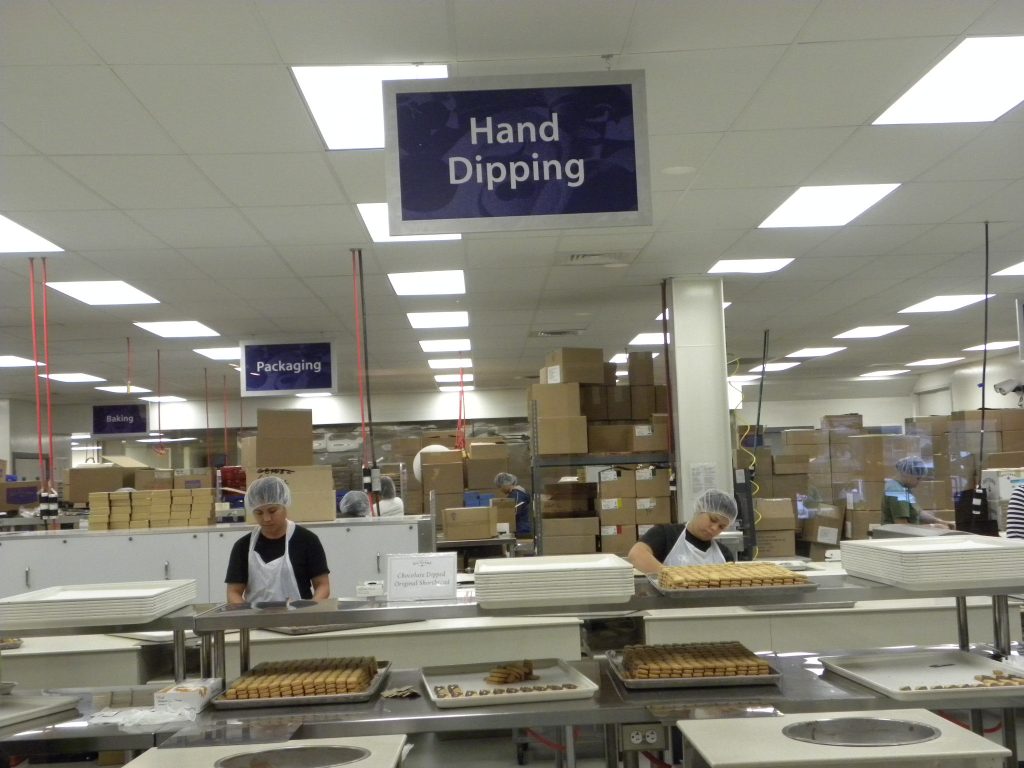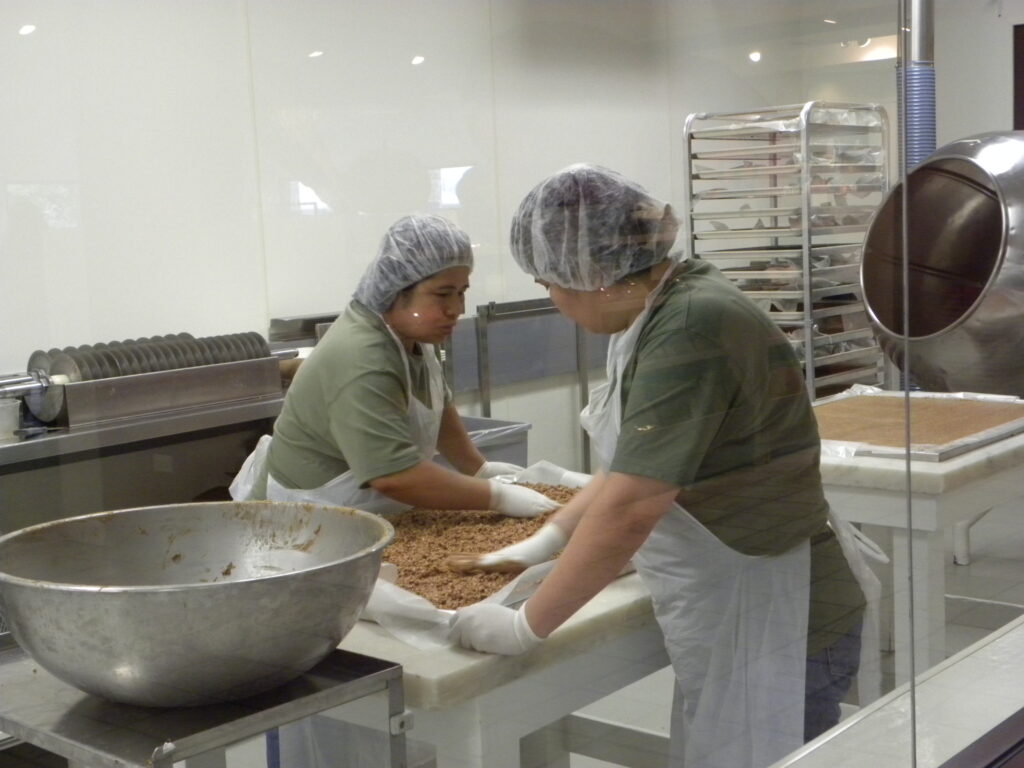 If I had to pick a job, I would work as a "Chocolate Enrober." I just think that sounds like the most fun, delicious job ever!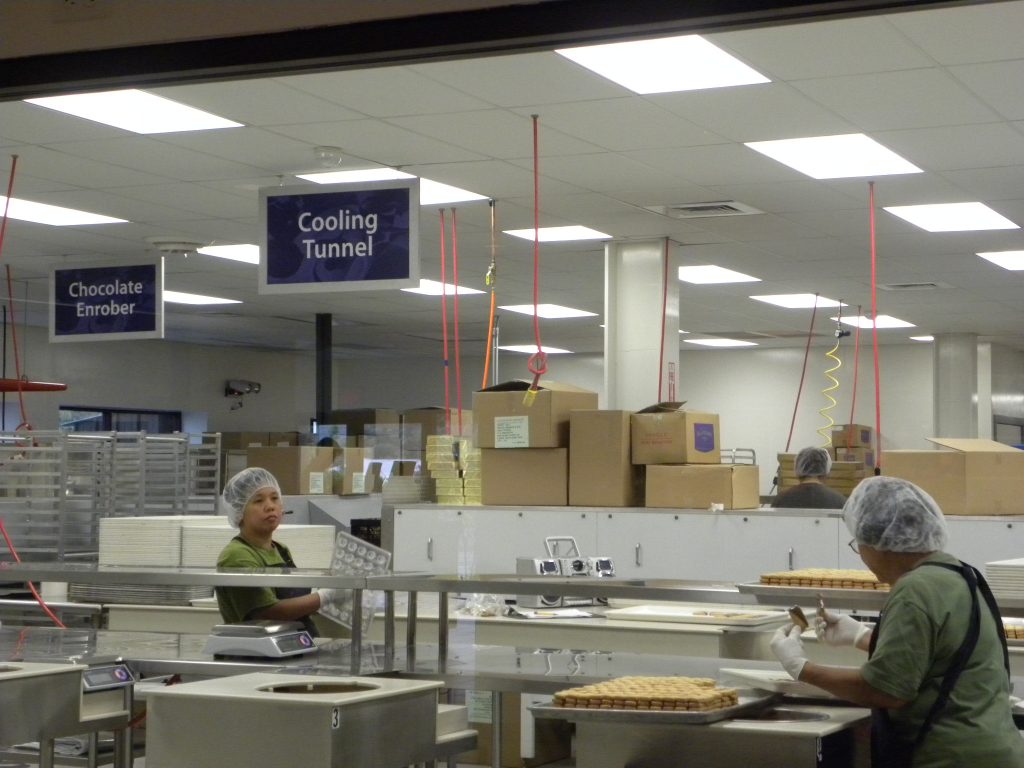 I agree.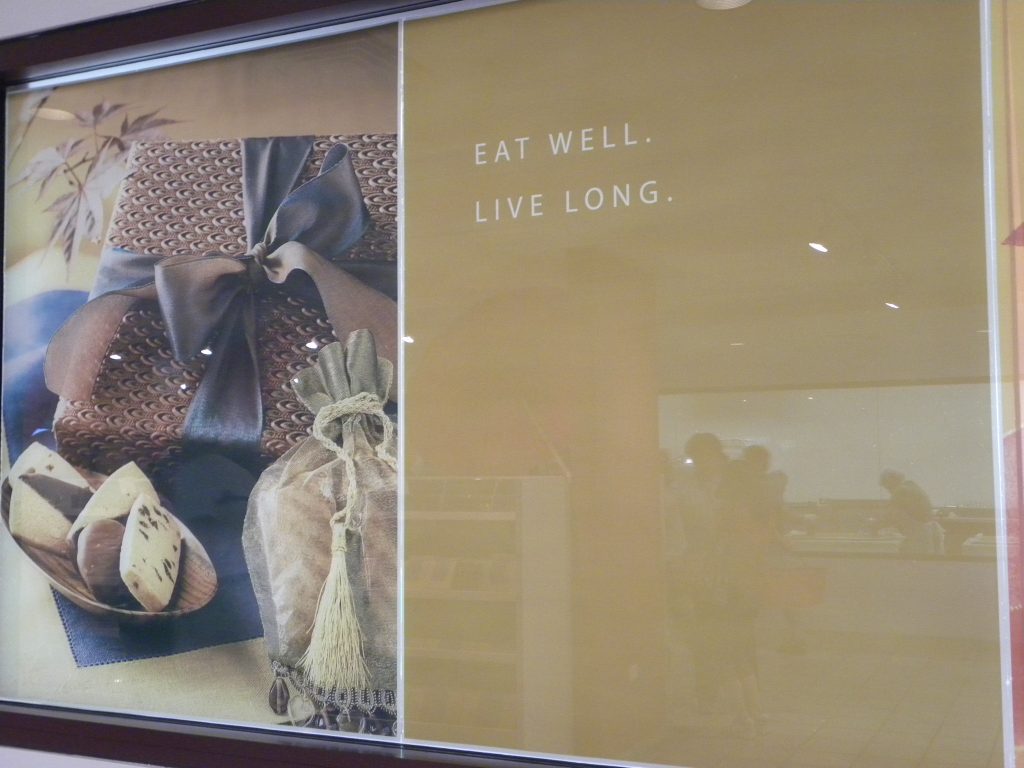 The store was huge and had so many choices of cookies and candies. I tried to restrain myself, but got some chocolate-dipped shortbread cookies to take home for Thanksgiving, some treats for Chris since it was his birthday, and some chocolate-dipped coffee shortbread cookies for my sister and Adam.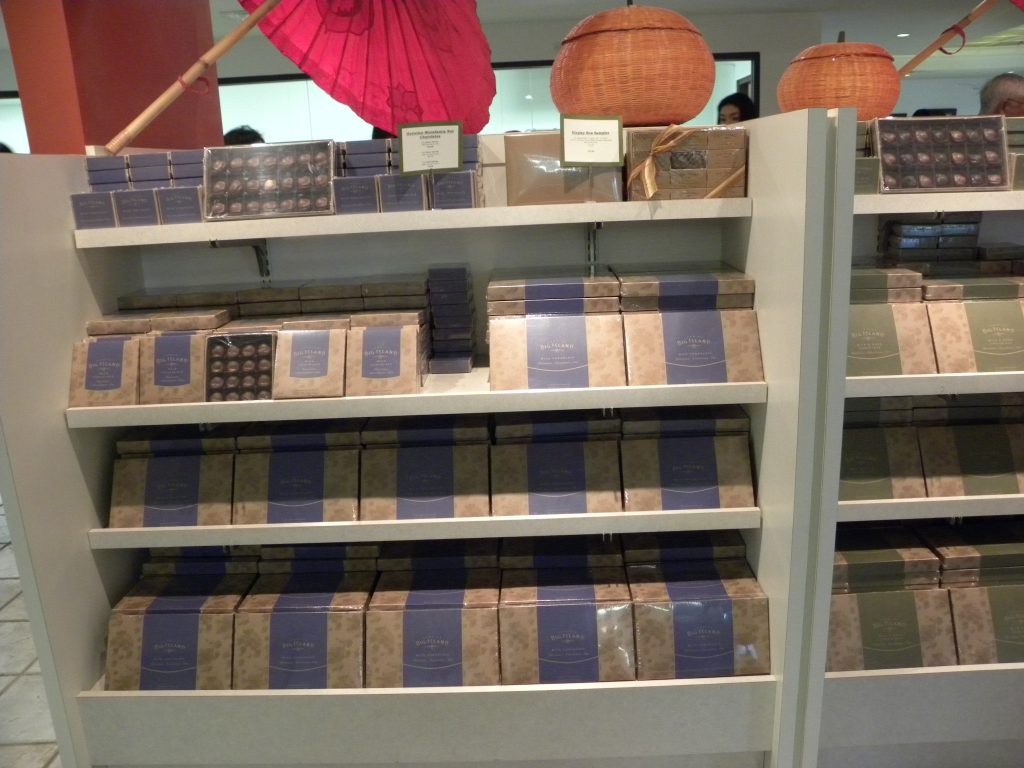 Next stop was Boiling Pots. True to Hilo weather, it was raining. This time pretty heavily. We only really got out of the car in order check the falls out and snap some photos of the pretty site. The water at boiling pots runs through a lava tube and when it bubbles up, it appears as if it's boiling.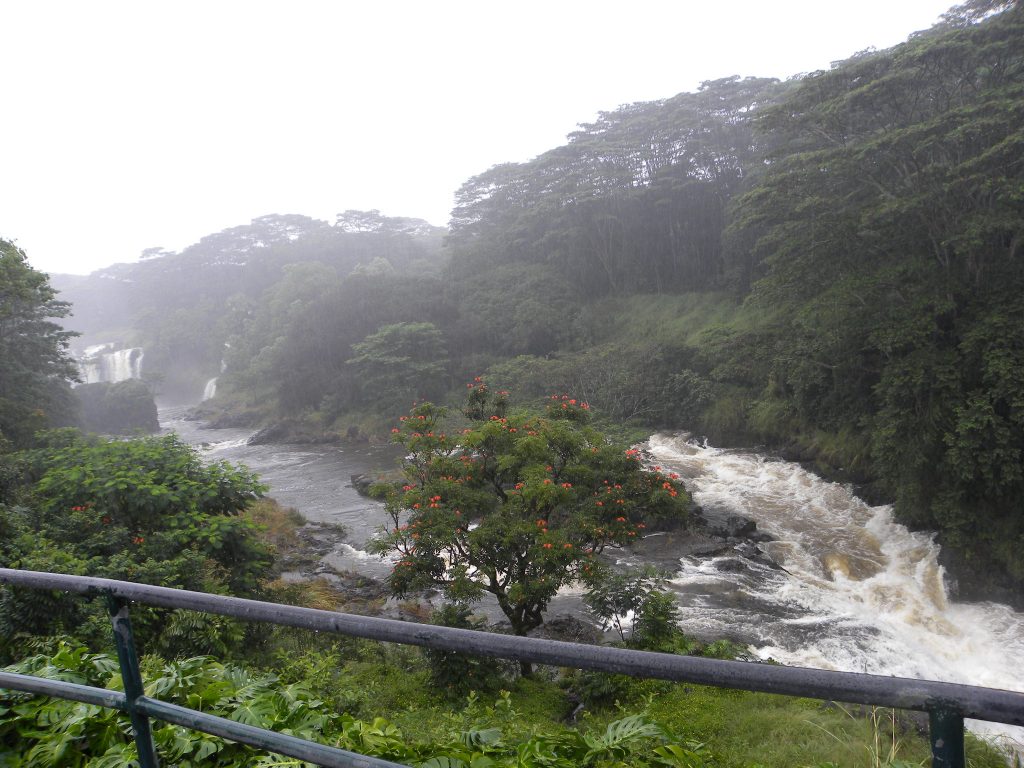 Thank goodness Beth and Adam had ponchos in the car! This was the first of many times we'd be wearing them.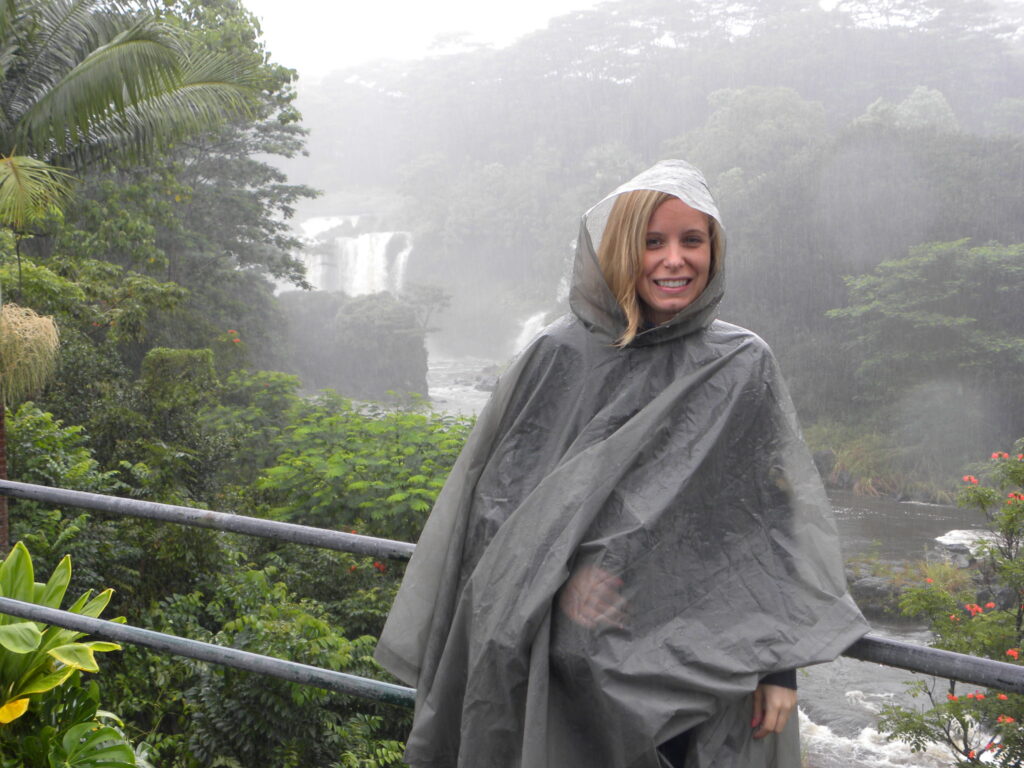 That night we went out to celebrate Chris's birthday at Hilo Bay Cafe. My sister described it as "the fanciest restaurant in Hilo… But that's not saying much." The restaurant wasn't exactly what I'd call fancy (for Boston standards at least), but the food was really, really good and the restaurant was definitely much nicer than anything else we saw in Hilo.
I started with a carrot and ginger martini. Hello dream come true!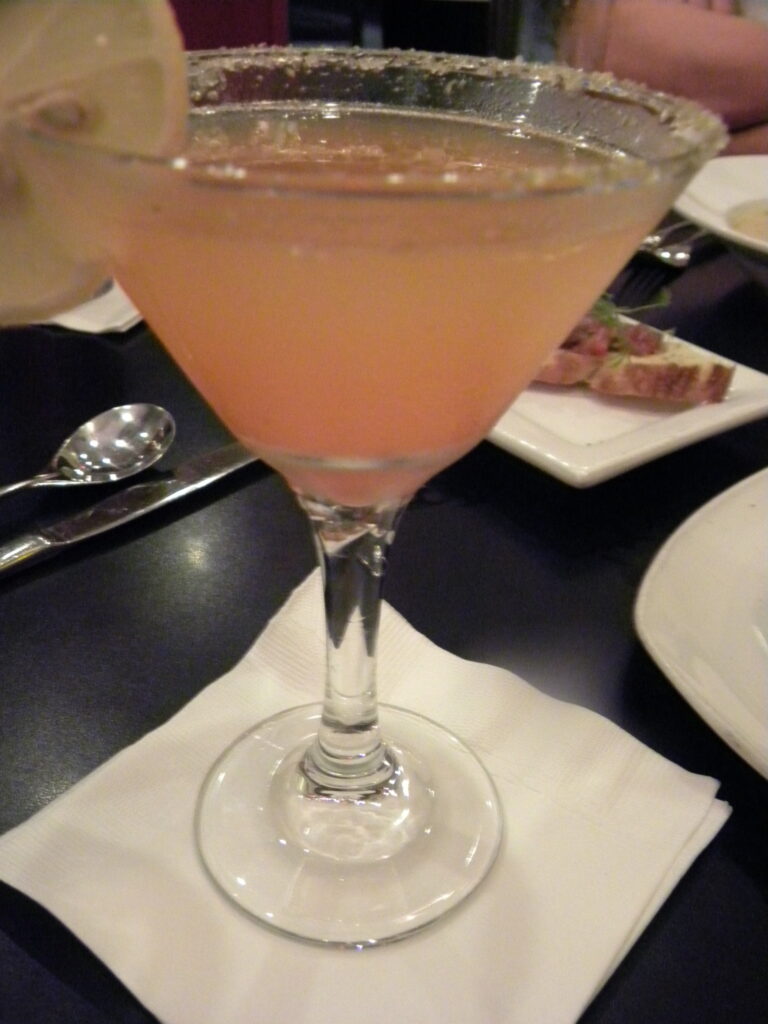 And the french onion soup. I can honestly say this was one of the best french onion soups I've had in a LONG time. It was SO flavorful without being overly-salty and was awesome. I could have eaten an entire vat of this stuff!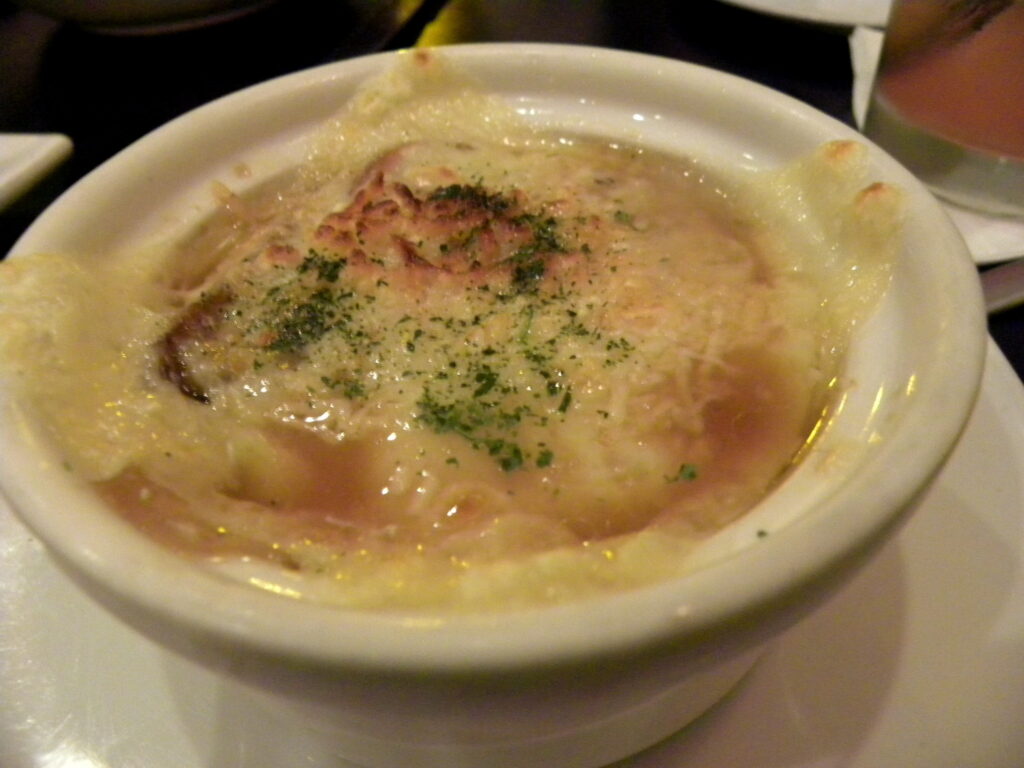 We got the tuna tartar for an appetizer, too, and it was also quite good with a nice presentation.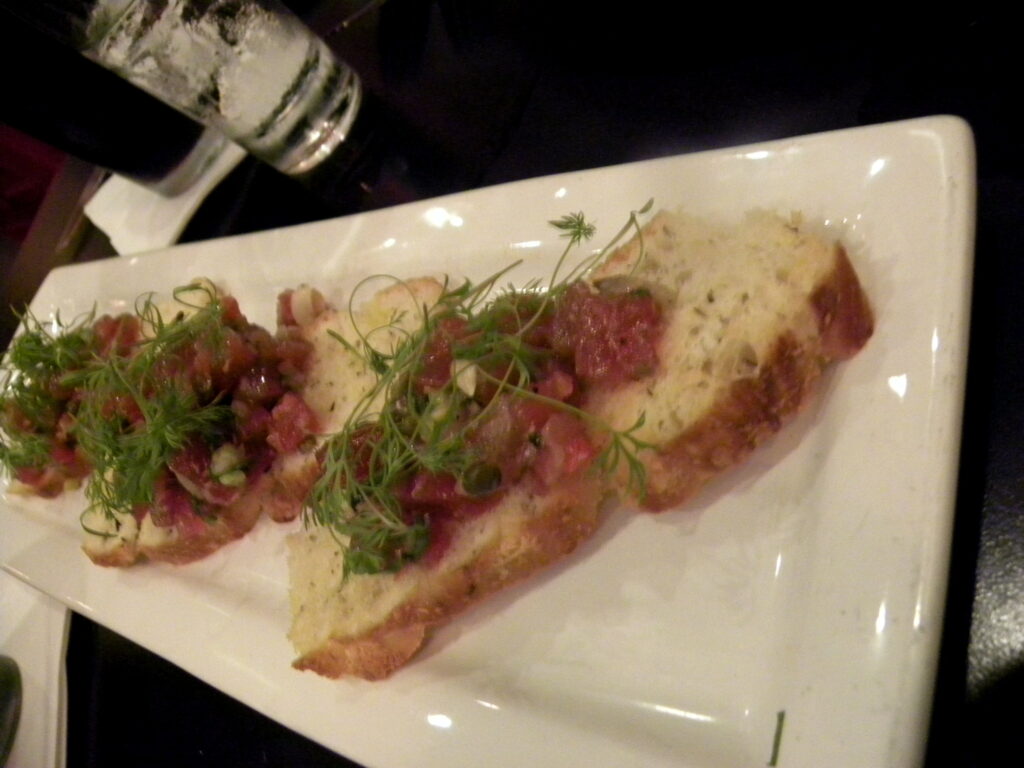 I rarely ever order chicken when I'm out to eat because I often find it a bit boring and don't like ordering things I can easily make myself. But when I saw the chicken on the Hilo Bay Cafe menu, I couldn't resist. It was Free-Range Chicken Two Ways—roasted breast and boar sausage-stuffed thigh—
with tomato-caper polenta cake, winter squash sauce, and sauteed spinach. Yum!! This was definitely some amazing chicken and the polenta with squash sauce was perfect.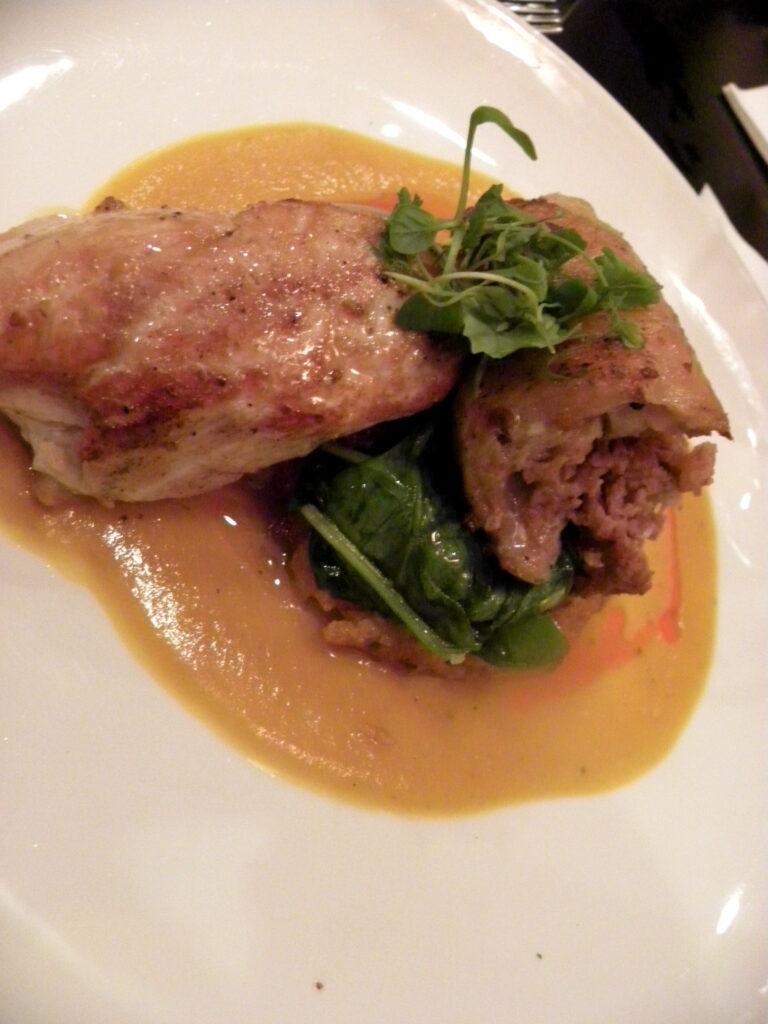 Chris and Adam both got the Slow-Roased Barbecue Ribs with paniolo bread pudding and local vegetables. And they both loved them!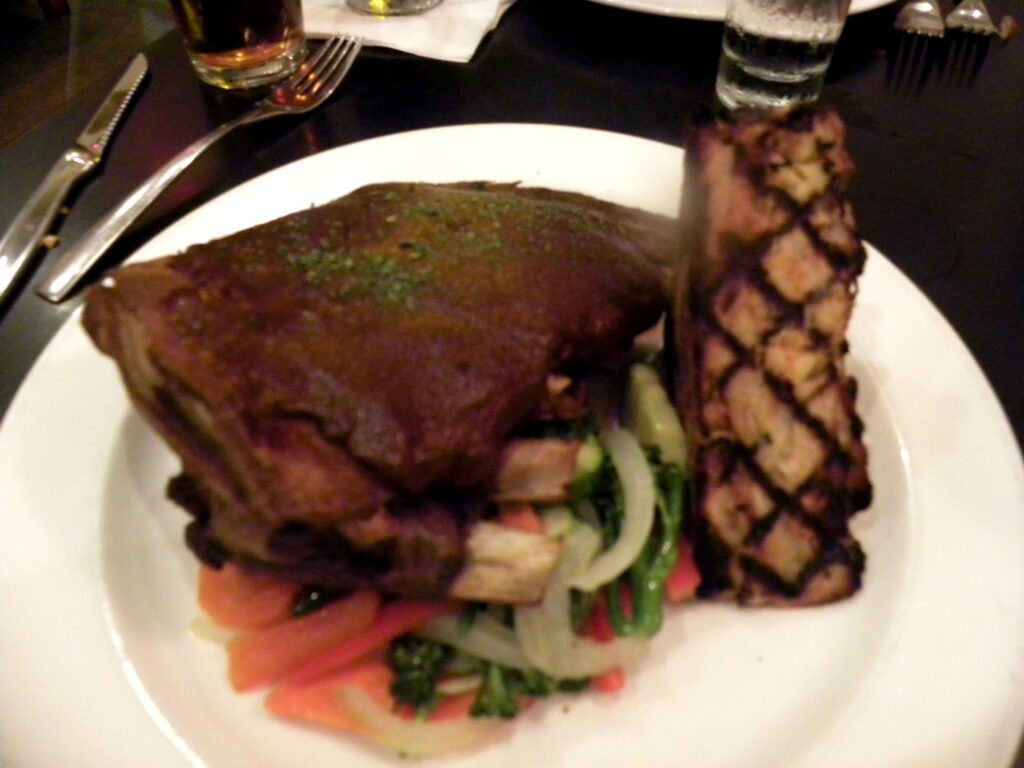 And Beth got the special, which was a white fish called ono; it's quite popular in Hawaii. The ono was on a polenta cake with capers and was also quite delicious!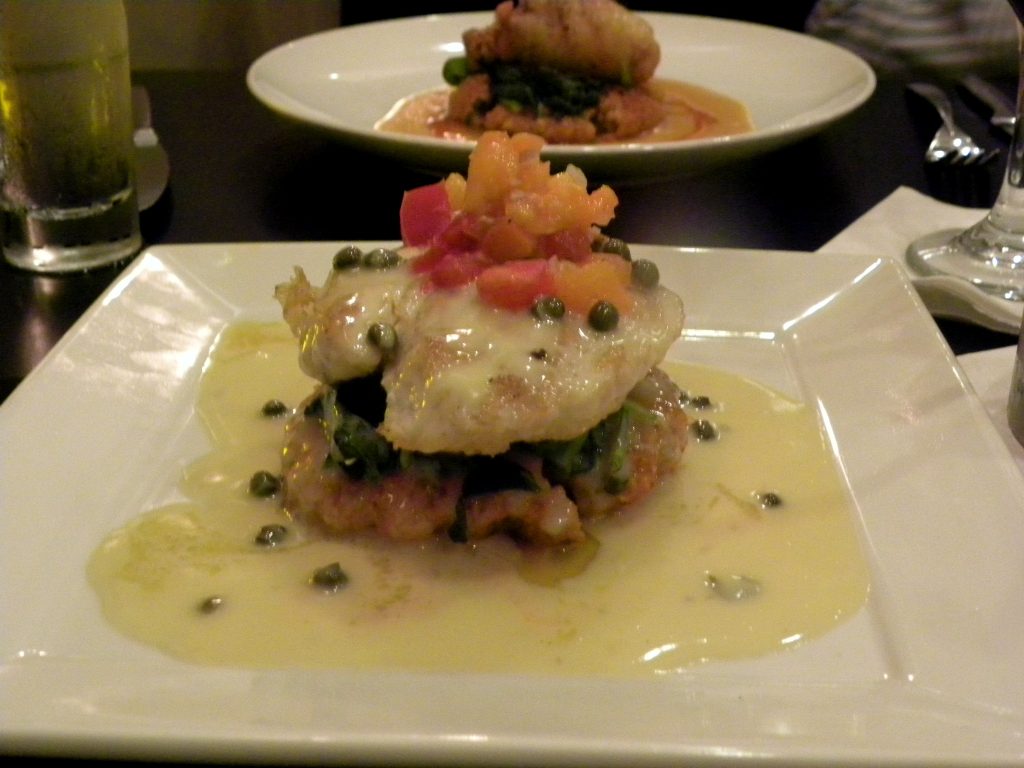 Desserts were, of course, in order, since it was Chris's birthday! We loved the Molten Chocolate Lava Cake with Kona Coffee ice cream.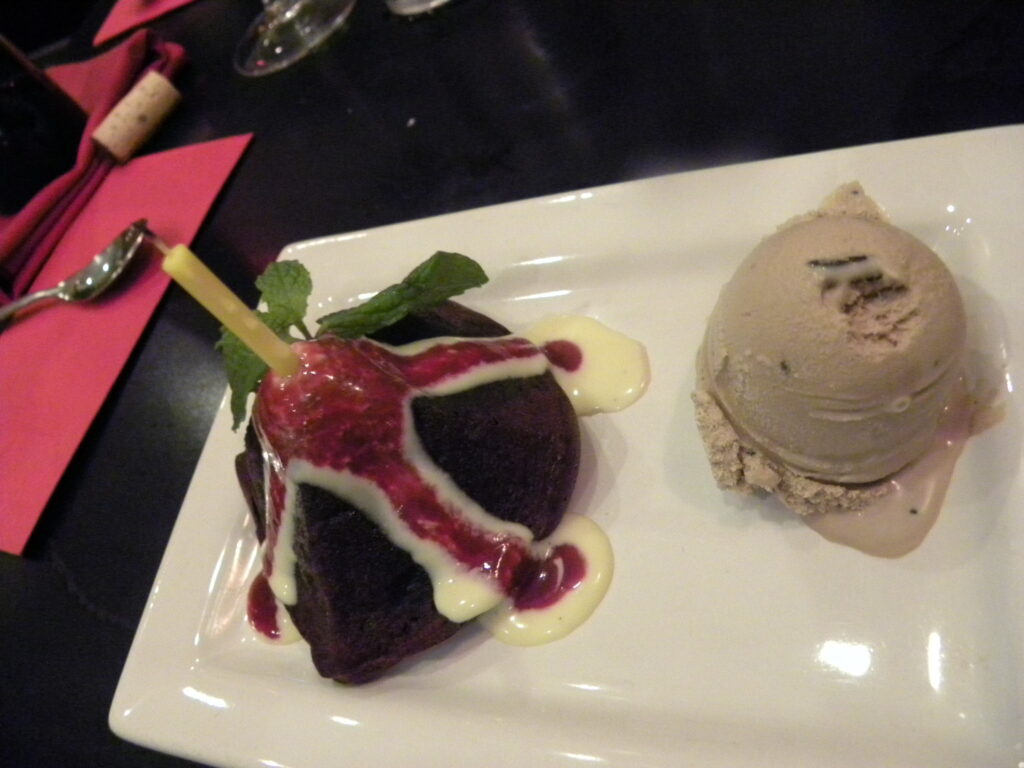 And the Marbled Cake with Pistachio Gelato, chocolate sauce, and pistachio mousse. Such nice presentations!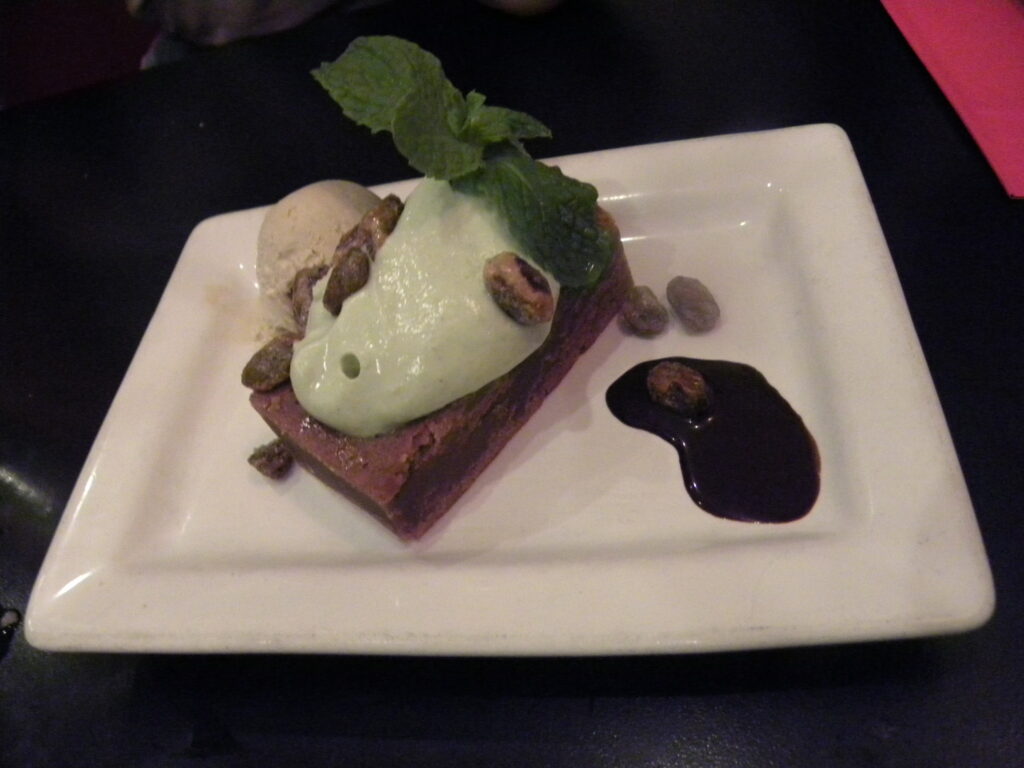 Happy birthday, Chris!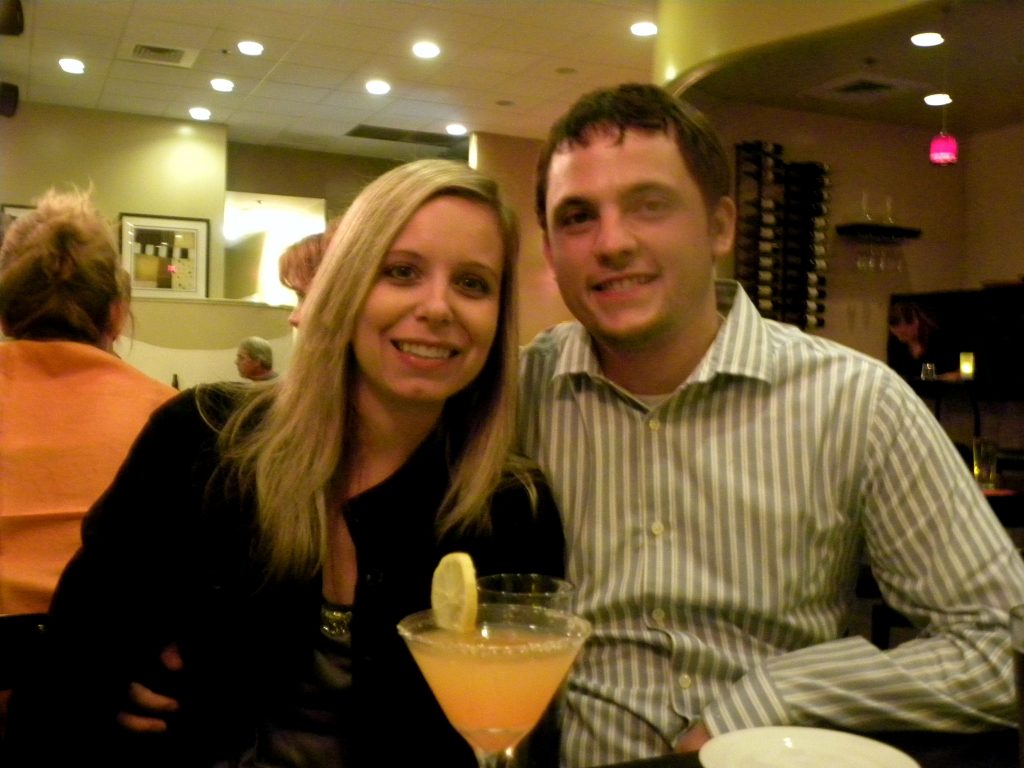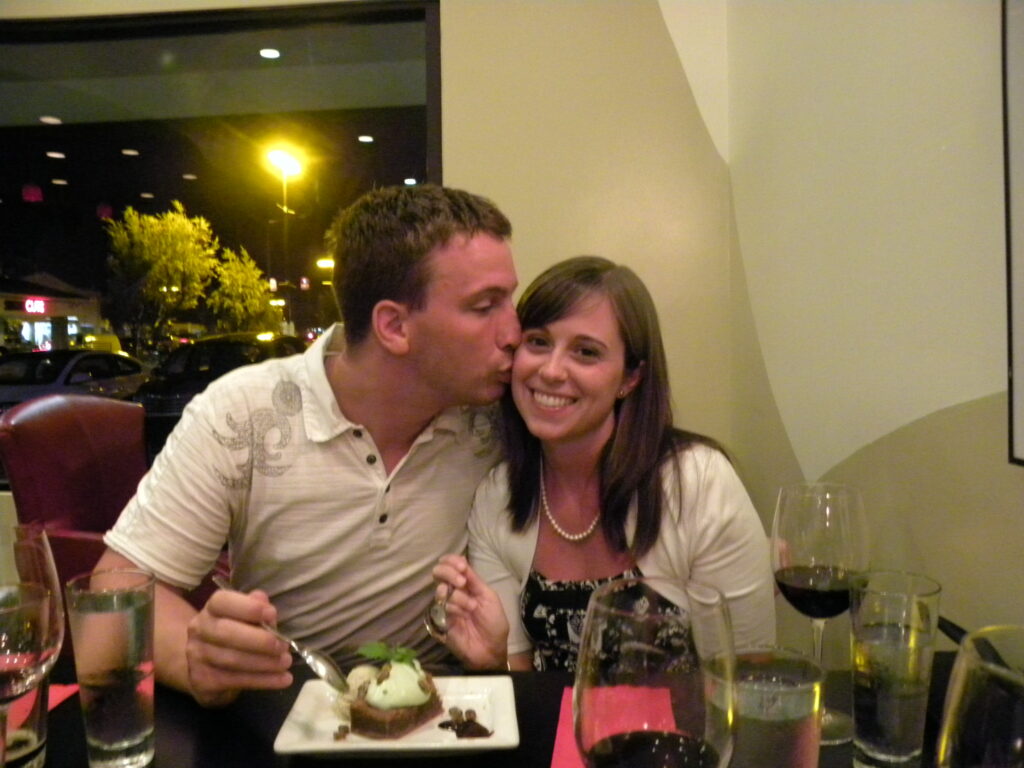 OK, so the next day we did one of the best things I've EVER done. Or ever thought I would do. We set out to Volcano National Park to hike Kilauea. We chose to do the Kilauea Iki trail, which would take us right through a crater. I thought this sounded pretty cool, but didn't really have a clue what I would be seeing.
We ended up doing the 4 mile hike backwards, since we had already walked on some trails and didn't want to walk back to the start. We're actually glad we did it backwards because it allowed us to avoid getting stuck in any crowds. This was our first view of the crater… The pictures really do no justice. It was too amazing for words!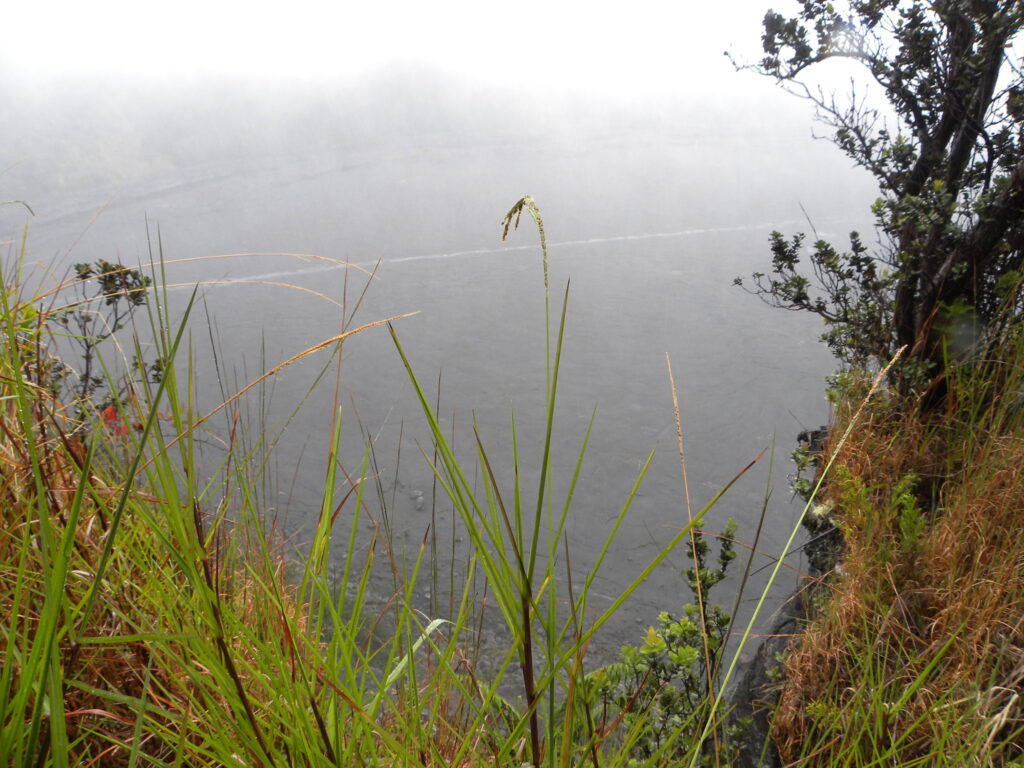 And yes, it rained through much of our hike so ponchos were a necessity.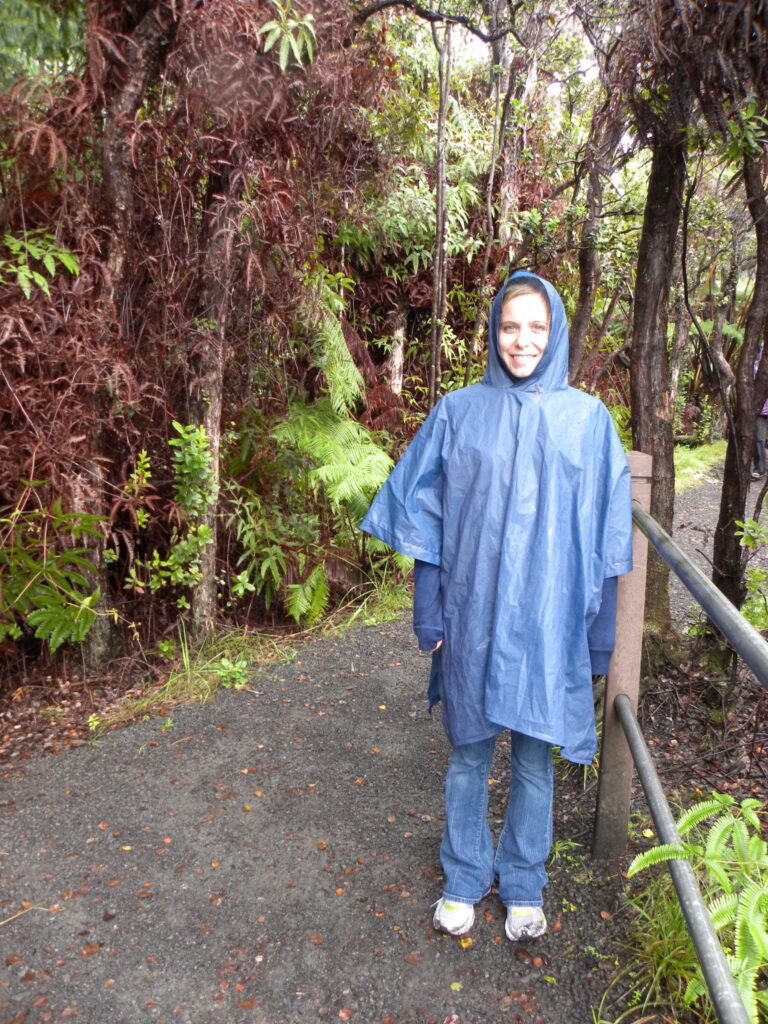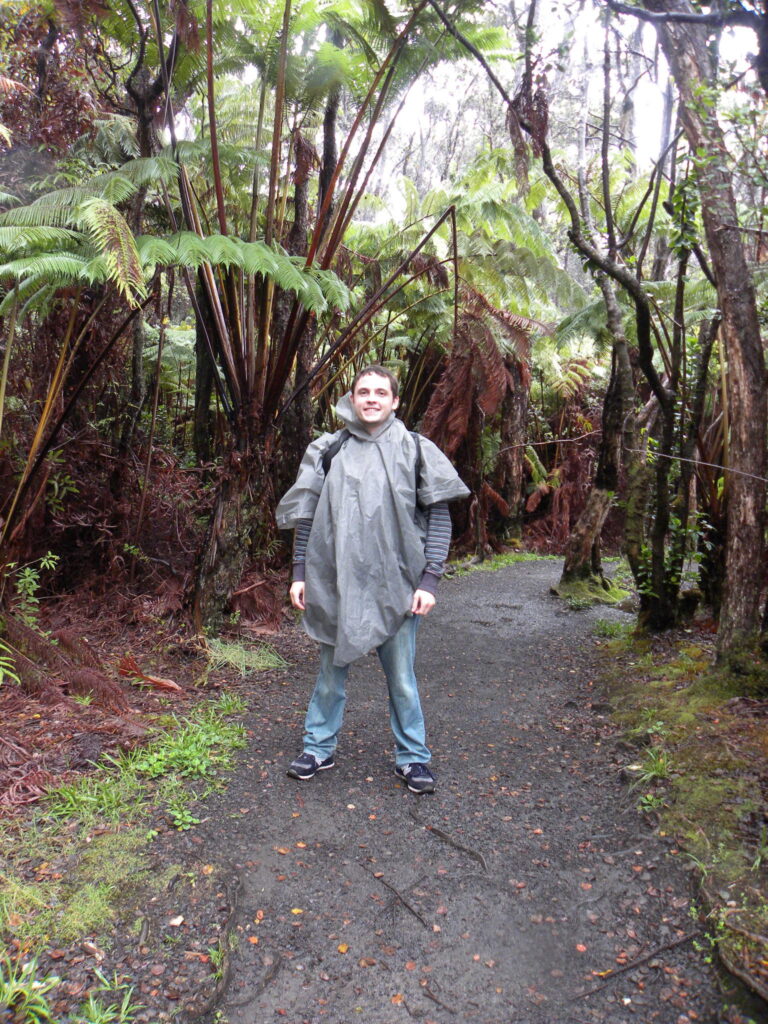 One of the first things we did was stop in the Thurston Lava Tube. Lava actually flowed here and we got to walk right through it!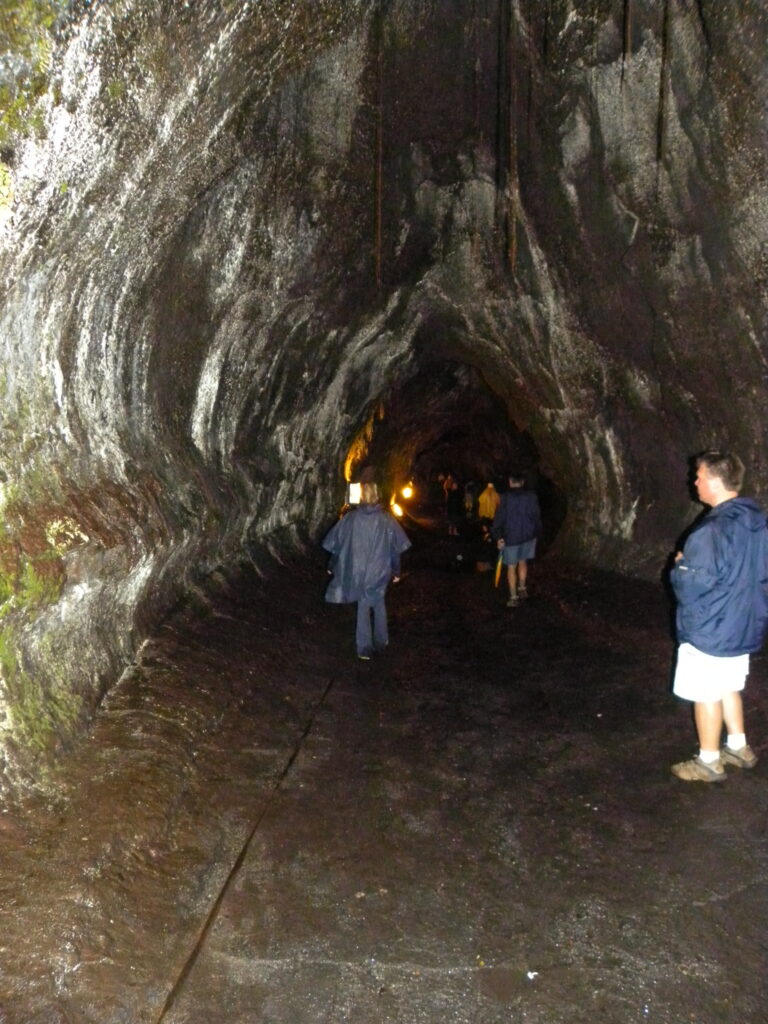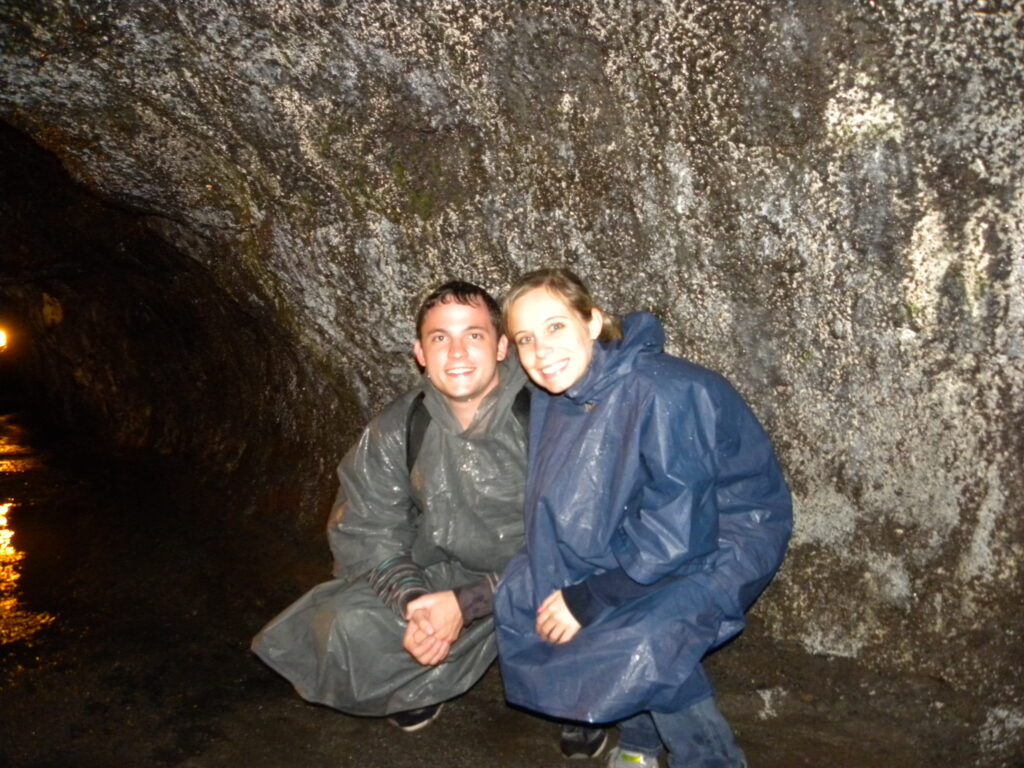 Then we got started on the actual Kilauea Iki hike. We walked through lots of rainforest, which was absolutely beautiful. But then we caught site of the crater we would soon be walking into.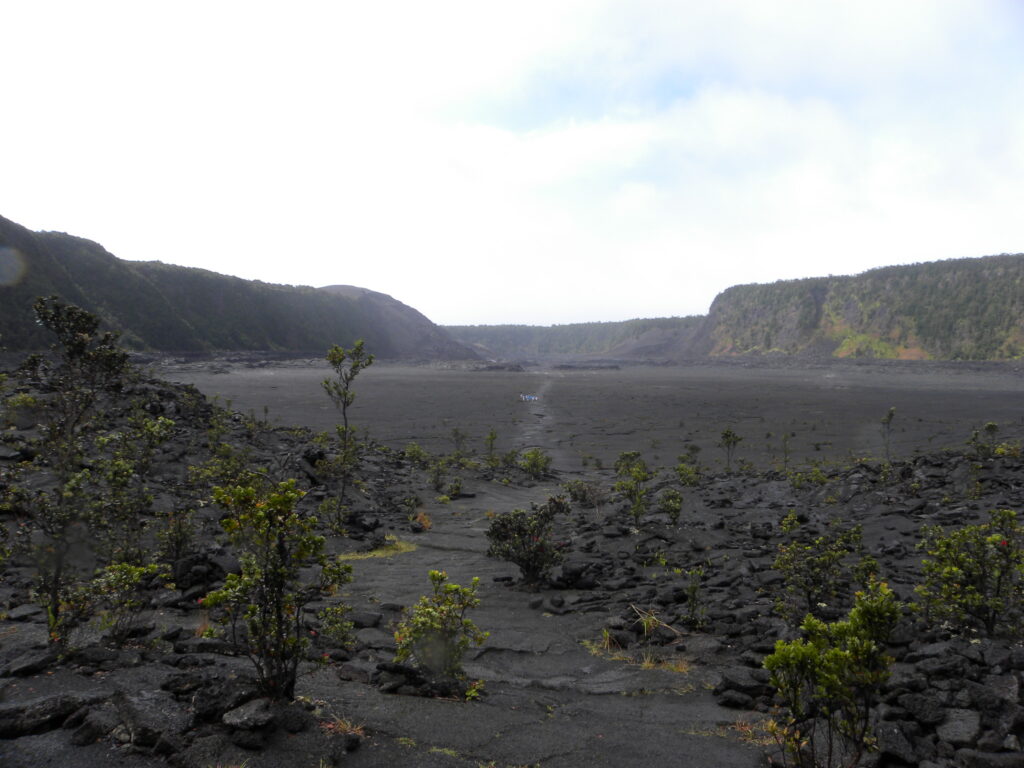 Omg. This was seriously surreal to us. Since we weren't with a guide and we were moving backwards, we weren't even sure if we were supposed to be walking into this. "Is this allowed?!" We couldn't believe it. But we saw a group hiking toward us, so we figured that was how the hike went.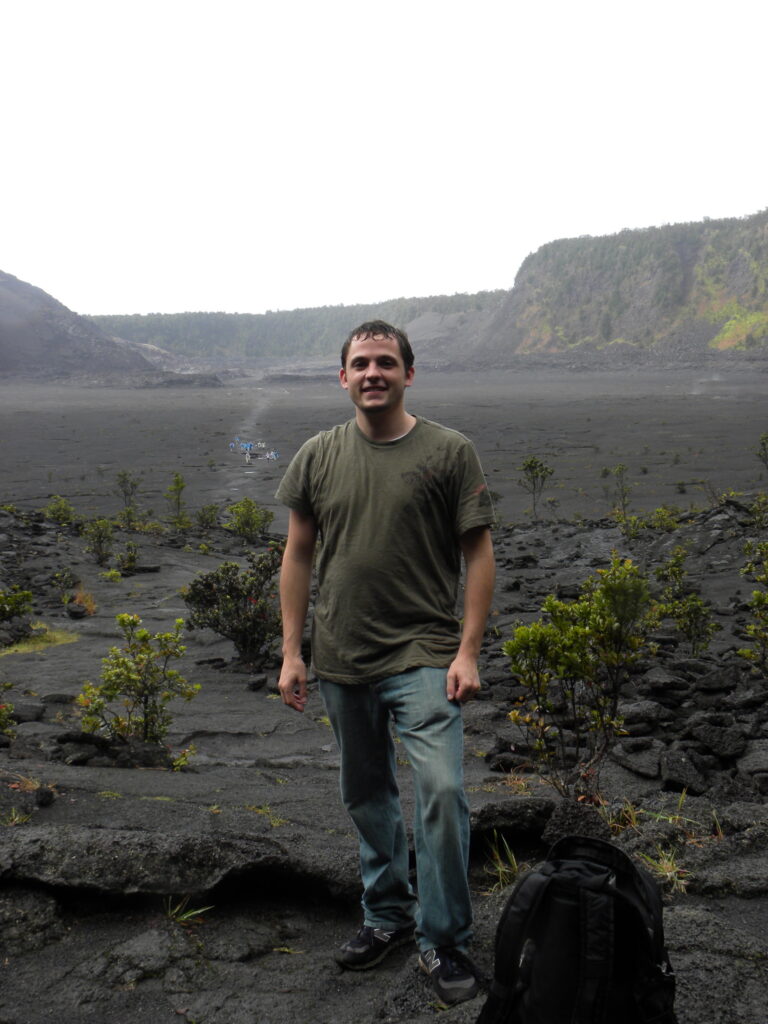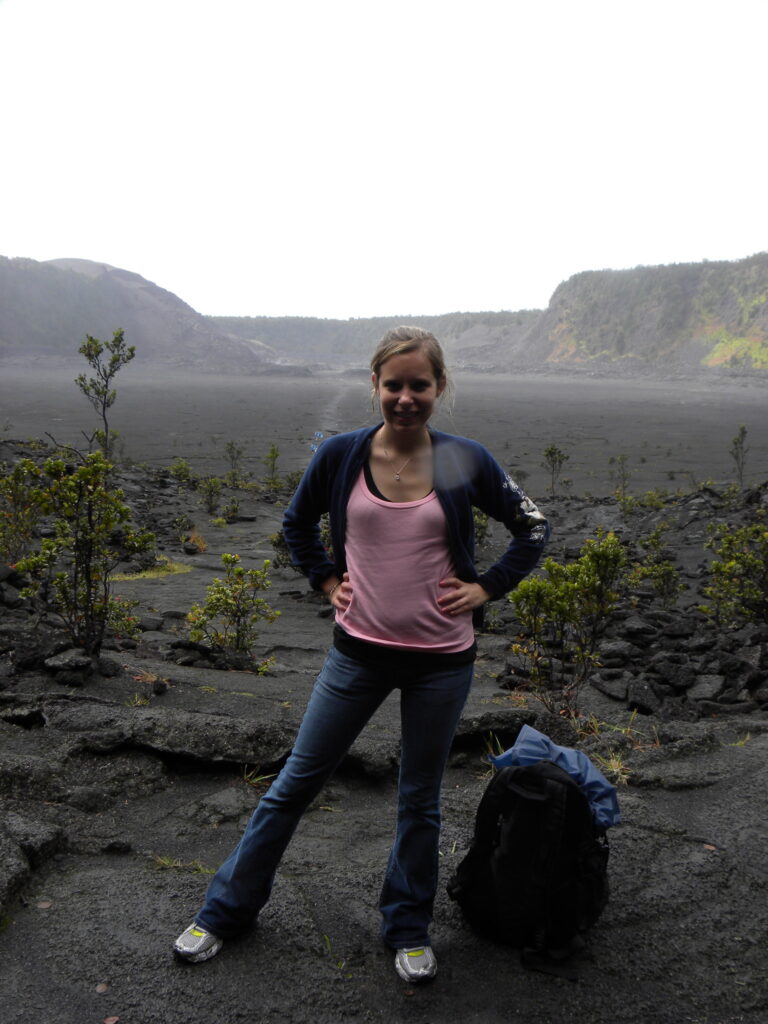 It's hard for me to even explain what this experience was like. We were standing in the crater floor; what was once a lava lake. When Kilauea erupted in 1959, this spot was filled with lava.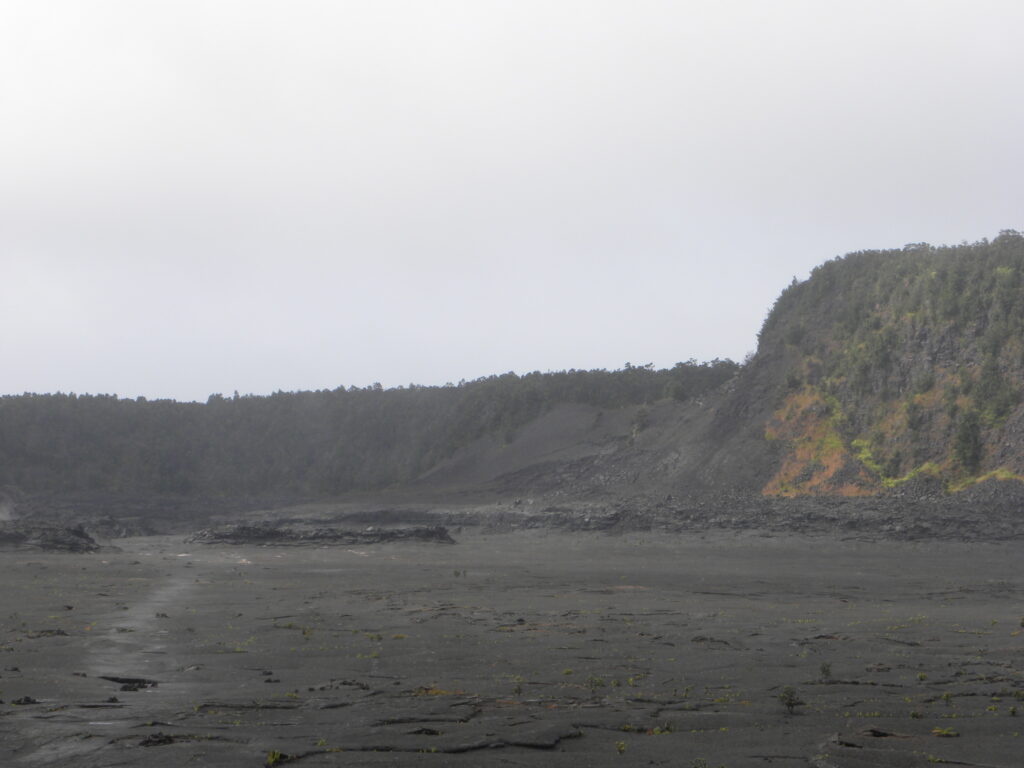 Just to get an idea of what that means, below is what Kilauea Iki looked like in 1959, right before the eruption ended.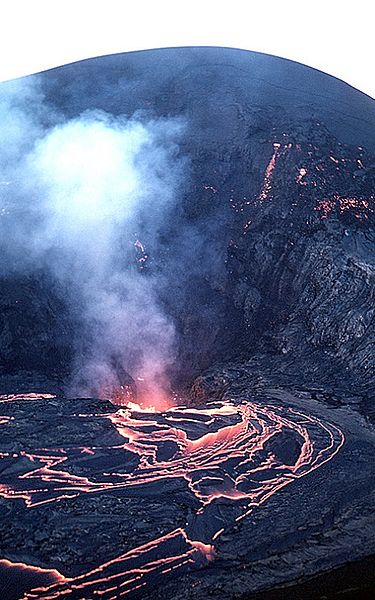 We were the only people in the crater for as far as the eye could see and it felt like we were in another world. Actually, this is quite what we imagined walking on the moon to be like (except we had gravity).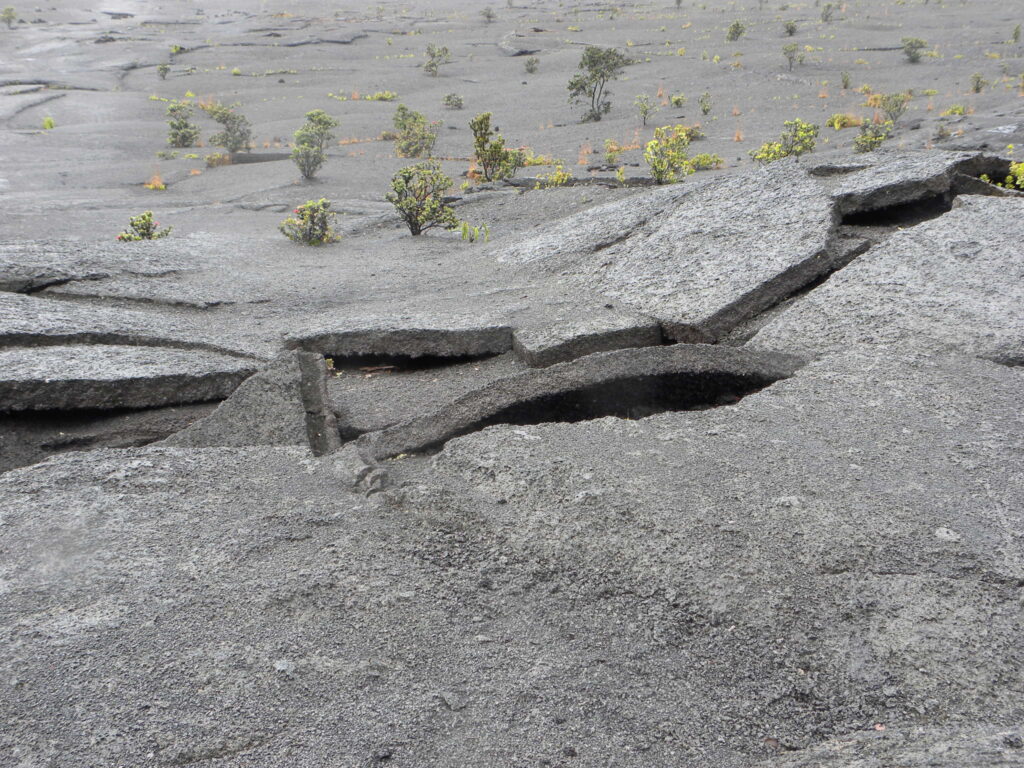 Plant life is just starting to return to the otherwise desolate surface.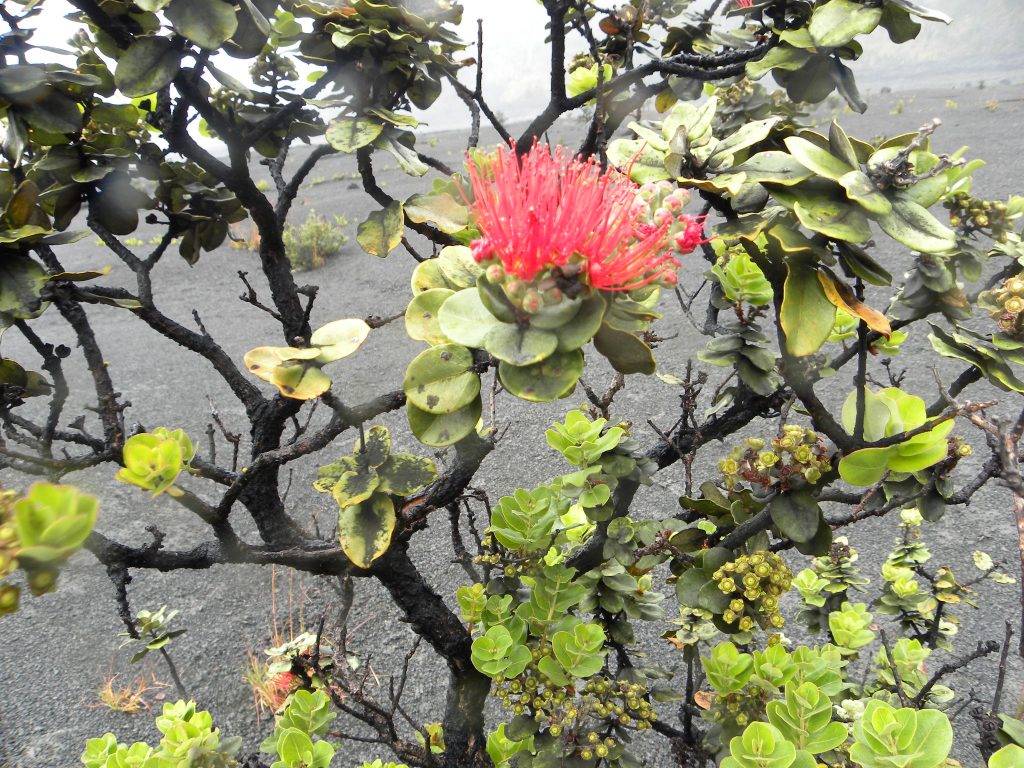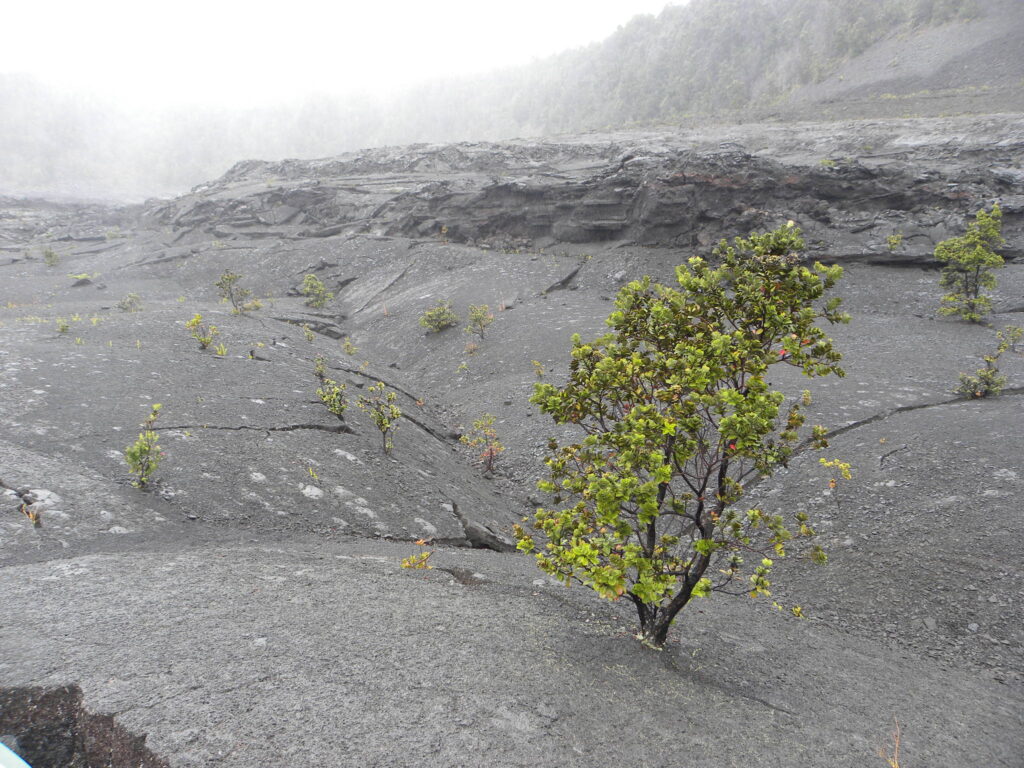 There are still steam vents all over the crater and when we reached down to touch them, they were REALLY hot!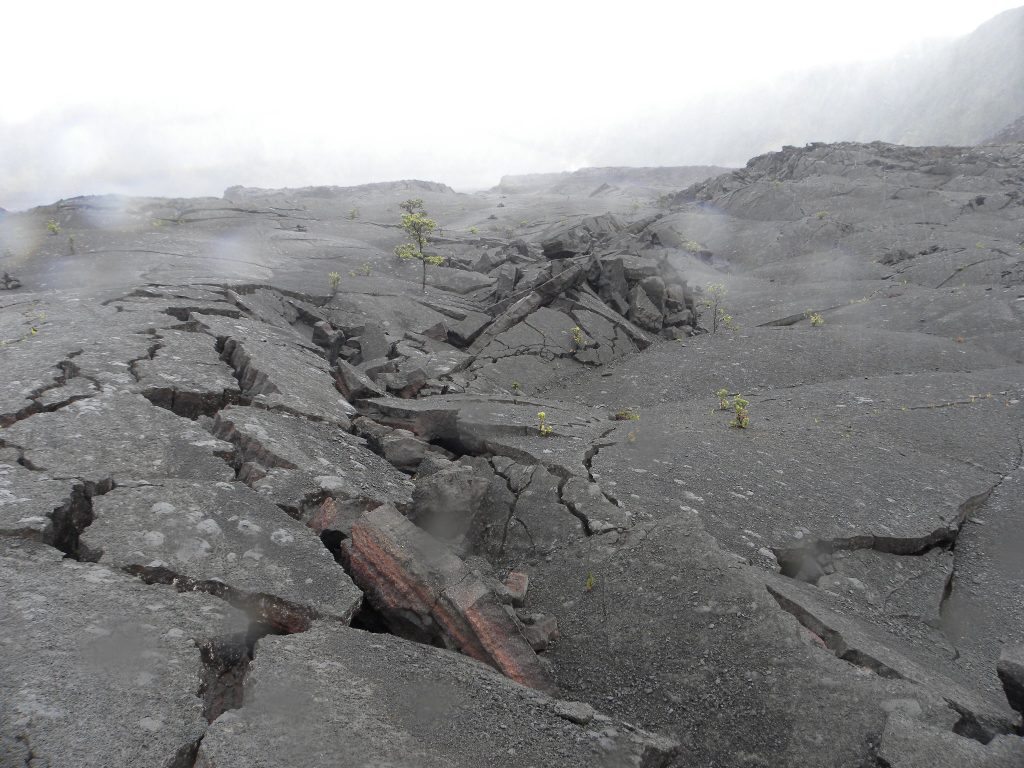 It was a long trek through the crater and we couldn't believe how it kept going on and on. At some points we felt a bit lost and had no idea where we were going. But the piles of rocks acting as trail markers helped us get back on track.
The trail actually got a bit tough toward the end and we had to climb up a lot of rocks (would probably have been easier if we were crawling down, like we should have been).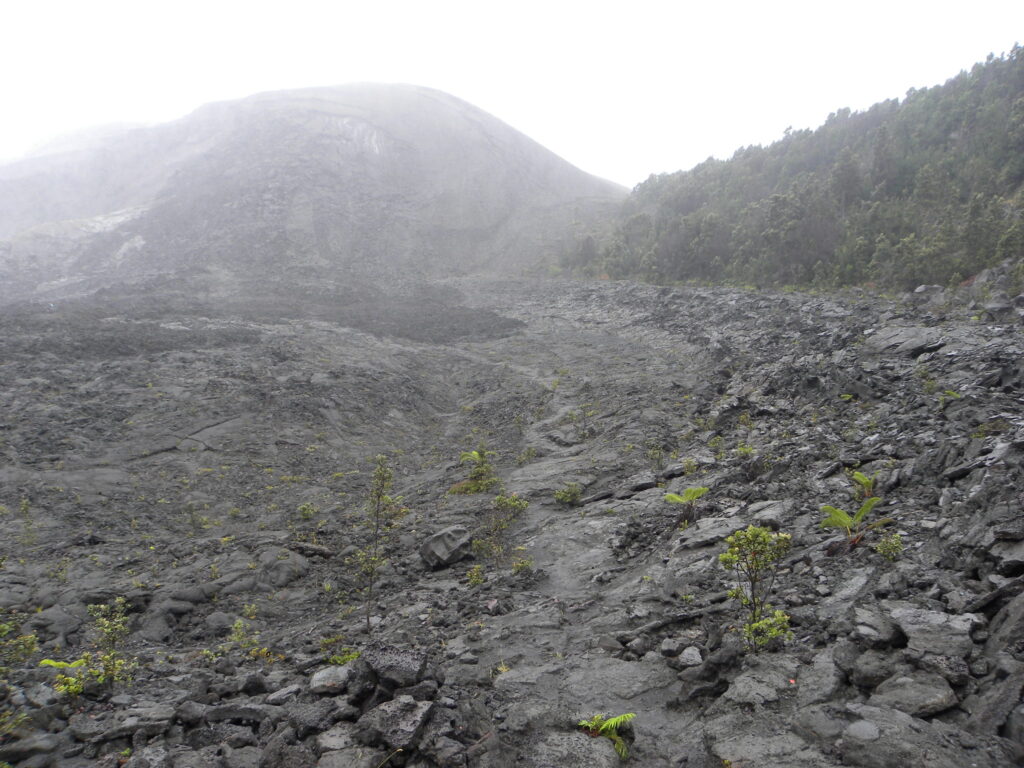 This is the view we saw from the top of the trail. Which is technically what we should have seen before entering the crater.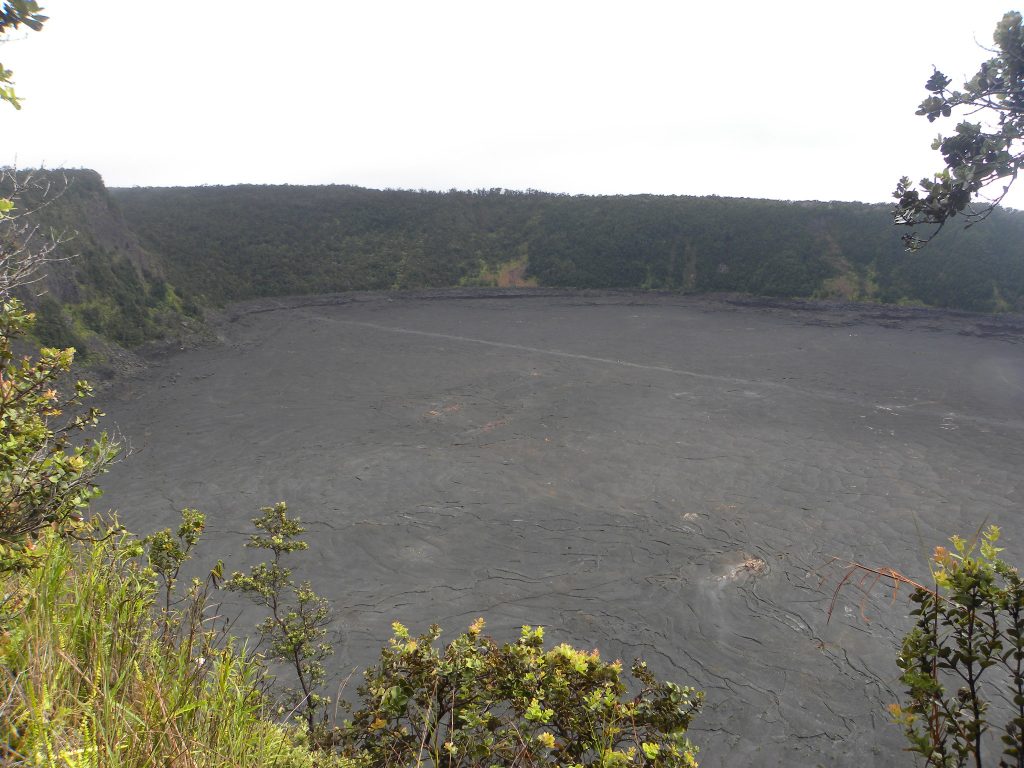 And for a little bit of perspective, this is how small people looked in the crater when we were looking down at them.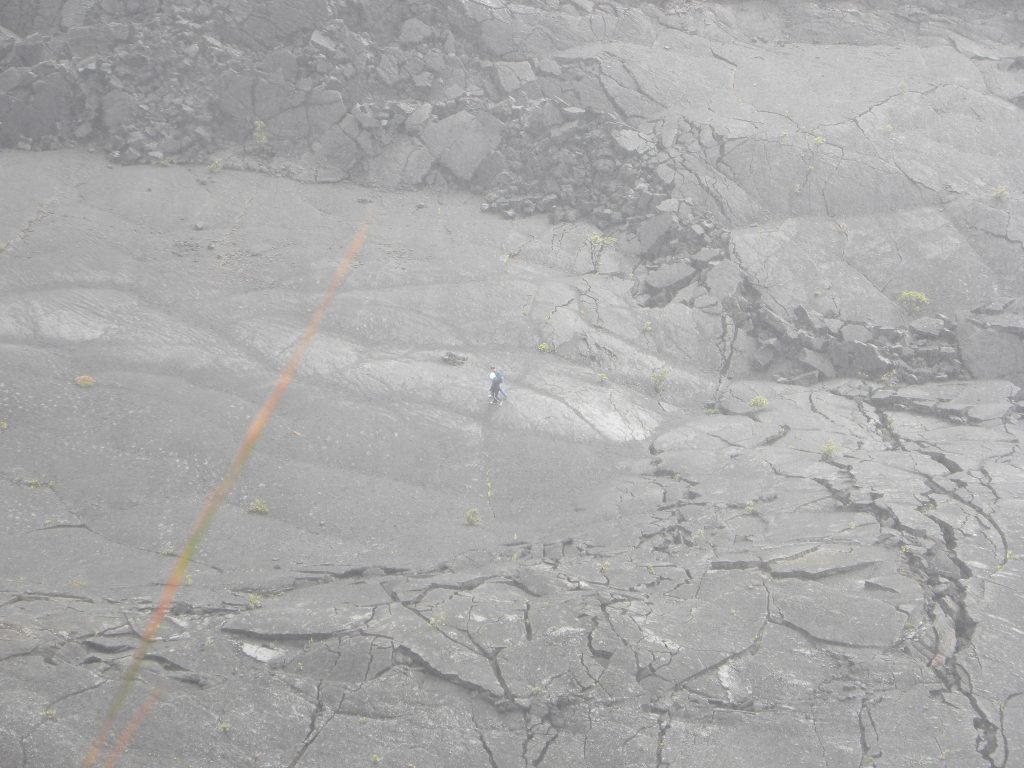 This was definitely the most amazing hike of my life! The trail wasn't too tough for us, but at some points, I couldn't even believe we were allowed to be doing this without a guide. There were large cracks in the lava; imagine falling in? And some of the climbing was a bit tough. This trail is definitely not for everyone, but if you're relatively healthy and don't have trouble walking, you would be fine.
Otherwise, there are plenty of other shorter hikes that can be done around Kilauea. But I'll never get over being able to walk across the crater.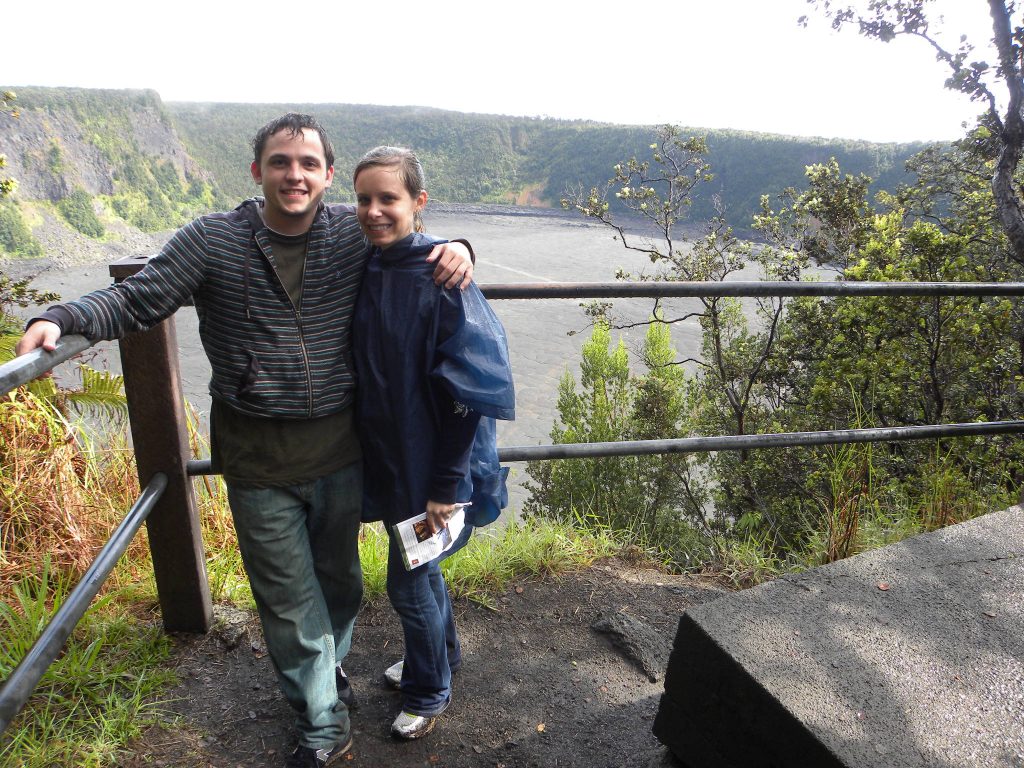 Later that week we got to actually view Kilauea erupting first hand! It was from a distance, of course, but we took some photos and video (that again, don't really do it justice), so more on that later!
After our hike, we had to stop off at the Volcano Winery, America's Southernmost winery!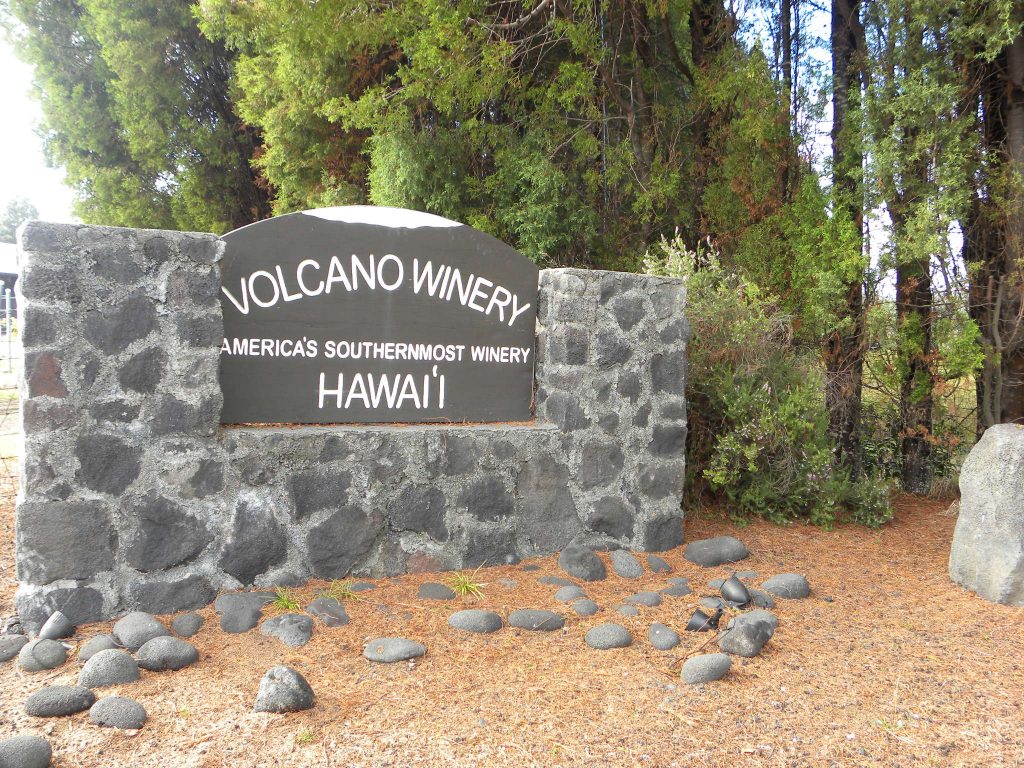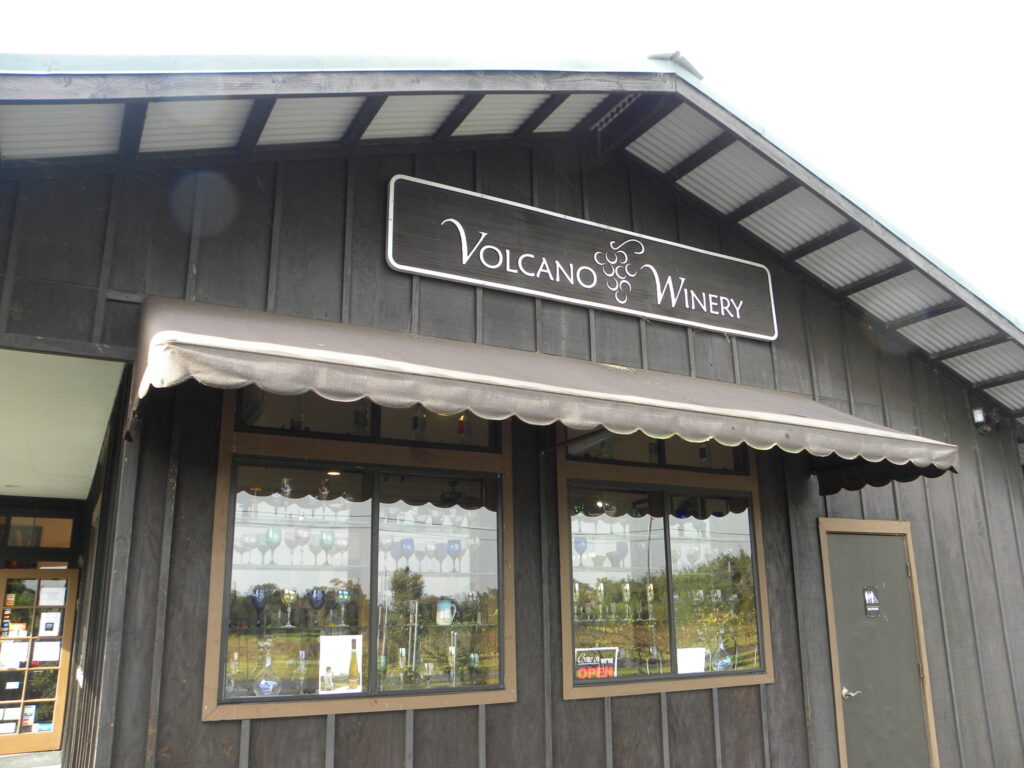 It was a lot of fun to taste some of Hawaii's wines, though most of them weren't my style. They were SO SO sweet, mostly because they don't have the same kinds of grapes we have on the mainland and they blend lots of their wines with fruit.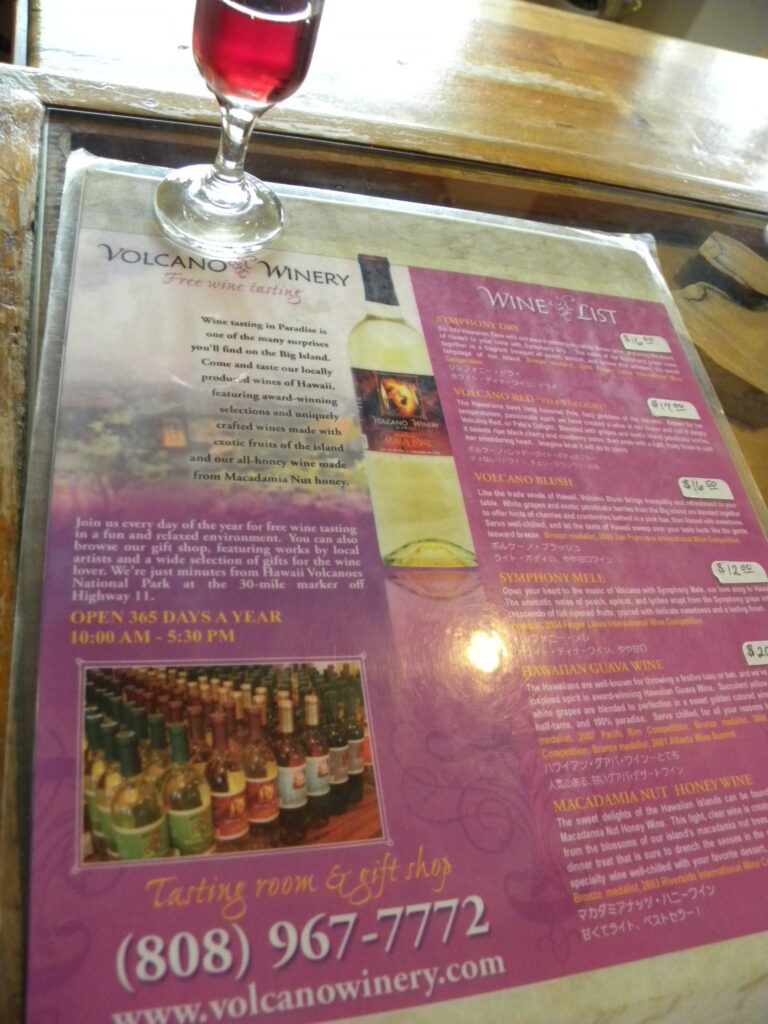 My favorite was the Volcano Red (surprise, surprise), but we also brought back a bottle of Macadamia Nut Honey Wine, simply because it was so Hawaiian and makes a good little sweet after-dinner drink.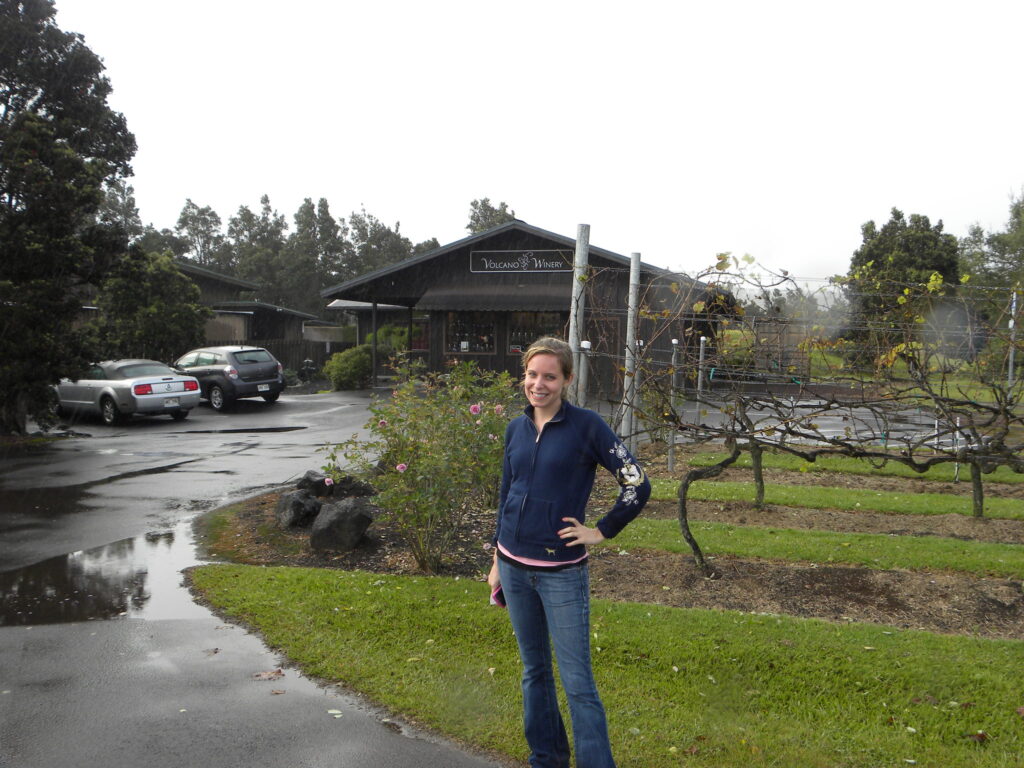 One last stop before heading back to Beth and Adam's, Boston's own EatBoston told me I needed to visit the orchid store if I was in the area.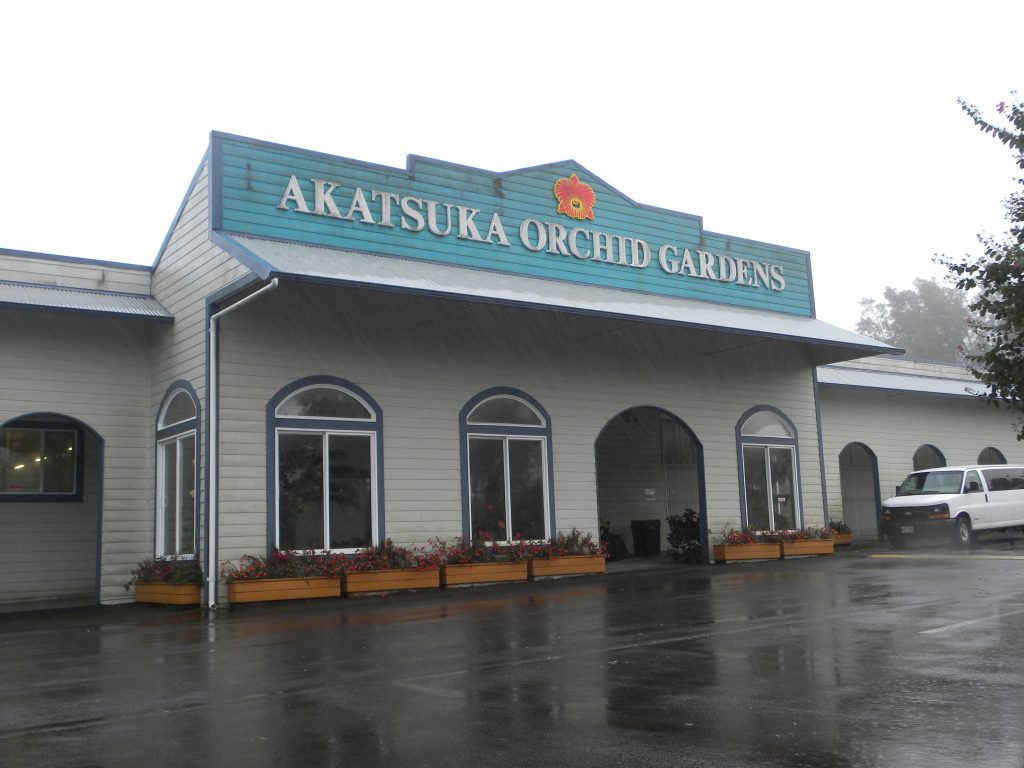 I absolutely love orchids (ever since reading Susan Orlean's The Orchid Thief), so I knew I would enjoy it here.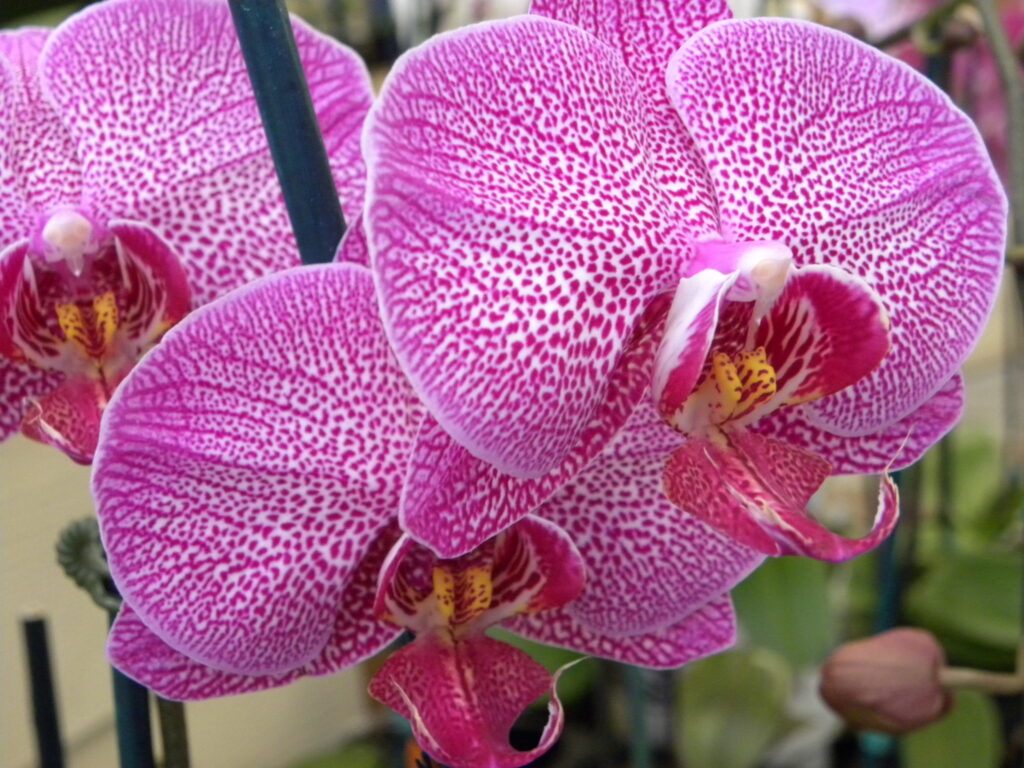 The orchids were absolutely amazing! I wish we had a bit more time because I was having a field day in here with my camera.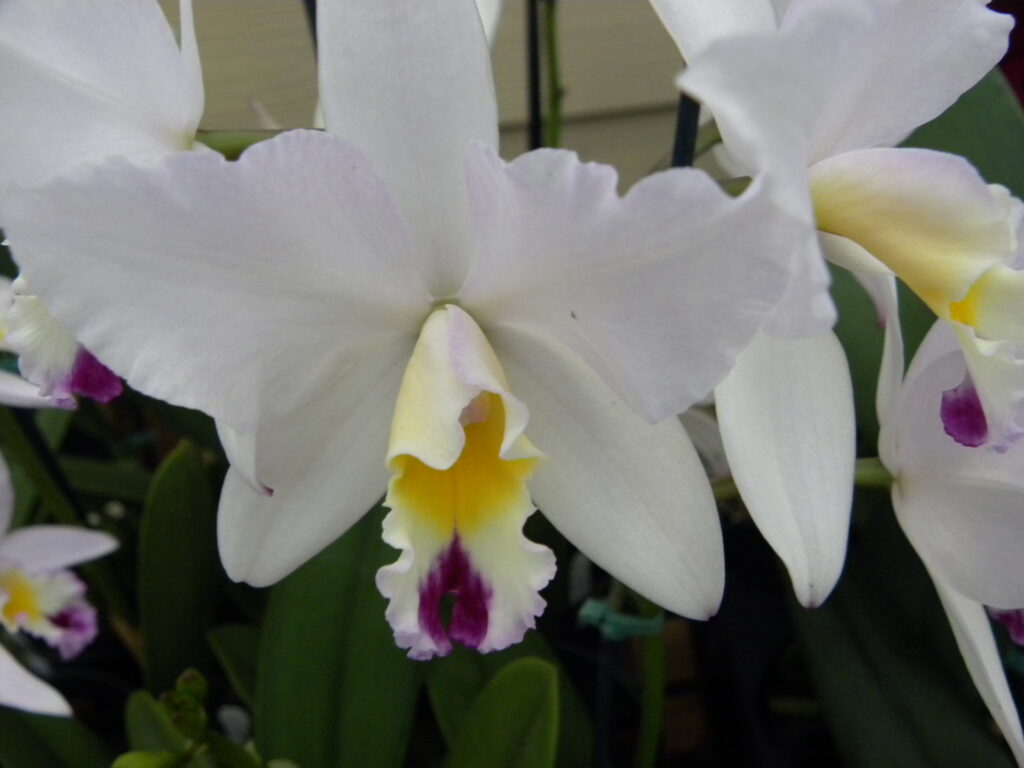 I wanted to buy every single one, but imagine it would be quite tough to get them home to Boston!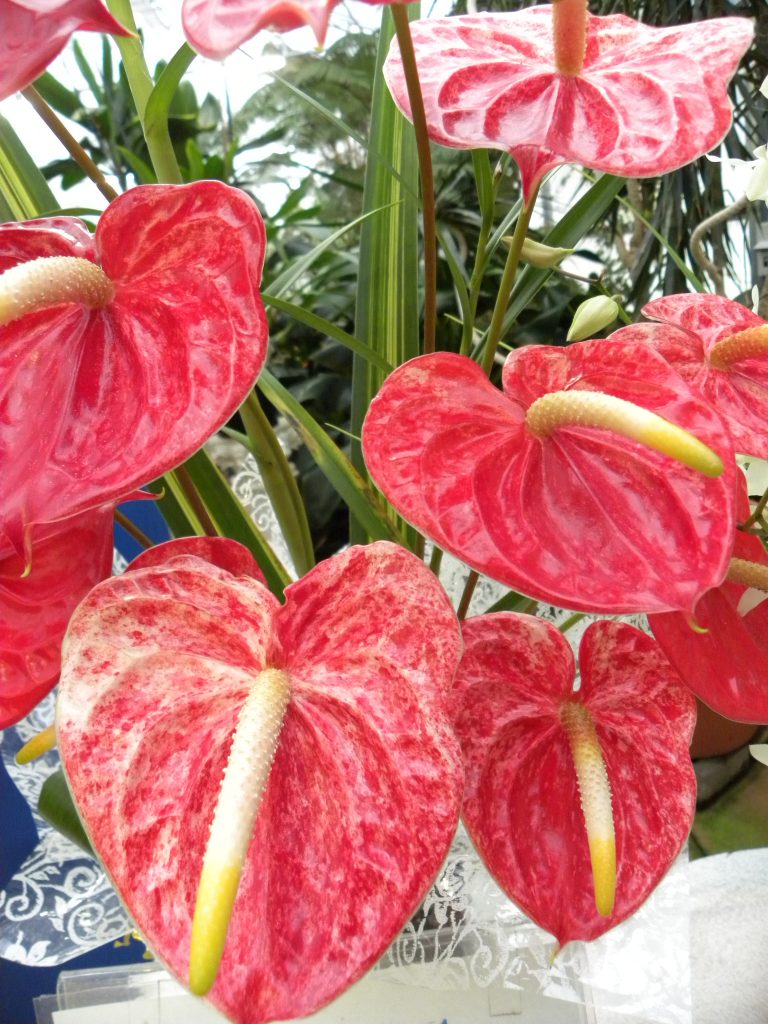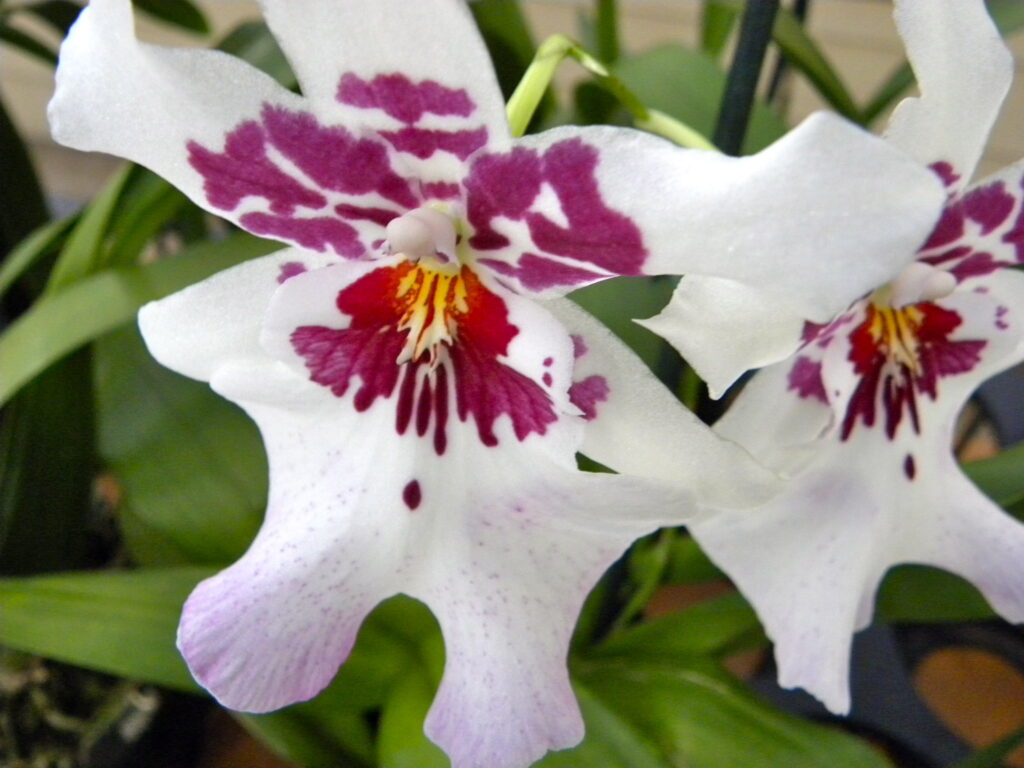 They also had little flowers you could take to put behind your ear.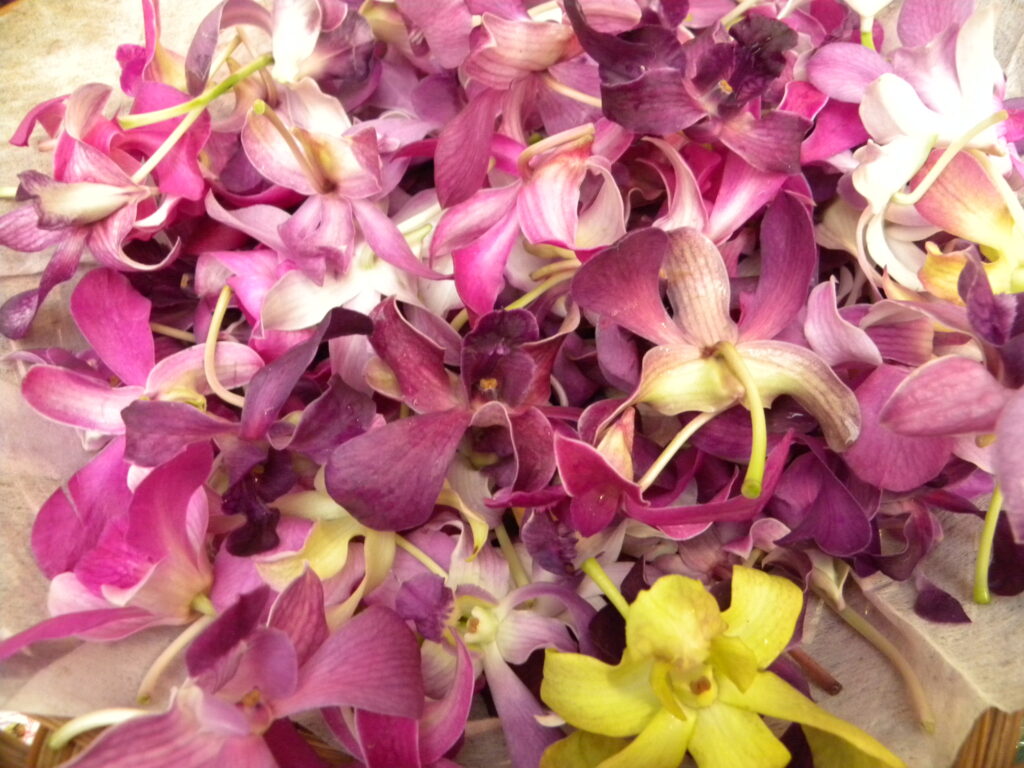 And a description of where they should go.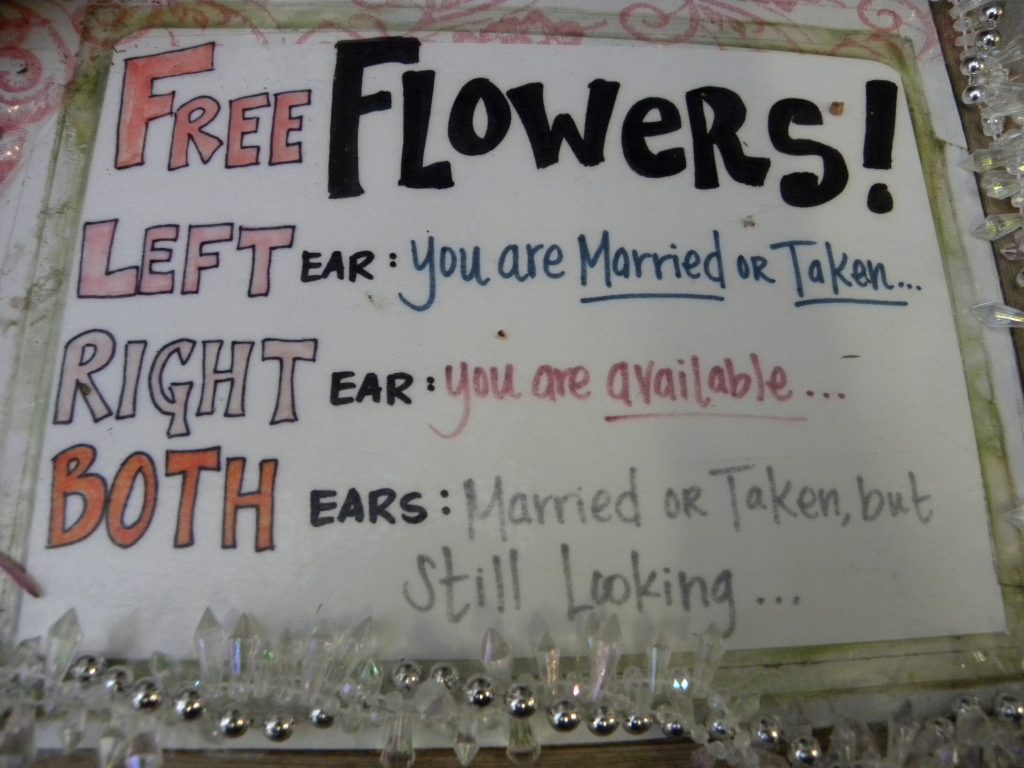 Love the sense of humor!
I'll end here since I think this is probably more than enough for one post, but I still have a lot more to write about and more photos to share, including our weekend in Honolulu!
I'm happy to be home in Boston, but a) it's really cold here, b) it's still raining, c) I miss the beaches and amazing views, and d) I miss my sister and Adam!
[Sues]