Late Monday evening I started to come down with a bit of a sore throat. When my alarm clock went off Tuesday I felt like a log as I lay in bed moaning like a beached whale. At 4am today I woke up, took some cold and sinus medicine, heated up a therapeutic stuffed pig filled with lavender and flax seeds in the microwave, blindly stumbled back to bed, and prayed to the Health Gods that I'd feel better if not immediately, as soon as possible, preferably before Friday. Sues and I are heading up to Sugarbush on Friday for a fun weekend of snowboarding lessons and luxury with SkiVermont, Cabot Cheese, and some other bloggers, so that's why I'm praying I feel better. I need to be at 100% for those slopes especially since my snowboarding skills are about 20% when I'm feeling perfectly fine. Eep.
I've convinced myself that cookies can cure all (rough weeks, heartache, bad hair days… the common cold, why not?) so when I got home from work this afternoon I decided I'd make some. But I didn't want to leave the house again to go grocery shopping. Because being in public while delirious isn't always cute. So I paid the lovely Recipe Girl a visit because she knows cookies and baked goods better than anyone on the World Wide Web. The first recipe I clicked on was for Healthy Chocolate Chip Oatmeal Cookies and I scrolled down to make sure I had everything. Sure enough, I did. Including pitted dates. Helloooo, well stocked pantry! I also figured since I'm sick eating "healthy" cookies was the best and only option. Duh.
Here's what you need: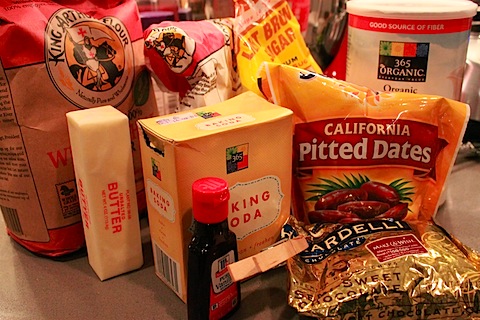 • 6 Tablespoons unsalted butter
• 3/4 cup light brown sugar, packed
• 1.5 cups old fashioned oatmeal
• 1/3 cup all-purpose flour
• 1/3 cup whole wheat flour
• 3/4 teaspoon baking soda
• 1/2 teaspoon salt
• 1 large egg, lightly beaten
• 1 teaspoon vanilla extract
• 1 cup finely chopped pitted dates
• 3 ounces dark chocolate, chopped (I ended up using dark semi-sweet chocolate chips… because that's what I had and I didn't want to leave the house, remember?)
Here's what you do:
• Preheat oven to 350 degrees. Lightly grease baking sheets or line with parchment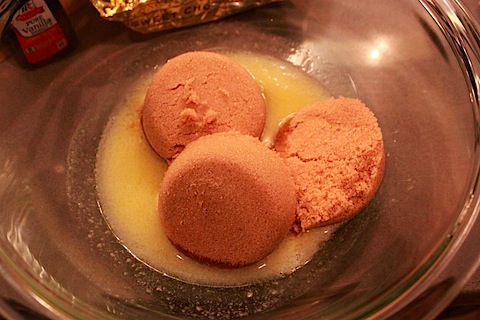 • Place butter in a microwave-safe bowl. Melt in microwave until just melted.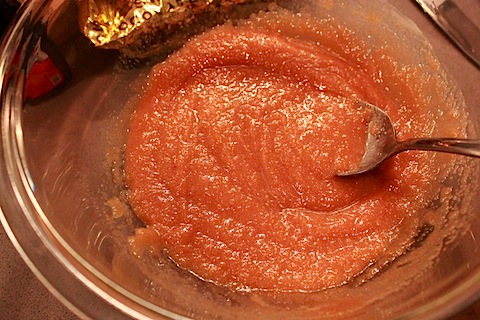 • Remove from microwave and add brown sugar, stir until just smooth-ish.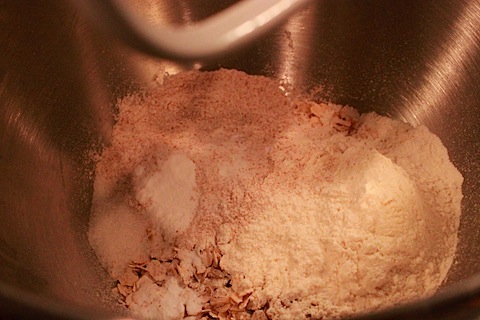 • In the bowl of an electric mixer (or you can just do it by hand), whisk together oats, flours, baking soda and salt. Stir until smooth.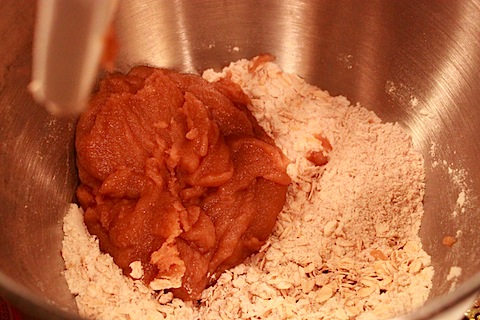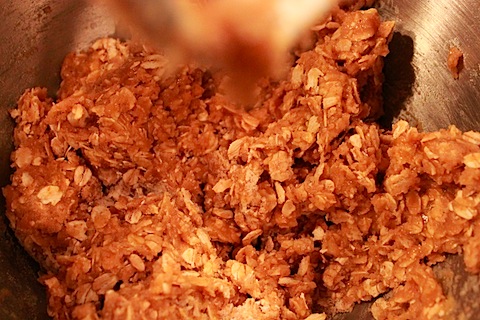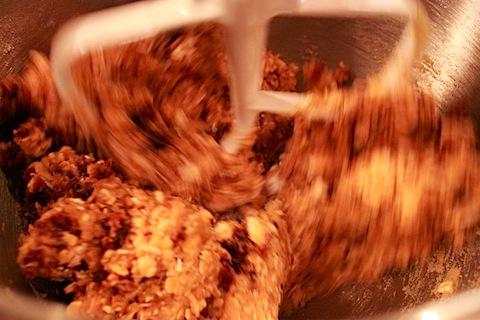 • Stir in butter and sugar mixture, along with egg, vanilla, and dates.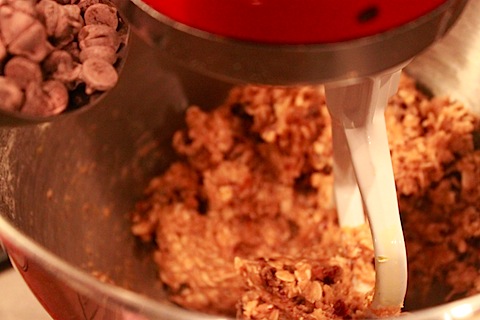 • Fold in chocolate chips and mix well.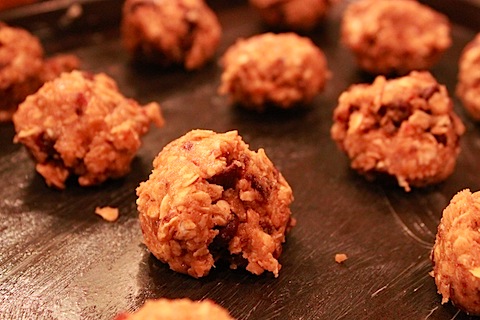 • Using a tablespoon, gently drop cookie dough onto your prepared baking sheets. Bake for about 12-15 minutes, or until the cookies set. I ended up keeping mine in the oven for about 15 minutes since they still appeared a bit undone at the 12-minute mark.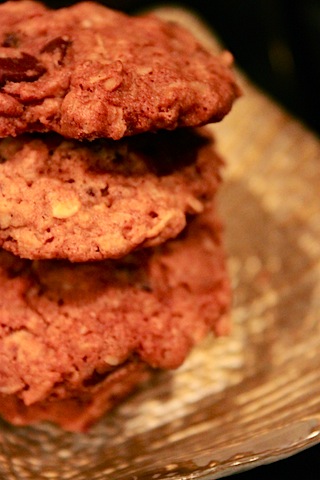 I ate 2 of these while I waited for my dinner to finish. And about 3 after dinner. Because straight out of the oven, these cookies will knock your socks off and probably cure your illness, too. The oatmeal melts in your mouth and the tiny hints of sweet stickiness from the dates will clear your sinuses. Kidding. But they'll do something that will just make you happy and forget that you're sick. 🙂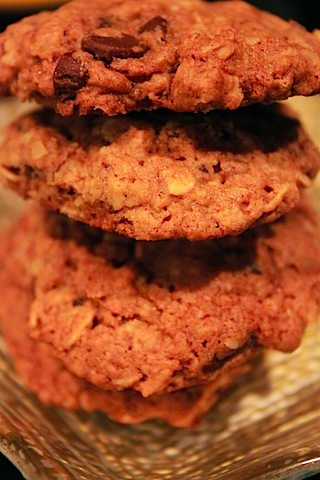 [Chels]