Contrary to popular belief, risotto is incredibly easy to make and worth every second of stirring. This Jalapeño Cheddar Risotto is packed with flavor from lime juice, jalapeño pepper, and sharp cheddar cheese.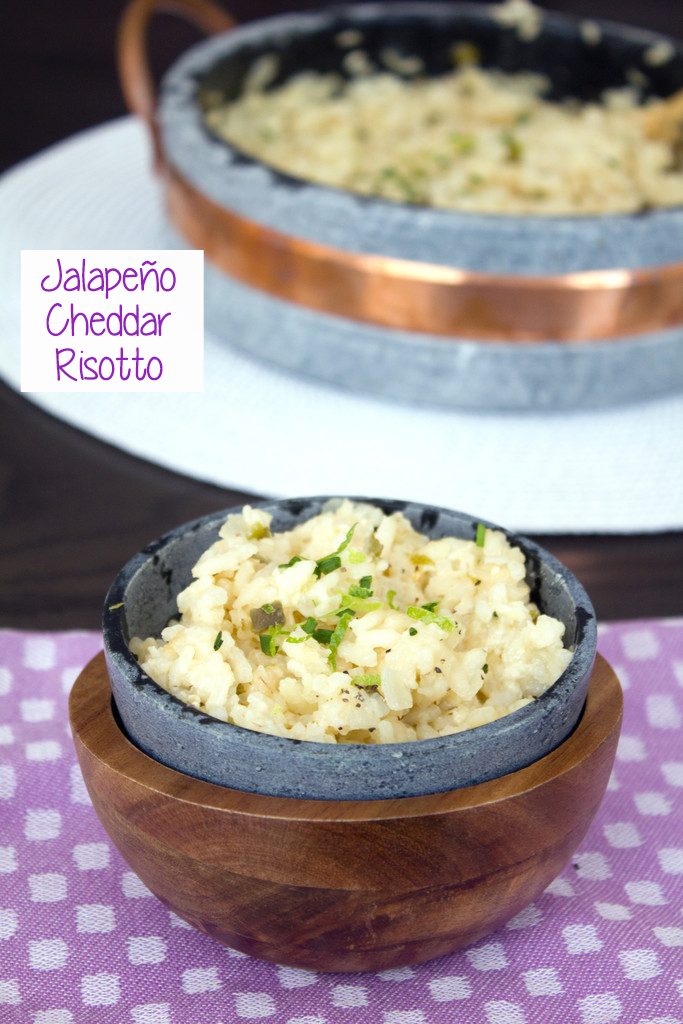 Dear Monday, I hate to be the one to break the news to you, but nobody likes you. You're annoying and obnoxious and have a way of always sneaking into my thoughts when I'm trying to do other things, like enjoy my weekend. You think you're so cool because you're at the beginning of the week, but you seem to always forget that Sunday is actually the first day in the week. And everyone knows that "first is the worst; second is the best," is just a made-up jingle meant to make losers feel better. You, my friend, are a loser. You're always packed with a million meetings and massive to-do lists and a ridiculous amount of catchup from everything I didn't get to on Friday. The only thing you're really good for is The Bachelor and Bachelorette, which has been aired on Monday nights for the last 42ish years. Probably because producers know I'll have a straight-up breakdown every Monday if not for this little joy. Thank you, ABC.
The only other thing that can really save Monday is a really good dinner. I like to serve tacos on Mondays instead of Taco Tuesday for this very reason. But risotto is also a favorite Monday treat. You might be thinking, "Oh hell no; why would I want to stand over a stove making risotto after a long Monday of work?" But if I've said it once, I've said it a million times; risotto is super easy and, if anything, I find it to be a relaxing dish to make at the end of a long day. This Jalapeño Cheddar Risotto will make your Monday brighter... And give you enough leftovers for the rest of the week.
JALAPEÑO CHEDDAR RISOTTO RECIPE
I made this risotto in my soapstone pot from Uncommon Goods (thank you to the brand for sending these goodies to me!) and I know it sounds silly, but cooking in this pot makes me feel super rustic and way happier than cooking in a regular saucepan. I'm not really sure what it means to "feel rustic," but I know I like it. Making the risotto is as simple as sautéing onion, jalapeño, and garlic; adding in the risotto and wine/cider, and stirring in chicken or veggie broth, cup by cup. Obviously don't forget to stir in the sharp cheddar cheese and lime juice at the end!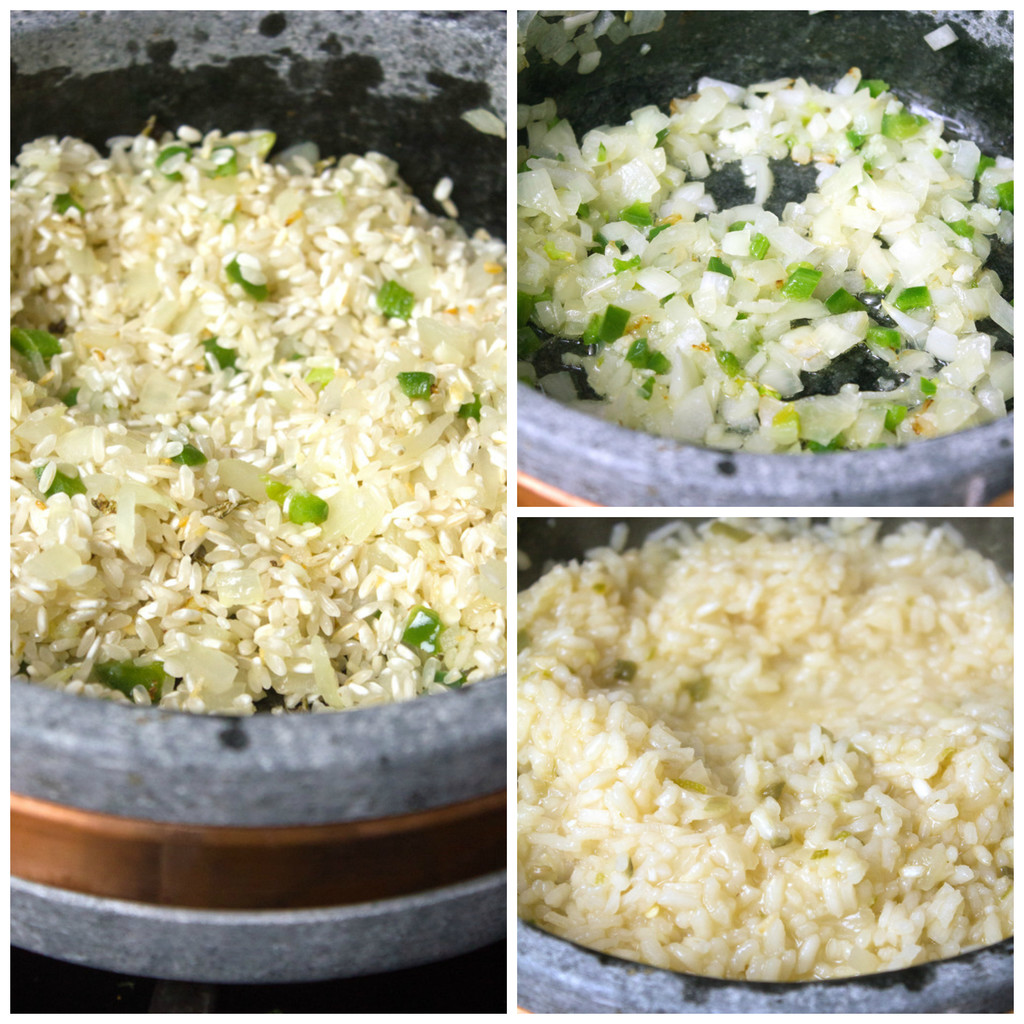 Yes, you will need to stir the jalapeño cheddar risotto a bit, but just to make sure it doesn't start sticking to the bottom of the pot. But you don't have to be a slave to this meal.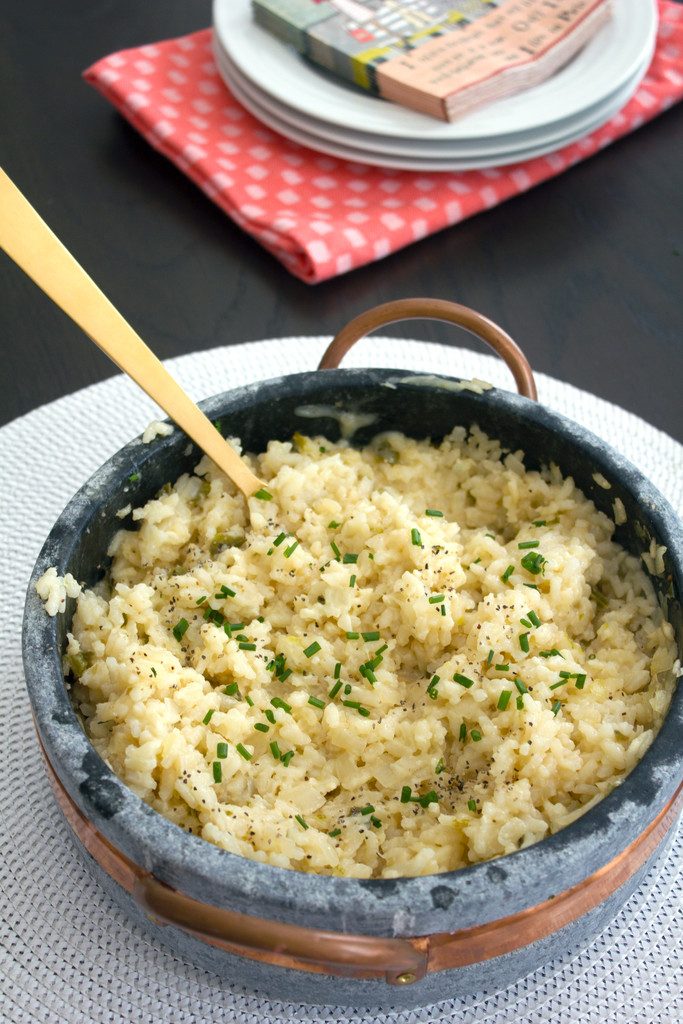 Though even if you did... I'd say it would be pretty much worth it. Even for a Monday.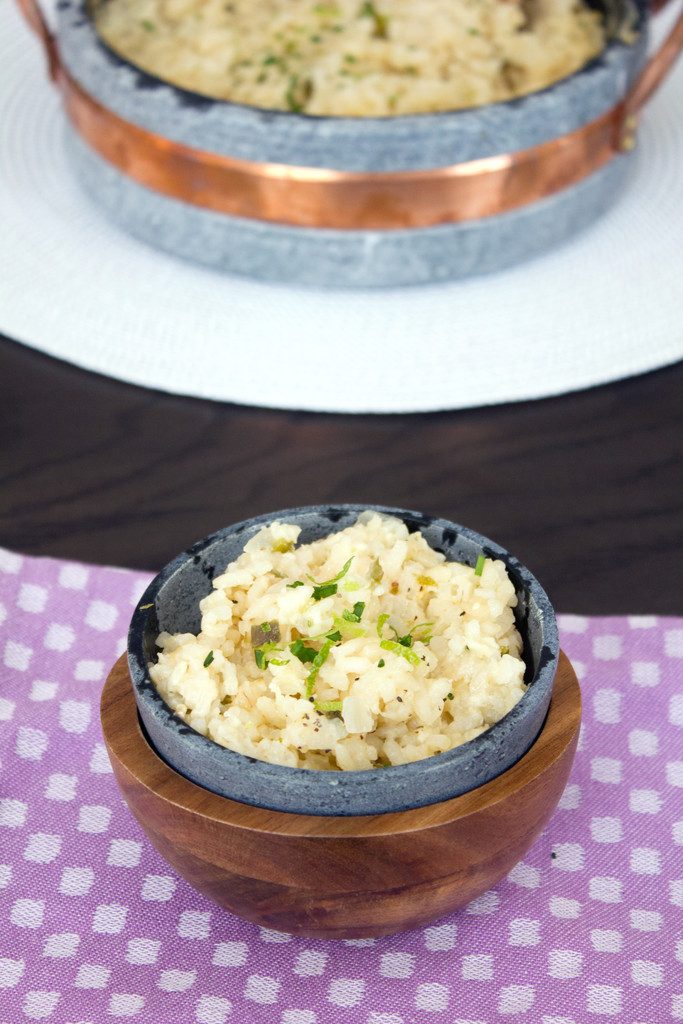 I'm always amazed by how creamy risotto is; despite not having any cream or milk in it and really not a lot of cheese. In fact, I usually don't add ¾ cups of cheese to my risotto, but since I was calling this recipe cheddar risotto, I figured I needed to do it up. Side note: I used the Farmhouse Reserve Cabot Cheddar, which is pretty much my all-time favorite cheese, aside from Private Stock and Artisan Reserve.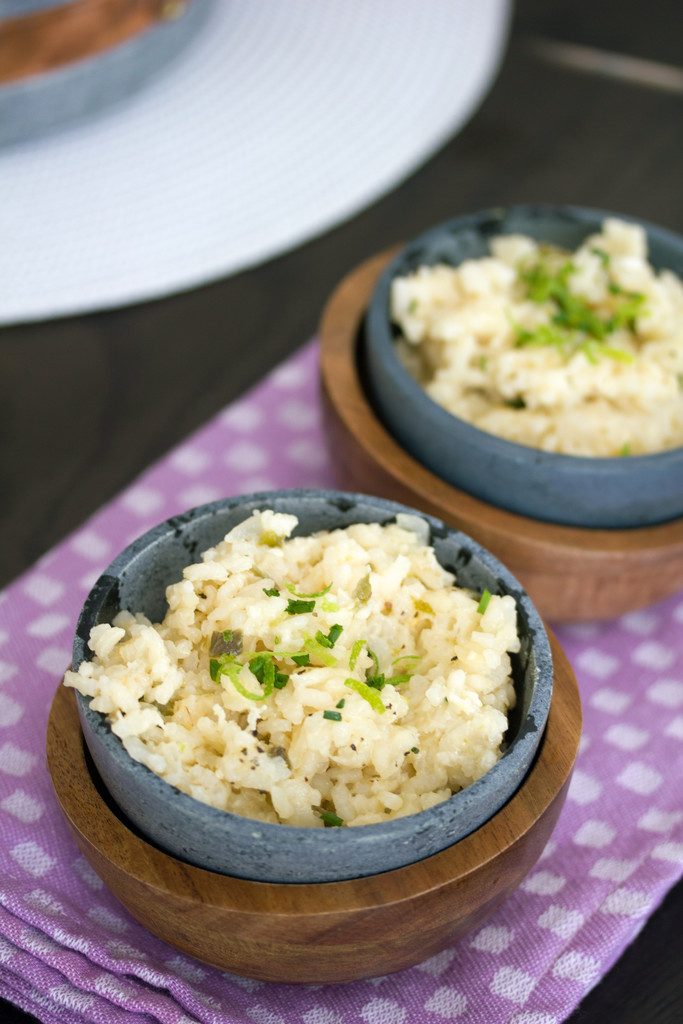 While I always think risotto is the perfect winter comfort food, I also love to make a quick pot of it in the summer and bring it to work for lunch all week long. Plus, the lime juice and zest and jalapeño give this the perfect warm weather kick.
This Garlic Parmesan Risotto is another favorite of mine.
And aren't my little soapstone bowls adorable?? They're especially great for ice cream, but you can also put the soapstone piece in the oven to keep your food warm without burning your hands. Genius!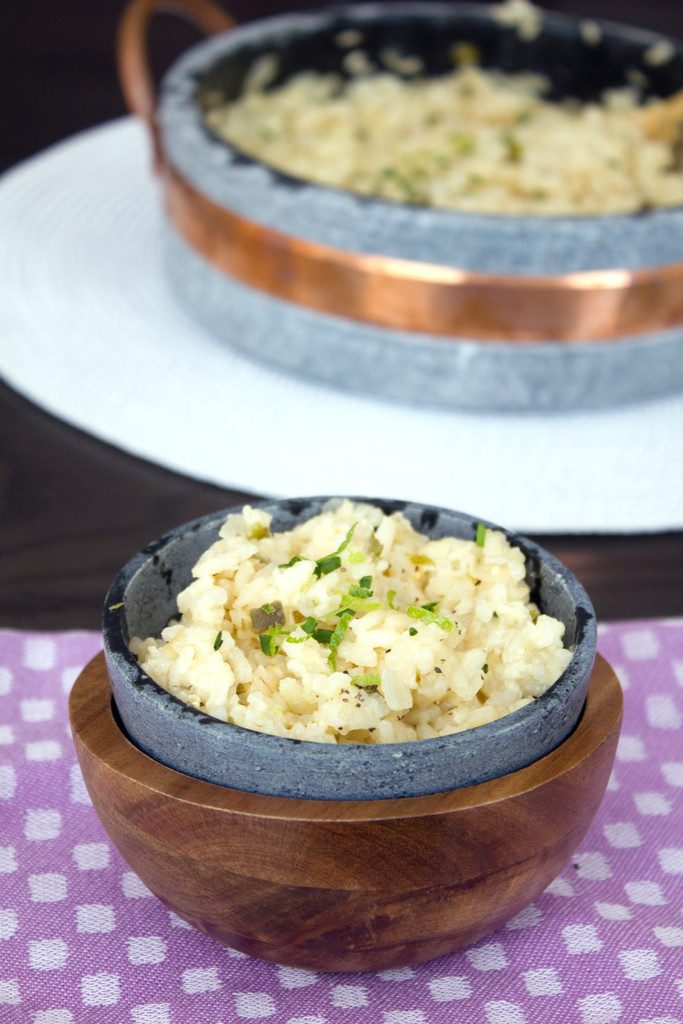 OK Monday... If you're going to mean jalapeño cheddar risotto, I guess I will tolerate you. Though Risotto Mondays doesn't really have the same ring to it as Taco Tuesday. But that's OK; I'm still game!
Do you have a perfect Monday night meal?
If you love this risotto recipe, be sure to check out my Blue Cheese Risotto with Kale and my Breakfast Risotto with Bacon and Poached Egg. I also can't wait to try this Caprese Tomato Risotto from Platings and Pairings!
📖 Recipe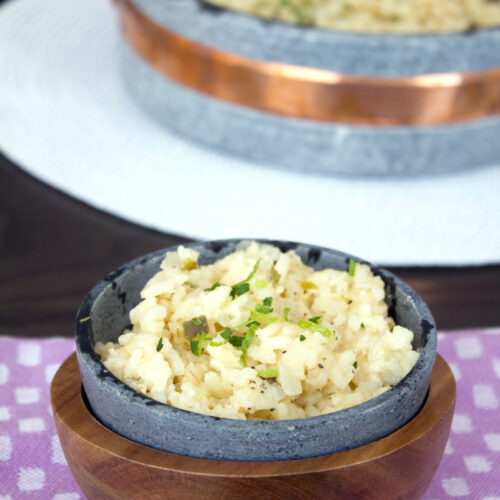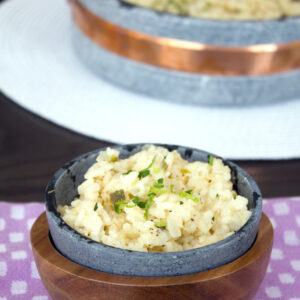 Jalapeño Cheddar Risotto
Contrary to popular belief, risotto is incredibly easy to make and worth every second of stirring. This Jalapeño Cheddar Risotto is packed with flavor from lime juice, jalapeño pepper, and sharp cheddar cheese.
Print
Pin
Rate
Ingredients
4

cups

chicken or veggie broth

1

Tbsp

unsalted butter

1

cup

chopped onions

2

Tbsp

chopped jalapeño

3

cloves

garlic,

minced

1 ½

cups

arborio rice

½

cup

dry white wine or hard cider

1

tsp

chopped lime zest

2

Tbsp

lime juice

¾

cup

shredded sharp cheddar cheese

Salt and pepper

1

Tbsp

chopped chives,

for topping if desired
Instructions
Pour chicken or vegetable broth into a saucepan and bring to a boil. Lower to a simmer.

In a separate medium saucepan, heat the butter over medium heat. Add onion, jalapeño, and garlic and cook about 3 minutes, until onion is transparent and garlic is fragrant.

Add the arborio rice and cook for about 2 minutes.

Pour wine or hard cider into the saucepan and cook, stirring until it's absorbed, about 2 minutes.

Add 1 cup of the warmed broth to the rice. Stir and let the rice absorb the stock. Once the broth is absorbed, continue to add more, a cup at a time, stirring and letting it absorb before adding more. You don't have to stir non-stop, but make sure rice doesn't start sticking to the bottom of your saucepan.

Continue with the rest of the broth, or until the rice is nice and tender, but still firm.

When rice is fully cooked, stir in lime zest, lime juice, and sharp cheddar cheese.

Season with salt and pepper to taste before serving and top with chopped chives, if desired.
Share a Photo of Your Finished Recipe!
Mention @wearenotmartha and share a photo if you've made the recipe!