Though it's traditionally a dinner food, risotto can be enjoyed in the morning, too! This recipe for Breakfast Risotto combines bacon, eggs, and cheese for the ideal way to start your day.
(This Breakfast Risotto recipe was originally posted in June 2013, but has been updated with new photos and copy.)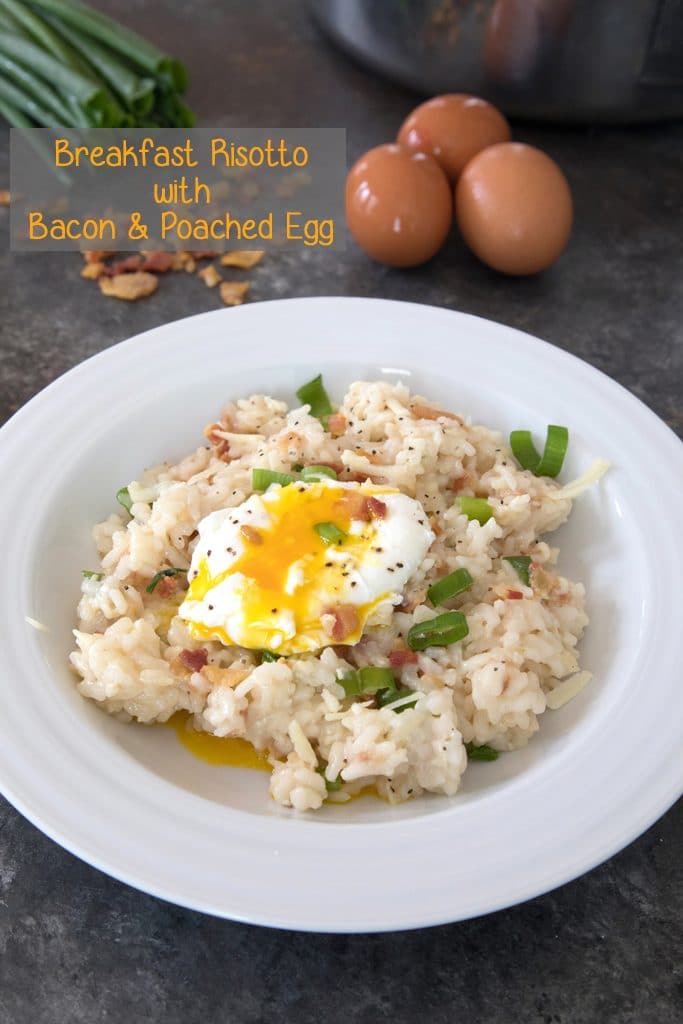 If you live in a place where the seasons distinctly change, do you find that the drop in morning temperature directly correlates to how difficult it is for you to get out of bed in the morning? The struggle has been real for me in a way that I never noticed before. Though I am certain that 50% of my struggle is due to the cold and 50% of it is due to the fact that my dog literally spoons me in the morning and makes it incredibly difficult for me to get out of bed. I'm so comfy and cozy and warm and cannot bear the thought of leaving that cocoon. And then when I try, I literally cannot get out of bed without picking my dog up and moving her myself. She will not budge and would probably stay snuggled up all day if I let her. I simultaneously love it and hate it.
The upside to my late wake-ups is that I'm learning I need far less time in the morning to get ready than I once thought. I am generally a big fan of leaving myself plenty of time in the morning, so I can sip my coffee and leisurely get ready and mentally prepare for my day. But warmth has trumped that pretty much every morning the last couple weeks and I'm totally OK with that. In any event, no matter how early I get out of bed, I always wait until I get to work to eat breakfast and have never been the kind of person who is standing at the stove at 6:00 a.m. poaching eggs and frying bacon. But I do love cooking big breakfasts on the weekends and then packing leftovers to enjoy during the week. And this recipe for Breakfast Risotto is the BEST for leftovers. So, you can totally make it during a nice relaxing weekend and then enjoy it all week long.
You're probably over there all like, "risotto?? for breakfast??" And all I will respond with is, "yes." And then I'll obviously give you the recipe and urge you to make it and stop asking so many questions. Just trust. The bacon and cheddar and poached egg on top make it 100% justifiable as a breakfast food.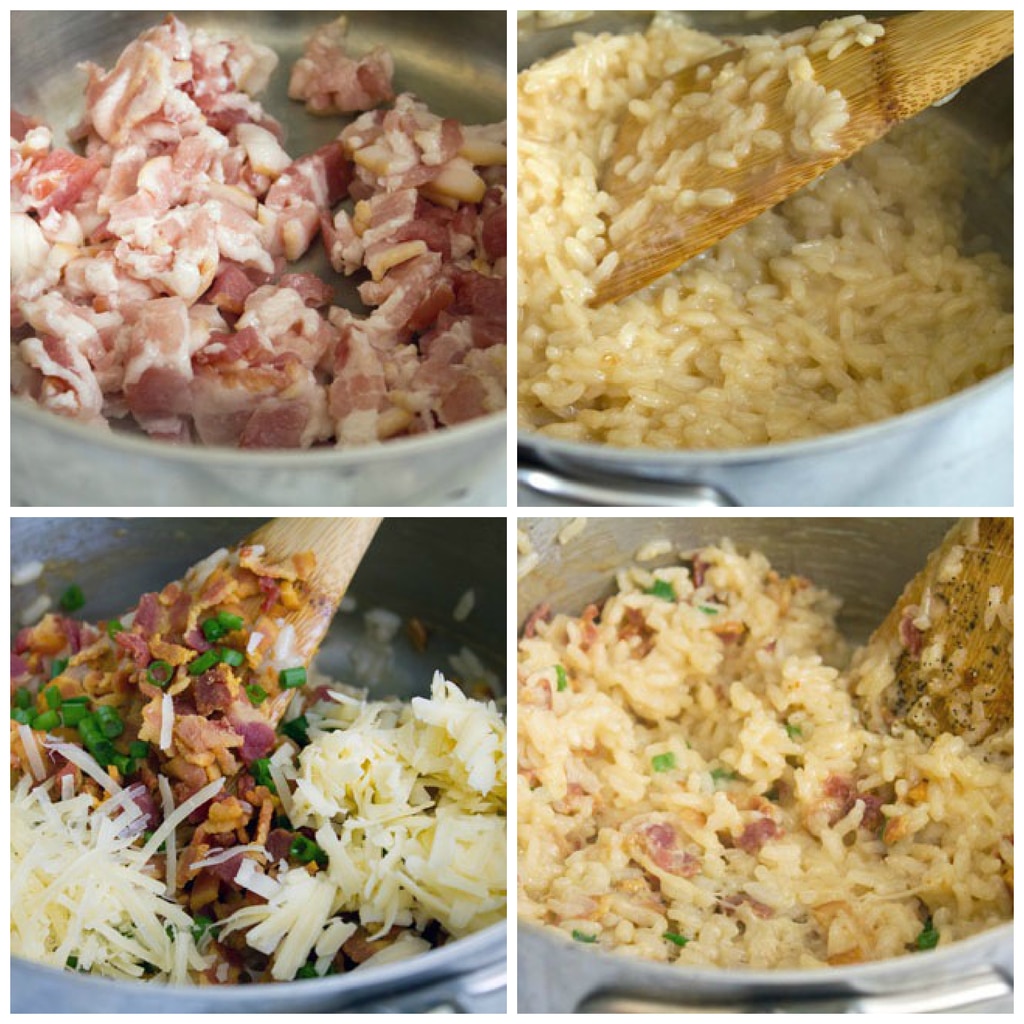 Realistically, I'm not going to be eating risotto for breakfast every day, but on a particularly cold morning when I'm craving a filling and satisfying, stick-to-your-ribs kind of dish, this is it. Side note that I've always hated the term "stick to your ribs" as it's kind of a disturbing visual, but I also feel like it's the best way to describe risotto on a cold morning.
Plus, the bacon and poached egg will provide a little protein and you won't be hungry again 30 minutes after you eat a bowl of breakfast risotto, which I'm pretty sure is what the term "stick to your ribs" means.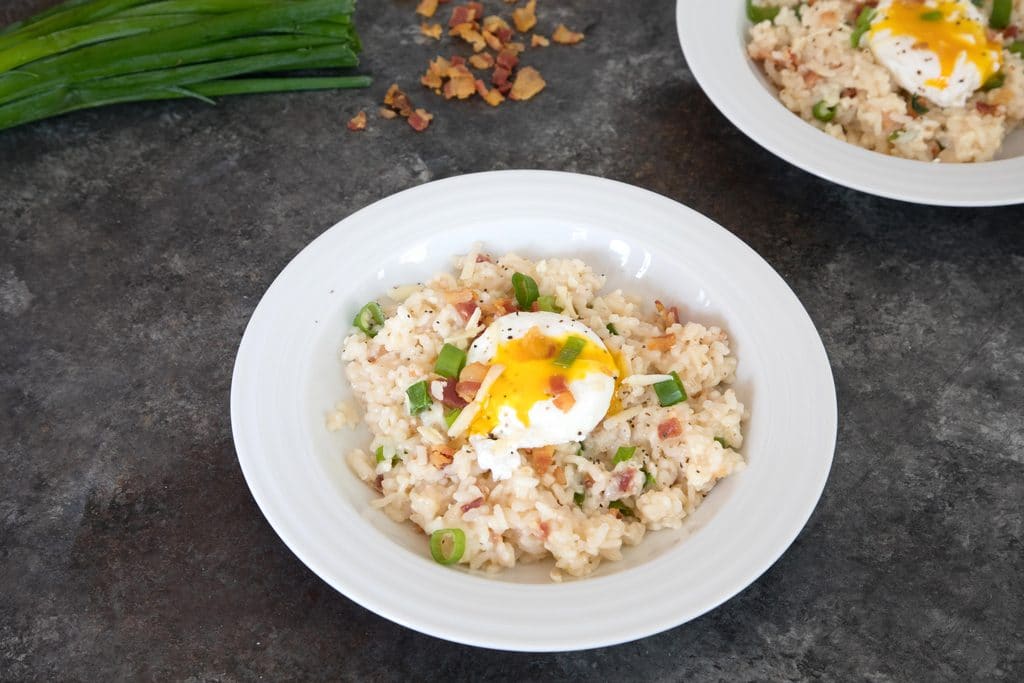 Now, if you're thinking, "well, sure I can make this ahead of time, but what about that poached egg? I'll have to forfeit that if I make that in advance, right?" I will tell you no!! You don't! One of the best skills you can learn is to make a batch of poached eggs in advance. Just cook them like you normally would and then shock them in an ice bath and let them sit in water in your fridge for up to two days. Then you can just pop in the microwave for a few seconds and you're all ready to enjoy a nice runny yolk on top of your breakfast risotto.
Yes, you can enjoy poached eggs on a random Tuesday when you got out of bed 20 minutes after your alarm went off and have been running from meeting to meeting ever since.
If I've said it once, I've said it a million times, but risotto is so easy to make and not at all scary like some would lead you to believe. I was going to say I can do it in my sleep, but if I actually could, I suppose that would mean I'd be enjoying this for breakfast every single day (and man, I'd feel so productive when I woke up in the morning if I always had a big batch of risotto ready to go).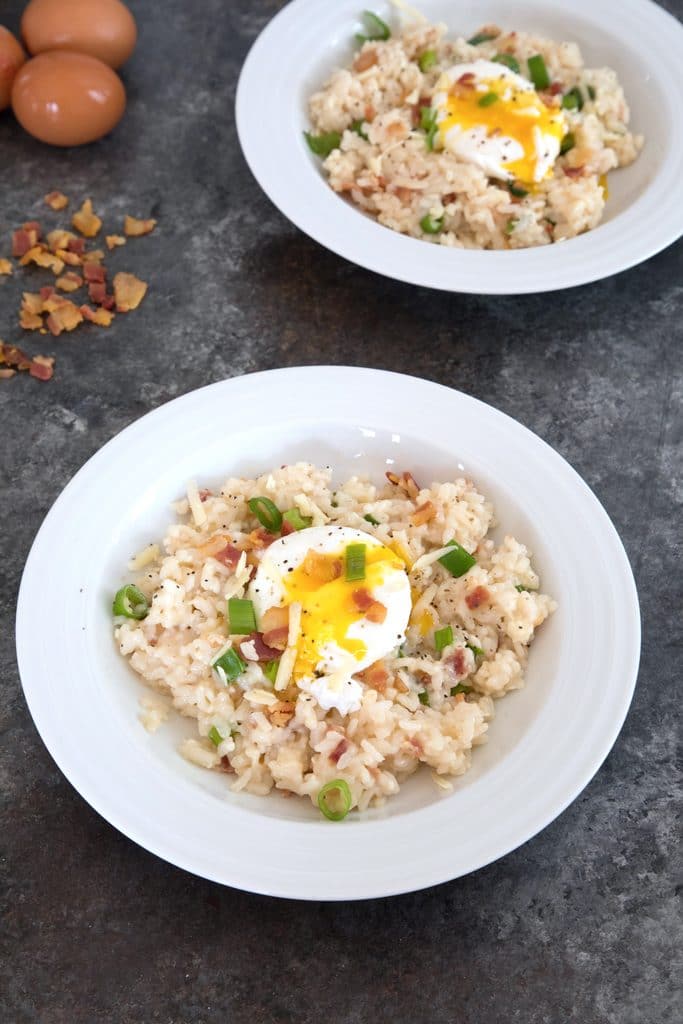 It seems weird to recommend coffee with risotto, but man a steaming cup of coffee and hot bowl of breakfast risotto is the most dreamy way to start a 35-degree day. The only way it would be better is if I were enjoying it while still snuggled in bed with my dog. And perhaps if my dog actually served it to me. But considering Winnie won't even move an inch to let me get out of bed, I don't really see that happening.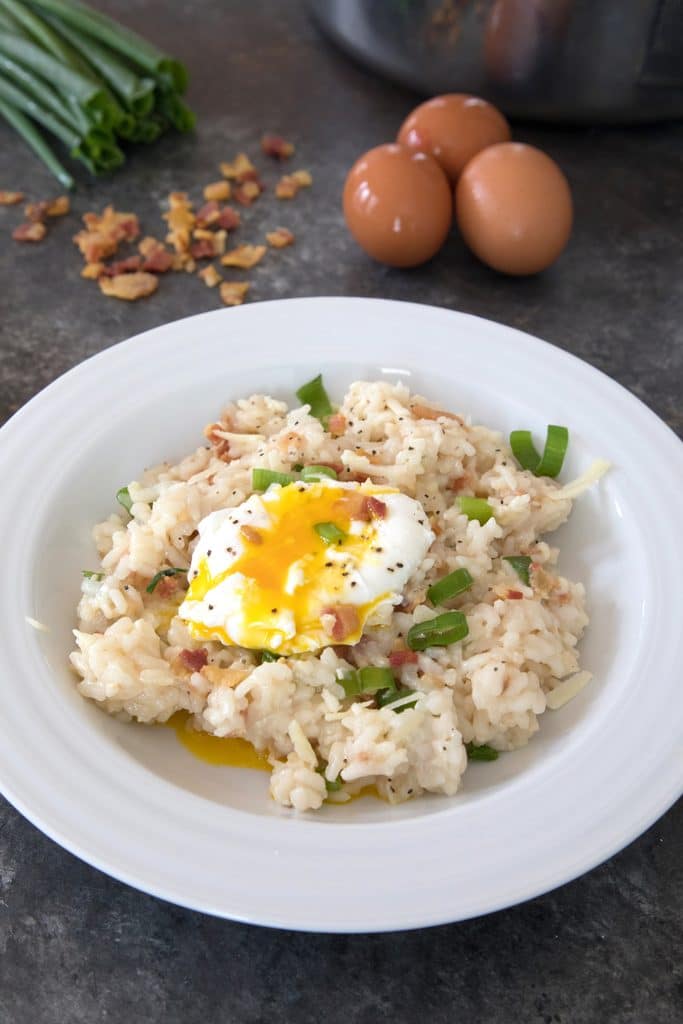 Oh, I should also mention that this breakfast risotto also makes the perfect dinner risotto if you're in a breakfast for dinner kind of mood. Is that confusing? Basically, eat this any time of day and you'll be happy.
Have you ever had risotto for breakfast?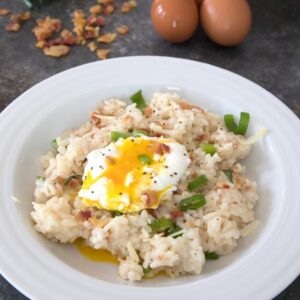 Print Recipe
Breakfast Risotto with Bacon and Poached Egg
Though it's traditionally a dinner food, risotto can be enjoyed in the morning, too! This recipe for breakfast risotto combines bacon, eggs, and cheese for the ideal way to start your day.
Ingredients
6

strips bacon

4

cups

low-sodium chicken broth

3

cloves

garlic

finely chopped

1

cup

arborio rice

1/4

cup

dry white wine

4

large eggs

2

Tbsp

vinegar,

for poaching egg

6

scallions,

chopped

1/4

cup

grated parmesan cheese

1/2

cup

shredded sharp cheddar cheese
Instructions
Chop bacon into bite-sized pieces and put it in a large saucepan over medium heat.

Cook the bacon until it's nice and crispy and remove with a slotted spoon to a paper towel-lined plate. Leave about 2 Tbsp of oil in the pan and drain the rest. Set aside.

While bacon is cooking, pour chicken broth into a medium saucepan, bring to a boil, and then lower to a simmer. Leave simmering.

Put garlic in pan with the bacon grease and let cook for about 30 seconds to a minute over medium heat.

Add arborio rice to pot and cook for about one minute, until it's translucent around the edges.

Pour white wine in, stir, and take care to scrape the brown bits from the bottom of the pan. Let cook until wine is completely absorbed.

Add 1/2 cup chicken stock in, stir, and let broth absorb.

Continue to add broth into rice 1/2 cup at a time, stirring, and letting absorb.

While risotto is cooking, poach eggs by filling a large saucepan with high sides with water and vinegar and bringing to a simmer over medium heat.

Crack each egg into a little bowl and then slowly pour the eggs into the simmering water, one at a time.

Turn off the heat of the stove and let the eggs cook for about 4 minutes.

Remove eggs from water to a paper towel-lined plate.

When all of the chicken broth has been incorporated into the risotto, stir in the chopped bacon, scallions, parmesan cheese, and cheddar cheese and sprinkle with salt and pepper.

Serve risotto in individual bowls with poached eggs on top.