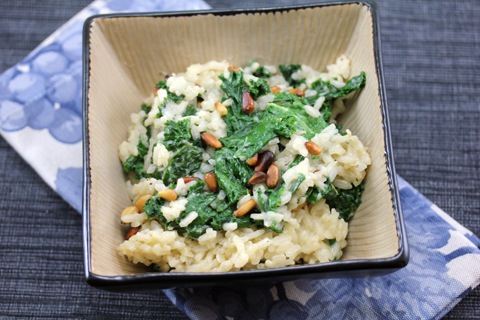 I'm pretty sure you know by now that you can do ANYTHING (and everything) with risotto. And that I most definitely do. I'm pretty sure I come up with a new risotto plan every single evening and I actually have a few brewing in my head as we speak. I actually just posted about a Mushroom Feta Quinoa Risotto for the Mushroom Channel because yes, you can make risotto with quinoa. And yes, you should. But you can also make a seemingly typical risotto with arborio rice. And then jam pack it full of blue cheese, kale, and pine nuts. And call it a day. Or a dinner. And a lunch the next day. Because let's face it, I barely have enough time to get dinner on the table at night, much less lunch in my work bag.
And this truly is one of my favorite things about risotto. It's so versatile, I feel like I'm eating a completely new dish every time I make it. But I am able to make risotto with my eyes shut. And that means a lot to me right now. Trust me, a lot.
Plus, there's wine involved. But only 3/4 C. Which means there's still almost a whole bottle left to enjoy with your meal. How can you not love a recipe like that?
Blue Cheese Risotto with Kale (serves about 4-6):
Print this recipe! 
4 C low-sodium chicken broth
2 T olive oil
3 shallots, chopped
4 cloves garlic, chopped
1.5 C arborio rice
3/4 C dry white wine
4-6 oz. blue cheese
half bunch of kale
1/4 C pine nuts, toasted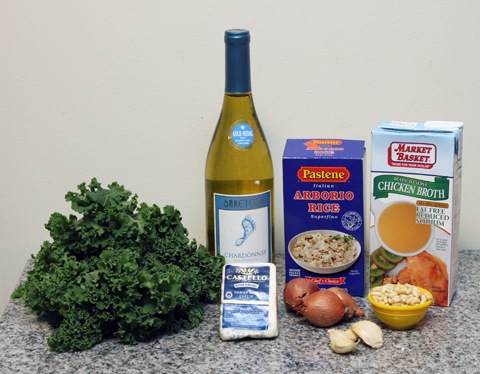 And now I will commence typing this recipe with my eyes closed. I'm kidding, but I actually probably could. I know the technique so well by now. And I did take PAWS for Typing in second grade.
Start by bringing your chicken broth to a boil and then lowering the temperature to a simmer. Leave on burner.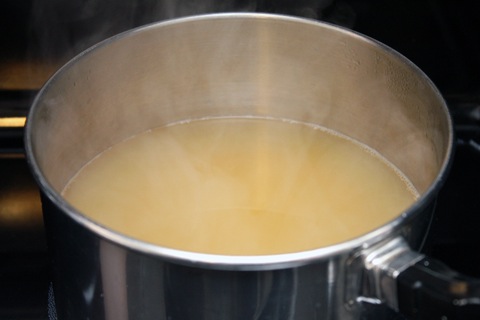 Add olive oil to a different medium sized saucepan and stir in shallots and onion over medium heat. Cook for about 3 minutes, until onion is translucent.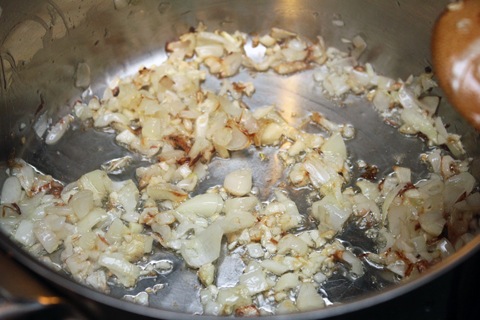 Add arborio rice to pot and cook for another 2 minutes, stirring gently.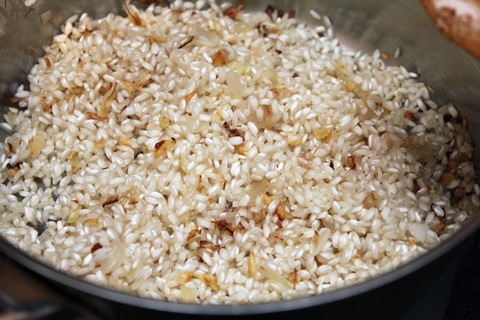 Pour in your lovely white wine and stir. Let rice absorb all of the liquid.
Then begin adding chicken broth to the mixture one cup at a time, stirring in between each addition and waiting for liquid to absorb. Remember, you don't have to stir risotto non-stop, but make sure you keep an eye on it or all the liquid could absorb and rice will stick to the pot.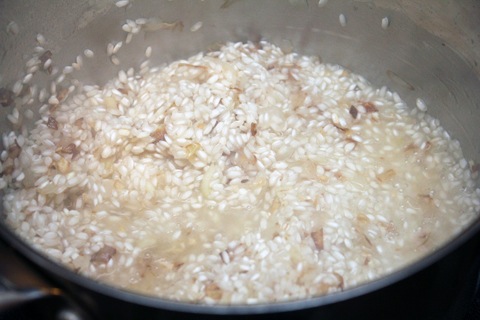 While you're waiting for the chicken broth to be absorbed by the rice, crumble up some blue cheese. Blue cheese has ALWAYS been a favorite of mine for as long as I can remember. I am a huge fan of stinky cheese and the more flavorful the better.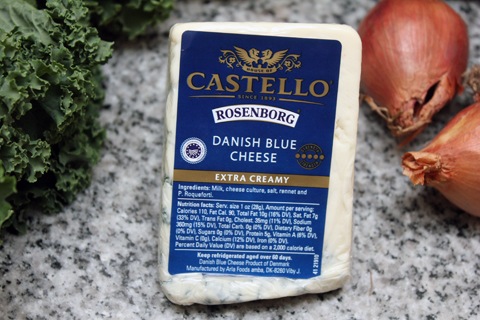 Toast up your pine nuts, too. But you may have to open up your eyes for this one. I clearly didn't and ended up burning mine a bit. Most of them were still fine and I certainly wasn't going to start over after considering how much pine nuts cost (what is with that?). But next time I will keep my eyes open for this part.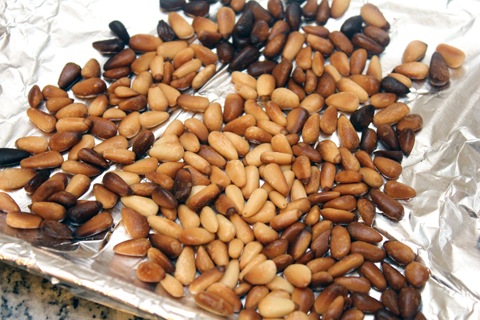 Stir in your cheese and your kale leaves. Letting kale wilt a little bit. I still wanted mine to have some crunch, though.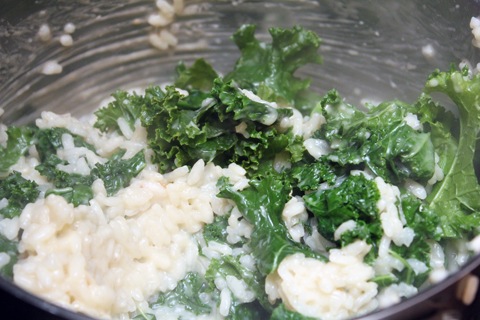 =
Mix in the pine nuts and serve! With a few more pine nuts sprinkled on top.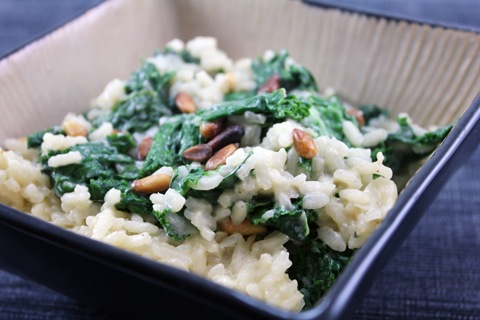 This was everything I wanted it to be. Simple to make, packed with blue cheese flavor with a nutty touch, and filled with a bit of green goodness, too. It was also, pure, pure comfort. Which is another thing I really truly need this week.
And I promise I'll stop writing about risotto now and start trying to get more creative again.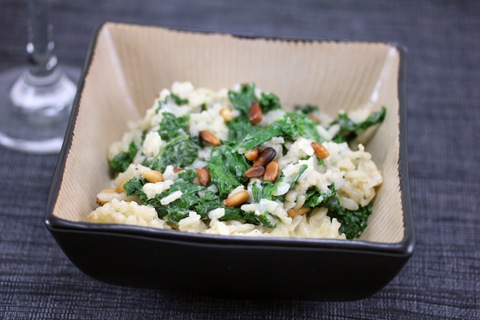 But I know I won't be able to stay away for long. There are simply too many fantastic risotto recipes swimming around in my head. Risotto, I just can't quite you.
Do you have a recipe you could make over and over again with different variations and be happy?
[Sues]
Pin It