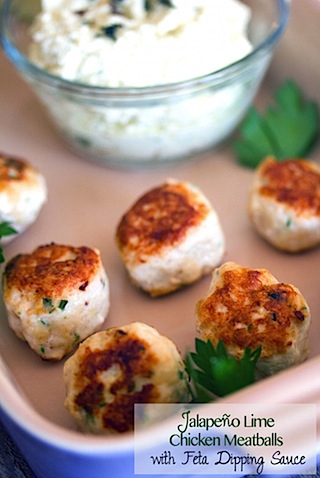 Sometimes I have a bunch to say before I jump into my recipe. Sometimes it flows naturally and is related to my recipe and some days it's just me blabbering on about something I want to talk about. But I've legit been staring at this recipe for days and all I can think of to talk about is meatballs. Chicken meatballs. I think lack of sleep accounts of lack of creativity and I'm just going to go with that. And talk about chicken meatballs. So. I've been on a major chicken meatball kick these days. I can make them with my eyes shut (probably not a great idea when handling raw chicken, but you know) and can keep them healthy (bake them!) or indulge a bit (frying!). But even frying isn't that bad because it's just in a little bit of olive oil and I mean, it's white meat chicken and a little olive oil never hurt nobody.
Also? Jalapeños. Oh, and feta dipping sauce, too. Though sauce is kind of strange word to use because it's really just a dip, but I used it more as a sauce. And again, I'm going with it. You know this already, but meatballs are one of the most versatile foods on Earth. I made some with curry sauce the other night and they were a little bite of spicy heaven. This jalapeño lime version was also packed with spicy flavor, cooked to perfection and way tastier than you ever expect chicken to be. Because let's face it; chicken can be boring. Meatballs are anything but.
Jalapeño Lime Chicken Meatballs with Whipped Feta Dipping Sauce (makes about 24 mini meatballs):
Print this recipe!
1 lb. ground chicken
2 t chopped jalapeño
¼ C bread crumbs
1 egg, lightly beaten
1 T extra virgin olive oil
1 T freshly squeezed lime juice
1 t lime zest
1 T parsley, chopped
2 T olive oil
1 batch whipped feta dipping sauce (see below)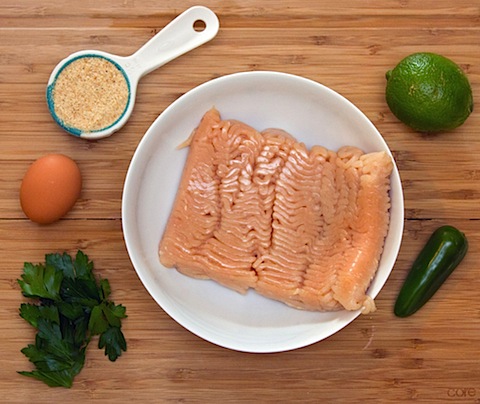 Meatballs are also one of the easiest meals to make. Take these for example. In a large bowl, combine ground chicken, chopped jalapeños, bread crumbs, egg, extra-virgin olive oil, lime juice, lime zest, and parsley and mix together until just combined.
Form 1-inch balls with the mixture.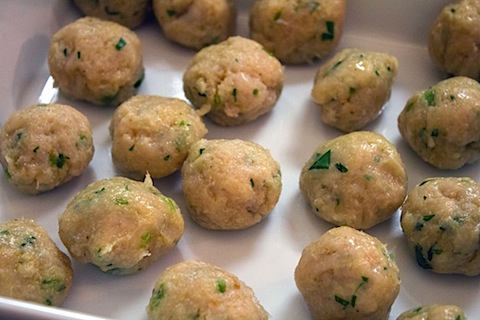 Heat 2 T olive oil in a pan over medium-high heat.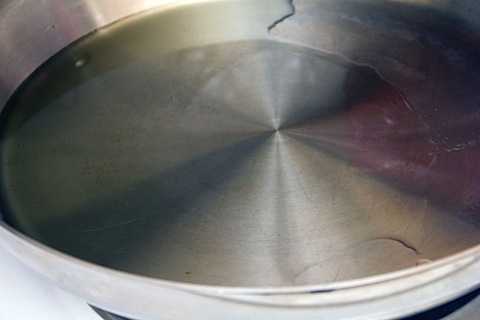 Place meatballs in pan and let cook for a few minutes on each side until cooked through, about 8 minutes total.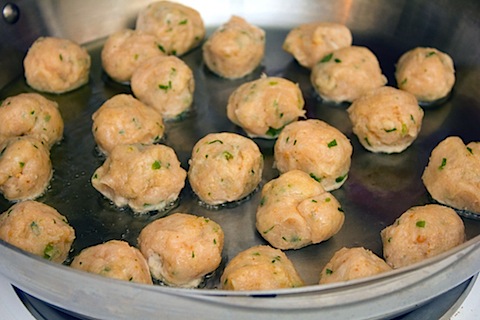 Sizzle, sizzle. I know I will still bake meatballs all the time, but is there anything quite like a meatball frying? Nope.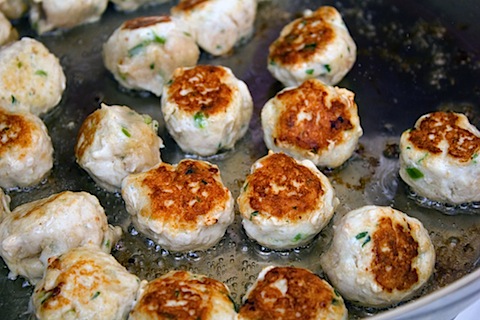 Remove meatballs from pan and move to a separate plate or dish; keep warm.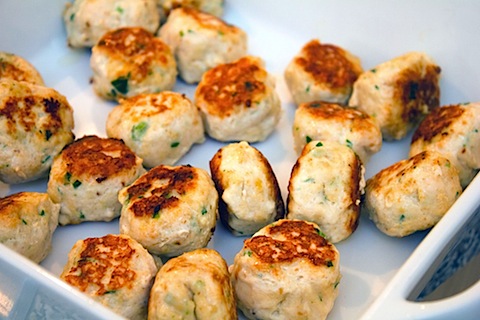 And because meatballs are made infinitely times better with a little dipping sauce, I decided to whip some feta up and into a dip. This dip is also packed with flavor, but is also meant to bring a little cooling aspect to the meatballs. Not that they were overly spicy... But the cool saltiness of this dip definitely add a welcome contrast. Obviously I couldn't resist adding in some red pepper flakes. Sorry, guys.
Whipped Feta Dipping Sauce:
Print this recipe!
8 oz. Feta
1 T extra-virgin olive oil
2 cloves garlic
1 t mint
1 T lime
Red Pepper Flakes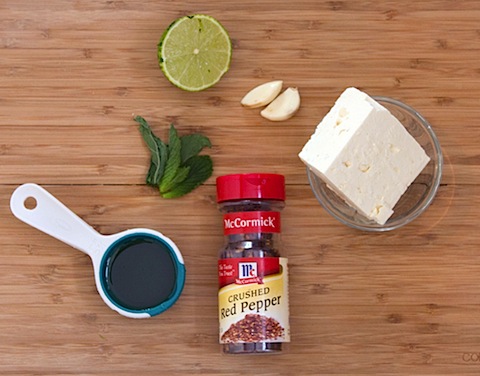 All you gotta do is add everything to your blender or Vitamix. All of these ingredients.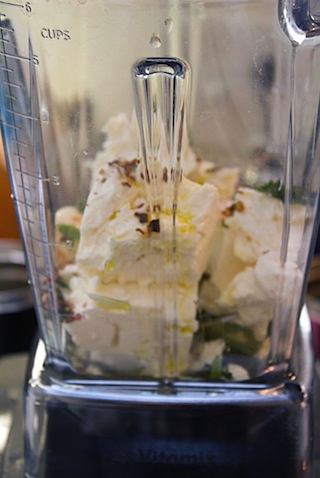 And blend away until smooth. Spoon whipped mixture into a dish and serve alongside the meatballs.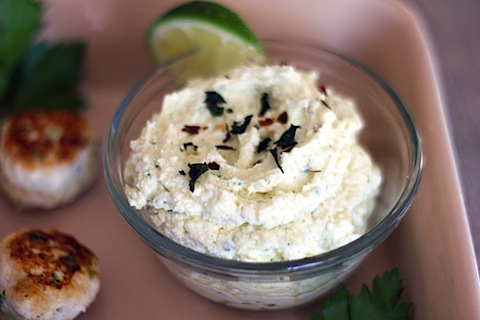 You can dip and pop. But if you're sharing these with someone, you might find that you are both so obsessed with the whipped feta that you try to dip at the same time. Then you get that whole awkward hand in the popcorn moment that nobody knows how to deal with. Don't say I didn't warn you.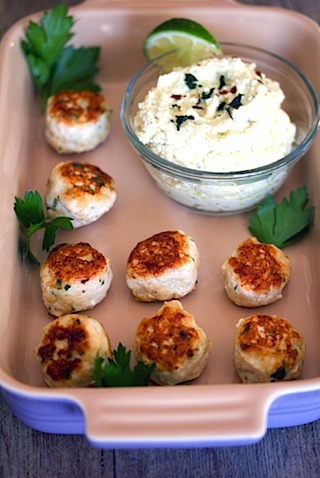 I hope you won't think I'm overly confident when I say these meatballs didn't actually need a dipping sauce. They were still super moist and tender and stood up all on their own. But cheese? It makes everything better and you know it.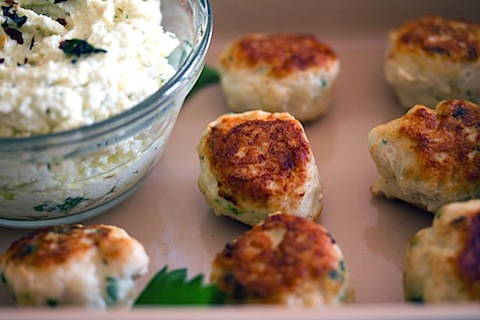 These are the kind of ideal party food, too. Guests can grab and eat. I do, however, recommend putting a little spoon into the whipped feta dip so guests aren't fighting. Come to think of it, you might want to make a few batches of these meatballs, too.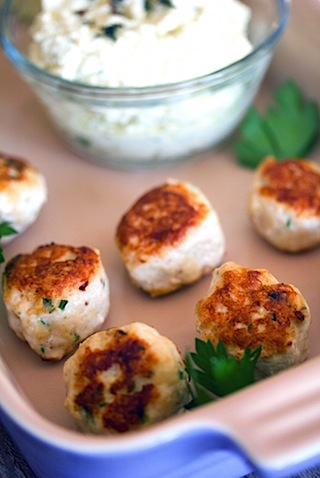 And then please bring some over to me because clearly I'm too tired to put together a proper sentence these days and should probably stay out of the kitchen. Especially if I'm planning on having my eyes closed.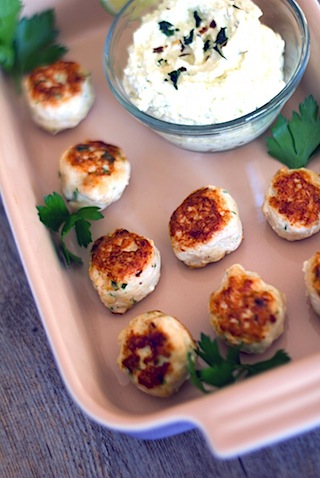 Which really could be a whole new idea for the next big cooking show. Cooking with your eyes closed. Maybe stay away from sharp knives. Unless that adds to the entertainment value?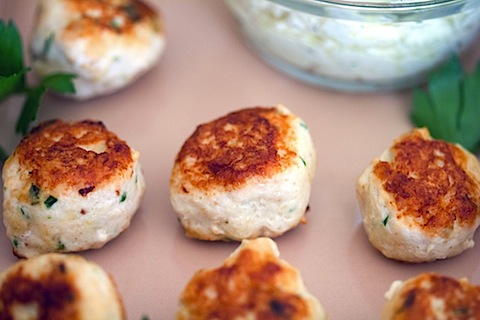 I'm going to go ahead and call this a healthy dinner. It might be nice if you added a grain like quinoa, too. Of maybe freekeh. That's my new fun grain of choice. Dinner is served. You got it on the table in no time and now you can go to bed. OK, I think I'm just talking to myself now. And off I go 🙂
What's your favorite way to prepare meatballs?
[Sues]