This is the first Friday night in over a month that I haven't had plans and all I knew was I didn't want to do a single thing this evening! Besides eat something that included some fresh produce. Bouncing around hotels and airports, pit stops and gas stations the past few weeks has finally caught up with me. I needed to eat a dinner tonight that had at least a slight hint of greenery.
One of my favorite things about cooking is just taking something so simple, like a taco salad, and instead of buying everything packaged, just doing it from scratch. Making my own dressing. Making my own taco seasoning. Buying a package of it is, of course, easy, but I just wanted to wind down from a hectic week, open the deck door that's off the kitchen, and cook in silence.
Amen. Kumbaya. Namaste.
Layered Taco Salad (serves 6)
Adapted from Epicurious
Print this Recipe!
For the Dressing: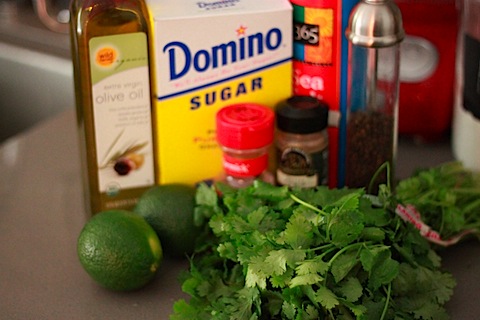 • 1/4 cup fresh lime juice
• 1/2 cup chopped fresh cilantro
• 1 teaspoon sugar
• 1 tablespoon chili powder
• 1/4 teaspoon ground cumin
• 1/2 teaspoon salt
• 1/4 teaspoon black pepper
• 1/2 cup olive oil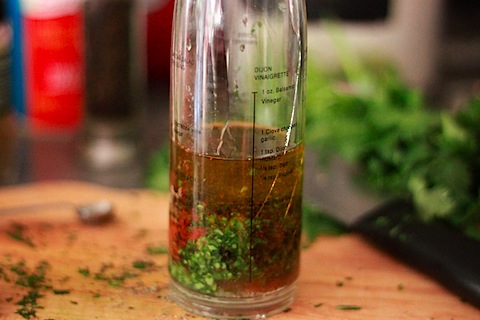 Simply whisk all ingredients together until emulsified. You can easily do this in a bowl, but I love my handy dressing container from Crate and Barrel. Which, clearly, I've had for years since it's all cracked.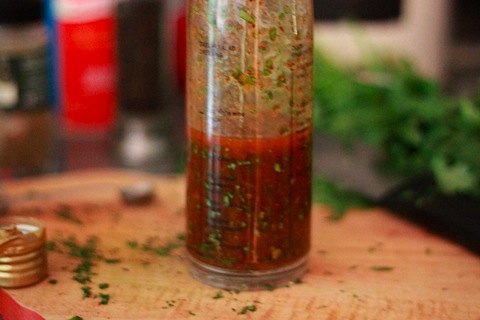 Set the dressing in the refrigerator to chill, while you finish the rest of the dish.
For the Beef: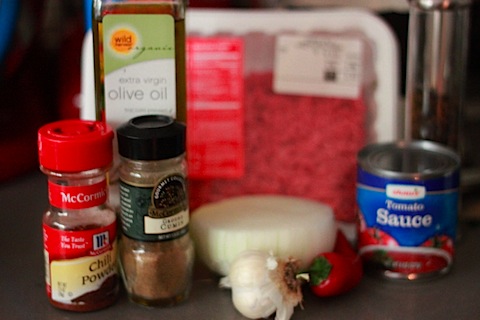 • 1 medium onion
• 3 garlic cloves, finely chopped
• 1-2 chili peppers (seeds included), finely chopped
• 1 tablespoon chili powder
• 2 teaspoons ground cumin
• 2 tablespoons olive oil
• 1.5 lb ground beef
• 1 (8-oz) can tomato sauce
• 1/2 teaspoon salt
• 1/4 teaspoon black pepper
In a heavy skillet, heat the oil. Cook onion, garlic, chiles, chili powder, and cumin over medium-high heat, stirring often, until the onion is softened, for about 6 minutes.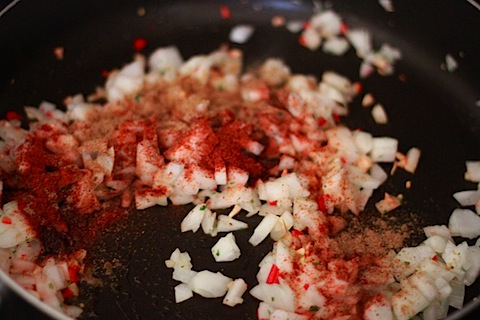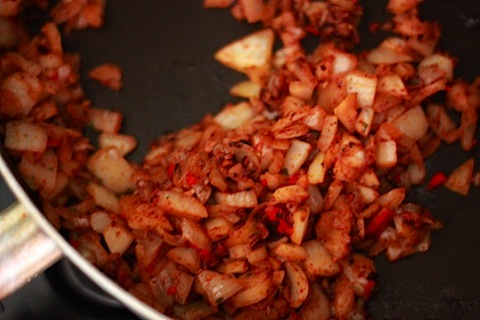 Add the beef and cook, stirring often while making sure to break up any large pieces, about 5 minutes. Pour excess fat from the skillet into a small bowl.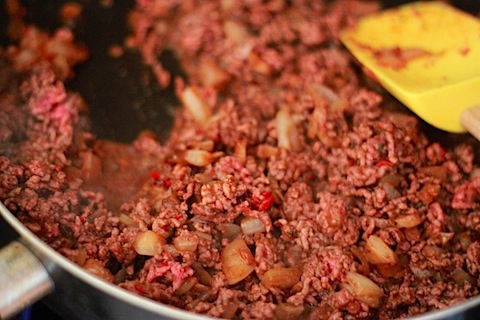 Now, add the tomato sauce, salt, and pepper to the beef and allow to thicken, for about 3 minutes or so. Remove from heat and brace yourself for the final step 😉
For the Salad: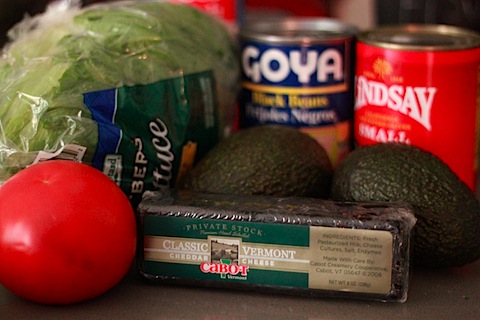 • 1 ripe avocado
• 1 head iceberg lettuce, thinly sliced (roughly 8 cups)
• 1 large tomato, chopped
• 1/4 lb coarsely grated sharp Cheddar cheese (1 1/2 cups)
• 1 (15-oz) can of black beans, drained and rinsed
• 1 (6-oz) can pitted black olives, drained and sliced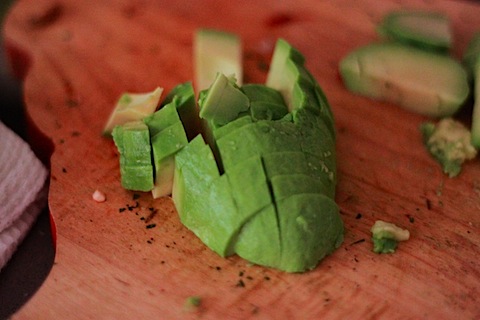 Arrange lettuce in the bottom of a shallow glass dish then layer the beef mixture.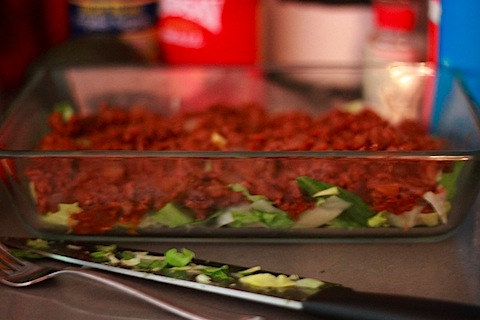 Continue to make layers with the tomatoes, cheese, beans, avocado, and olives. And don't forget about the dressing, like I almost did. Go ahead and drizzle that baby over the salad, too. Serve with a side of tortilla chips for some added crunch and also to help aide with the dipping/scooping process.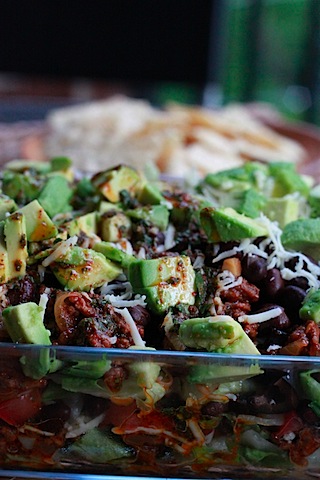 This salad sang summertime. This actually reminded a bit of the taco dip I always request that Sues bring to every gathering we attend. I also requested she make it as my wedding cake because I just love it that much 😉 Sidenote: I just laughed out loud at this old post about the taco dip. Kind of hilarious how far this little blog has come since 2008!
I definitely went back for seconds. Which you're obviously allowed to do because it's a salad 😉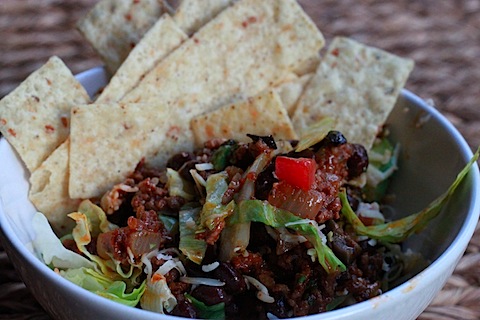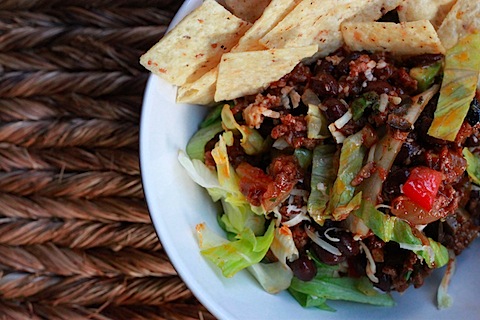 It just felt so right to finally get some veggies in my life. Even if they were covered with saucy beef.
Hope you all have a fantastic weekend! The weather in Boston seems to have finally gotten it's act together. Just in time for Erin and Mike's wedding!
[Chels]