Think layered taco salads are just for parties? Think again! This salad features layers of lettuce, beef, tomatoes, avocados, black beans, cheese, and olives and makes for the most delicious dinner.
(This recipe for Layered Taco Salad was originally posted in June 2011, but was updated with new photos in 2018).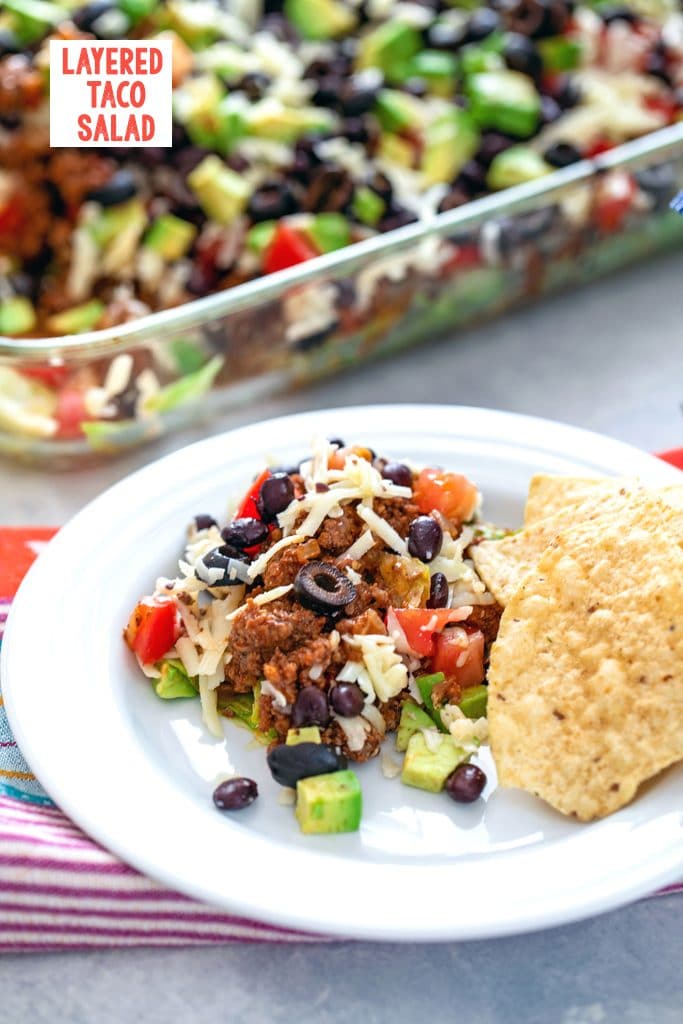 This is the first Friday night in over a month that I haven't had plans and all I knew was I didn't want to do a single thing this evening! Besides eat a dinner that included some fresh produce. Bouncing around hotels and airports, pit stops and gas stations the past few weeks has finally caught up with me. I needed to eat a dinner tonight that had at least a slight hint of greenery. Buttt I also had a few very specific things in my fridge and kind of need to ease back in to this whole healthy eating thing. Baby steps, right? That's exactly how this layered taco salad came into my life.
LAYERED TACO SALAD RECIPE
One of my favorite things about cooking is just taking something so simple, like a taco salad, and instead of buying everything packaged, just doing it from scratch. Making my own dressing. Making my own taco seasoning. Buying a package of it is, of course, easy, but I just wanted to wind down from a hectic week, open the deck door that's off the kitchen, and cook in silence. And not get overloaded on sodium in the process. Amen. Kumbaya. Namaste.
This isn't technically a meal most people would make for themselves while home alone for the evening. But I'm here to convince you that it should be... And that is makes much more sense to make a layered taco salad for yourself than it does a taco dinner because the leftovers are much easier to keep. And that means, you can eat this taco salad for basically a week straight.
You'll also have fewer dishes to do than if you made tacos (all those individual bowls for the condiments!), which is always a win in my book. Especially when I've had a super busy week and just want to relax.
And don't worry; this is a super easy salad! You'll start by cooking the onion, garlic, and chili peppers, along with a few delicious Mexican spices.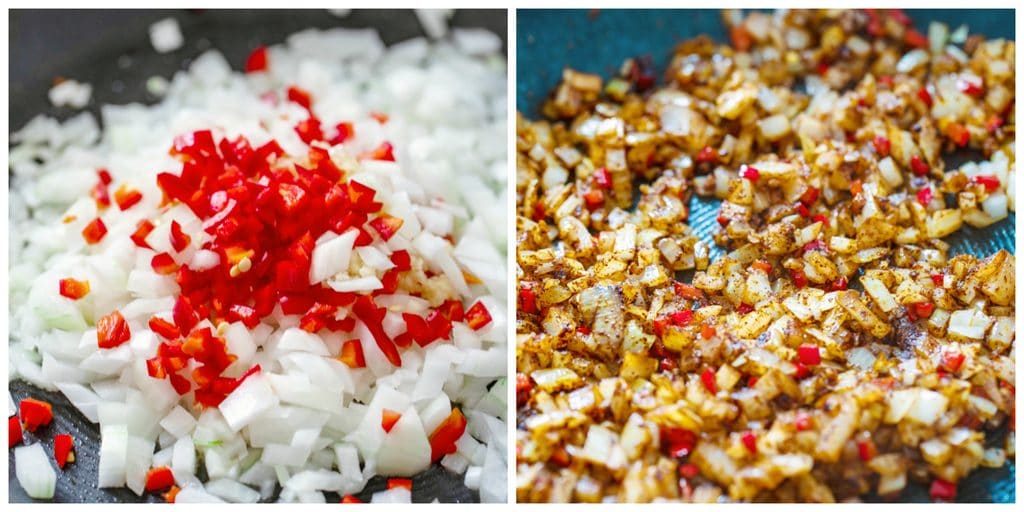 Add the beef in and cook until it's browned.
Then you're ready for the layering. Start by putting chopped lettuce in the bottom of a 13x9 dish. And then add the beautiful beef mixture on top.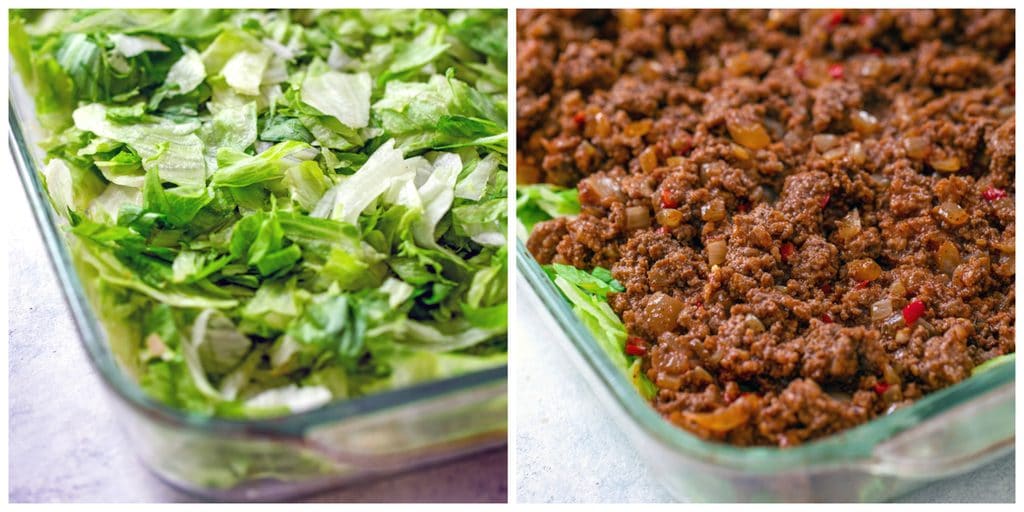 And then get ready for the rest of the taco salad ingredients! Obviously, you can switch these up to your liking, but this combination is pretty on point. It contains, tomatoes, avocado, black beans, sharp cheddar cheese, and olives.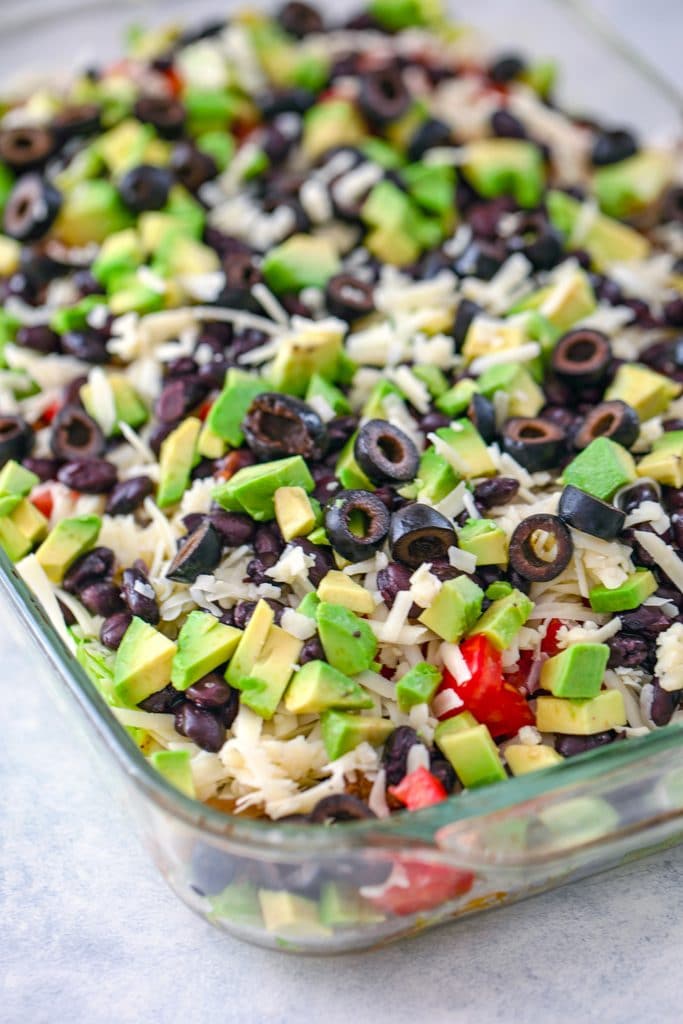 And with that, your layered taco salad is complete. The only thing that's missing is the taco shells. But that can be so easily fixed with a bag of tortilla chips! Use the chips as dippers in the salad and to add a little crunch! I highly recommend Tostitos' jalapeño tortilla chips if you can find them; they're SO good!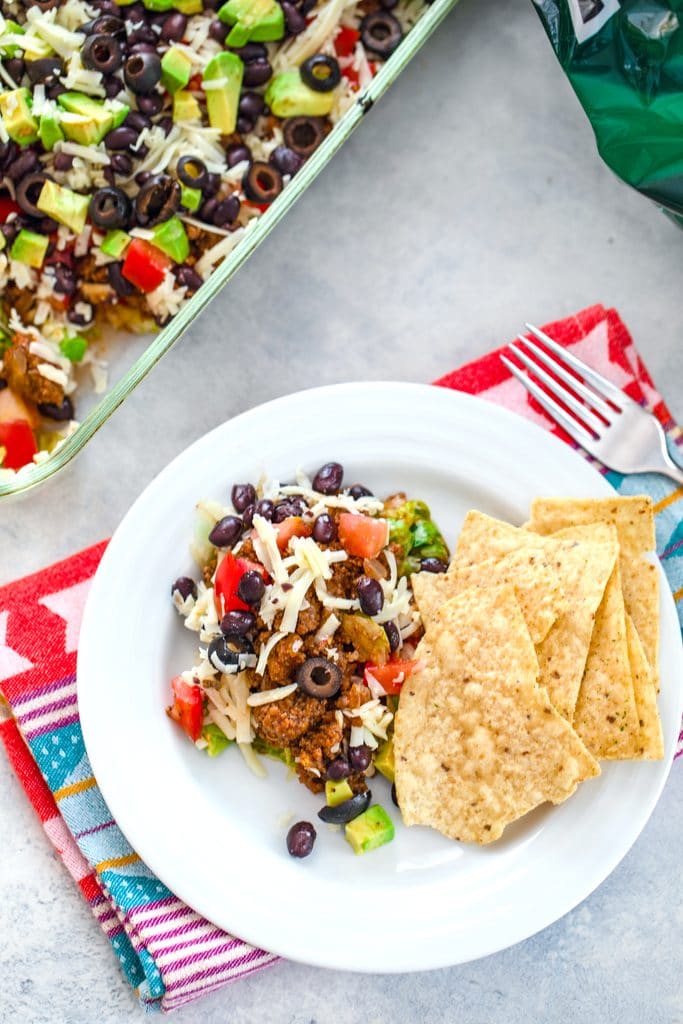 This salad sings summertime, but really it's perfect any time of the year. Yes, layered taco salad is most usually a party food, but why?? It has all the elements of tacos, so you may as well enjoy it the same way you would tacos. There's seriously no more perfect combination than Mexican-spiced beef with sharp cheddar, crisp veggies, and creamy avocado and black beans. Heaven!
Not only does this make a delicious dinner, but the leftovers are out of control. I may or may not admit that I ate some of the taco dip right out of the casserole dish the next day for lunch. I just couldn't stop.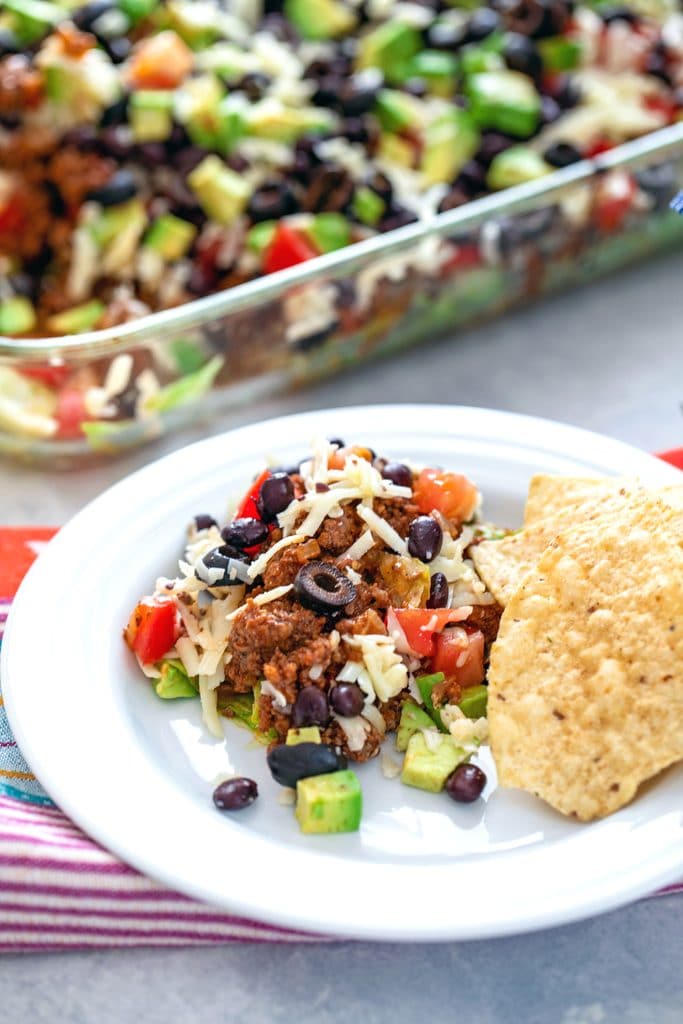 It just felt so right to finally get some veggies in my life. Even if they were covered with saucy beef.
Hope you all have a fantastic weekend! The weather in Boston seems to have finally gotten it's act together and I can't wait to spend some time outside!
If you're looking for more delicious taco-inspired recipes, check out my easy taco dip or my Greek taco dip!
📖 Recipe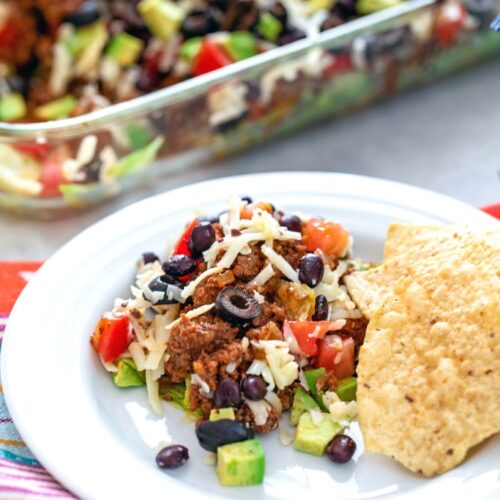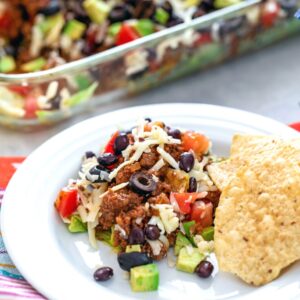 Layered Taco Salad
Think layered taco salads are just for parties? Think again! This salad features layers of lettuce, beef, tomatoes, avocados, black beans, cheese, and olives and makes for the most delicious dinner.
Print
Pin
Rate
Ingredients
1

medium onion,

finely chopped

3

garlic cloves,

minced

2

chili peppers,

finely chopped

1

Tbsp

chili powder

2

tsp

ground cumin

2

tsp

olive oil

1 ½

lbs

ground beef

1

(8 oz.) can

tomato sauce

½

tsp

salt

¼

tsp

black pepper

1

head

iceberg lettuce,

thinly sliced (roughly 8 cups)

1

large tomato,

chopped

1 ½

cups

sharp cheddar cheese,

coarsely grated

1

(15 oz) can

black beans

drained and rinsed

1

avocado,

peeled, pitted, and diced

1

(6 oz.) can

black olives,

drained and sliced
Dressing
¼

cup

fresh lime juice

½

cup

fresh chopped cilantro

1

Tbsp

chili powder

¼

tsp

ground cumin

½

tsp

salt

¼

tsp

black pepper

⅓

cup

extra virgin olive oil
Instructions
In a heavy skillet, heat oil. Cook onion, garlic, chiles, chili powder, and cumin over medium-high heat, stirring often, until the onion is softened, about 6 minutes.

Add beef to skillet and cook, stirring often while making sure to break up any large pieces, about 5 minutes. Pour excess fat from the skillet into a small bowl.

Add tomato sauce, salt, and pepper to the beef and allow to thicken, for about 3 minutes or so. Remove from heat.

Arrange lettuce in the bottom of a shallow glass dish then layer the beef mixture on top.

Continue to make layers with the tomatoes, cheese, beans, avocado, and olives. Drizzle dressing over the salad. Serve with a side of tortilla chips for some added crunch and also to help aide with the dipping/scooping process.
Dressing
In a medium bowl, whisk all ingredients together until emulsified.
Share a Photo of Your Finished Recipe!
Mention @wearenotmartha and share a photo if you've made the recipe!