Though it's definitely warming up, the weather's still a bit nippy in Boston (until tomorrow when it hits 68 degrees!). By the time I walk home from my local coffee shop in the evening, my light jacket isn't enough and I'm craving something to warm me up. One of my favorite comfort foods, macaroni and cheese, sounds good to me at any time, but it's always nice to find a recipe that's a bit lighter.
Not only is Martha Stewart's Lighter Macaroni and Cheese somewhat better for you than the typical mac & cheese (1% milk, less cheese, less butter), but if you bake it in ramekins, it's perfectly portioned for you, which keeps you from going back for more…and more…and more.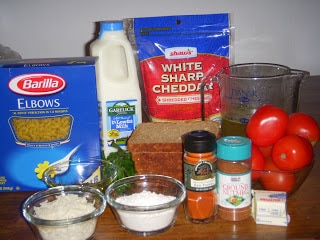 First cut the tomatoes (6) into 24 slices. Sprinkle olive oil, thyme, and salt and pepper on them. I forgot to buy thyme so I just used parsley, which I always have in my fridge. If I were Martha (or my parents for that matter), I could just go out in the herb garden and get thyme, but I live on the second floor of an apartment building in the city, so I am out of luck! Pop the tomatoes in the oven at 400 degrees for 20 minutes. Take them out when they're done, but leave the oven on.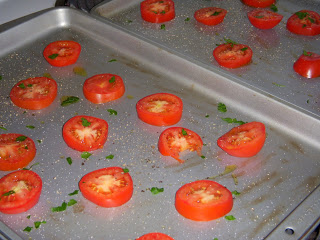 While the tomatoes are cooking, you can make your breadcrumbs. The recipe calls for 5 slices of white bread, but I made them with whole wheat bread instead (why not?). I used my adorable little Cuisinart food processor to make the breadcrumbs, but if you don't have one, you can always just buy pre-made breadcrumbs, no problem!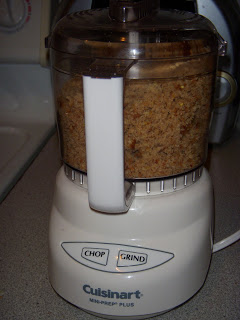 If you do make your own breadcrumbs, put them in a frying pan with 1 T extra-virgin olive oil and 1 T butter and toss to coat.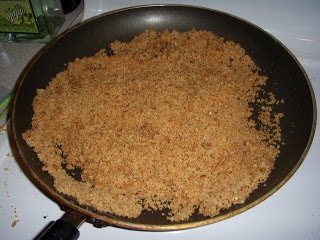 You can start cooking your pasta now (1 lb). Don't cook it fully, just until it's almost al dente (around 5 minutes). And when you're draining it, run it under cold water so it stops cooking. Then put it in a bowl.
In another bowl, whisk 1/2 C of your chicken stock and 5 T flour together. Set it aside. In a large frying pan, melt 1 T butter and add in a pinch of nutmeg, a pinch of cayenne, 1/2 t thyme (or parsley), and 1 T salt. Add 2 cups of 1% milk and 1 1/2 C chicken stock. Also whisk in the flour mixture from the bowl. Bring this all to a boil while you're still whisking. Then reduce it to a simmer and cook for 8 minutes. Add 2 1/4 C of extra-sharp cheddar cheese and 1/2 C grated parmesan. Make sure it melts completely.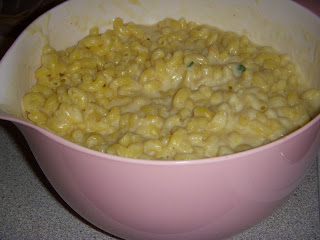 Meanwhile, put 2 of the tomato slices on the bottom of your ramekins. If you don't have ramekins, you can always make this in a casserole dish. I only have 6 ramekins (the recipe called for 8) and somehow I had tons of leftovers (more than 2 ramekins worth). So I made the 6 mini ones and put the rest on a casserole dish and to put into the freezer.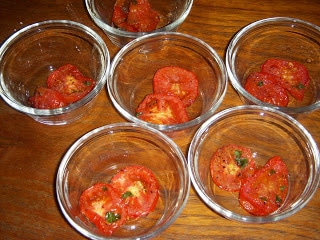 Put the macaroni and cheese over the tomatoes and then top with breadcrumbs, another tomato, and more thyme (parsley).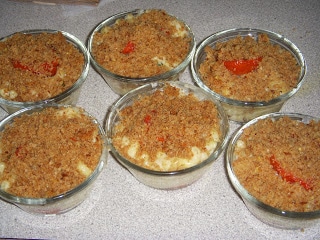 Put these on a tray and into the oven for about 30 minutes (a little longer if you're making a big one), until they're "bubbling and golden brown." Like this: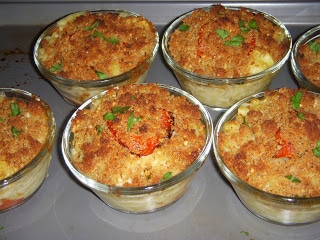 Aren't they cute and delicious looking? And here's the big one that went straight into the freezer: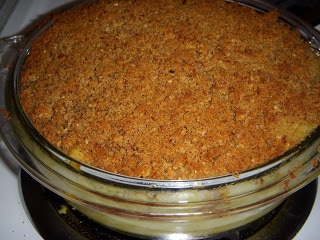 I love my little ramekins because they have covers, making them easy to stick in the fridge.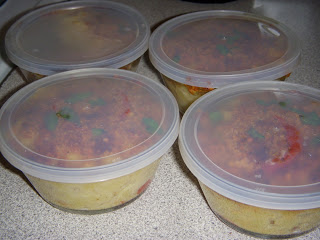 Once the leftovers were all stored away, the roommate and I dug in.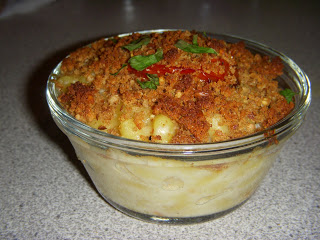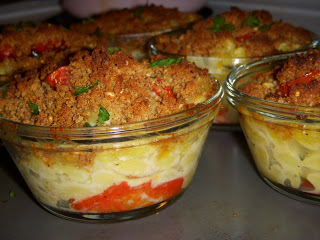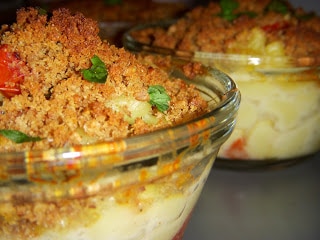 The only bad thing about cooking this is all of the dirty dishes it created. There were seriously a lot of dirty dishes for one meal. But I was good about them and tried to keep up while I was cooking, so it wasn't too bad in the end.

Despite the fact that it's a little bit healthier, the mac and cheese is still deliciously creamy and flavorful and the tomato adds the perfect touch. And I tried not to eat all 6 ramekins of it in one sitting 🙂

[Sues]