This recipe for lighter macaroni and cheese has all the elements and flavors of a classic mac and cheese, but with a little bit of a healthier kick, thanks to roasted tomatoes and whole wheat breadcrumbs.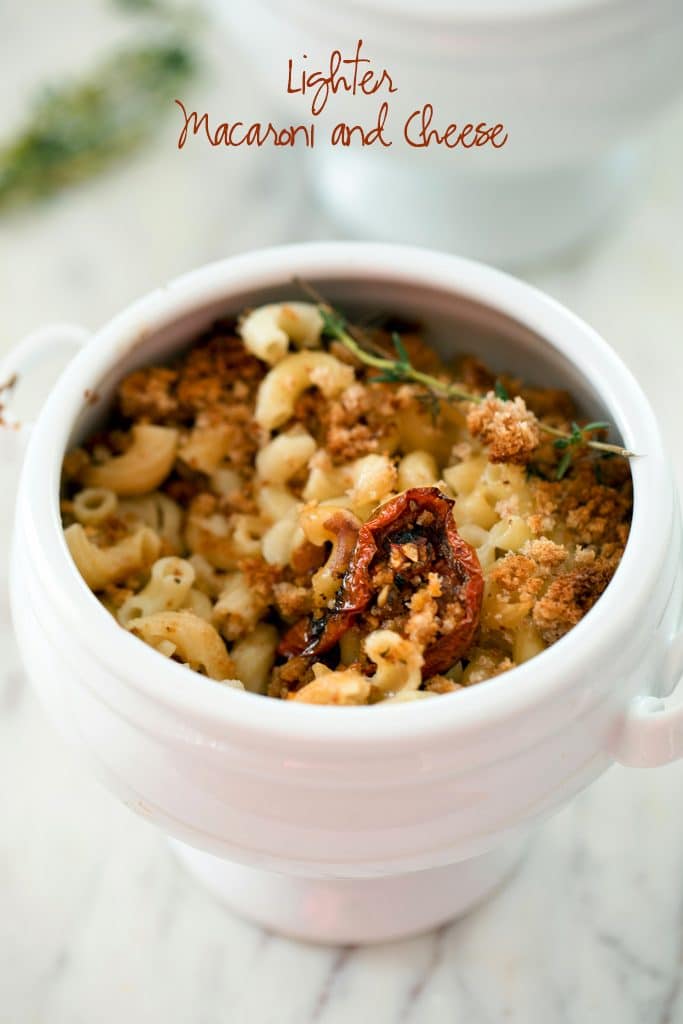 (This recipe for Lighter Macaroni and Cheese was originally published in April 2008, but was updated with new photos in 2018).
Though it's definitely warming up, the weather's still a bit nippy in Boston (until tomorrow when it hits 68 degrees!). By the time I walk home from my local coffee shop in the evening, my light jacket isn't enough and I'm craving something to warm me up.
One of my favorite comfort foods, macaroni and cheese, sounds good to me at any time, but it can be so ridiculously heavy sometimes. Don't get me wrong... I could happily eat an entire casserole dish of classic mac and cheese, but when winter is nearing its end and I've been stuffing myself full of comfort food for months, sometimes I start craving something lighter.
I was excited to find Martha Stewart's recipe for Lighter Macaroni and Cheese. Though it should by no means be categorized as "healthy," it is somewhat better for you than the typical mac & cheese due to the fact that it uses 1% milk and less cheese and butter and includes roasted tomatoes. I made a couple changes like boosting the spices for more flavor and using whole wheat bread for my breadcrumbs.
Because this lighter macaroni and cheese is baked right in ramekins, it's perfectly portioned for you, which keeps you from going back for more...and more...and more.
LIGHTER MACARONI AND CHEESE RECIPE
One of the keys to this mac and cheese is the roasted tomatoes. They're incredibly easy to make and just require a little olive oil, thyme, salt, and pepper. They'll be baked for about 20 minutes at 400 degrees.
I'm not going to lie, roasting tomatoes has me totally craving summer. I almost never add tomatoes to things like mac and cheese or grilled cheese, but as soon as I do, I remember how delicious it is.
Aren't these beauties??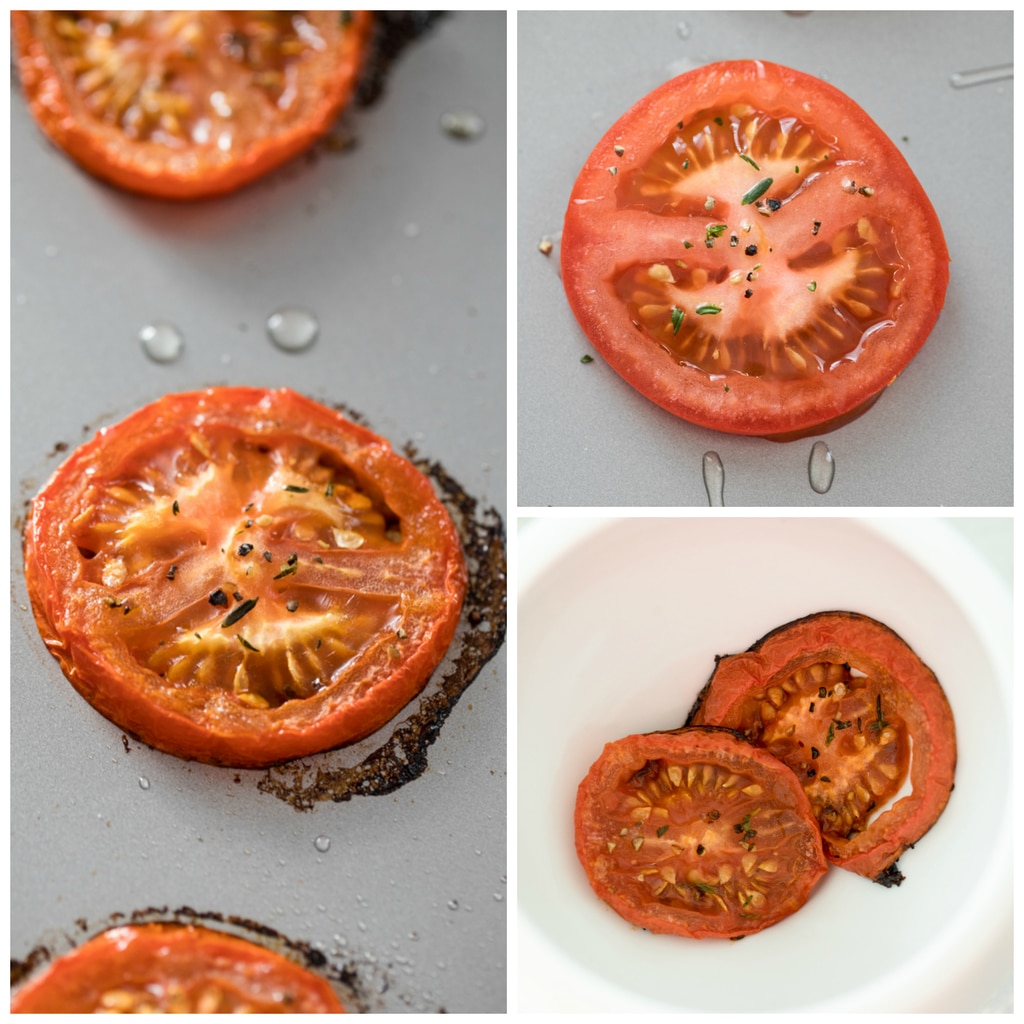 If you're short on time, you can obviously use store-bought breadcrumbs for this lighter macaroni and cheese, but I almost always have whole wheat bread in my pantry and fresher is always better to me.
Though this lighter mac and cheese is easy to prepare, it does use slightly more dishes than I care to use in the dinner making process. In any event, you simply roast the tomatoes, make the breadcrumbs, cook the pasta, and make the cheese sauce. Then you combine it all together in cute little ramekins!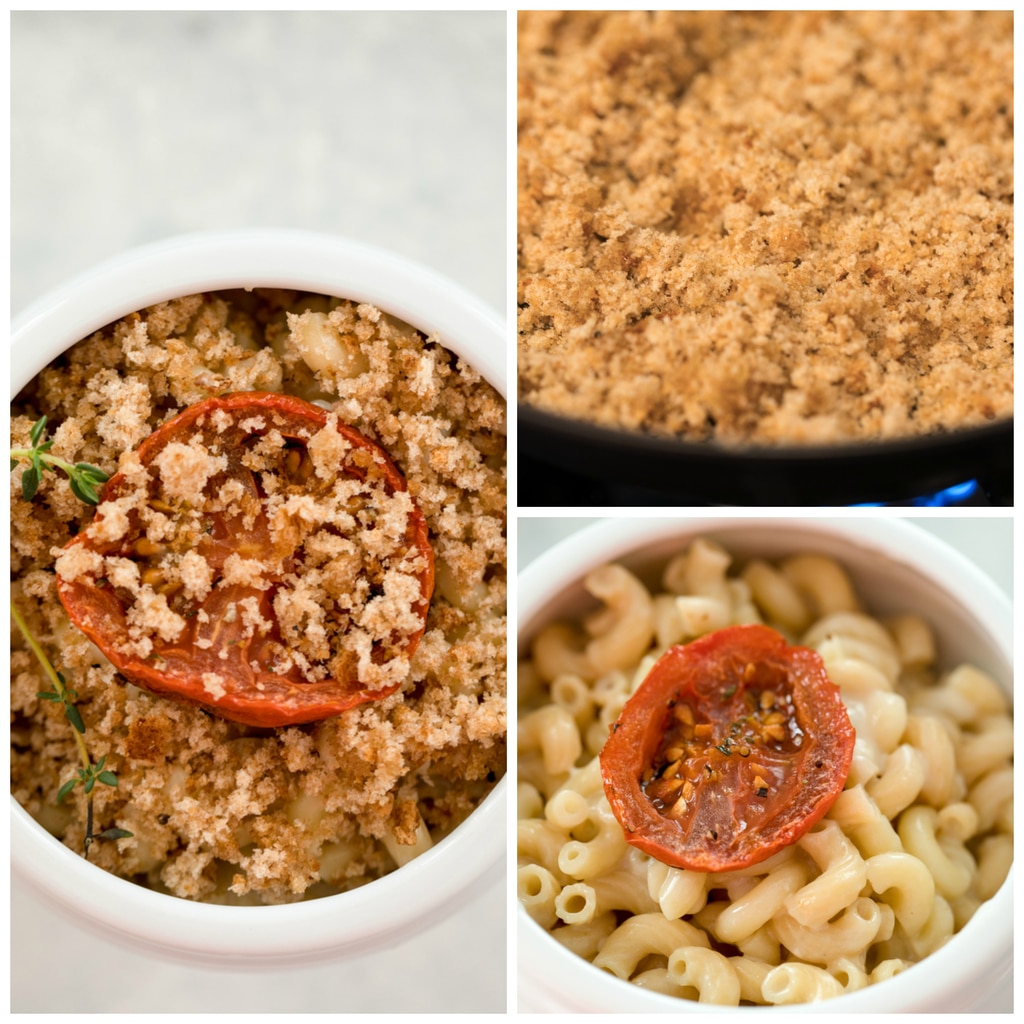 Bake until the breadcrumbs are nice and golden and mac and cheese is bubbling and then dig right in!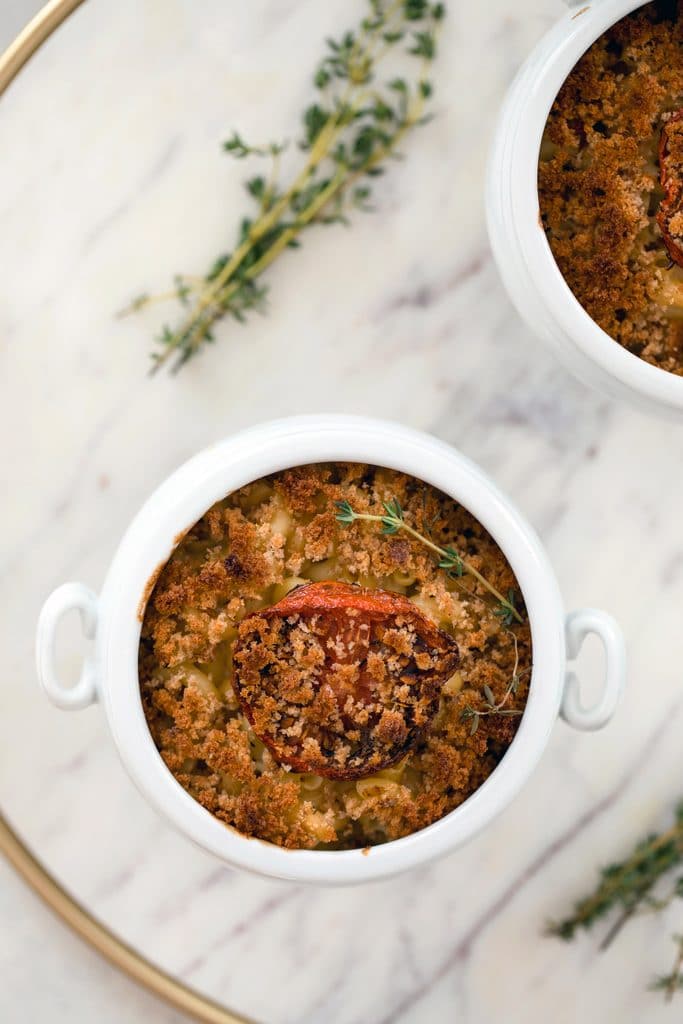 I mean, does it get any better than having a little personal dish of your very own mac and cheese with tomatoes? I basically sat on the couch with my ramekin in my lap and coveted every last bite of creamy, cheesy deliciousness.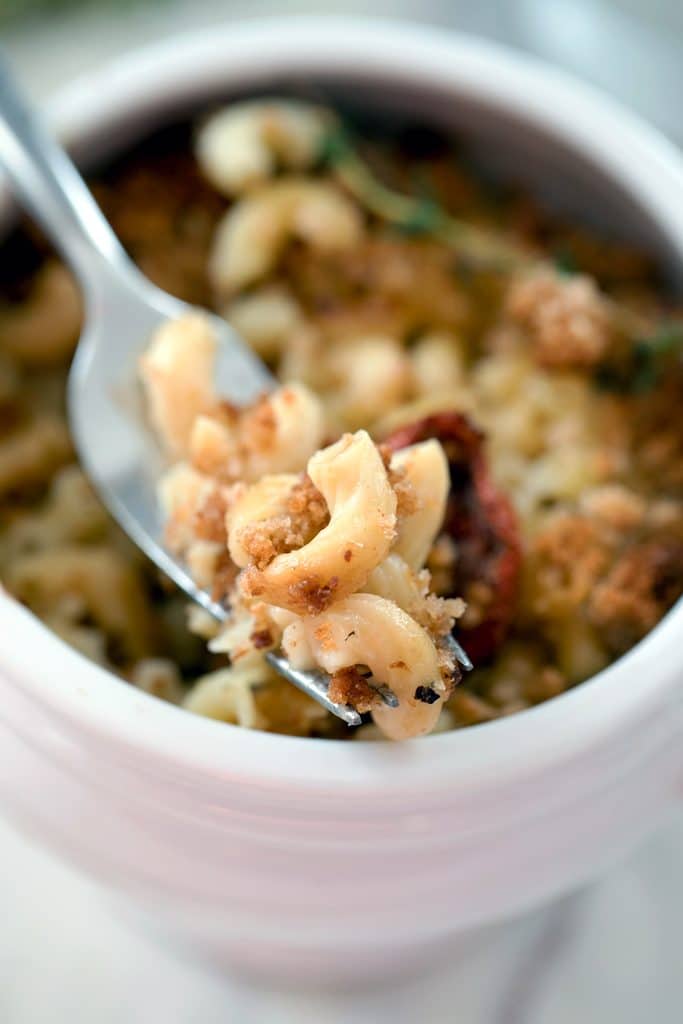 Of course, it took all the willpower in the world not to go in for a second ramekin. I kept telling myself, "it's lighter macaroni and cheese AND there are tomatoes, so it's totally OK to have two, right??" The sad answer to that question is probably no. I mean, in reality it's OK to do anything you want to do. But it's not like this recipe magically turns pasta and cheese into health foods. Mac and cheese is still mac and cheese.... It's just a bit lighter than normal.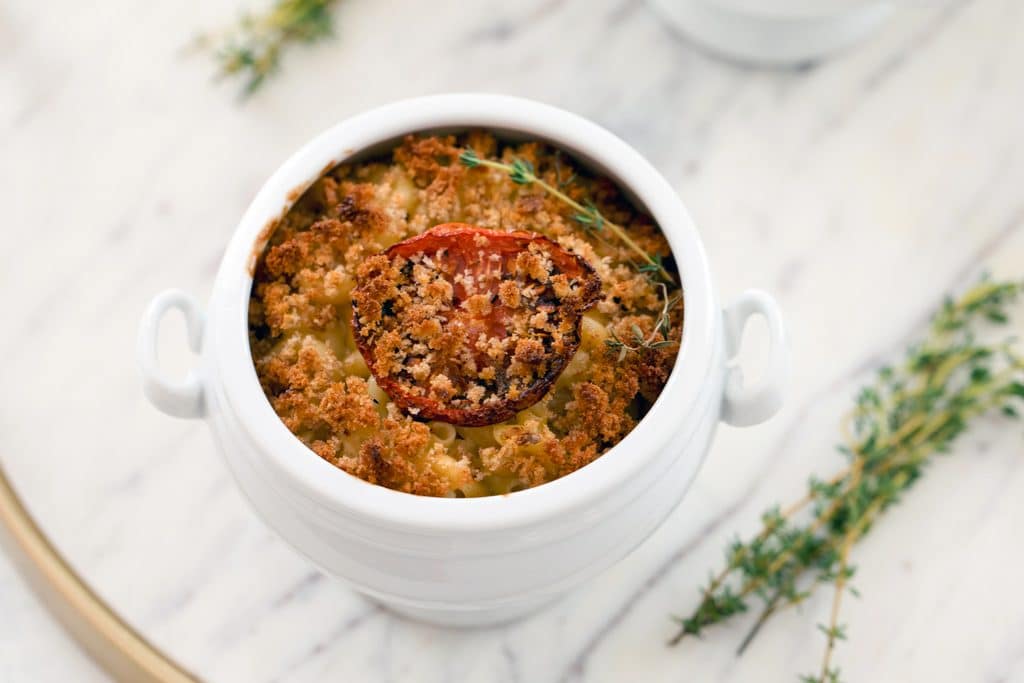 And you're getting some veggies into your diet with those tomatoes. Actually, my expert advice is to make a double batch of those tomatoes so you can also snack on them throughout the week. Without having to use the excuse, "I really want some more tomatoes, so I may as well grab another ramekin of mac and cheese. Sigh."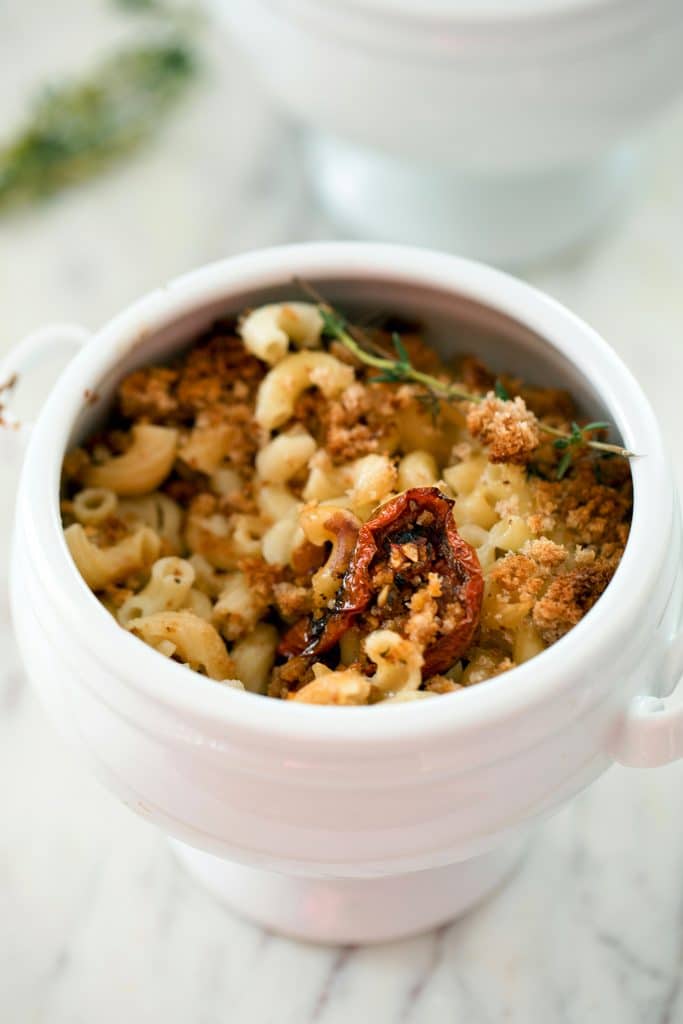 While I'm sure I'll still be doing plenty of indulging in good old fashioned mac and cheese, I'm super thrilled to have a lighter macaroni and cheese recipe at my disposal and I'm sure this dish will be making plenty of more appearances throughout the years!
What's your favorite lightened up comfort food?
If you're in the mood for more comfort food, be sure to check out my
Greek Skillet Lasagna
or my
Flank Steak and Gorgonzola Quesadillas
. I also love this
Skillet Italian Sausage and Polenta Parmesan
from For the Love of Cooking!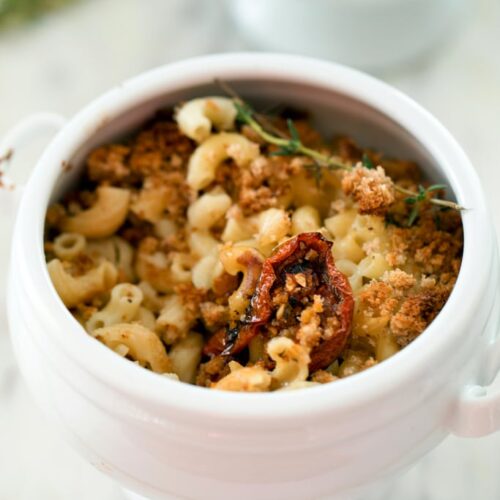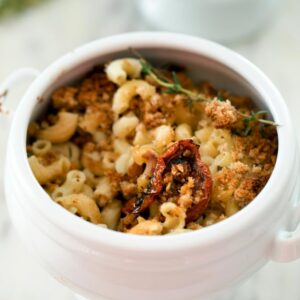 Lighter Mac and Cheese
This recipe for Lighter Mac and Cheese has all the elements and flavors of a classic mac and cheese, but with a little bit of a healthier kick, thanks to roasted tomatoes and whole wheat breadcrumb.
Print
Pin
Rate
Ingredients
6

3-inch vine-ripened tomatoes, cut into twenty-four ¼-inch-thick slices

3

Tbsp

olive oil,

divided

1 ½

tsp

fresh thyme leaves, plus 8 thyme sprigs

Salt and pepper

5

slices

whole wheat bread

2

Tbsp

unsalted butter,

divided

1

lb.

elbow macaroni

2

cups

1% milk,

divided

5

Tbsp

all-purpose flour

Pinch

nutmeg

1

tsp

cayenne pepper

1

tsp

garlic powder

2

cups

low-sodium chicken broth

2 ¼

cups (8 oz)

grated extra-sharp cheddar cheese

½

cup (1 oz)

grated parmesan cheese
Instructions
Pre-heat oven to 400 degrees.

Place tomatoes on rimmed baking sheets in a single layer. Drizzle tomatoes with about 2 Tbsp of olive oil and sprinkle each with 1 tsp thyme leaves. Season with salt and pepper. Bake until tomatoes are soft, about 20 minutes. Remove from oven and leave oven on.

Place bread in a food processor and process until coarse crumbs form. In a medium skillet over medium heat, melt butter and remaining 1 Tbsp olive oil. Add breadcrumbs and toss to coat. Season with salt and pepper and set aside.

Bring a large pot of salted water to a boil over high heat. Add macaroni and cook for about 5 minutes, until almost al dente. Drain macaroni and run under cold water to stop cooking. Transfer to a large bowl.

In a small bowl, whisk ⅓ cup of the milk and the flour until smooth.

In a medium saucepan over medium heat, melt remaining 1 Tbsp butter. Stir in nutmeg, cayenne, garlic powder, remaining ½ tsp thyme leaves, and 1 tsp salt. Add remaining milk and chicken stock. Whisk in flour mixture and bring to a boil, whisking frequently. Once boiling, reduce to a simmer and cook for about 8 minutes, continuing to whisk frequently. Add cheddar and parmesan and stir until melted. Pour mixture over macaroni and stir until well coated.

Put eight 10 oz ramekins on a baking sheet and place 2 tomato slices in bottom of each. Divide macaroni mixture evenly among ramekins and top each with a tomato slice. Sprinkle with breadcrumbs and thyme sprigs.

Bake until bubbling and golden brown, about 30 minutes. Serve immediately.
Share a Photo of Your Finished Recipe!
Mention @wearenotmartha and share a photo if you've made the recipe!