These Flank Steak Quesadillas with Gorgonzola are a major upgrade to quesadillas and incredibly easy to make for a simple weeknight dinner. They're packed with flavor and easy to make substitutions based on your preferences.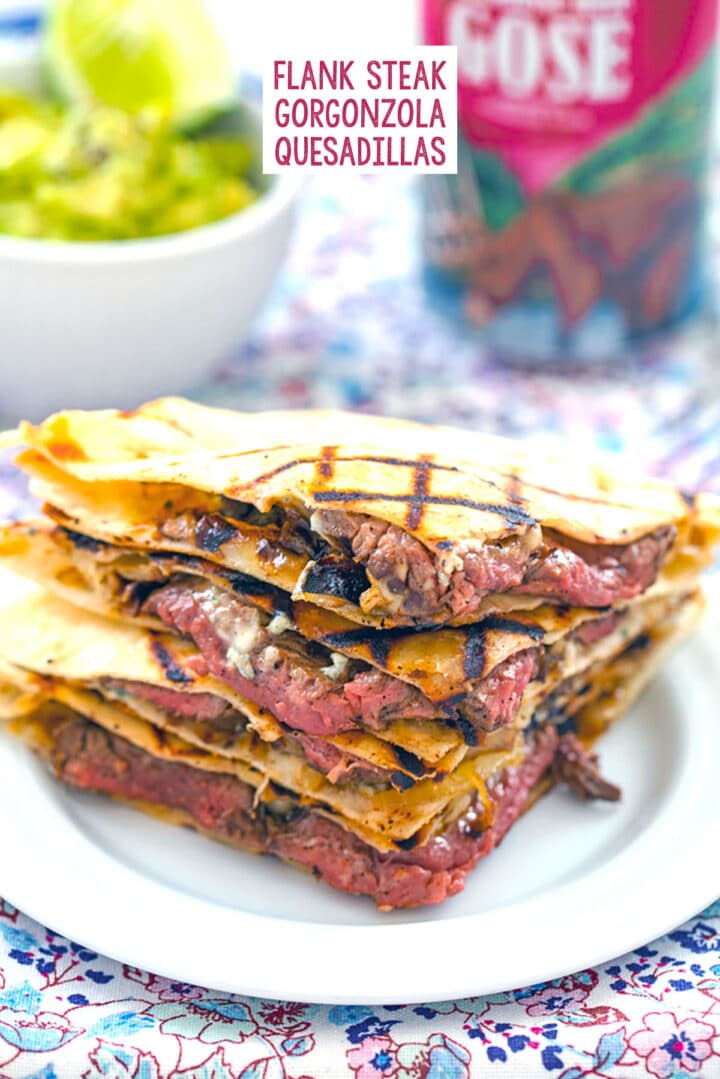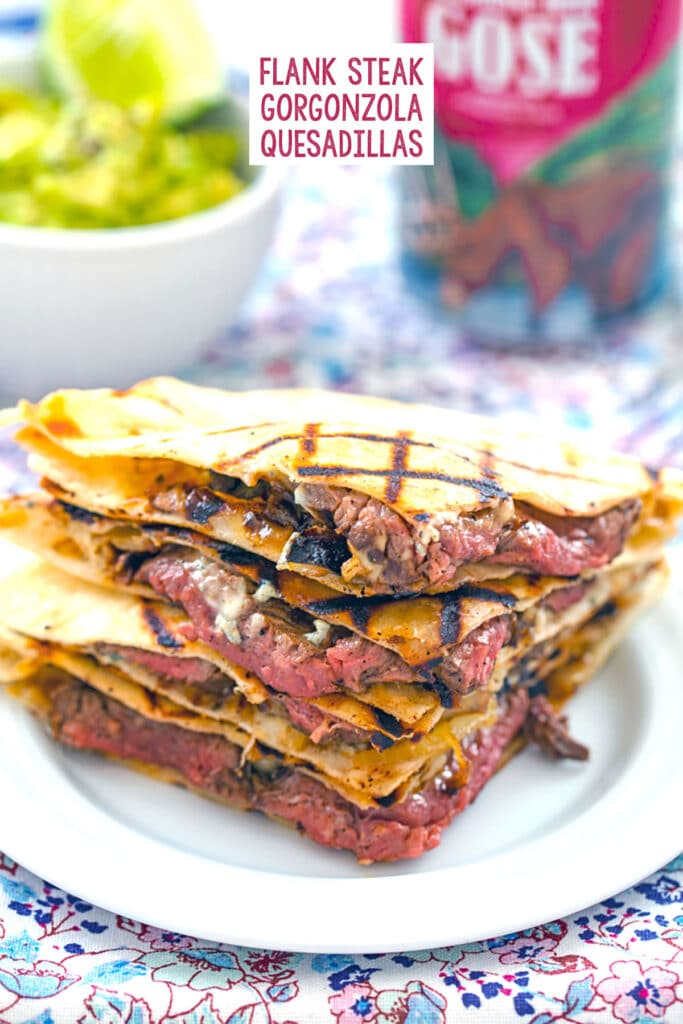 Jump to:
(This recipe for Flank Steak Gorgonzola Quesadillas was originally published in January 2013, but has been updated with new photos and content in 2019).
Call me crazy, but I've never been much of a steak person. For whatever reason, it has never really excited me and I'd much rather have fish and all those delicious sides when I go to a steakhouse. Until recently.
I don't know what happened, but suddenly I'm falling in love with red meat. I know craving it is often a sign of iron deficiency, but I definitely don't have one and I wouldn't exactly say I'm craving it... It's just that every time I've had it recently, I've been so obsessed.
I think it started around Christmas when my mom made beef tenderloin and it continued to Valentine's Day when I made filet mignon at home. I marinated some NY strip steak last night and topped a salad with it and omg I was in heaven.
What is going on with me?? It must just be that I've been having some really good cuts of beef lately and it's made me realize how grand it can be.
Flank steak isn't often thought of as an amazing cut of beef (it's probably not going to blow your mind like a tenderloin will), but it's pretty inexpensive and really delicious in dishes like fajitas and quesadillas.
It's also easy to cook and I believe there are three keys to making the perfect flank steak:
👩‍🍳 Tips for preparing the perfect flank steak
Marinate it
Don't overcook it
Slice it against the grain
Seriously, if you follow those 3 easy tips, you'll have delicious flank steak every time you make it!
❤️ Why you'll love this recipe
Quesadillas are highly underrated as an easy make-at-home meal. There's so much you can do with them and they're almost always delicious!
While I cook Mexican food at home quite a bit, I rarely ever make quesadillas. But after making these flank steak quesadillas again (the first time was in 2013), that will definitely be changing. They're so easy and versatile and always delicious.
These quesadilla combine a tender and tasty marinated flank steak with robust gorgonzola cheese, peppers, and onions.
And don't worry, if you or someone in your family doesn't like gorgonzola cheese, you can easily replace it with a cheddar, Monterey Jack, or the cheese of your choice.
🗒 Ingredients
Here's everything you need to make these steak quesadillas:
Lime juice
Olive oil
Garlic
Chili powder
Cumin
Salt
Flank steak
Onion
Salt
Pepper
Jalapeño pepper
Flour tortillas
Gorgonzola cheese
Avocado, for topping
🥩 How to marinate flank steak
Like I mentioned, the first thing you'll need to do is marinate your flank steak. Make sure you plan ahead of time as your meat will need at least 3 hours in the marinade. You can also prep this the night before and let it sit in the marinade for longer (up to 24 hours).
The flank steak marinade consists of simply lime juice, minced garlic, chili powder, cumin, salt, and olive oil. Add everything to a big Ziplock bag and make sure the marinade is evenly distributed.
Keep in fridge.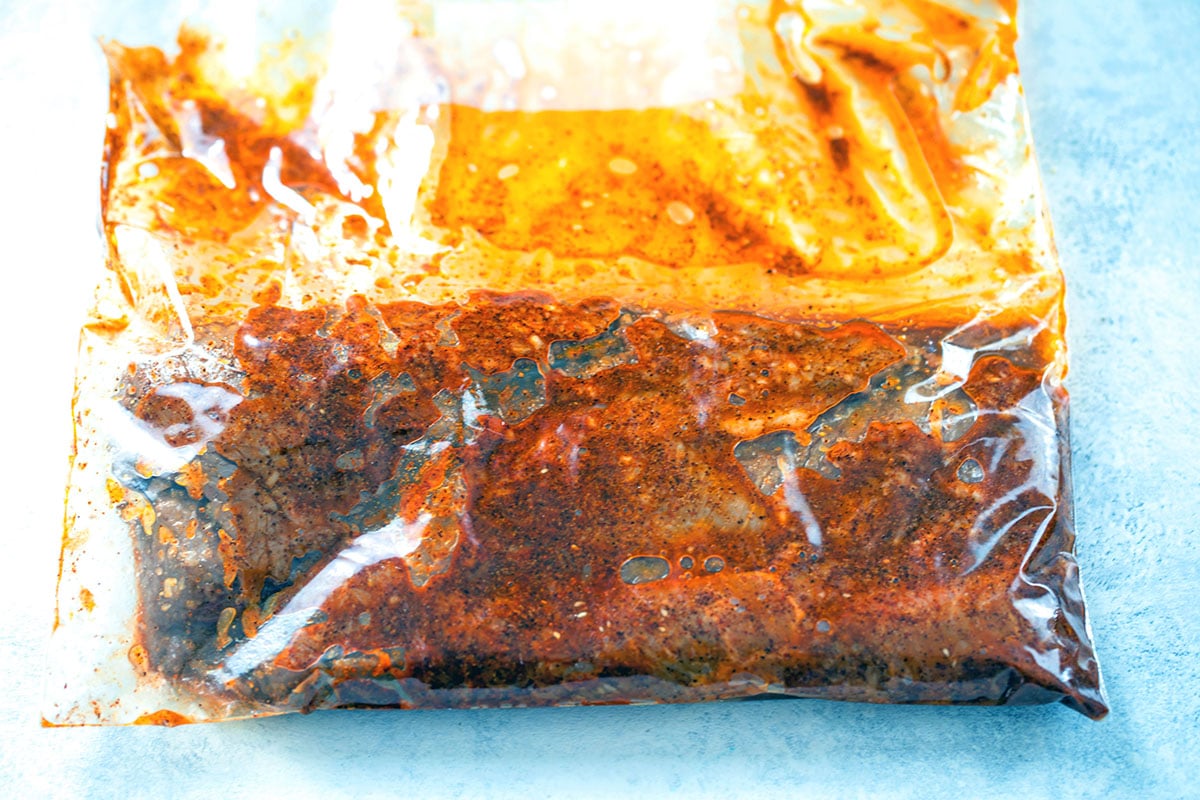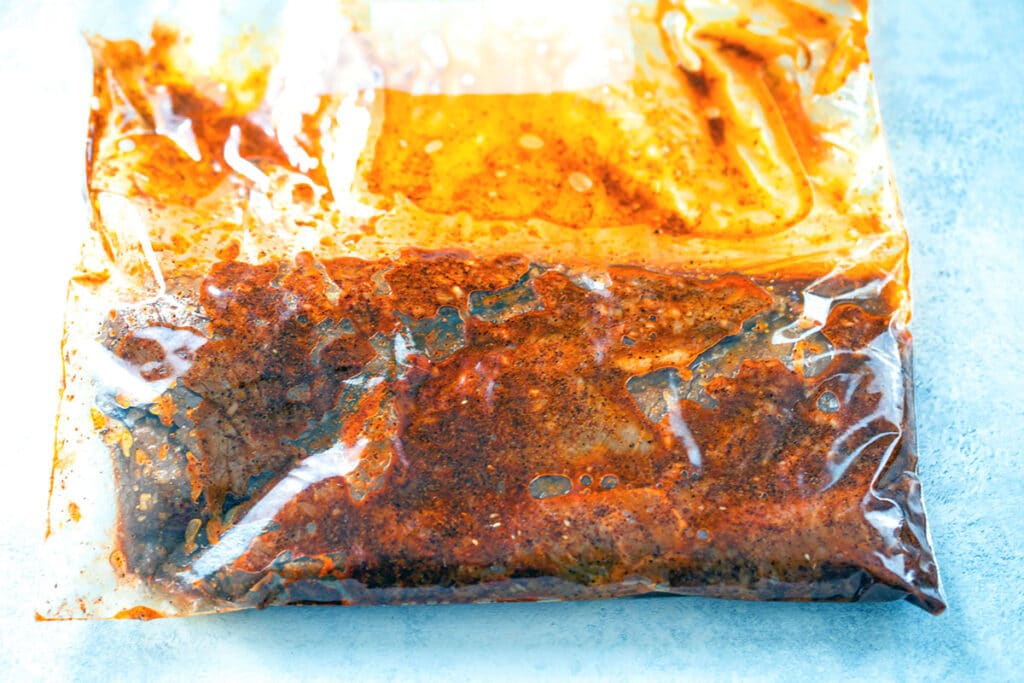 For another great way to prepare flank steak, check out this recipe for Carne Asada.
🌮 How to make flank steak quesadillas
Now that your steak is marinated, it's time to cook it!
Cooking flank steak is easy, but make sure you are paying attention and don't overcook it (remember tip #2!).
Cook it in a grill pan or cast iron pan over high heat for about 3 minutes on each side (I do 1.5 minutes, rotate steak, and do another 1.5 minutes before flipping to get the pretty grill marks).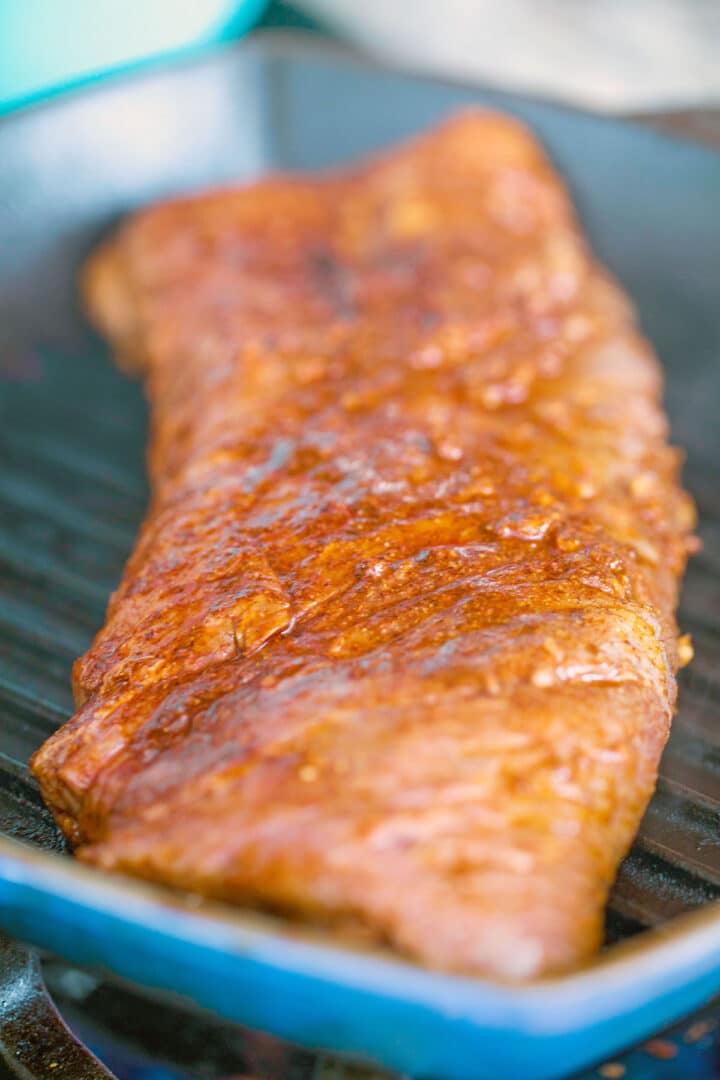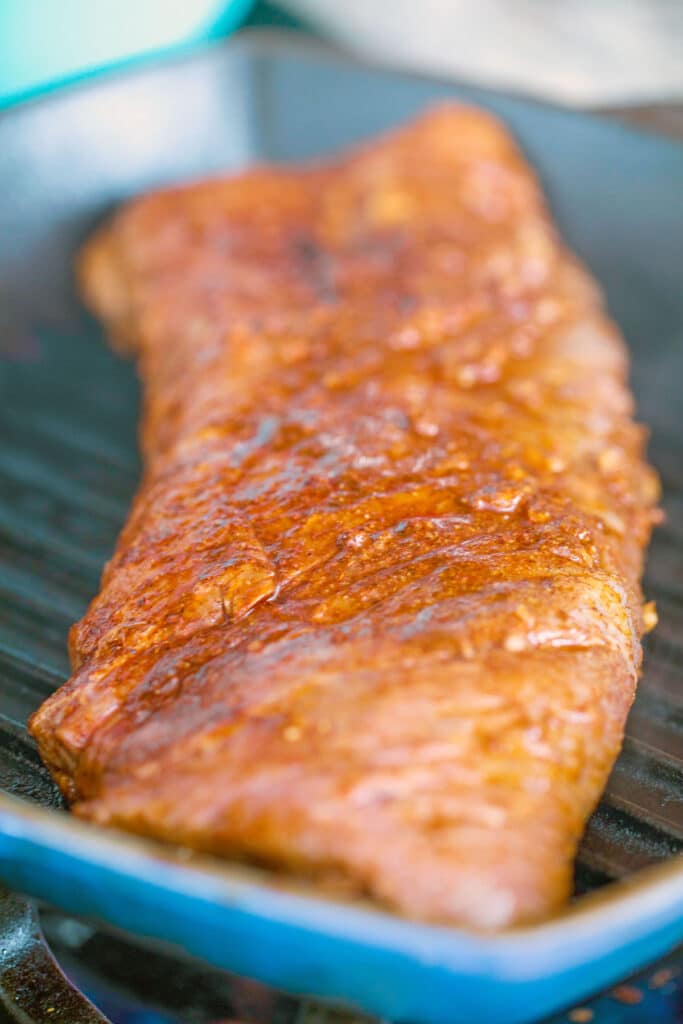 My steak was a nice medium rare (maybe a little bit more on the rare side), which is exactly how I like it.
When it comes to flank steak, a well-done steak means a tough steak, so try to avoid going past medium rare.
Also, make sure you slice your flank streak against the grain! If you slice it with the grain, it will be much tougher.
This is my absolute ideal done-ness of steak.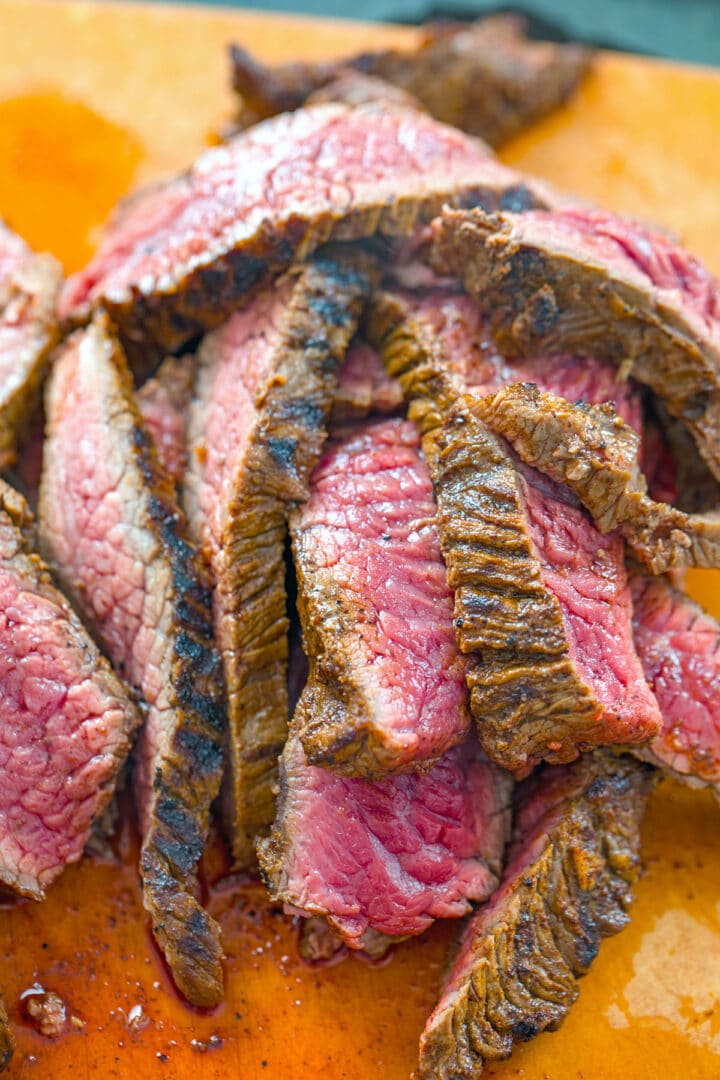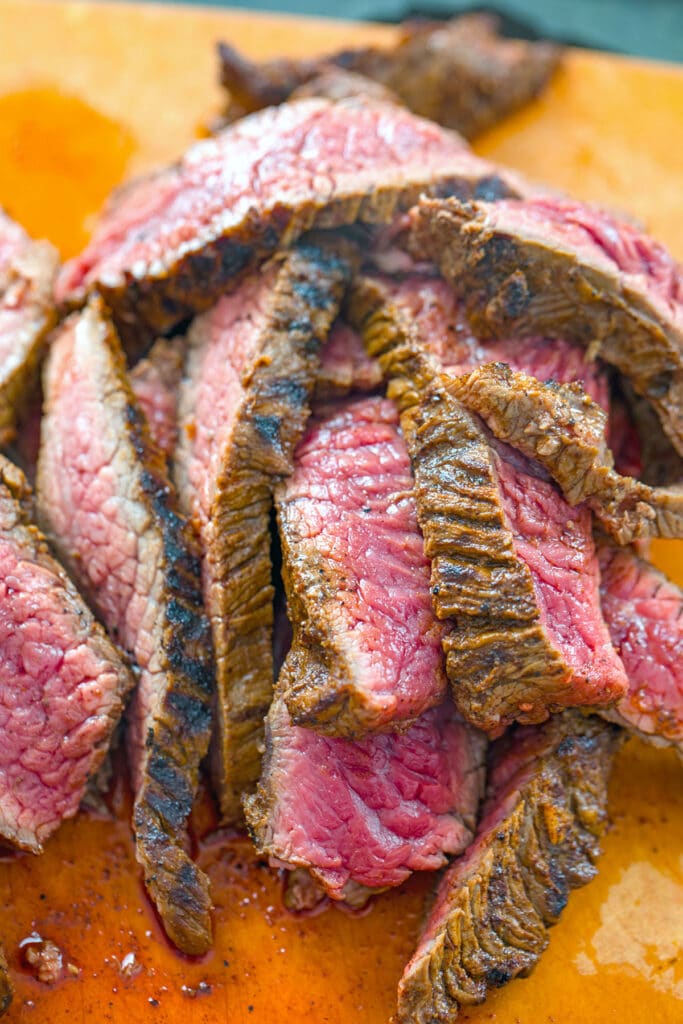 And don't forget the rest of your flank steak quesadilla fillings... Like the onions and jalapeño peppers!
Sauté the onions over medium-low heat with salt and pepper for about 5 minutes. And then add the sliced jalapeños in and sauté for another 8 minutes or so, until the onions are getting nice and browned.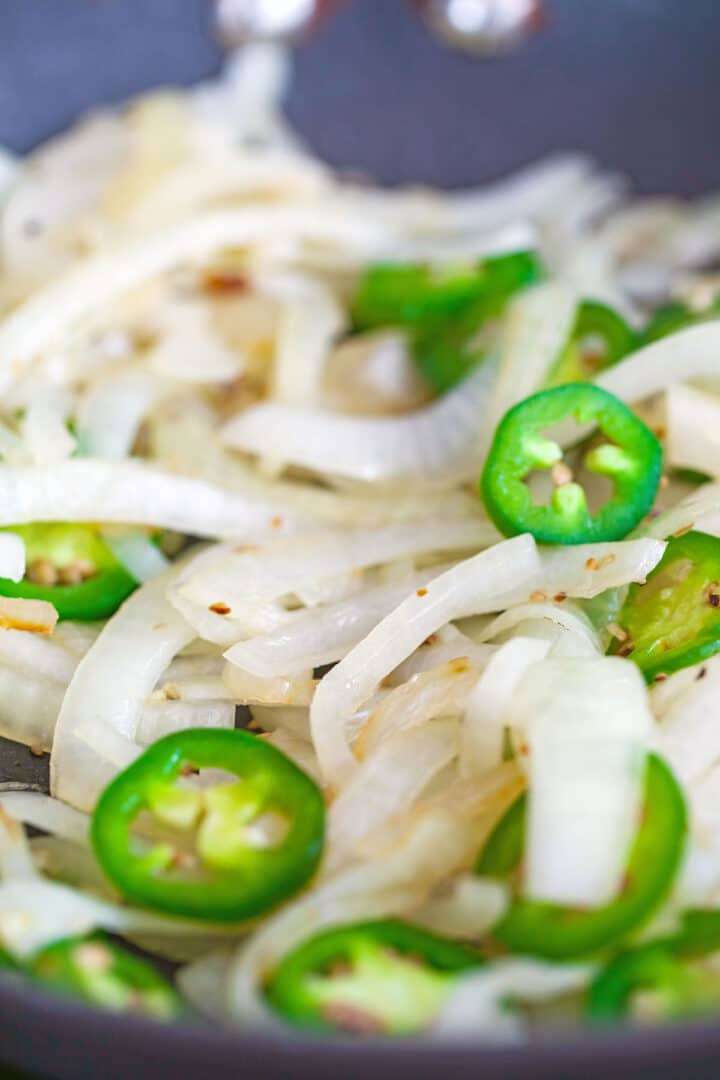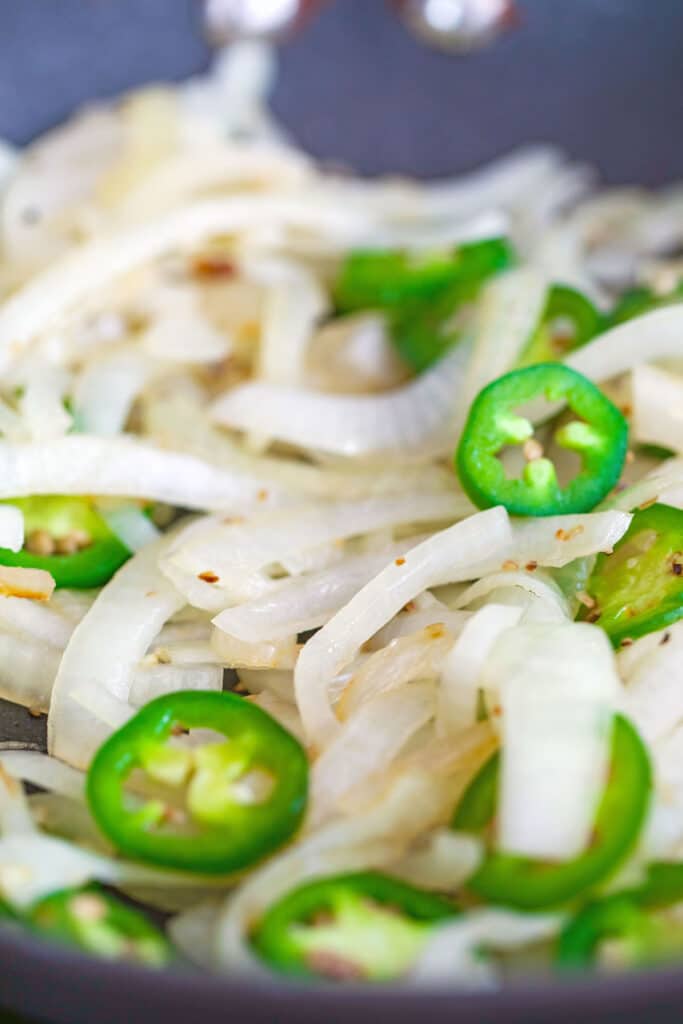 Clean the grill pan, lightly brush tortillas with olive oil, and place in pan over medium heat.
Sprinkle gorgonzola cheese on the tortilla, top with a few slices of steak, onions and jalapeño, and a little bit more cheese.
Top with another tortilla and cook for a minute. Flip and cook for another 2 minutes before removing from pan to a separate plate.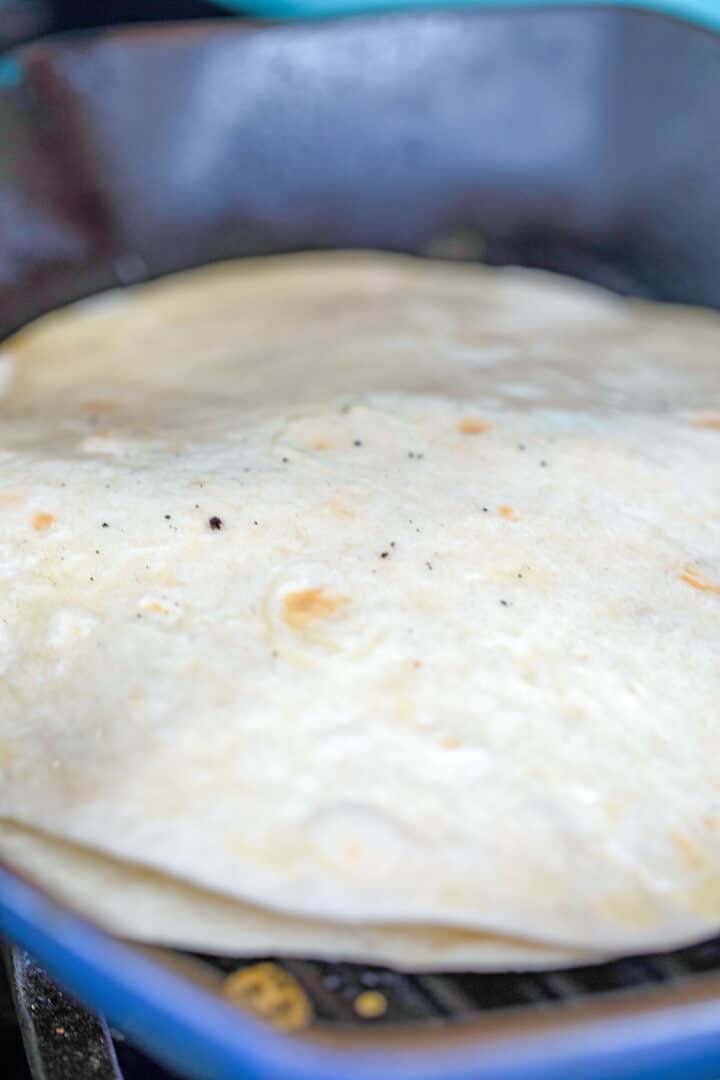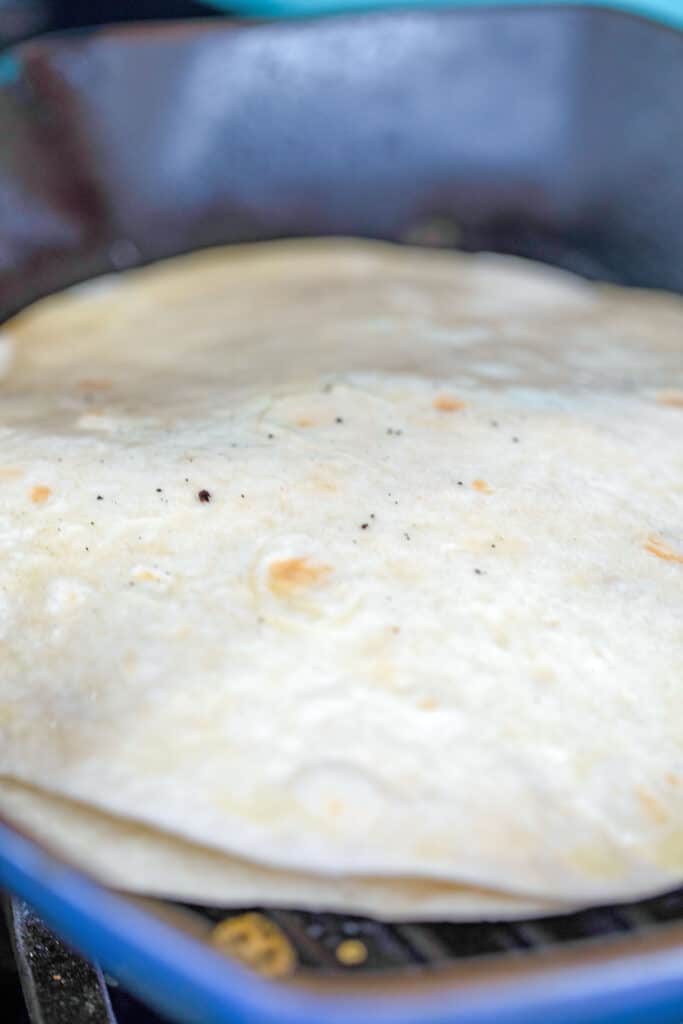 Continue with the rest of the tortillas and fillings. Rotate the tortillas if you want those criss-cross grill marks!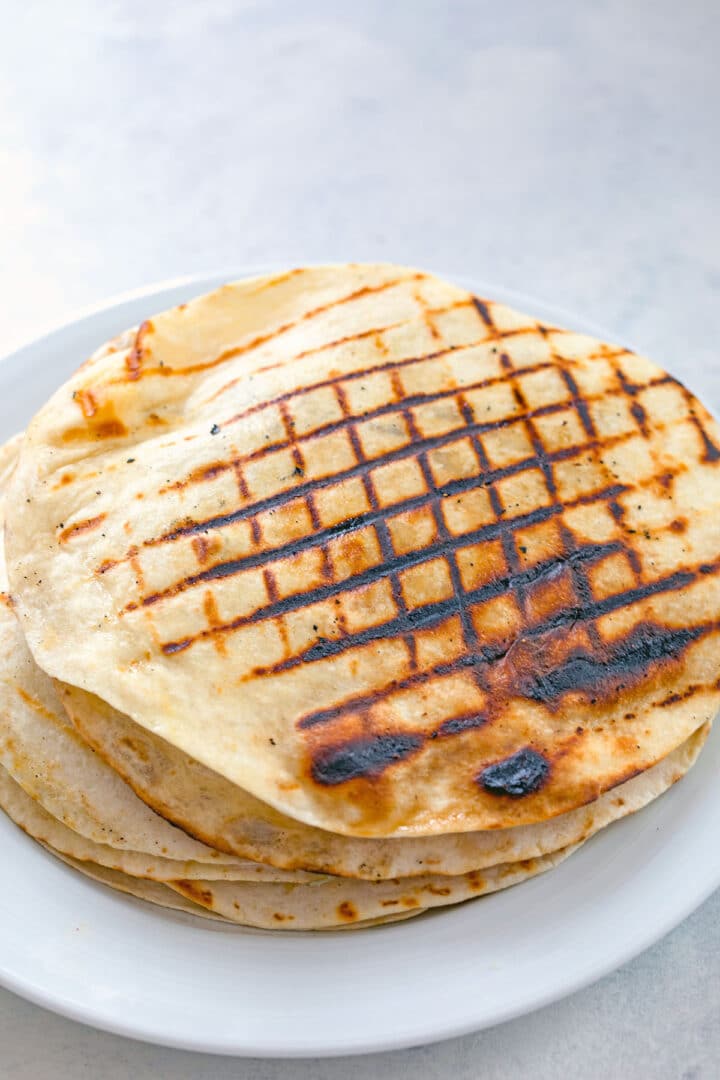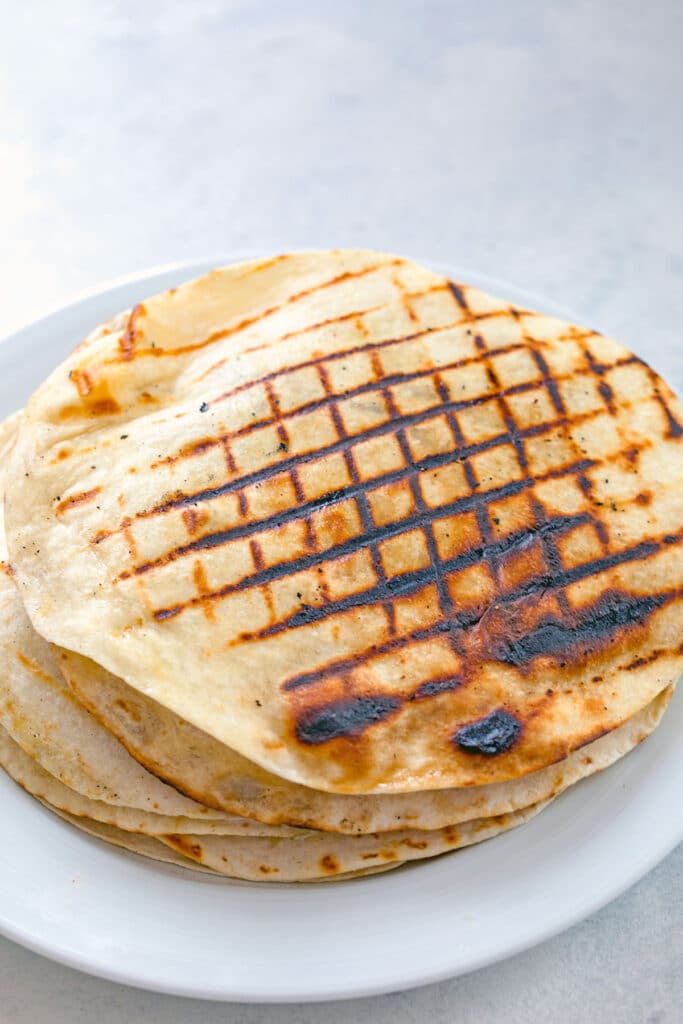 You can either slice your avocado or mash it up a little bit. Or leave it out all together. But I love mashing it up and dipping my sliced steak quesadillas into it.
Which, by the way, I easily slice with a pizza cutter. You could also use a sharp knife.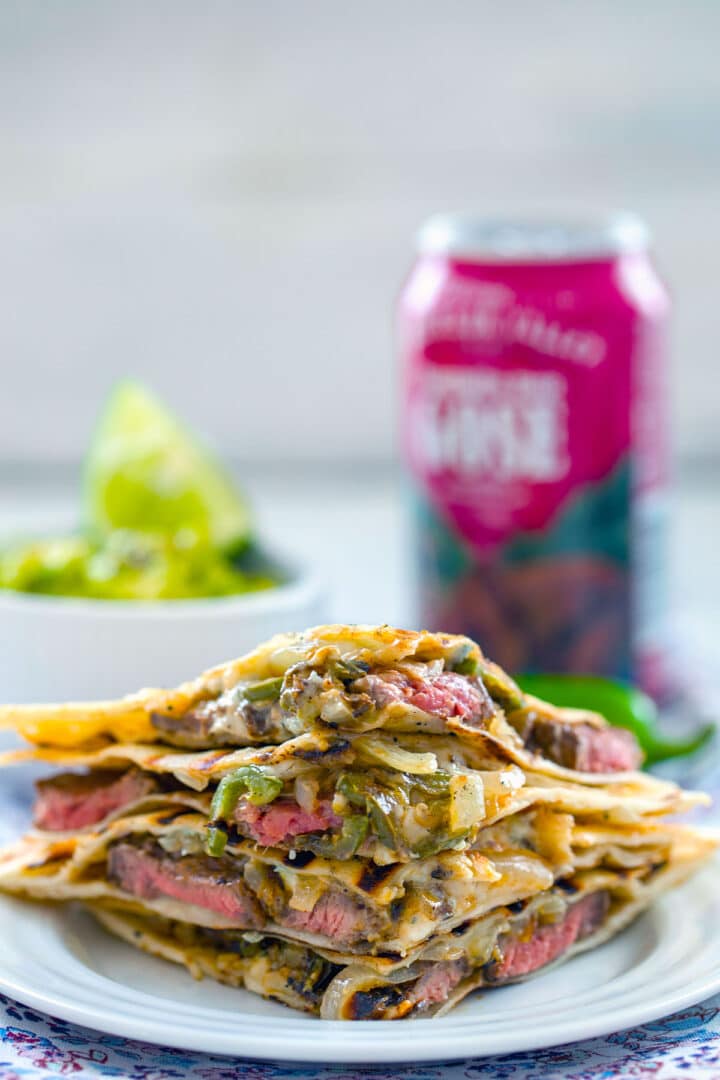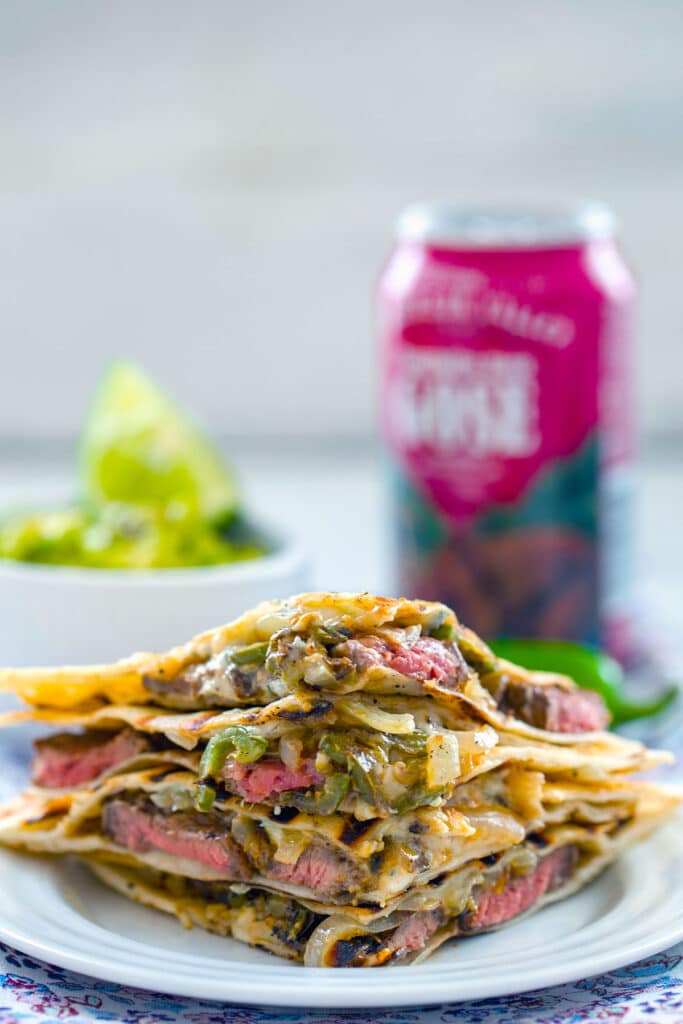 And my steak obsession continues. These flank steak gorgonzola quesadillas are a majorly upgraded quesadilla... Especially if we're talking about the ones I used to make in the microwave as an after school snack in middle school (which were also quite delicious, but consisted of simply cheddar cheese and some salsa).
Though who knows where I'd be be if I came home from school and whipped up flank steak quesadillas with gorgonzola cheese when I was 12.
We'll never know.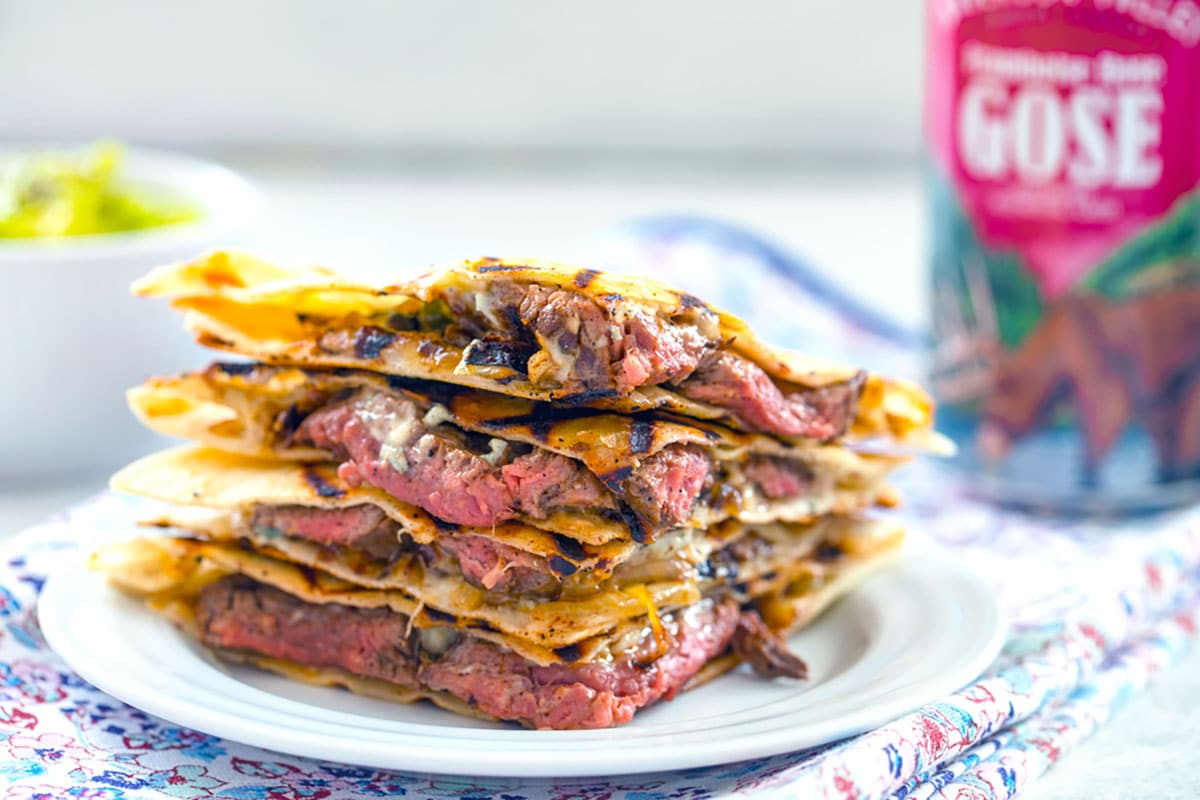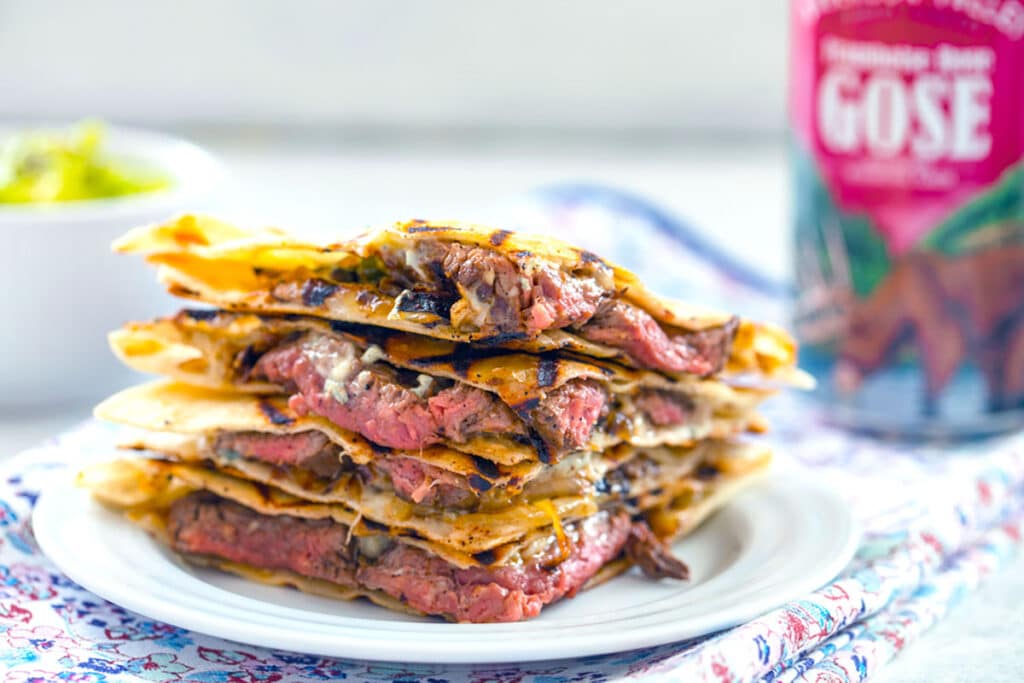 I'm just happy I made it here now. Because it's a marvelous place to be.
My steak is definitely a bit on the rare side, but it was perfectly tender and flavorful and everything many people think flank steak isn't.
All of the flavors in these steak quesadillas just go together so well. If you think you don't like gorgonzola cheese, try it in a quesadilla with flank steak and I think you might change your mind.
💁‍♀️ Potential substitutions
That said, I know not everyone loves gorgonzola and may not like or have access to some of the other ingredients in these quesadillas. Here are some potential substitutions and modifications you can easily make:
If you don't like gorgonzola cheese, feel free to use cheddar, Monterey Jack, or the cheese of your choice.
If you can't find flank steak, you can use skirt steak.
If you don't like or can't eat flour tortillas, you can substitute with corn tortillas.
If you don't like caramelized onions, you can omit.
If you don't like jalapeños, you can omit or substitute with green bell peppers.
Let me know if you make any other substitutions with this recipe!
🎉 More easy steak recipes
If you're going through a moment with steak, too, check out my other easy recipes with steak. They're all so good!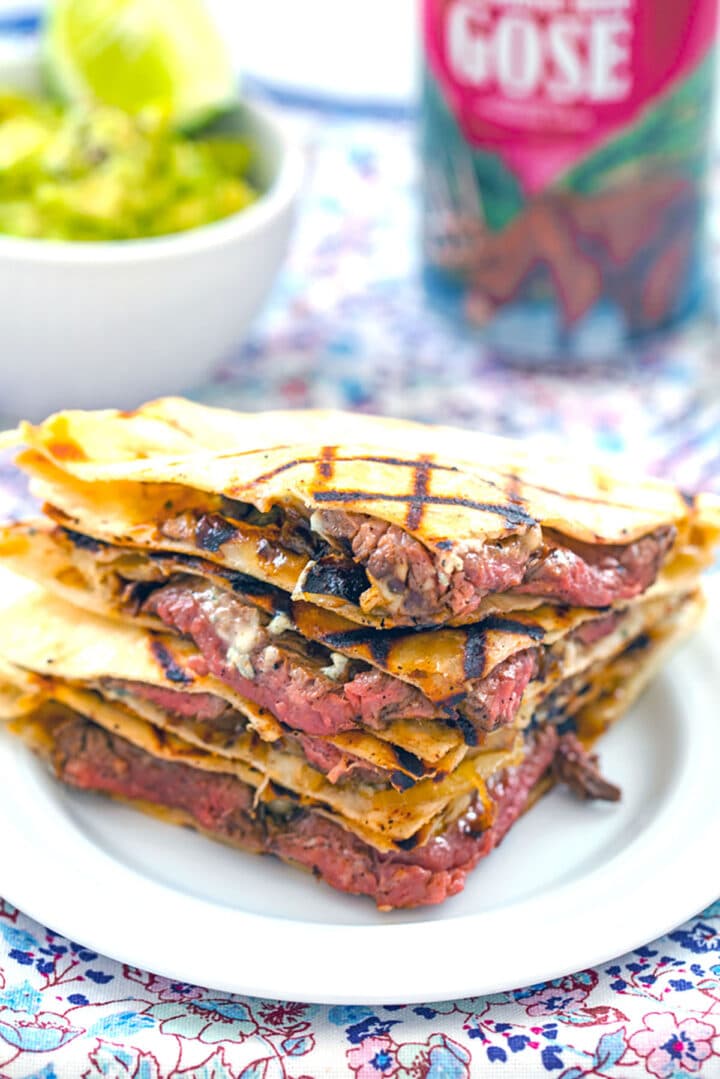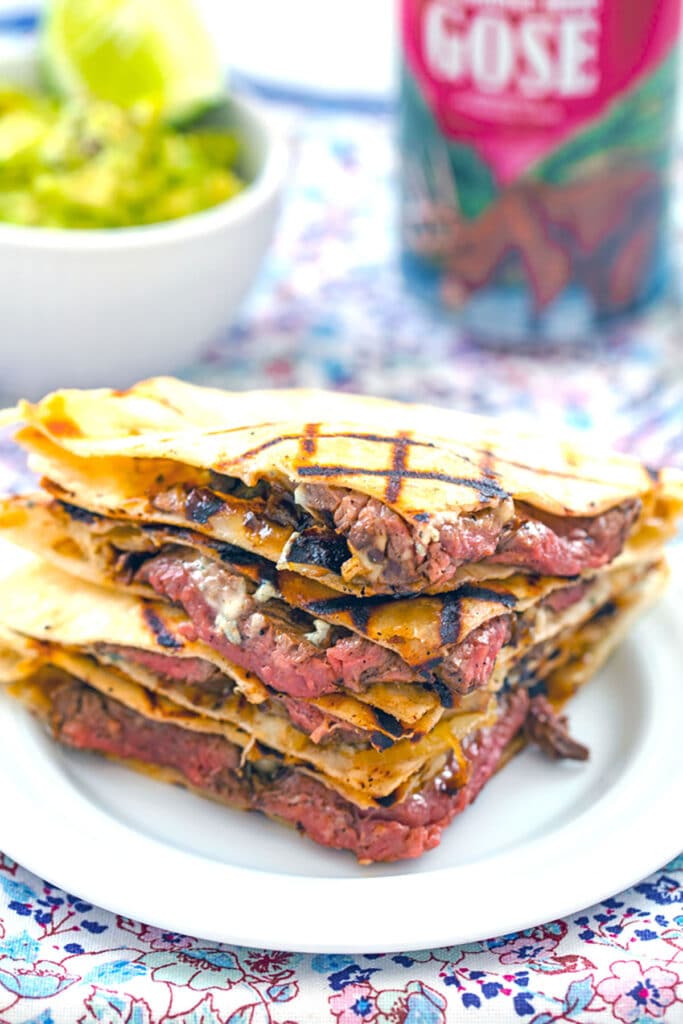 These quesadillas also made me kind of crave summer when we can actually cook the steak on the grill. And then go sit in the sun. And just be amazingly happy and warm.
Did I mention these quesadillas go fabulously with a nice cold beer?? Or a raspberry rosé gose (which is what I enjoyed them with)??
OK, but they're also perfect in the winter when it's chilly and you need a little bit of comfort food. The best kind of "year round" food.
Also note that flank steak is really good for freezing so you might want to get on that so you can make these flank steak quesadillas any time you have a craving. Which will probably be ALL THE TIME.
Now I need to figure out where I'm going to get my next steak fix!
What's your idea of the ultimate quesadilla?
📖 Recipe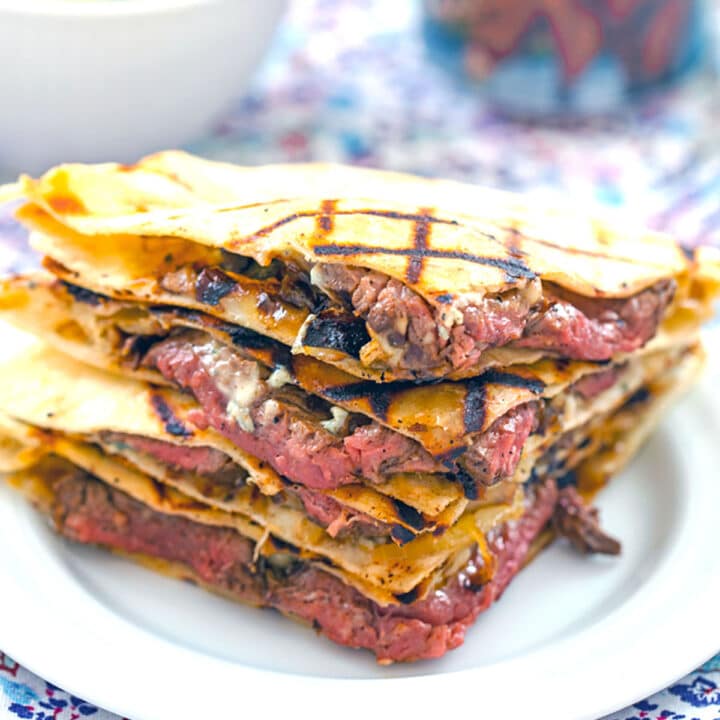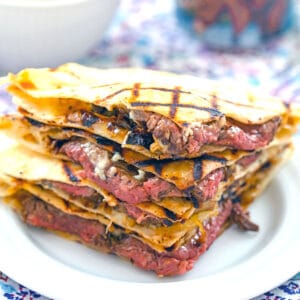 Flank Steak Quesadillas with Gorgonzola
These Flank Steak Quesadillas with Gorgonzola are a major upgrade to quesadillas and incredibly easy to make for a simple weeknight dinner. They're packed with flavor and easy to make substitutions based on your preferences.
Print
Pin
Rate
Ingredients
¼

cup

freshly-squeezed lime juice,

4

Tbsp

olive oil,

divided

3

cloves

garlic,

minced

1

Tbsp

chili powder

1

tsp

cumin

¾

tsp

salt,

divided

1

lb.

flank steak

1

large onion,

sliced

¼

tsp

salt

¼

tsp

pepper

1

jalapeño pepper,

thinly sliced

8

flour tortillas

4

oz.

gorgonzola cheese,

crumbled

1

avocado,

peeled, pitted, and sliced (optional, for serving)
Instructions
Add lime juice, 2 Tbsp olive oil, minced garlic, chili powder, cumin, and ½ tsp salt to a large ziplock bag and place flank steak in the bag. Make sure marinade is distributed evenly and place in fridge for at least 2 hours to marinate.

Heat grill pan or large cast iron pan until extremely hot and placed flank steak on it. Grill for 3 minutes on each side. If you want criss-cross grill marks, be sure to rotate steak after 1.5 minutes on each side.

Remove steak to cutting board and let cool slightly. Slice flank steak in strips, being sure to cut against the grain.

While steak is cooling, heat pan to medium and add 1 Tbsp olive oil. Add onions, remaining ¼ salt, and ¼ tsp pepper and cook for about 5 minutes. Add sliced jalapeño and cook for another 6-8 minutes, until onions are browning.

Wipe out pan. Lightly brush one side of all tortillas with remaining olive oil and place one oil-side down on pan over medium heat. Sprinkle gorgonzola cheese over the top, top with steak, onions and jalapeño, and a little more cheese.

Place another tortilla over the top, cook for about one minute, and then flip and cook for another two minutes. Be sure to rotate tortillas halfway through cooking if you want criss-cross grill marks. Continue with remaining tortillas and filling.

Using a pizza cutter, slice quesadillas into four and serve with mashed or sliced avocado.
Notes
You can cook steak on the grill if you prefer.
Share a Photo of Your Finished Recipe!
Mention @wearenotmartha and share a photo if you've made the recipe!
View Web Story for this recipe.