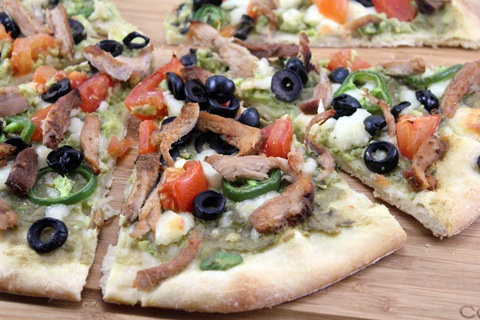 Like I mentioned in my last post, there was a time, not so long ago, when Chris would not eat avocados. He's slowly been coming around and happily gobbled up my Avocado Spinach Egg Salad last week. In fact, the very next day, he said, "I'm craving avocado SO much! What can we have?" I was already planning on making flatbread this weekend, so I decided to incorporate avocados into the mix.
Instead of just topping a typical flatbread with avocado, I decided to go all out and use guacamole instead of tomato sauce. Because, I mean, why not, right? It was definitely an experiment. And one that I have to say came out quite nicely. Can I just say how thrilled I am that Chris has formed an avocado obsession? I could eat them every day, so this is going to make life quite lovely for me. All avocados, all the time. We may turn green. And I'm perfectly OK with that.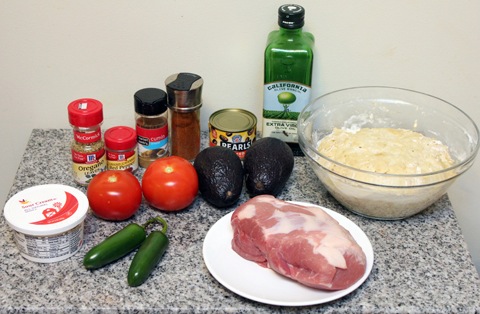 Mexican Guacamole Flatbread (makes 1 flatbread):
Print this recipe!
½ batch flatbread dough
1.5 lb. pork loin
2 t paprika
2 t cumin
2 t cayenne
1 t oregano
2 T extra virgin olive oil
2 avocados, peeled and pitted
3 oz queso fresco, crumbled
2 jalapeños, thinly sliced
2 tomatoes, chopped
¼ C sliced olives
Sour cream, optional
Somehow the queso fresco escaped the photo! Caught ya!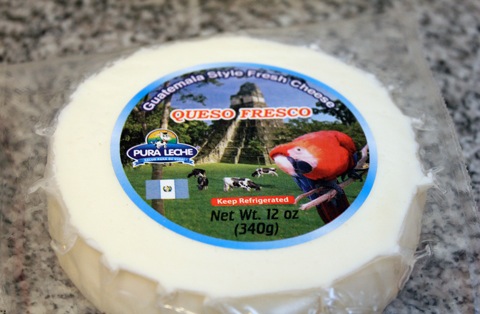 I started by preparing my flatbread dough… Which I've done so many times, it's kind of like second nature to me. Seriously; it's so easy. All you have to do is mix everything together and wait a couple hours. WORTH IT.
The pork was kind of an afterthought for this dish. Because I had a pork loin and figured this flatbread could use a little meat on it. It was delicious, but just know that you could use any meat as a topping (or none at all!). I think ground turkey or beef would also be fabulous. As would an actual Mexican-style pulled pork.
For this pork loin, I simply mixed the paprika, cumin, cayenne, and oregano together in a small bowl. Then I slathered the loin in EVOO, sprinkled a little salt and pepper on, and rubbed the spices all over.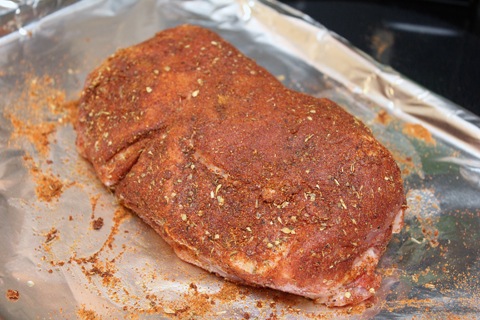 I popped it in the oven at 375 degrees for about 30 minutes, until it reached an internal temperature of about 140 degrees.
While the pork was cooking I peeled and pitted my avocados and sprinkled them with salt and pepper.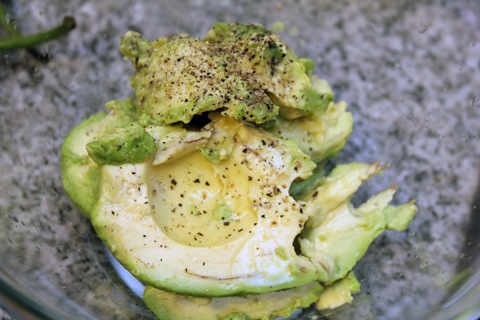 And then I mashed them all up, just like I would for a guac.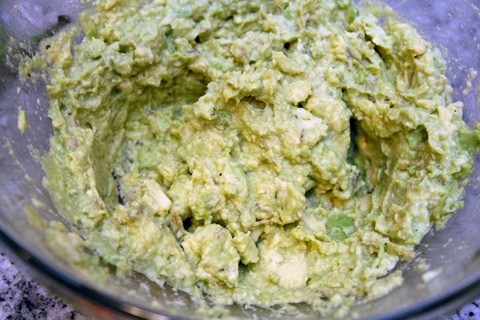 ]
I rolled out my flatbread dough on a floured surface and then transferred it to a foil covered pizza pan. And spread the guacamole over the top. See? It's guacamole pizza sauce!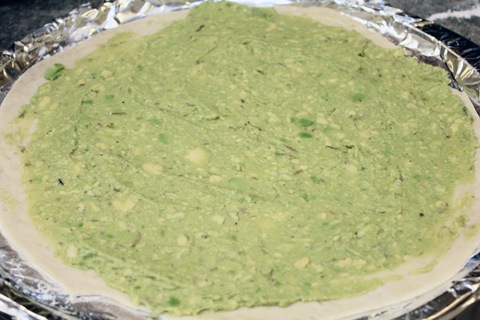 And then I crumbled queso fresco on top of the guacamole.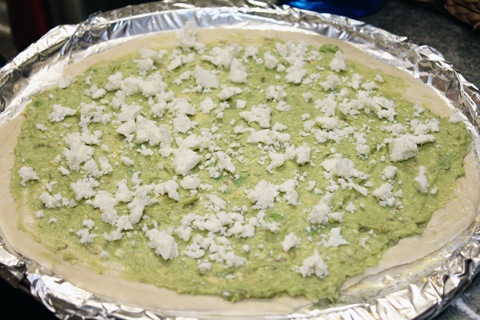 Chop the rest of your veggies, making sure to wear gloves if you're getting involved in jalapeño action! Or at least to take your contact lenses out.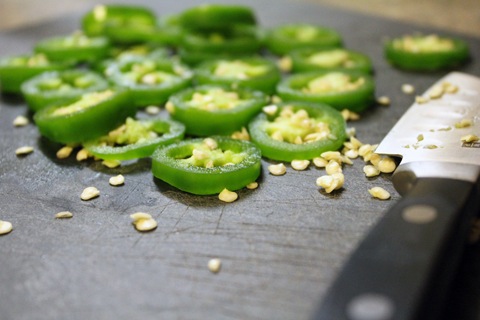 Put jalapeños, tomatoes, and sliced olives over the top.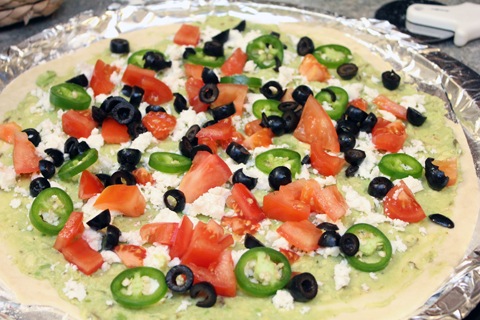 Shred up the pork and toss that on, too.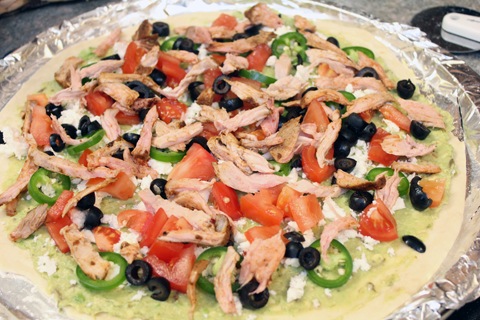 And then bake at 450 degrees for 18-20 minutes, until crust is nice and crispy.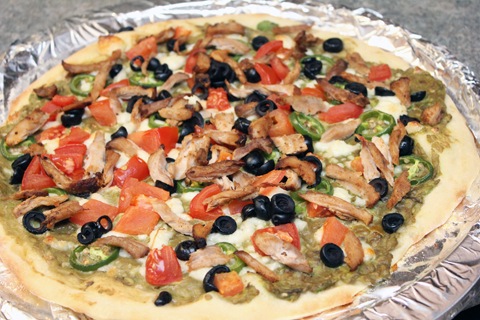 Remove from oven and… You know the drill.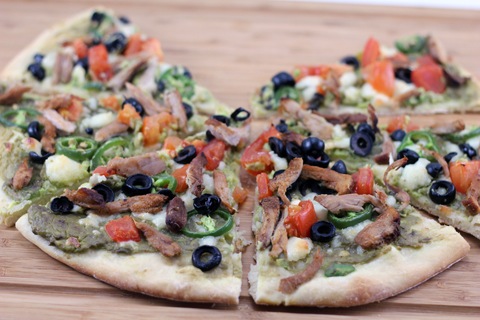 Chris declared this the best flatbread I've ever made. Which is saying a lot considering he's absolutely obsessed with my sausage, grape, and gorgonzola flatbread. I'm thinking it just has something to do with his newfound avocado obsession. I wouldn't declare this my most favorite flatbread ever, but I did think it was pretty darn tasty. Even if the guac sauce wasn't the most appetizing color after coming out of the oven.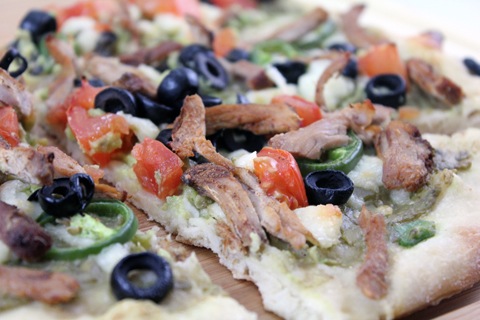 I'm generally a super cheesy, saucy pizza person, so this was a leap for me. But it showed me that you don't need lots of sauce and cheese to have a satisfying pizza. And I'm pretty certain this is far healthier than most of those other pizzas. If you want an even healthier pie, you could make the crust with part whole wheat flour.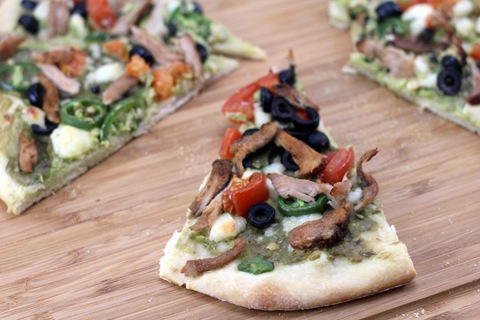 The jalapeños added the perfect zing and the pork was delightfully spiced, adding a little extra protein and Mexican flair.
I originally thought I would use sour cream in this recipe, which is why you see it in the ingredients photo. But I didn't end up incorporating it. However, I think sour cream could be pretty awesome dolloped over the top of this flatbread.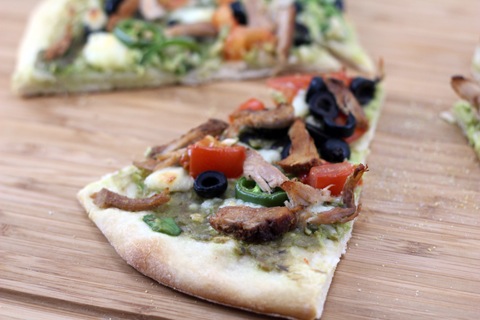 I'm pretty inspired now to find other substitutes for the typical tomato pizza sauce. Just for fun. And I'm also kind of inspired to use avocado in every single meal from now on. Now taking bets on how long it will take Chris to get horribly sick of avocado after he is forced onto overload. I honestly don't think I'd ever get sick of it. Ever. And I'm more than willing to prove my theory correct.
Could you eat avocado on everything?
[Sues]