A seemingly unlikely combination, the flavors in this Sausage, Grape, and Gorgonzola Flatbread work so well together, you'll find yourself craving this ultra thin crust pizza all the time.
(This recipe for Sausage, Grape, and Gorgonzola Flatbread Pizza  was originally posted in February 2010, but the post has been updated with new photos and content.)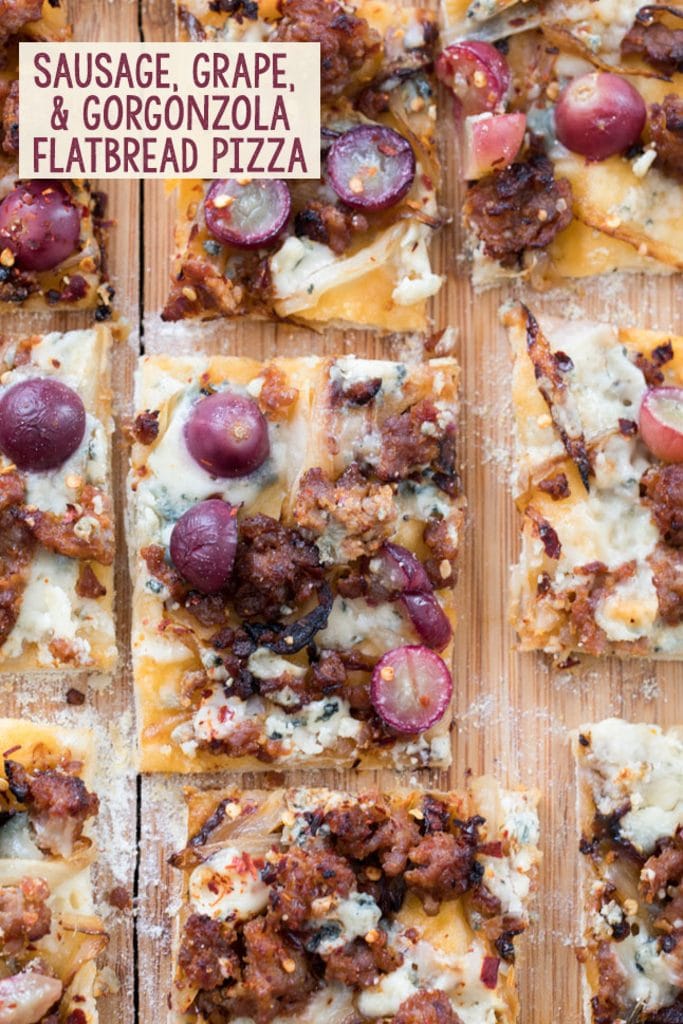 Have you ever had a dish at a restaurant and then immediately gone home to try to recreate it? I'll admit I don't do this all the time for myself (pass up the chance to be served in a restaurant? No thanks!), but I love doing it when my husband finds something he loves. He's a major creature of habit and will want to go back to the same restaurant over and over and over when he finds a dish he likes. So, instead of getting stuck in a restaurant rut, I can make his fave dish at home and we can happily try a new restaurant next time we go out. And everyone is happy!
One of my big goals for this year is to revamp a lot of the content here on We are not Martha, including re-shooting photos and adding improvements to my recipes where I can. And I have to tell you that this flatbread recipe is one of the recipes I've been most excited to share with you again! I first made it in 2009 after Chris had something very similar for dinner at a little restaurant on Boston's Newbury Street called Bouchee. He fell in love with the flavors of the sausage, grape, and gorgonzola flatbread pizza and luckily, it was incredibly easy to recreate at home. I'm glad I did because while Bouchee closed soon after we first went, we've been enjoying this flatbread non-stop over the years. Seriously, non-stop!
HOW TO MAKE YOUR OWN FLATBREAD DOUGH
If you're scared to make your own flatbread dough, don't be! While store-bought is fine in a pinch, it can never really compare to homemade, in large part because you can control homemade and make it exactly how you like it. I first learned to make pizza and flatbread dough from the amazing book, Artisan Bread in 5 Minutes a Day and have tweaked it over the years to my tastes. I also often add other ingredients in, depending on my pizza toppings… Sometimes a little parmesan cheese, sometimes some garlic powder. It's so totally versatile, you can give it any flavoring you want. For this recipe, I went basic mainly because a simple crust is best when you have all kinds of crazy flavors happening on top.
This dough is so easy to make that all you do is mix the ingredients together in a big bowl, cover with a kitchen towel, and let rise. There's no kneading involved.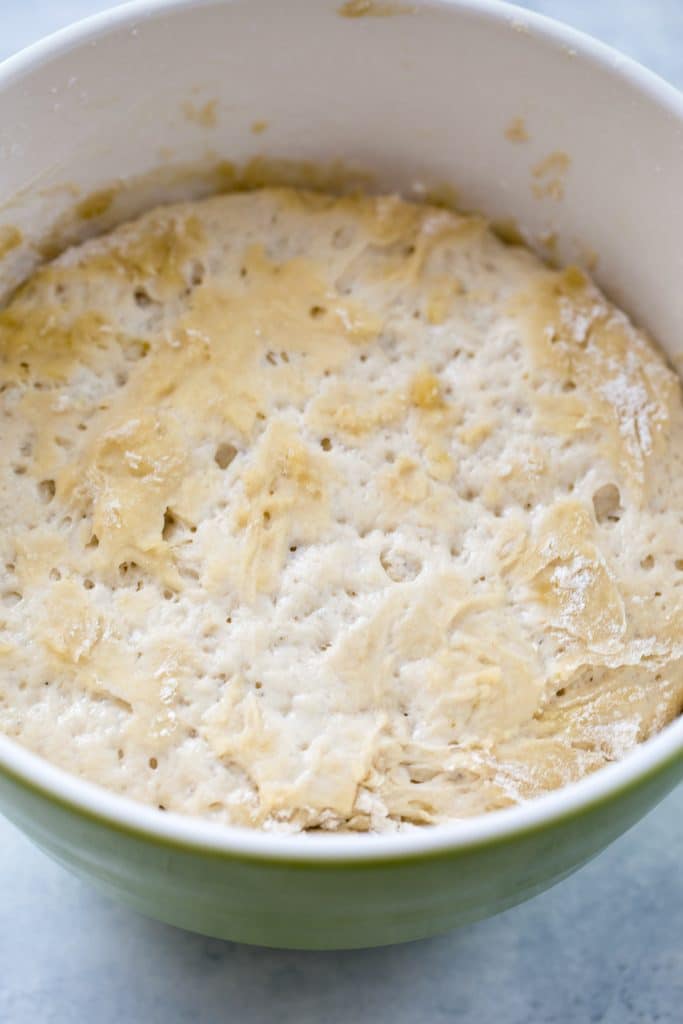 There's something so satisfying about spending 5 minutes mixing ingredients together and then coming back in two hours and seeing them double in size. No-knead pizza dough is the best!
TIP FOR THE PERFECTLY BAKED FLATBREAD DOUGH
Once your dough is ready, you'll need to pre-heat your oven to 450 degrees and place your baking sheet into the oven while it's pre-heating. One of the keys to the perfectly baked flatbread is to bake it on an already hot pan. This will allow your crust to get crispy while the rest of your pizza cooks. Of course, you can also use a pizza stone to bake your flatbread (I stuck with a 9×13 pan to keep things simple for everyone following the recipe).
THE IDEAL FLATBREAD TOPPINGS
For me, the key to the ideal flatbread or pizza toppings is finding balance. I truly believe that this sausage, onions, grape, and gorgonzola cheese combination makes for the best flatbread in the world. The gorgonzola is a powerhouse of sharpness that brings the perfect boldness to the sweetness of the grapes and onion and more mellow seasonings of the sausage. These four ingredients are just a dream come true. I love spice, so I used a spicy Italian sausage for that extra kick, but sweet Italian sausage works, too.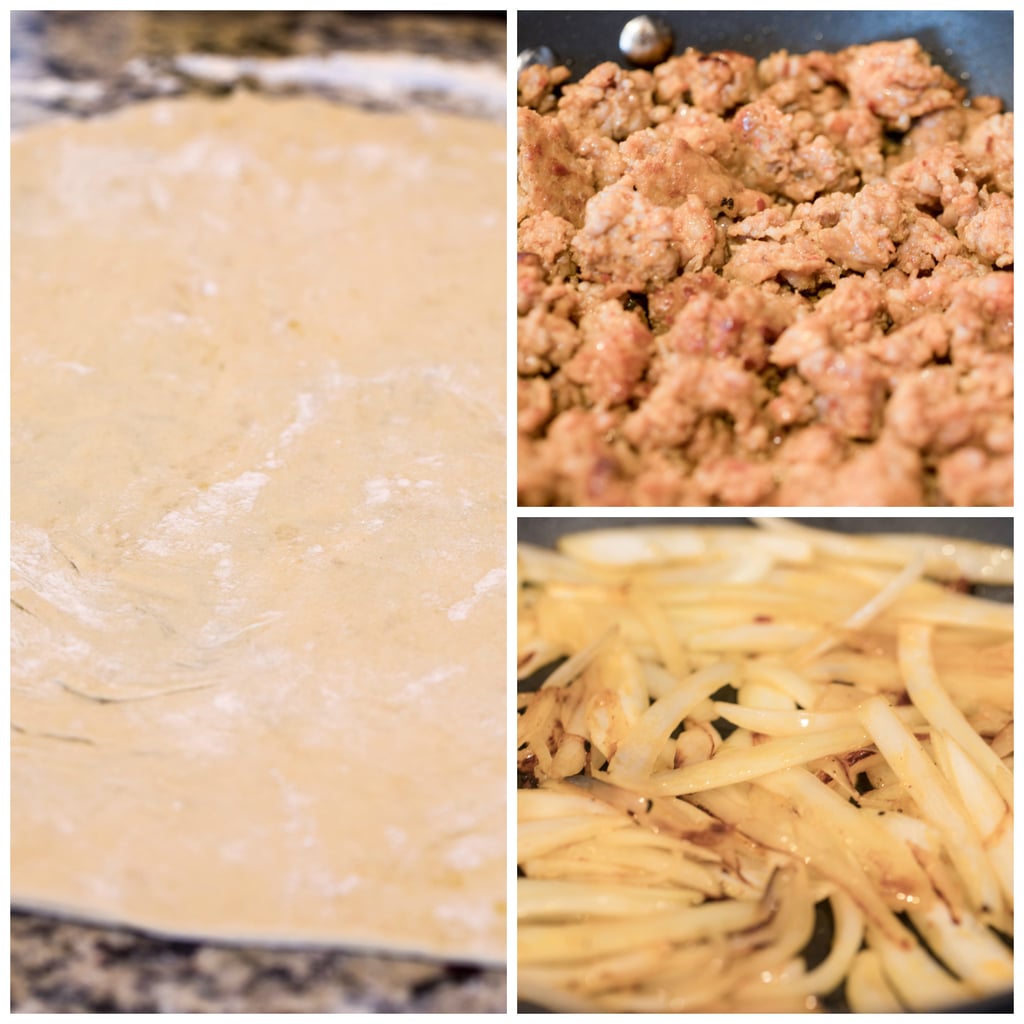 Of course, as with any flatbread or pizza recipe, you can switch ingredients in and out as desired. If you don't like onions, leave them off. If gorgonzola cheese is too much for you, stick with a more mild mozzarella. But I urge you to at least give this combination a try; it might surprise you! Also… roasted grapes? OMG so good!!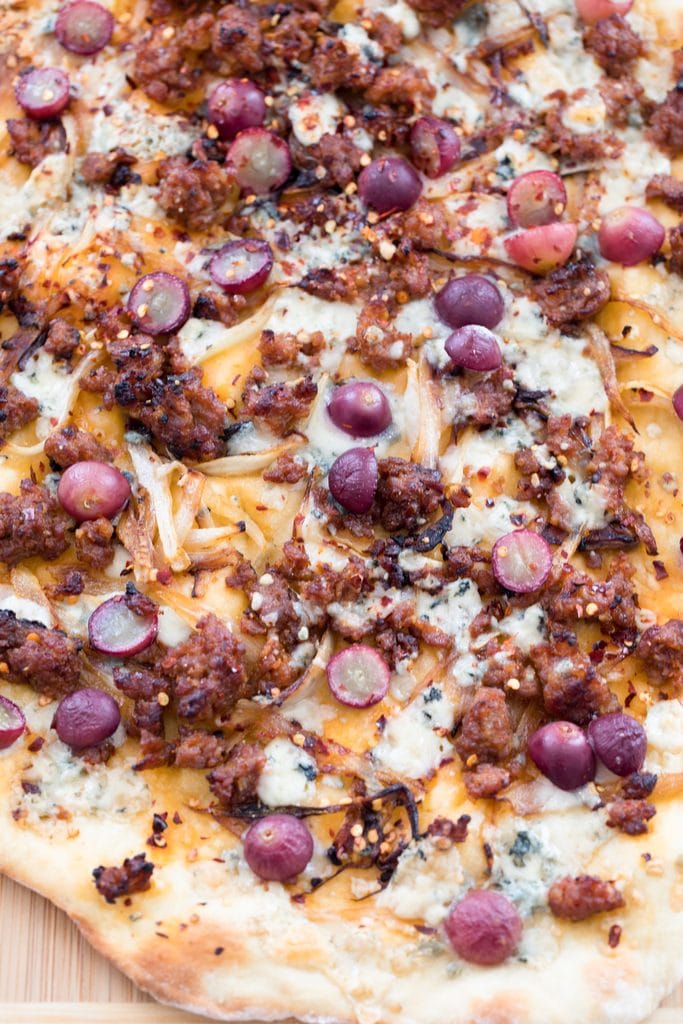 I've made this sausage, grape, and gorgonzola flatbread about a million times since 2009 and I've yet to meet anyone who doesn't love it! While I occasionally make it for a casual dinner with just Chris and me, I more often make it as a party appetizer. Cut the flatbread into small squares and it makes for the perfect little bite that is seriously packed with flavor.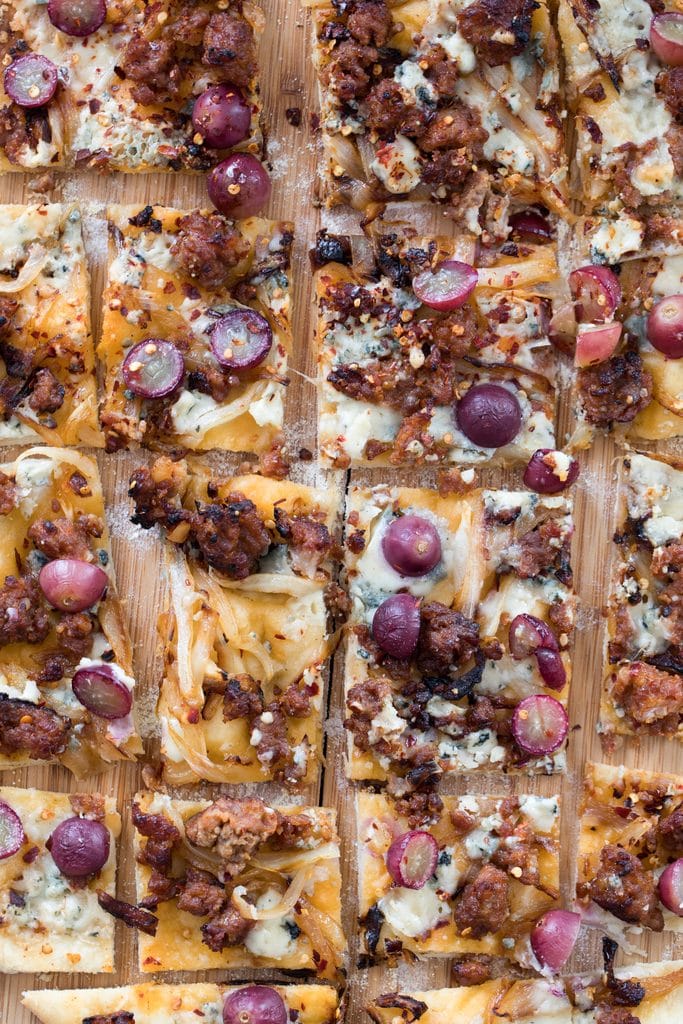 When I close my eyes, I can almost picture myself on Bouchee's Newbury Street patio with a glass of sangria and the sun shining down on me. But, no, I'm actually sitting on the couch with a glass of red wine and unseasonably cold spring weather. And that's just fine with me… I didn't have to battle any Boston traffic to get this delicious flatbread!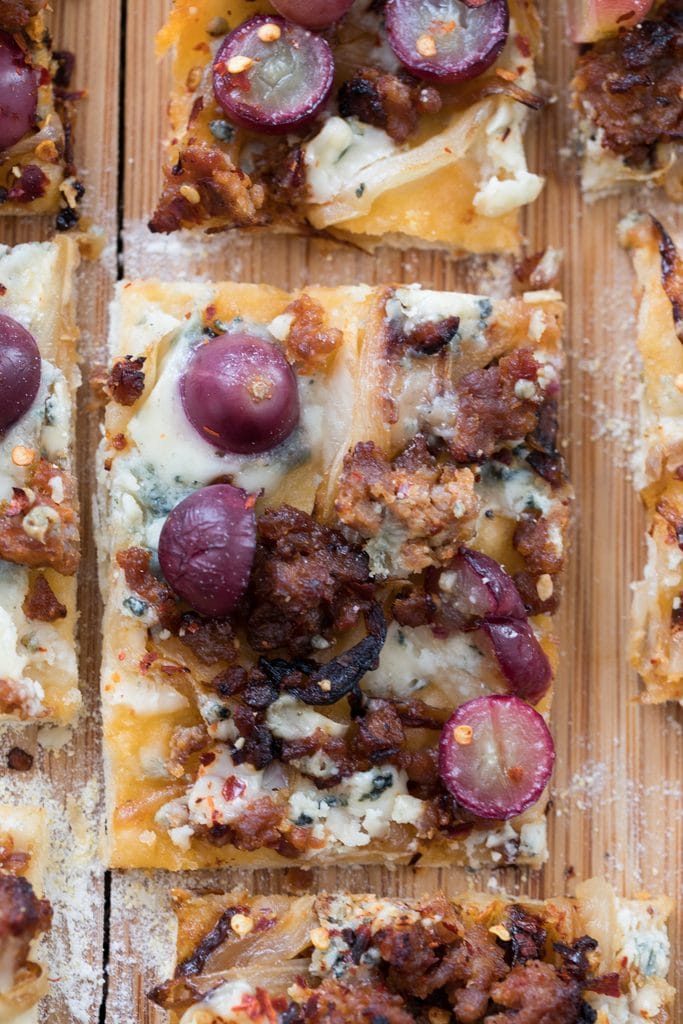 One other thing to note is that this flatbread re-heats fabulously in the oven or toaster oven. I absolutely love making it for dinner and then having a delicious lunch waiting for me in the fridge the next day. OK fine, I'll also admit to eating it cold. No shame!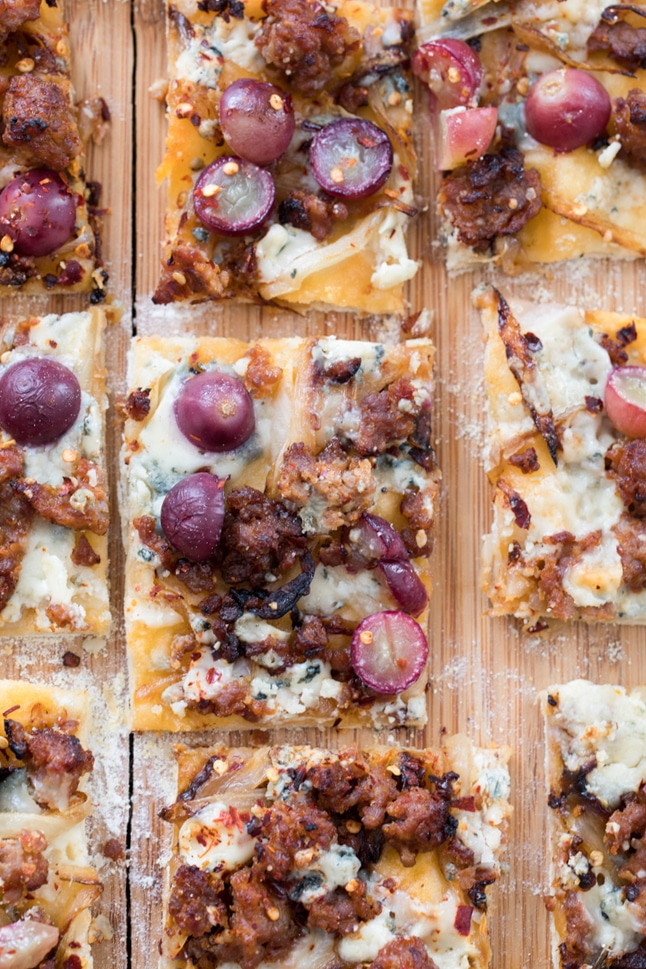 And now, despite the fact that Bouchee has long been closed, we can still happily enjoy what we thought was one of their very best dishes forever and ever end ever.
Have you ever created your favorite restaurant dishes at home? 
I have a huge selection of flatbread and pizza recipes if you're looking for something a little different!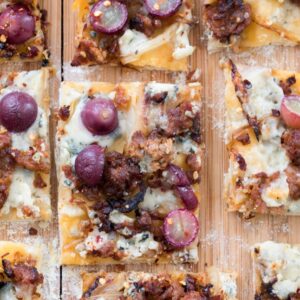 Print Recipe
Sausage, Grape, and Gorgonzola Flatbread Pizza
A seemingly unlikely combination, the flavors in this Sausage, Grape, and Gorgonzola Flatbread Pizza work so well together, you'll find yourself craving this ultra thin crust pizza all the time.
Servings:
1
flatbread (4 servings)
Ingredients
2

Tbsp

olive oil,

divided

1/2

lb.

spicy or sweet Italian sausage

(if sausage is in casing, remove)

1

small onion,

peeled and thinly sliced

1/4

tsp

salt

1/2

batch

flatbread dough

(recipe below)

1/2

cup

grapes,

halved

3/4

cup

crumbled gorgonzola cheese

1/2

tsp

red hot pepper flakes,

optional
Flatbread Dough
3/4

Tbsp

active dry yeast

1 1/2

cups

lukewarm water

3/4

Tbsp

salt

1 1/2

tsp

granulated sugar

2

Tbsp

extra-virgin olive oil

3 1/4

cups

all-purpose flour
Instructions
Pre-heat oven to 450 degrees. Place 9x13 baking pans in the oven as it heats.

Heat 1 Tbsp olive oil in a large skillet over medium heat. Add sausage and cook while breaking up with a spoon or spatula until browned, about 5-7 minutes. Remove sausage to a bowl and set aside, leaving sausage grease in pan

Add sliced onion and salt to pan and cook until soft and just browning, for about 7 minutes. Remove from heat.

Divide dough into two portions. Wrap one portion in plastic wrap and store in fridge (can keep in fridge for about 7-10 days). On a lightly floured surface, roll the remaining dough portion into a roughly 9x13 inch rectangle.

Once oven is pre-heated remove pan and working quickly, sprinkle a little flour and/or cornmeal onto the pan (this will prevent the dough from sticking) and carefully place the dough rectangle on top.

Brush dough rectangle with 1 Tbsp of olive oil. Then sprinkle onions, sausage, grapes, and gorgonzola cheese evenly over the dough.

Bake for 9-12 minutes, until crust is golden. Sprinkle with red hot pepper flakes before serving.
Flatbread Dough
Mix yeast and water in a large bowl and let rest for 2 minutes.

Stir salt, sugar, and extra-virgin olive oil into the mixture.

With a wooden spoon, mix the flour into the mixture.

Cover bowl with a kitchen towel and let rest in a warm spot for about 2 hours. Dough should rise during this time.
Notes
Flatbread dough recipe makes enough for two large flatbreads. Double the other flatbread ingredients to make two or wrap half the dough in plastic wrap and store in fridge for 7-10 days.
Note that recipe prep time doesn't include 2 hours dough rising time.
This flatbread was inspired by the now closed Bouchee restaurant in Boston.