In case you don't know, one of my very favorite bloggers is Recipe Girl. She's lovely and wonderful and if you don't know her, you should go check out her blog and get to know her. But come back here too because I think we're a little bit lovely and wonderful also. But I pretty much guarantee you'll love Recipe Girl.
The other day I realized something. I never cook pork. I don't know why because I actually quite like pork; I just never think to make it for dinner. So when I saw the recipe for Pork Medallions with Olive Caper Sauce on Recipe Girl's blog, I didn't skip a beat. To be honest, after our afternoon at nebo last week, I've been craving absolutely everything with olives and capers. I mean, I'd be happy just sitting here with a big bowl of olives and capers and eating them with a spoon. Gross? I don't think so.
Pork Medallions with Olive Caper Sauce (serves 4):
1 lb. pork tenderloin, trimmed (I used pork cutlets instead)
1/2 t salt
1/2 t black pepper
1/4 C all-purpose flour
1 T extra-virgin olive oil, divided
Sauce:
1/2 C dry white wine (I used chardonnay)
1/2 C fat-free, low sodium chicken broth
1/2 C kalamata olives, pitted and coarsely chopped
2 T capers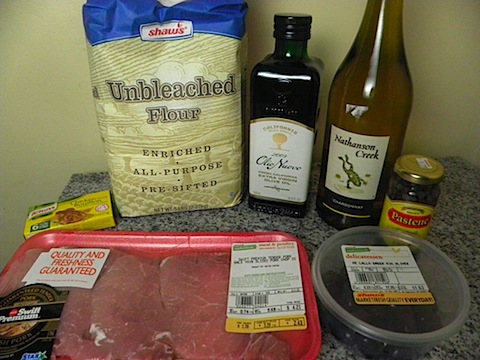 If you're using pork tenderloin, cut the pork crosswise into 8 pieces and place it between 2 pieces of wax paper. Pound to 1/4-inch thickness (with a meat mallet). I used thin cutlets, so I didn't do a thing to them.
Sprinkle both sides of pork with salt and pepper.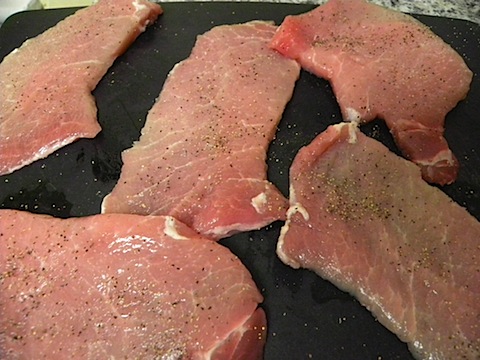 Put the flour in a shallow bowl and dredge pork in it, turning to coat. Shake off extra.
Heat 1/2 T olive oil in medium non-stick skillet over medium-high heat. Add half the pork and cook for 2 minutes on each side, or until pork is done.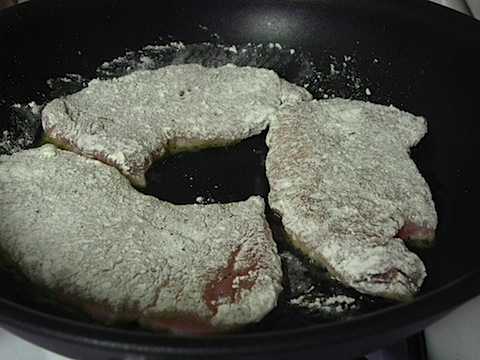 Remove pork from the pan and keep it warm. Repeat with the rest of the pork and the rest of the olive oil.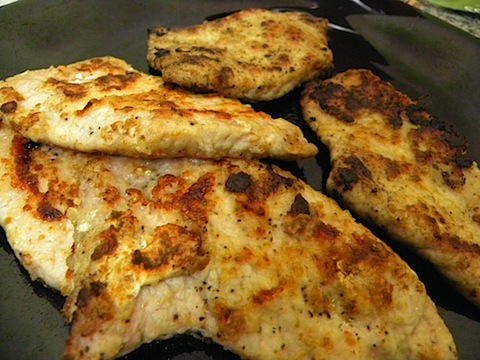 Add the wine and broth to the pan. Oh, and in case you're wondering about the dry white wine, from everything I've learned, it really is best to get a decent wine from a liquor store. The stuff they sell on the grocery store shelves just isn't good. You know, the so-called "cooking wines." And whatever wine you're cooking with should also be a wine you want to drink. I used a relatively cheap wine, but still a wine I would drink out of a bottle. It's good to always have some dry white wine on stock since tons of recipes call for it.
Anyway, bring the wine and broth to a boil, scraping the pan to loosen brown bits (yum!). Stir in olives and capers and cook for 4 minutes or until slightly thick. Serve over pork.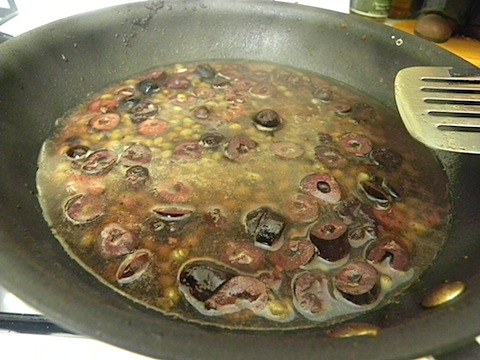 I served my pork over some whole wheat spaghetti with a side of broccoli. If I were to serve it like this again, I would definitely make some more sauce to pour extra over the pasta. But really, the pork was so filling and satisfying, the pasta isn't necessary. I just love carbs.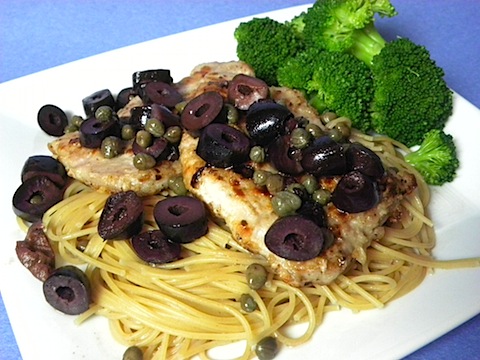 This was a seriously awesome recipe and legitimately reignited my love for pork. Since I made this, I've bookmarked about 8 other pork recipes that I'm dying to make. How on Earth could I have forgotten about the "other white meat"??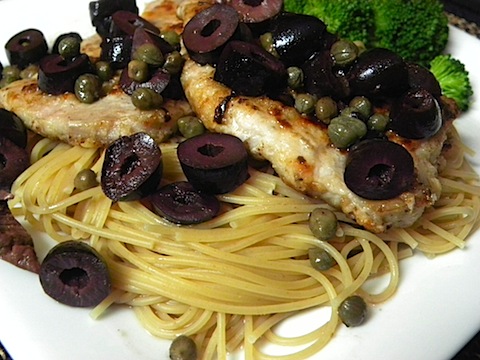 The pork was perfectly tender and browned just right. And the accompanying sauce was nice and tangy and coated the pork beautifully.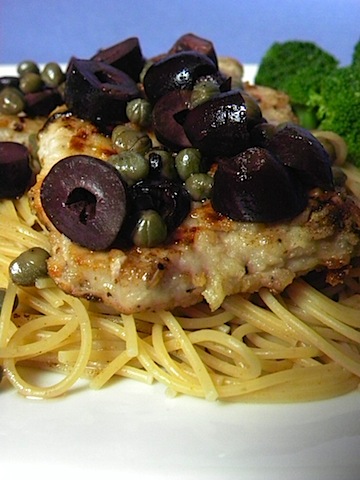 And just looking at the olives and capers is making me drool. And crave a giant bowl of them. This whole recipe literally took me about 20 minutes to make though, so maybe I should just make it again. Delicious and simple are my two favorite things!
What's your favorite pork recipe?
[Sues]