Who says you can't eat candy for breakfast? These Pumpkin Butterfinger Pancakes combine two of fall's best flavors... Pumpkin and Halloween candy! Who wouldn't want to start the day with a breakfast like this?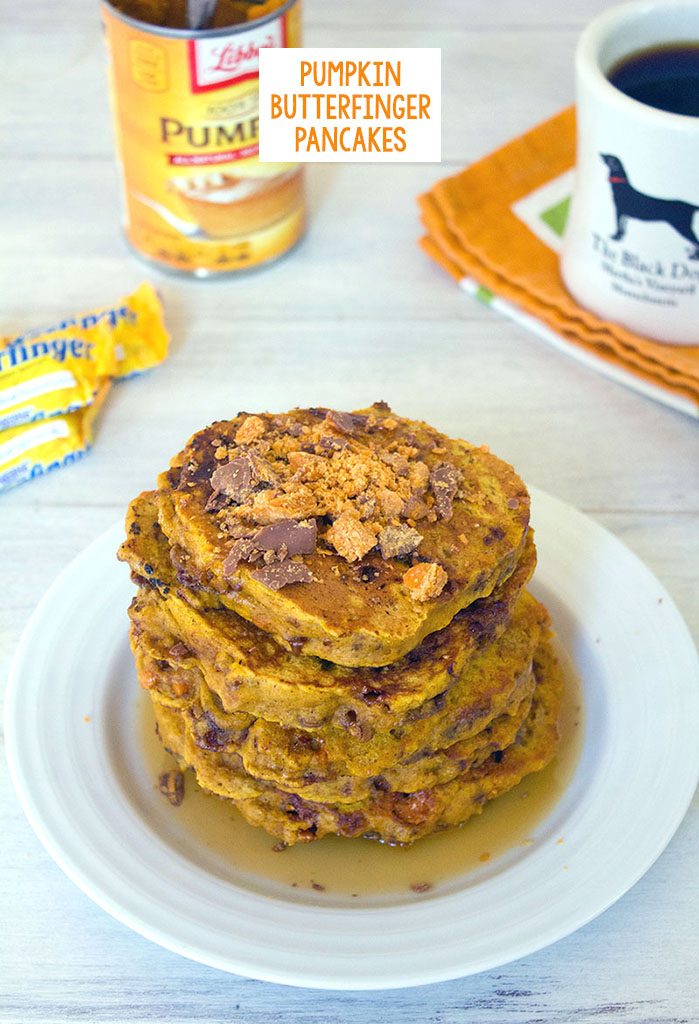 OK, so I think my Halloween candy is starting to become an issue. For someone who didn't go trick-or-treating, I have an absolutely insane amount of candy both at home and in my office at work.
The thing is, I always keep candy on my desk at work and pride myself on my level of self control with it. But I think I must subconsciously be buying candy that I don't truly love, which makes it easier to resist.
Now that I'm surrounded by Reese's and Butterfingers, I'm like some kind of wild animal who can't keep it together. I've started to reward myself with candy throughout the day... Complete a task, eat a piece of candy; get through a meeting, eat a piece of candy; respond to a long-neglected email, eat a piece of candy.
It turns out, I work really well with a reward system in place. I also get a massive stomach ache and my teeth start to hurt and by the end of the day, I never want to see another piece of candy again.
Until the next morning. Or really, until I get home and am faced with another giant bowl of leftover candy. Clearly, I don't have the self-restraint for this.
I think I'm now at the point where I can't go more than a couple hours without candy for fear of getting shaky. So, I'm adding candy bars to my breakfast and getting the day started off right. Don't hate.
And also don't shame me. I beg you... I'm not in a good place right now. Clearly. But please... come join me.
Pumpkin Butterfinger Pancakes Recipe
These Pumpkin Butterfinger Pancakes combine two of your fall favorites... pumpkin and Halloween candy. They're super easy to make, so you can get your candy fix fast.
All you have to do is make the batter, which is a pretty typical pancake batter, aside from the addition of pumpkin puree and crushed Butterfingers (or Butterfinger Baking Bits), and cook them on a griddle or in a skillet.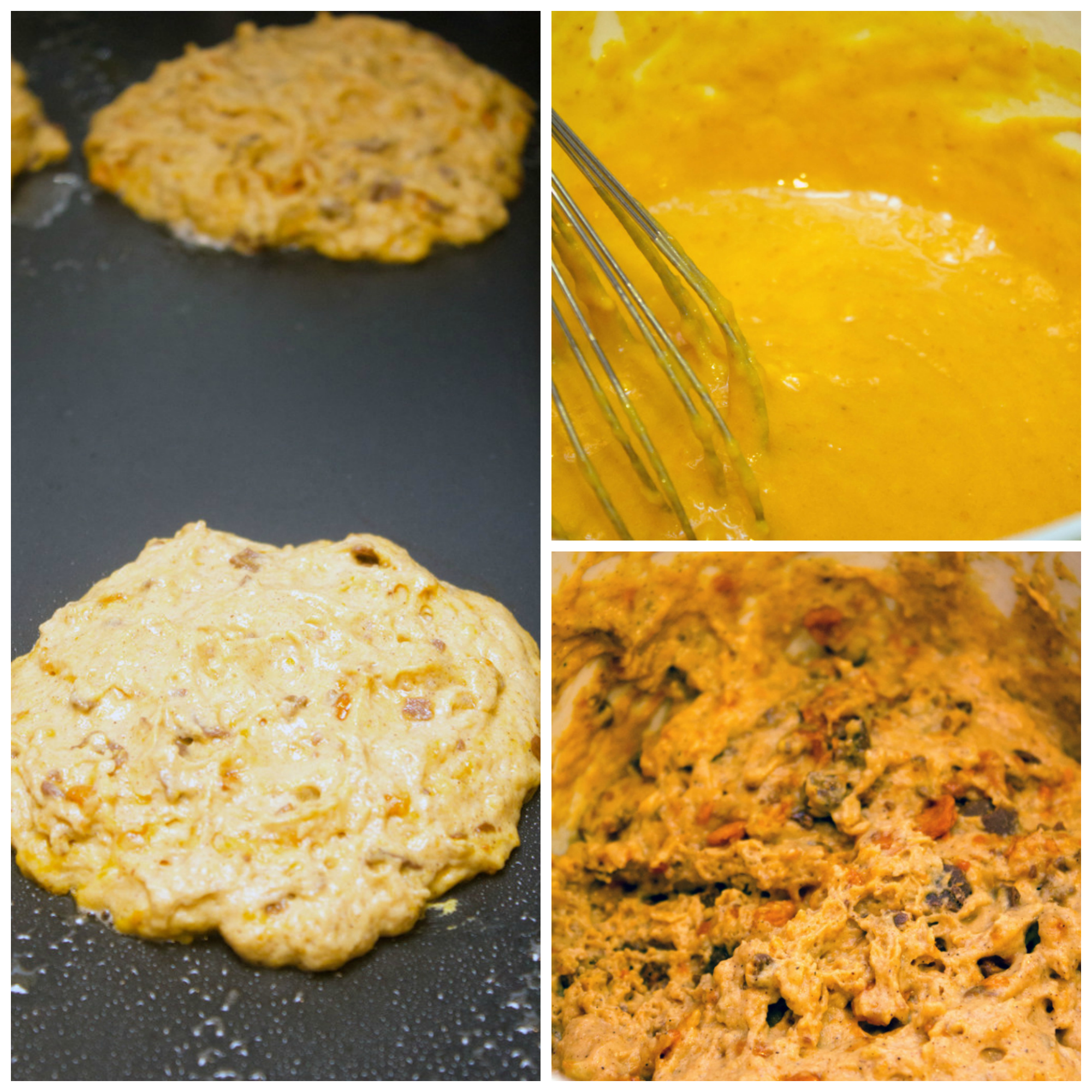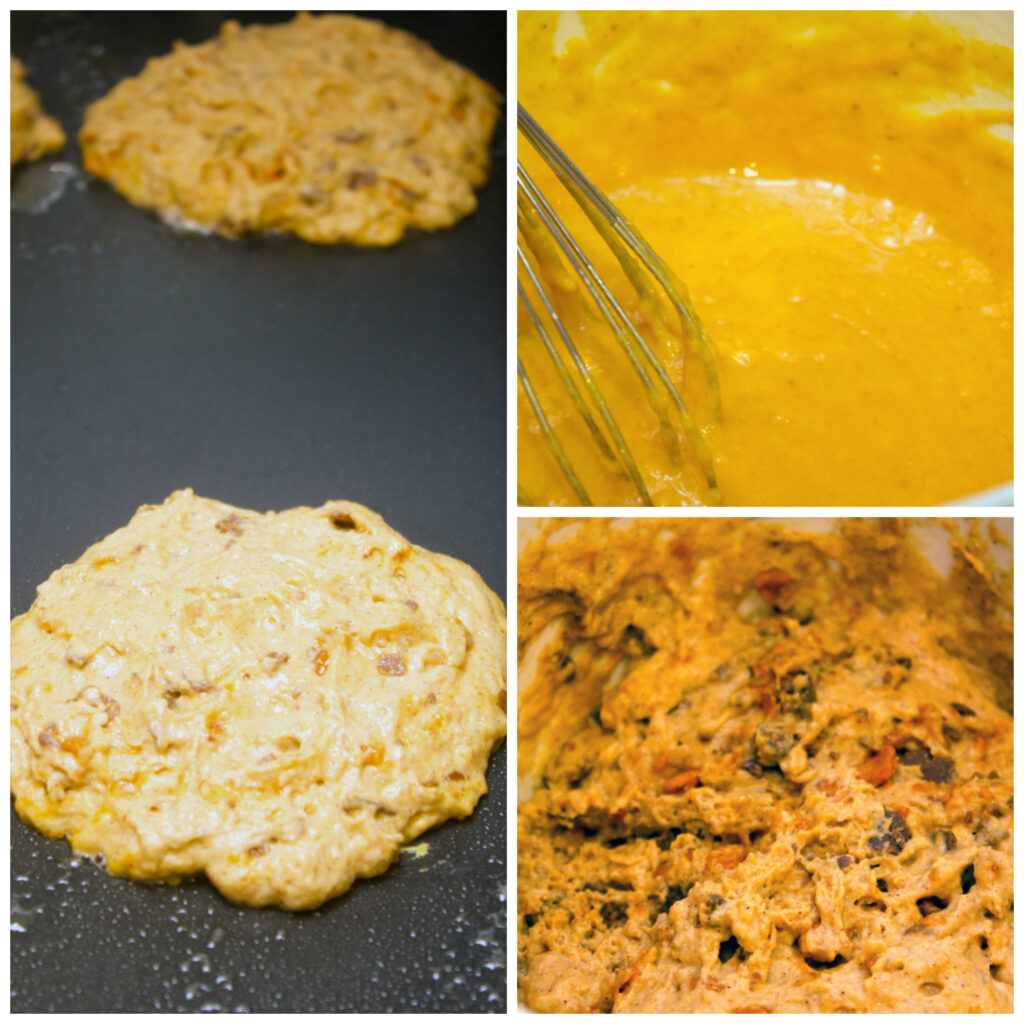 And suddenly, candy for breakfast is totally acceptable. I promise. Let's just call them Halloween pancakes... totally festive and appropriate, right??
I love these pancakes for so many reasons and the Butterfinger candy isn't even the main one. The main reason I love these pumpkin butterfinger pancakes is because of how wonderfully fluffy they are. I think that has a little something to do with the buttermilk and a little something to do with the pumpkin.
I mean, basically you could leave the Butterfingers out and still have these amazingly fluffy pumpkin pancakes. But they wouldn't have any Halloween candy in them. And that would be sad.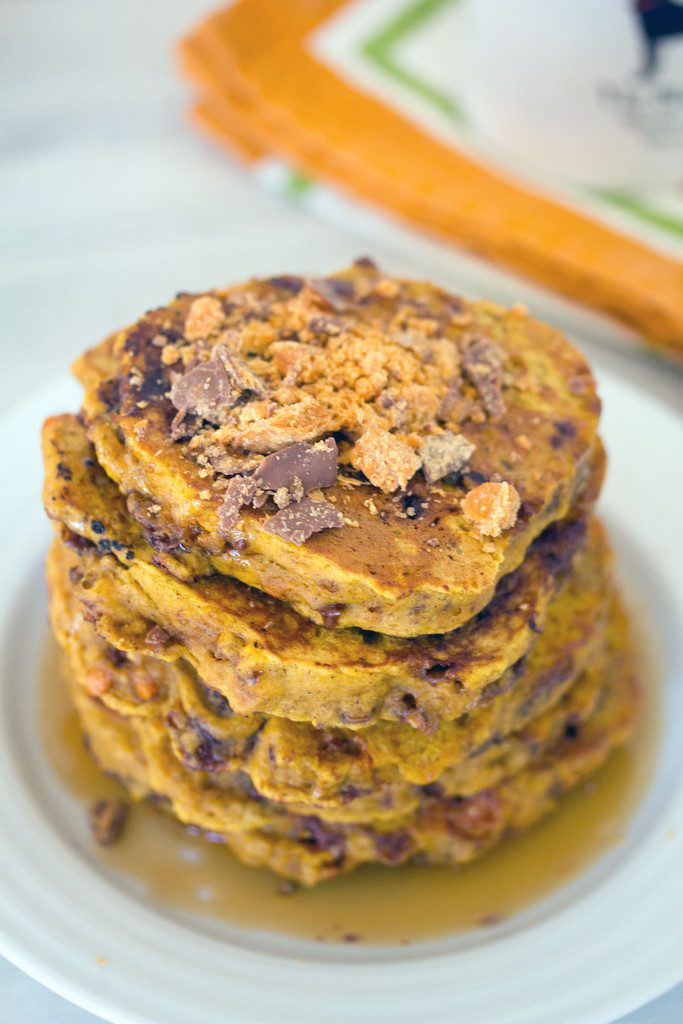 I actually used Butterfinger Baking Bits for the Halloween pancakes, but you could also crush up your leftover Butterfinger candy. I did that to sprinkle on top of the pancakes. And then I couldn't bear to give up any more of them.
Because if I abolish my reward system, how will I get any work done?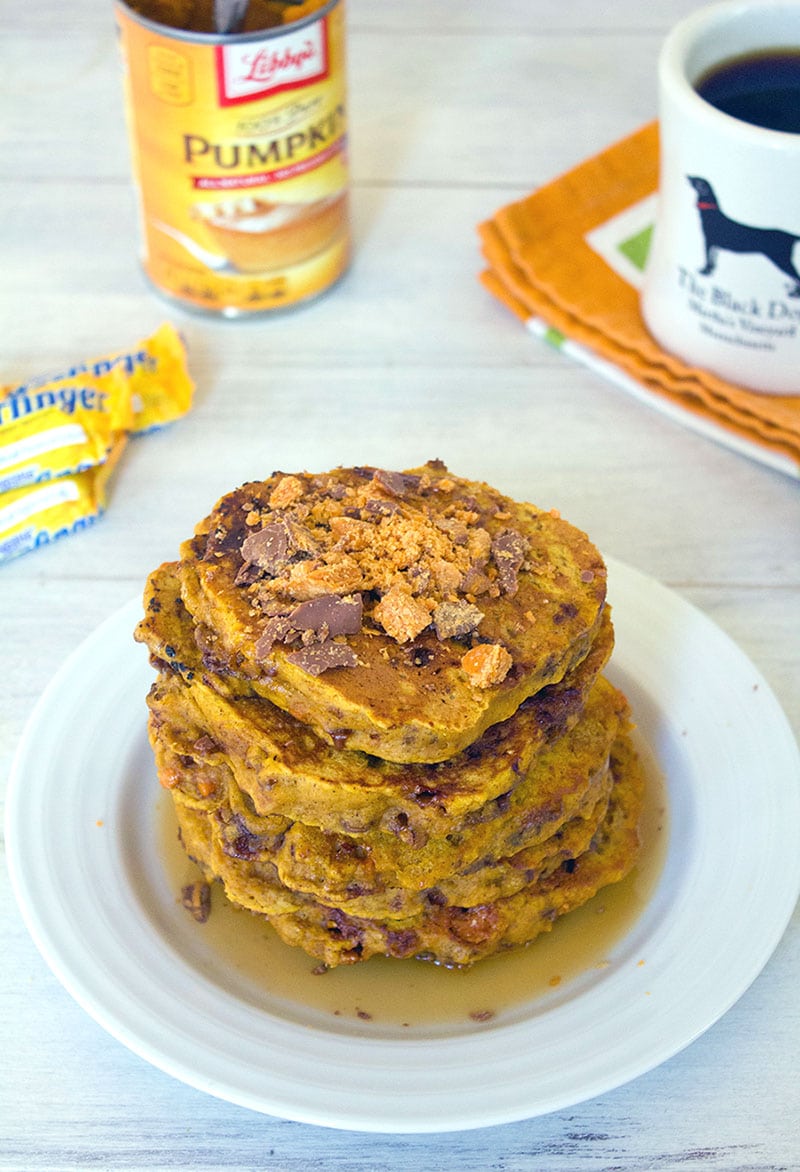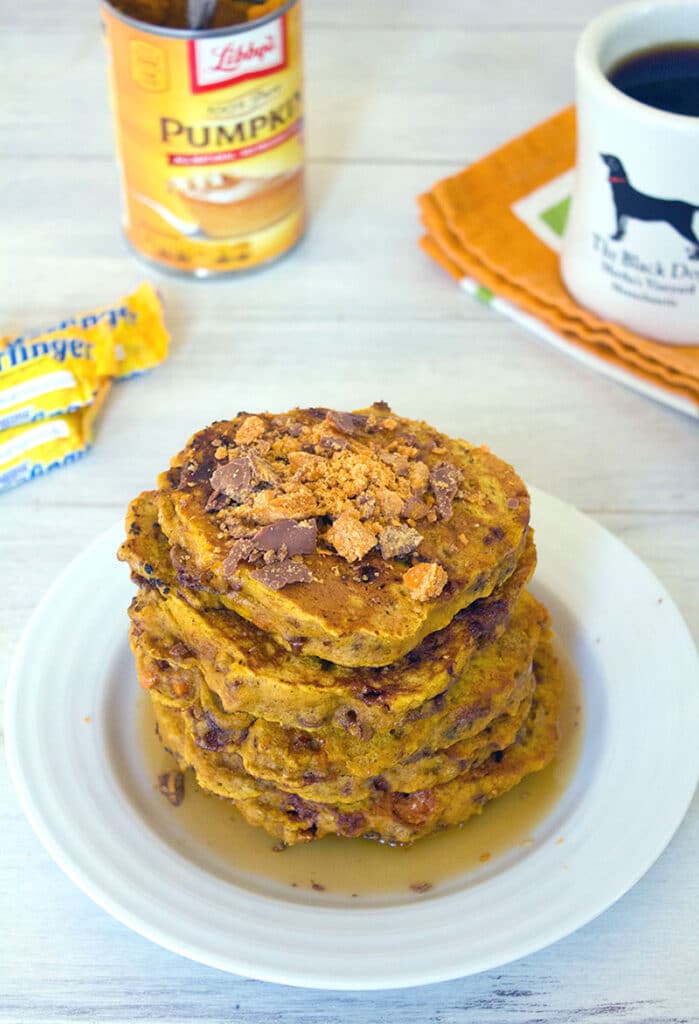 Technically, you could add any candy here or even chocolate chips. I thought the pumpkin and Butterfinger combination would be a bit odd at first, but there was also something so intriguing about it.
And trust me, it totally worked. It worked so well that I wouldn't even be a little bit surprised if they came out with pumpkin Butterfingers next year. If anything, it would be about 5 years too late.
I would like to offer more apologies to anyone who's over pumpkin recipes at this point. I actually think this may be a record year for me and I've utilized pumpkin more than ever.
Honestly, there was a point last year when I thought to myself, "have I made every pumpkin recipe I'm capable of making?" Nope. I definitely hadn't. And this year is proof.
Maybe this will be the year that I complete my pumpkin reign. But probably not. No matter how crazy trendy you think it's become, pumpkin is still a totally versatile and classic ingredient. And though some of you may be sorry to hear it, I think it's sticking around forever.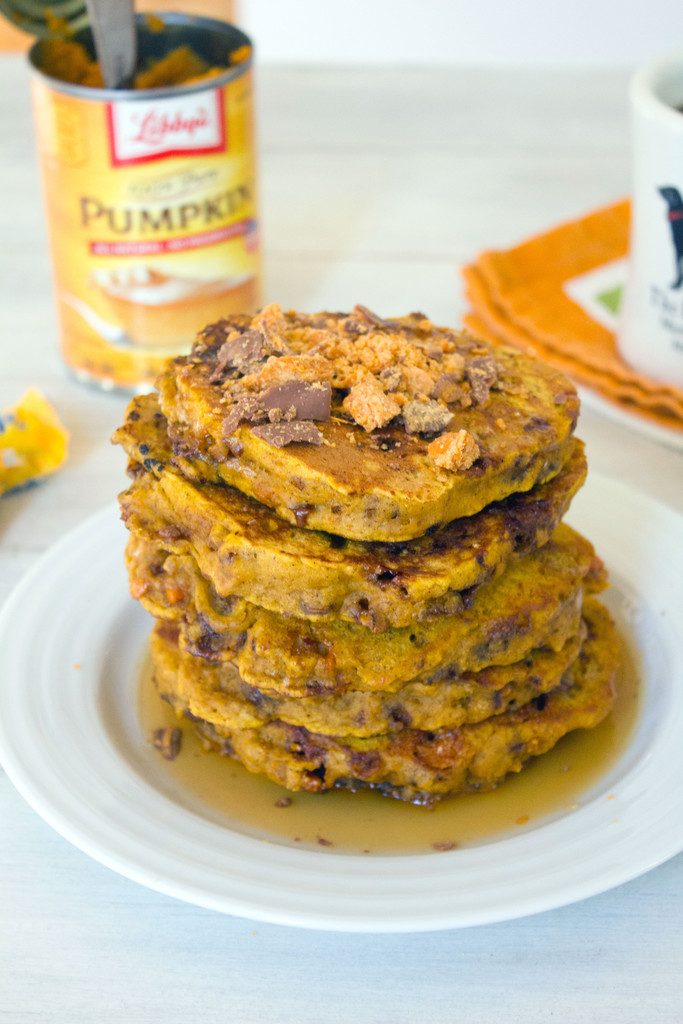 Just like the Halloween candy in my home and office. Unless I manage to eat it all... I guess that's the only way it's going to disappear.
So, now I know what I have to do. It involves a whole lot of pumpkin pancakes and Halloween candy. Life is tough sometimes.
Is your Halloween candy creating problems in your life?
If you're looking for more ways to use up leftover Halloween candy, check out my Candy Corn Ice Cream and my Milky Way Donuts. And this Candy Bar Chocolate Tart from the Sweetest Menu looks perfect!
📖 Recipe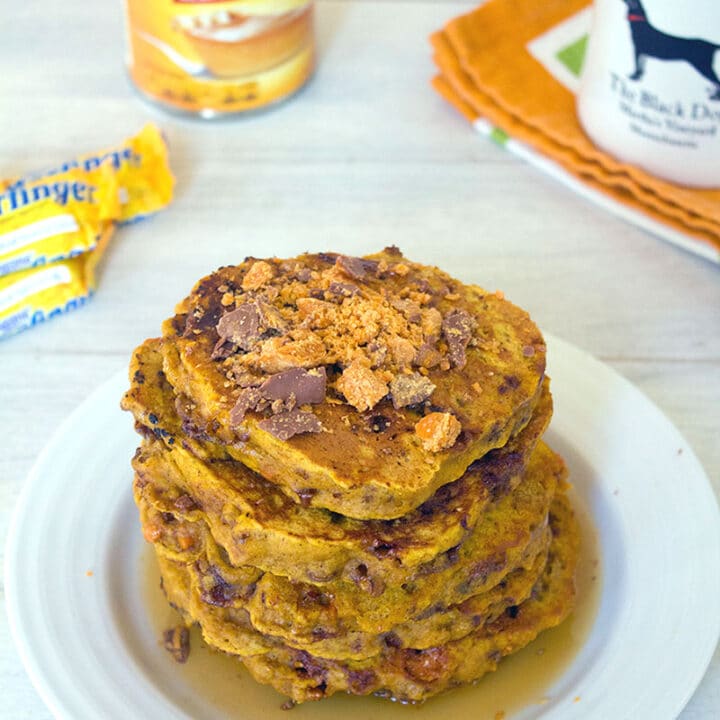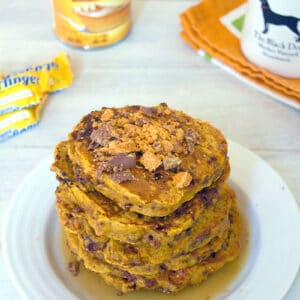 Pumpkin Butterfinger Pancakes
Who says you can't eat candy for breakfast? These Pumpkin Butterfinger Pancakes combine two of fall's best flavors... Pumpkin and Halloween candy! Who wouldn't want to start the day with a breakfast like this?
Print
Pin
Rate
Ingredients
1 ¼

cup

all-purpose flour

1 ½

tsp

baking powder

½

tsp

cinnamon

1 ½

tsp

pumpkin pie spice

1

cup

buttermilk

¾

cup

pumpkin puree

2

Tbsp

melted butter

1

large egg

¾

cup

Butterfinger Baking Bits or crushed Butterfinger candies
Instructions
In a large bowl, whisk flour, baking powder, cinnamon, and pumpkin pie spice together.

In a separate medium-sized bowl, stir together buttermilk, pumpkin puree, melted butter, and egg.

Gently fold the wet mixture into the dry mixture, until combined. Fold in Butterfinger Baking Bits or crushed Butterfinger candy.

Lightly butter a skillet over medium heat and pour about ¼ cup of batter for each pancake and cook for about 3 minutes on each side.

Top pancakes with maple syrup and additional crushed Butterfinger candy.
Share a Photo of Your Finished Recipe!
Mention @wearenotmartha and share a photo if you've made the recipe!