Made with part whole wheat flour, these Pumpkin Pancakes will blow your mind with how moist and flavorful they are. Your crisp fall mornings are about to get a whole lot cozier with pumpkin pancakes on the menu!
(This recipe for Pumpkin Pancakes was originally posted in October 2008, but was updated with new photos in 2018).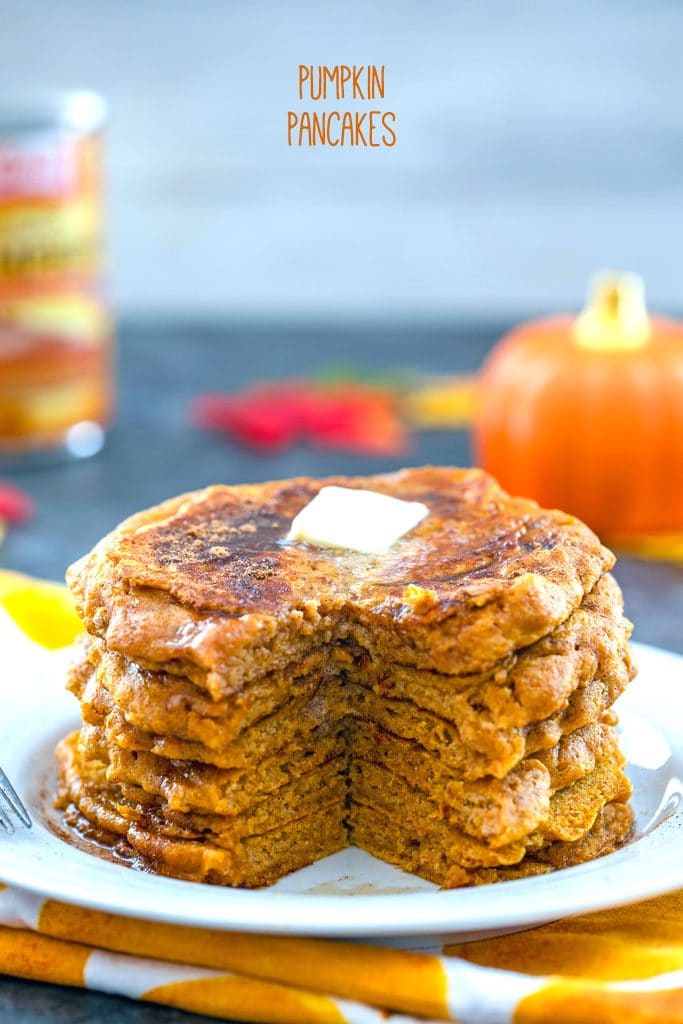 If you know one thing about me, it's probably that I LOVE anything pumpkin. Wait, that would be really sad if that's all you knew about me, but really, that is how much I love pumpkin. Fall is my absolute time of year because I thoroughly enjoy throwing on a fleece jacket and wandering around in the crisp weather with some pumpkin spice coffee. I'm so happy that the rest of the world is finally catching on and loving pumpkin as much as I am. It seems like every time I go to the store, there are new pumpkin products to sample and an endless amount of pumpkin recipes I want to be making in the kitchen. Pumpkin overload? I'm not sure that it's possible for me.
So, what goes best with pumpkin spice coffee? Pumpkin pancakes, obviously. I had a craving one evening and decided it would be the perfect breakfast for dinner. I was originally obsessed with a pumpkin pancake recipe from Martha Stewart, but after I made it a bunch of times, I kept adjusting it until I came up with the perfect pumpkin pancake recipe for me.
PUMPKIN PANCAKES RECIPE
My favorite thing about these? They're part whole wheat pumpkin pancakes, which makes me feel better about eating them and doesn't compromise the taste or texture at all. In fact, thanks to the pumpkin puree, these are seriously the most moist, melt-in-your-mouth pancakes I've ever made.
Like most pancakes, they're incredibly easy to make and perfect for a crowd (though you may want to double my recipe if you're having guests since it only makes 6 [fairly large] pancakes).
After whisking together the dry ingredients, whisk together the wet ingredients in a bowl. Hello, pumpkin puree; nice to see you first thing in the morning.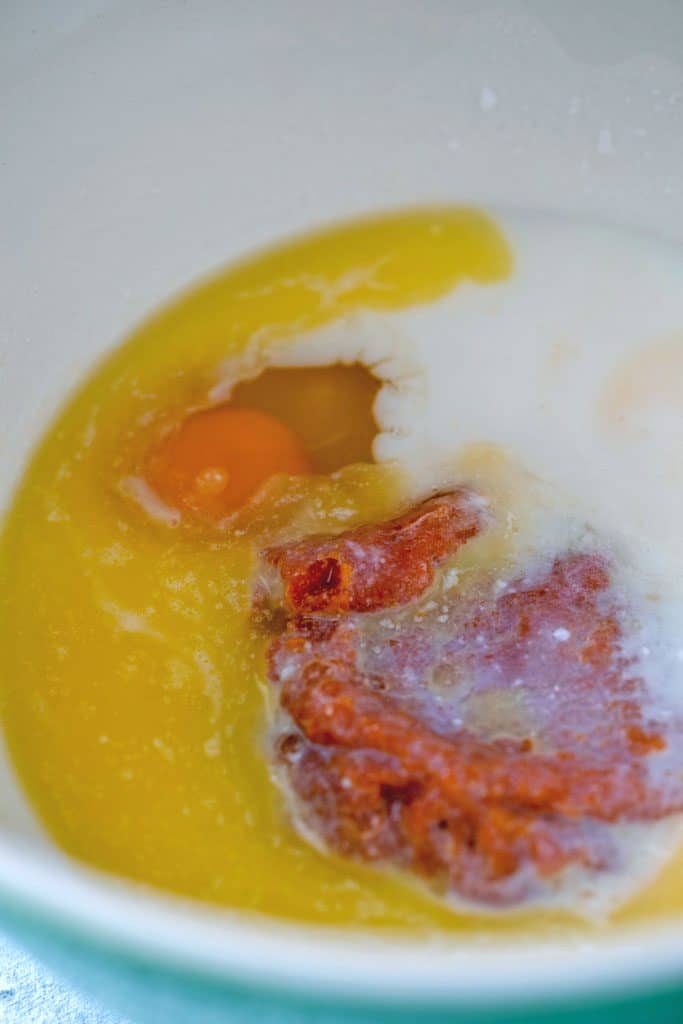 Then fold the wet mixture into the dry mixture- note that this pancake batter is definitely a bit thicker than the average one, which I think is partly why they end up so moist and fluffy. Now, heat your frying pan or griddle and add a little butter and cook those pancakes up! I recommend about 3 minutes on each side, but just cook until they start to bubble and then flip and cook until golden brown.
Top the pumpkin pancakes with whatever you want, though I'm being 100% honest when I say they don't need anything! That said, a little butter and maple syrup never hurt anyone. And maple is just one more of those fall flavors I can't get enough of. If you happen to have any pumpkin butter laying around, I can also attest to the fact that pumpkin butter on pumpkin pancakes is pretty much what dreams are made of.
The other fabulous thing about these is that they also taste great the next day… If you happen to have any leftovers. I made them on a Friday for myself and re-heated and served the rest on Saturday morning and they were just as delicious. I never thought I'd enjoy leftover pancakes, but these pumpkin pancakes totally changed my mind.
Though I admit, it was tough not to eat this entire stack all at once!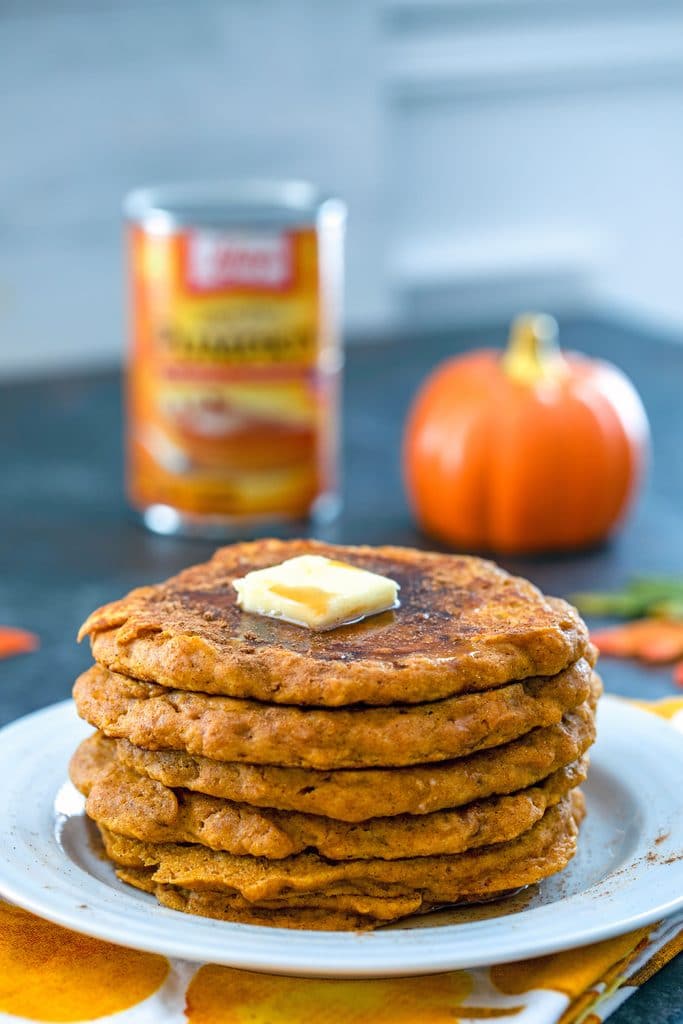 In my ever so humble opinion, the pumpkin spice level of these is absolutely perfect, but obviously you can adjust the pumpkin pie spice and cinnamon as you see fit (and if you don't have pumpkin pie spice on hand but have an otherwise robust spice cabinet, simply use an additional 3/4 teaspoon cinnamon with 1/4 teaspoon of ground ginger,  1/4 teaspoon ground nutmeg, and a 1/4 teaspoon ground cloves).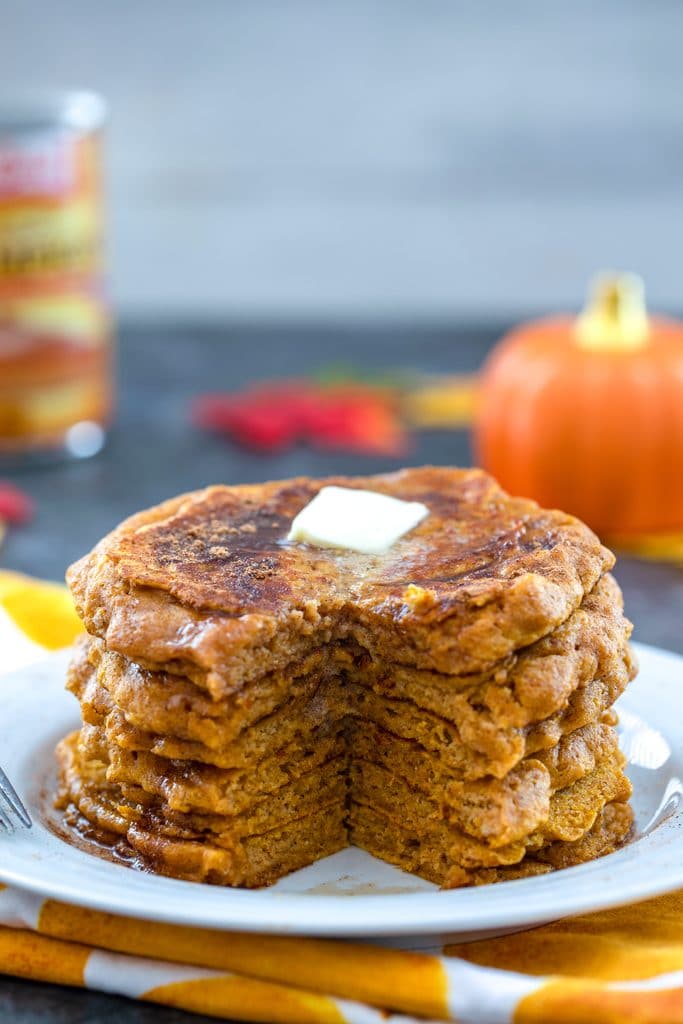 And just like that, pumpkin pancakes are my new favorite part of fall. But get ready because you're going to be seeing plentyyy more pumpkin recipes from here 'till Thanksgiving.
What's the best pumpkin recipe you've ever tried?
If you love pumpkin recipes, be sure to check out my recipes for Pumpkin Linzer Cookies and Pumpkin Cheerios Marshmallow Treats.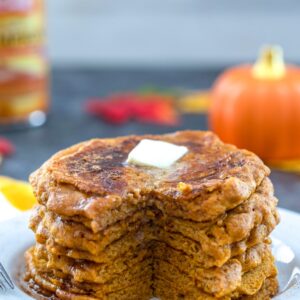 Print Recipe
Pumpkin Pancakes
Made with part whole wheat flour, these Pumpkin Pancakes will blow your mind with how moist and flavorful they are. Your crisp fall mornings are about to get a whole lot cozier with pumpkin pancakes on the menu!
Ingredients
1/2

cup

all-purpose flour

3/4

cup

whole wheat flour

2

Tbsp

granulated sugar

2

tsp

baking powder

1 1/2

tsp

pumpkin pie spice

1/2

tsp

cinnamon

1/4

tsp

salt

1

cup

buttermilk

1/2

cup

pumpkin puree

2

Tbsp

melted butter

1

large egg
Instructions
In a large bowl, whisk together flours, sugar, baking powder, pumpkin pie spice, cinnamon, and salt.

In a separate medium bowl, whisk together buttermilk, pumpkin puree, melted butter, and egg until well combined.

Fold the wet mixture into the dry mixture until just combined. Batter will be pretty thick.

In a lightly buttered skillet or on a griddle, pour about 1/3 cup of batter for each pancake.

Cook for about 3 minutes, until bubbles start forming on the surface. Flip and cook for another 3 minutes until golden brown.

Serve with maple or pumpkin butter.
Notes
If you don't have pumpkin pie spice on hand, you can substitute with an additional 3/4 teaspoon cinnamon, 1/4 teaspoon of ground ginger,  1/4 teaspoon ground nutmeg, and a 1/4 teaspoon ground cloves