When there's a chill in the air, there should be chili in your bowl. This Red Wine Pumpkin Chili is the ultimate comfort food made with ground beef and chipotle peppers. Serve with homemade chili lime tortilla chips for a meal that will warm you up!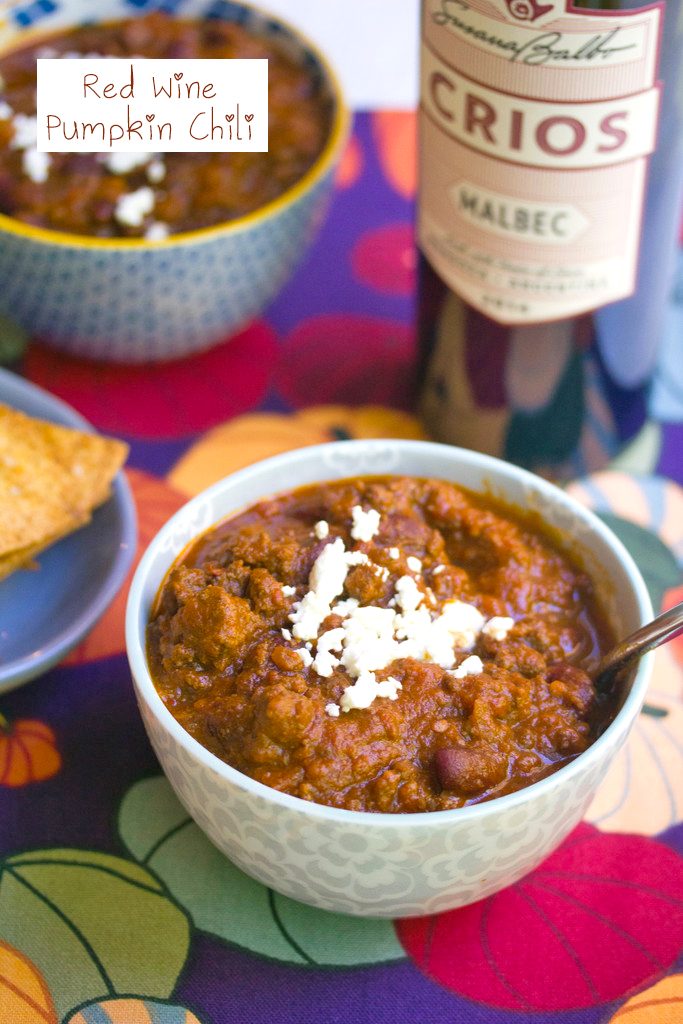 (This post has been sponsored by Crios CleverGirl, but as always, all opinions are 100% my own!)
And here we are. The time of year where all I want to do is drink red wine and eat big bowls of chili. Byeee, see you in 6 months. But really, if you've been reading here for a while, you know that I try my best to embrace all the seasons. I do not enjoy cold weather, but there is a lot I do love about winter and the changing of the seasons makes me incredibly happy.
At the top of my what I love about winter list are most definitely red wine and chili. Followed closely by our gas fireplace, huge piles of blankets, and blood oranges. Snow days used to be high up on that list, too, but I'm afraid last year's ridiculous snow day record and essential house arrest kind of ruined that for me. The MBTA came close to completely ruining everything about winter ever for me, but I'm giving it another chance this year.
However, I'm likely going to need quite a bit of wine to get me through. Given the choice, I'm almost always drinking red and get really excited about a good malbec. Malbecs are a little bit tougher to find than your typical cabernet or merlot, so when I started working with Crios, I was excited to see that they make one. The label says, "Lush with hints of spice," which is exactly my idea of a perfect wine.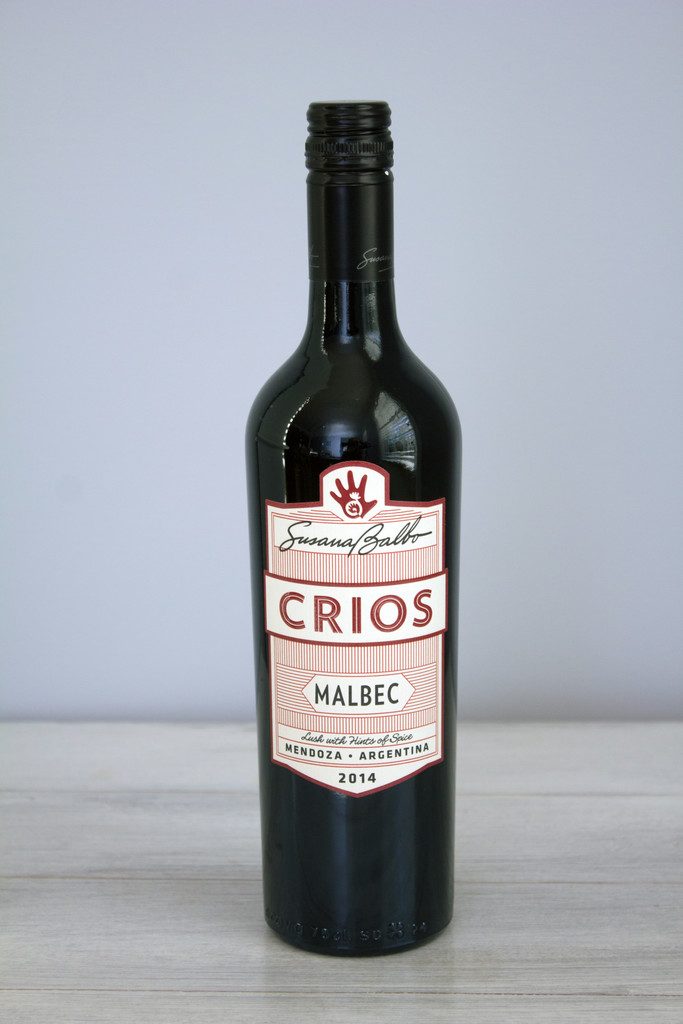 Since I knew the Crios Malbec paired well with burgers, but it was too cold to be outside grilling, I decided to make a chili. I wanted to make the perfect cozy-up meal... With a definite kick. Not only did I add the malbec to the chili, but I obviously also enjoyed a glass along with it. I mean, red wine chili... Is there anything better on a snowy evening?
RED WINE PUMPKIN CHILI RECIPE
This chili basically involves all my favorite things about cold weather... Red wine, pumpkin, and some spicy chipotle peppers. If only I could fit my gas fireplace and fleece blankets in the chili, life would be complete. Kidding, obviously.
One of the best things about chili is that it's so easy to make and this red wine pumpkin chili is no different. After cooking the onions, garlic, and sprices and browning the meat in a dutch oven or large stockpot, add the red wine, beans, tomatoes, and pumpkin, and simmer for 20 minutes.
It will immediately smell delicious. And you can always stir a little more red wine in if you want to thin the chili out a bit.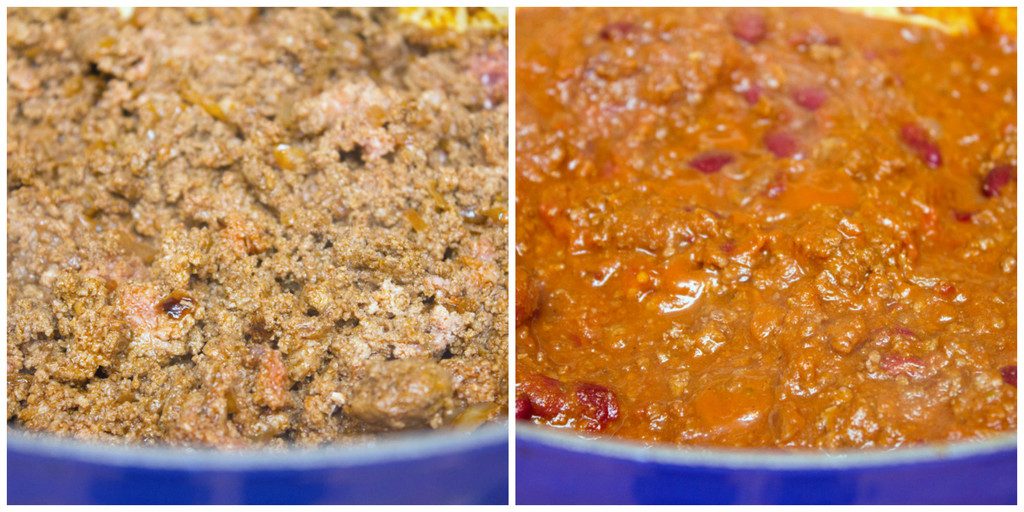 I love chili, but also think that half of its awesomeness comes from what you serve alongside with it. I had a really tough time deciding between corn bread and tortilla chips, but tortilla chips ultimately won. My version involved more chili powder and lime juice to cut some of that spice.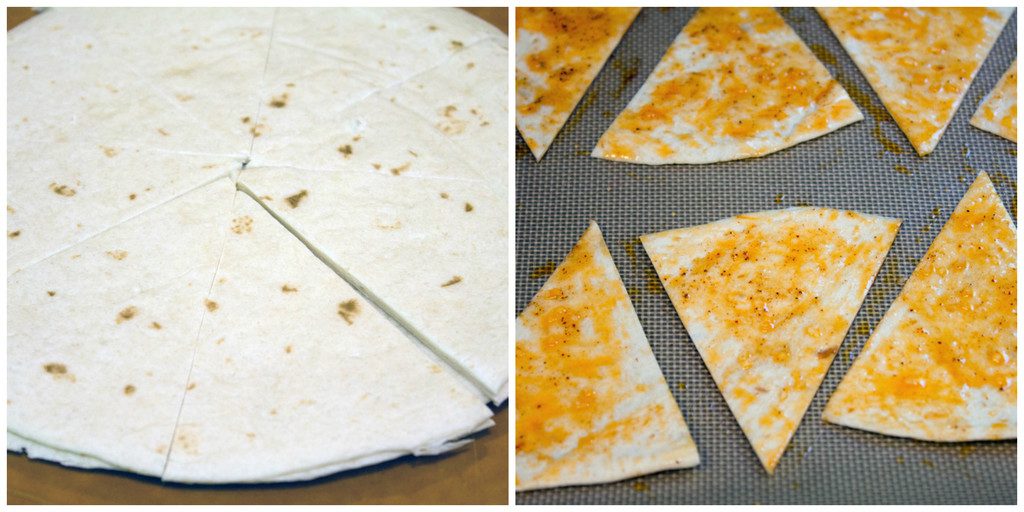 I sprinkled a little feta cheese over the chili because nobody puts feta cheese on chili and I think that's a darn shame. Also because the feta cheese I got at Wegmans a couple weeks ago was the best feta cheese I've ever had. The perfect complement to the slightly spicy flavors in the red wine pumpkin chili.
I believe that Chris was strongly questioning my desire to put pumpkin puree in the chili. I could see the disappointment in his eyes. Why take a perfectly spicy beef chili and add a vegetable (or really fruit) to it? But guess what? He later admitted the chili tasted awesome and he never would have guessed there was pumpkin in it. A nice little trick for getting some extra fiber and vitamins into an already delicious meal.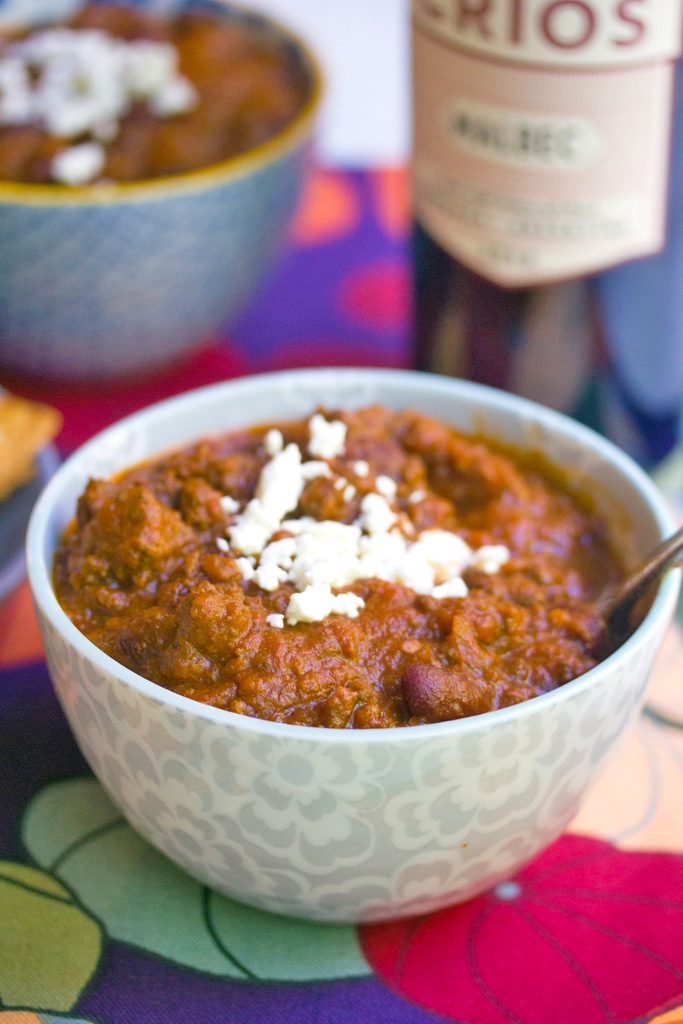 And the Malbec? Well, the Malbec is a nice little way of getting even more flavor into the chili. The red wine adds a depth of flavor that none the chilis I've previously made have. I'll admit, I've added red wine to a lot of foods that you wouldn't typically add it to (cupcakes, buttercream, risotto, truffles...) and it almost always makes the food ten times better.
And obviously those flavors will only be further enhanced if you choose to sip a glass of wine while you're eating the chili. I highly recommend it.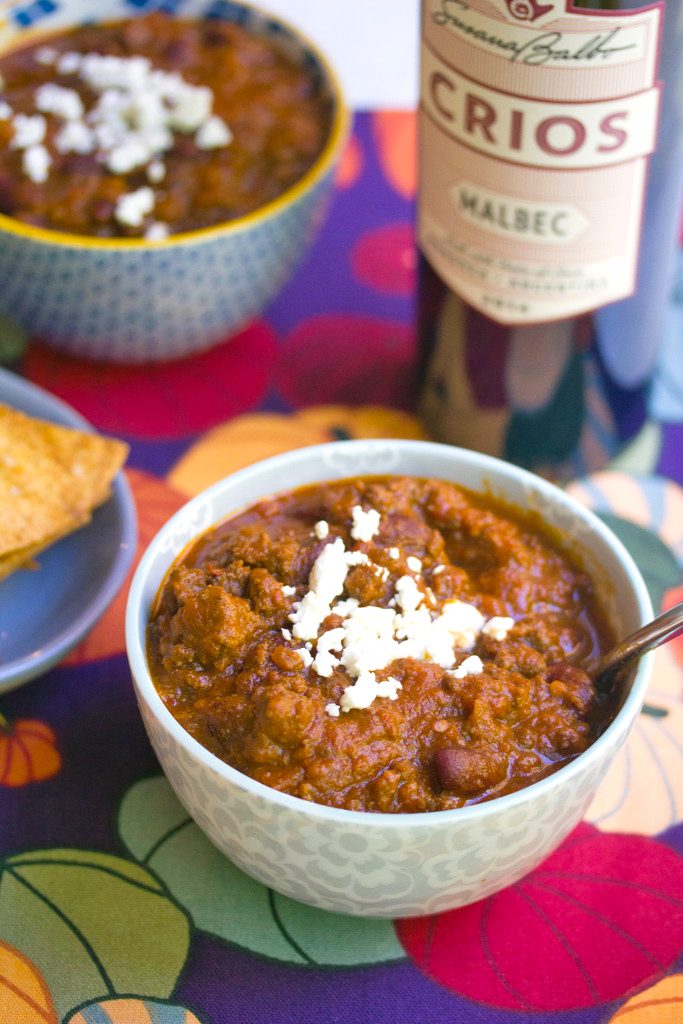 I can officially declare that this is the best chili recipe I've ever made. A little bit traditional with the beef, tomatoes, and beans. But also very unique with the red wine, pumpkin, and chipotle.
And yes, I did eat WAY too many of those tortilla chips. Every time I make them, Chris says, "why don't you just make these all the time so we always have them in the house??" Answer: Because then I would always eat them. Enough said. They were even better when dipped into the red wine pumpkin chili.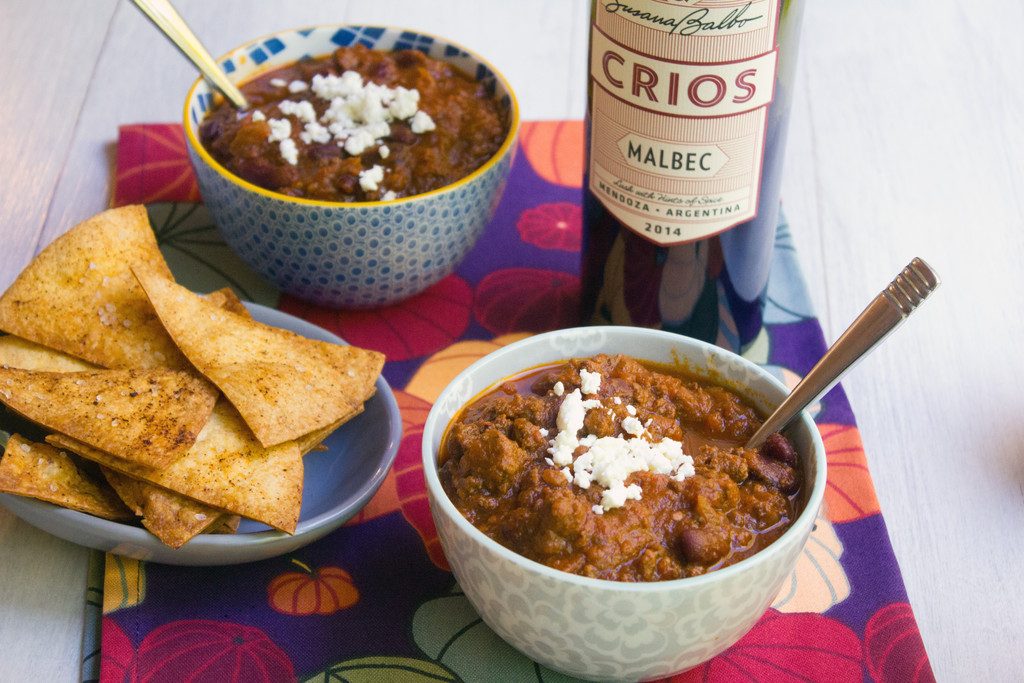 This red wine chili with pumpkin definitely helped get me through a tough week. When you have enough leftovers for a couple dinners and lots of take-to-work lunches, life is suddenly just a little bit easier.
What's your favorite ingredient to add to chili?
If you're like me and want to make chili every night this winter, check out my recipes for Buffalo Chicken Chili and my Slow Cooker Chili. I also can't wait to make this Instant Pot Chicken Enchilada Chili from Greens and Chocolate!
📖 Recipe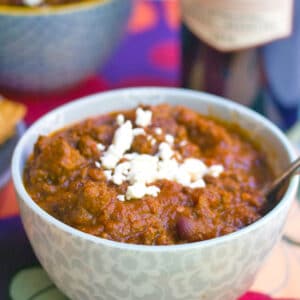 Red Wine Pumpkin Chili
When there's a chill in the air, there should be chili in your bowl. This beef chili gets lots of added flavor from red wine, pumpkin, and chipotle. Serve with Chili Lime Tortilla Chips for a meal that will warm you up!
Print
Pin
Rate
Ingredients
2

Tbsp

olive oil

1

yellow onion,

chopped

5

cloves

garlic,

minced

1 ½

Tbsp

chili powder

1

tsp

oregano

1

tsp

cayenne

3

tsp

tomato paste

2

lbs.

lean ground beef

3

chipotle chilis,

chopped and 2 Tbsp adobo sauce

1

cup

Malbec

(or red wine of choice)

28

oz.

can crushed tomatoes

2-15.5

oz.

cans kidney beans

1 ½

cup

pumpkin puree

Feta or other cheese,

for topping
Chili Lime Tortilla Chips
1

Tbsp

olive oil

1

Tbsp

lime juice

¼

tsp

lime zest

½

tsp

chili powder

4

fajita-size flour tortillas

Sea salt
Instructions
Pour olive oil to a large dutch oven or stockpot and turn heat to medium-high. Add onion and garlic and stir. Add chili powder, oregano, and cayenne and let cook for about 4 minutes, until onions are translucent.

Stir in the tomato paste and cook for about a minute before putting ground beef into the pot. Break up beef with a wooden spoon and cook until the meat is no longer pink, about 3-4 minutes. Add the chipotle peppers and the adobo sauce to the mixture and stir; cook for about 2 more minutes. Pour red wine into the pot.

Stir in the tomatoes, beans, and pumpkin.

Turn down the heat, cover, and simmer gently for about 20 minutes. If chili is too thick, feel free to thin out with more red wine or water.

Serve topped with feta or other cheese.
Chili Lime Tortilla Chips
Pre-heat oven to 350 degrees.

In a small bowl, whisk together, olive oil, lime juice, lime zest, and chili powder.

Lightly brush both sides of each tortilla with olive oil mixture and stack on top of each other. Cut tortillas into 8 triangles.

Set triangles on a baking sheet and sprinkle with sea salt.

Bake at 350 degrees for about 8-10 minutes, until crispy.
Share a Photo of Your Finished Recipe!
Mention @wearenotmartha and share a photo if you've made the recipe!