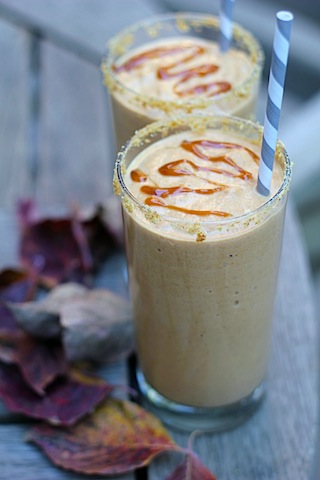 The other day I said I couldn't live on milkshakes alone. But that didn't necessarily mean I wasn't going to try. Trust me, I do try. It just only works for so long before I actually start craving things like kale. Weird, right? So, how am I justifying this most recent one? Well, pumpkin is healthy, right? Plus, there's calcium, so there. And it's totally seasonal, which means you can only enjoy it for so long and you better get it in while you can. I am clearly the queen of logic and justification.
But really, it would have been weird if I didn't do this one. What do I love? Pumpkin. What else? Milkshakes. Thank you very much. These pumpkin pie milkshakes with caramel drizzle are really, really easy to make, too, so there truly are no excuses. Unless you don't like pumpkin. And, in that case, goodbye (just kidding, I sometimes post about other ingredients, too… after autumn ends).
Pumpkin Pie Milkshake with Caramel Drizzle (makes 2):
Print this recipe! 
10 caramels
1 T water
1 1/2 C vanilla ice cream
1 C milk
1 1/2 C pumpkin
2 t cinnamon
1/4 t nutmeg
4 graham crackers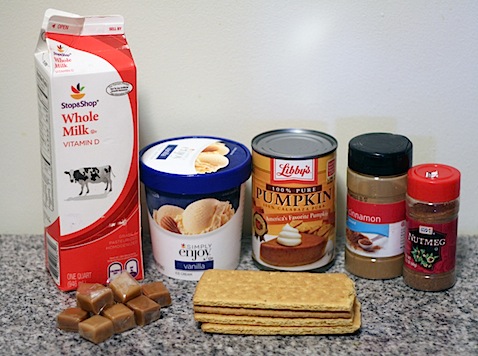 I would start with making the caramel drizzle, so it can melt while you finish up the milkshake. Please note, you don't have to include the drizzle (YES YOU DO) or that you could just buy caramel sauce, too. Or if you want to show me up, you could also make caramel from scratch.
All I did was unwrap the 10 caramels (the most annoying part of this whole recipe) and put them in a small saucepan with 1 T of water on medium-low heat.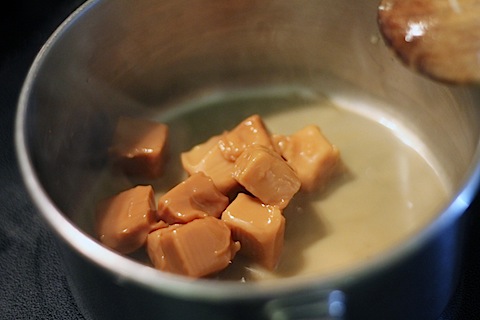 I made sure to keep stirring and the caramels slowly melted into a sauce. See? Simple.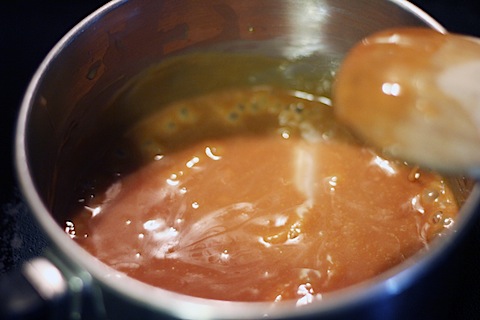 While the melting action was going on, I put the ice cream, milk, pumpkin, cinnamon, nutmeg, and 3 of the graham crackers into my blender.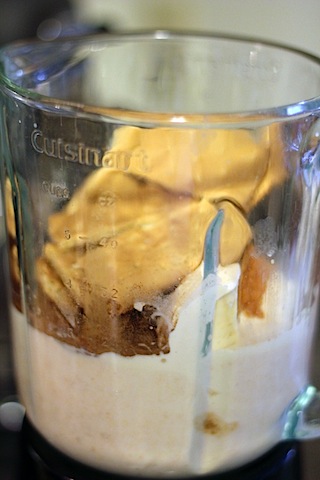 And hit blend.
Then I took the fourth graham cracker and put it in a ziplock bag and crushed it into crumbs.
I wet the rims of my two milkshake glasses and put them in the graham cracker crumbs to coat.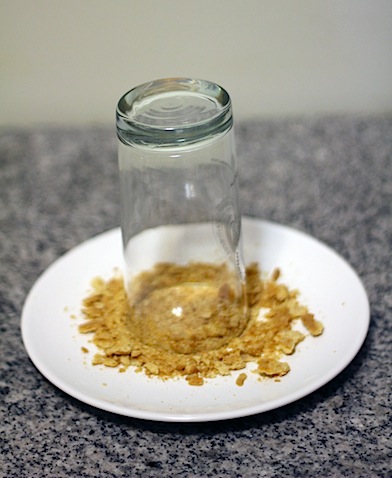 Then I poured the pumpkin pie milkshake into the glasses. And drizzled some of that caramel goodness on top.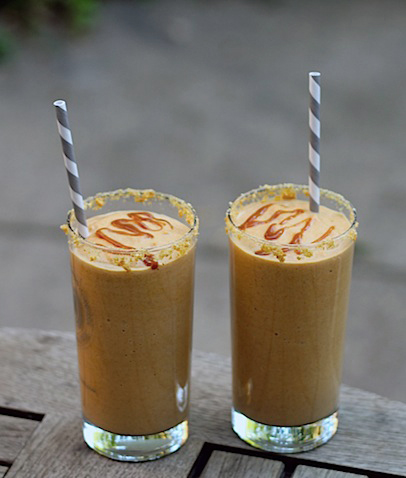 And found myself actually grateful for the chill in the air as I gulped it right up. Sure, a milkshake is perhaps best on a hot summer day, but when you make them in delicious fall flavors, they can take you right through autumn. What am I even saying? I'm just as excited to make a holiday-style peppermint milkshake. Not to mention, eggnog, gingerbread, you get the point.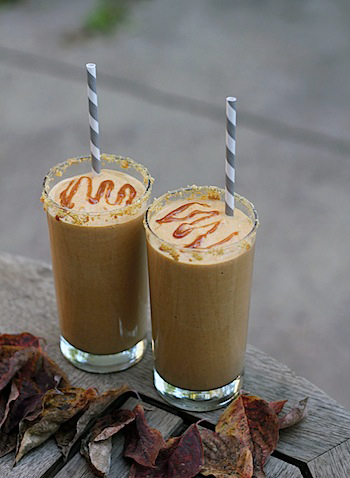 I'm not going to lie… This tasted EXACTLY like pumpkin pie. Right down to the graham cracker crust and caramel drizzle on top. I'm kind of sort of in love with it. Even if I did have to drink it while snuggled under a fleece blanket.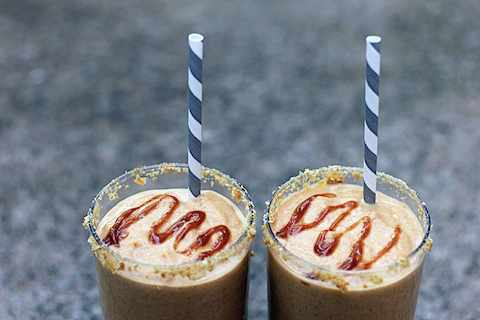 These are the kinds of things that make the departure of summer worth it. That and tall Cole Haan boots with Nike soles and cardigans that feel like cashmere (but aren't because I can't afford that).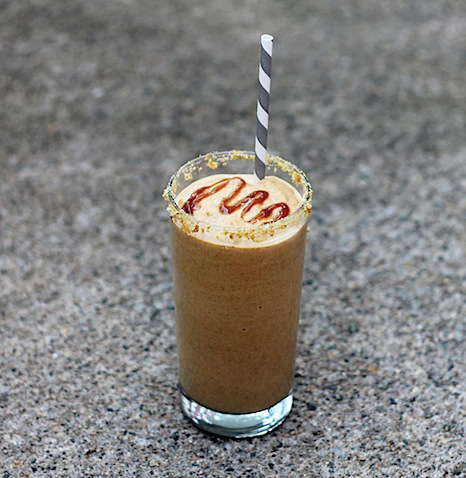 Here's to everything that makes fall worth it. Including the perfect excuse to get cuddled up on the couch with a good book, fuzzy socks, and one of these suckers.
What makes fall worth it to you?
[Sues]