There may be a chill in the air this fall, but there's no bad time for a milkshake... Especially if it's a Pumpkin Pie Milkshake with caramel drizzle and graham cracker rim! This seasonal milkshake is easy to make and will quickly become a family favorite.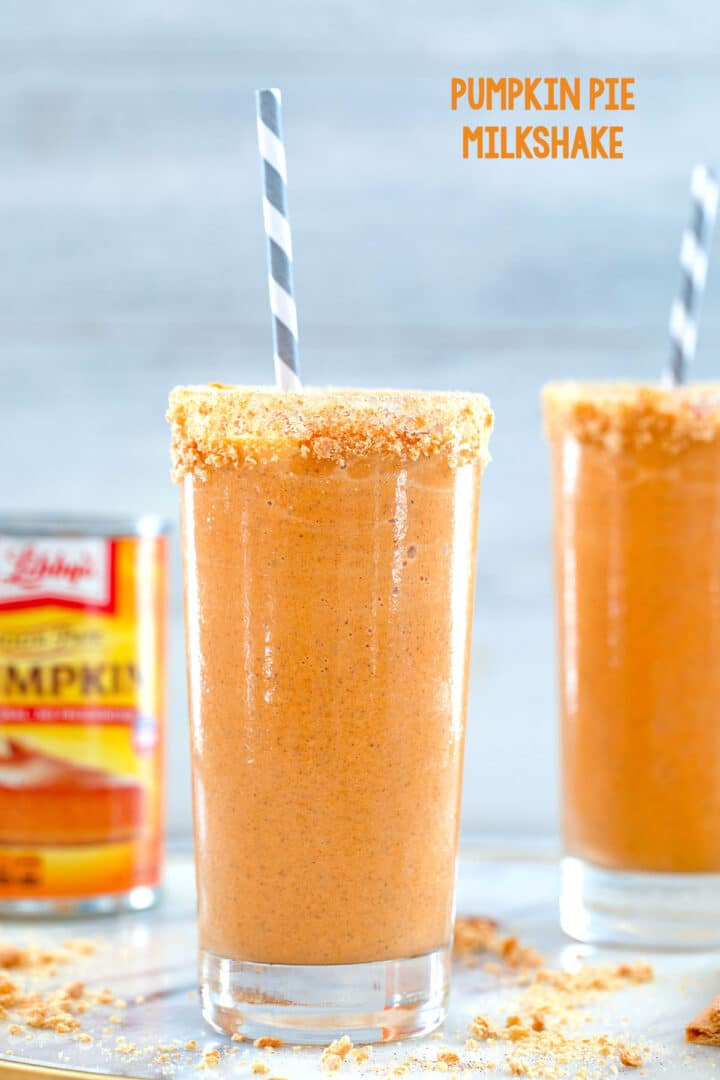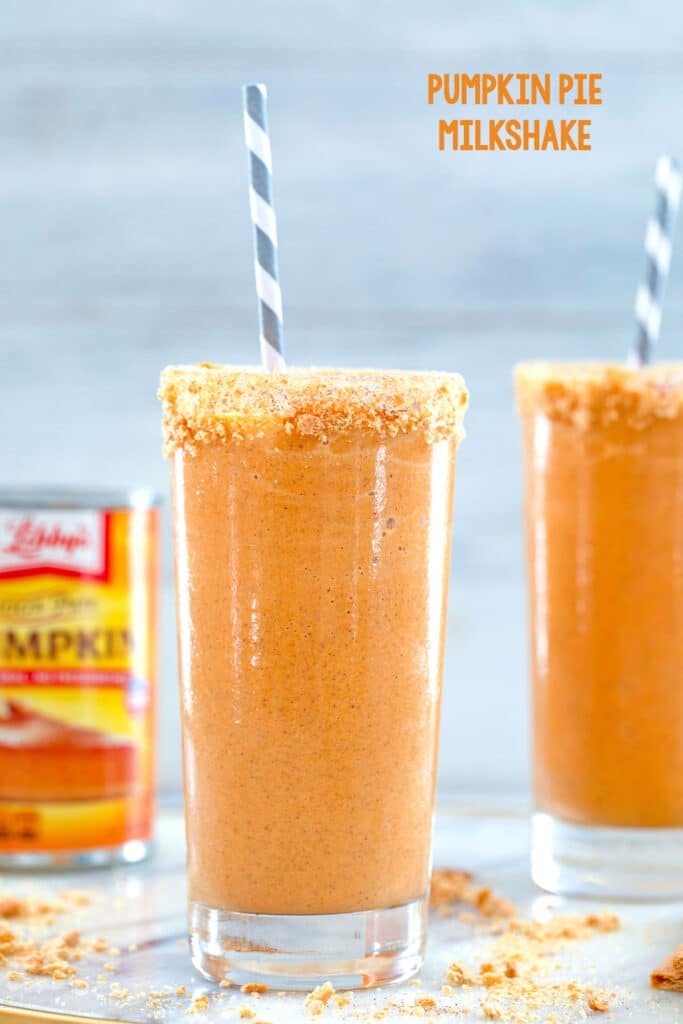 (This recipe for Pumpkin Pie Milkshakes was originally published in September 2011, but was updated with new photos in 2018).
I always say I couldn't live on milkshakes alone. But that doesn't necessarily mean I don't want to try sometimes. Trust me, I do try. It just only works for so long before I actually start craving things like kale. Weird, right?
So, how am I justifying this most recent milkshake? Well, pumpkin is healthy, right? Plus, there's calcium, so there. And it's totally seasonal, which means you can only enjoy it for so long and you better get it in while you can. I am clearly the queen of logic and justification.
But really, it would have been weird if I didn't do this one. What do I love? Pumpkin. What else? Milkshakes. Thank you very much.
Why You'll Love This Recipe
These pumpkin pie milkshakes with caramel drizzle are really easy to make, so there truly are no excuses not to give them a try. Unless you don't like pumpkin. And, in that case, goodbye (just kidding, I sometimes post about other ingredients, too... after autumn ends).
But there's SO much to love about them. Not only are they made with real pumpkin, but the caramel sauce is ridiculously simple to make. And the graham crackers mixed in take this from a regular pumpkin milkshake to a pumpkin PIE milkshake.
Ingredients
Here's everything you need to make this pumpkin pie milkshake... Including the caramel sauce!
Graham crackers
Soft caramel candies (like Werther's Soft Caramels)
Water
Vanilla ice cream
Whole milk
Pumpkin puree
Cinnamon
Nutmeg
How to Make Easy Caramel Sauce
This milkshake does have an extra step of making a caramel sauce, but it's the easiest caramel sauce in the world. Also, you can totally just buy a jarred version from the store. Or if you have the time, you can make a from-scratch caramel.
Or you can skip it all together if you just want to get this milkshake into your mouth as quickly as possible.
I often make caramel sauce from scratch, but that seemed a little too time-consuming for this otherwise super simple milkshake. So instead, I unwrapped a few Werther's Original Soft Caramels and put them in a saucepan with a little water.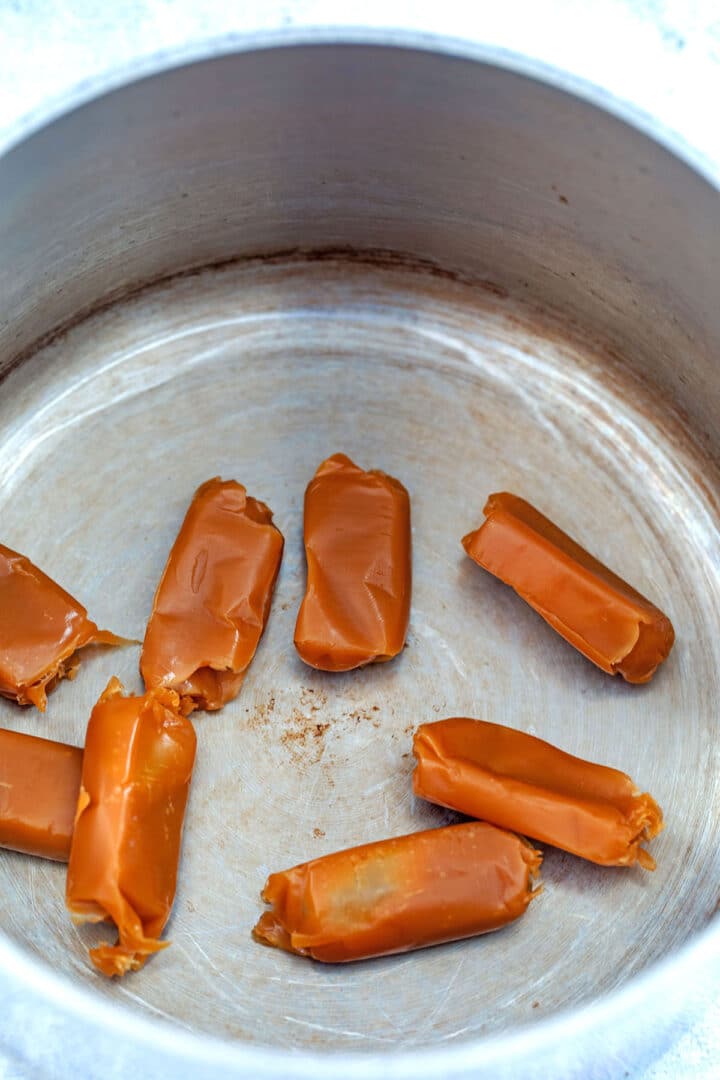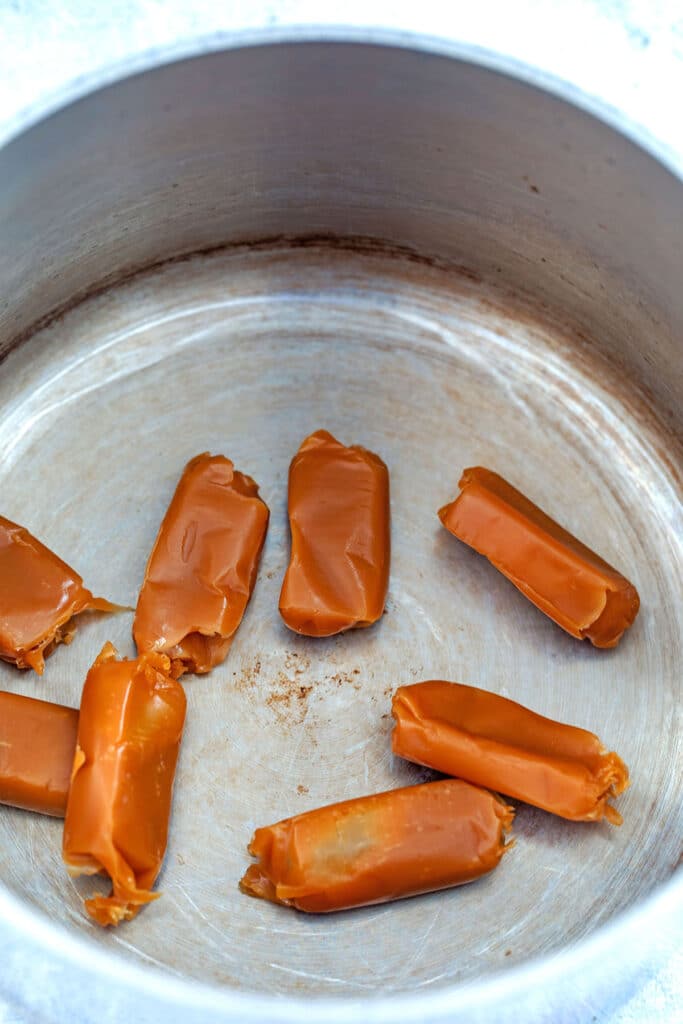 They melted into a delicious sauce.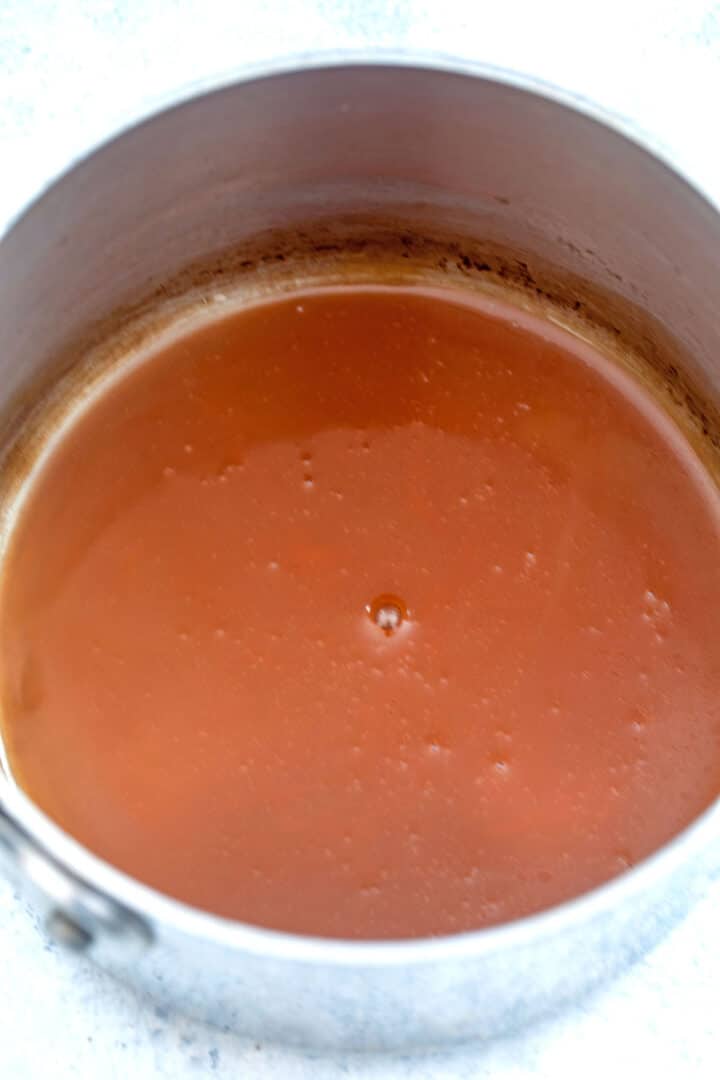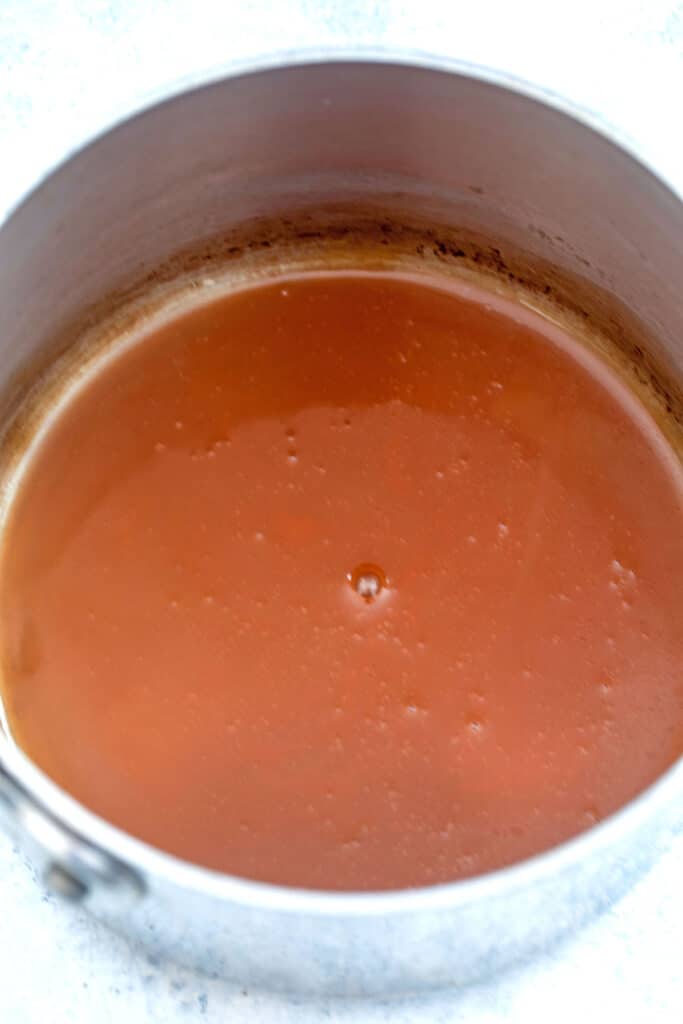 I mean, how easy is that?? Homemade caramel sauce in an instant!
How to Make a Pumpkin Pie Milkshake
One of the things I love best about milkshakes is that they are so quick and easy to make. Throw everything in a blender and hit "blend." Pour into glass and consume.
While the caramels were melting, I put the ice cream, milk, pumpkin puree, cinnamon, nutmeg, and three graham crackers into my blender.
If you'd rather use a little pumpkin pie spice, you can add that in instead of the cinnamon and nutmeg.
You can already tell how delicious this is going to be, right?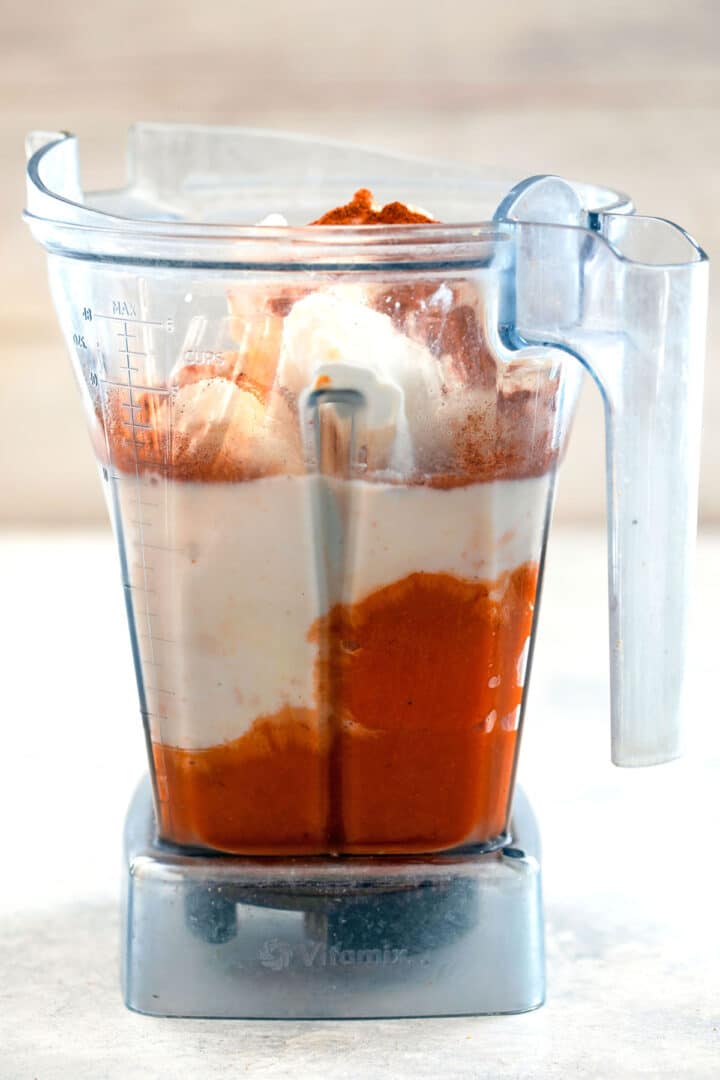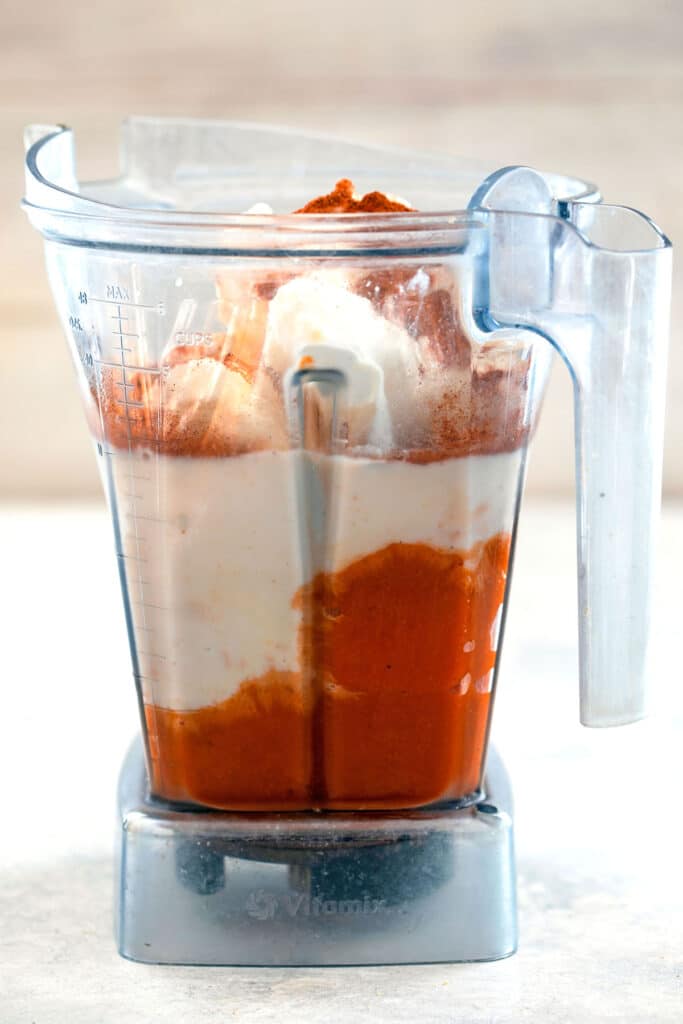 Puree until smooth.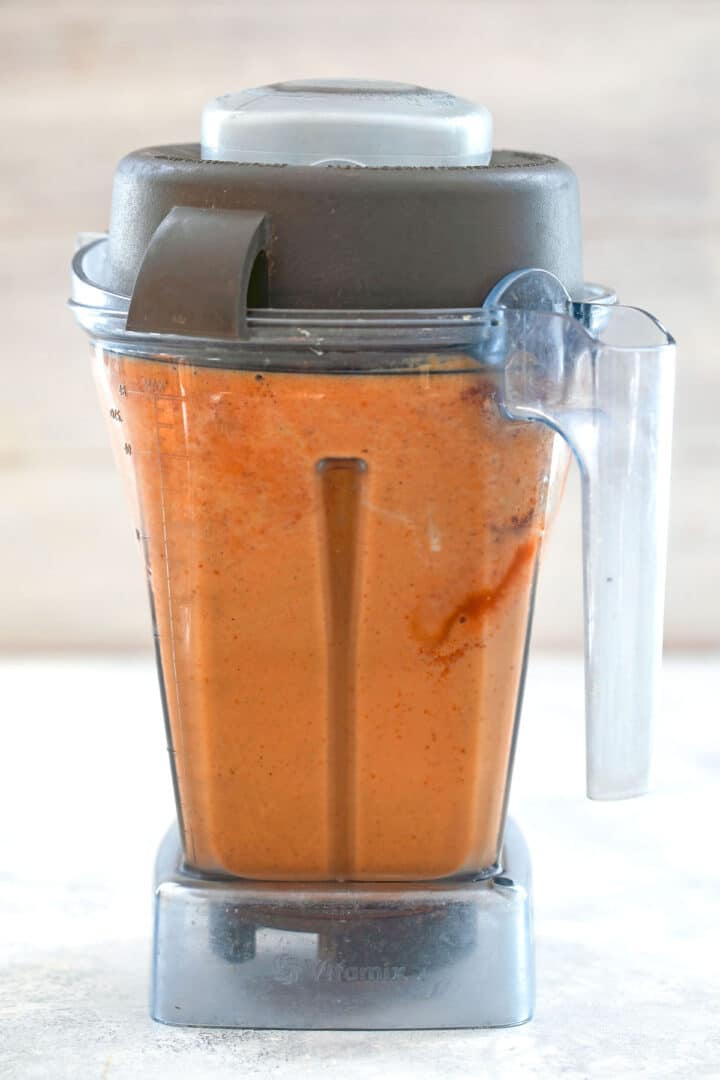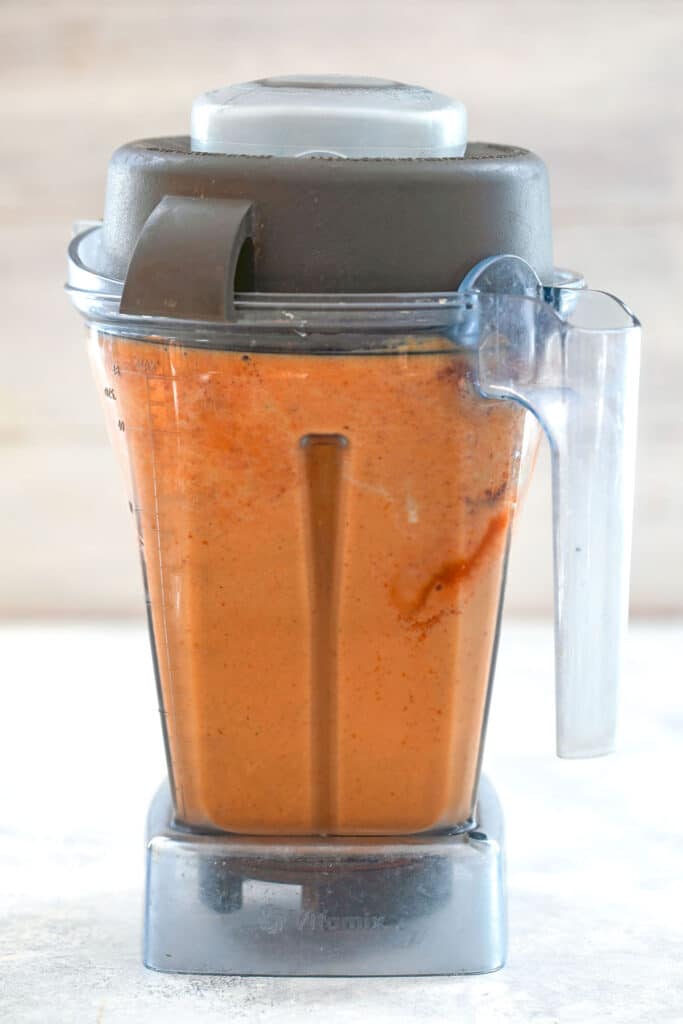 Oh wait, don't forget to rim your glass with graham cracker crumbs. Again, you're welcome to skip this step, but I think it's worth crushing a couple graham crackers.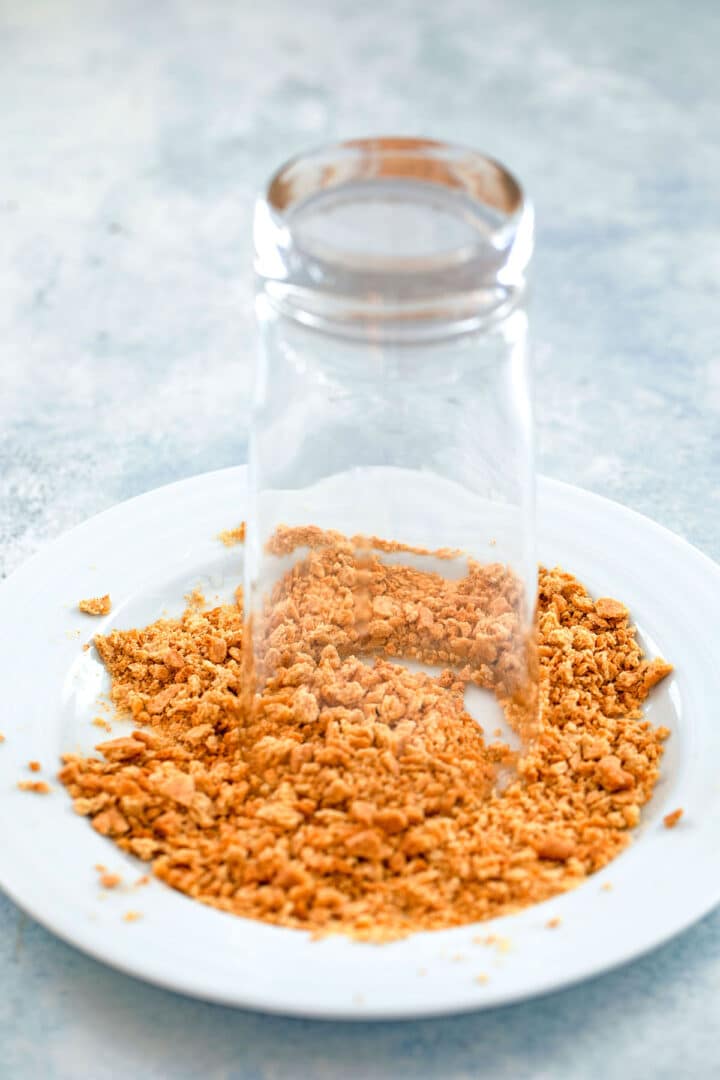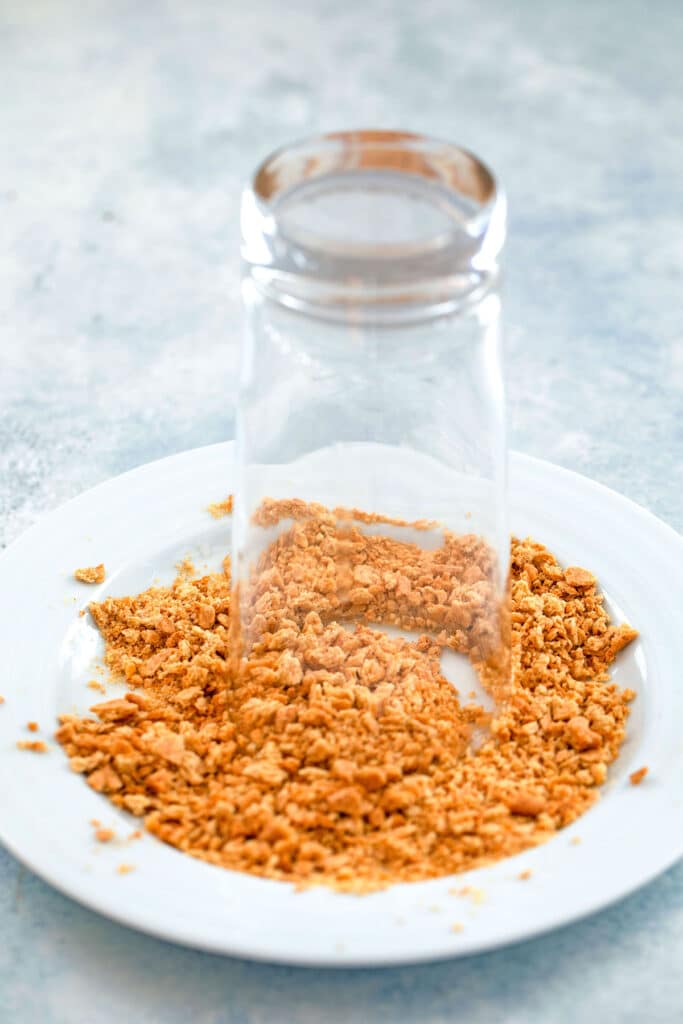 Pour the milkshakes into the glasses. And drizzle some of that caramel goodness on top.
I love that the color is so perfectly pumpkin. And guess what? The flavor is, too!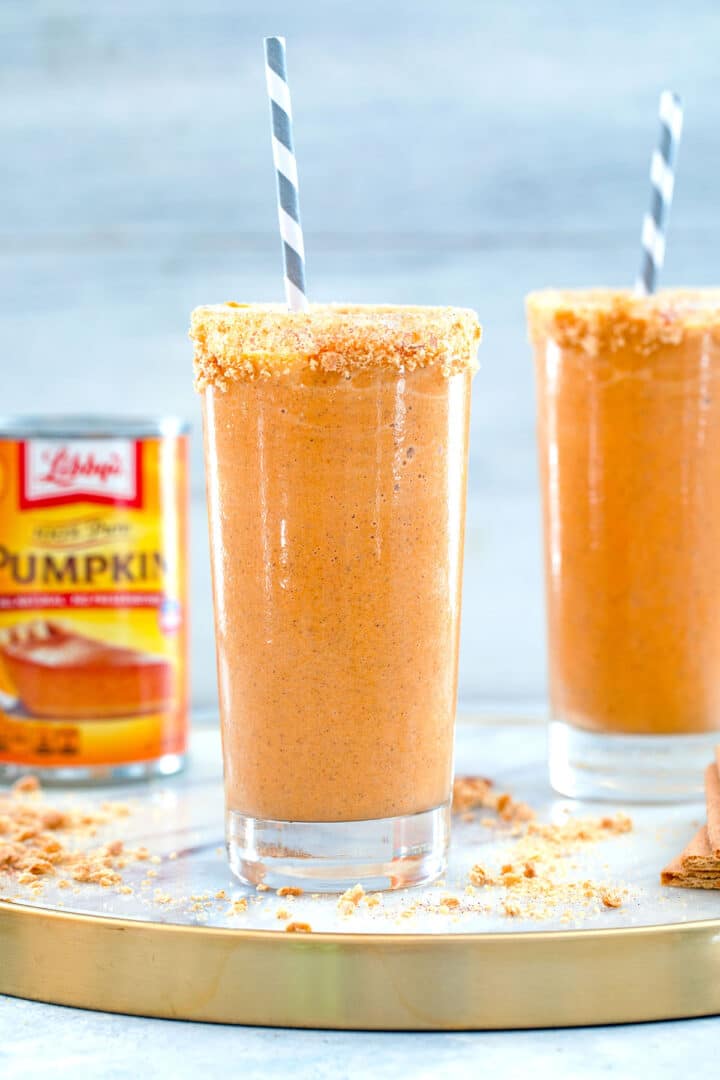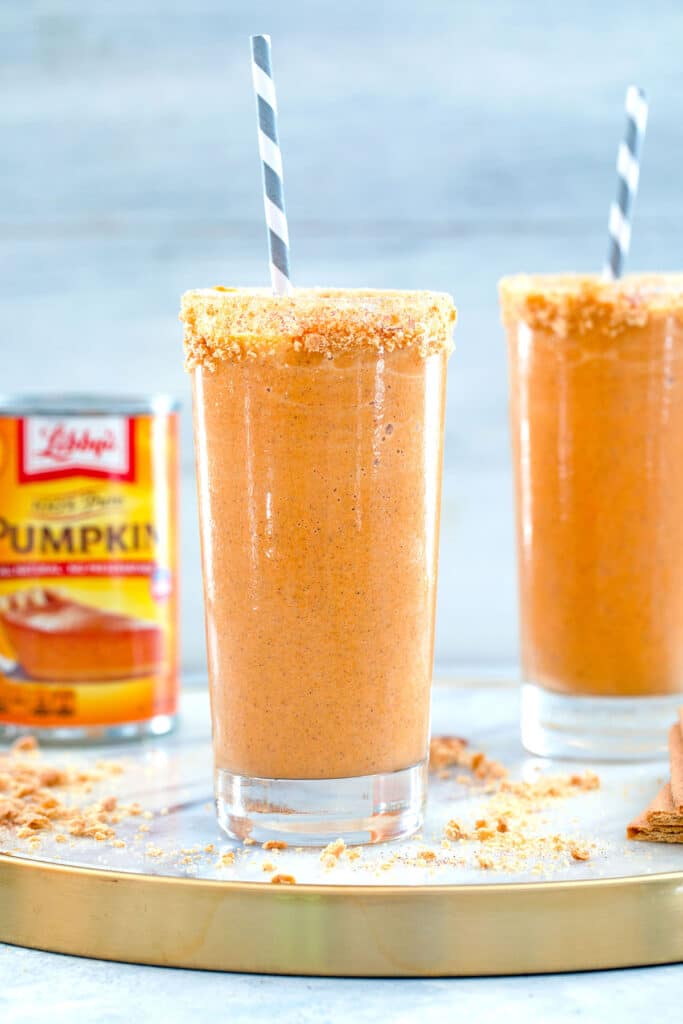 I found myself actually grateful for the chill in the air as I gulped one of these right down. Sure, a milkshake is perhaps best on a hot summer day, but when you make them in delicious fall flavors, they can take you right through autumn.
What am I even saying? I'm just as excited to make a holiday-style peppermint milkshake. Not to mention, eggnog, gingerbread, you get the point. Seasonal milkshakes make me SO happy.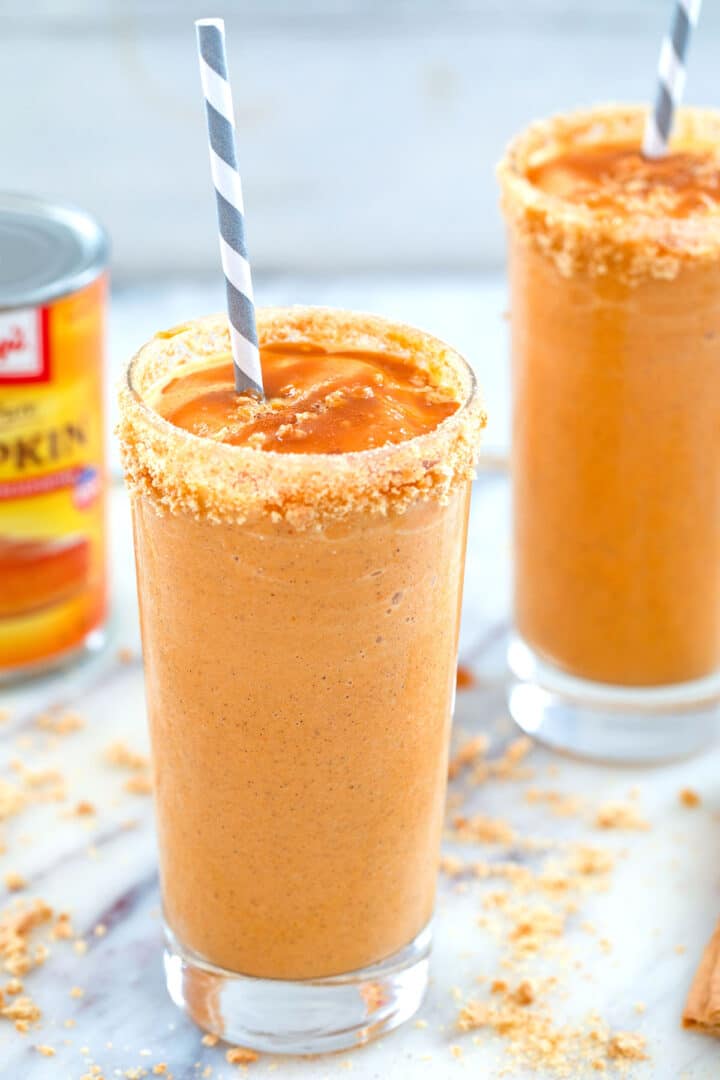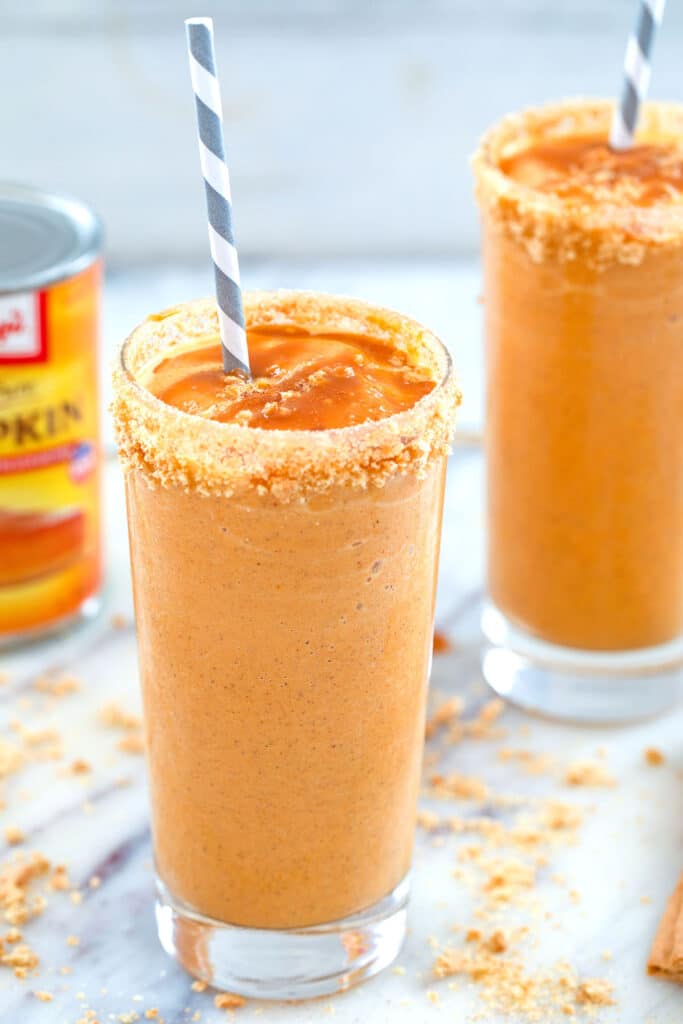 I'm not going to lie... This milkshake tastes EXACTLY like pumpkin pie. Right down to the graham cracker crust and caramel drizzle on top. I think I'm in love. Even if I did have to drink it while snuggled under a fleece blanket.
These are the kinds of things that make the departure of summer worth it. That and tall Cole Haan boots with Nike soles and cardigans that feel like cashmere (but aren't because I can't afford that).
More Pumpkin Pie Dessert Recipes
If even more than pumpkin, you especially love pumpkin pie, try some of my other dessert recipes that are made to resemble the popular fall dessert: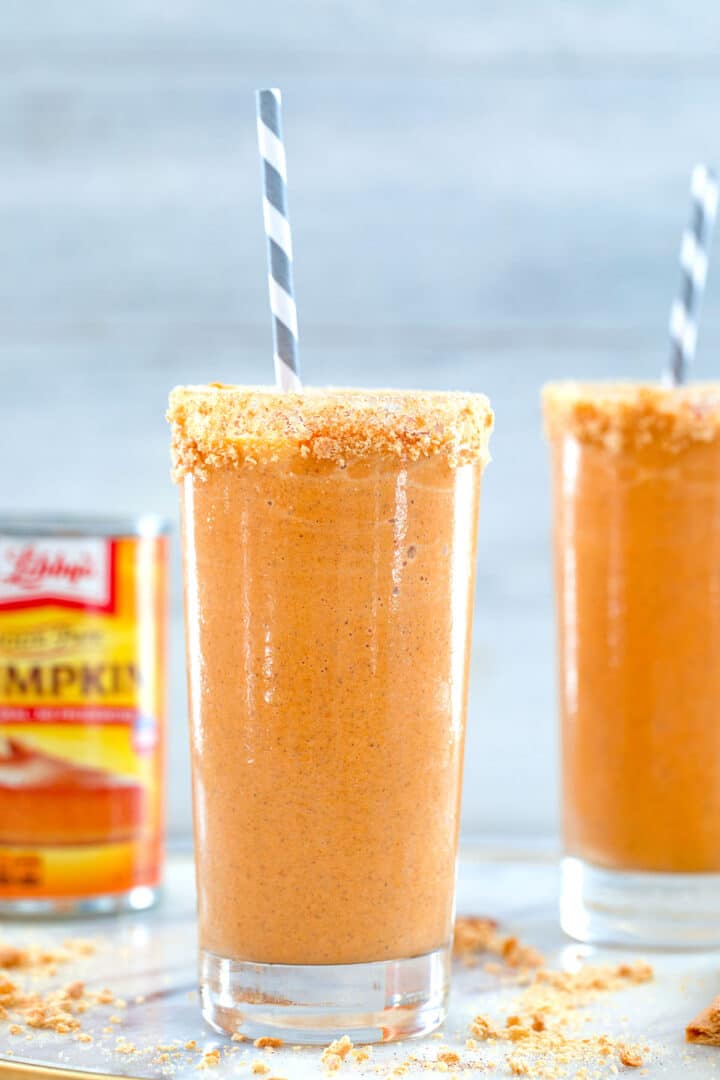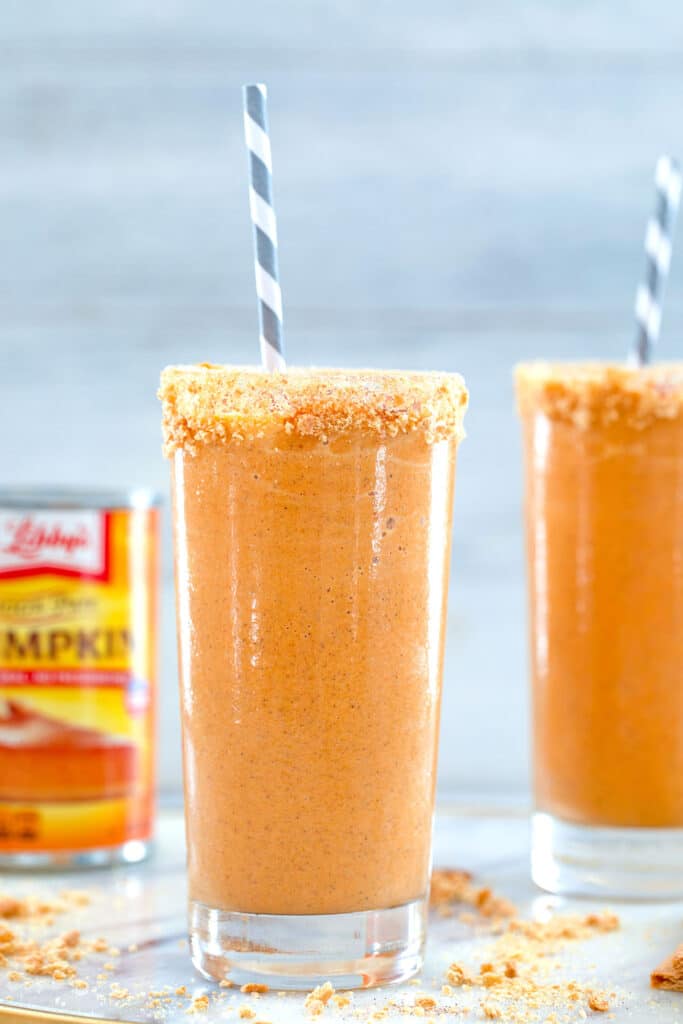 Here's to everything that makes fall worth it. Including the perfect excuse to get cuddled up on the couch with a good book, fuzzy socks, and a pumpkin pie milkshake.
What makes fall worth it to you?
📖 Recipe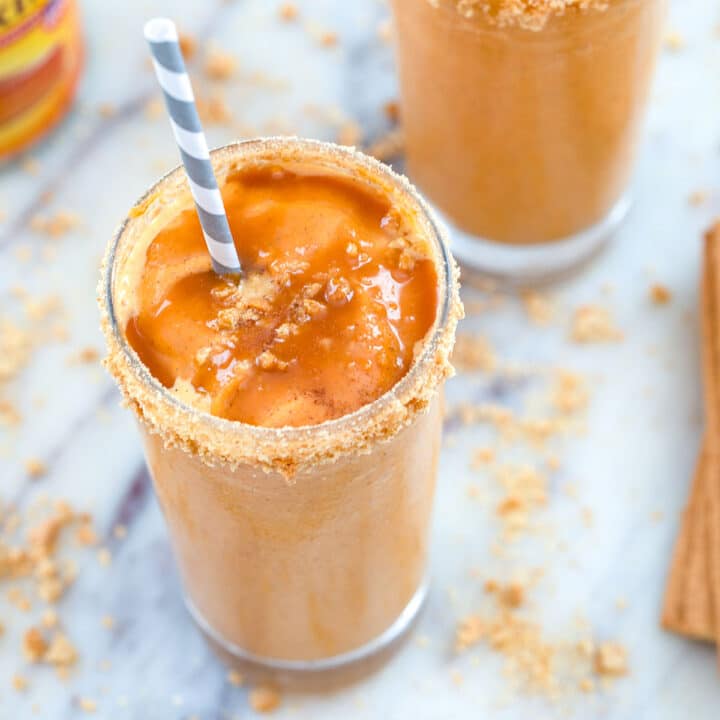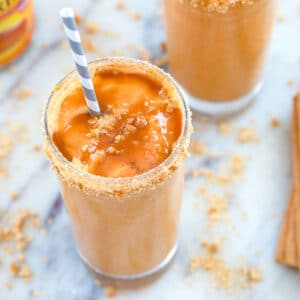 Pumpkin Pie Milkshake
There may be a chill in the air this fall, but there's no bad time for a milkshake... Especially if it's a Pumpkin Pie Milkshake with caramel drizzle and graham cracker rim!
Print
Pin
Rate
Ingredients
5

graham crackers,

divded

8

soft caramel candies

(I used Werther's Soft Caramels)

1

Tbsp

water

2

cups

vanilla ice cream

1

cup

whole milk

1 ½

cups

pumpkin puree

2

tsp

cinnamon

¼

tsp

ground nutmeg
Instructions
Crush two graham crackers (either in a blender, food processor, or in a ziplock bag) and place crumbs on a small plate. Brush the rims of two glasses with water, honey, or simple syrup and roll in the graham cracker crumbs to coat rims.

Place caramels and water in a small saucepan over medium-low heat. Let the caramels melt into a sauce while occasionally stirring.

While caramels are melting, place ice cream, milk, pumpkin, cinnamon, nutmeg, and the 3 remaining graham crackers into a blender and blend until smooth.

Pour milkshakes into graham cracker rimmed glasses. Drizzle caramel over the top of the milkshakes.
Notes
If you don't want to make the caramel sauce, you can buy a store-bought version or skip the caramel altogether. 
Share a Photo of Your Finished Recipe!
Mention @wearenotmartha and share a photo if you've made the recipe!
View Web Story for this recipe.