These Pumpkin Spice French Toast Muffins combine two of your favorite breakfast foods into one delicious treat. Invite your friends over for brunch and enjoy with coffee!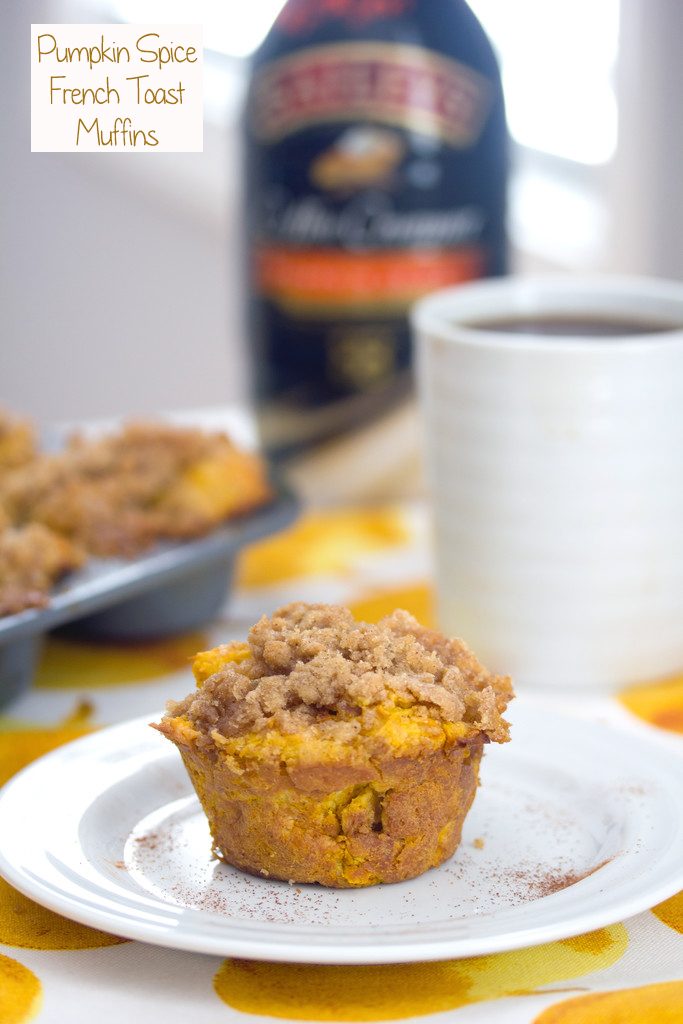 I truly believe my relationship with coffee is meant to be, based solely on the fact that my birthday conveniently lands on National Coffee Day. Could there be a better holiday to share a birthday with? I honestly don't think so… Unless such thing as a coffee and doughnuts day exists (in which case, sign me up. To… I dunno? Switch birthdays?). Basically, I was born on the right day. I celebrate coffee pretty much every day of my life, but think this holiday gives me extra excuses to go out for coffee on my birthday.
The sad thing about being an adult is that oftentimes you have to go to work on your birthday, especially when it falls on a Tuesday. But here are a few things I'd really love to be doing on my birthday and National Coffee Day:
Making coffee at home and enjoying it with my mom and sister, while watching my crazy nephews run and crawl around the house (with no need for caffeine, whatsoever).
Sipping coffee on a Sunday while my dad makes a ridiculously awesome brunch involving tons of bacon and lazy weekend conversation.
Going out for coffee with my best friend and wondering how three hours got away from us as we sit and chat about all of the important things in life... And all of our crazy college memories.
Leaving the office for a few minutes to grab some coffee with my co-workers and taking a much-needed break from the busy day.
Picking up coffee and going on a three mile walk with my husband, so we can spend quality time together, talk about our days, and make snide comments about some of the people and houses we walk by.
Traveling to see our friends and relatives that live far from us and reconnecting over coffee (and typically a ton of food, too).
Whipping up a batch of these Pumpkin Spice French Toast Cups and inviting my favorite blogger and blog reader friends over for an all-day brunch. Yup, that means you.
What do you want to be doing on National Coffee Day?
Want to know what goes perfectly with a nice hot cup of coffee? These Pumpkin Spice French Toast Muffins. They're basically individually-portioned french toast servings with a crumb topping. No syrup required because they're super moist and flavorful already. Mostly thanks to pumpkin spice coffee creamer.
BAKING WITH COFFEE CREAMER
I always drink my coffee black, but that doesn't mean I don't ever buy coffee creamer. Why would I buy it if not to put it in my coffee? Because I love using coffee creamer in baked goods! You can substitute milk with coffee creamer in pretty much any recipe you want. This is a wonderful thing since coffee creamers come in so many glorious flavors whereas milk doesn't.
PUMPKIN SPICE FRENCH TOAST MUFFINS RECIPE
One of the best parts about these little breakfast treats is how easy they are to assemble. You basically mix the ingredients in a bowl, chill for 15 minutes, and them press in muffin tins and top with a crumb topping. And bake away.
While I'd have a tough time not whipping these up french toast muffins and digging in right away, you could easily prepare these the night before and then pop them in the fridge until morning. 25 minutes later and brunch is yours!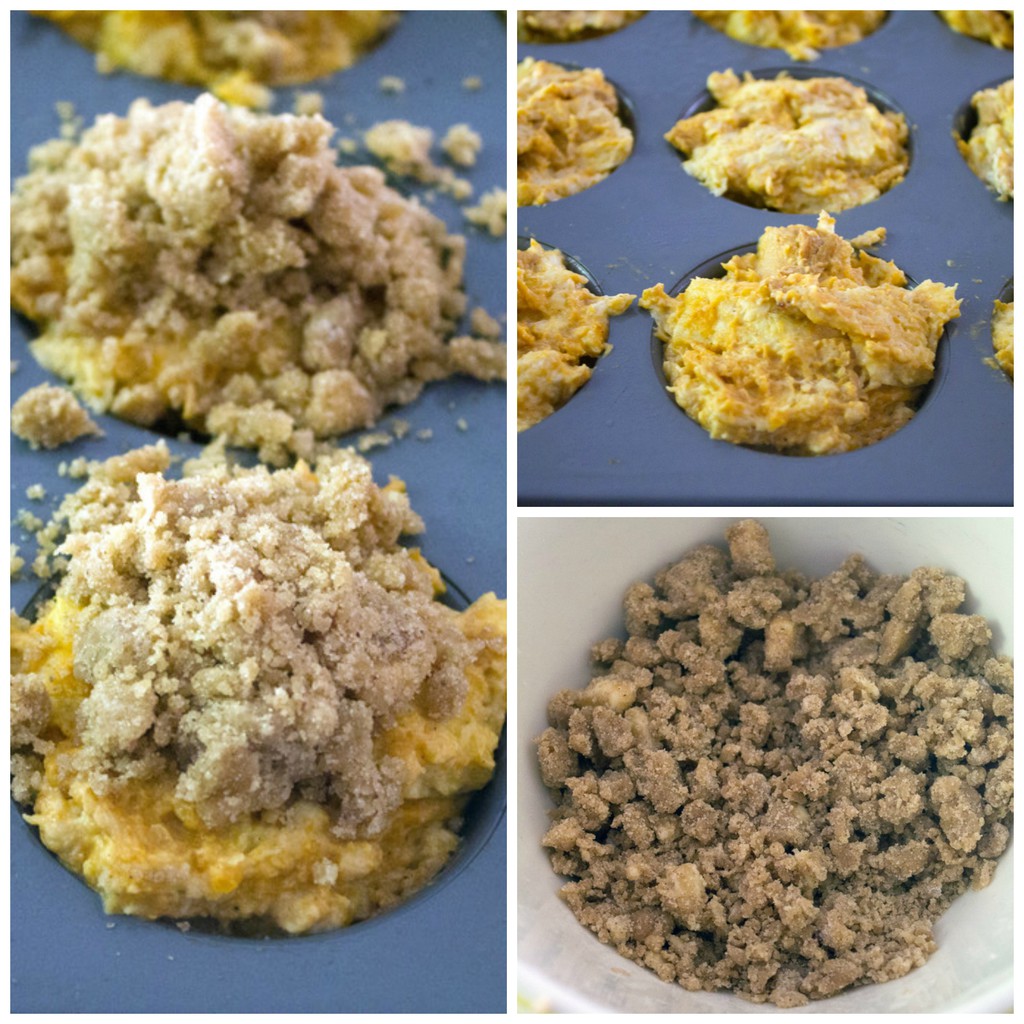 I've always been of the belief that waking up to the enticing fragrance of bacon is the best ever... But now waking up to pumpkin spice french toast is making me question all of my previous beliefs!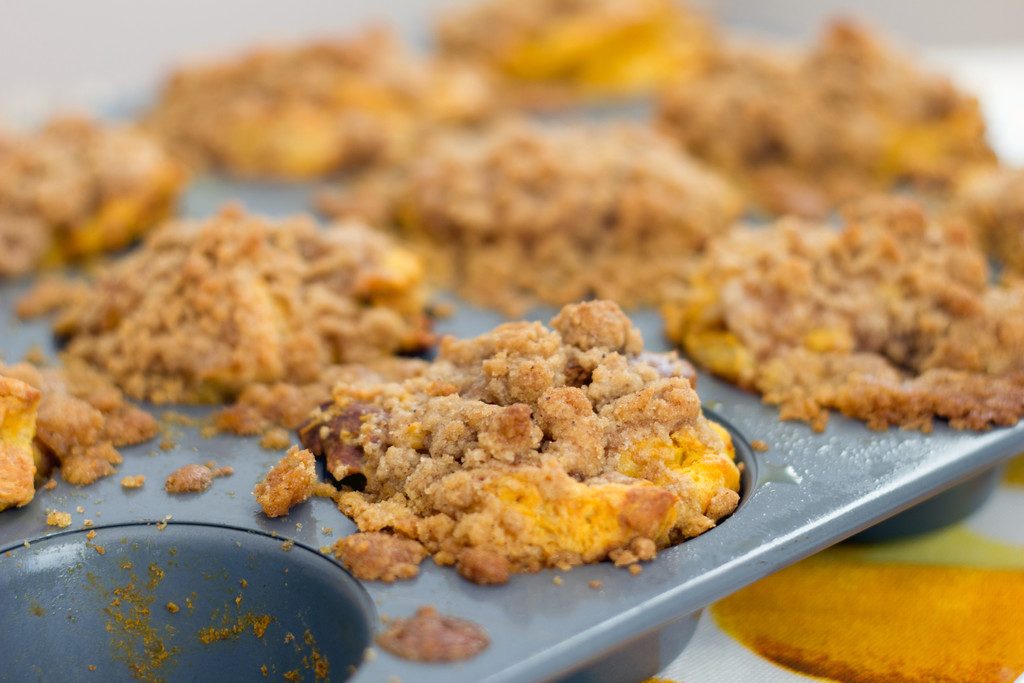 Like I said, these are perfectly individually portioned. But that doesn't mean you only have to eat one.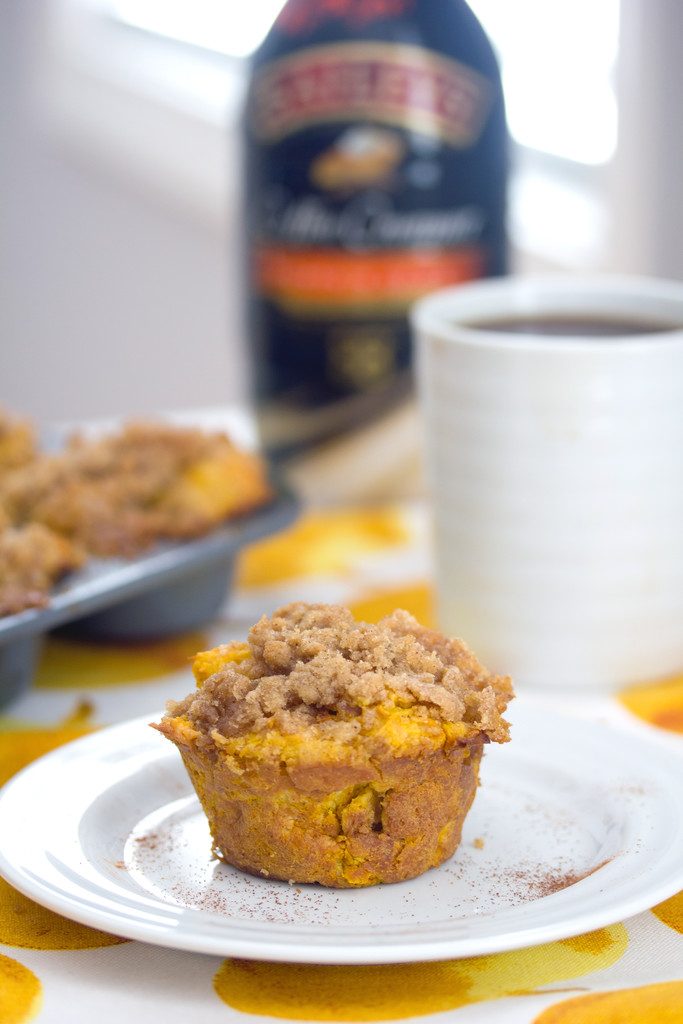 This recipe makes 12 french toast muffins and if you're doing coffee with your best friend, that means you can each have six (duh... math is clearly my strong suit). And considering you'll probably be sitting at the kitchen table for hours on end just gabbing non-stop, you'll need the fuel.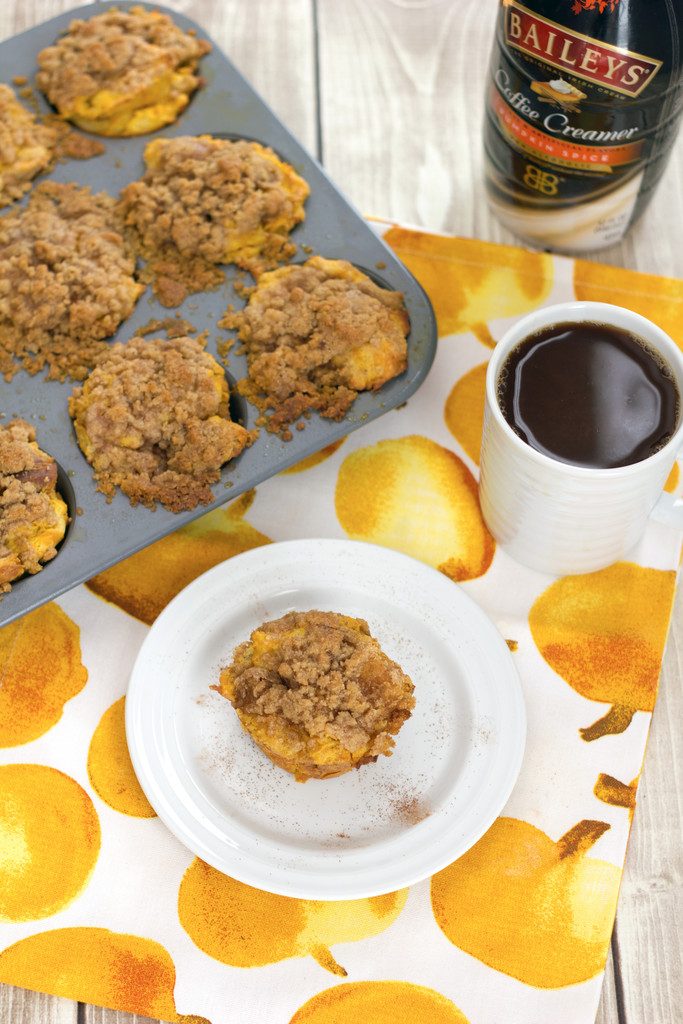 Not to mention the caffeine.
And since these pumpkin spice french toast muffins don't need syrup, there really is no mess involved. I never thought I would tell you not to pour french toast on syrup, but I'm telling you these aren't dry at all and they have more than enough flavor without it.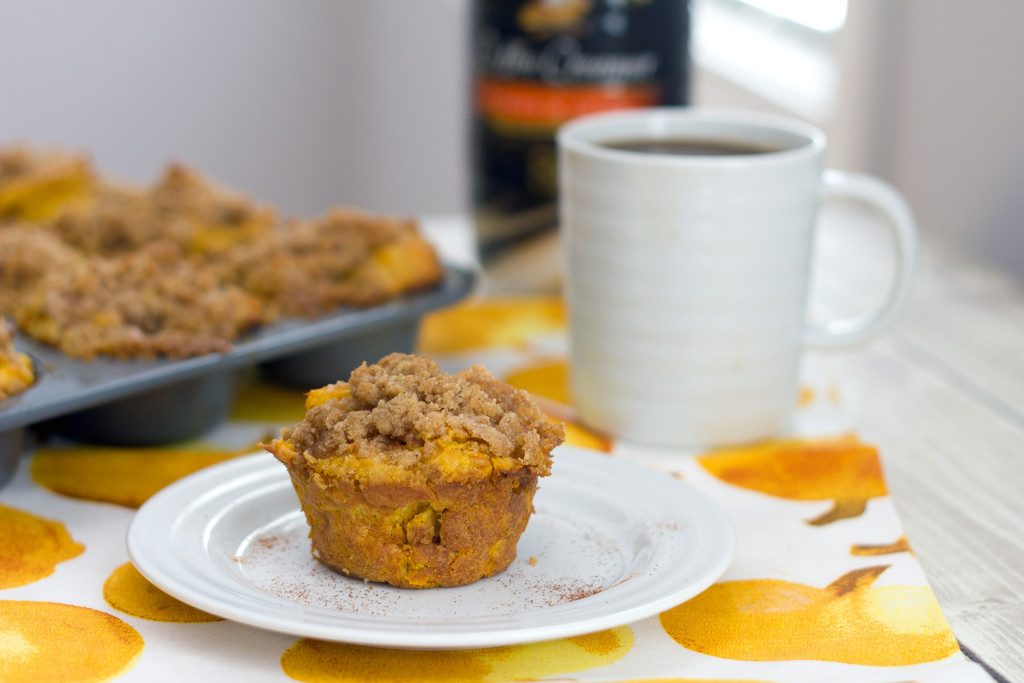 You can either eat them like a muffin... Or with a fork like you would french toast. My preference depends on whether I'm sitting at the table or am on-the-go. But really, these are the perfect combination of french toast and muffins, so any way goes!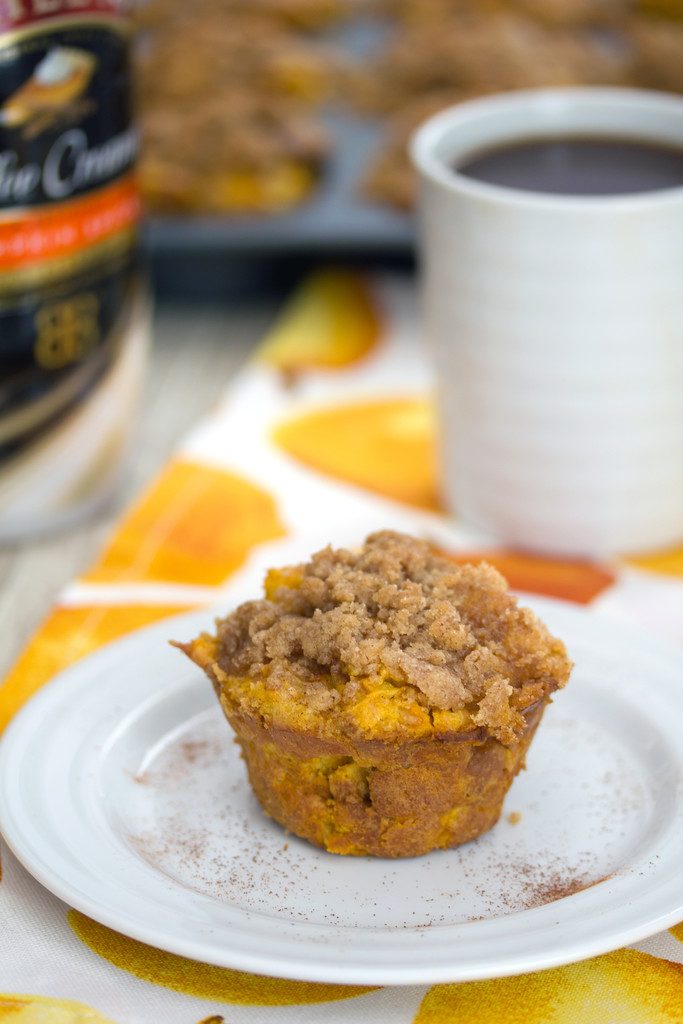 Happy National Coffee Day! I hope you're celebrating along with me.
Do you ever bake with coffee creamer?
For more fun breakfast treats, check out my Cherry Lime Pop Tarts and my Pumpkin Eggnog Danish. I also love these 5 Minute Scones from One Sarcastic Baker!
📖 Recipe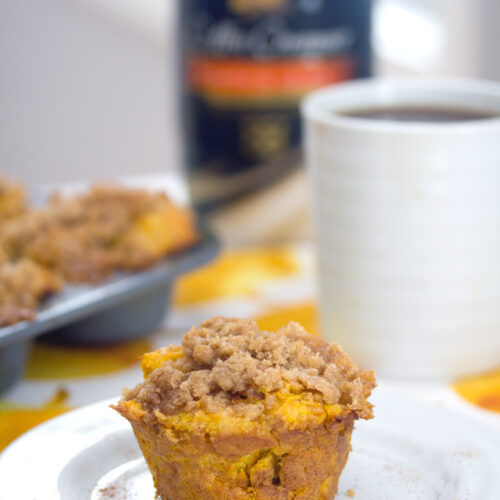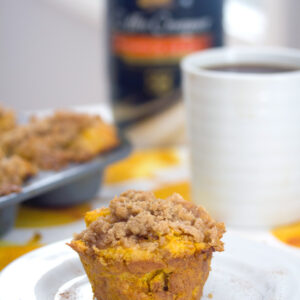 Pumpkin Spice FrenchToast Muffins
These Pumpkin Spice French Toast Muffins combine two of your favorite breakfast foods into one delicious treat and are made with pumpkin spice coffee creamer!
Print
Pin
Rate
Makes:
12
french toast muffins
Ingredients
1

loaf

challah bread (16 oz.), cut into ½-inch cubes

3

large eggs,

slightly beaten

1

cup

pumpkin spice coffee creamer

½

cup

pumpkin puree

¼

tsp

ground cinnamon
Crumb topping
6

Tbsp

cold butter,

cut into small pieces

¾

cup

light brown sugar

½

cup

all-purpose flour

½

tsp

ground cinnamon

¼

tsp

ground nutmeg

¼

tsp

ground ginger
Instructions
Pre-heat oven to 350 degrees.

Place bread cubes in a large bowl and mix in eggs, coffee creamer, pumpkin puree, and cinnamon.

Place bowl in fridge for at least 15 minutes.

Divide bread cubes evenly among cavities of lightly greased muffin tin, lightly pressing bread in.

Sprinkle crumb topping over bread cubes.

Bake at 350 degrees for about 25 minutes. Cool slightly before removing from pan and serving.
Crumb Topping
Combine all ingredients in a medium bowl and use your fingers or a pastry blender to blend, until tiny pea-sized clumps form.
Notes
If you want to prepare ahead of time, simply place bread-filled muffin tin in refrigerator overnight and add on crumb topping in the morning before baking.
Share a Photo of Your Finished Recipe!
Mention @wearenotmartha and share a photo if you've made the recipe!