These Cherry Lime Pop Tarts are super similar to the pop tarts you buy at the store, but with a more adult, deliciously tart flavor! Made with an easy cherry lime jam and a simple dough recipe, they'll have you falling in love with pop tarts all over again.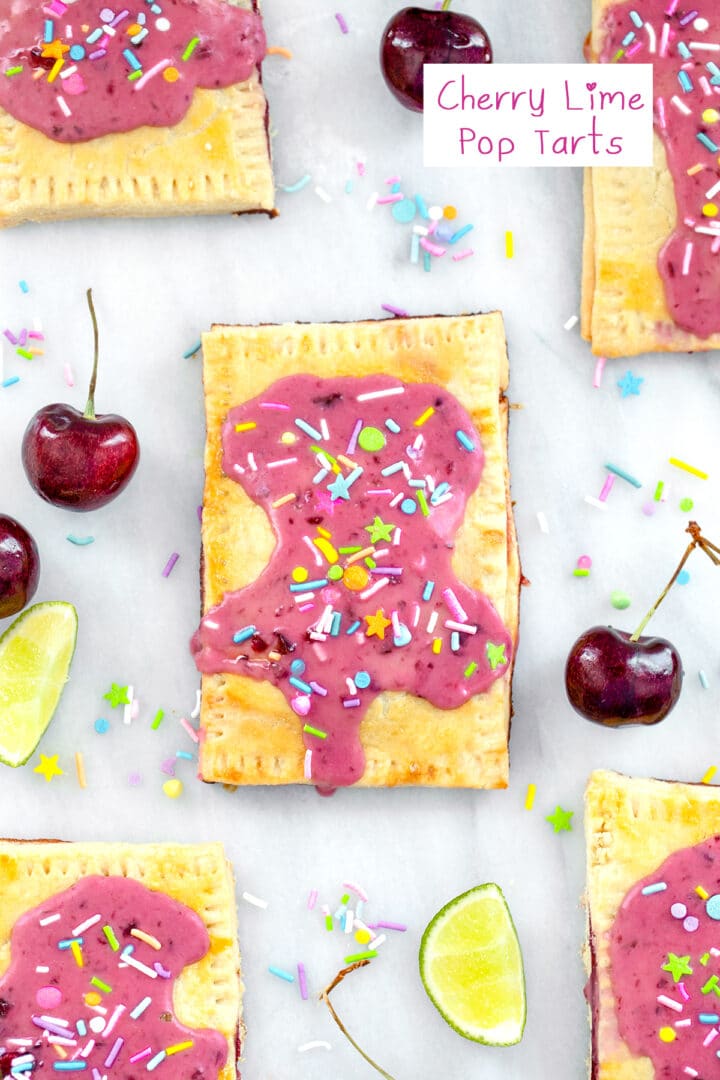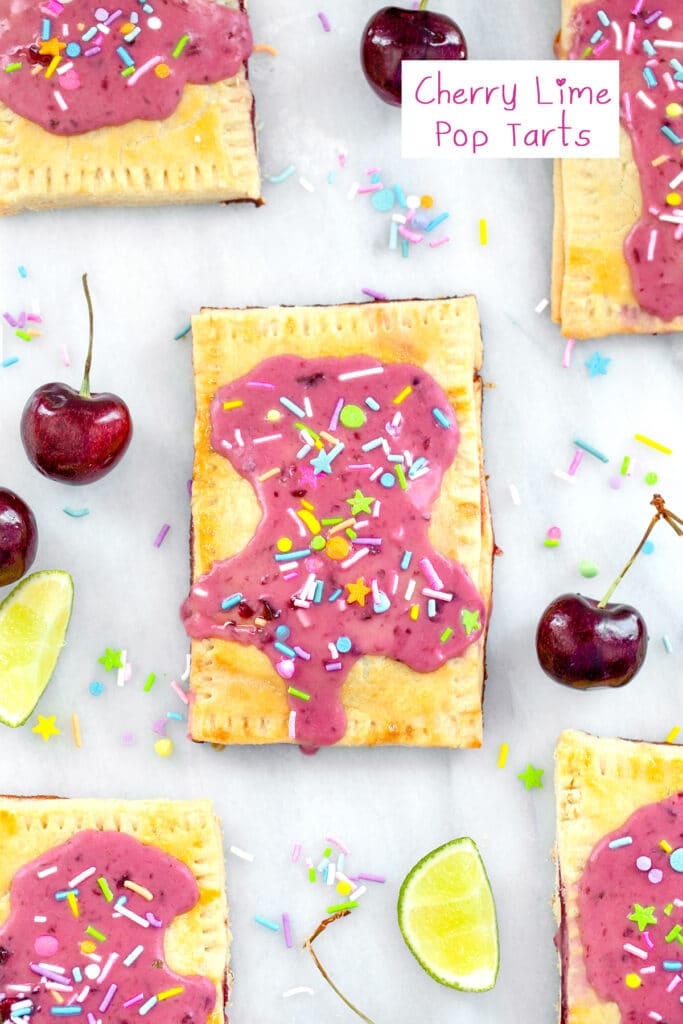 Pop Tarts are one of those foods that I don't want to admit I like. But I really, really do.
I was never allowed to have them as a kid and I don't ever buy them now. But occasionally I'll be somewhere that has them and I can't resist indulging. And yup, I still love them and I don't even discriminate in terms of flavor... From strawberry to s'mores to brown sugar cinnamon, I love them all.
Though I admit I refuse to try the Jolly Ranchers or the soda flavors (TOO far). Also, don't come at me with your unfrosted Pop Tarts.
However, these cherry lime pop tarts are probably about as close to Jolly Ranchers flavored as you can get... But with all natural flavors!
They're made with a bold slightly tart cherry lime jam and a sweet cherry icing on top. Plus a super easy to make dough.
I've made my own pop tarts several times over the years, but I made a few tweaks in this dough recipe to try to get them as close to the originals as possible (rather than Toaster Strudels, which are also delicious, but a bit flakier than what I was looking for).
Mission accomplished and my Pop Tart craving has been satisfied for at least a little while.
How to Make Cherry Lime Jam
These cherry pop tarts are super easy to make, but do require a little bit of time if you're making the filling from scratch. Which you definitely should since I don't think you can easily find cherry lime jam in stores.
But don't worry; it's a super simple jam that just requires 3 ingredients and no pectin. It's just:
Fresh Cherries
Granulated Sugar
Lime Zest and Juice (I'm counting this as one ingredient!)
Really, the only time-consuming part of it is pitting the cherries and waiting for the jam to cool once it's done.
Just add the pitted cherries, sugar, lime juice, and lime zest to a saucepan and bring to a boil. Once boiling, lower heat to a simmer and let cook for about 20-25 minutes.
I recommend roughly chopping your cherries before adding them to the pot. I didn't do that here, but did use a potato masher to mash them while they were cooking.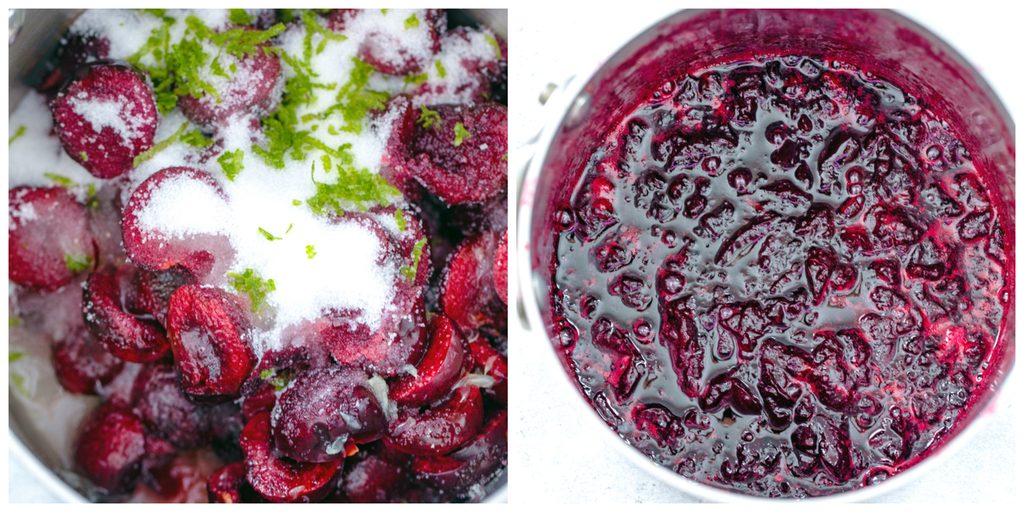 The jam will need to cool so it can finish thickening. If you follow my recipe, you'll definitely have more jam than you need. Enough for at least 2 batches of pop tarts.
Or one batch of pop tarts and a lot of delicious peanut butter and cherry lime jam sandwiches.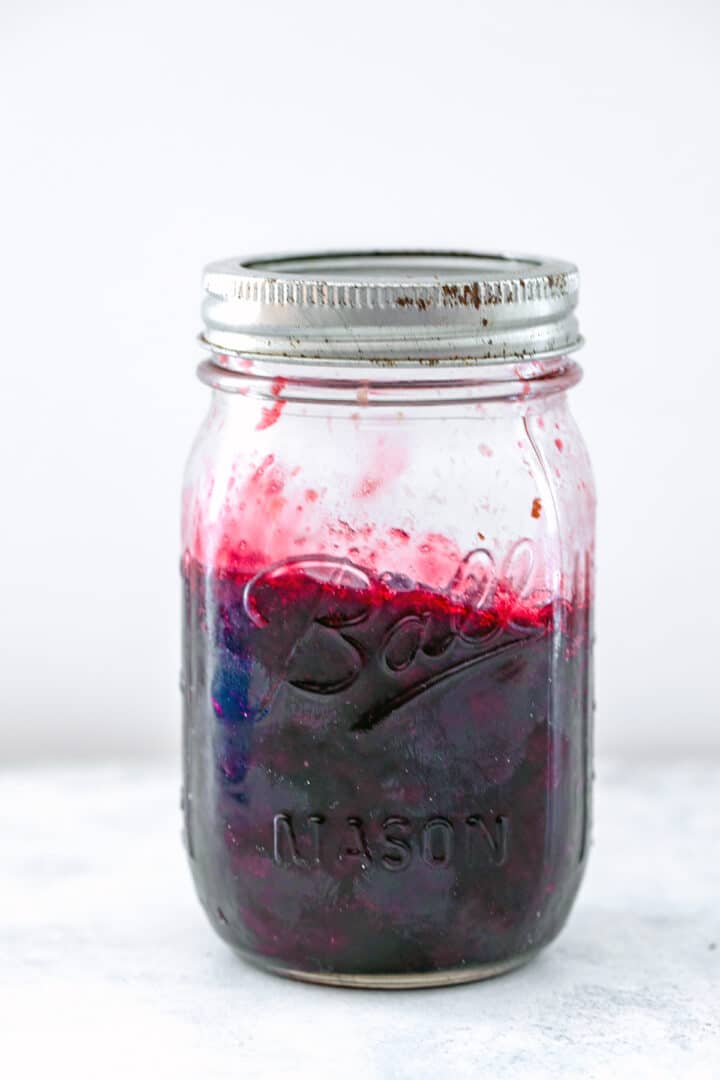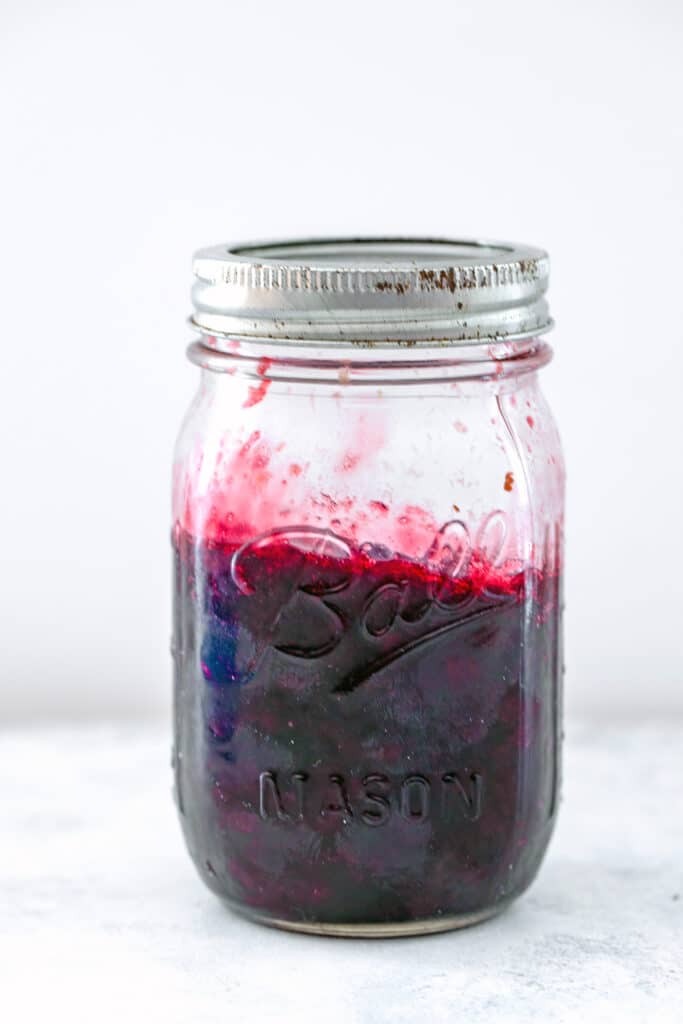 How to Make Pop Tarts
The cherry lime pop tart dough is also easy, but I think it's easiest if you have a food processor. If you don't, you can just use a large bowl with a pastry cutter (I like this one) or just your fingers.
Simply, combine the flour, sugar, and salt together. And then cut in the chilled cubed butter until mixture resembles coarse meal.
Add in the beaten egg and milk and take the dough out of the bowl and knead for a bit so it all comes together. Wrap it in plastic wrap and then chill it for about 30 minutes.
Then you're ready to roll the dough out on a lightly floured surface. I hate having to roll dough to exact length and widths, so I just rolled my dough in a big rectangle that was about ⅛" thick. Then I cut out little rectangles about 5 x 3 ¼". I rolled the dough out a couple times to get about 14 rectangles.
Place rectangles on a parchment paper-line baking sheet and place in fridge for another 30 mins.
Once chilled, top half the rectangles with about 1 Tbsp of the jam and then top with a second rectangle. Use a fork to crimp the edges and add a little vent on top. Brush lightly with a beaten egg.And baked at 350 degrees for about 20 minutes until they're just turning golden.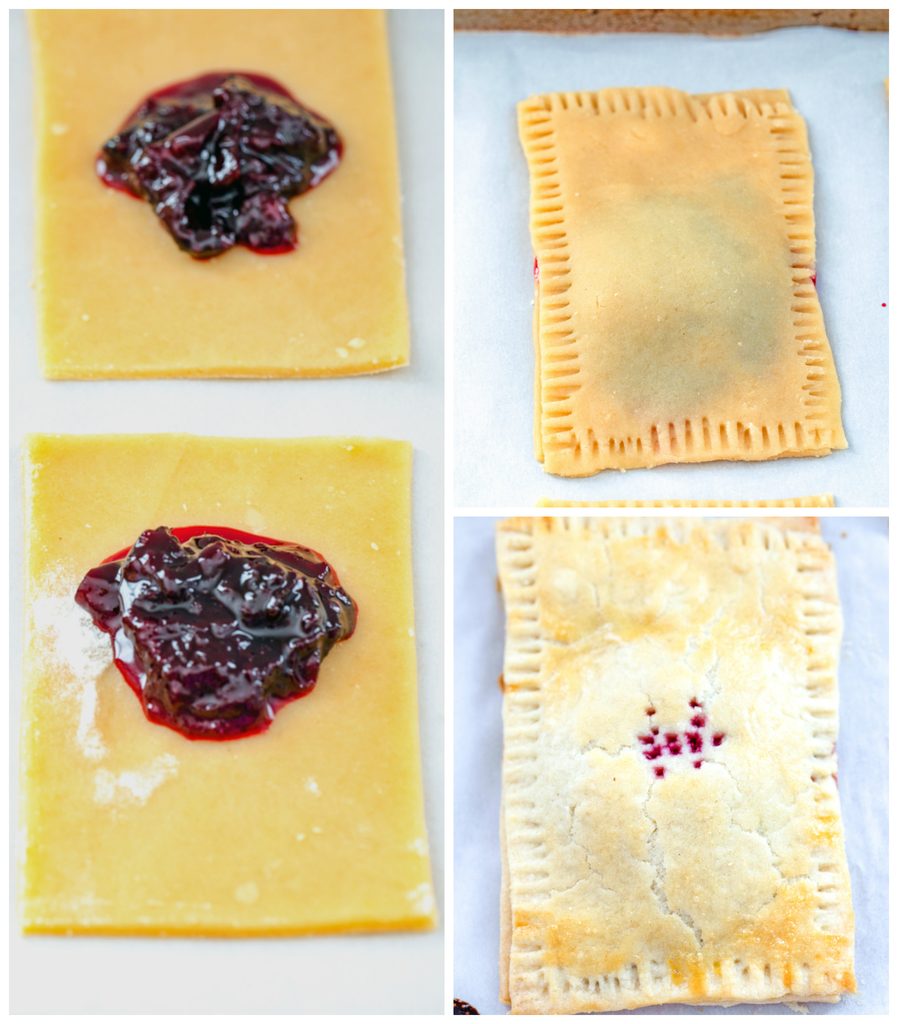 Let the pop tarts cool completely before frosting them.
But while they're cooling, make the icing! I simply blended cherries and milk until the mixture was pretty smooth and then whisked in confectioners' sugar.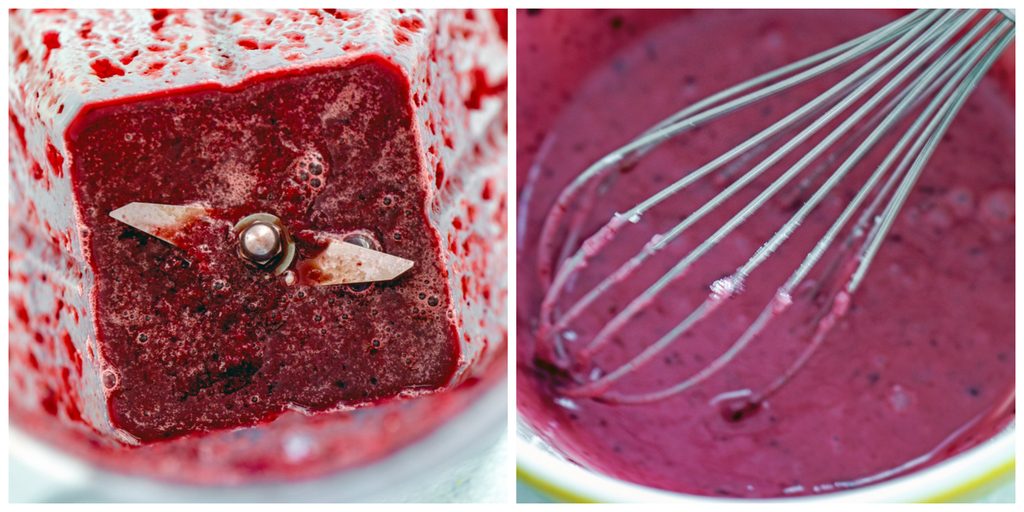 Drizzle cherry icing over each of the pop tarts and top with sprinkles if you desire. And yes, I always desire sprinkles.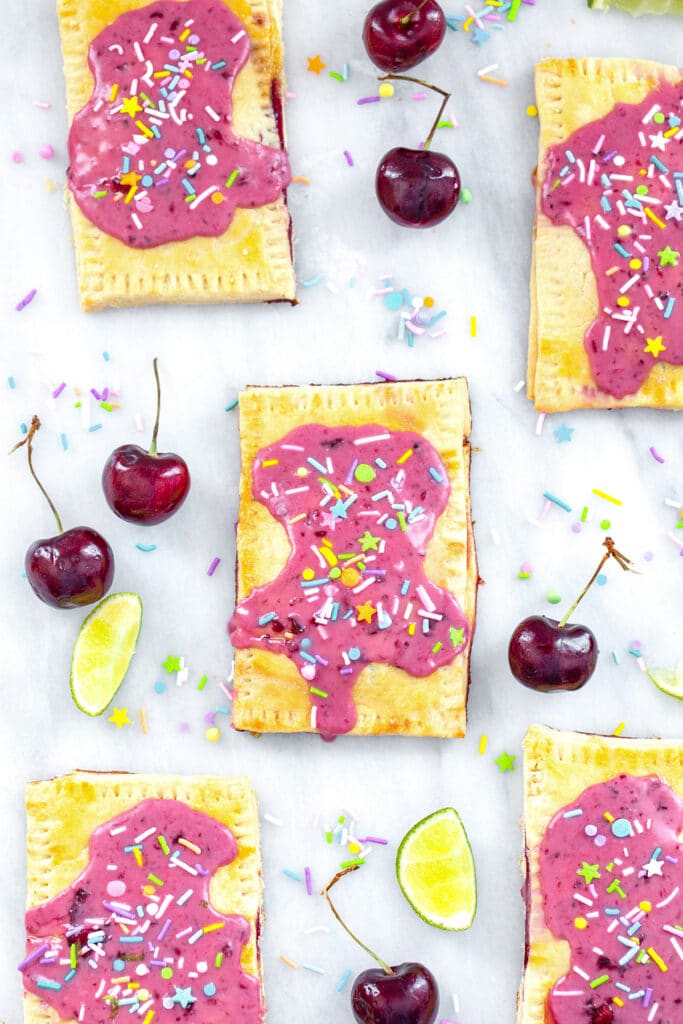 These cherry lime pop tarts are as close to the actual brand name pop tarts that I've ever made. But in my ever so humble opinion, just a little bit better.
Better because instead of being super sugar packed, the cherry filling has more of a bold grown-up flavor to it. I'm all about a little bit of sweet and a little bit of tart, so these are right up my alley.
Also, now that you have this pop tart dough recipe down, you can make any flavor pop tart you desire!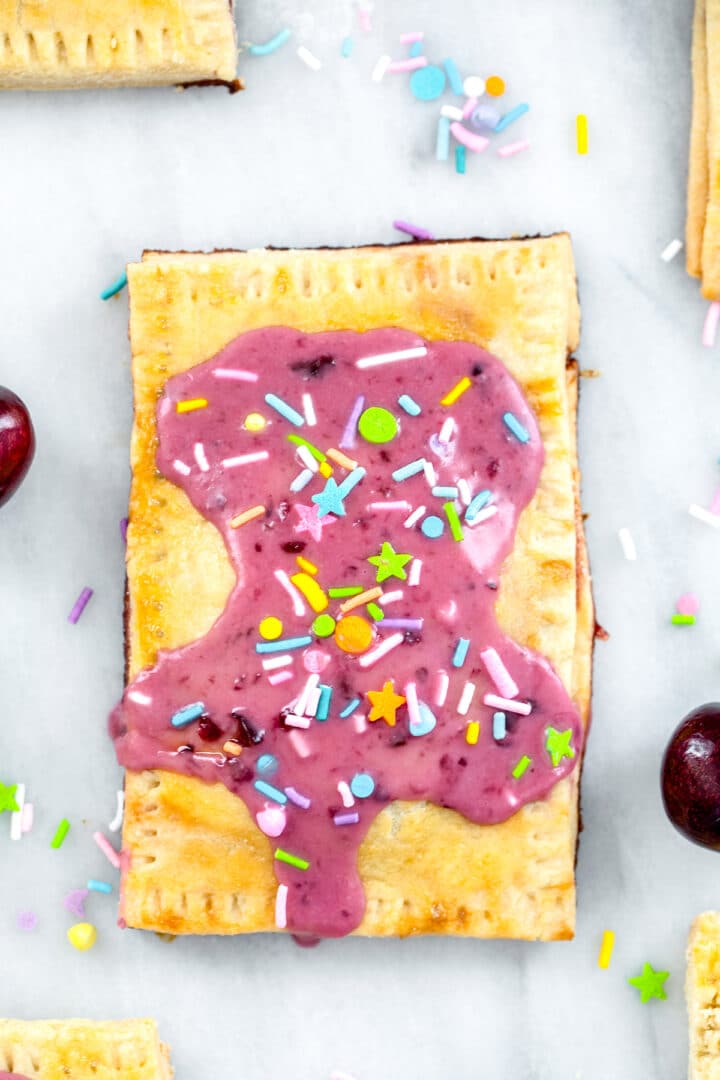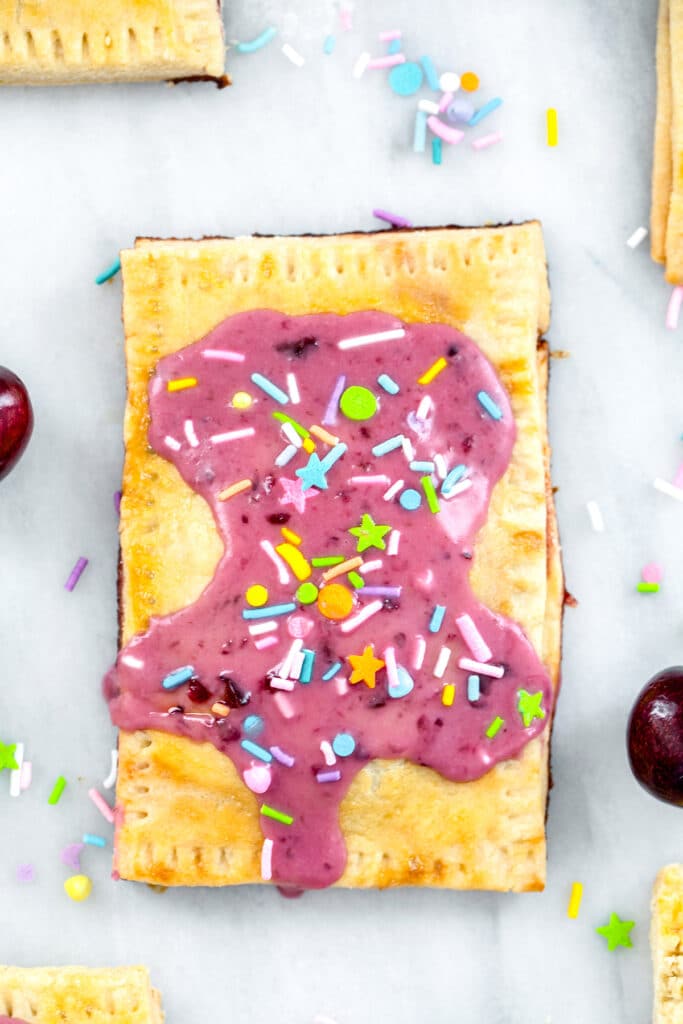 I still don't know if I'm a pop tarts for breakfast person... But these also make for an awesome dessert and an even better mid-afternoon with a cup of coffee snack.
Or a fun brunch party menu item!
More Fun Brunch Ideas
I have lots of fun recipe ideas that I may not necessarily make for a regular breakfast... But for a brunch with friends? Definitely! These unique recipes will make your brunch party extra exciting:
I'm going to miss cherry season so much! The cherries in these cherry lime pop tarts were actually sent to me by Northwest Cherry Growers (this post isn't sponsored though).
They sent me about 20 pounds of cherries and I ate a ton of them, shared some with my family, and pitted and froze a whole bunch more. So, that means I can enjoy cherries all winter long!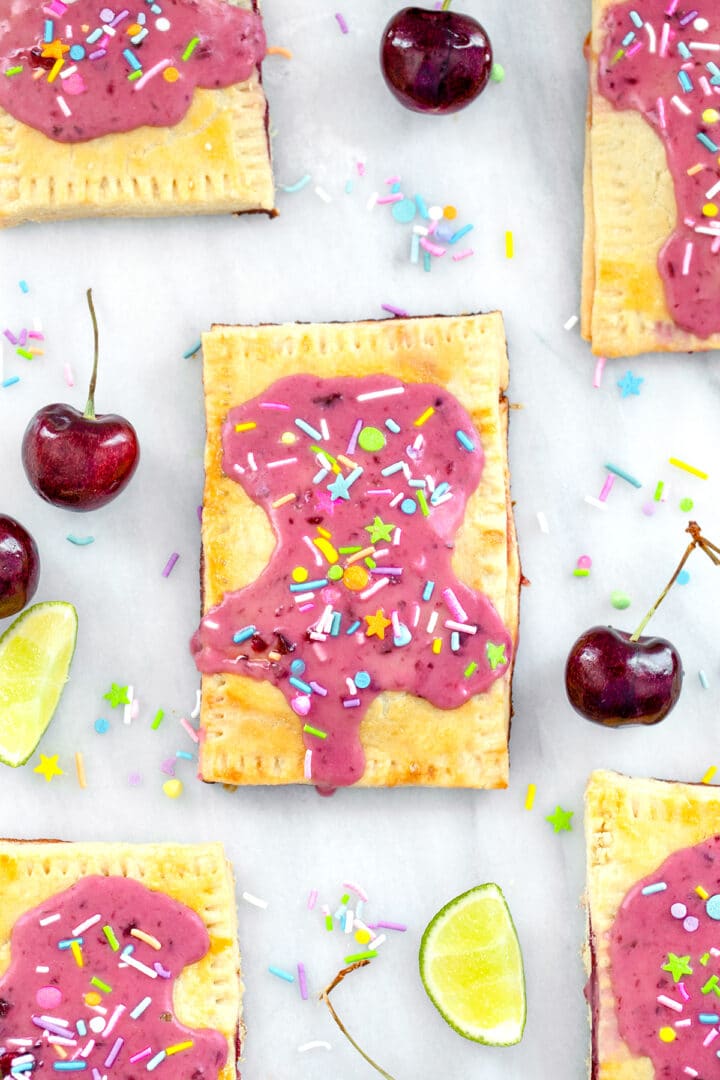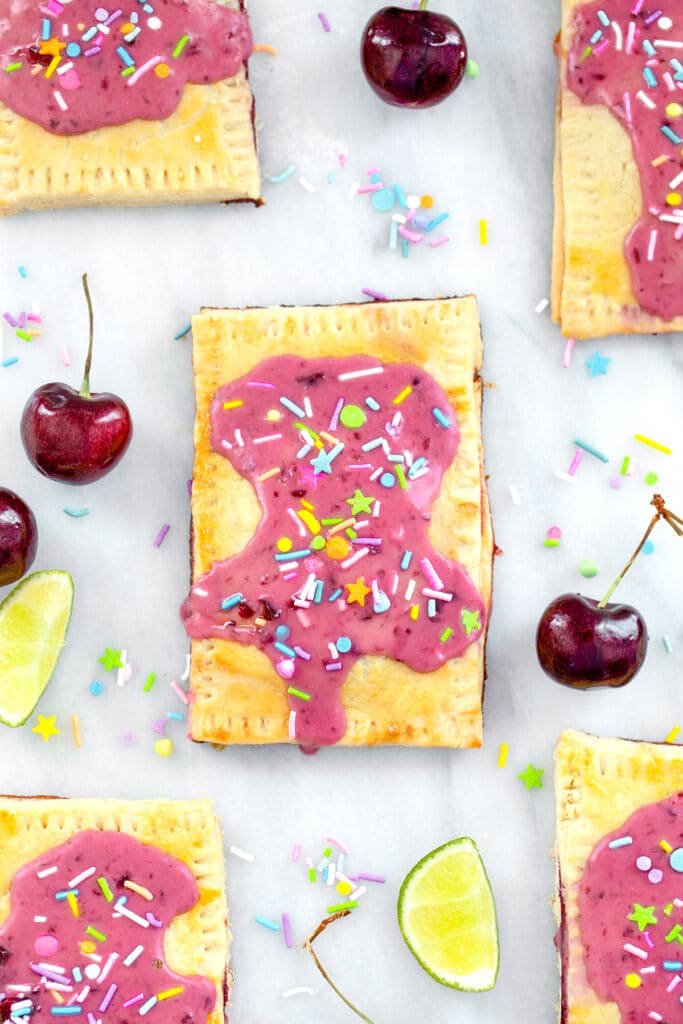 Something tells me I'm going to be making more pop tarts very soon... Maybe a spicy version is up next!
Were Pop Tarts a childhood favorite of yours? Do you still love them?
📖 Recipe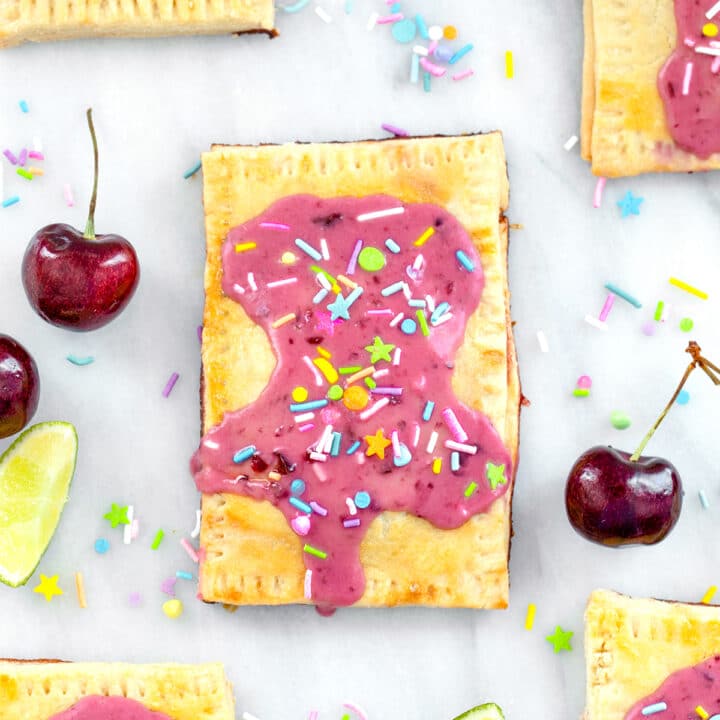 Cherry Lime Pop Tarts
These Cherry Lime Pop Tarts are super similar to the pop tarts you buy at the store, but with a more adult, deliciously tart flavor!
Print
Pin
Rate
Ingredients
2

cups

all-purpose flour,

plus more for rolling dough

1

Tbsp

granulated sugar

½

tsp

salt

1

cup (2 sticks)

unsalted butter,

chilled and cut into pieces

2

large eggs,

divided

1

Tbsp

whole milk
Cherry Lime Jam
1

lb.

pitted cherries,

roughly chopped

½

cup

granulated sugar

2

Tbsp

freshly squeezed lime juice

1

tsp

lime zest
Cherry Icing
¾

cup

fresh cherries,

pitted

1

Tbsp

whole milk

2

cups

confectioners' sugar
Instructions
Place flour, sugar, and salt in the bowl of a food processor and pulse to combine. (note if you don't have a food processor, you can do this in a large bowl).

Pulse in the chilled cubed butter until mixture resembles coarse meal (if you're not using a food processor, use a pastry blender or your fingers to cut butter in).

In a small bowl, lightly beat one egg and mix in milk. Pour this into the flour/butter mixture and pulse until dough just comes together. 

Remove dough to lightly floured surface and knead a few times to bring together into a smooth disc. Wrap in plastic wrap and chill dough for about 30 minutes. 

Roll dough to about ⅛" thickness (you can divide dough into two portions to make rolling out easier) and cut out rectangles about 5" by 3 ¼". Re-roll dough scraps to utilize all of the dough. You should get about 14 rectangles. Place rectangles on parchment paper-covered baking sheet and chill for another 30 minutes. 

Pre-heat oven to 350 degrees.

Spoon about a Tbsp of cherry lime jam to the center half of the rectangles and cover each with a remaining rectangle. Using a fork, crimp the edges of each pop tart and cut a couple slits in the middles to let air escape when baking. Lightly beat remaining egg in a small bowl and then brush each pop tart with egg wash.

Bake pop tarts for about 20 minutes, until they're just turning golden brown. Remove from oven and let cool in pan for a few minutes before moving to wire racks to cool completely.

Once pop tarts are cooled, drizzle icing over the top and top with sprinkles, if desired.
Cherry Lime Jam
Add all ingredients to a medium saucepan over medium-high heat. Stir occasionally while mixture comes to a boil. Reduce heat to medium-low.

Let mixture simmer while occasionally stirring. If you want a jam that's less chunky, you can gently mash the mixture with a potato masher while it cooks. Let cook for about 20-25 minutes, until jam thickens and/or is at 220 degrees on a candy thermometer (you can also test it by placing a spoonful of the jam on chilled plate and then placing the plate back in the freezer. After a minute, remove the plate and gently touch the jam with your finger. If the jam is ready, it will wrinkle slightly when pushed. If it doesn't wrinkle, continue cooking).

Remove from heat and transfer jam to a mason jar, seal, and place in fridge to cool completely.
Cherry Icing
Add cherries and milk to blender and process until fairly smooth (it's OK if there are still some pieces of cherry).

Add confectioners' sugar to a medium bowl and stir in about half the cherry mixture. Add more of the cherry mixture a Tbsp at a time until desired consistency is achieved (you likely won't need all of the cherry mixture).
Share a Photo of Your Finished Recipe!
Mention @wearenotmartha and share a photo if you've made the recipe!
View Web Story for this recipe