This Roasted Cauliflower BLT Salad uses kale instead of lettuce and also includes avocado and a creamy lemon dressing... It's enough to turn anyone into a cauliflower fan!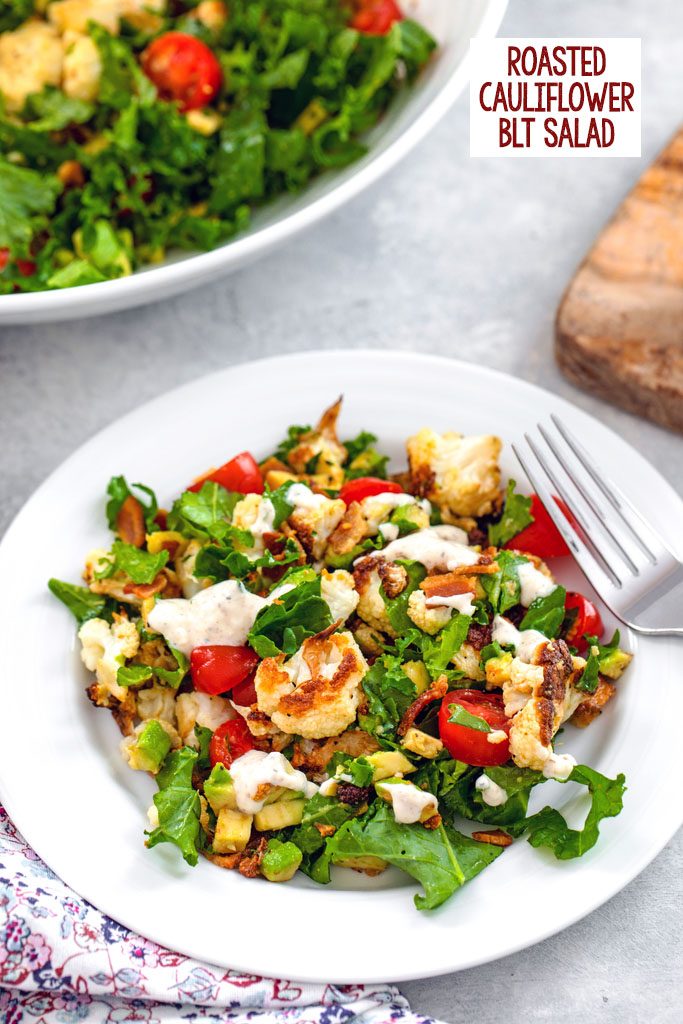 I have a theory that if there's any vegetable in the world that you don't like, simply roast it and your mind will immediately be changed. This works with all vegetables, but works especially well with broccoli, brussels sprouts, onions, squash, and cauliflower. Roasting brings out the natural sugars in vegetables, caramelizes them, and gets rid of some of the bitter flavors, making them much more palatable. It's truly a game changer when it comes to making veggies more delicious and convincing vegetable haters across the world that they're really not so bad!
Cauliflower is one of those love it or hate it vegetables for a lot of people. It's actually pretty mild in taste, but some people have an aversion to its slightly bitter, nutty taste. Solution? Toss it in a little bit of olive oil and roast it!
OK fine, if roasting the vegetable doesn't make you love it, toss it in a salad with bacon, avocado, and a creamy dressing. Then call me back. Seriously, I'm waiting. Lucky for you, I did both things with this cauliflower salad. First I roasted the cauliflower until it was a delightful golden brown and then I tossed it with some other deliciousness that you absolutely won't be able to turn down.
To be honest, this recipe title is a little deceptive. Only because my idea of a BLT is really a BKT (bacon, kale, and tomato). Plus, I added avocado, which really makes it a BLAT or BKAT. I'm still calling it a roasted cauliflower BLT salad and sticking to it. But you can feel free to use any kind of greens you want- lettuce or kale or spinach or arugula.
ROASTED CAULIFLOWER BLT SALAD RECIPE
The only downside to roasting vegetables is that they end up shrinking so freaking much. This is because moisture is released from the veggies as they roast and is why you should always roast slightly more vegetables than you think you need. I initially thought I was being a little excessive by roasting a whole head of cauliflower. But it turned out I wasn't at all.
I simply tossed my cauliflower florets in some garlic powder, salt, pepper, and olive oil and then laid in a single layer on a baking sheet and baked at 425 degrees for about 25 minutes, until it was nice and golden.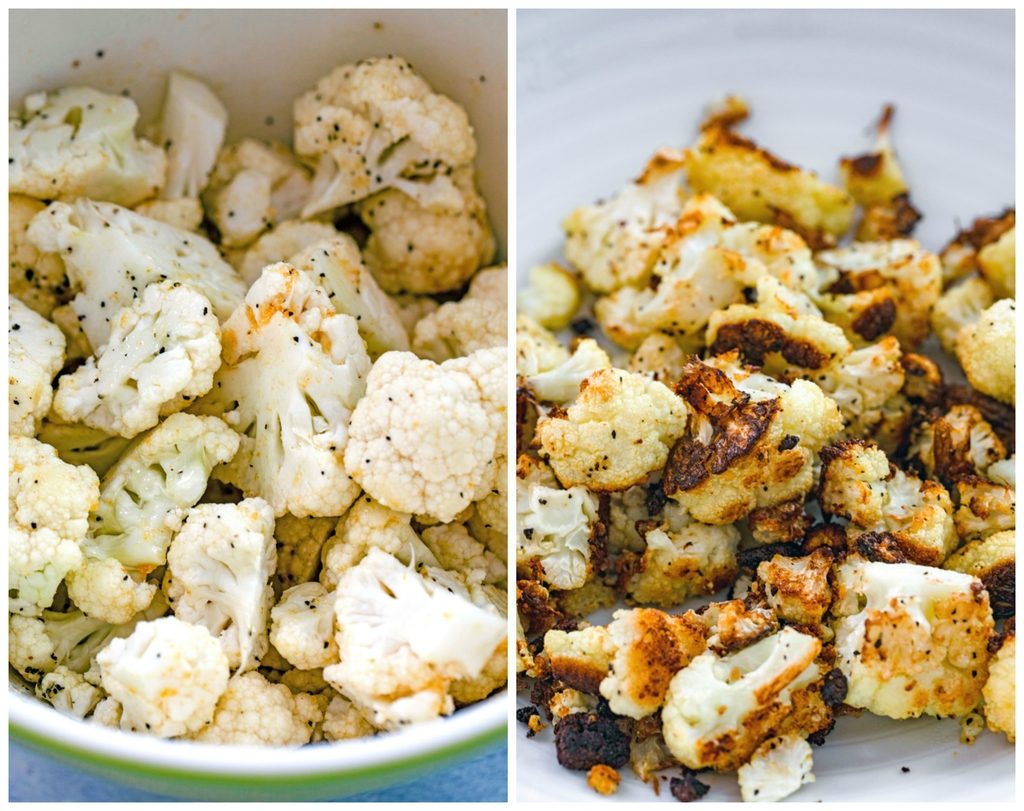 Once the cauliflower was sufficiently roasted (i.e. nice and browned!), I let it cool for about 15 minutes and then added to a big bowl with bacon, tomatoes, avocado, and kale.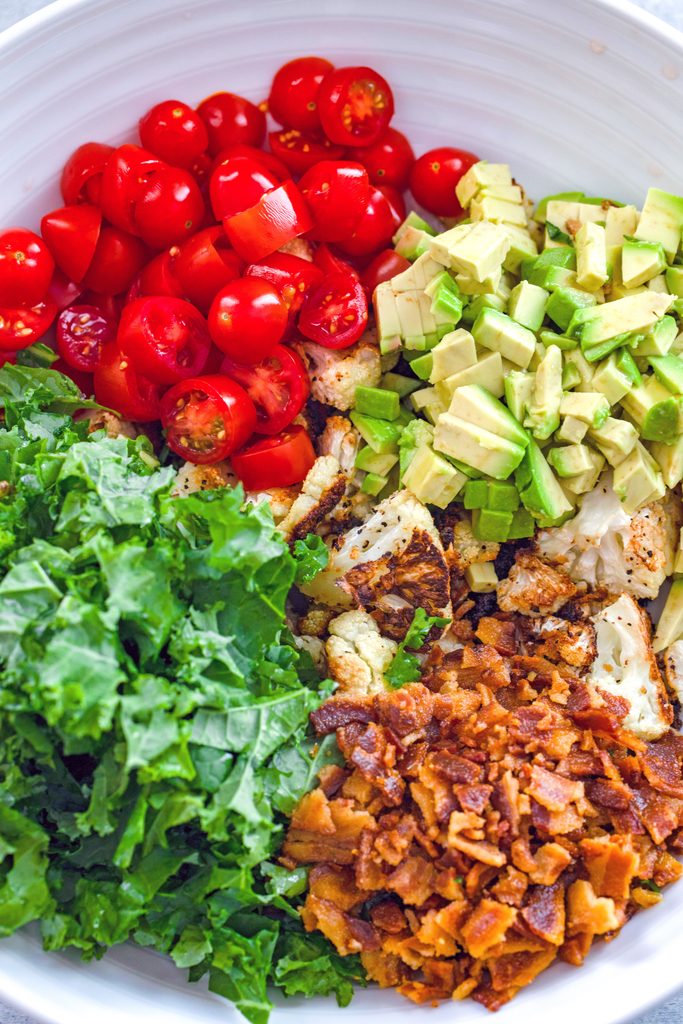 I also whipped up a super quick creamy lemon dressing. All I did was add all the ingredients to a jar and shake well. But you can also just put the ingredients in a bowl and whisk together.
FYI making your own salad dressing is the easiest thing in the world and almost always tastes so much better than store-bought.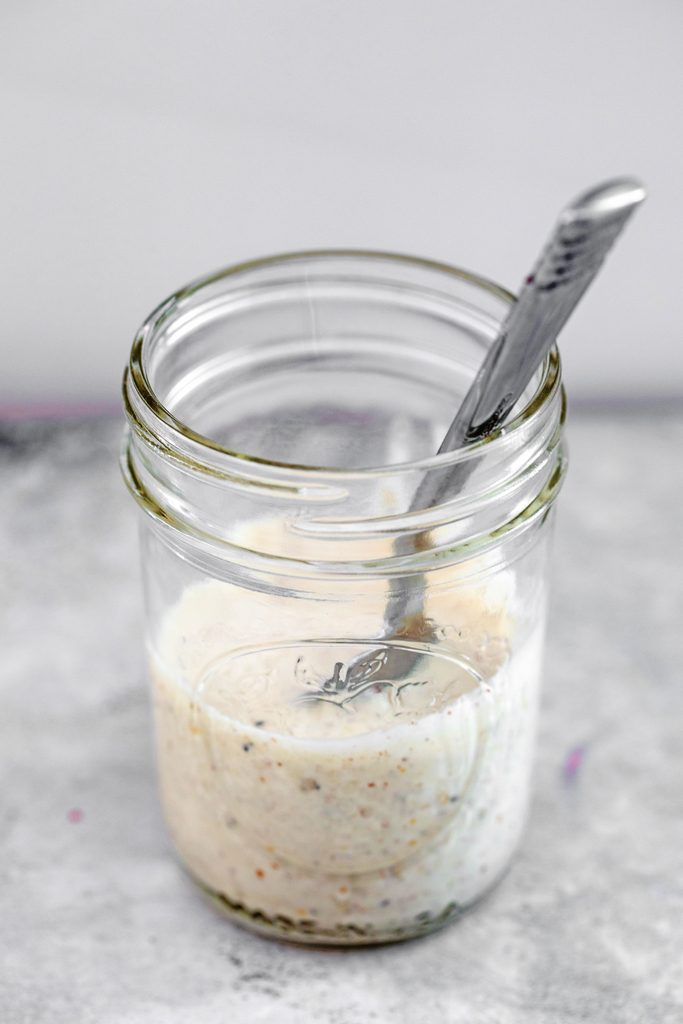 Toss all of the roasted cauliflower salad ingredients together. And marvel at all the pretty colors and feel so good about yourself that you're about to eat the rainbow. Also feel good that while "white" foods typically aren't very healthy, you're eating cauliflower, which is one white food that actually is incredibly healthy! Even if you did turn that white food kind of golden.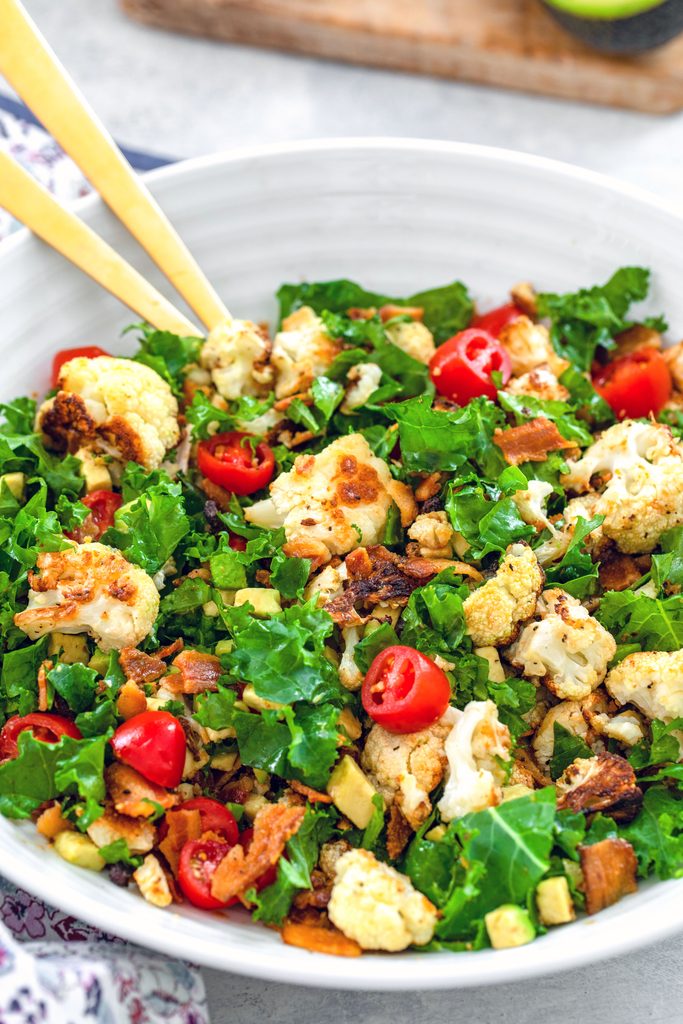 Drizzle the salad with creamy lemon dressing. I almost never put creamy dressings on my salad, but whenever I do, I realize how delicious they are. And honestly, when you make them yourself and have control over everything that goes in them, they're really not so bad for you.
And worth every bite.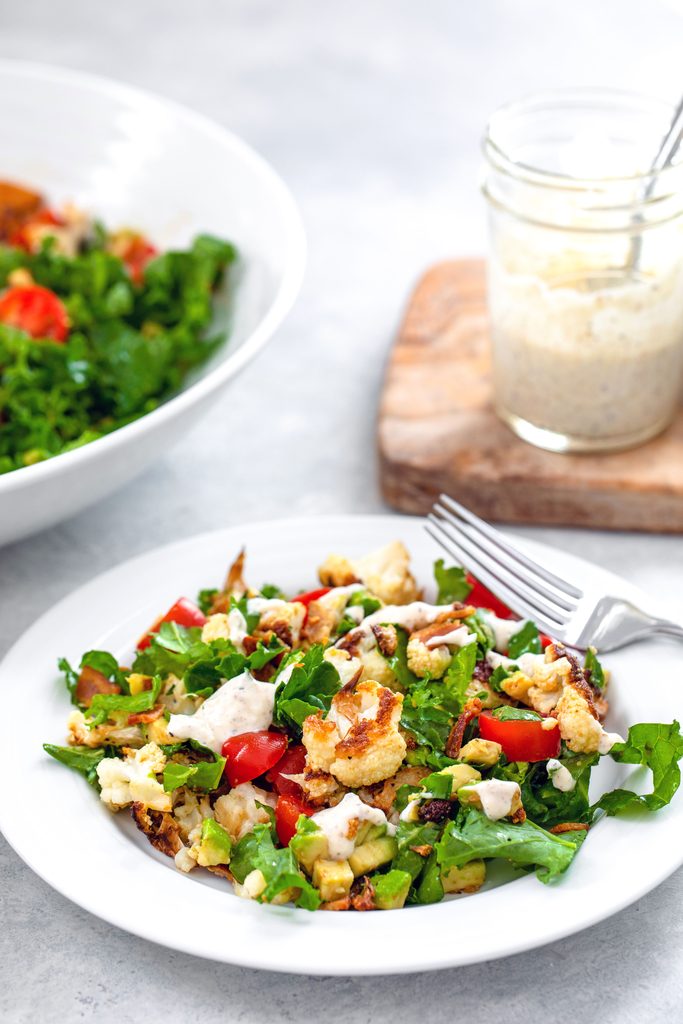 I'm gonna go ahead and say this roasted cauliflower BLT salad can convince any cauliflower hater OR any kale hater to fall in the love with the veggies a bit.
Typically when I use kale in salads, I like to massage it with the dressing, but because kale isn't really the base of this salad and is more of an add-in, I didn't find it necessary.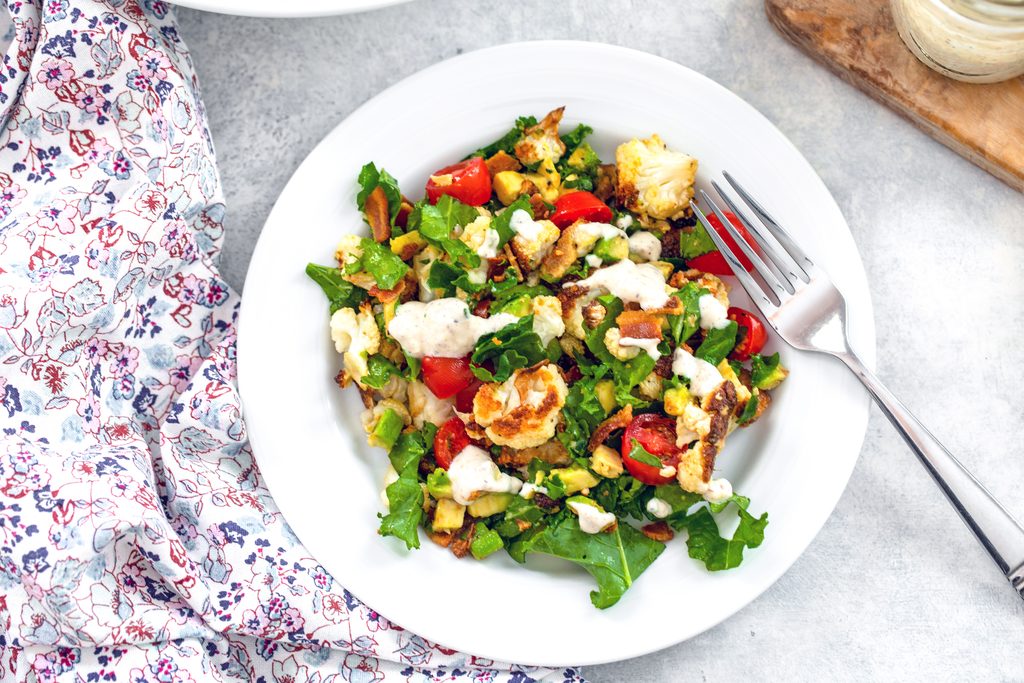 I really wanted the roasted cauliflower to star in this salad, but to also be accompanied by lots of other deliciousness. The best part is when you get a single forkful containing every salad ingredient. I guess you could kind of think of this as a low-carb BLT? And as a serious hardcore carb lover, I can tell you that I didn't even miss the bread!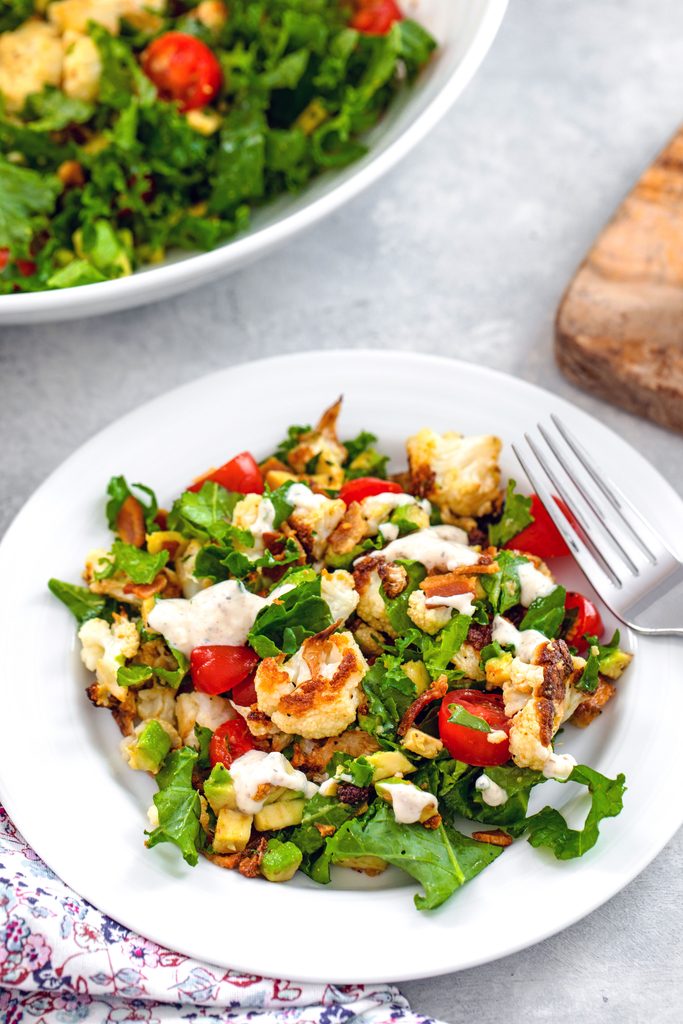 If you don't feel like assembling this whole roasted cauliflower BLT salad, I also highly recommend simply roasting the cauliflower and dipping it in that homemade creamy lemon dressing. Because if roasting vegetables doesn't make you fall in love with them, certainly dipping them in a creamy dressing will.
What's your favorite vegetable to roast?
If you're looking for more ways to fall in love with cauliflower, check out my Roasted Cauliflower Salad with Lemon, Pomegranate, and Feta or my Cauliflower Horseradish Cheddar Soup. Next, I want to try this Sweet and Spicy Baked Cauliflower from Healthy Fitness Meals!
📖 Recipe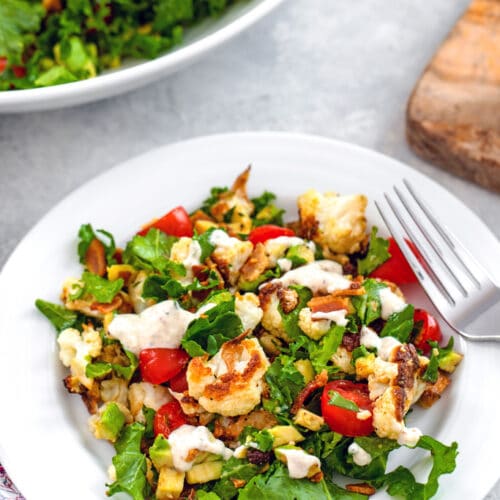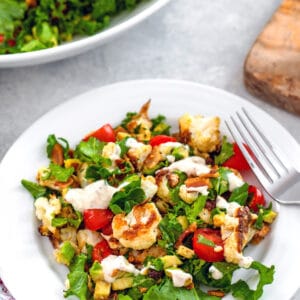 Roasted Cauliflower BLT Salad
This Roasted Cauliflower BLT Salad uses kale instead of lettuce and also includes avocado and a creamy lemon dressing... It's enough to turn anyone into a cauliflower fan!
Print
Pin
Rate
Ingredients
1

head

cauliflower,

chopped into florets (about 3 ½ cups florets)

¼

cup

olive oil

1

tsp

garlic powder

½

tsp

salt

½

tsp

pepper

2

cups

kale,

ribs removed and roughly chopped

1

cup

grape tomatoes,

halved

1

avocado,

peeled, pitted, and diced

6

strips

crispy bacon,

crumbled
Creamy Lemon Dressing
¼

cup

heavy cream

1

clove

garlic,

minced

1

Tbsp

dijon mustard

2

Tbsp

freshly squeezed lemon juice

¼

tsp

salt

¼

tsp

pepper
Instructions
Pre-heat oven to 425 degrees.

In a large bowl, toss cauliflower florets with olive oil, garlic powder, salt, and pepper. Lay in a single layer on a baking sheet.

Bake cauliflower for 20-25 minutes, tossing about halfway through baking time, until it's turning golden. Remove from oven and let cool for about 15 minutes.

Add cauliflower to a large bowl with kale, tomatoes, avocado, and bacon and toss to combine. Drizzle with creamy lemon dressing.
Creamy Lemon Dressing
Add all ingredients to a mason jar and shake to combine. If you don't have a jar, put ingredients in a medium bowl and whisk to combine.
Share a Photo of Your Finished Recipe!
Mention @wearenotmartha and share a photo if you've made the recipe!