Stop hiding cauliflower in your smoothies and let it act as the star with this Roasted Cauliflower Salad with Lemon, Pomegranate, and Feta with Tahini Dressing.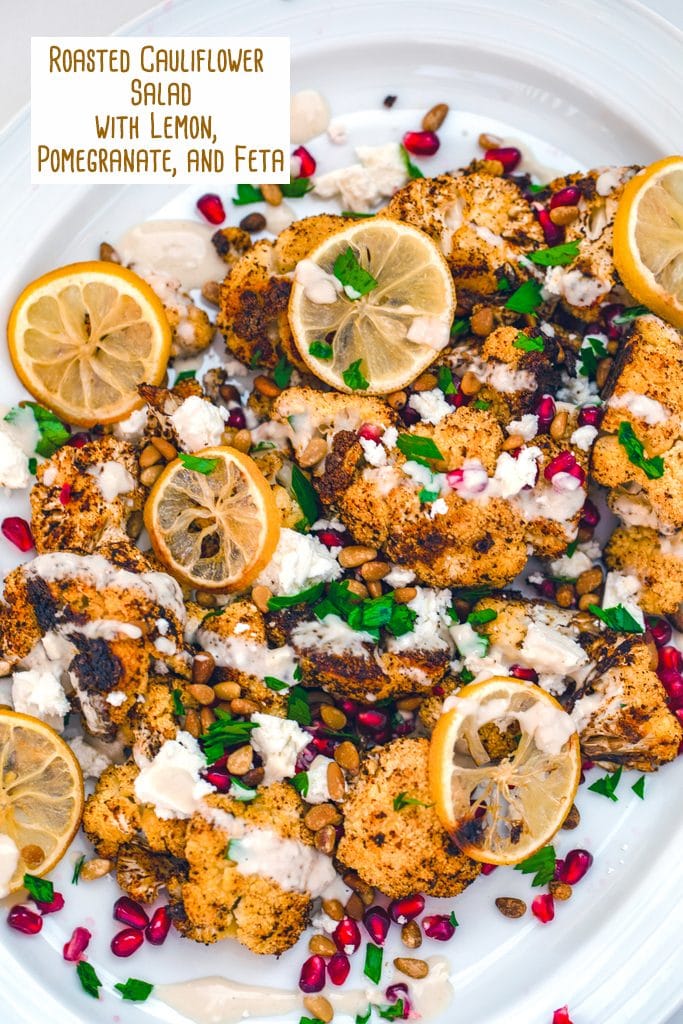 Back in 2014, I claimed it was going to be the year of cauliflower (victoriously stealing the title from kale) and predicted that cauliflower would be everywhere by year's end. I guess it was kind of true? But I had NO idea that cauliflower would hold on to the title for so long and that here in 2019, its fans would still be crazed and obsessed. But I can't say I blame them. While I used to think cauliflower was super boring, there came a point when I could no longer ignore the fact that it has much to offer. It's almost like a blank slate that you can mold into healthy versions of the junk food of your dreams, from pizza crust to mashed "potatoes" to rice to smoothies to gnocchi. Heck, I've even seen cauliflower grilled cheese (please note, a mention on my blog does not equal an endorsement LOL). But if you roast cauliflower? It actually takes on a life of its own and doesn't need to be morphed into an alternative food. It's proud to be cauliflower and doesn't want to hide under your junk food disguises anymore. Own it, cauliflower!
Once roasted, you can eat that cauliflower all on its own or use it in a variety of simple dishes that let the cauliflower's flavor shine. In this roasted cauliflower salad, I incorporated just a few other ingredients, including roasted lemons, pomegranate arils, feta cheese, pine nuts, parsley, and a super simple tahini dressing.
ROASTED CAULIFLOWER SALAD WITH LEMONS, POMEGRANATES, AND FETA RECIPE
Cauliflower is packed with nutrients, antioxidants, and fiber and is low in both calories and carbohydrates. Basically, it's the kind of vegetable you really want to be incorporating into your diet. But you do not have to go the franken-food route! Cauliflower's mild taste makes it great for morphing into other foods or hiding in treats, but roasting it brings out a glorious caramelized nutty flavor and lets it proudly stand on its own.
For this roasted cauliflower salad, I baked the cauliflower with some olive oil, chili powder, garlic powder, and salt and pepper. I also roasted some lemon slices.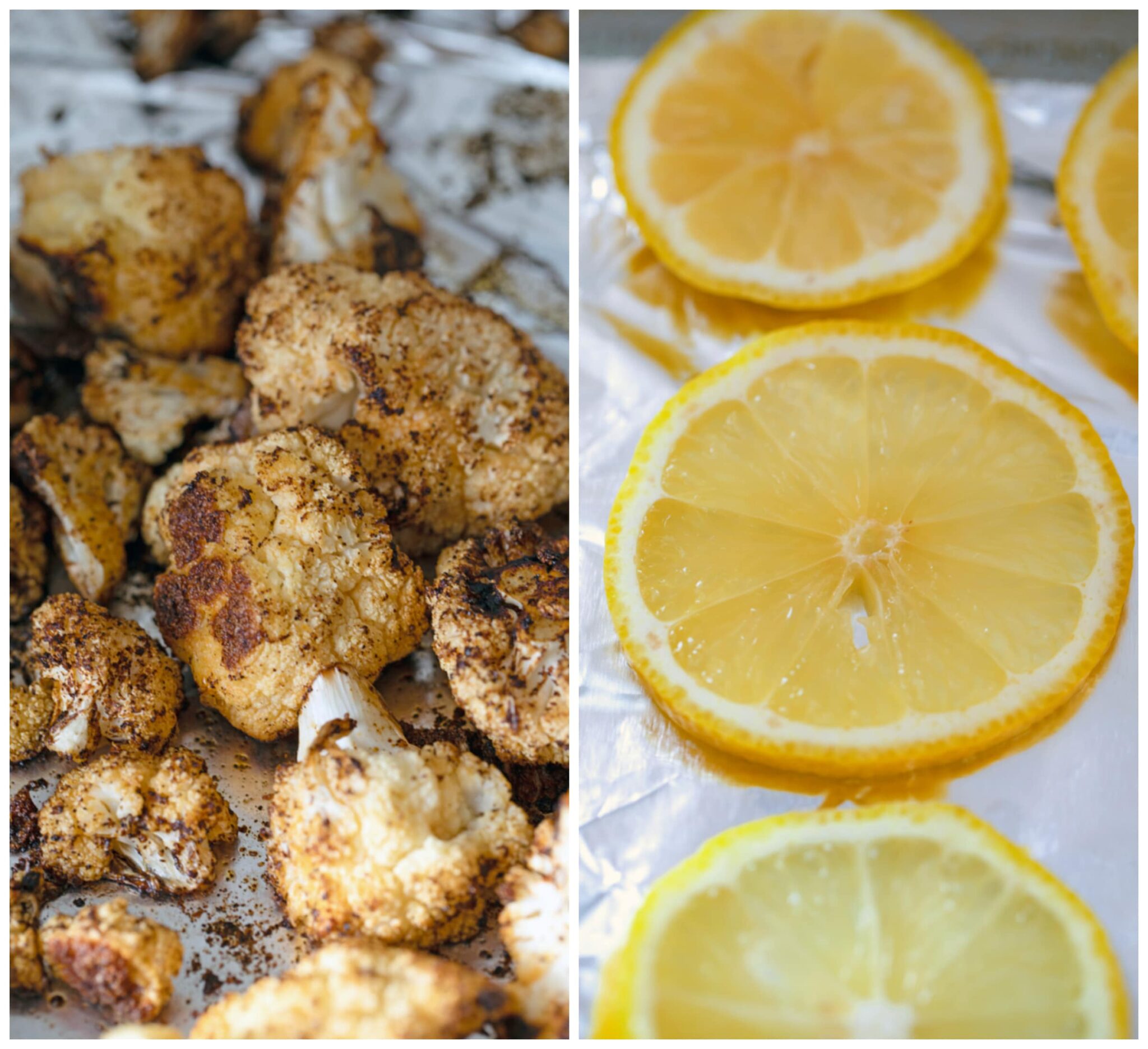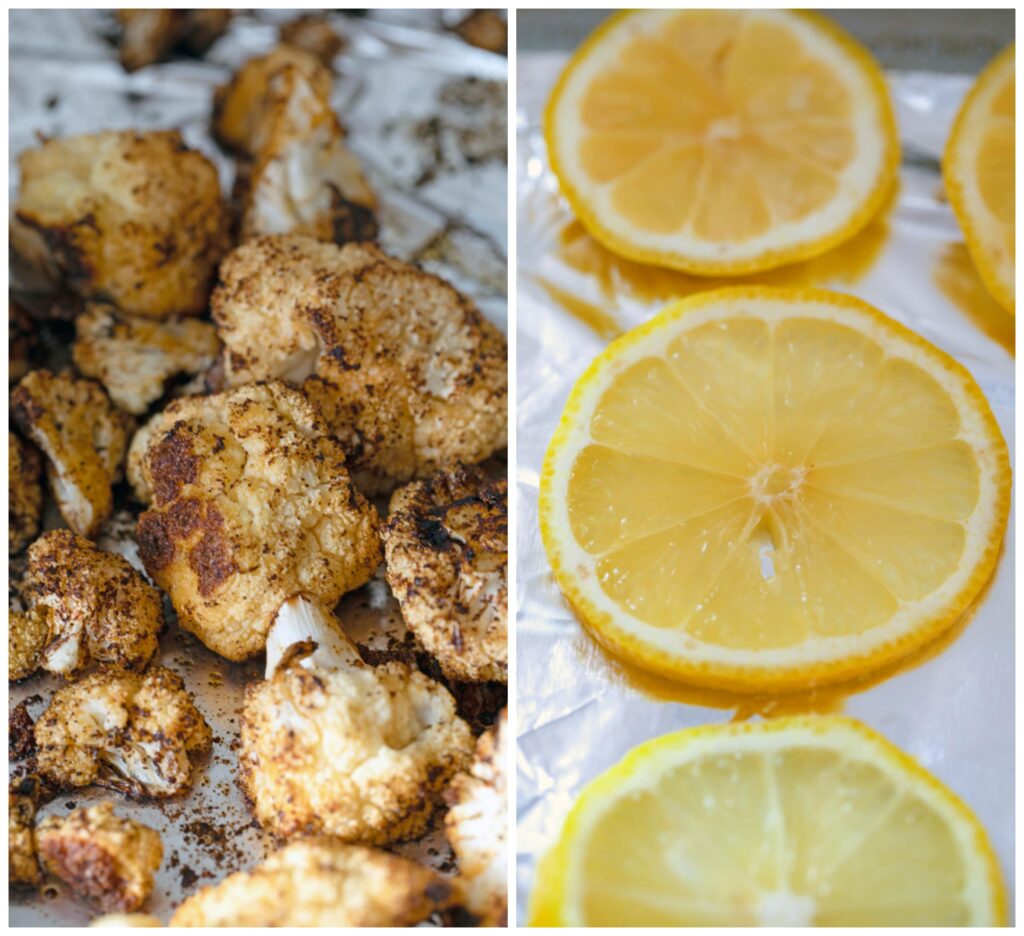 And then I arranged the cauliflower on a platter with pomegranate arils, feta cheese crumbles, toasted pine nuts, chopped parsley, and a quick tahini dressing. Oh, and those gorgeous caramelized roasted lemons, of course. Which by the way, you can actually eat. I kept them whole for aesthetic purposes, but if you're going to eat, definitely cut them smaller as you dig in.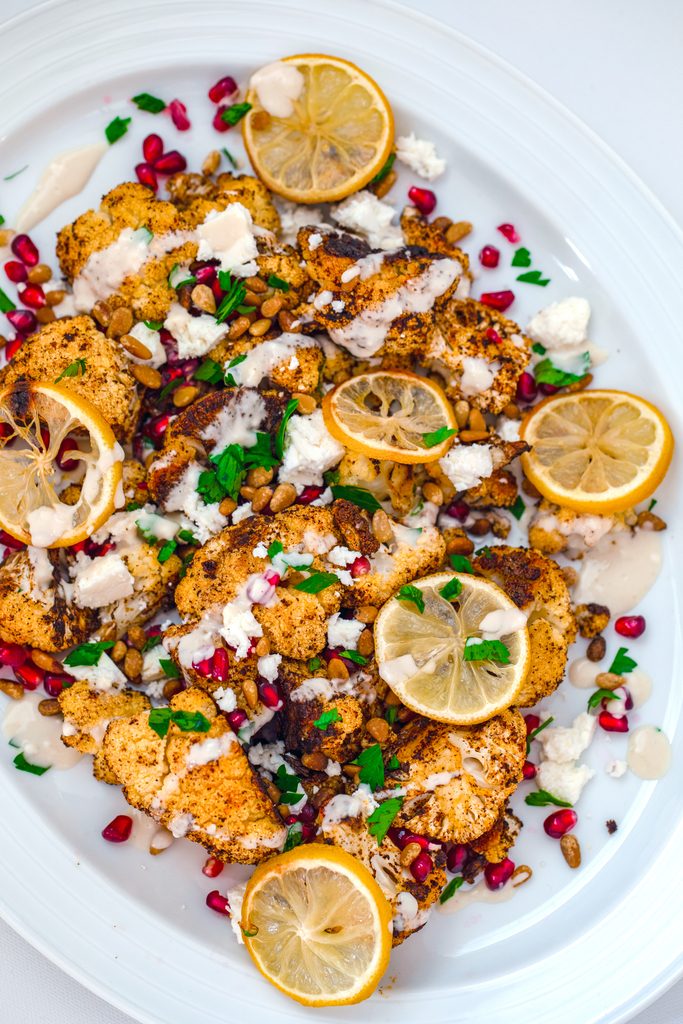 Though I'm calling it the ultimate side dish, I will proudly admit that I ate this roasted cauliflower salad for dinner one evening when my husband was out of town. I will also sadly reveal that my husband doesn't love cauliflower. Which I think is a total travesty. Sure, I can hide it in other foods and he'll never know he's eating it (muhahaha), but I also want to make this cauliflower salad for him one evening and have him reevaluate his disdain. I might have to serve it as a side to something a bit more carnivorous though!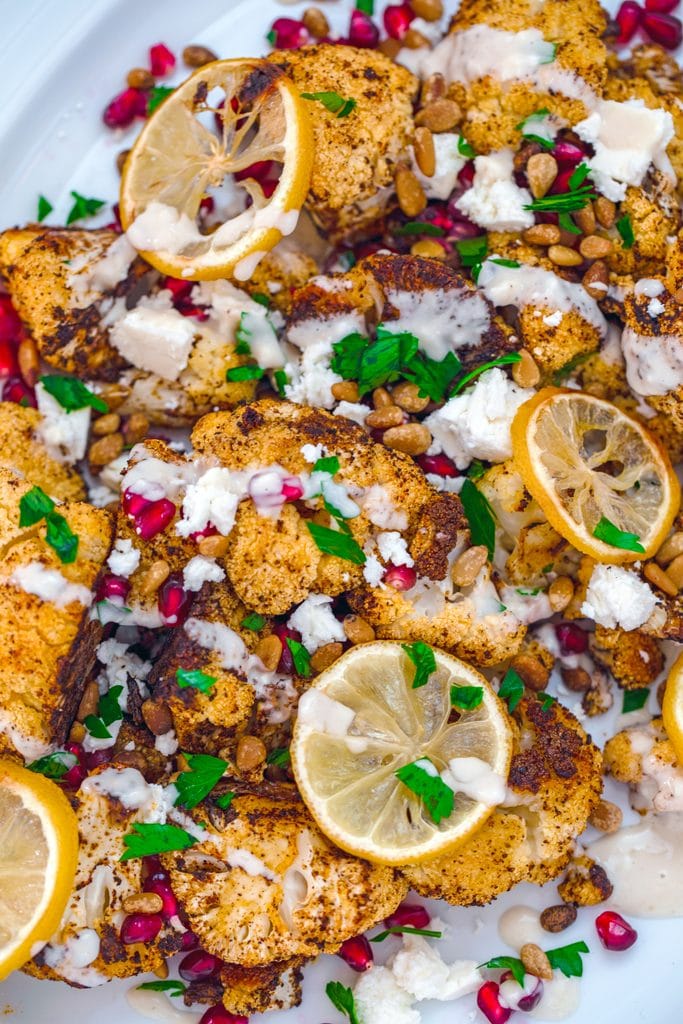 But for me, this salad can act as a star and dare I say it, but the roasted cauliflower almost acts like meat. It has a rich caramel flavor with a little bit of kick from the chili powder, which pairs perfectly with the saltiness of the feta cheese, the brightness of the lemons, the sweetness of the pomegranate arils, and the nuttiness of the tahini dressing and pine nuts. There really isn't one ingredient I would take away or one ingredient I would add to this roasted cauliflower salad. It feels like true harmony!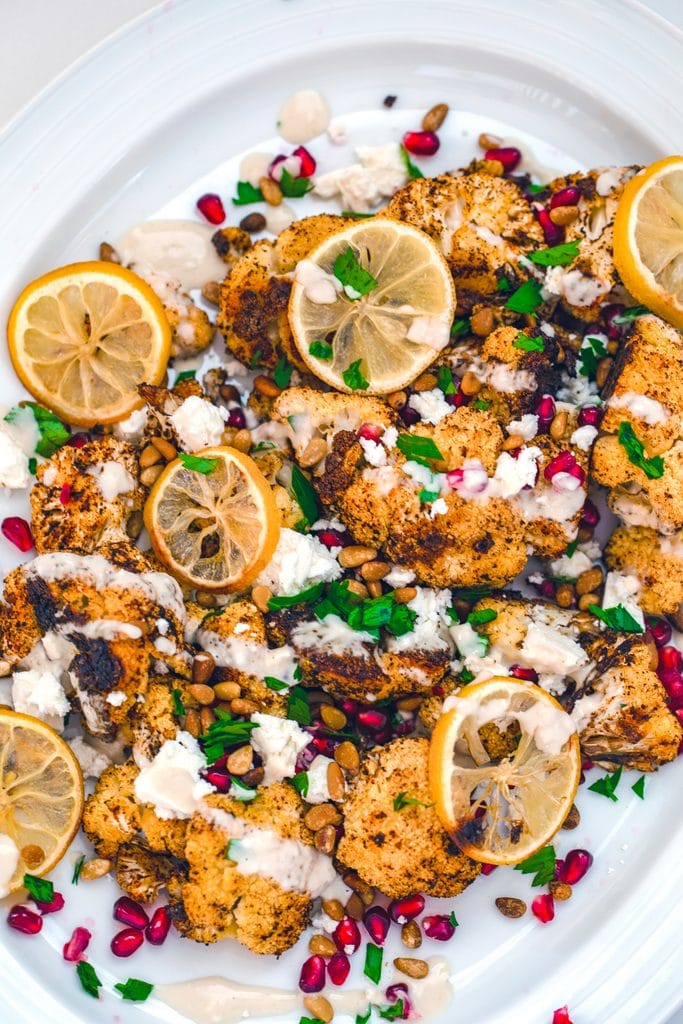 I recently visited my sister and her family in Chicago (for my regular readers who don't know, yes! they recently moved and I miss them terribly, but am so lucky that Chicago is just a quick trip away) and discovered that my sister regularly eats cauliflower for breakfast. In an effort to "keep up with the Joneses" during my visit, I partook in this experience and guess what? I liked it! If you start your day with cauliflower, I really think you can only expect good things to come. And now I feel bad for making fun of my sister for eating broccoli for breakfast during our summer vacation because it really is quite brilliant... Especially with a side of hardboiled egg, avocado, and everything bagel seasoning.
OK, I didn't actually mean to write what feels like my love letter to cauliflower, but it is what it is and I'm proud of it. I hope you love this dish as much as I do!
Do you have any loving words to leave for cauliflower? Do you think it will retain its title of top vegetable trend in 2019 or is there a new veggie in town about to take over?
If you're looking for more meals that feature cauliflower, check out my Sheet Pan Curry Chicken Thighs or this Cauliflower Casserole from The Cozy Apron.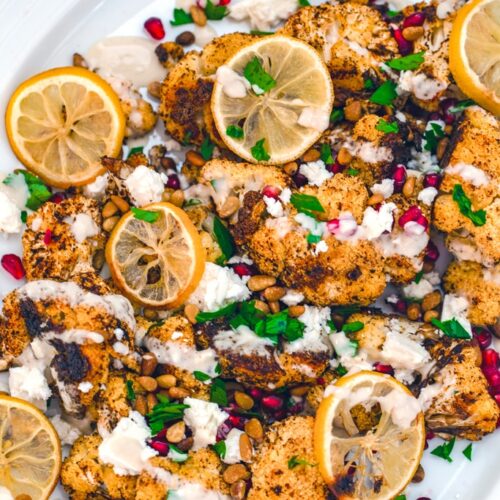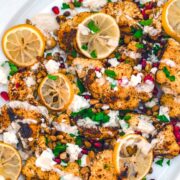 Print Recipe
Roasted Cauliflower Salad with Lemon, Pomegranate, and Feta Cheese
Stop hiding cauliflower in your smoothies and let it act as the star with this Roasted Cauliflower Salad with Lemon, Pomegranate, and Feta with Tahini Dressing.
Ingredients
1

head

cauliflower,

cut into small florets

¼

cup

olive oil

2

tsp

chili powder

1

tsp

garlic powder

¼

tsp

salt

¼

tsp

pepper

1

lemon,

thinly sliced

⅓

cup

pomegranate arils

¼

cup

crumbled feta cheese

3

Tbsp

pine nuts,

lightly toasted

3

Tbsp

chopped parsley
Tahini Dressing
¼

cup

tahini

3

Tbsp

freshly squeezed lemon juice

2

garlic cloves,

minced

¼

tsp

salt

2-4

Tbsp

warm water
Instructions
Pre-heat oven to 425 degrees and line two baking sheets with foil.

In a large bowl, toss together cauliflower florets, olive oil, chili powder, garlic powder, salt, and pepper.

Spread cauliflower in a single layer on a baking sheet. Place sliced lemons in a single layer on the second baking sheet.

Bake cauliflower for

25-30 minutes, tossing it once halfway through the cooking time, until it's turning golden. Bake

lemons 18-24 minutes, flipping after 12 minutes, until they are nice and caramelized.

Remove from oven and let cool slightly before arranging cauliflower on a platter and topping with pomegranate arils, crumbled feta cheese, pine nuts, and chopped parsley. Top with roasted lemons and drizzle tahini dressing over the salad.
Tahini Dressing
In a medium bowl, whisk together tahini, lemon juice, minced garlic, and salt. Whisk in 2 Tbsp water. If dressing is too thick, continue whisking in water, 1 Tbsp at a time until you reach desired consistency.