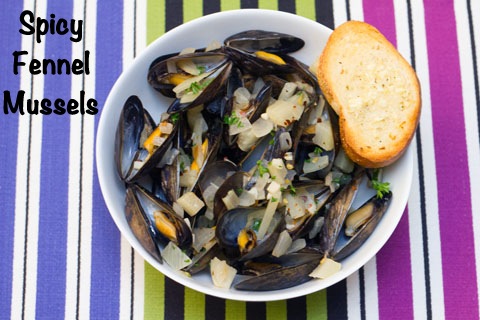 I hope everyone on the East Coast is doing OK after yesterday's Hurricane Sandy. Things in Boston weren't too bad, but I worked from home and am glad I did' Things seem to be back to normal this morning, though I know lots of people are without power. But that's nothing compared to what I saw happening in New York City and other spots. My thoughts are with all of you!!
Please don't make fun of me. There's a reason this blog is called "We are not Martha," after all. I've definitely come a long way in the last 5 years to the point where I cook and bake several times a week and usually experiment with my own original recipes. But there's still a lot I haven't even begun to do. A lot a lot. Like mussels. For some reason, I have never ever cooked mussels. Until now. And it's kind of odd that I decided to cook them all because of my Ninja Cooking System. I was on my way out the door to the grocery store when I started flipping through the cookbook I had just received with my new Ninja. I saw a recipe for mussels that looked and sounded so good, I knew i had to make it. So, I said to myself, "if mussels aren't crazy expensive, I'll pick some up at the store today."
Well. Why didn't anyone ever tell me mussels are insanely cheap?? $3.99 for 2 pounds?? I didn't believe the price tag and asked the guy a the fish counter to verify about 80 times. I'm pretty sure he thought I was an idiot. And I was. But I'm not anymore. And even though I now KNOW mussels are incredibly easy to cook and certainly don't necessitate a slow cooker, I made them in my Ninja for my first time. And they were amazing. And now I want to have mussels every single night. And I can totally afford to. No, I'm still not over how cheap they are. Life is beautiful.
Spicy Fennel Mussels:
Print this recipe!
2 pounds mussels, cleaned
2 T olive oil
1 onion, chopped
1/2 fennel bulb, chopped (about 2 C fennel)
Pinch salt
3 cloves garlic, minced
1 C dry white wine
1 C low-sodium vegetable broth
1/2 T crushed red pepper
2 T fresh chopped parsley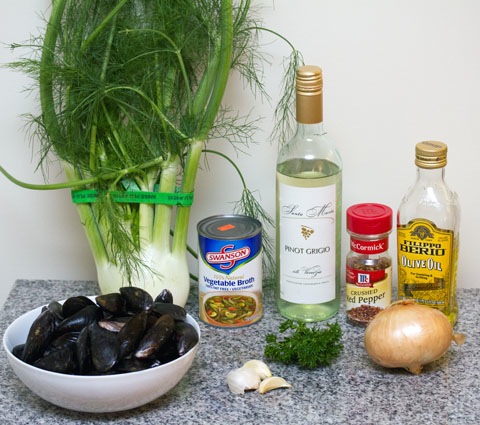 Cooking mussels means cleaning mussels. And cleaning mussels means de-bearding them. I mean, really? It's definitely a weird concept to pull the beard off of a sea creature. Especially while it's still alive. Sorry. Anyway, this is definitely the toughest part of this recipe as it takes a little bit of elbow grease and some time. Here's a quick and easy tutorial for cleaning mussels… Make sure they're all closed. I soaked mine and scrubbed them a bit, too.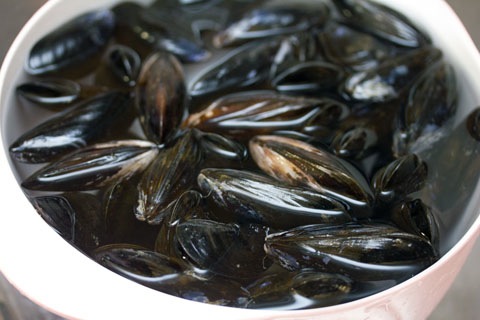 You also might appreciate a tutorial for chopping fennel.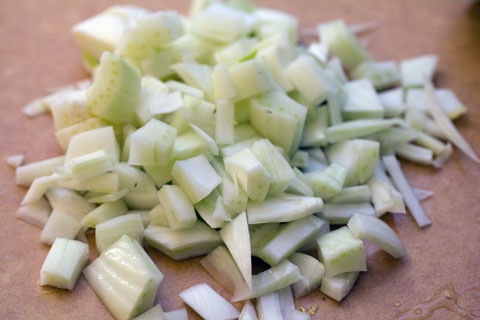 Put olive oil in pot over medium heat (I put it in my Ninja pot set to high). Once oil is hot, add onion, fennel, and a pinch of salt.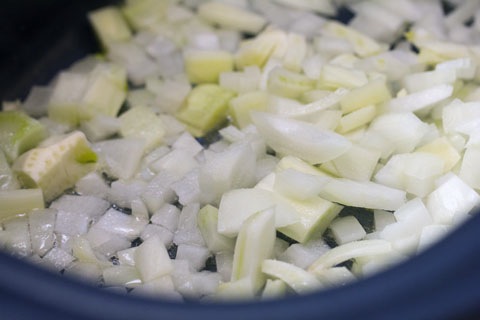 Cook uncovered for about 10 minutes, until onions and fennel are tender and jus starting to brown. Then stir in minced garlic and cook for another minute.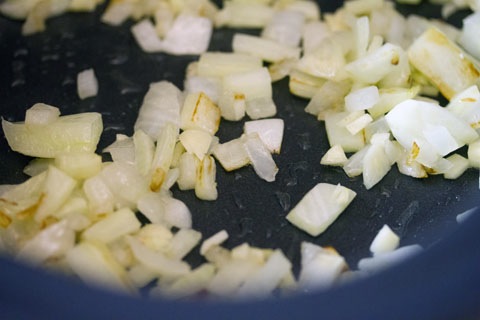 Now stir in the wine, vegetable broth, and red hot pepper flakes.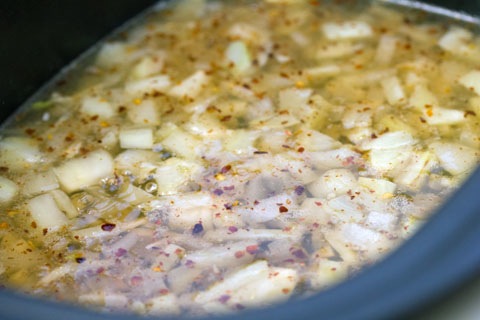 Now it's time to add the mussels to the pot. Since I was using my Ninja, I placed them on the handy wire rack, so they could steam while sitting above the broth. I set the oven setting to 350 degrees and let them steam for 10 minutes.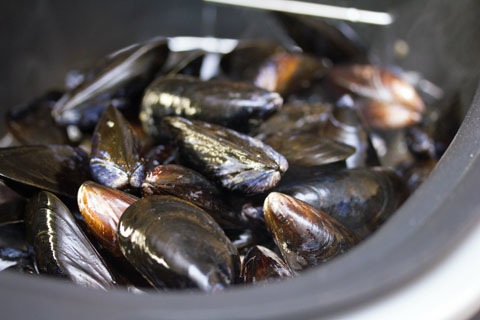 If you're using a regular old stove and pot, simply put mussels in broth, cover, and cook over medium heat for about 10 minutes.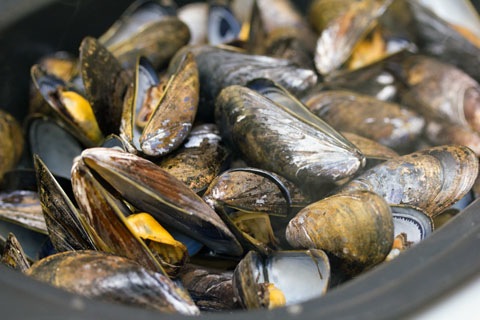 Stir the parsley into the broth.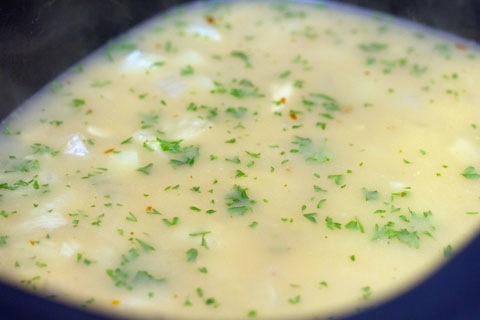 Serve mussels in a bowl with broth poured over.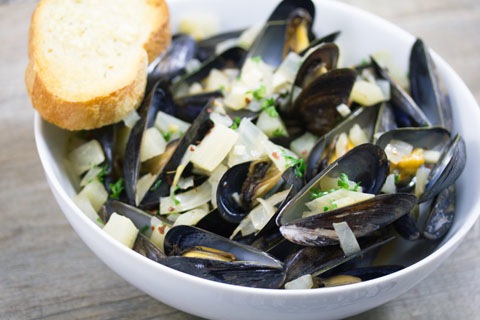 I also highly recommend serving these mussels with garlic bread, as well. You absolutely won'y regret it and you'll be thrilled to have a little something to sop the extra broth up with. Plus, the bread makes this dish a happily well-rounded meal.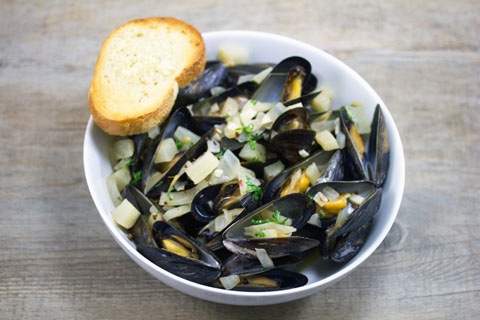 Sure, you could serve it as an appetizer, and I probably would and will for a future dinner party. But I believe these also make a completely satisfying and filling meal.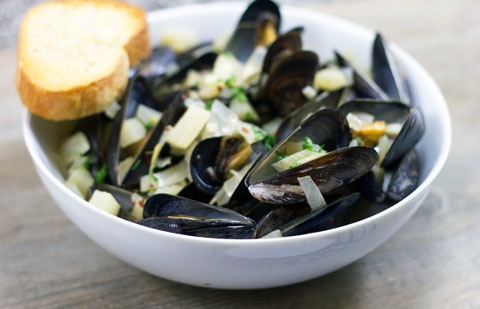 You can make fun of me for never having made mussels before, but I am a changed woman now, I tell you. A changed woman. And I've basically been dreaming up a billion other ways I can enjoy mussels now. See? That's all it takes. I need to learn a certain technique or skill and then I run off and begin inventing. And I absolutely love that I can add mussels to my repertoire.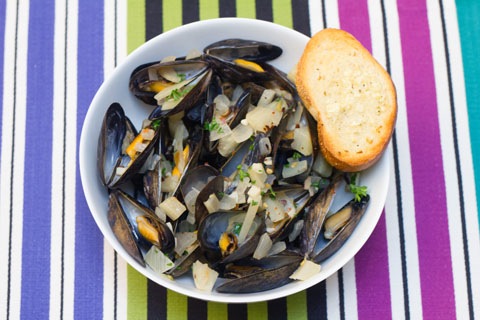 But back to this particular recipe. Heaven. I'm a huge fennel fan (I take after my parents who my sister and I lovingly refer to as "fennel people") and loved that this dish was packed full of the tender vegetable and subtle flavor. Fennel can definitely be a super strong flavor, but when sautéed first, it mellows a bit and simply tastes like comfort. At least to me.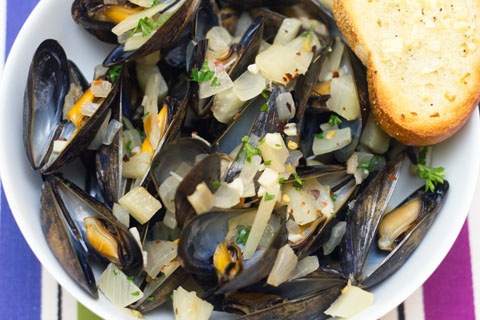 I obviously loved the addition of red hot pepper flakes and definitely added quite a few more than the original recipe called for. I wonder what the numbers would come out to if you added up all the recipes I've cooked with some element of spice over the last five years. Sorry to any spice-haters out there. But you obviously know you can add less (or more!) of any spice I go crazy with.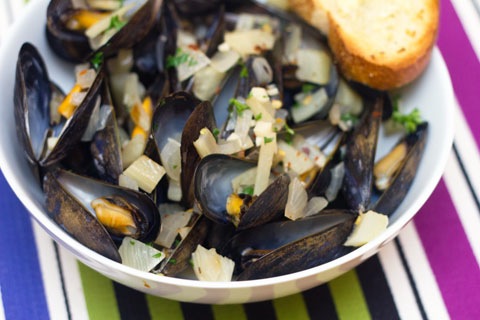 Parsley. I know it's typical, but parsley really is my favorite herb. I eat it by the handful and think it makes almost any dish taste better.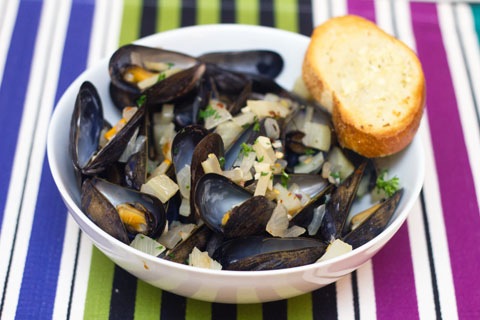 Oh and the mussels themselves. Hello. Totally worth the whole de-bearding thing. I love their slight chewiness because it's chewiness in the best way possible. They have a certain creaminess to them, almost like a mushroom. But with a much more mild flavor. In fact, if you're not generally a seafood person because you don't like "fishiness," try mussels. Especially try them in a spicy fennel broth. With lots of garlic.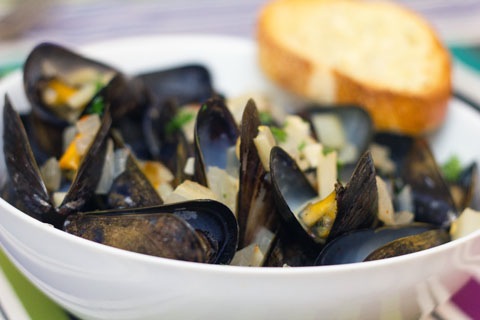 Mussels are also wonderful in curry broths. And I'm definitely planning on posting more mussel recipes here in the future. I've got big ideas, friends. And for $3.99 for two pounds of these babies, I can make my big ideas reality.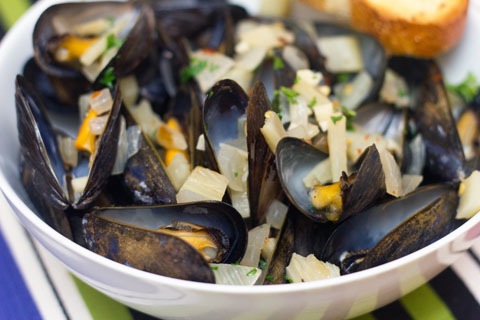 What's your favorite way to enjoy mussels?
[Sues]