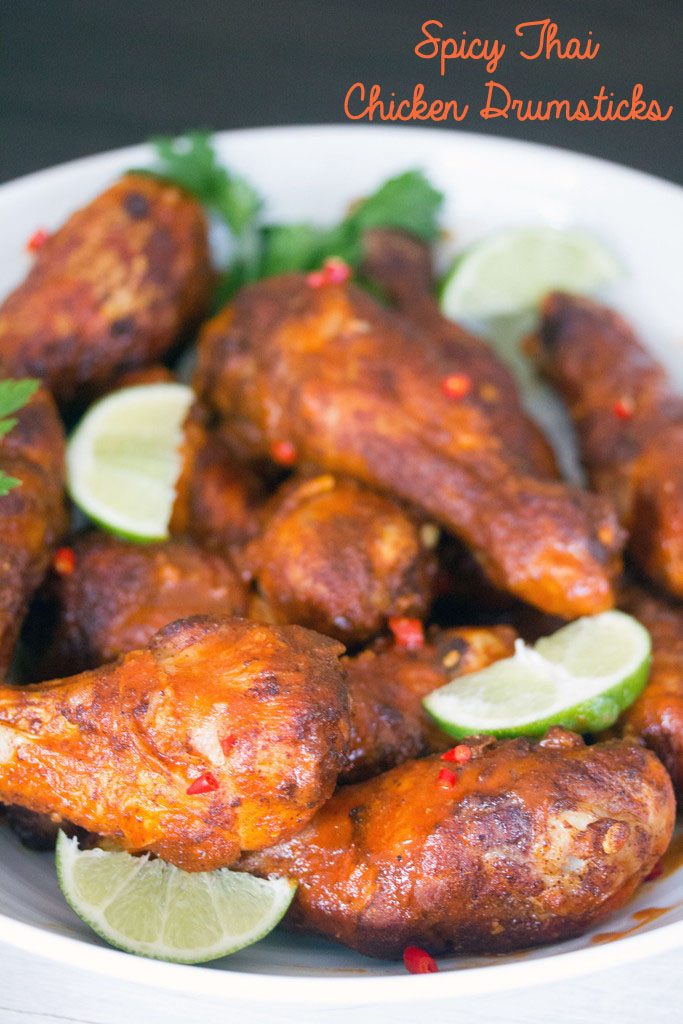 Whether you're married or living with a friend or roommate, you know that you have to make lots of adjustments when it comes to living with someone. But perhaps one of the most difficult is learning to share your food. At least with a roommate, you can usually have "mine" and "yours" sides of the fridge and you won't be ridiculed for writing your name on your expensive yogurt. However, if I set up "hers" and "his" sections of my fridge and freezer, not only would that be very strange, but I don't even want to know what my husband's side would look like (have I told you what he had in his fridge when I met him??).
Maybe I'm too food-focused in life, but there are days when I literally think about a specific food I have waiting for me at home every hour on the hour. On the train to work. In the middle of a meeting. As I'm drafting an email. On my afternoon walk. Thinking about that food gets me through the day. So, when I get home and open the cabinet/fridge/freezer to finally reward myself for a hard day's work and find said food missing (let's be honest, it's almost always cookies or ice cream), my heart sinks and I want to curl up in a ball and cry. Clearly, I cope well.
I've learned that I just have to ask my husband to please save me at least one of whatever I'm craving (and if he does happen to eat all of the ice cream to pleaseeee throw away the box so that I don't get my hopes up sky high before picking up an empty box). And he always does.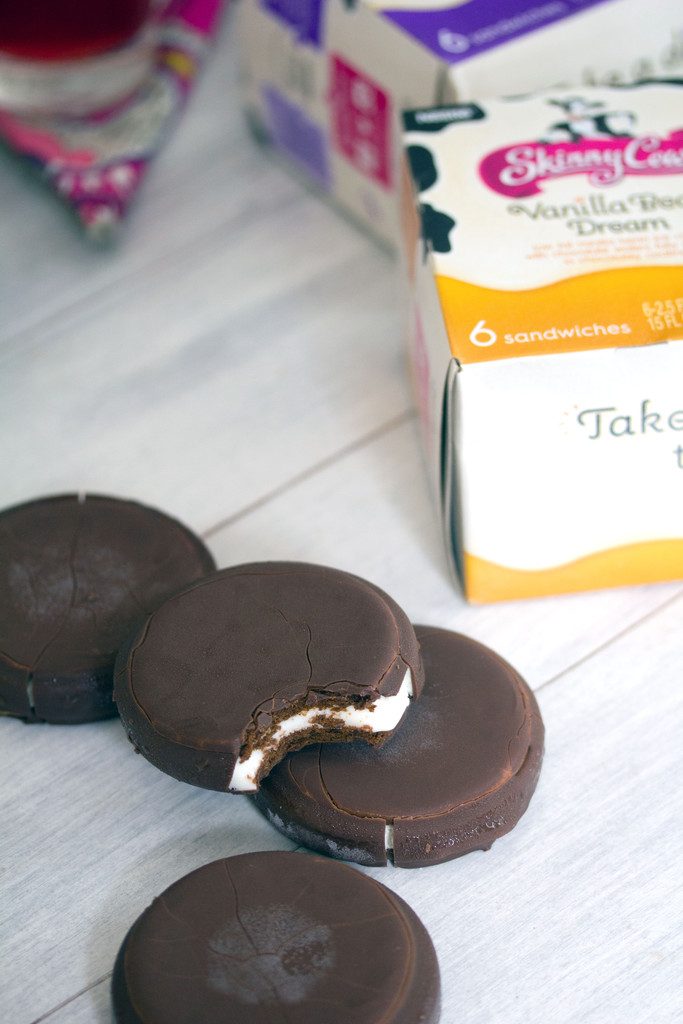 In honor of this partnership with Skinny Cow, I decided to create a meal that I knew Chris would go crazy for. It involved Spicy Thai Chicken Drumsticks, garlic bread, and Skinny Cow Chocolately Dipped Ice Cream Sandwiches in Vanilla Bean Dream. If only I had added in a side of corn dogs and giant glass of Mountain Dew (hint: this is what he had in his fridge when I first met him), it would be his ideal meal.
He loves drumsticks and I hardly ever make them. He also loves spicy, which is never a problem for me. I let these drumsticks chill in the fridge with a spicy rub for a few hours. Yes, Winnie pup also thought it would be her ideal meal.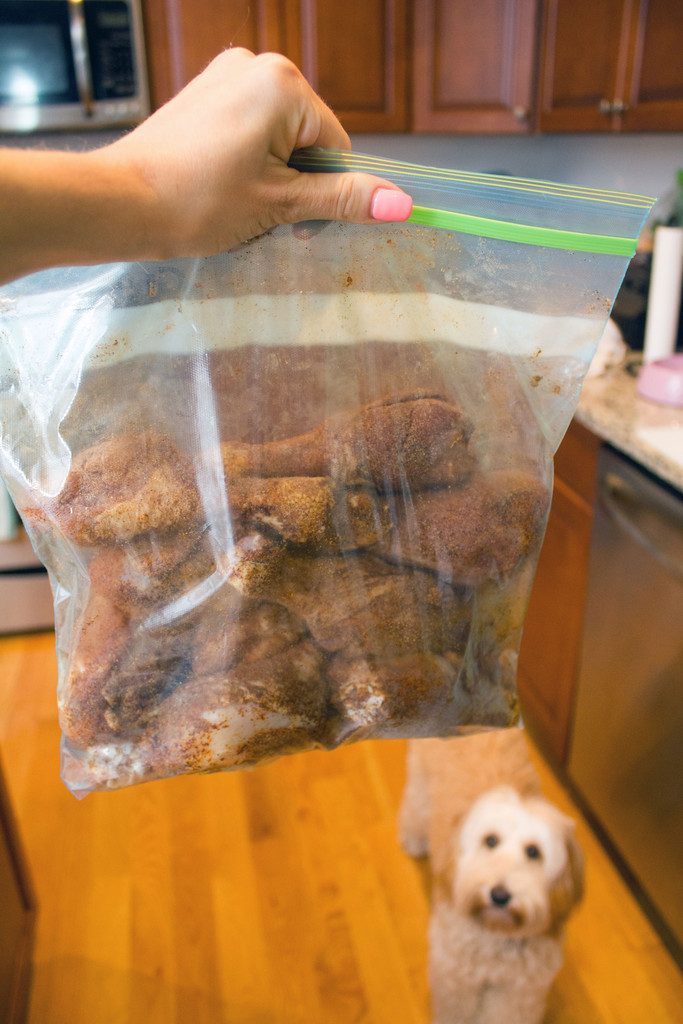 Sorry Winnie… These are a bit too spicy for you. After they marinated in the rub, I baked them, and then coated them in super spicy sauce that involved Frank's Red Hot sauce, Thai chili peppers, and Sriracha.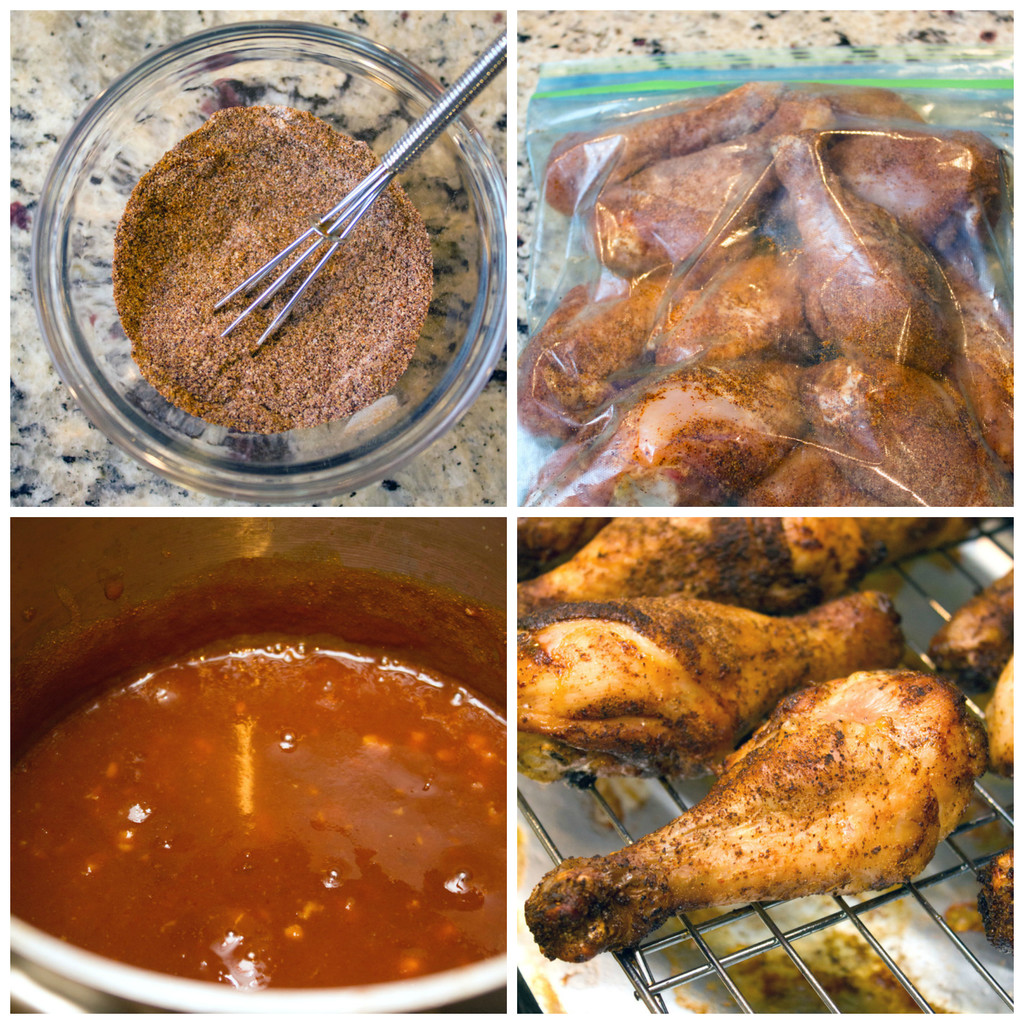 No Mountain Dew, but I did serve the meal with a large glass of berry juice, which is another thing he can't get enough of. And plenty of garlic bread. I use Ina Garten's recipe and think it's just the best.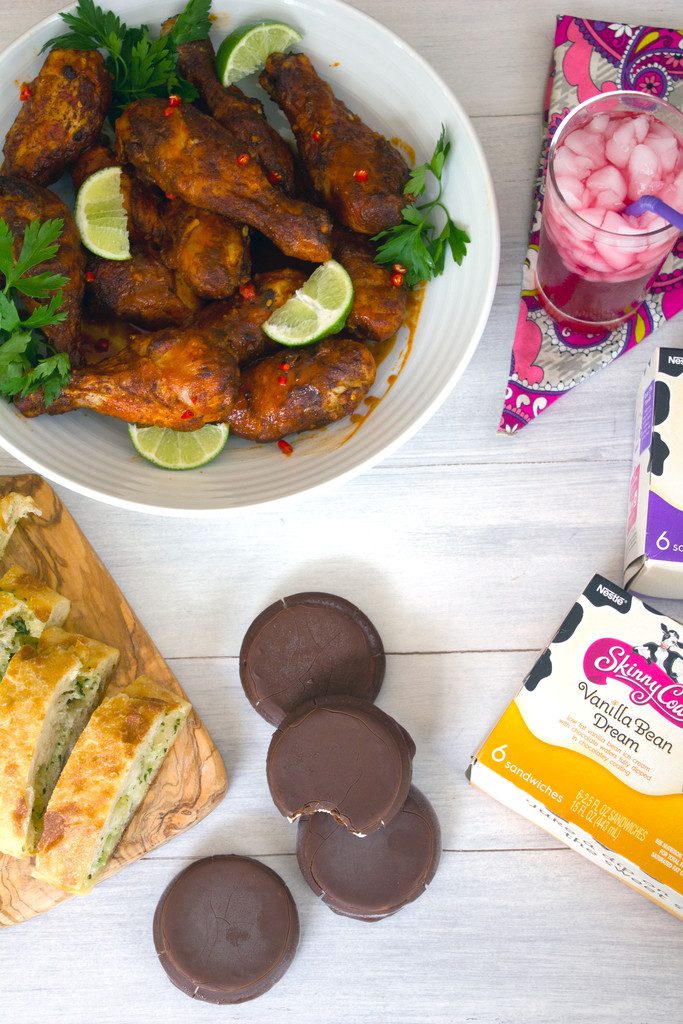 We eat a ton of Skinny Cow in our house, but these Skinny Cow Chocolately Dipped Ice Cream Sandwiches were new to us. And omg so good. They're a little bit like ice cream sandwiches, but covered in chocolate coating. The Vanilla Bean Dream flavor involves vanilla ice cream sandwiched between two chocolate wafers and then a chocolate coating. Just because the packaging is pretty and they're called "Skinny Cow," doesn't mean men don't crave them too!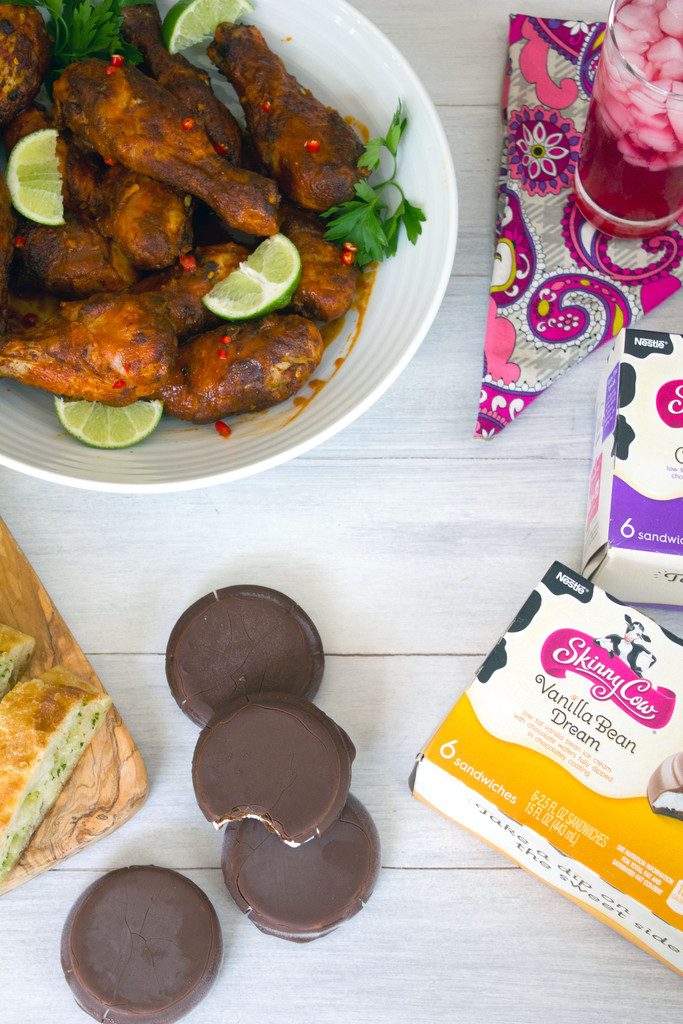 The chicken drumsticks were super spicy, but not so much that I couldn't handle them. I love spicy, but there's definitely a level where it's just not enjoyable for me anymore. Chris doesn't have that level. I don't know how he does it.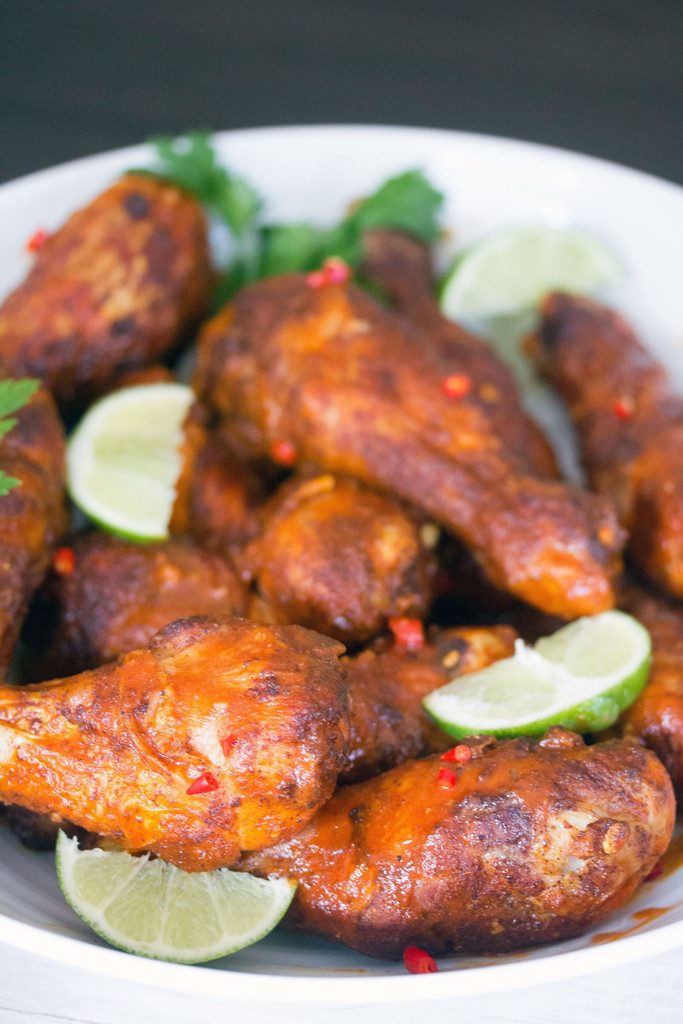 And they were certainly at the spiciness level that ice cream was very much required at the end of the meal.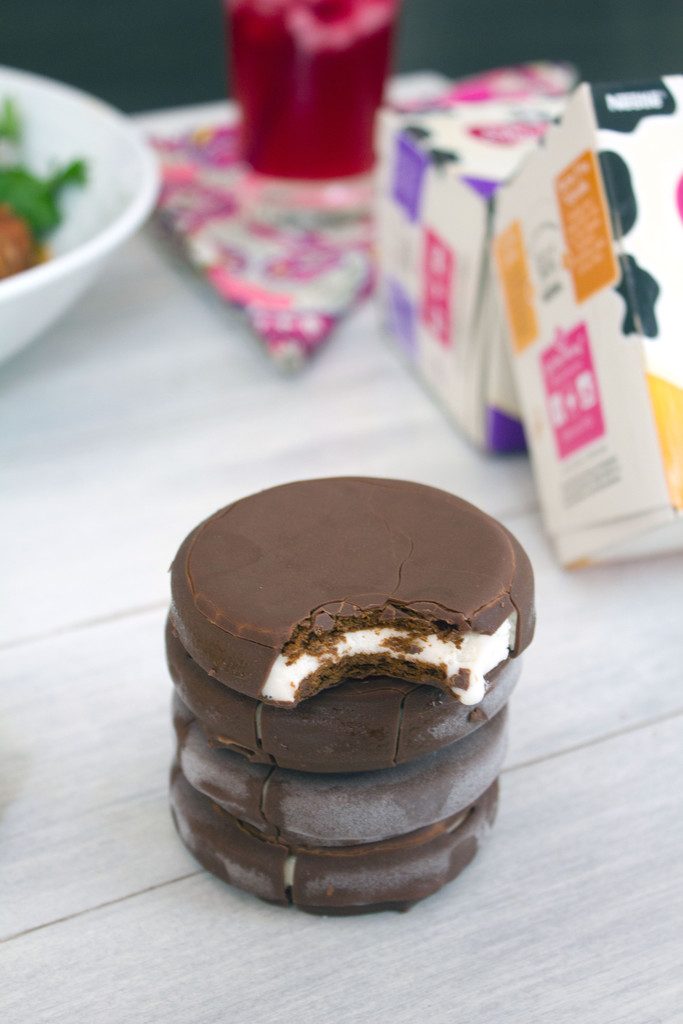 We also tried the Ultimate Chocolate flavor of Skinny Cow's Chocolately Dipped Ice Cream Sandwiches and now I'm on a serious hunt for Creamy Caramel.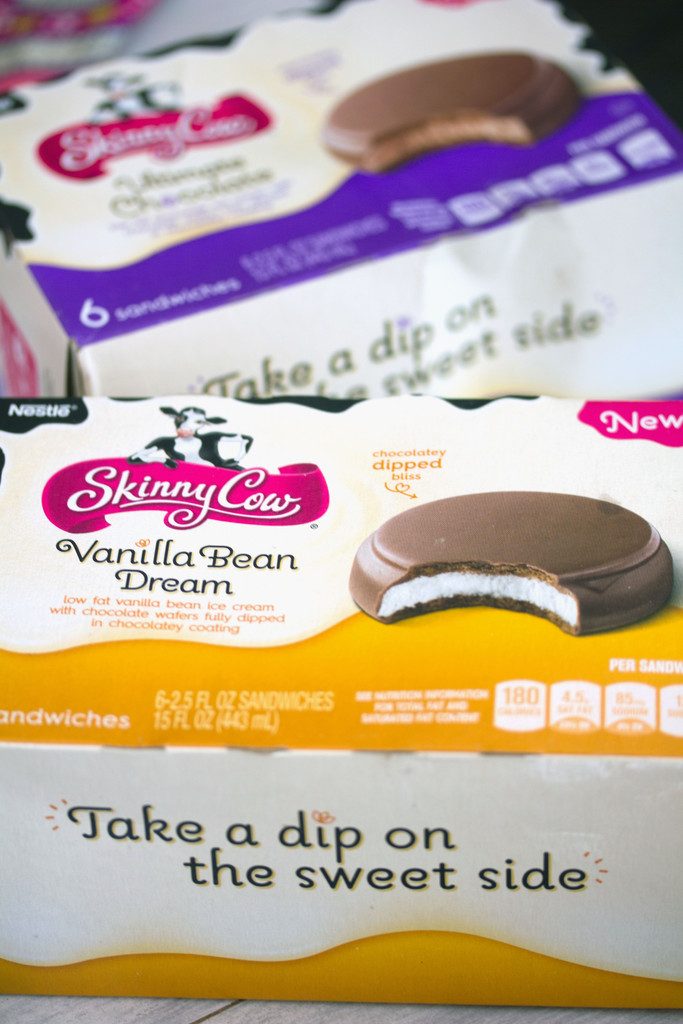 I nicely asked Chris to save me some food… But when I came downstairs, he was attempting to sneak away with it all.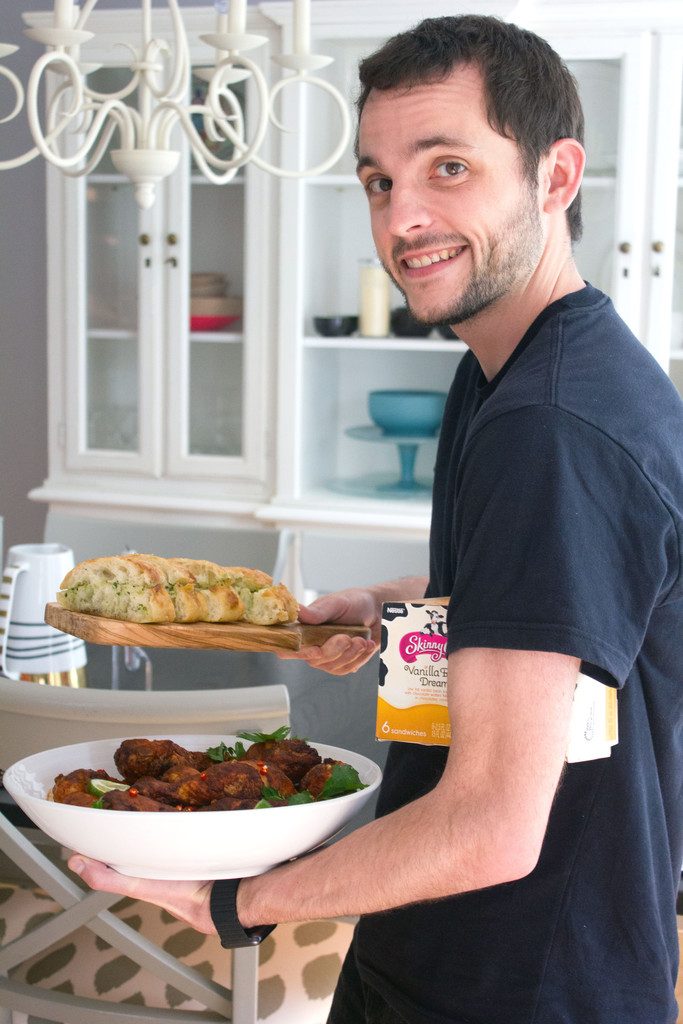 I thought I could trust him, but when it comes to a meal like this, I don't really blame him for not wanting to share it. Don't worry… I managed to catch him and snag a drumstick or two and a chocolatey dipped ice cream sandwich!
Does your guy "steal" anything from you? Skinny Cow put together this awesome infographic featuring the things men steal from women…. I can't really see Chris stealing my sunglasses, but he's definitely been known to enjoy a "girly" drink or two (I mean, in between his gin and scotch drinks… you know).

Spicy Thai Chicken Drumsticks
Whether you're looking for a meal or a party appetizer, these Spicy Thai Chicken Drumsticks will satisfy your craving. A little bit of spice and a little bit of citrus helps balance out these drumsticks, making them a surefire crowd pleaser.
Ingredients
1

Tbsp

chili powder

1/2

Tbsp

garlic powder

1/2

Tbsp

baking powder

1

tsp

paprika

1

tsp

cayenne

1/4

tsp

salt

2

lbs.

chicken drumsticks

1

Tbsp

unsalted butter

1/2

cup

Frank's Red Hot sauce

1/4

cup

Sriracha

2

Tbsp

soy sauce

2

Tbsp

chopped Thai peppers

2

cloves

garlic

minced

2

Tbsp

freshly squeezed lime juice

Lime slices

for garnish

Fresh parsley

for garnish
Instructions
In a small bowl, mix together chili powder, garlic powder, baking powder, paprika, cayenne, and salt.

Place chicken drumsticks in bag and sprinkle seasoning to cover chicken. Place in fridge for at least 3 hours to and up to overnight.

Pre-heat oven to 450 degrees.

Place drumsticks on a wire rack set over a foil-covered baking sheet. Bake at 450 degrees for about 40 minutes, or until chicken reaches internal temperature of 160 degrees.

When chicken is almost done baking baking combine butter, Frank's Red Hot, Sriracha, Soy Sauce, chopped Thai peppers, minced garlic, and lime juice in a medium-sized saucepan over medium-high heat. Bring sauce to a simmer for about 3-4 minutes and stir until thickened.

Place drumsticks in a bowl and pour sauce over the top. Toss to coat.

Garnish with parsley and lime slices

I was selected for this opportunity as a member of Clever Girls and the content and opinions expressed here are all my own.