I'm officially back from St. Maarten and fully settled into real life again (well, I haven't quite made it through responding to the 1,300+ work emails I received while I was away). Le sigh. But seriously, it was an absolutely amazing vacation and absolutely everything we wanted it to be, so I absolutely cannot complain. Even though it snowed in Boston today and will again tomorrow (I'm just thankful I experienced a heavenly week of 82 degree weather).
The trip there was super smooth on Jet Blue. I can't quite say the same on the way home on American, but who needs to get back home from St. Maarten anyway?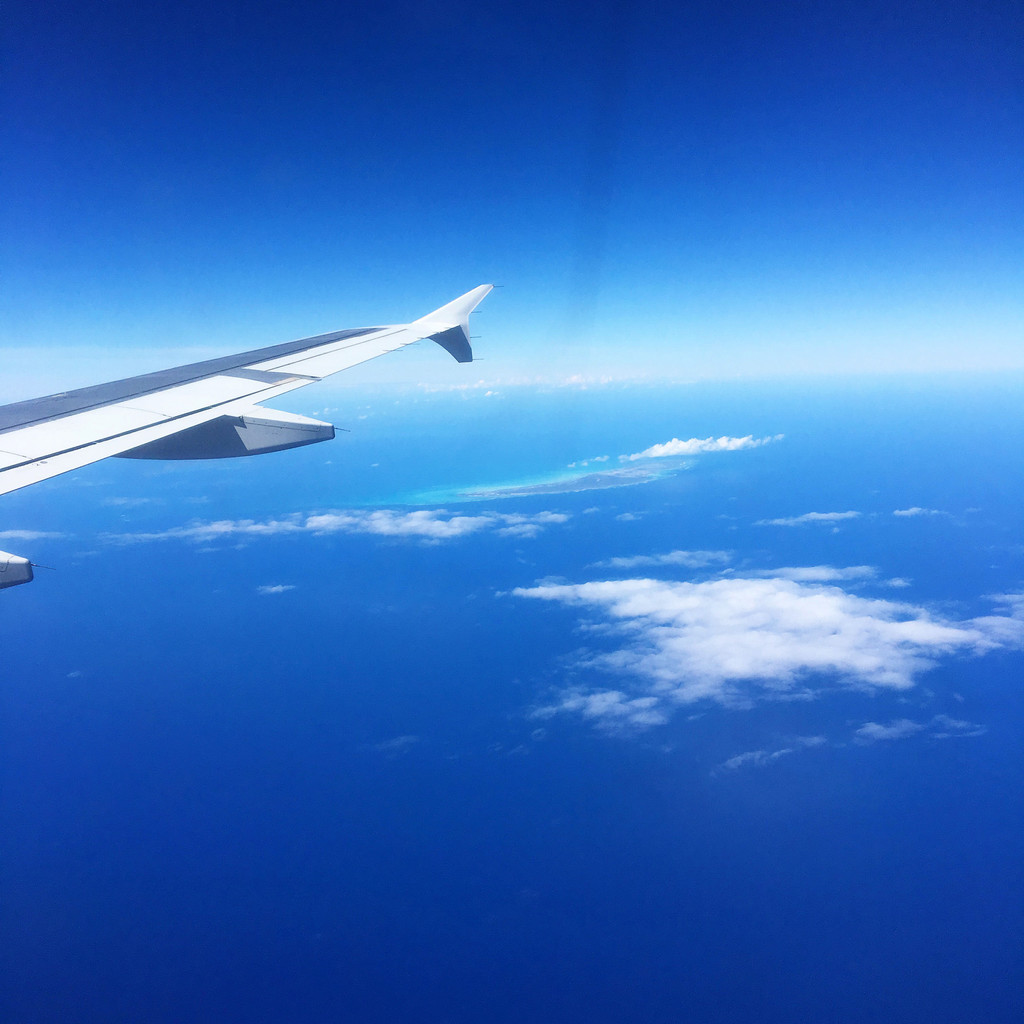 Since we usually have tons of Starwoods points from our credit card, we always try to stay at Starwoods resorts when we go on vacation. So, in St. Maarten we stayed at the Westin Dawn Beach... It's an absolutely beautiful place and the perfect vacation spot. This was the view from our room: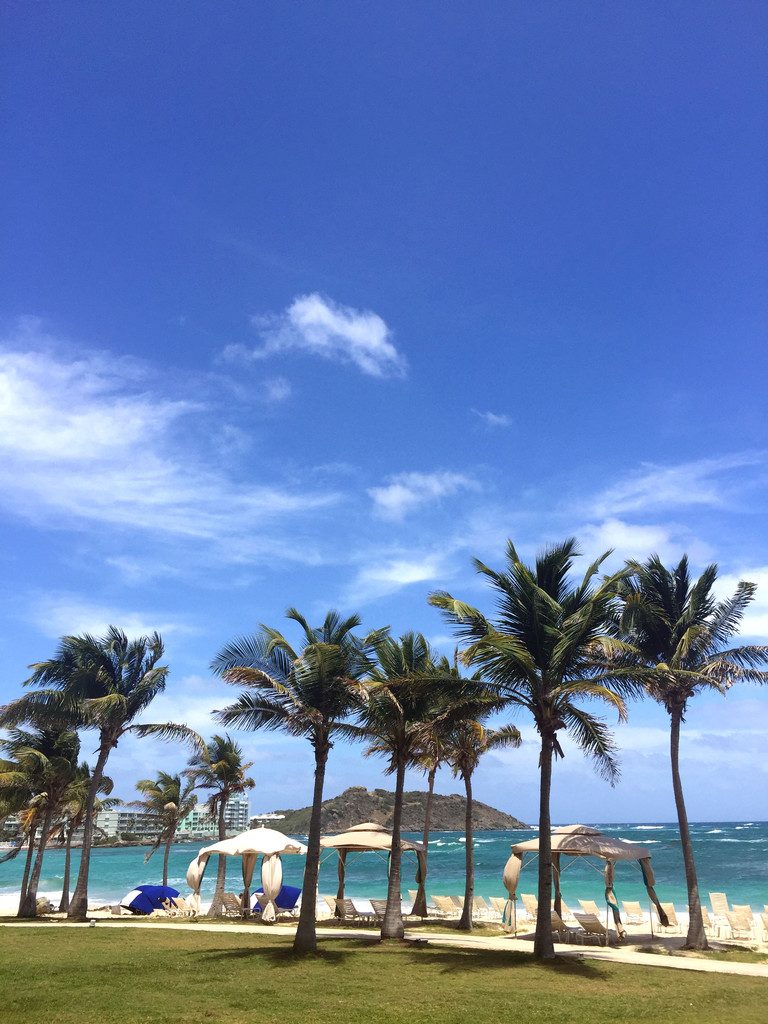 Chris and I basically had one purpose for this vacation and that was to relax. We haven't had the easiest start to 2016 and we really just needed to get away and unwind. We pretty much spent the entire trip moving between the Westin's pool and beach and then back to our room to get ready to go out to dinner. Which is exactly what we wanted.
I literally packed 5 bathing suits and about 100 books (well, most were on my Kindle, but still...).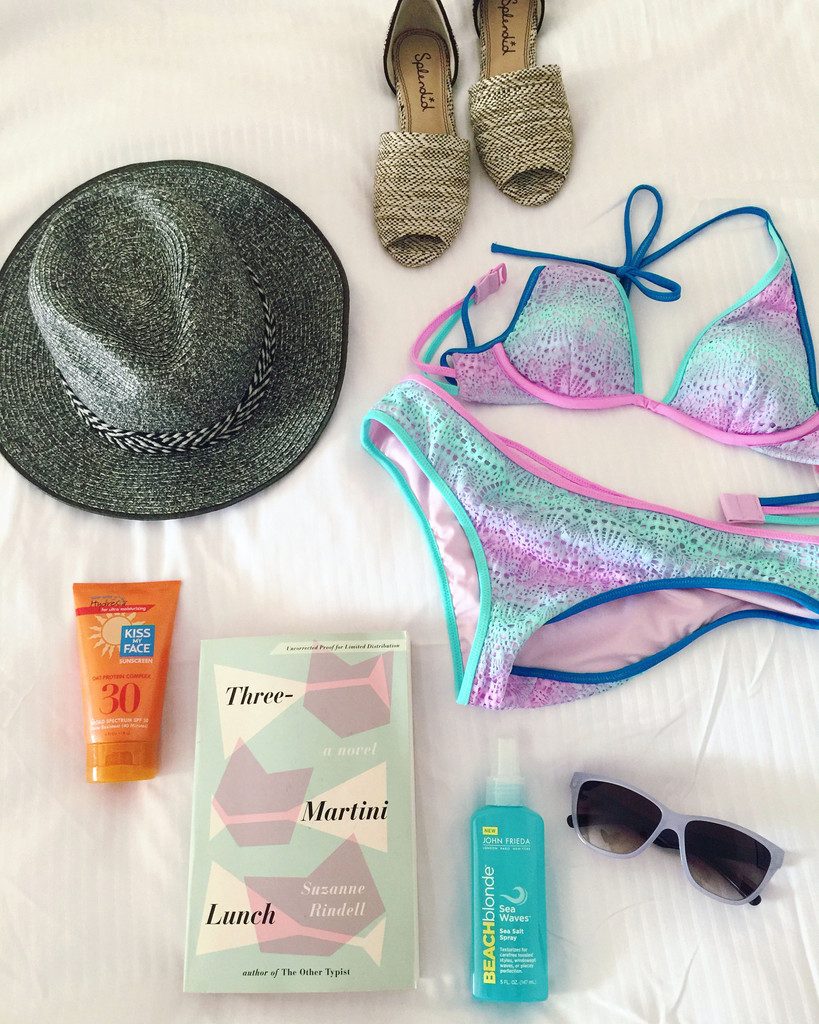 The Westin Dawn Beach has a super sweet pool. Many piña coladas and margaritas were had while staring at that view.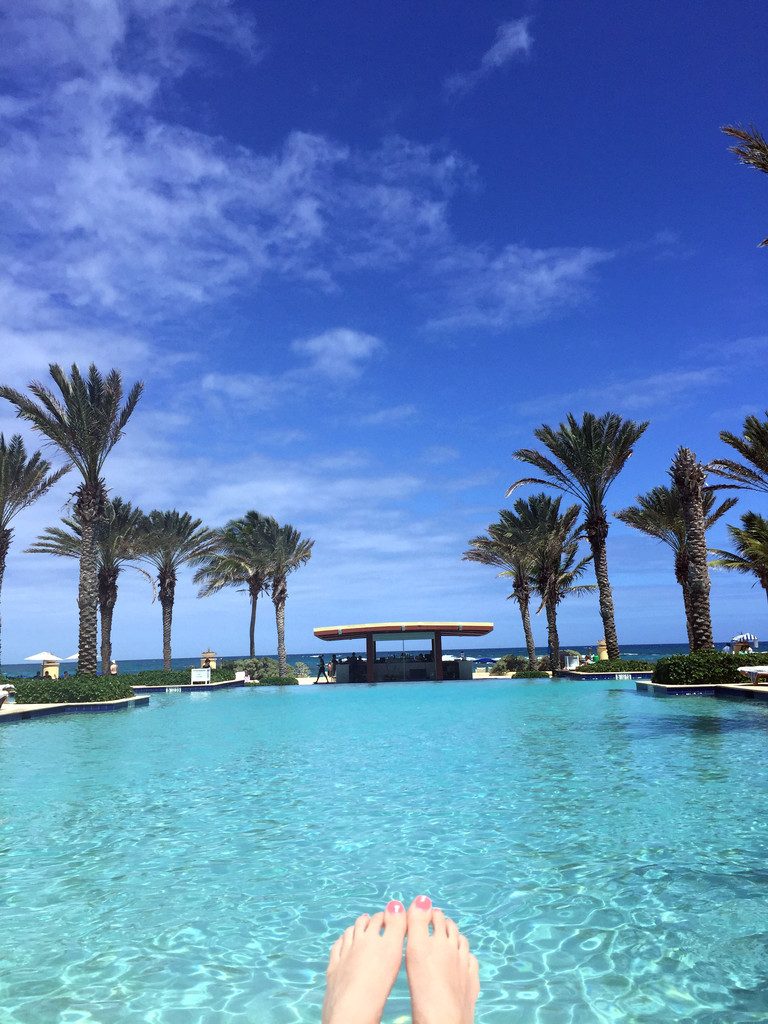 The beach was great, too. It's not a super huge beach, but there's plenty of room so you don't feel crowded. I was slightly disappointed that the water wasn't a tad bit warmer, but that's coming from someone who would be perfectly happy sitting in a hot tub in 80 degree weather. And compared to New England's ocean temperature, yes it was warm.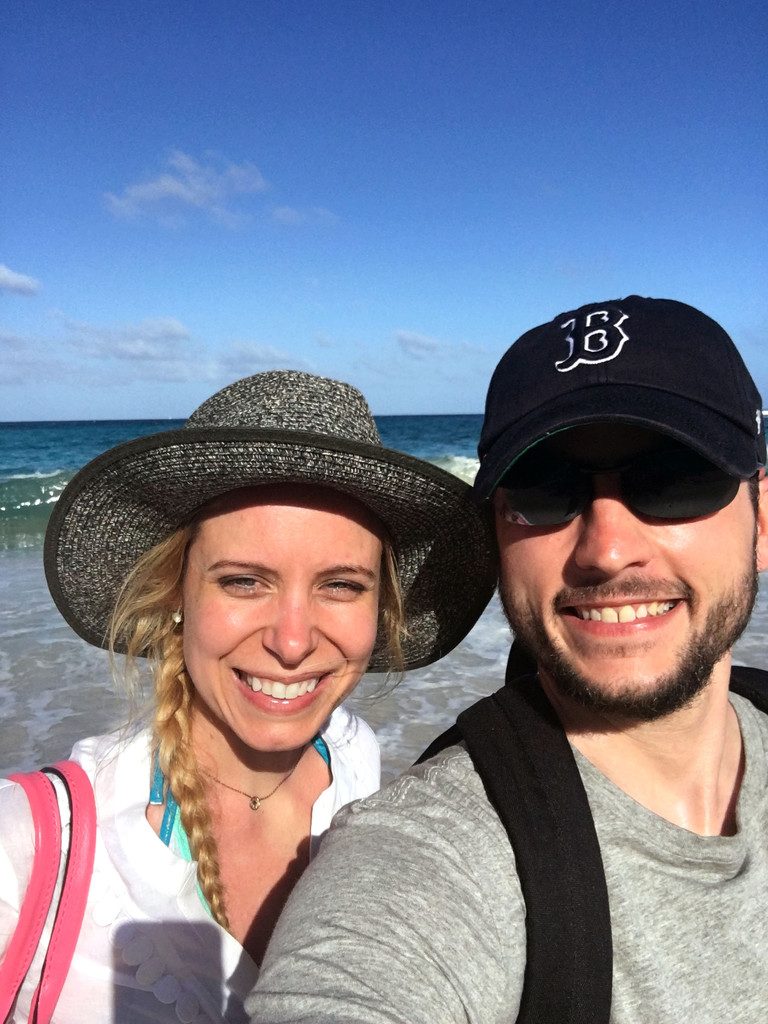 So, let's talk about some of the eats in St. Maarten. I have to say we weren't thrilled by the Westin's food, but hotel food doesn't generally blow me away, so we expected to be going out for some meals. The Westin is a little secluded from the rest of the island, but they're super accommodating with helping you get taxis and making sure you know your way around. One of our first nights there, we took the hotel-arranged shuttle to an area called Grand Case for their Mardi Gras celebration. While there, we dined at a French restaurant called L'Auberge Gourmande. And that's when we knew we were going to have some fabulous culinary experiences in St. Maarten. Actually, we had no idea, but the island is actually often referred to as the culinary capital of the Caribbean. And a big part of that is because of Grand Case.
L'Auberge Gourmande felt like it would be a restaurant on a little street in France. The entire meal was decadent, starting with the best-ever French onion soup (one of my all-time favorite foods!) and ending with the dessert trio. I loved how each of our entrees came with so many fun little sides that we worked our way through seriously gasping at the deliciousness of every one.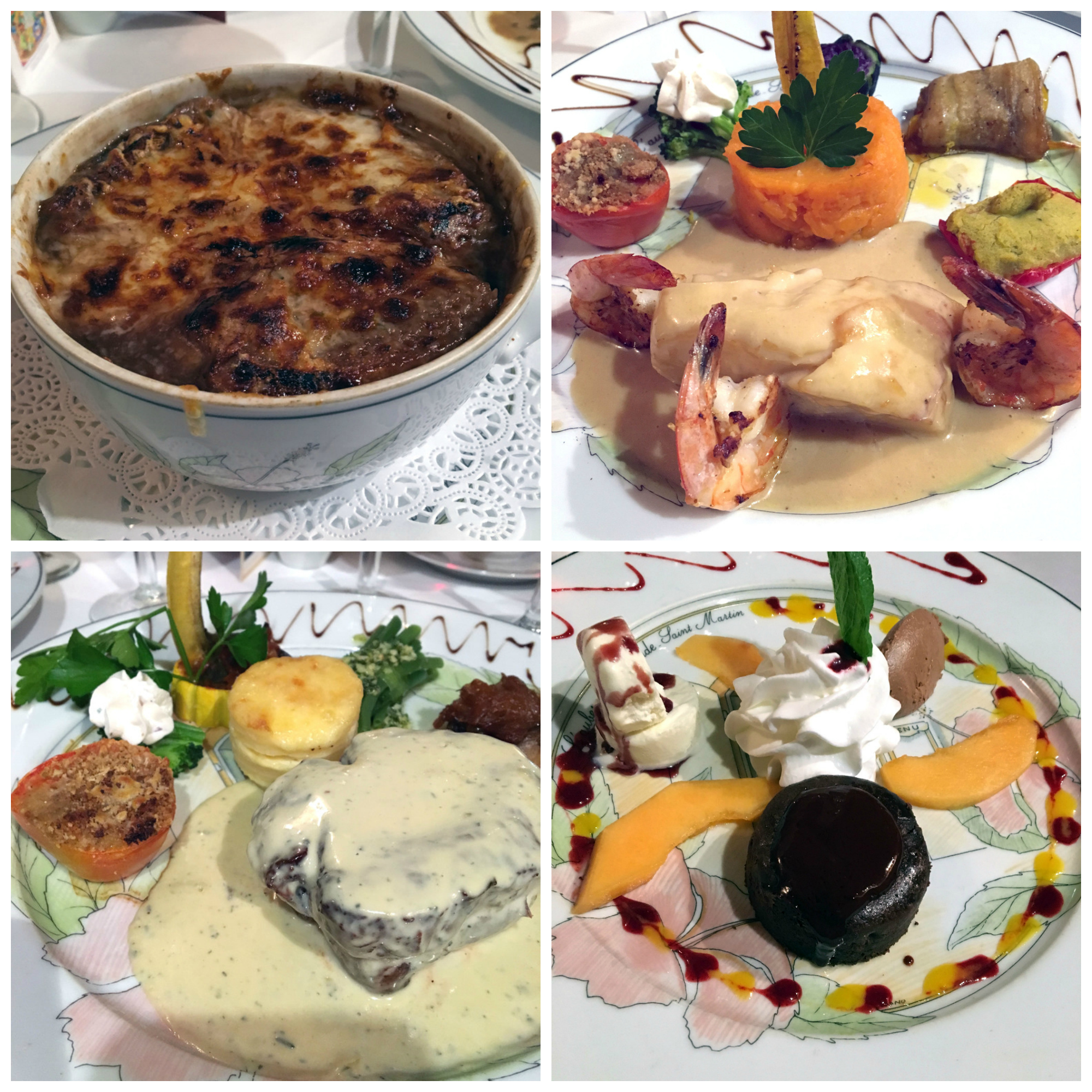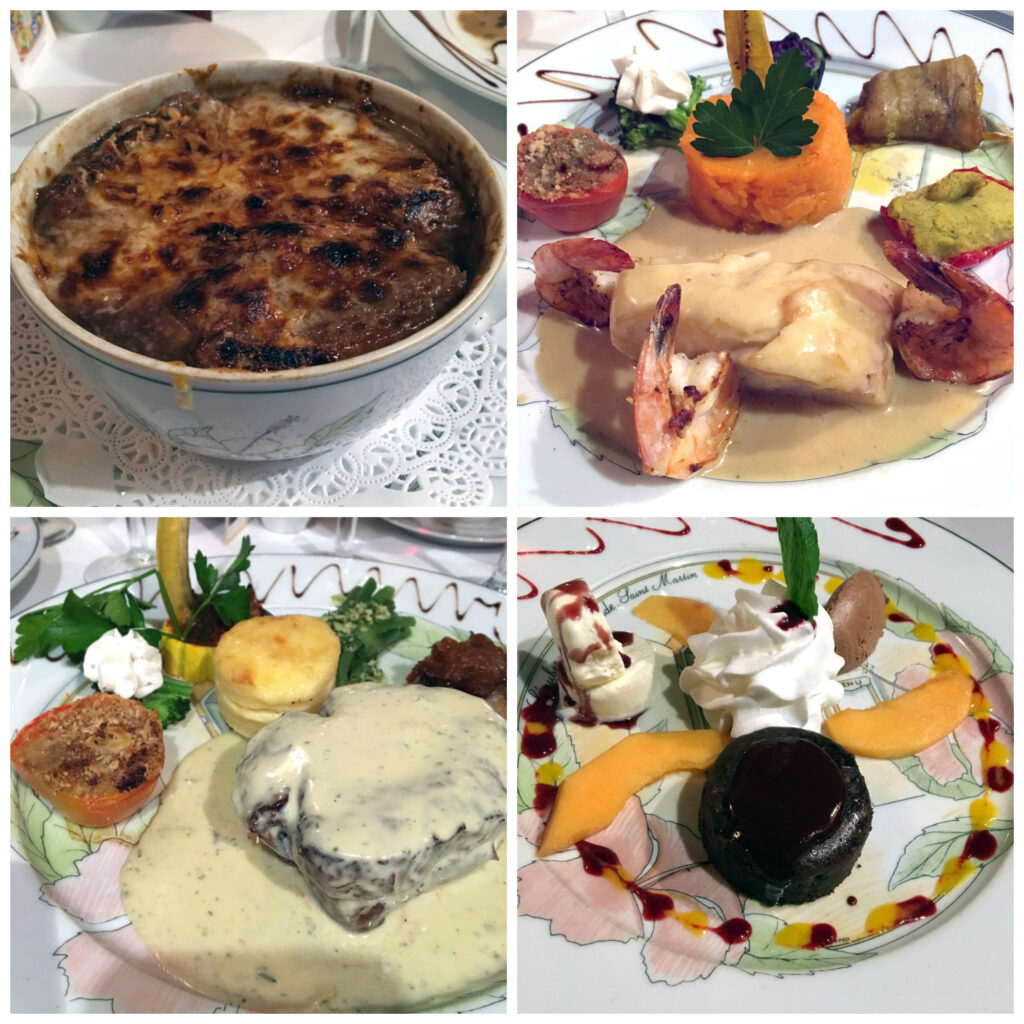 After dinner, we walked around Grand Case, taking part in their Mardi Gras celebration and checking out all the street vendors. It was a great St. Maarten experience!
The next night, we opted to stay close to the hotel... Le Pavillon by the Sea is basically a two minute cab ride away from the Westin. You could walk... But the hill you'd have to walk up is one of the steepest I've ever seen. Not to mention, the roads are quite narrow and dark. I don't think I'd be a great St. Maarten driver! Lots of people do rent cars, but considering we wanted to have a couple drinks and enjoy ourselves and knew we weren't going to be doing a lot of venturing on our trip, we opted for cabs instead.
Le Pavillon by the Sea was our very favorite restaurant experience. It's in an absolutely stunning location and is an open air restaurant with views of the water.
Can you tell we're finally relaxed??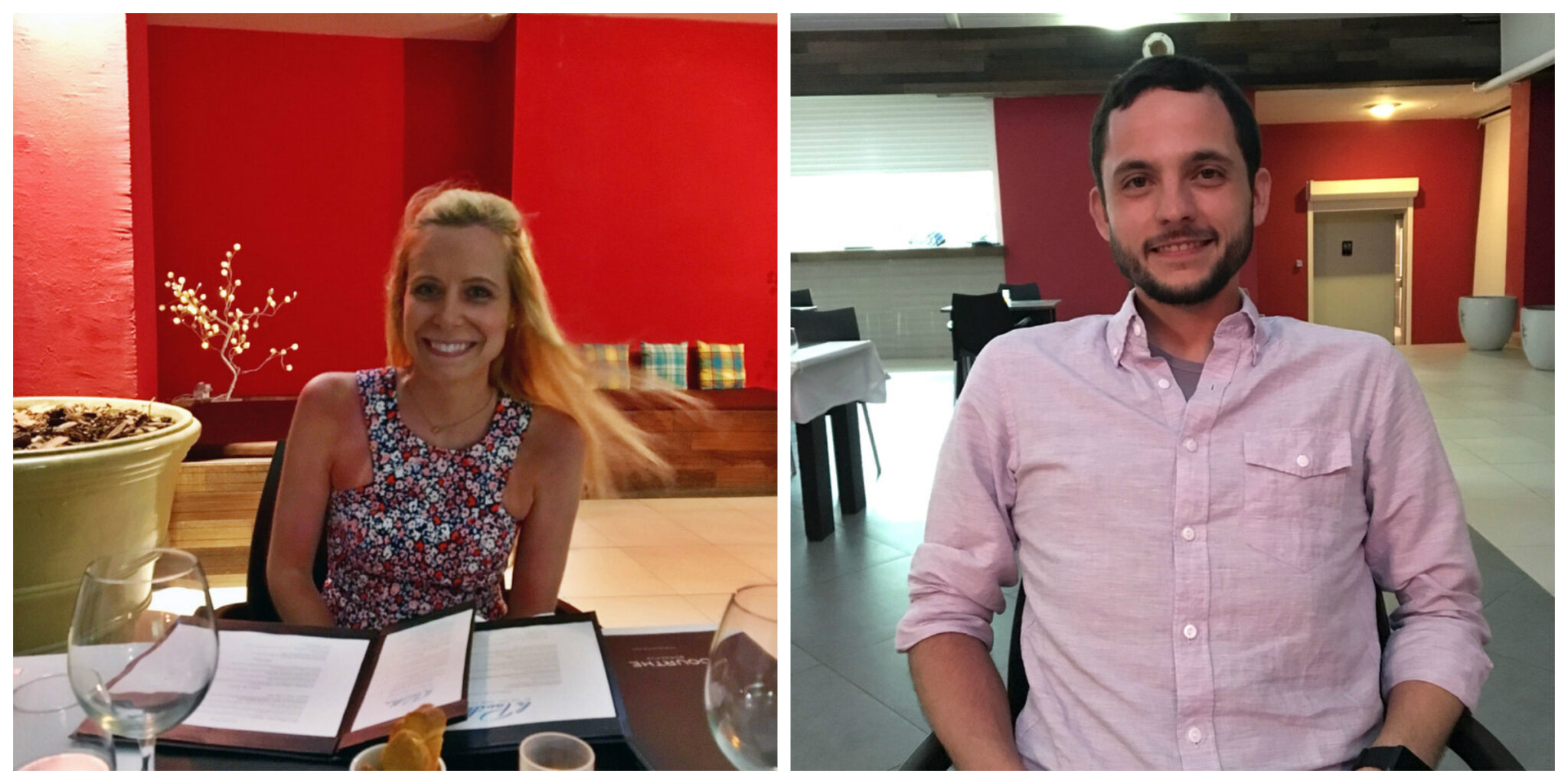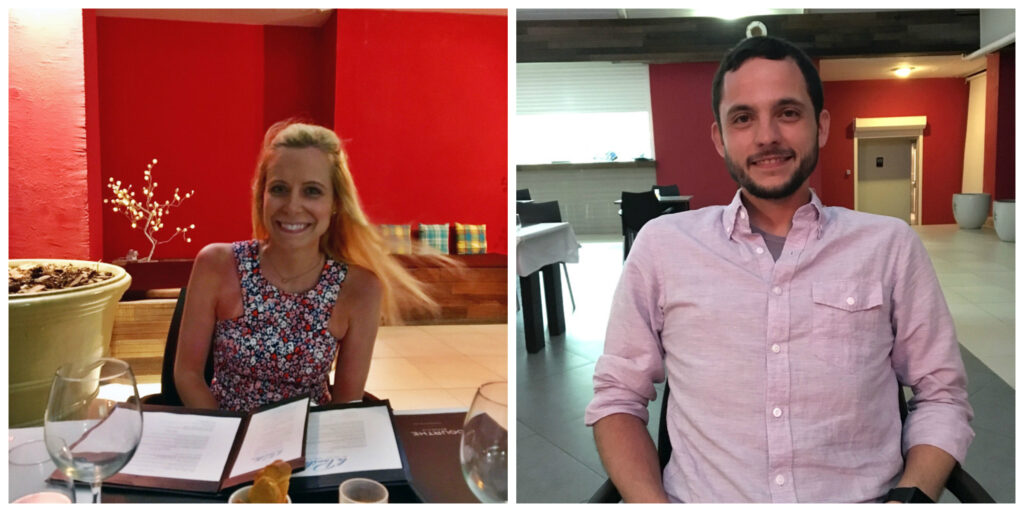 We decided to get the surf and turf for two, which consisted of butter roasted Caribbean lobster tail stuffed with jumbo lump crab meat, charolais beef filet mignon and herb butter, and truffled pomme frites. But not before we had the pastrami cured salmon.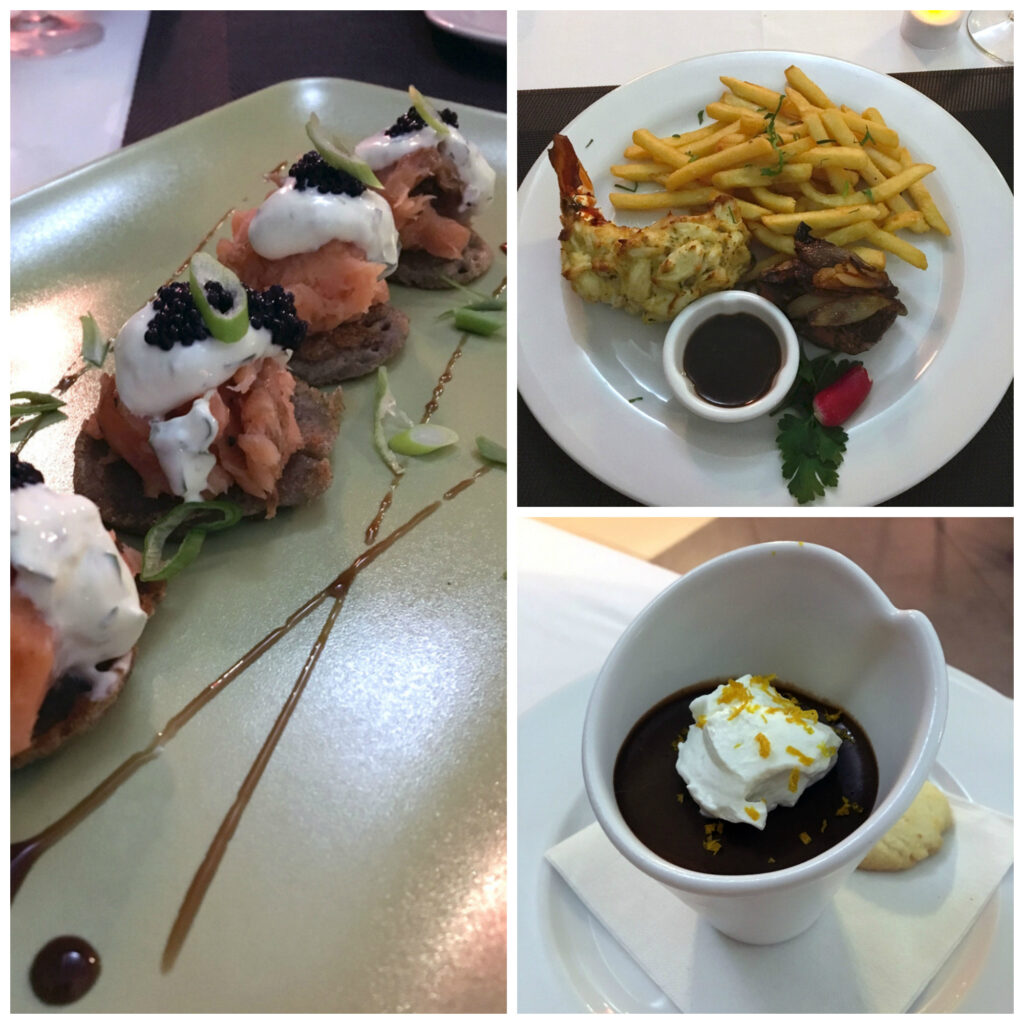 It may have been the combination of the atmosphere and the cuisine, but this meal just blew us away. We will 100% go back here if we return to St. Maarten. Still swooning about it.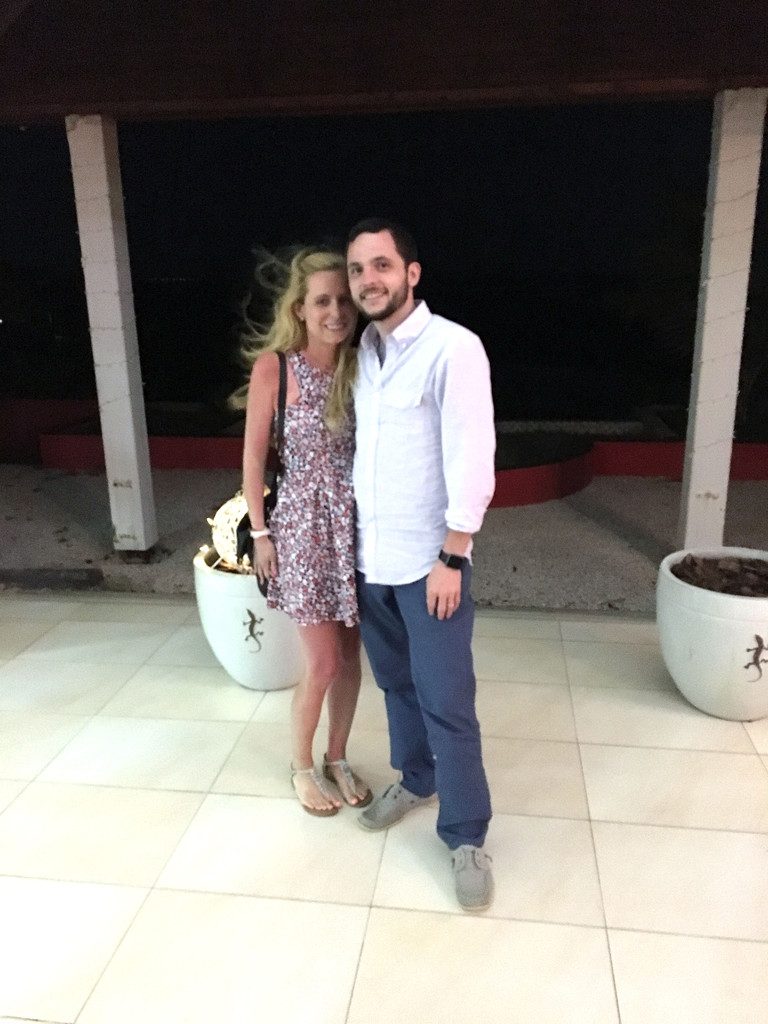 We stuck close by for another evening, too, and headed to Canoa right on the water.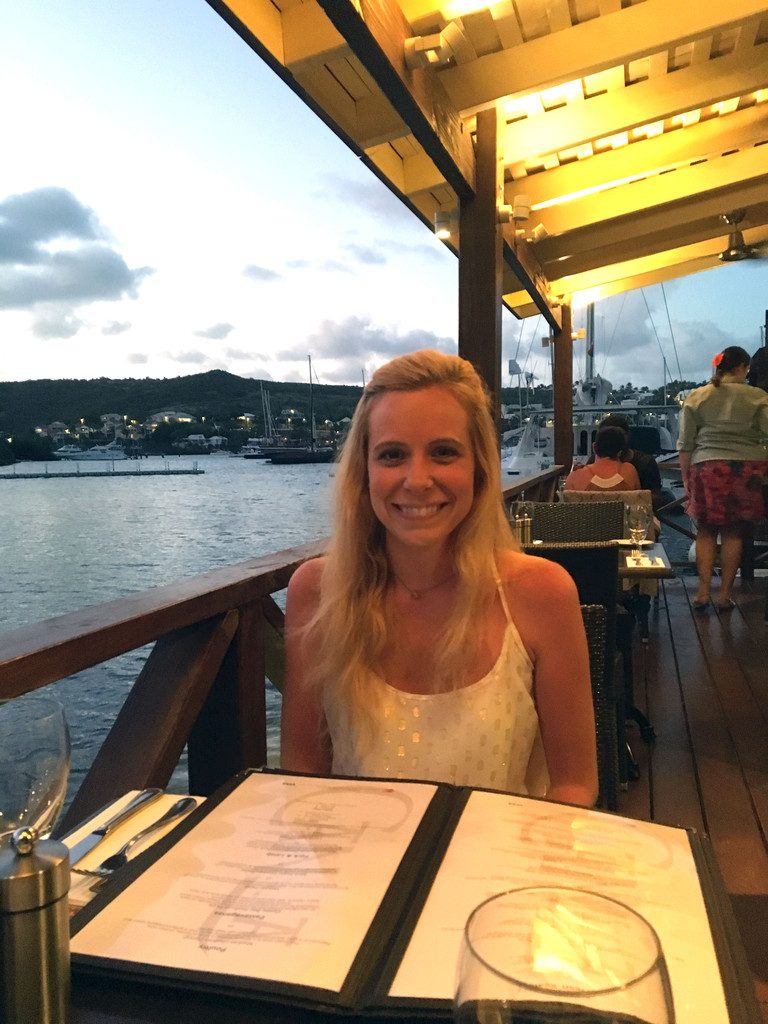 Another winner in terms of atmosphere and food. Especially when it came to the appetizer we ordered- a plantain stuffed with ground beef with mozzarella, parmesan, and marinara. I can't remember exactly what Chris ordered, but it was something like a Thai bouillabaisse with coconut rice and it was to die for. It definitely needs to be recreated. But my pan-seared sashimi tuna was also pretty fab.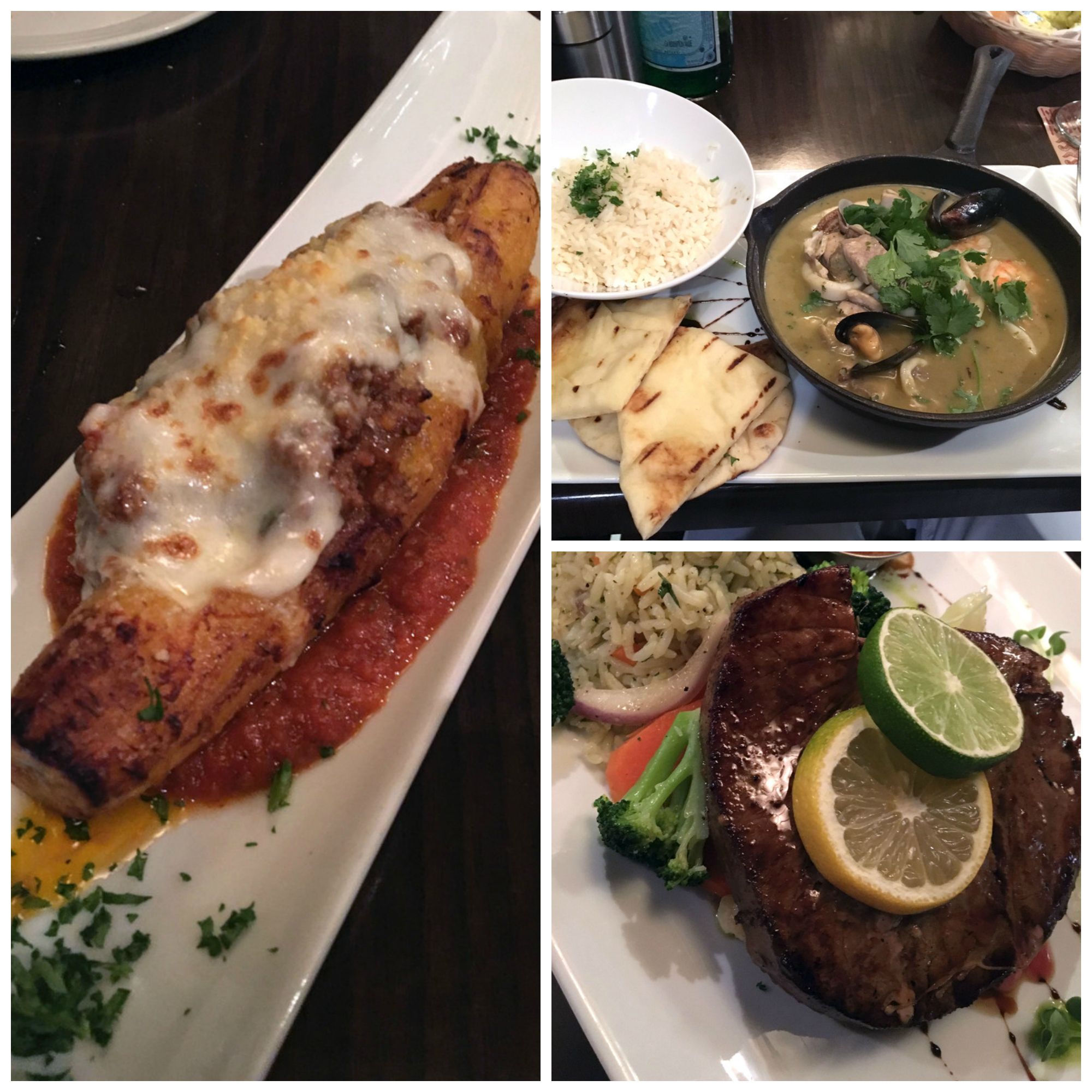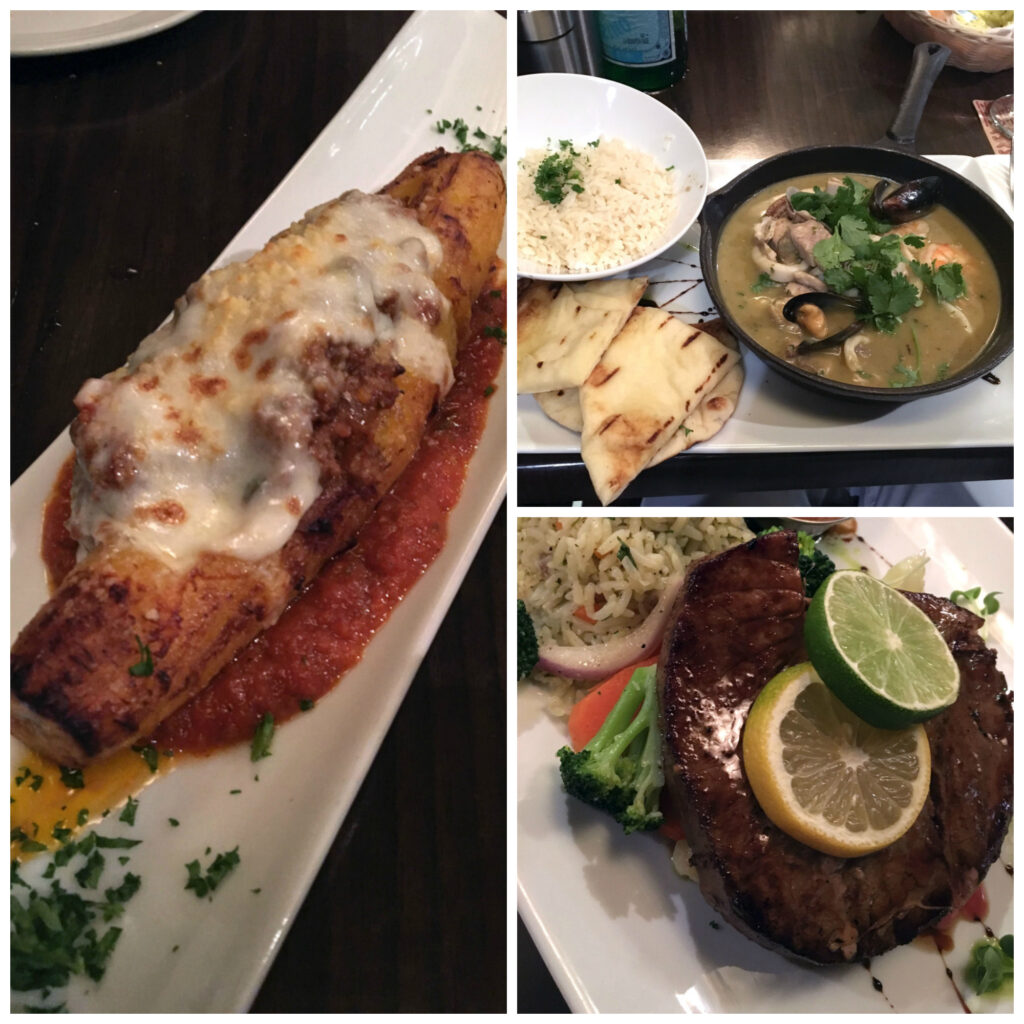 Sorry for the surplus of "selfies," but when there are just two of you on vacation together, it tends to happen!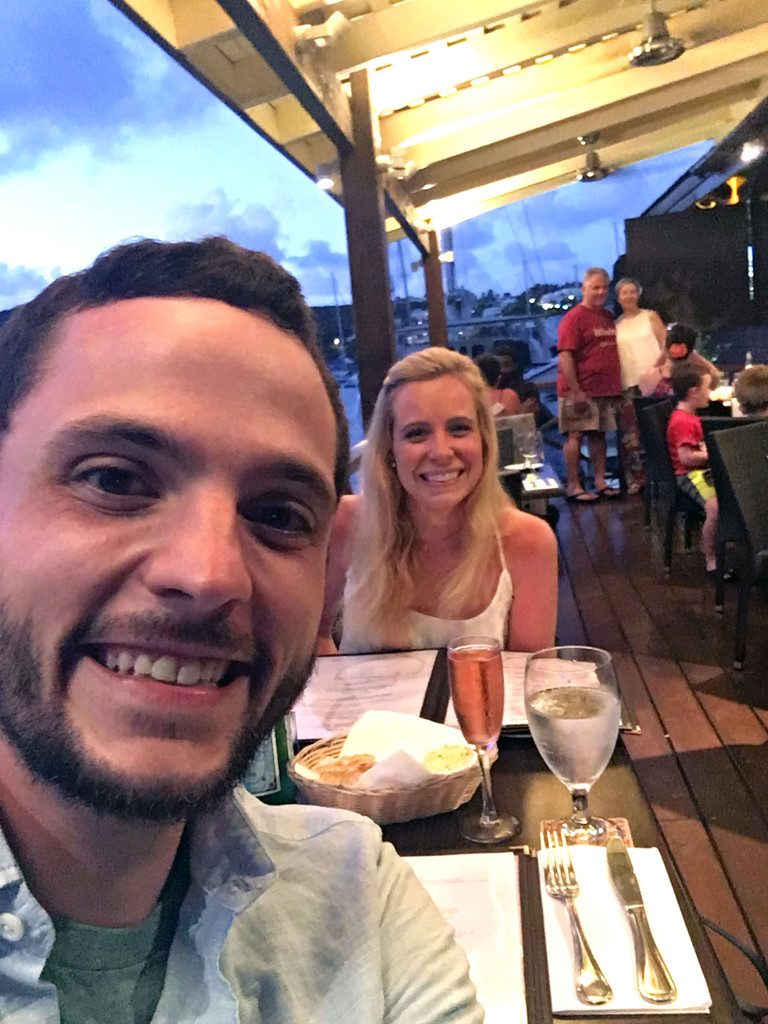 For our last night, we decided to trek back to Grand Case since there are so many awesome restaurants out that way. This time we opted for Italian at Spiga, which we had been hearing rave reviews for. I just realized I ate seafood every single night of the trip... Which really is the way it should be. Everything at Spiga was delicious, but I loved that tartare appetizer the best. Oh, and that maple syrup and mascarpone cheesecake was most definitely the best dessert of our trip. Another one I'm going to have to figure out how to recreate.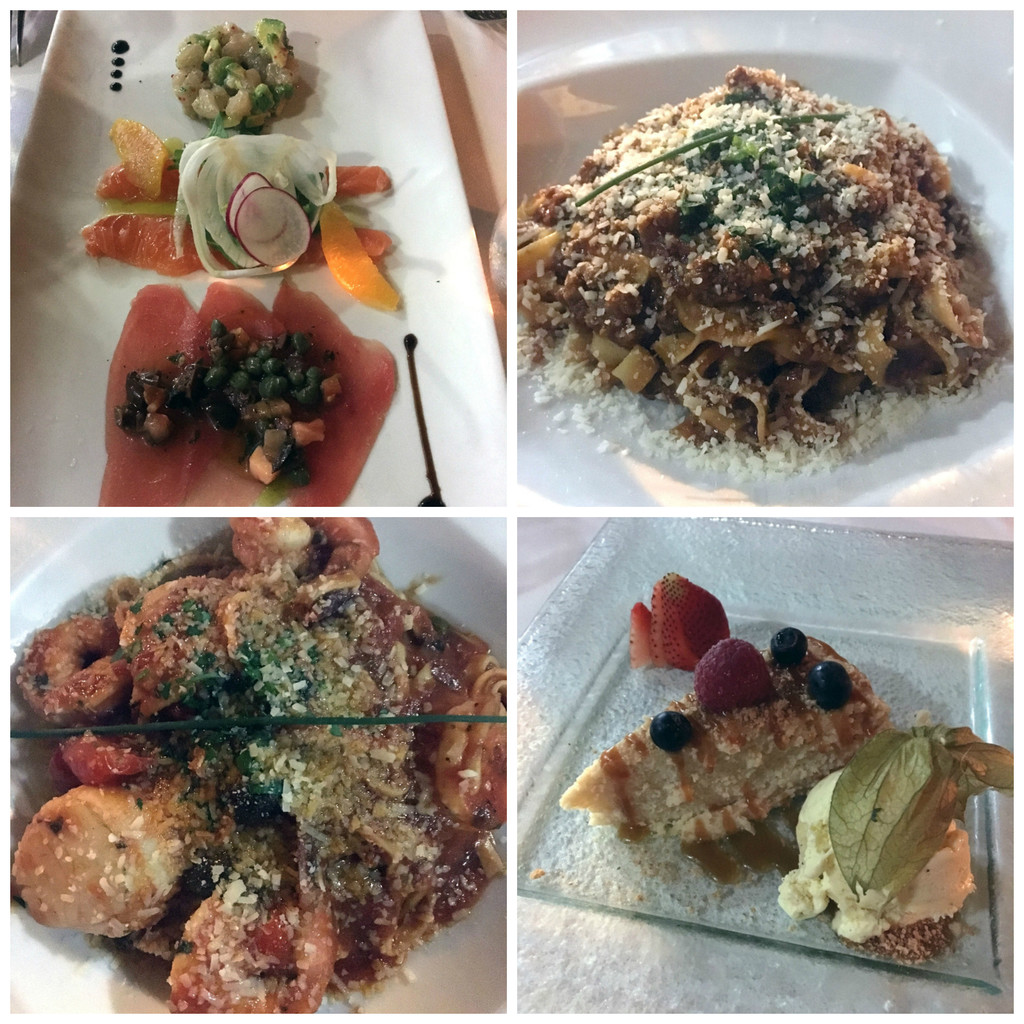 Not really sure how I was still putting a bathing suit on by the end of this trip, but at some point you're so happy you just stop caring.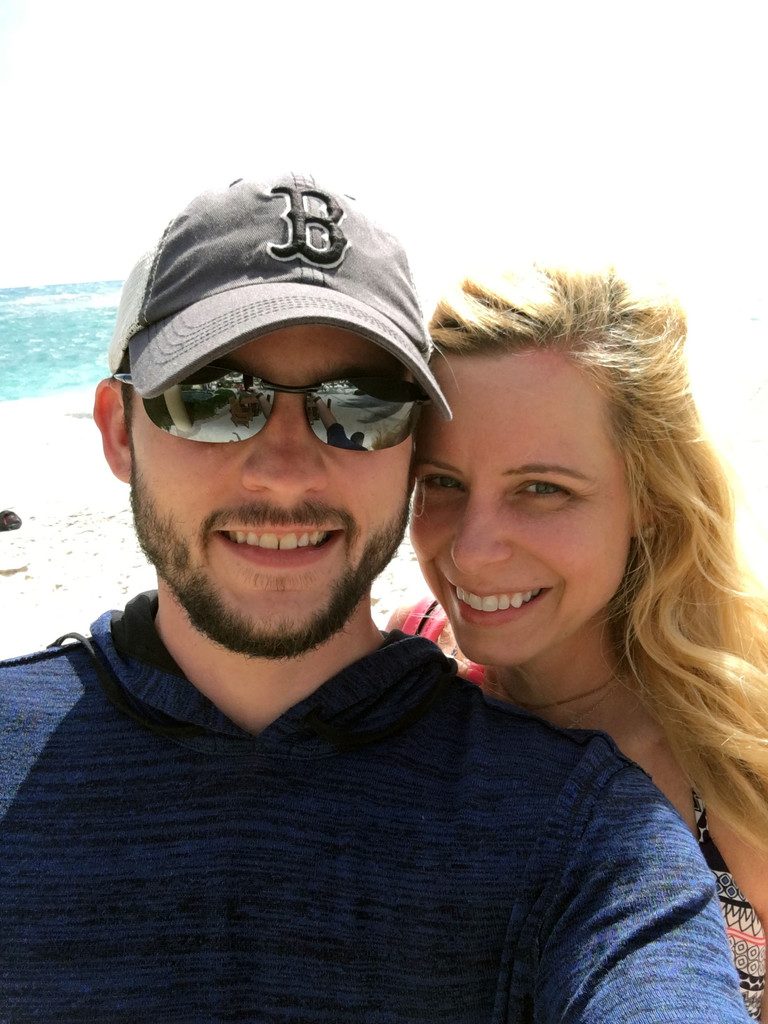 All in all, this was exactly the trip we needed and even though after one day back in Boston, I felt like I had never been away (funny how that happens, right?), I'm trying my best to carry that pure feeling of relaxation with me for as long as I can. We were insanely impressed by the food on the island and we only wish we could have tried even more restaurants.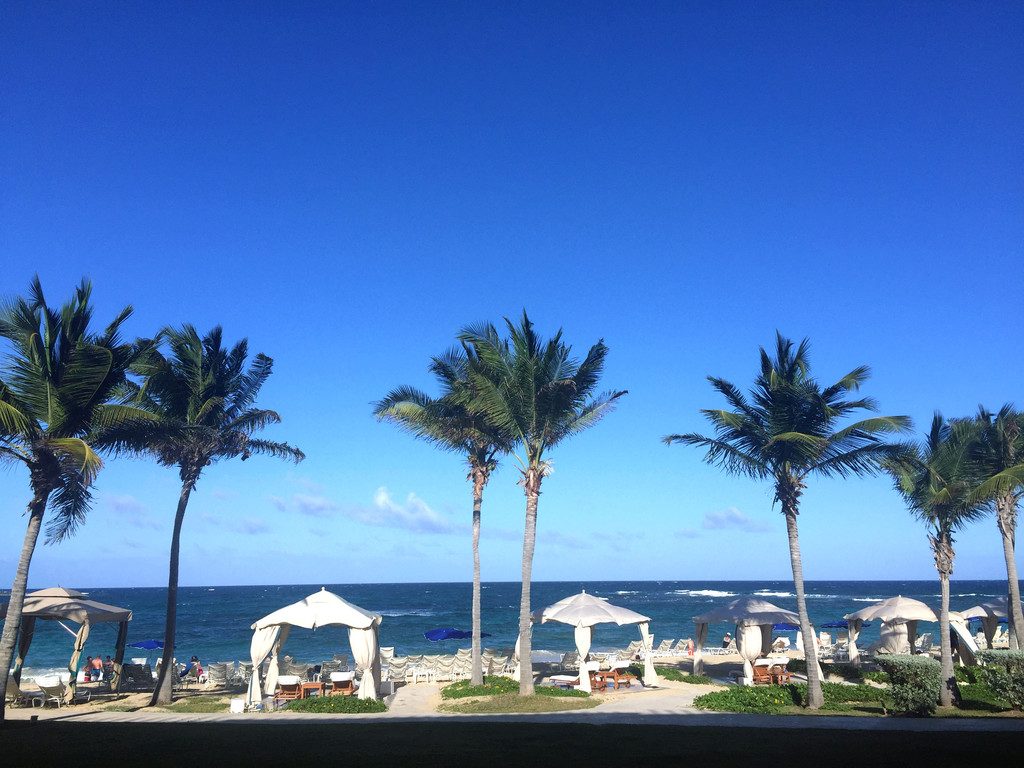 Next time we go back, we'll definitely explore more of the island, but for now our mission relaxation was completed. And any time I need a little relaxation reminder, I'll just look at these photos and pretend I'm still sitting on the porch of our hotel room.
What's the most relaxing vacation you've been on?