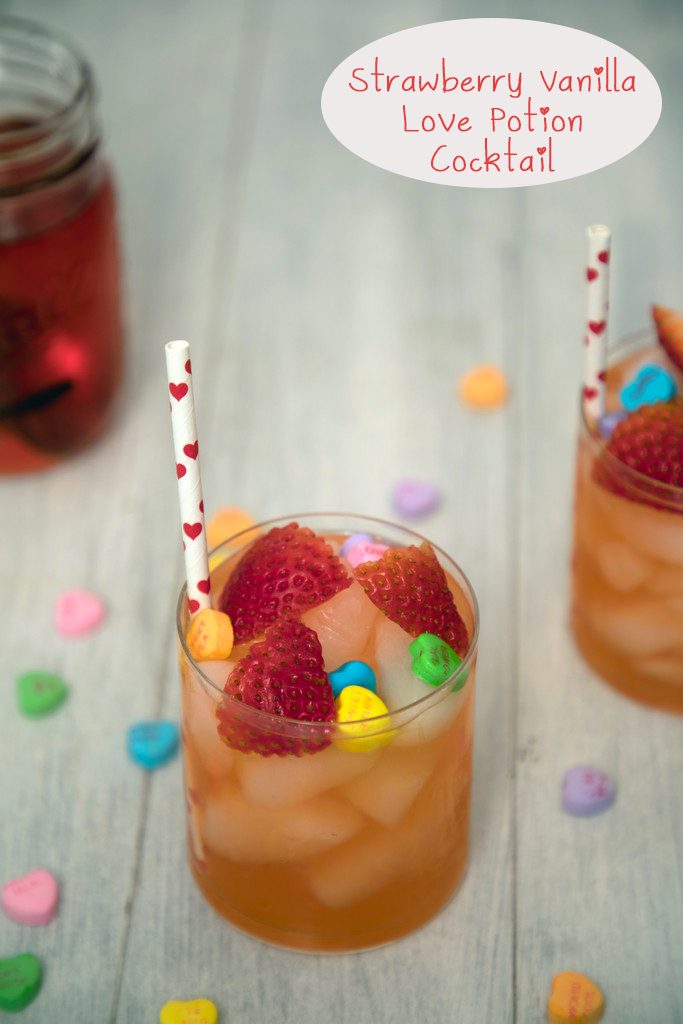 Well, Boston finally got a blizzard. Here's to hoping this year isn't a repeat of 2015 when we got our first big snowstorm at the end of January and then spent the next 2.5 months being hit over and over and over again. But considering it not only snowed a ridiculous amount on Thursday, but that it also snowed Friday into Saturday and is now snowing Sunday morning and set to go until tomorrow evening, I'm not feeling very optimistic. Lucky for me, I have the best snuggly dog ever, an amazing gas fireplace, and tons of comfy blankets (if you want the most amazing blanket in the world, you need to check out LoveSac's Footsac blankets. Yes, they're pricey, but omg they will make your winter so much more bearable).
Oh, and cocktails. There's seriously no better excuse to whip up a batch of cocktails than a snowstorm and since next week is Valentine's Day, I obviously opted for a festive one. I combined a strawberry vanilla simple syrup with vodka and ended up with a sweet cocktail that's perfect for sharing with your sweetie.
It was also the perfect occasion to bust out my new Oh Joy cocktail shaker, which is so much more fun than the typical silver shaker.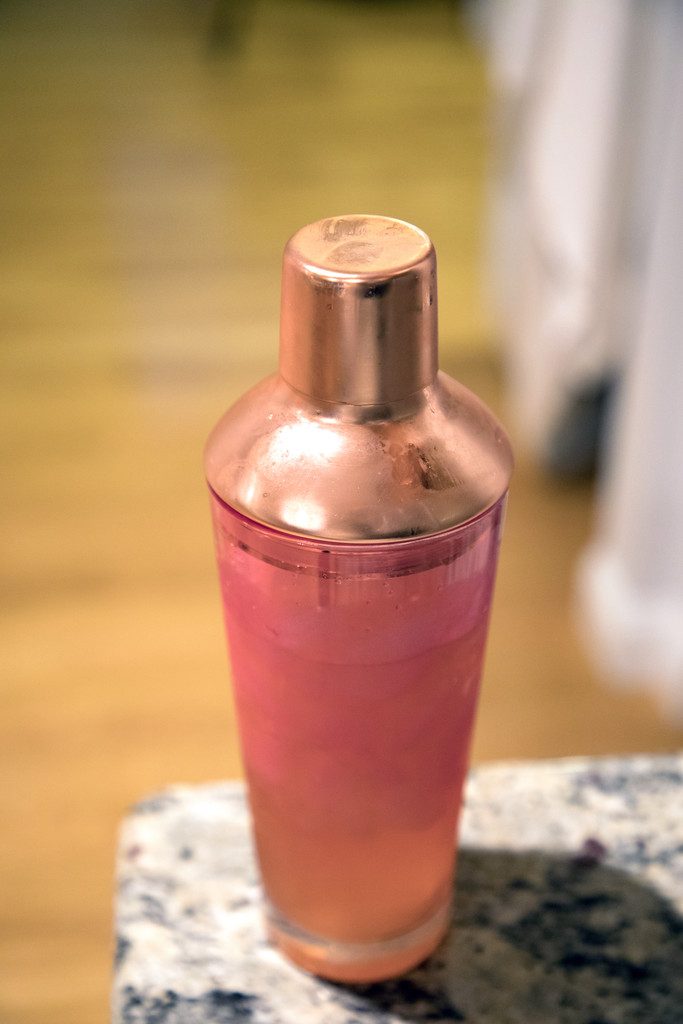 This cocktail is an easy one. You'll want to make the strawberry vanilla simple syrup a little bit ahead of time, so it has time to cool to room temperature and sit with the vanilla bean, but if you make a whole batch of it (or a double batch!), it should last in your fridge for a few weeks.
I've actually been on a crazy simple syrup quick lately, making batches of it and mixing it into plain soda water. Cinnamon simple syrup is my new favorite.
But strawberry vanilla is a close second. Especially when mixed with vodka.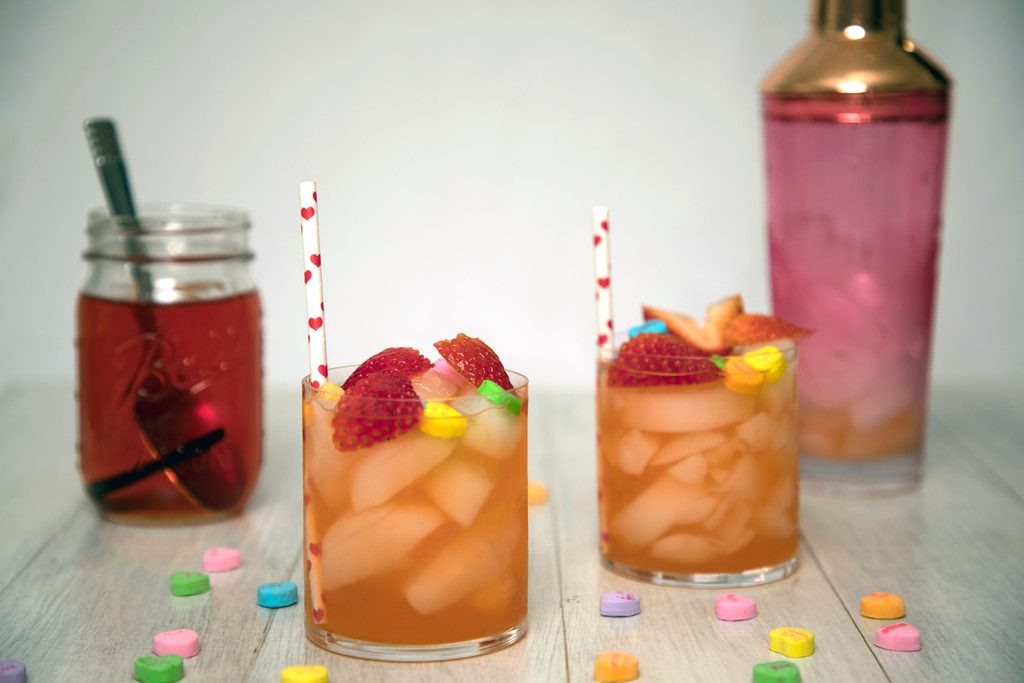 As you know, I'll take any opportunity to utilize conversation hearts that I can. And my heart straws!
This cocktail is sweeter than the cocktails I usually make, but it's easy to control the level of sweetness by simply adding more soda water into the glass to top it off. Or vodka… Whatever you choose. Anyway, I think you need to go with something a little sweeter on Valentine's Day.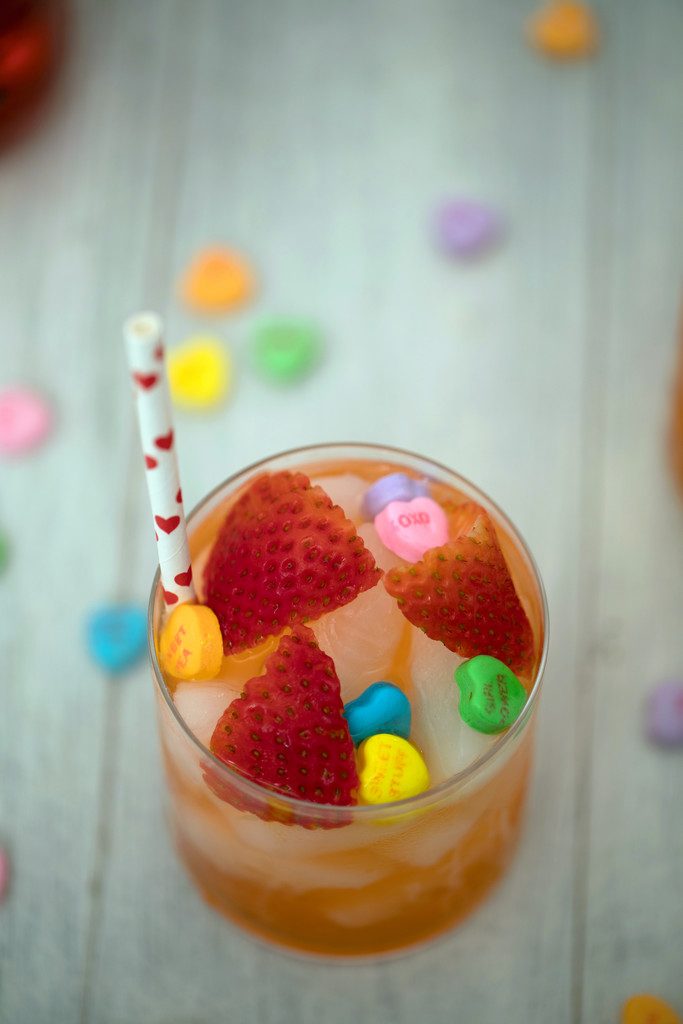 You may or may not know that I am a big Valentine's Day fan, but mainly because I am a marketer's dream (funny that I work in marketing, too…) and can't get enough of the pink and red decor, hearts, and chocolate. Chris and I get each other cards, but we don't do gifts and we generally don't go out to dinner on the actual day. I prefer to wait for another evening and just use it as an excuse for a delicious meal out.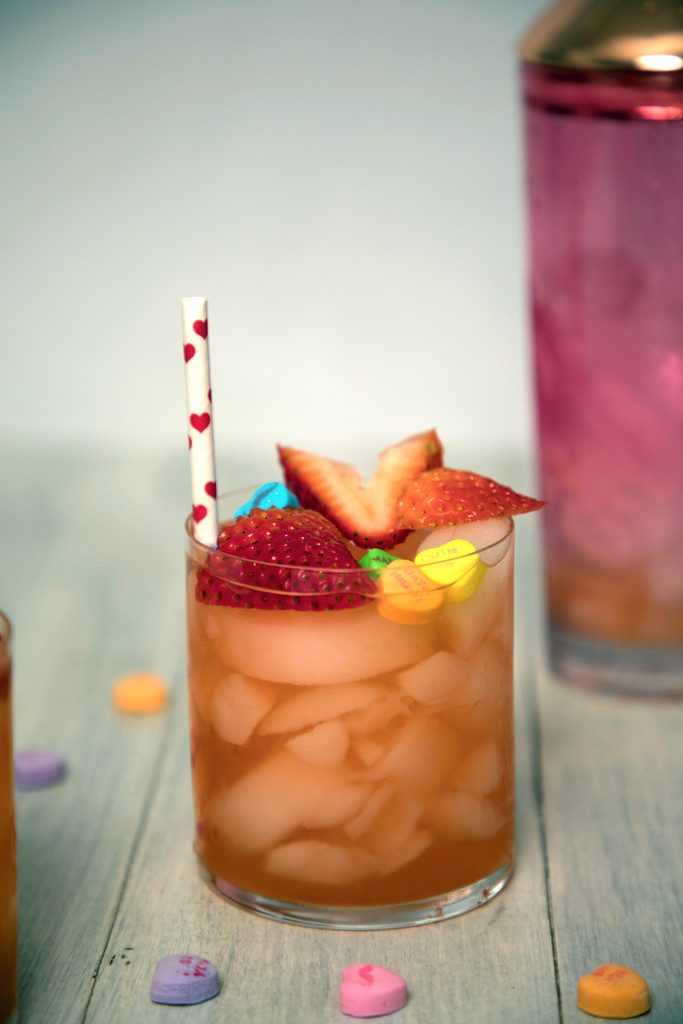 The evening of, we'll probably just make dinner at home, enjoy some cocktails, and relax. After all, this year is a "work night." I'm sure we'll also sit down and watch This is Us. Anyone else a big fan of the show? It's definitely helping to fill the Parenthood void that has been missing in my life (but gahhh, I still don't think it can totally replace Parenthood). Also, Mandy Moore has always been my number one top celebrity in the world and I'm so happy that she is killing it in this role.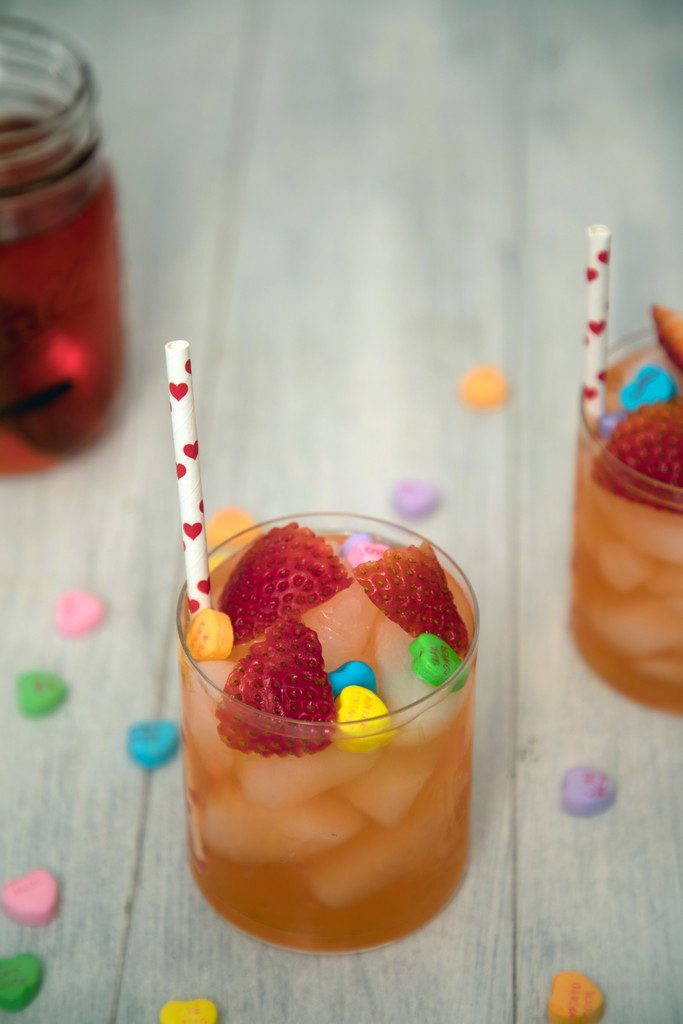 Luckily, I have plenty of leftover strawberry vanilla simple syrup sitting in my fridge, so when we get home from work on Tuesday, cocktails can be poured immediately.
What are your plans for Valentine's Day?
Strawberry Vanilla Love Potion Cocktail
Strawberry vanilla simple syrup makes for the perfect cocktail any time, but it's especially delicious when mixed with vodka and lime juice and enjoyed with your sweetie on Valentine's Day. Conversation hearts not required, but highly recommended.
Servings
:
2
cocktails (with enough simple syrup for many)
Ingredients
4

oz.

vodka

3

oz.

strawberry vanilla simple syrup

recipe below

1

oz.

lime juice

Soda water
Strawberry Simple Syrup:
1

cups

water

1

cups

granulated sugar

1

cup

hulled and chopped strawberries

1

vanilla bean
Instructions
In a cocktail shaker filled with ice, add vodka, strawberry vanilla simple syrup, and lime juice. Shake well.

Pour mixture into two glasses filled with ice.

Top with soda water and additional sliced strawberries, conversation hearts, or anything else you desire.
Strawberry Vanilla Simple Syrup:
Combine water and sugar in a medium-sized saucepan over medium-high heat and bring to a boil.

Lower to a simmer and add strawberries to saucepan. Stir to combine.

Let simmer until sugar is dissolved and syrup begins to thicken, about 10-12 minutes.

Remove from heat and strain syrup through a fine mesh sieve, discarding solids, into a heatproof container like a bowl or a mason jar.

Add one vanilla bean to container and place in fridge to cool for at least three hours before using.