Didn't think a Bloody Mary could get any better? Make it a dirty! This cocktail includes olive juice to add a little kick to the classic Bloody Mary. Go wild with the garnish to really impress your guests.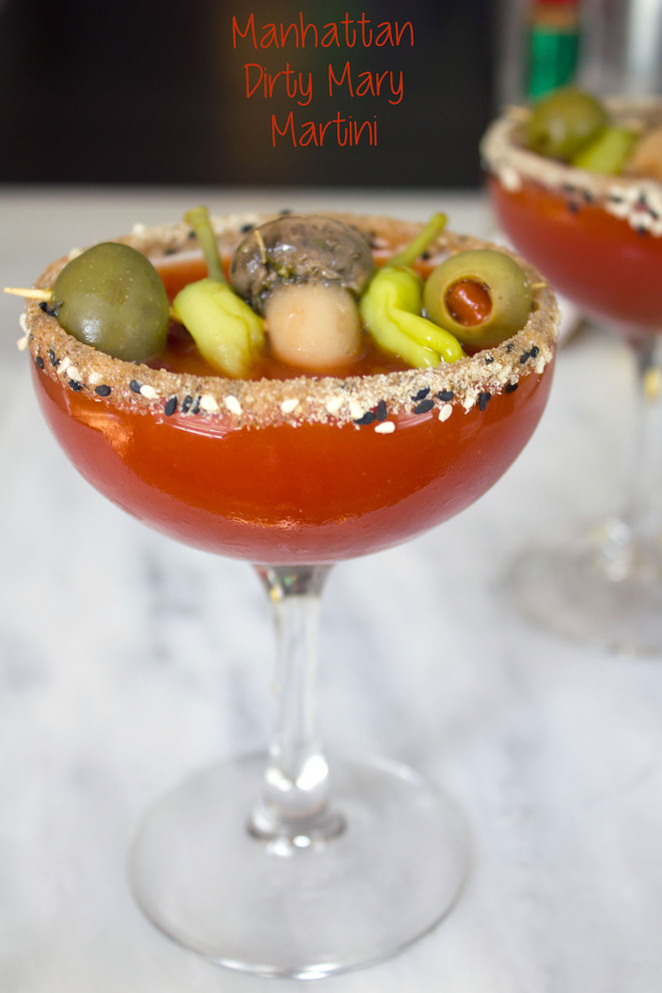 Riddle time! What do candy corn, Peeps, and Bloody Marys have in common? Are you stumped?? I bet you were about to yell out "holiday candy!" until I threw Bloody Marys at you, weren't you? Tomato juice and vodka don't exactly scream festive cheer, unless your idea of festive cheer is waking up and obtaining alcohol before immersing yourself into a world of gift wrapping, malls, and relatives. Which I guess I can't blame you for. OK, but the real answer to my riddle… Candy Corn, Peeps, and Bloody Marys are all extremely polarizing food and beverage choices. People either LOVE them or HATE them. I am in the camp that loves all three, but also tries to understand why others may not. To be honest, it's tough for me… Candy corn is basically pure sugar. Peeps are marshmallows covered in pure sugar. And Bloody Marys are alcoholic beverages that also help you get in a serving or two of vegetables. To cancel out all that sugar. How could that be a bad thing?
But OK, I get it, you might not like tomato juice. But if you just *think* you don't like it because it sounds weird or creeps you out, I urge you to please try it again. With an open mind. And an open heart. And probably some vodka, too. Ugh wait, i just thought of another polarizing beverage… The dirty martini. And it's all because of that pesky little olive. You might be creeped out by olive juice, too. But please stop. I can't decide which I like more… The Bloody Mary or the dirty martini. So, when I spotted this recipe that's basically a combination of them both (from the BLOODY MARY SOCIETY no less!!), I jumped right on it. And it's the stuff my dreams are made of. I hope it's not the stuff of your nightmares.
But seriously, let's start with that rim. Any martini glass rim that involves onion powder and black pepper is welcome in my life. And the garnish. It consists of more olives, pepperoncini and marinated mushrooms.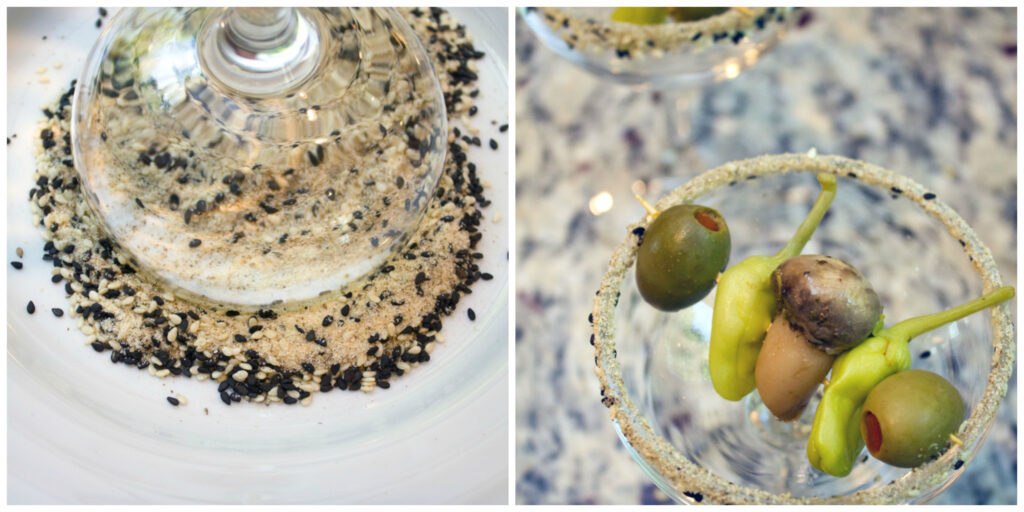 Though obviously the liquid portion of this cocktail is my favorite part. Tomato juice, vodka, vermouth, olive juice, hot sauce, Worcestershire sauce, and lemon juice. I mean, it's basically like a meal. A meal that might make you a little tipsy.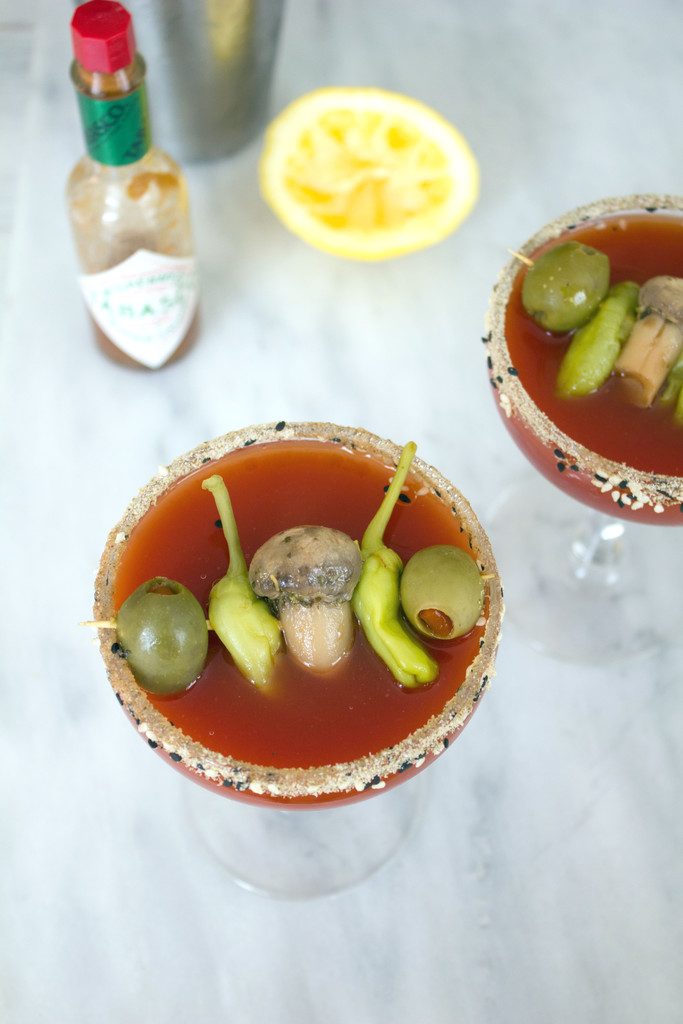 I think I'll probably be putting olive juice in all of my Bloody Marys from now on. Because why the heck not?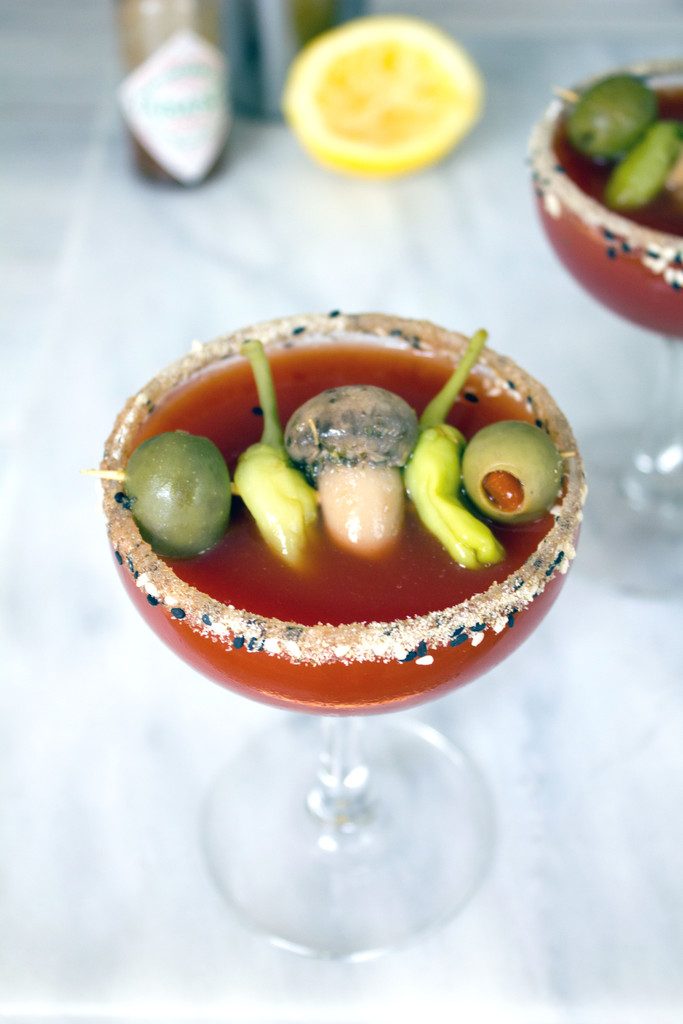 To be honest, the only thing that really bothers me about Bloody Marys is that I never know if it should be capitalized or not. But I hate not capitalizing "Mary," so I feel like it has to be. But I also had adding an "s" to Mary because spellcheck dislikes it. Also, the Bloody Mary Society capitalizes it and I feel like they must know what's going on. These are the kinds of things that keep me up at night.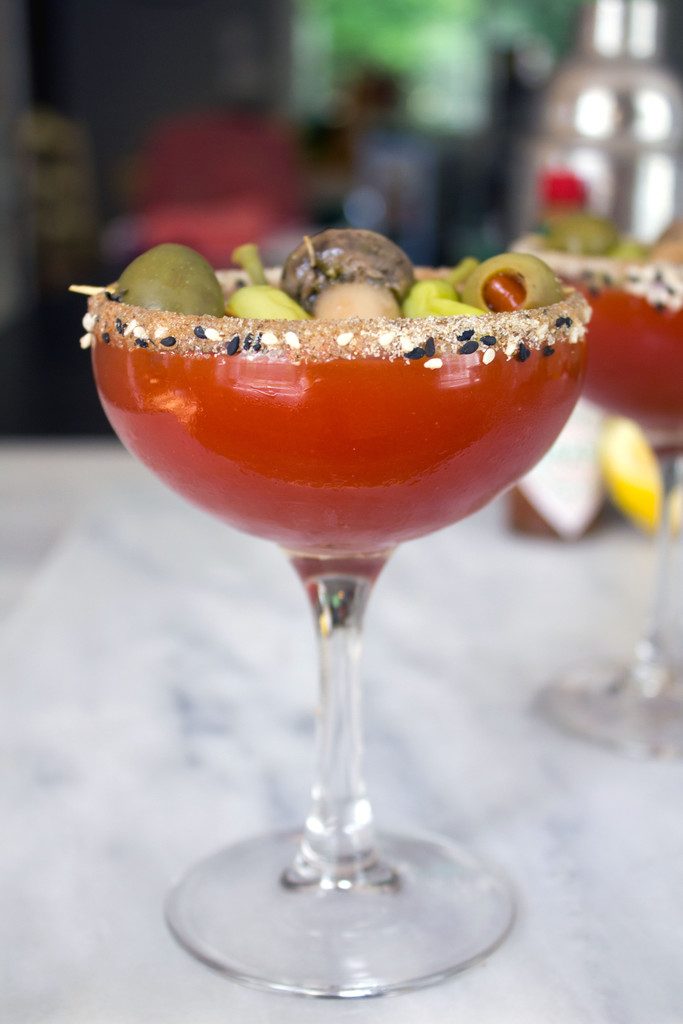 I'm also kept up at night wondering how people don't like tomato juice and olives. And sugar covered marshmallows. But not together. I mean, it is candy corn season, but even I wouldn't go so far as to serve candy corn with a dirty Bloody Mary. Also, I'm pretty sure it's always Peeps season now. Gone are the days of only bunnies and chicks; pumpkin and witch Peeps season is in full swing. Whether you like it or not.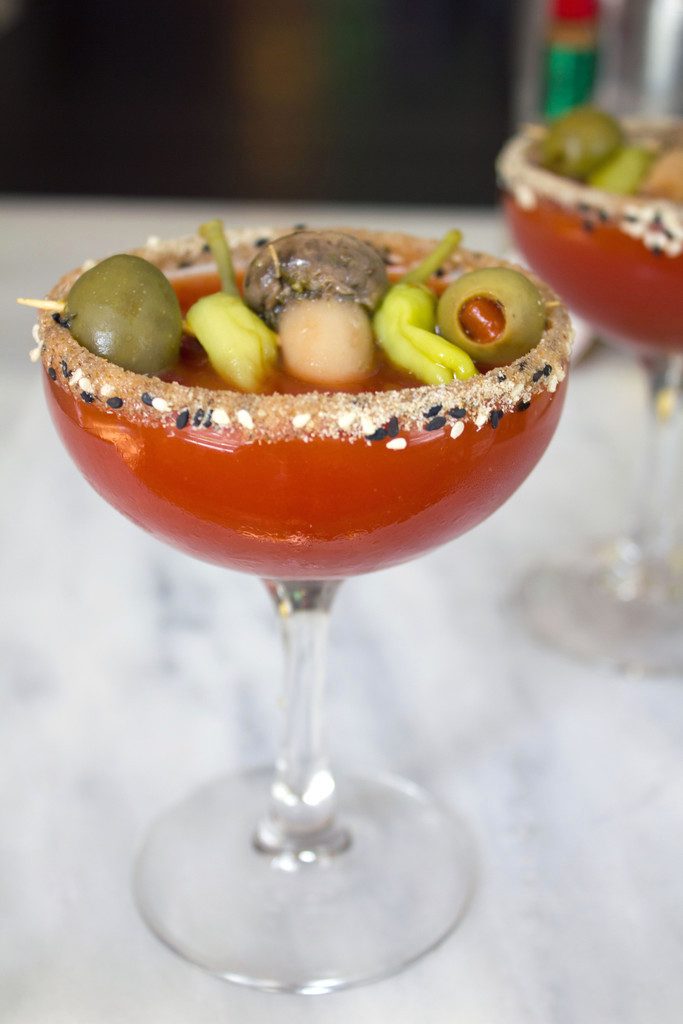 What side of the great Bloody Mary and dirty martini debate are you on? If I ask you nicely, will you give them both another try?
For more fabulous variations on the Bloody Mary, check out this post from Drizly (which also happens to feature my Manhattan Dirty Mary Martini!)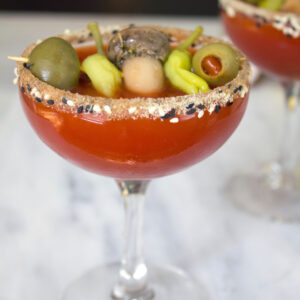 Print Recipe
Manhattan Dirty Mary Martini
Didn't think a Bloody Mary could get any better? Make it a dirty! This cocktail includes olive juice to add a little kick to the classic Bloody Mary. Go wild with the garnish to really impress your guests.
Ingredients
2 1/2

Tbsp

lemon juice

1

tsp

onion powder

1 1/4

tsp

celery salt,

divided

2

tsp

black sesame seeds

1/4

tsp

ground black pepper

1

cup

chilled tomato juice

4

oz.

vodka

2

tsp

dry vermouth

2

tsp

Worcestershire sauce

1

tsp

hot pepper sauce

3

Tbsp

liquid from jarred pimento-stuffed olives

Olives, pepperoncini, marinated mushrooms,

optional for garnish
Instructions
Pour 1 Tbsp lemon juice into a shallow dish. Stir the onion powder, 1 tsp celery salt, black sesame seeds, and black pepper on a plate. Dip rims of 2 glasses into lemon juice and then coat with the spice mixture.

In a cocktail shaker, combine tomato juice, vodka, dry vermouth, Worcestershire sauce, hot sauce, 1/4 tsp celery salt, olive juice, and remaining lemon juice. Add ice, cover, and shake. Strain the mixture into the prepared glasses.

Garnish with skewers of olives, pepperoncini, and marinated mushrooms, if desired.