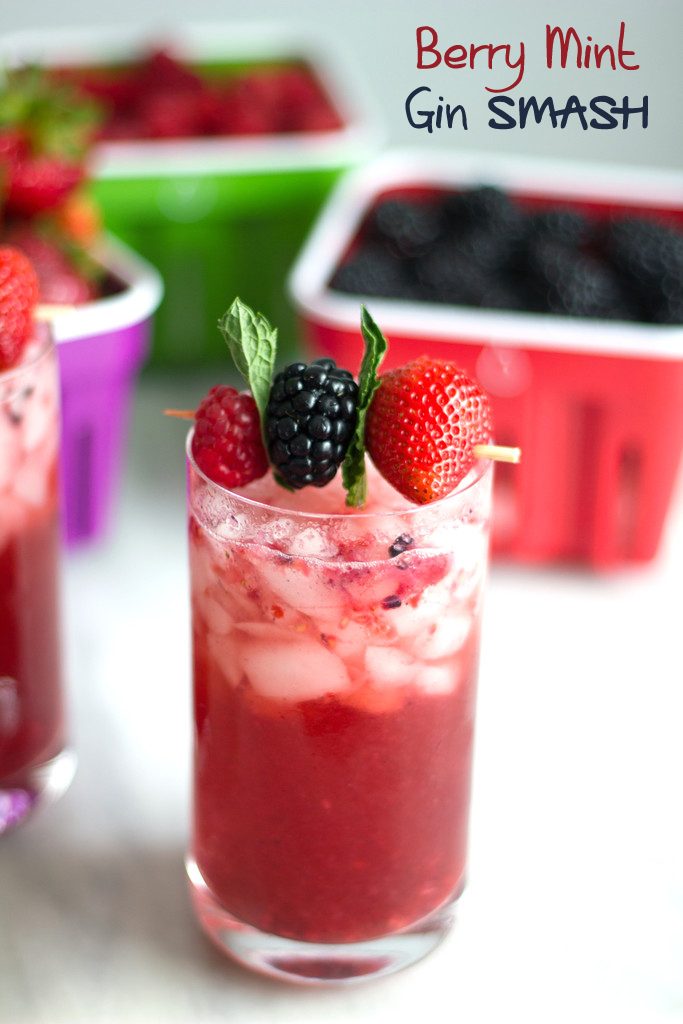 What's your favorite berry? I'm pretty sure that's one of life's most impossible to answer questions (I'd put it right up there with "what came first, the chicken or the egg?"). I could never give you a straight answer; at least not one that would hold true from day to day. I mean, today my favorite berry is the red raspberry, but tomorrow? Tomorrow it will probably be the blueberry or maybe the blackberry… But probably the strawberry. It's a pointless question and will really only serve to drive people nuts as they try to honestly answer. And does it really matter? Can't we just go with: berries are delicious and summery and perfect and omg stop asking ridiculous questions already? Sounds like a plan.
Another question I prefer you don't ask? What's your favorite liquor? I guess maybe some people have one, but my favorite completely depends on my mood and the day and the weather and probably even the level of humidity in the atmosphere. Today, it's gin. But really only because I made this cocktail with it and I'm in love with everything about this cocktail. Tomorrow, I might try it with vodka instead.
I'm also in love with these new berry baskets Crisp Cooking sent me. I've been swooning over them since I started working with Crisp and am excited not only to use them, but to give you a chance to win them!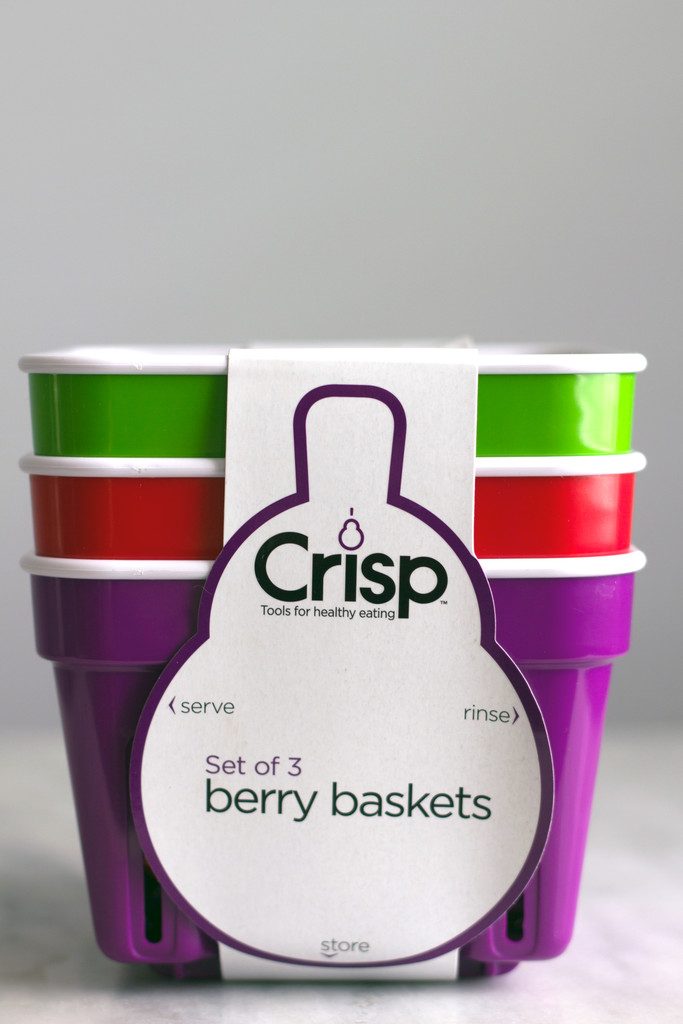 Aren't they super swoon-worthy? I'm absolutely loving these colors!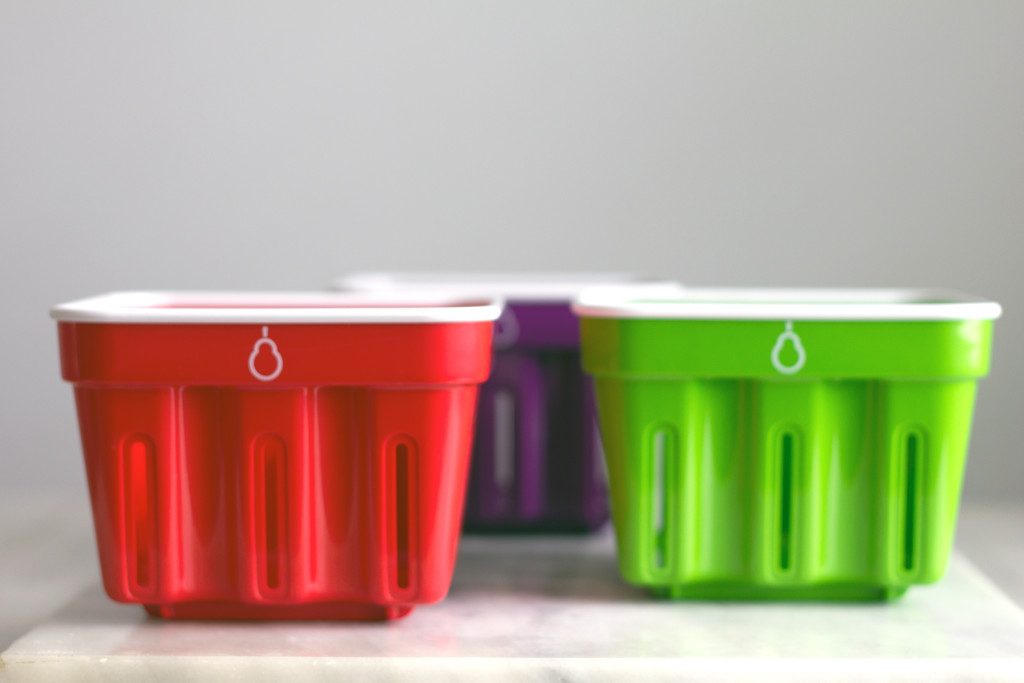 And the fact that you can not only store berries in the containers, but you can use the containers as colanders, too.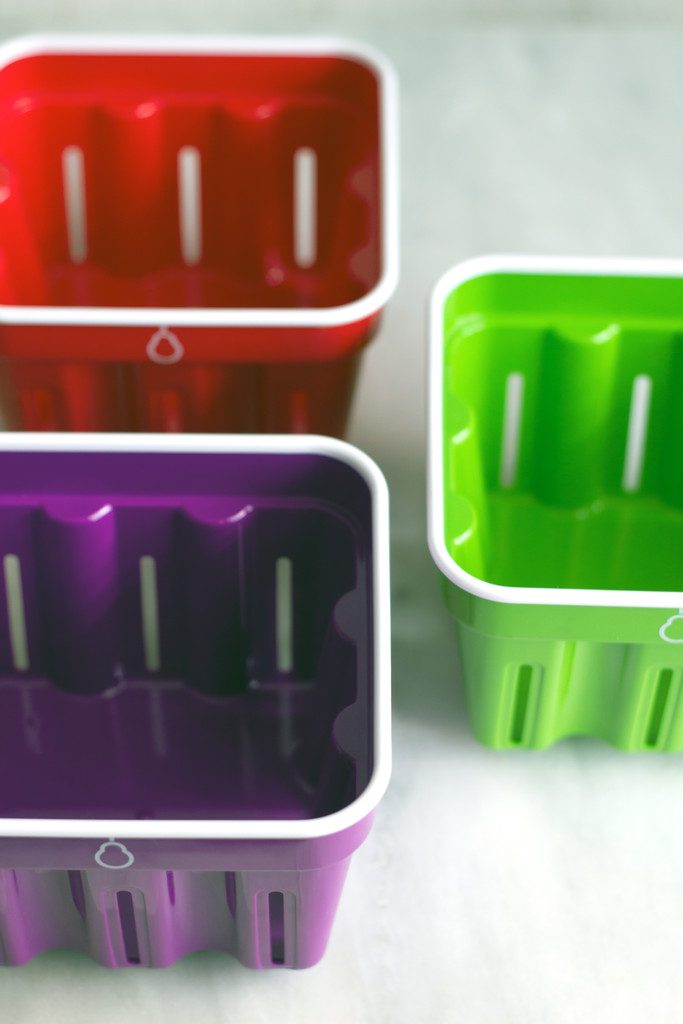 I loaded them up with some of my favorite berries- red raspberries, blackberries, and strawberries.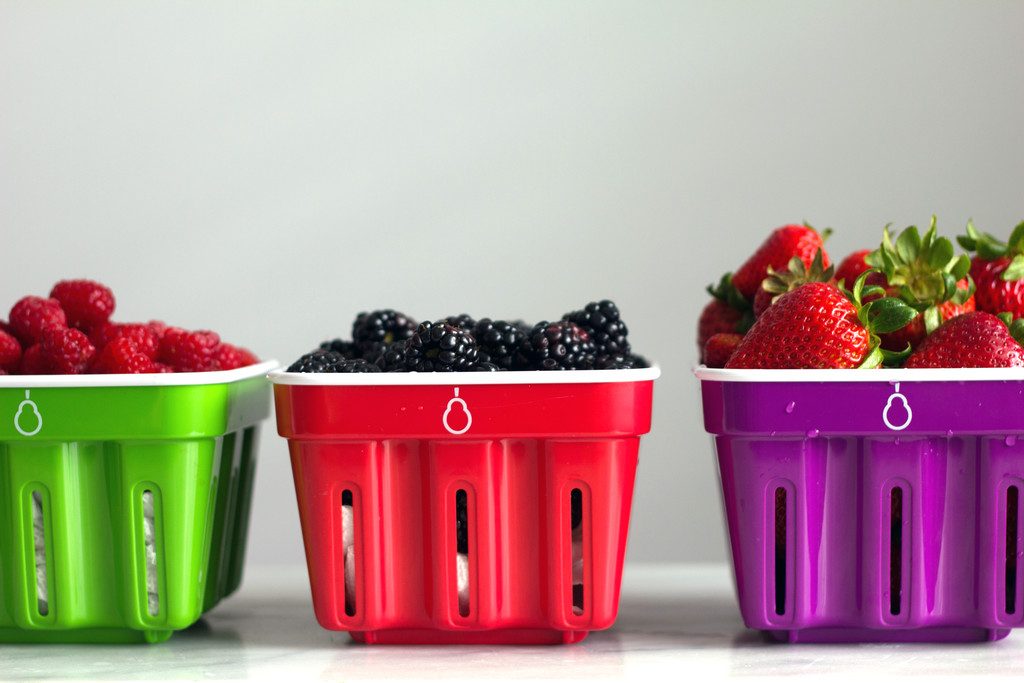 I've been keeping them like this in my fridge and we've been snacking on them regularly. Having berries on display like this makes us much more likely to eat them than when we have them all packed away. Also more likely? The chance that I'll make a spur-of-the-moment berry cocktail!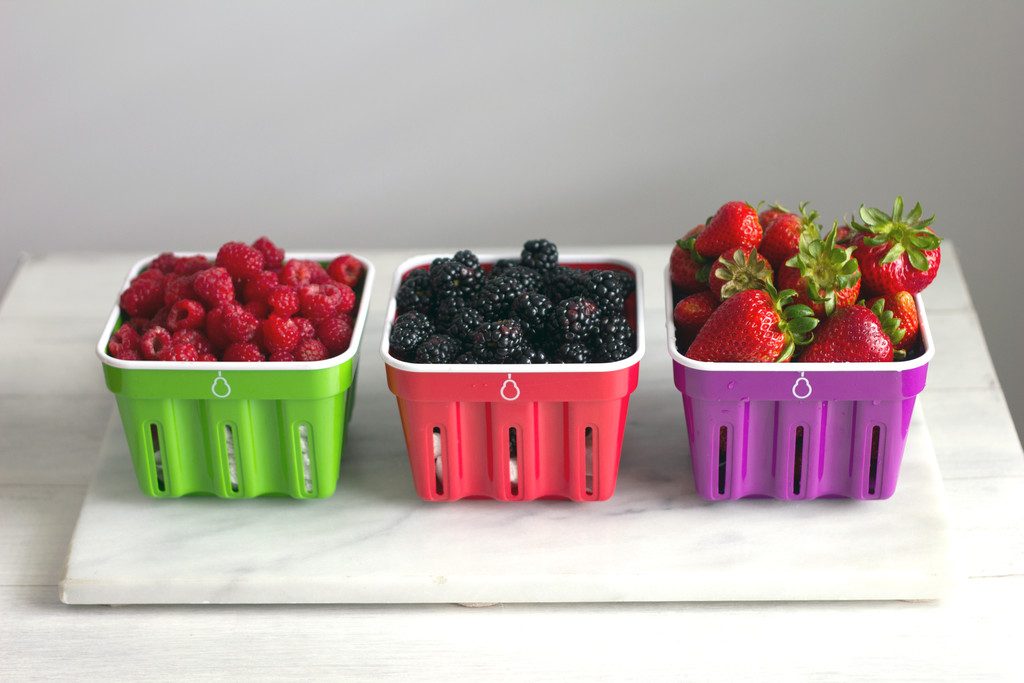 I originally wanted to make a berry mojito, but I decided I wanted the berries to be the star of the show and didn't want to add any muddled mint in. So, I made a fresh mint simple syrup instead.
All you need to do is combine 1 C sugar, 1 C water, and 8-10 fresh mint leaves in a medium-sized saucepan over high heat. Bring mixture to a boil.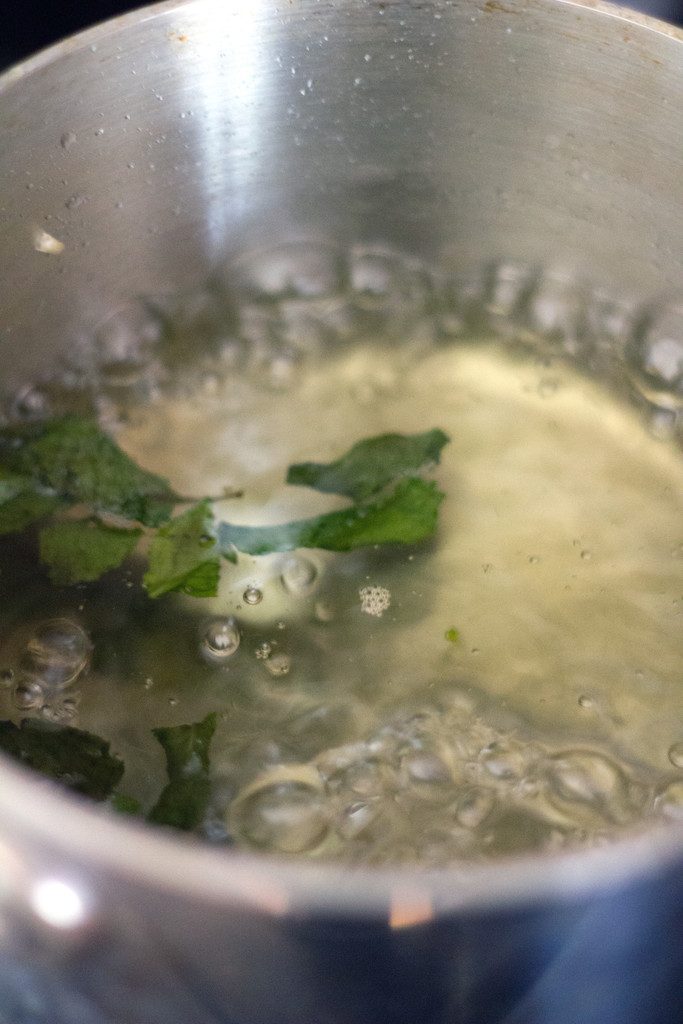 Then lower the heat and let simmer for about 10 minutes to thicken. Remove syrup to a jar or bowl and cool to room temperature.
Add 2 strawberries, 6 red raspberries, and 4 blackberries to the bottom of a cocktail shaker. You can add more berries if you want, but I can tell you from experience that if you add too many, you'll have a tough time straining the drink into a glass. Then again, a little pulp is never a bad thing in my book!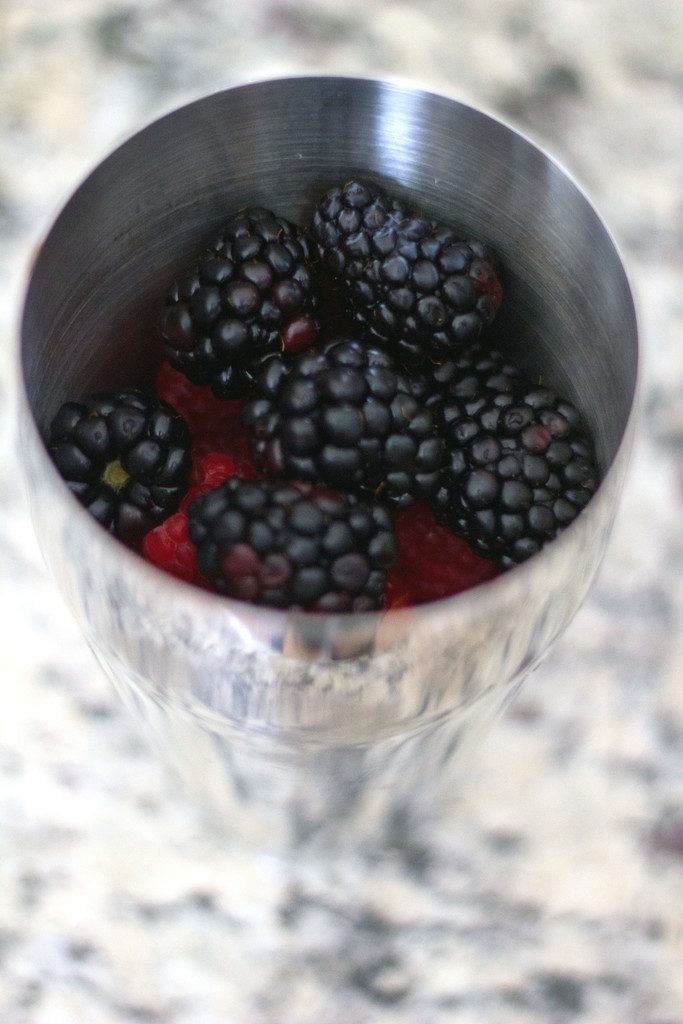 Muddle the berries as much as you can. Then add in 4 oz. gin and 1 1/2 oz. mint simple syrup.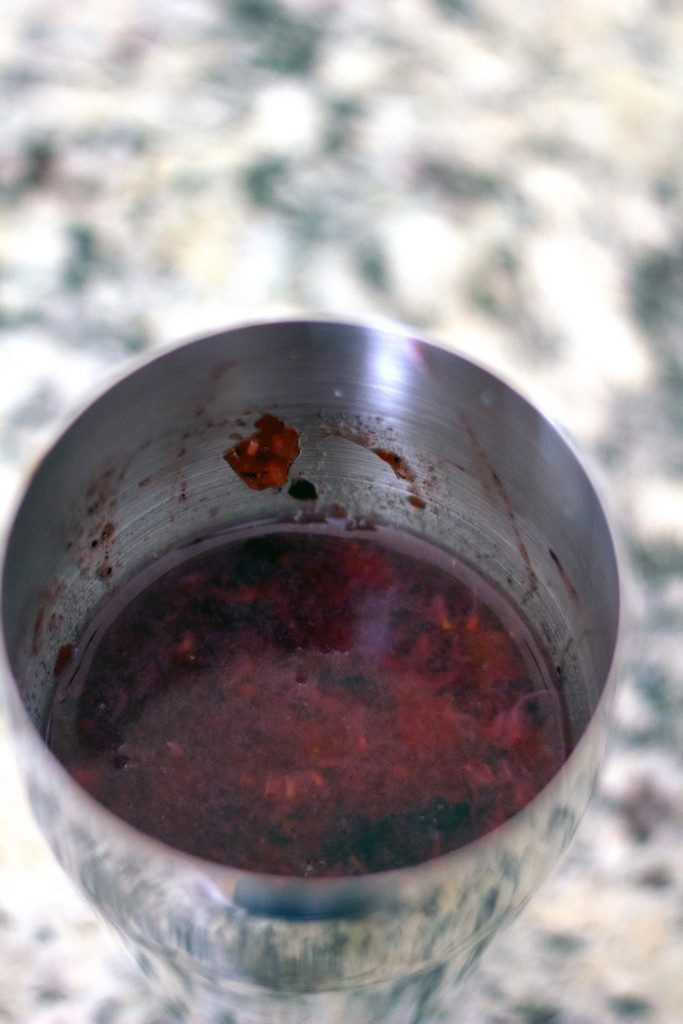 Add some ice to the shaker. And then strain the mixture into two glasses filled with crushed ice. Top the glasses off with soda water for a little fizz.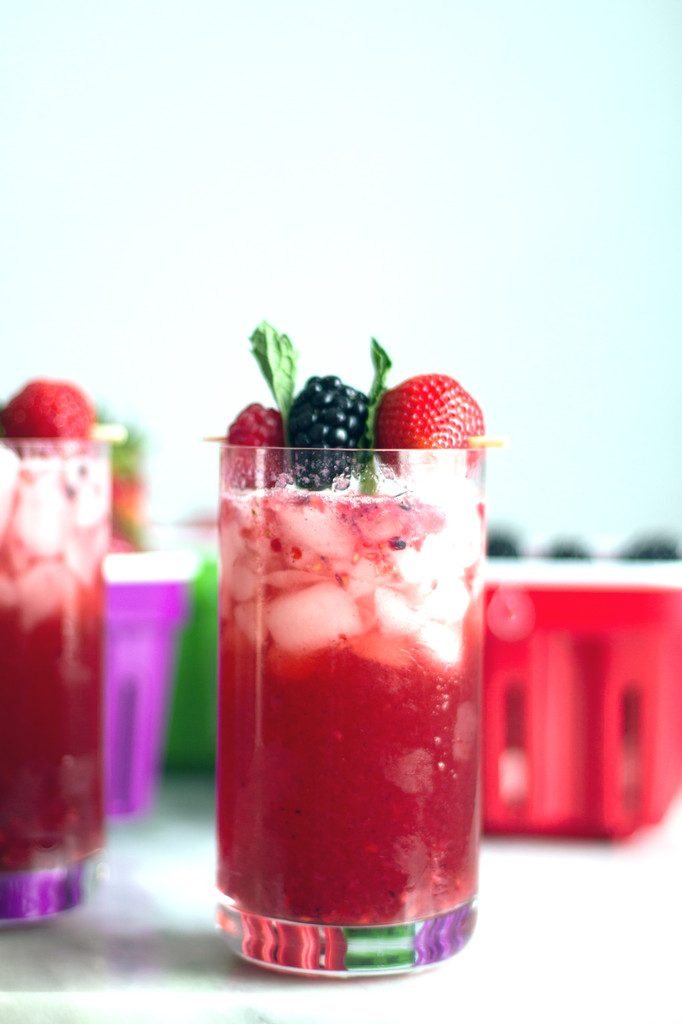 I most definitely recommend making a garnish, too. I just stuck the berries and some mint leaves onto a little skewer.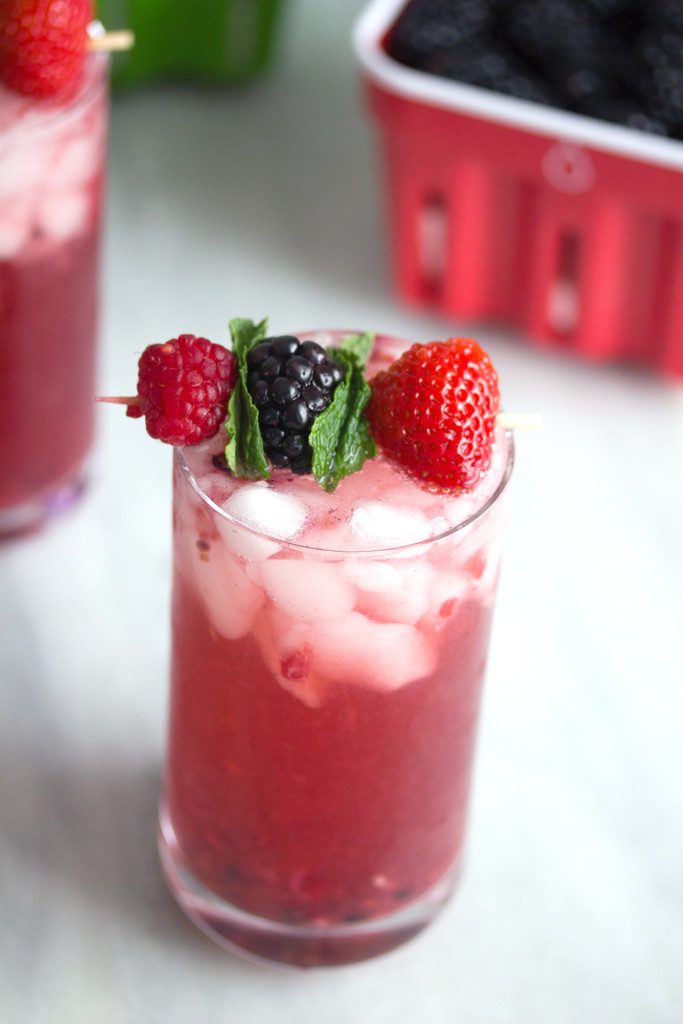 And now some of my very favorite berries have come together into one berry cocktail, which is basically a dream come true. No more decision making! I'm the worst at decision making. I sometimes use the excuse that I'm a libra and I know that makes me sound a little crazy, but seriously, I embody basically every libra characteristic.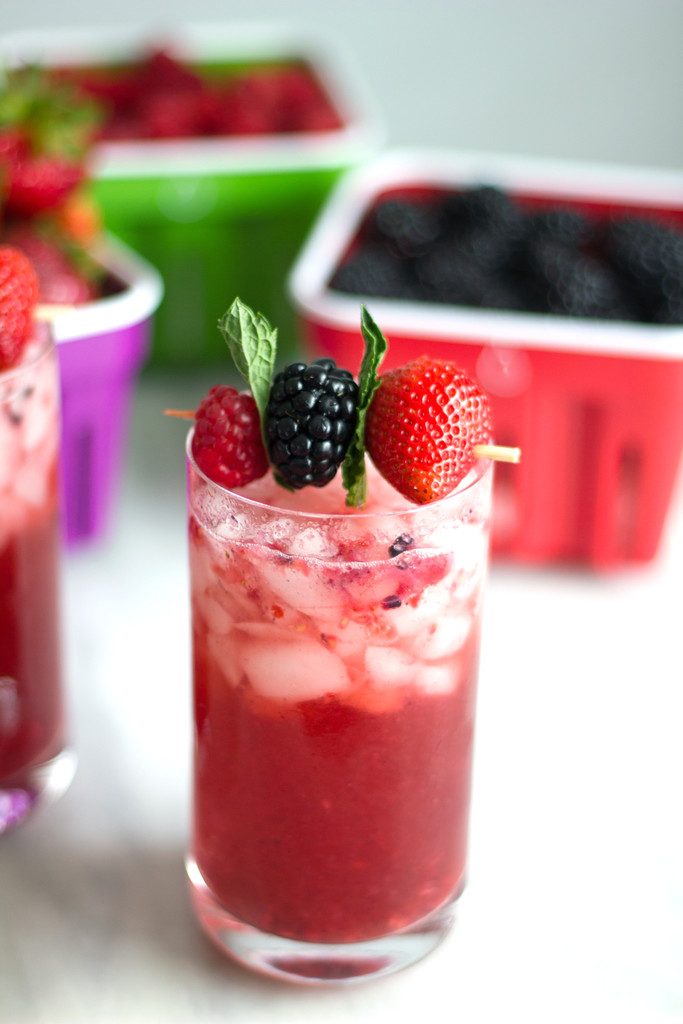 This cocktail is pretty much summer in a glass. While this recipe serves two, I am seriously thinking about just muddling berries in a large pitcher and serving this up for a summer party. Can't you just imagine sipping it outside in the hot weather? Heaven. 
We just ordered brand new deck furniture and I cannot wait to get it… Many of these drinks will be consumed on our deck this summer.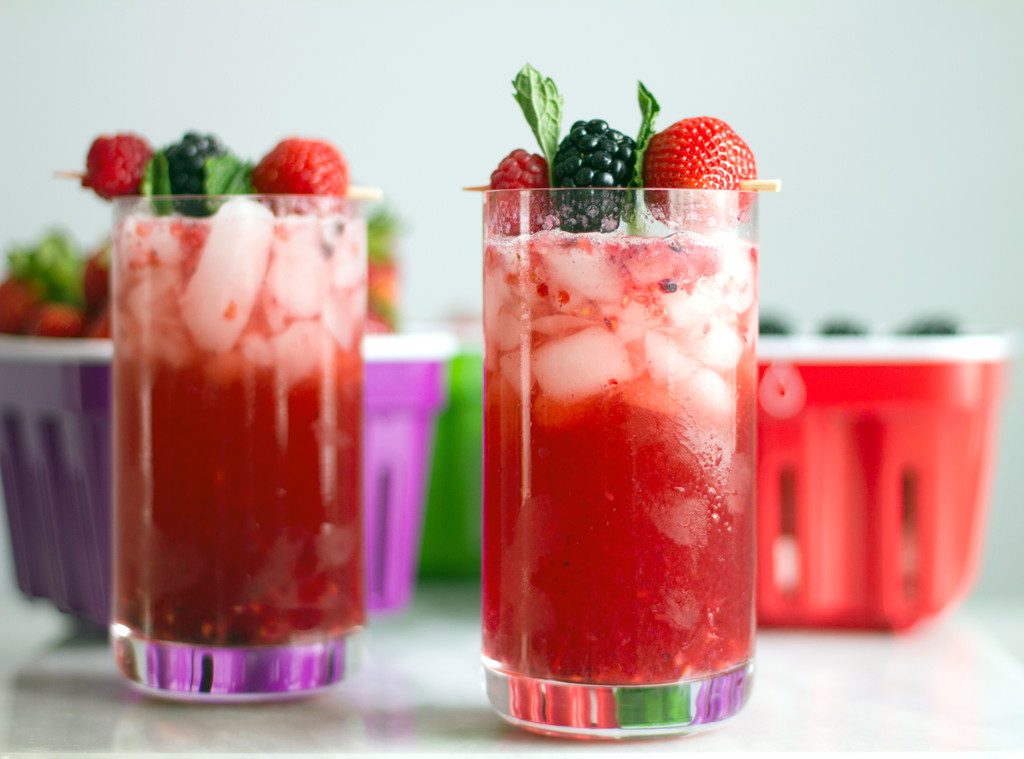 If you're not a big fan of gin,  you could totally swap it out for your liquor of choice. Vodka would be really delicious in this drink…. So would a light rum. So would other berries for that matter. I almost quadrupled it up and added blueberries, but I thought that might be going overboard. And I'll probably make this same drink with cranberries, come the holiday season.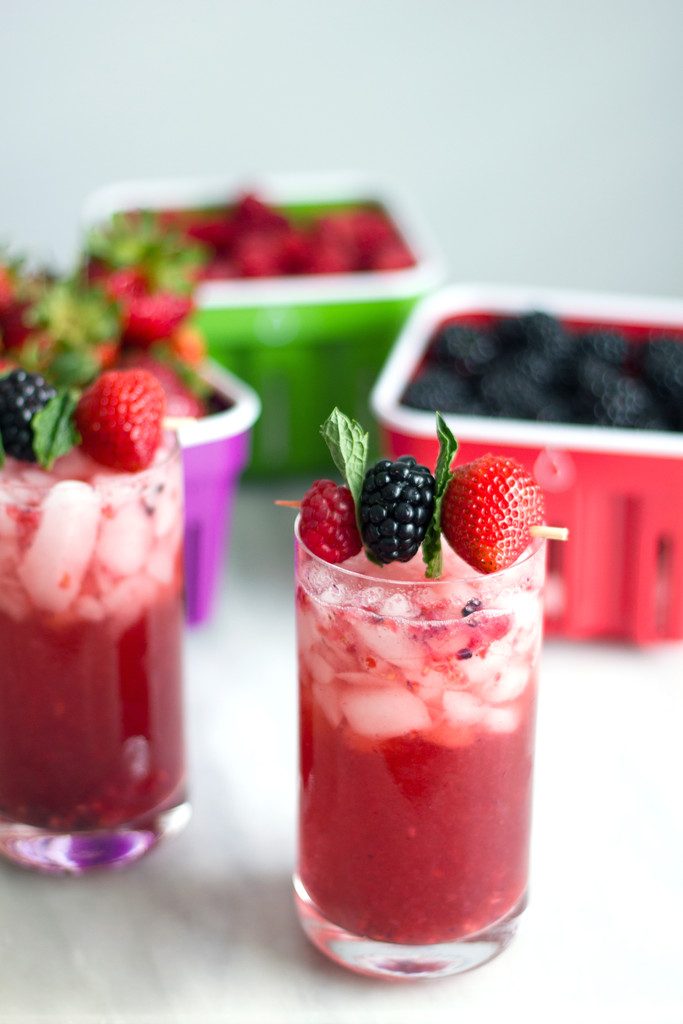 The mint flavors came through a bit, but definitely weren't overpowering. I kind of loved the simple syrup as the berry pulp was enough without the lingering mint leaves. And the soda water gave the cocktail a light and refreshing fizz- I'm all about bubbly cocktails this time of the year!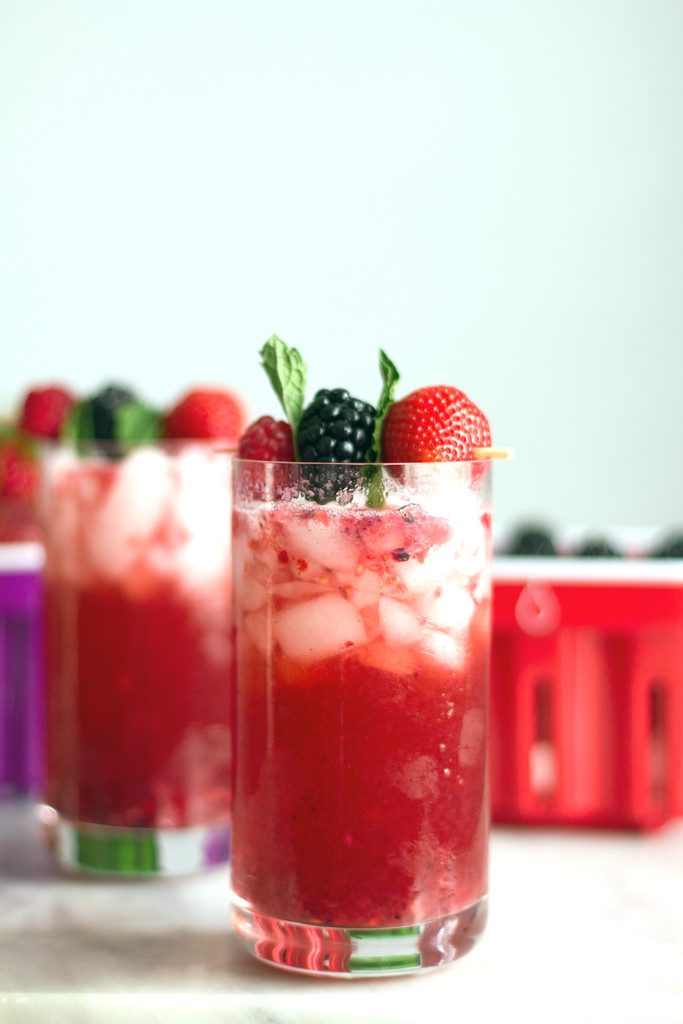 But my favorite thing about this cocktail is probably the color. It's a beautifully vibrant red due to the ridiculously fresh berries that are announcing to us that summer really is just around the corner. Pretty sure just about everyone is excited for that. I have vowed to not complain about the heat AT ALL this summer. After the Boston winter we had, I will be perfectly content in 100 degree weather, so long as I can sit on my deck and sip one of these. Bring it on!
And now it's time for you to have a chance to win these 3 Crisp berry baskets of your own! Just comment on this post letting me know your favorite berry (muhahaha see if you can do it! But seriously, your favorite berry for TODAY) and you'll be entered for a chance to win the Crisp berry baskets. Enter by 11:59 p.m. on Friday, May 1 .
Oh, and I also need to announce the winner of my last Crisp giveaway… for my all-time favorite Crisp Zester! The winner is Monica! She said, "What a great looking breakfast bowl. I'd love one with things like tofu, sweet potatoes, corn, peas, some sort of grains like quinoa or farro, white beans, and most definitely eggs. A sprinkle of nuts would be awesome. Is that too much?" Definitely NOT too much! I'll email you ASAP, Monica! Happy Monday, everyone!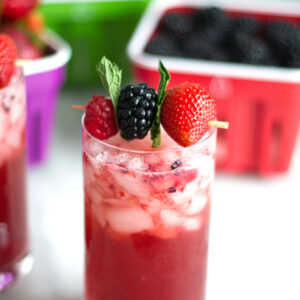 Berry Mint Gin Smash
Ingredients
2

large strawberries

6

red raspberries

4

blackberries

4

oz.

gin

1 1/2

oz.

mint simple syrup

recipe below

Ice

Soda water
Mint Simple Syrup:
1

C

sugar

1

C

water

8-10

mint leaves
Instructions
Put strawberries, red raspberries, and blackberries into the bottom of a cocktail shaker and muddle well.

Add gin and mint simple syrup to shaker and fill with ice.

Shake well and strain into 2 glasses filled with crushed ice.

Top with soda water.
Mint Simple Syrup:
Combine sugar, water, and fresh mint leaves in a medium-sized saucepan over high heat. Bring to a boil

Lower heat and let simmer for about 10 minutes, until syrup thickens.

Remove syrup to jar or bowl and let cool to room temperature.